New York City's clean beauty and natural skincare game– while this may at first pass seem to be a very "California" thing– is actually quite excellent. The Big Apple is the fashion capital of the world, after all, and what would a fashion capital be without a copious number of places to explore the world of skincare, makeup, and aesthetics through a "natural" lens?
As a longtime skincare snob, I've tried nearly every natural skincare brand on the market, from sunscreens to plant-based retinol alternatives, and beyond.
Living in New York City was where this passion really blossomed for me, largely due to the fact that folks of all walks of life seem to share this passion here. NYC was the first place I encountered Indigenous-owned perfume and lipstick makers alongside Black-owned sunscreen brands, for example. Oh, and the non-toxic nail polish trend is out in full force in this city, as well– trust me.
Beyond the diversity of approaches, there are also so many small-batch makers and fabulous NYC salons that have since launched into the national spotlight (looking at you, Joanna Vargas).
In addition to boasting some of the best spas in the world, moreover, New York City has a number of dedicated clean-beauty stores that are worth exploring, especially if you're a skincare junkie.
Gen Z beloved Glossier, of course, is also based in the city, so that informs the culture as well– but for clean and super eco-friendly skincare, you'd be hard-pressed to find better selections than what's available at the stores below.
Some of these companies are Internet-famous already, but the brick-and-mortar NYC locations are where it's at. Some, like The Detox Market– are in fact imports from the West Coast.
But, as it is often noted, New York and LA are great at boomeranging ideas back and forth. What does well in these cities sets the trend for the nation– and in fact, the world– writ large.
Clean beauty, moreover, is here to stay. And when in NYC, these shops provide ample opportunities to test products, explore popular up-and-coming brands, and find your next favorite beauty staple.
If you're a skin junkie, bookmark this list for easy reference later. Enjoy!
***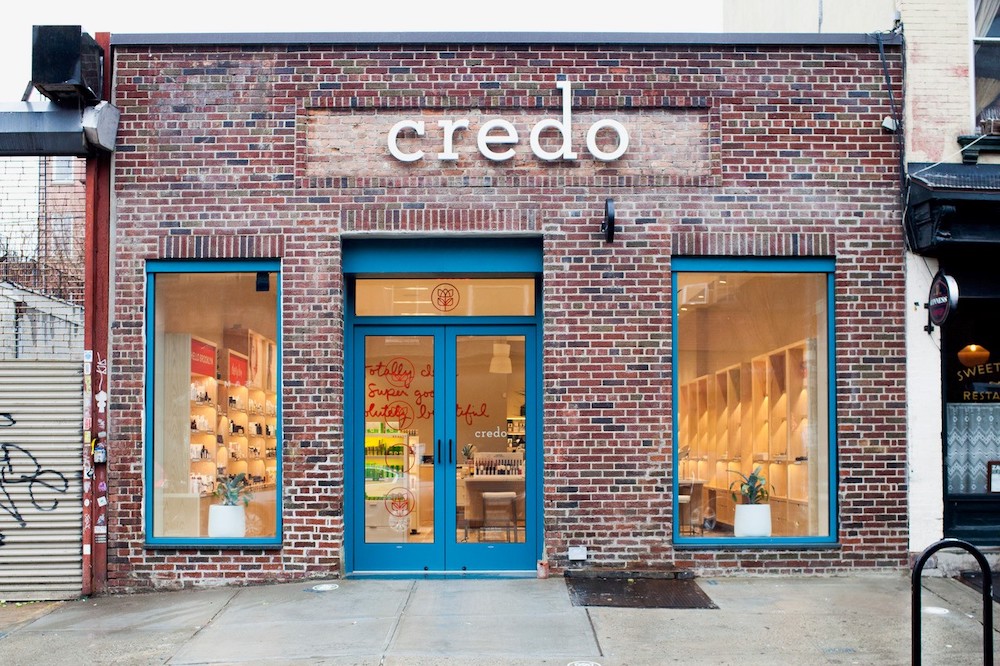 Credo Beauty
Credo Beauty's SoHo output focuses on beauty and skincare products that are both clean AND sustainable, featuring a mix of indie and luxury skincare brands. They also offer mini-facials and clean makeup experiences on-site.
From beloved boutique brands like Alpyn and True Botanicals to classics like Herbivore and cult-adulated newcomers like Westman Atelier, this tidy, jam-packed shop has it all. Their selection of goodies is probably the most comprehensive of all the clean beauty stores in NYC, though it does feel less boutique and more commercial, closer to a Sephora than an artisanal mom-and-pop shop. (For that kind of experience, you'll want to head to ONDA. See below!)
Credo's expert staff of clean beauty experts can also help you find clean dupes or swaps for skincare products that might already be staples in your routine. (This is the major advance of shopping in this store versus online.)
Ultimately, we love Credo because the list of "dirty" ingredients that they ban from all their products is very comprehensive. From radical fragrance transparency to mystery ingredients you may have been wondering about, their curated brand partners all err on the side of caution. (And when it comes to environmental impact, the shop has banned more ingredients than the European Union and the United States combined.)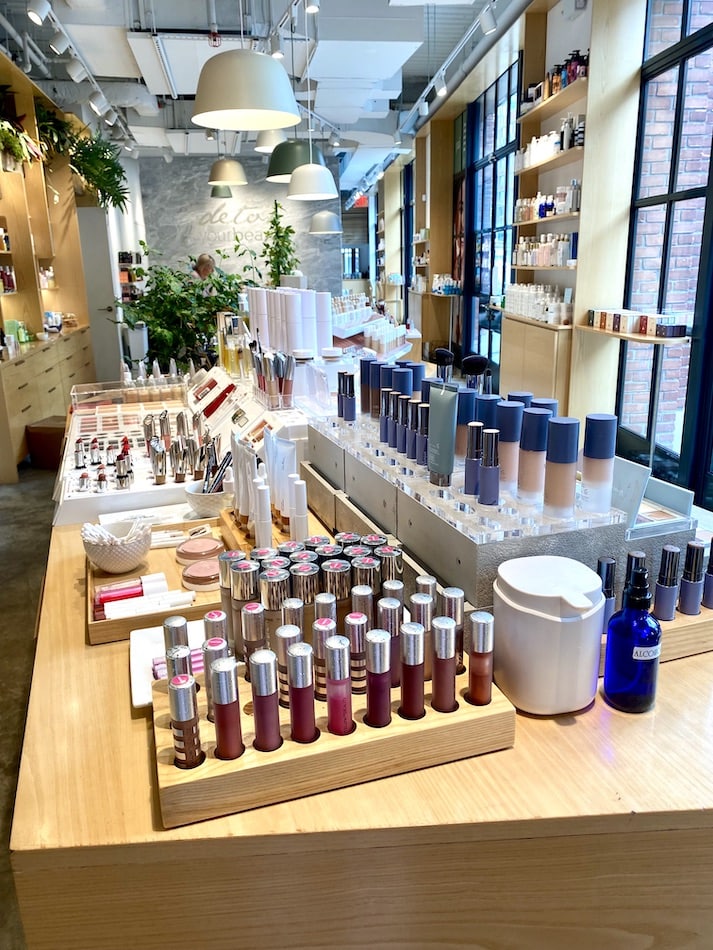 The Detox Market
Hollywood import The Detox Market sells lots of organic and vegan makeup options– plus clean body products ranging from shampoo and sunscreen to dry shampoo and clean deodorant.
Ultimately, the mission is in the name: this cruelty-free clean beauty shop only stocks the cleanest vegan products with low chemical footprints. (Everything in the store is cruelty-free; they have a zero-tolerance policy when it comes to animal testing.)
We love the incredibly wide selection of top-of-the-line nontoxic makeup and anti-aging products sold here. They stock OG classics like Odacite and Marie Veronique alongside a constantly-changing roster of lesser-known up-and-coming brands.
The selection, moreover, feels very bicoastal: you're just as likely to discover a cult-favorite beauty brand from the Hudson Valley as you are a small batch maker from Santa Monica.
Ultimately, if you're really focused on makeup– and are looking for, say, a cleaner alternative to Ulta or Sephora– this is the clean NYC beauty shop for you.
Like those big box stores, The Detox Market also provides an ample amount of sanitary swabs, Q-tips, makeup removers, and cotton pads so that you can't try almost everything before you buy. As you should!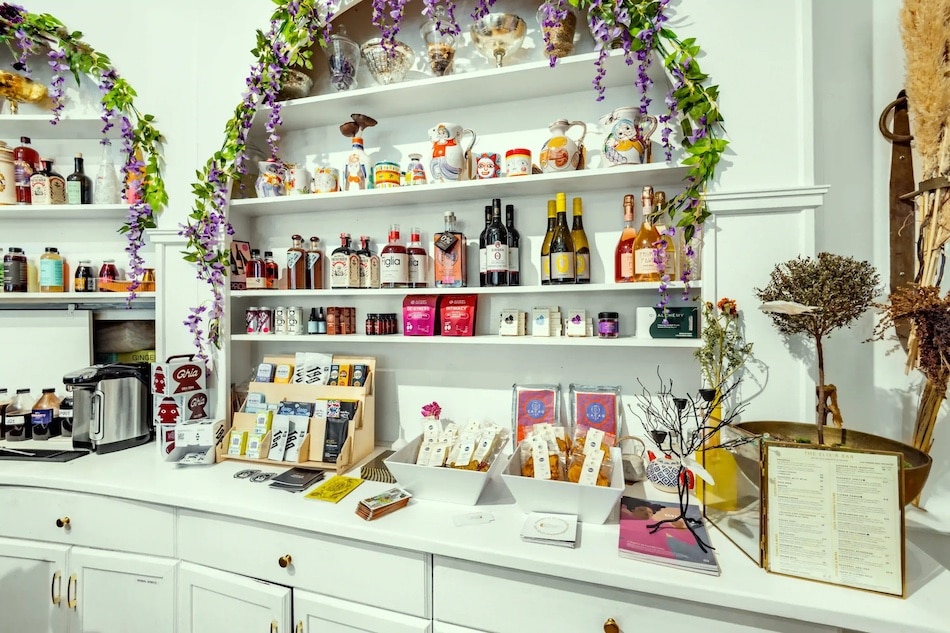 The Alchemist's Kitchen
The Alchemist's Kitchen is a reliable go-to for plant-based, botanical skincare. The focus here is less on makeup and more about total body care, with notable brands from across the country's chic and broad landscape of small-batch makers. (Think: Wonder Valley, Anima Mundi, and the like.)
Here, you can find everything from ayurvedic jasmine body oil and dirty grass perfumes to CBD salves and mushroom microdose tinctures. (True to the shop's name, they are heavy on medicinals.)
As a result, you'll likely also see customers getting consultations from the on-site botanica about everything related to microdosing, cannabis health, herbalism, mushrooms, and yes, even witchcraft. It's that kind of place.
Be sure to stop by the shop's plant elixir wellness bar for intriguing drinks, as well. These include state-changing elixirs, shroom coffee, chaga chai, and a lovely selection of teas, mulled ciders, and locally-made vegan baked goods. This is the aspect of The Alchemist Kitchen that is most unique; you'd be hard-pressed to find a cooler or more approachable elixir cafe anywhere else. (And New York has no shortage of cool cafes.)
Ultimately, the Alchemist's Kitchen is a wellness hub that celebrates plants in all their myriad forms– and the many ways they have the capacity to transform us, inside and out.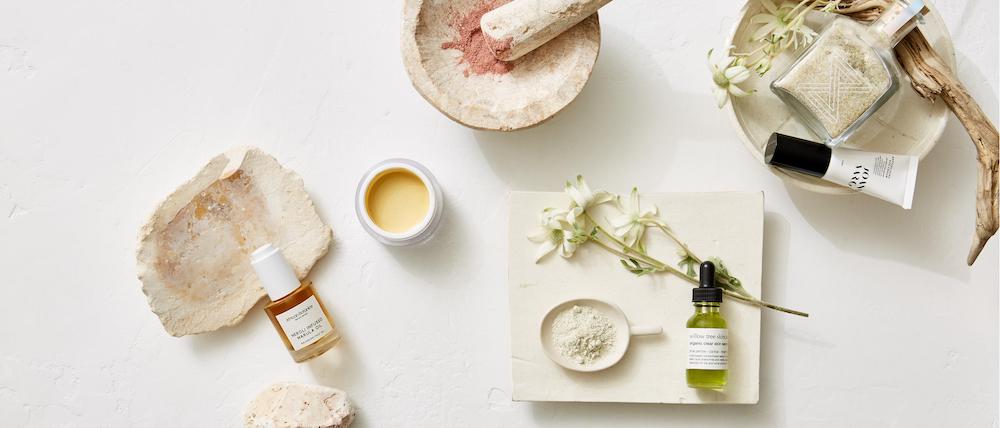 Onda Beauty
Onda Beauty in TriBeCa is helmed by former fashion editor Larissa Thomson, who co-founded this holistic spa and shop with actress Naomi Watts and Sarah Bryden-Brown. Today, ONDA is mostly known for its excellent facials, though they do sell a lovely selection of natural skin products, including serums, exfoliants, masks, cleansers, moisturizers, face oils, toners, mists, eye + lip care products, and sunscreen.
Basically, it's a one-stop shop for all things "healthy face". (And the popularity has mounted to the point where they now have additional outposts in The Hamptons.)
Everything here is personally curated and has a one-of-a-kind feel. We love, for example, that they stock boutique clean skincare brands that you can usually only get at other flagship spas in the city or around the world. (For example, they stock items from Joanna Vargas' eponymous line, which is an NYC classic– as well as the Blue Lagoon Iceland collection.)
Thus, even if you've spent lots of time at the other clean beauty stores on this list, you're always likely to find something new at ONDA.
When I lived in TriBeCa, going here always felt like rediscovering a hidden gem– one that only the most thoughtful beauty fans knew about. Ultimately, like everything on this list, it's a serene place to escape the bustle of the city. Your skin will thank you for discovering this haven amidst the hustle. 🙂
***
Related: 7 Great Natural Retinol Alternatives (That Are Gentler on Your Body But Achieve The Same Results!)
Read This Next: The 10 Coolest Plant Shops in New York City.