Looking for pregnancy-safe retinol alternatives was, until very recently, a challenge for expecting skin-care addicts– even amid the nascent clean beauty and skincare revolution. More and more people, however, are requesting powerful, effective, and safe alternatives to chemical-filled skincare products of yore, especially during pregnancy.
Thus, after years of searching and researching during our own pregnancies, we've come up with the list below of the best, safest, and most effective pregnancy-safe retinol alternatives, below. Use them before, after, and during pregnancy to balance dark spots, wrinkles, and signs of skin maturity while also nourishing and soothing skin of the conditions that are most likely to arise during pregnancy (like melasma, acne, etc).
FYI: This post contains some affiliate links, but not many. We genuinely love and use all of these products ourselves during pregnancy, and they are the only ones we recommend for safe use throughout what is always a special, difficult time for many women. As an Amazon Affiliate, we may earn from select purchases made through us, which helps fund our independent research and product testing.
Either way, we always give multiple options to direct you to the best products, regardless of where you end up buying them.
Ultimately, we hope you love these pregnancy-safe retinol alternatives as much as we do. Good luck on your pregnancy skincare journey!
***
Trilogy Bakuchiol+ Booster Treatment
Trilogy's Bakuchiol+ Booster Treatment is a lightweight serum that can seamlessly integrate into any existing skincare routine. It's suitable for all skin types and safe to use during pregnancy. (Which the brand states on their website explicitly, which is a refreshing and reassuring kind of transparency. Most brands, moreover, give vague guidelines for skin care product use during pregnancy because of the inherent liability– so seeing Trilogy step up and acknowledge that this product is safe for use during the maternity phase should build confidence.)
Ideal for use in a concentrated two-week period, this vitamin-A alternative is made with 4% bakuchiol, a natural retinol alternative that targets fine lines, dullness, and dryness while improving skin smoothness and elasticity.
This particular formula also incorporates hydrating squalane, hemp, and rose hips oils– all of which are known anti-inflammatories with "anti-aging" properties– as well as meadowfoam oil for added dewy moisture. A little goes a long way!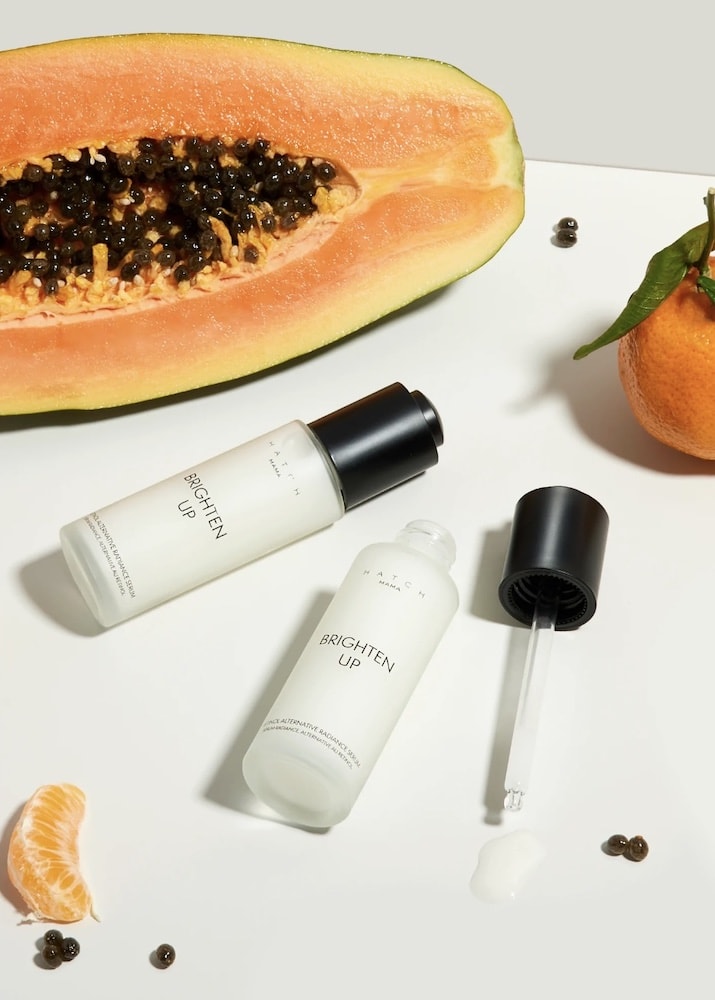 Hatch Mama's Brighten Up Retinol Alternative Radiance Serum
Hatch Mama's Brighten Up Retinol Alternative Radiance Serum is made by everyone's favorite maternity clothing line specifically designed for pregnant women. This concentrated blend of winkle + melasma fighting bakuchiol and antioxidant-rich tangerine peel, papaya, argan & apricot oils supports glow and replenishes stressed-out and hormonal skin without worry.
It's free of parabens, phthalates, silicones, dyes, and the other usual suspects, and can be used to target dark spots and fine lines throughout pregnancy and beyond. We love the milky texture and the delicate, refreshing scent, which is vaguely summery (perhaps from the apricot oil).
For the best results, use before your nightly moisturizer, and be sure to store the bottle in a cool, dark place if possible. (We like keeping it in the original box to limit light exposure and keep this plant-based solution nice and fresh throughout its life cycle. Like any retinol alternative, it should only be used at night.)
Also, Some Notes on SPF (While We Have Your Attention)
FWIW, Hatch also makes a pregnancy-specific non-nano zinc oxide SPF 50 face sunscreen, which gives broad-spectrum protection from the sun's rays. You should always use a non-nano zinc sunscreen during pregnancy— no chemical sunscreens, please!
We have a list of our favorite brands and the cleanest non-nano zinc formulas here (and believe me, we've tried them all). Check it out!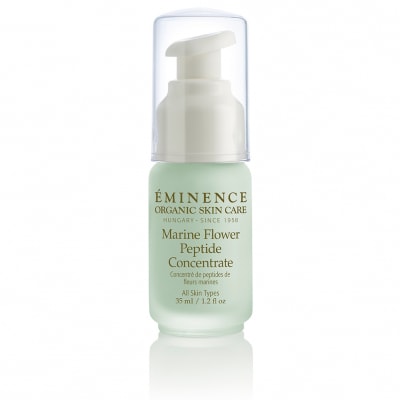 Eminence Organic Skin Care's Marine Flower Peptide Concentrate
Eminence Organic Skin Care's Marine Flower Peptide Concentrate is powered by marine flower peptides (aka a mix of sustainably sourced algae) in a unique gel-cream concentrate that's both lightweight and firming.
These "superfoods of the sea" target the visible signs of aging by delivering essential amino acids and antioxidants to increase firmness and provide instant hydration. This dewy serum leaves skin smooth and supple while working to visibly reduce fine lines and wrinkles.
While the effect is not as intense as retinol or even bakuchiol, marine peptides are very restorative to the skin barrier and the benefits are protective over time.
We love that it doesn't have much of a fragrance– ideal for people who struggle with strong smells during pregnancy. Plus, like all Eminence products, every single ingredient is organic and the smell is very subtle. This formula is super, super clean.
For what it's worth, we also like Eminence's Bamboo Firming Fluid, which has a similar pregnancy-safe retinol alternative derived from chicory root oligosaccharides and tara tree that smooths the appearance of wrinkles.
Herbivore Botanicals Bakuchiol Retinol Alternative Smoothing Serum
Herbivore Botanicals Bakuchiol Retinol Alternative Smoothing Serum is a go-to natural beauty store staple. We love this brand's whimsical aesthetics, from the serum's elegant lilac color and the ergonomic glass bottle to the fact that the texture is bouncy and jelly-like. It's a playful take on a beauty routine staple, and we're here for it.
Herbivore's products are proudly gluten-free, cruelty-free, and free from parabens and sulfates, of course. Their signature formula includes babchi extract (which smooths fine lines and wrinkles) as well as PHA (polyhydroxy acid, a gentle exfoliator that is also pregnancy safe). Together, these ingredients bring balance and glow to all skin types.
Basically, beauty fans love this product, even those who aren't pregnant. Fortunately, you can also use it during pregnancy and the postpartum period, as well.
Today, it's a popular staple at many of New York City's coolest clean beauty shops, too– a testament to its enduring appeal among beauty industry insiders.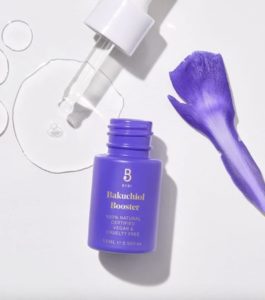 BYBI Bakuchiol Booster 1%
UK-based BYBI is an earth-focused natural skincare brand that makes affordable medicine cabinet staples. Accordingly, their Bakuchiol Booster 1% is frequently sold out, as this ~$15 retinol alternative is lightweight, vegan, cruelty-free, and designed for every day.
This brightening and smoothing nighttime serum has been shown to reduce wrinkle depth and hyperpigmentation without the potential negative side effects like dryness, irritation, and photo-sensitivity that can come with traditional retinol products. Plus, this one is carbon neutral, so you can feel good about the impact on your skin and the planet.
And, for what it's worth, Lady Gaga is apparently also a fan.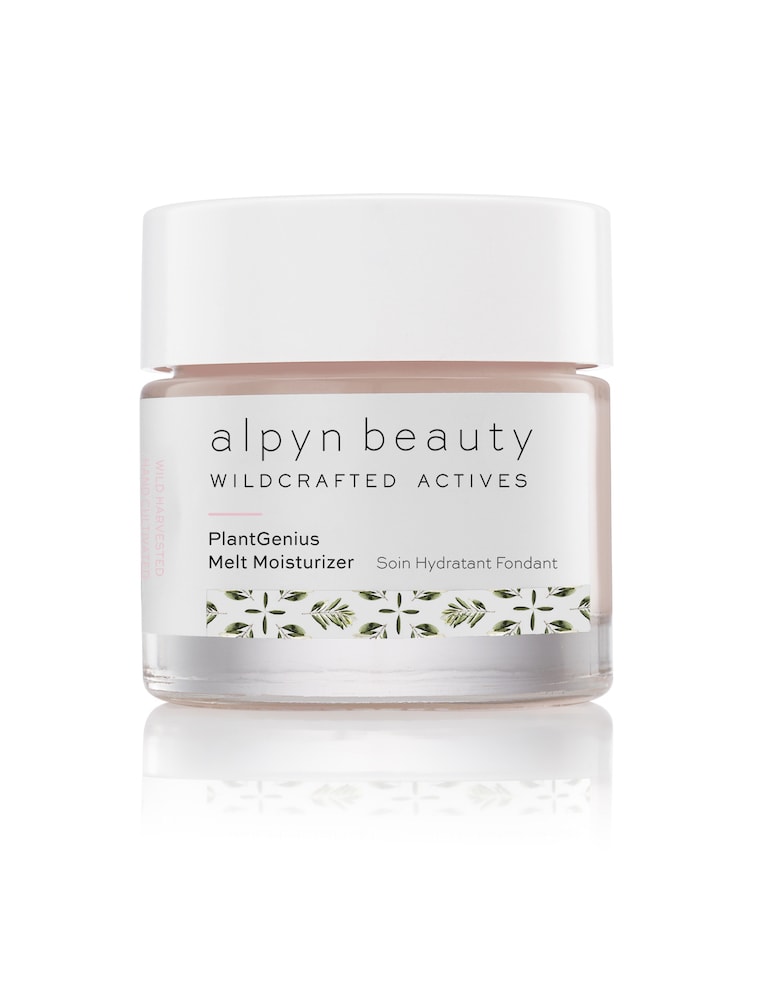 Alpyn's PlantGenius Melt Moisturizer
As we wrote in our guide to the Best Natural Moisturizers for Mind, Body, and Earth, Alpyn's wildcrafted PlantGenius Melt Moisturizer is a lovely, tightening emollient cream for smoothing fine lines, bolstering collagen production, and evening facial discoloration.
Powered by plant-based bakuchiol, this pretty pink moisturizer has a nice, matte finish that leaves you feeling hydrated without the shine. Also, the formula is so gentle that the moisturizer is safe for wearing day and night. (Just be sure to wear sunscreen as your top layer before going outside. Makeup also glides on seamlessly over this moisturizer.)
Ultimately, Alpyn was one of the first beauty brands that started using bakuchiol as a natural retinol alternative, and we've been fans of their bespoke formulas ever since. This moisturizer is the OG classic!
Plus, it's a great low-maintenance pregnancy-safe retinol alternative for people who are too tired to maintain a skincare routine that has multiple steps. (And during pregnancy, who can blame you?)
Basically, it's a serum and a moisturizer all in one. The easier, the better!
Avalea Phyto Radiance Concentrate + Bakuchiol
Avalea's Phyto Radiance Concentrate + Bakuchiol serum is gentle enough for day use without the drying, redness, or sensitivity that comes with typical retinol formulas. (Which, again, you usually use only at night.)
Instead, this rosehip-infused bakuchiol formula delivers line-smoothing results in a tidy, neutral concentrate that you can use day or night– or both. It's also a great price for a bakuchiol product (~$28 for 1 fluid ounce, as of this writing). Plus, it's quite moisturizing despite being safe for use in dry and acne-prone skin, alike.
Most users also report increased radiance with this formula, in addition to the expected wrinkle- and pigment-mitigation that comes with any bakuchiol-based formula.
You can buy it on Amazon or directly from the brand's website, which often has free shipping. Ultimately, you can't really go wrong with any of the brands on this list. But, if you want a formula that's also Leaping Bunny Certified Cruelty-Free, this is your best bet.
***
Related: The 6 Best (and Most Effective) Pregnancy-Safe Sunscreens.