If you're looking for an adorable 1st birthday gift that's eco-friendly, non-toxic, and stylish, we've got you covered.
When shopping for a thoughtful birthday gift for a one-year-old, keep this in mind: Today's modern parents want toys that are functional, educational, and ideally made from non-toxic, sustainable materials (and if they also look aesthetically pleasing, that's even better!).
It's a tall order to fill, especially in an internet culture where we have an almost impossible amount of choice. Nevertheless, the eco-chic toys in this guide make great gifts for curious 1-year-olds with a wide variety of interests. And the parents will love them, too!
Below, we've spotlighted several gift ideas for one-year-olds that capture this "mindful toy" zeitgeist. These parent-led brands are making the kinds of toys we want to see in the world, ones that fellow eco-minded parents appreciate receiving.
Also, this post contains affiliate links. As an Amazon and Etsy Affiliate, we may earn from select purchases made through us. But, we also link directly to brands with whom we have no affiliation at all. Our goal is merely to save you time and help you find a special gift for your child or someone else's, while also supporting small, ethical, environmentally-innovative businesses. Good luck!
All of these gifts are super cute and creative– we own and use them all with our own families.
Enjoy!
***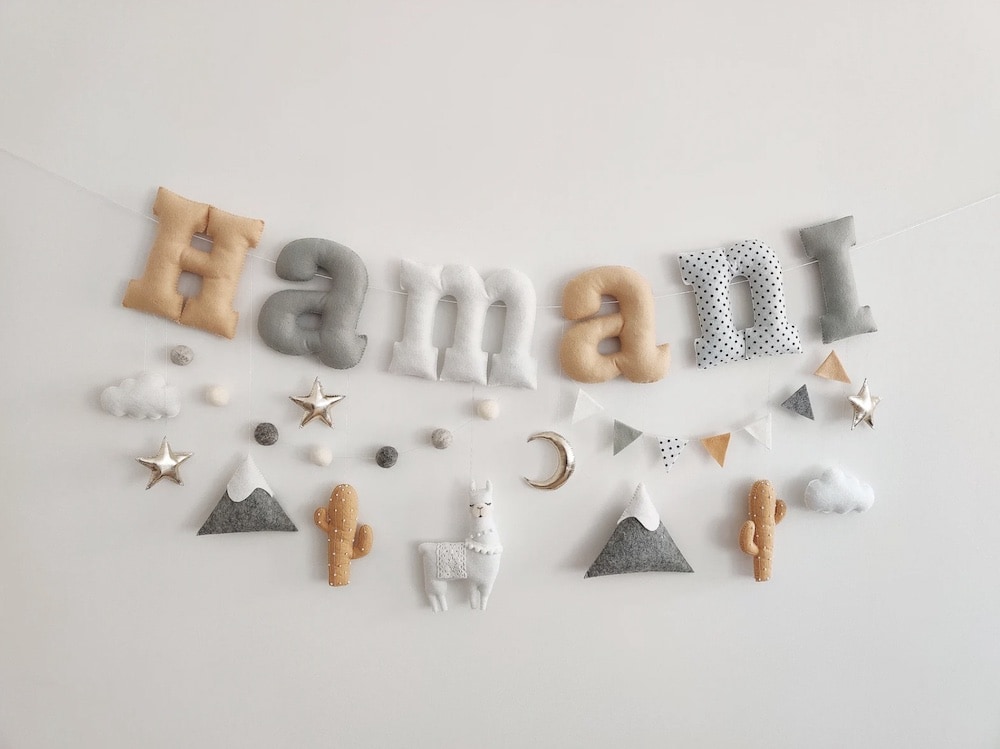 A Personalized Felt Name Garland
Zozo Toys on Etsy makes adorable, customizable felt name garlands that are great for families who already have too many toys. Choose from a roster of customizable details like llamas, trees, flowers, and cacti– or, stick with a pre-fab design. (They have nature-themed garlands, ocean-themed garlands, space-themed garlands, etc.)
The letters within the name, of course, can be customized with various colors and patterns, as well. Everything is hand-made and aesthetically pleasing– ideal for design-loving parents or people with a strong nursery theme.
For what it's worth, this maker also constructs beautiful high-end mobiles that make great gifts for new-new babies, as well. We love them all!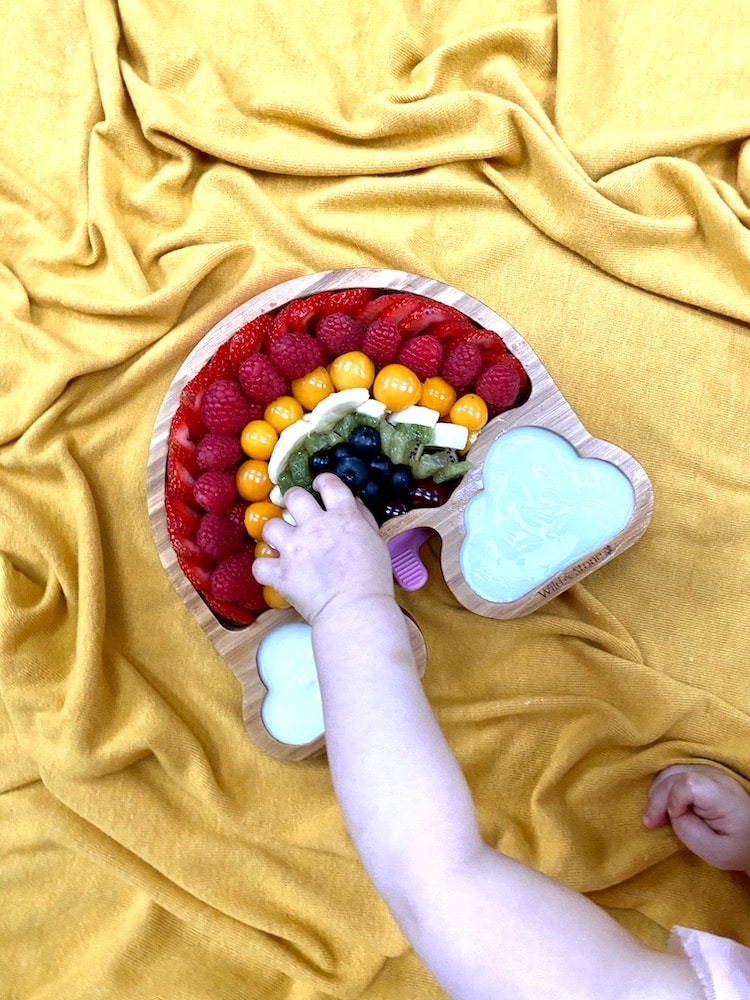 Over The Rainbow Suction Plate by Wild & Stone
Wild & Stone is a dedicated bamboo and silicone baby cutlery company that specializes in plastic-free, chemical-free spoons, plates, bowls, cups, and more. We absolutely love their Over The Rainbow Suction Plate, which is ideal for making fruit rainbows that a 1-year-old can (finally) eat.
This adorable bamboo baby plate is BPA-free and features a convenient suction bottom so that it can be placed firmly onto any surface, from high chair trays to tables or even on the floor. (You do you, parents!)
Mostly, we love the charming design. The clouds are perfect for placing yogurt, cheese, or even hummus if you want to make a steamed veggie rainbow. (<— That works just as well as fruit!)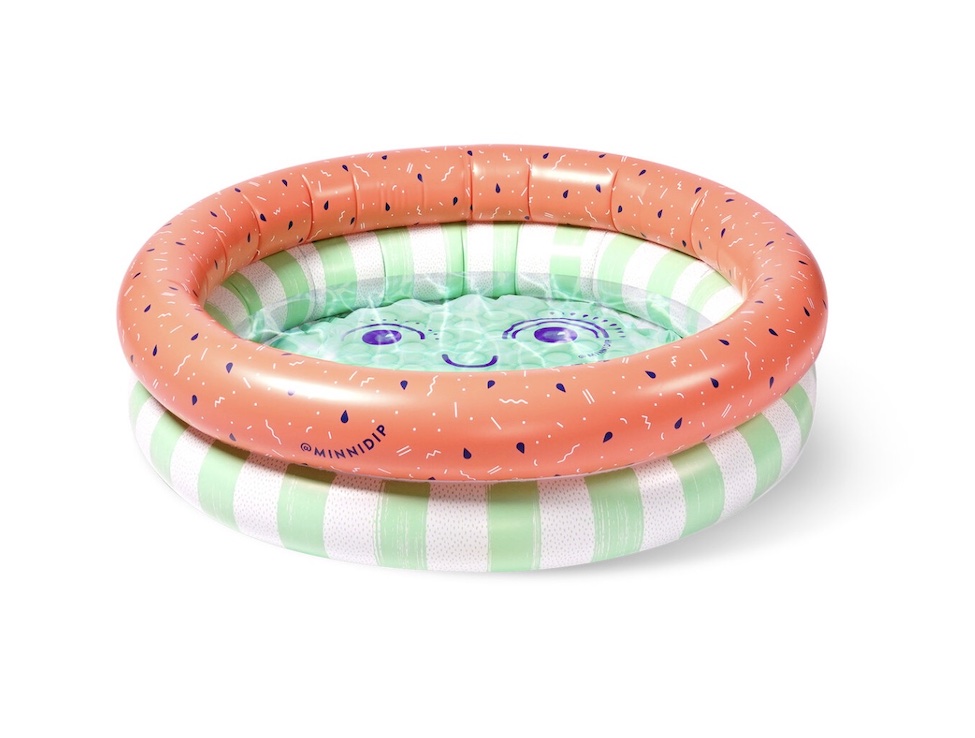 An Adorable Inflatable Kiddie Pool (Made with Non-Toxic Materials!)
Finding a non-toxic kiddie pool that's safe for babies is no small feat. Fortunately, Minnidip's Slice Slice Baby is designed with the babies of eco-oriented mothers in mind. There aren't any phthalates or heavy metals, and it's compliant even with strict standards like US California Prop 65.
This durable soft-touch vinyl tub comes in a variety of cute themes, like lemon slice and the above-shown watermelon.
They also range in size from minni-minni (ideal for single, small sitters) to adult size (bring the whole family– perfect for summer birthday parties!).
The company also includes a repair patch with every order, so they're as easy to repair as they are to set up. (You can even inflate the pools with a hairdryer set to cool. See their How-To Page for step-by-step instructions.)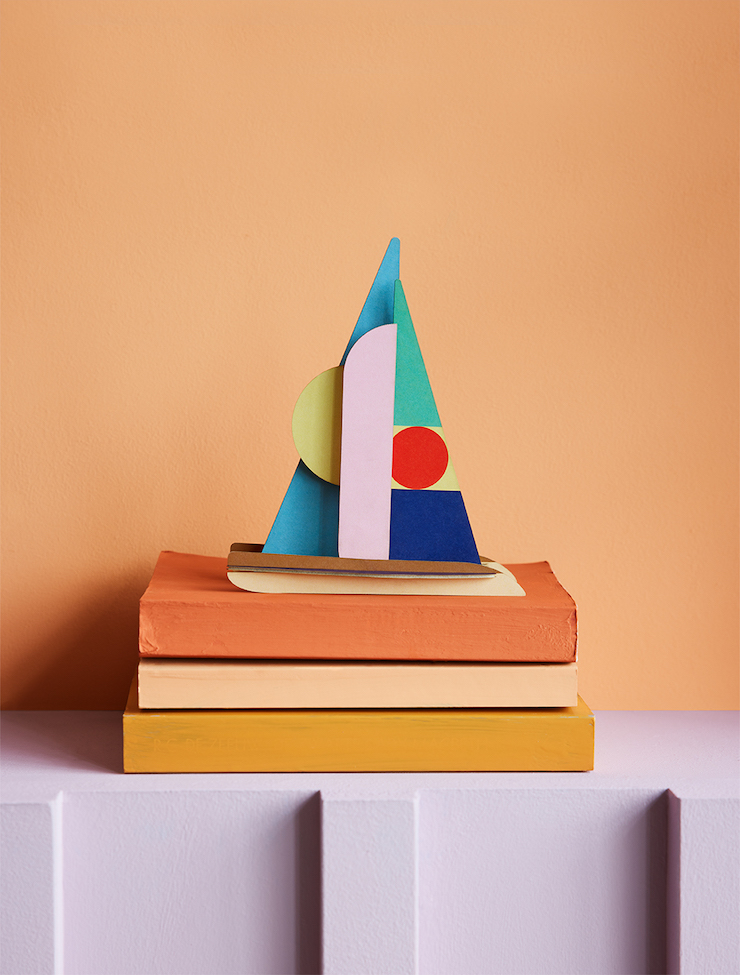 Studio ROOF Eclipse Catamaran
Studio ROOF's Eclipse Catamaran is an aesthetically-pleasing build-your-own vehicle for imagination. The colorful cardboard ship is a fun, colorful, intriguing object for small hands to hold and fiddle around with.
Mostly, though, it's a whimsical object for parents keep in their rooms or on a bookshelf.
These cardboard ships are 3D, made of recycled cardboard, and printed with vegetable inks. (Assembly instructions are inside the packaging.)
For those who want to build a set, the brand also sells Giant Catamarans and Propeller Planes. These can also be hung above changing pads like a mobile. It's a great distraction for babies who love planes, trains, and all things that go.
A Rubber Roll-Up Piano (or Other Baby Musical Instruments)
Musical babies, rejoice! Rubber roll-up pianos make great baby musical instruments as they don't take up much space, and can be easily stored and turned off when not in use. Plus, you don't have to have a standing baby to play with it– they can just crawl right on over it and still make music!
Around 1 year old, babies learn the joy and whimsy of music. Typically, they'll sway along or even dance to any tune. A roll-up piano lets them make their own music and practice this joy of sound and reverie.
Ultimately, there are several versions of this toy on the market, but we like Picasso Tiles' colorful roll-up key board because it's made from sustainable rubber. Plus, it's made in the US!
Also, if you're in the market for other baby instruments, Hape makes a great baby drum that's pre-programmed with melodies and songs. They also have a nice learning lights harmonica.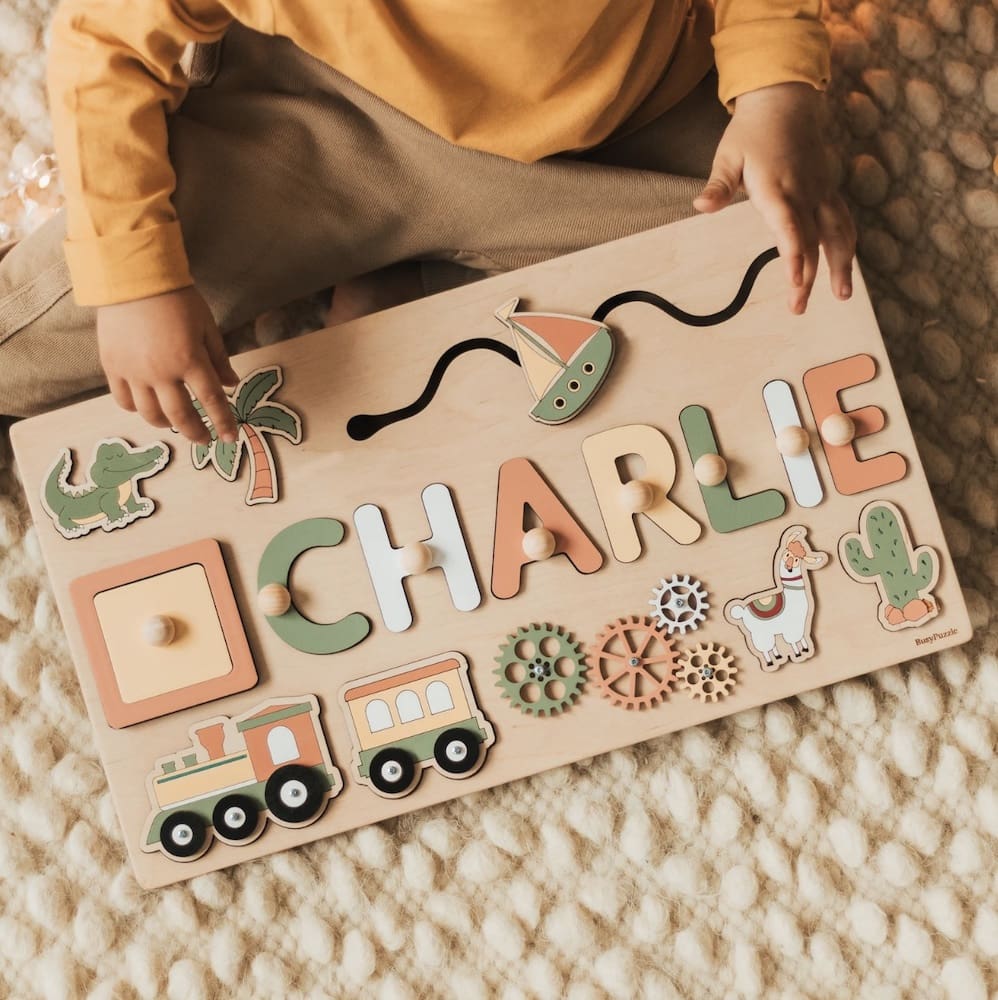 A Customizable Name Puzzle
In general, when shopping for a baby with the environment in mind, you want to avoid plastic at all costs. It's bad for them and bad for the environment.
Fortunately, Buzy Puzzle makes adorable plastic-free wooden name puzzles that are ideal for curious, capable 1-year-olds. This Montessori-style toy helps new toddlers with emerging fine motor skills and name recognition at the same time.
You can customize the name and design details to your liking. Keep in mind, however, that the longer the name, the more expensive the puzzle. (Everything is made to order, after all.) The same company also makes personalized name trains, which can be nice for auto-loving tots. And, you can add personalized engravings if you'd like to put a message on the back of the puzzle.
Ultimately, however, Etsy has a ton of options, so feel free to explore all the different styles, sizes, and colors available! The beauty of this gift, like the name banner above, is being able to make it really personal.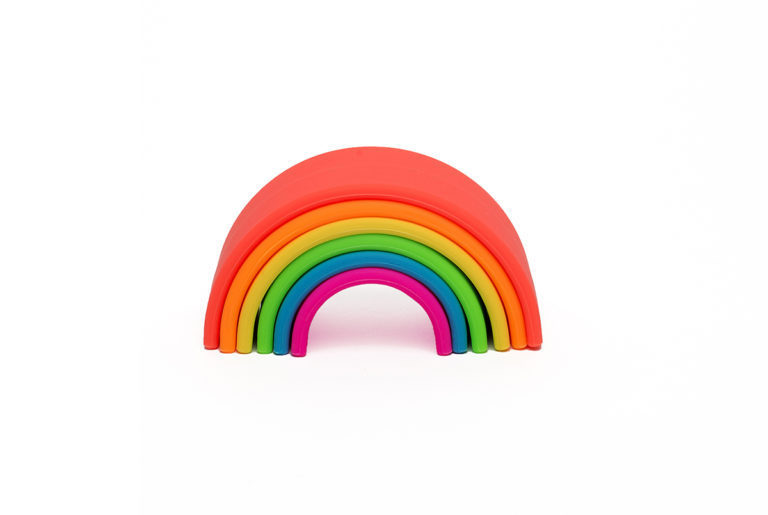 A Dëna Rainbow
Dëna is a Montessori-style toy company based in Spain that makes toys that are simple, safe, and smart. Everything is made from 100% food-grade silicon, which is why their Dëna Rainbow— a play-off of the classic Waldorf Rainbow (a staple of Montessori-style sensory learning)– is safe even for the littlest curious mouths.
Babies 0+ months and up can use this toy and "[adapt] it to their evolutionary stage", as the brand says, "from teether to baking mold".
We love the bright colors and the fact that re-shaping the 6-piece stack in various ways allows for endless creative possibilities for play and learning. You can stack them, flip them, make animal shapes out of them, and more!
The model in the picture above is the original, but there are also cheaper versions on Amazon that are also made of silicone. (We just love this brand and its mission, and value buying directly from the source.)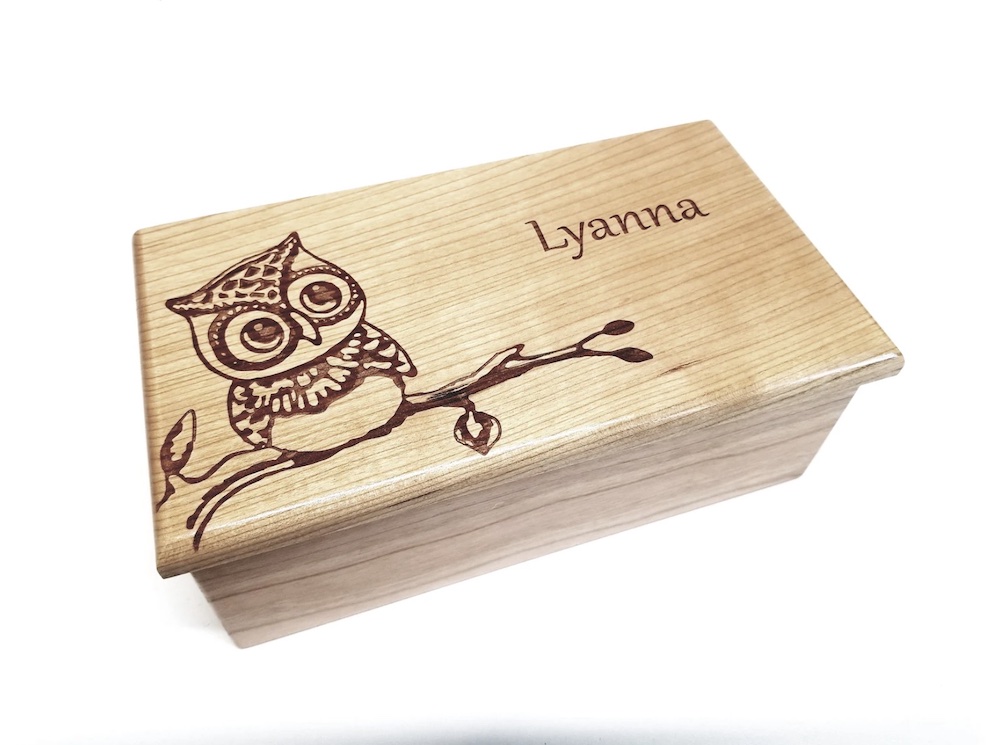 A Wooden Music Box
Bryan Crider's Hand-Crafted Woodworking and MJ's Woodburned make custom wooden music boxes that you can buy on Etsy.
I love that this music box is crank-powered (no batteries or Wifi necessary!) and it's made from wood instead of plastic, which gives it a real heirloom quality.
You can even choose the wood finish (cherry, walnut, mahogany, ambrosia, etc) and the song. ("You Are My Sunshine", "Amazing Grace", "Brahm's Lullaby", "Circle of Life", "Hey Jude"– There are dozens of options! They can even do pop culture songs like the Pink Panther medley or "Hedwig's Theme" from Harry Potter.)
Get your music box customized with the child's name and a chosen design that will be burned into the textured surface of the box. We like The Tree of Life, Moon & Stars, and Owl designs– but there is plenty of variety to choose from.
Every MJ & Bryan music box is built, hand sanded, hand finished, and engraved custom for each order. As a result, each one has a unique look and feel. (Because they are all handmade!)
Ultimately, this gift– one part Old School, two parts artisan– is truly one-of-a-kind. A music box is a great option if you're buying for a family member, as this can add sentimental value to the keepsake. These ones are made with a lot of thoughtfulness and love, and the ability to customize them is a great bonus.
***
Related: This Gâteau au Yaourt recipe from Bringing up Bébé makes a great first birthday cake. Try it!