Whether you're shopping for a birthday, housewarming, or holiday, these thoughtful, charmingly sweet gift ideas will spark wonder and joy any time of year.
From edible treats to shippable sweets and every socially conscious, allergy-friendly, gluten-free, organic, and vegan option in between, this shoppable guide has a little bit of something for every sweet tooth.
But it's not all about the sugar, folks– we also love the precious novelty and inspirational stories behind each of these super unique gift ideas. Scroll down and you'll see what we mean.
Herewith, we spotlight a handful of beautiful, aesthetically pleasing gifts that just so happen to be edible, too. In that spirit, they're perfect for holiday gift swaps– or just as a treat to yourself. Come for the wonder, stay for the joy!
***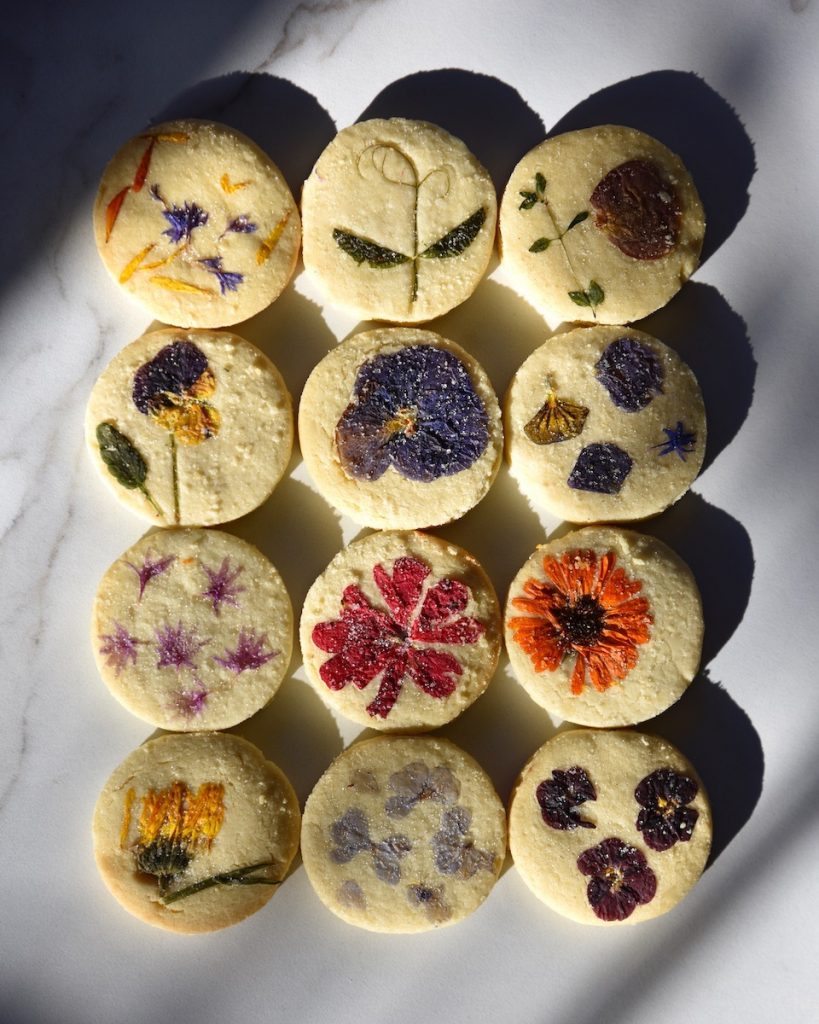 Lori Stern's Pressed Flower Shortbread Cookies
We love Lori Stern's Pressed Flower Shortbread Cookies, which are made with edible flowers that Stern grows in her own garden in Montecito, California. Not only are the cookies she makes delicious— seriously: the vanilla shortbread that she bakes them into is delightful; rich and buttery, with a perfect, chewy crumble– but her unique flower pressing technique yields creative flower cookies that are an absolutely joy to behold.
While a set of these cookies isn't exactly cheap (~$48 a dozen before shipping and handling,) you can rest easy knowing that the ingredients are organic, and the flowers are wild and pesticide-free.
There are seasonal varieties, too– including holiday cookies fashioned to look like wreaths and garlands; Maple Fall botanical cookies; and recently-introduced gluten-free and paleo options. (Be advised, however, that all cookies are made in the same kitchen, so they cannot guarantee freedom from cross-contamination.)
In addition to cookies, Stern– a flower lover through and through– also makes other seasonal floral treats like pressed flower chocolate, pressed flower brownies, rainbow flower-infused buns, and various herb- and flower-infused pies, breads, and cakes. These she infuses with whatever she finds growing in her garden at the time.
Ultimately, it's an aspirational vision of #bakerylife in pastoral California. Even scrolling the website feels like a bucket of warm sunshine. Stern's cookies (and her other sweet gifts, too) will have any recipient smiling from ear to ear.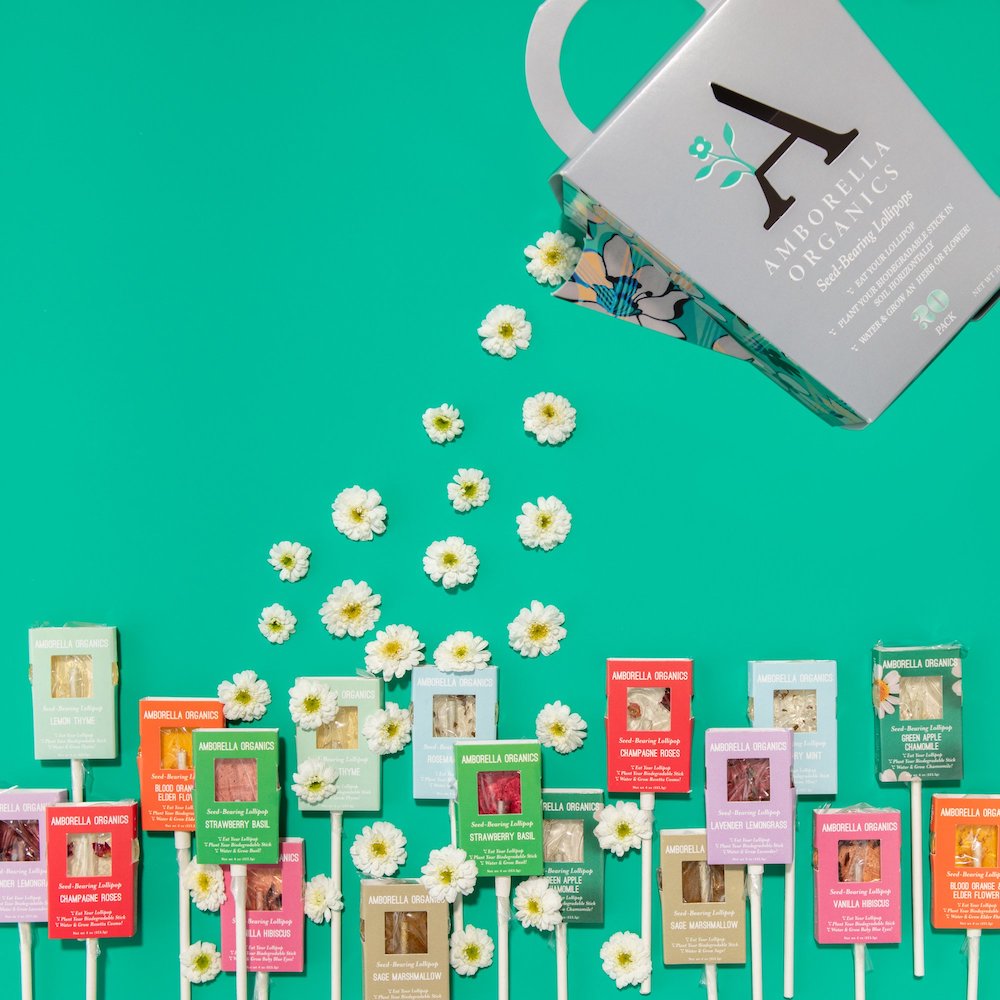 Amborella Organics' Seed-Bearing Lollipops
These chemical-free, real-sugar lollipops aren't just delicious: when you plant a stick, a flower or herb will grow in its place! Amborella Organics' Seed-Bearing Lollipops are totally adorable and themed after each flavor.
When you plant the stick of the Peach & Marigold lollipop, for example, a marigold will grow in its place. The Strawberry & Basil lollipop, meanwhile, grows basil. The Champagne & Roses lollipop blooms into a rosetta cosmo, and the Lavender & Lemongrass lolli stick grows lavender– etc etc. It's a charmingly sweet gift that keeps on giving!
We love the Garden Lover's 8 Pack, which is a great entry-level gift that covers the basics. It contains Vanilla & Hibiscus (which grows baby blue eyes); Sage & Marshmallow (which grows sage); Lemon & Thyme (which grows thyme); Rosemary & Mint (which grows mint); as well as the aforementioned Lavender & Lemongrass, Peach & Marigold, Strawberry & Basil, and Champagne & Roses.
Amborella Organics also sells themed packages like 1 Dozen Roses (great for Valentine's Day!) and Seed-Bearing Party Bundles that make great favors for weddings, holiday stocking stuffers, baby showers, and birthdays.
Ultimately, these super cool blooming lollipops are a plant-lovers dream! The fact that the lollipops are vegan, organic, and made without harmful dyes is just a bonus. (Each one is Gluten/Dairy/Nut/Soy/Artificial Dye/ and GMO-Free– so you can have your lollipop and plant it, too.)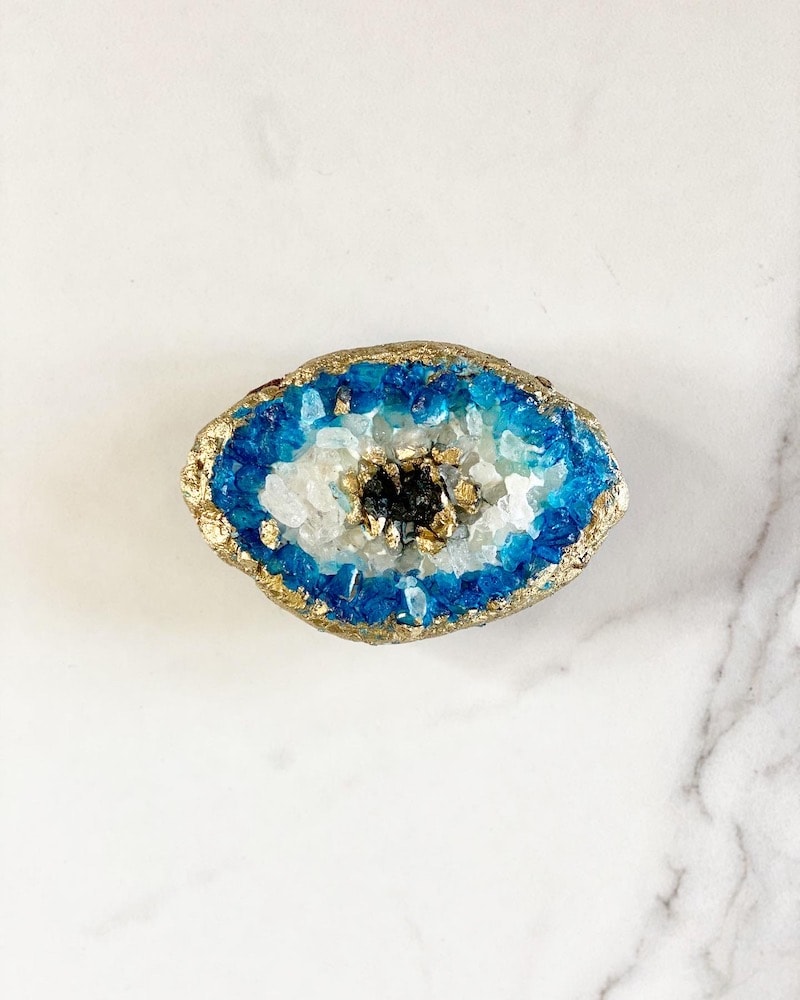 Good Vibes Cookie Company's Crystal Cookies
We love these charming crystal cookies. Good Vibes Cookie Company makes chocolate chip and regular shortbread cookies from scratch, and festoons them with frosting and sugar crystals to create what looks like a raw crystal stone. The cookies are entirely edible, and are infused with various meanings, just like crystals.
Whatever kind of crystal cookie you order (meanings are explained on the website), we recommend the chocolate chip flavor. (It's the most popular and the better tasting option IMHO.)
We also love Good Vibes' signature giant "Evil Eye" cookie, a sweet gift formulated to "Protect you from Negativity & Harm" using sugar crystals that look like Lapiz Lazuli, Onyx, and Clear Quartz crystals for "inner wisdom + protection + clarity." (That's a picture of it, above.)
The Chakra Box— which comes with a small cookie crystal that corresponds to each chakra– is also the coolest. This is a great gift for crystal lovers and people who love themed baked goods, as every cookie is baked with #SweetIntentions.
Be advised, however, that all cookie deliveries are mailed through UPS, which means shipping costs can be pricy.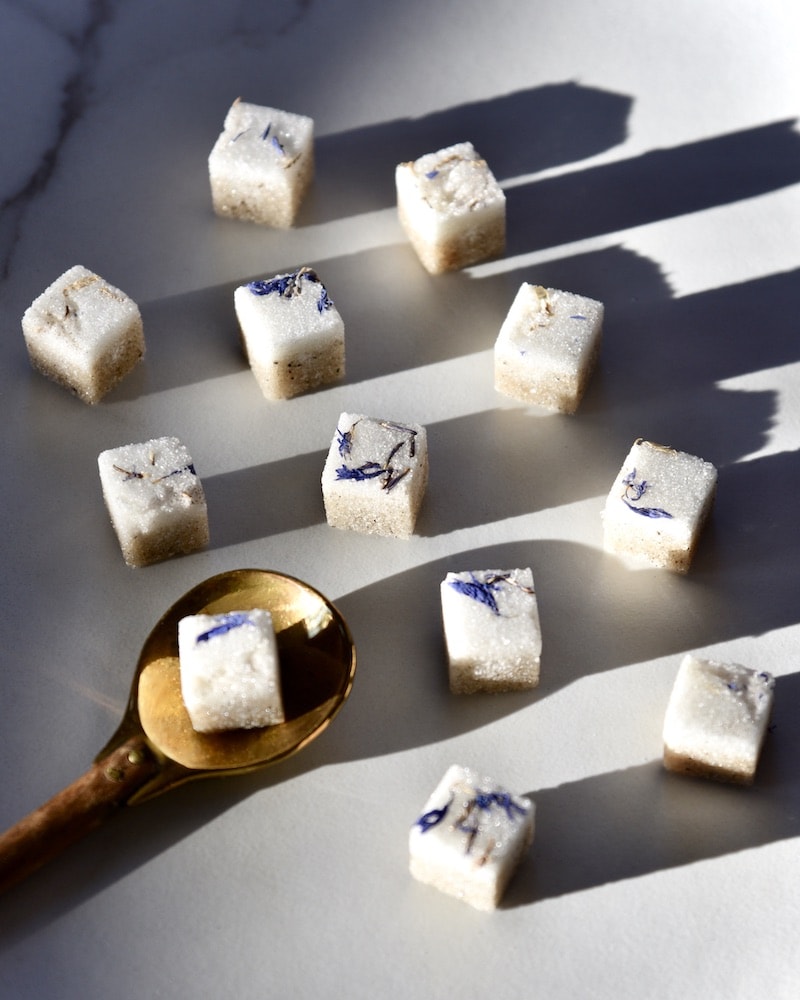 Teaspressa LUXE Floral Sugar Cubes
We love Teaspressa's charming fancy sugar cubes, which make elevated, aesthetically pleasing additions to lattes, cocktails, mimosas, and more! I love the seasonal Blum collection that features colorful spring flowers like rose and lavender. (See picture, above.)
Each floral cube is infused with fragrant essential oils and dried flowers to make an aesthetically gorgeous sugar cube that's great for topping off special drinks and other sweet treats. You can also crush them to use in special baked goods and DIY sugar scrubs!
For the classic experience, drop a lavender sugar cube in your latte for a cool twist on a London fog, or drop a rose sugar cube in your mimosa for a festive and uplifting take on a classic. Foodies love the whole concept. (And both lavender and rose are said to elevate mood, a subtle bonus for stressed-out folks!)
Teaspressa also sells cocktail-specific and also hot chocolate-specific infused sugar cubes, which you can drop into a cup of hot milk and enjoy an instant cup of hot cocoa. (The former makes a great housewarming gift, and the latter is a perfect holiday stocking stuffer!)
Shop the beautiful, seasonal sugar cube collection, here.
DeLight Patisserie's Custom Message Shortbread Cookies
DeLight Patisserie's customizable message cookies are made in LA, inspired by Paris, and available for shipping across the U.S.. We love that the ingredients here are super clean. (They make their cookies with flour, butter, powdered sugar, cage-free eggs, vanilla extract, and salt only.)
Plus, the individual wrapping for each cookie ensures that these sweet edible gift cards stay fresh for up to 1 month. So cute, right?
Either customize your own message on their signature vanilla shortbread cookies, or choose from any of their seasonal, pre-fab messages. These can range from standard holiday greetings to "uniquely you" positive affirmation messages like "You are a badass" and "You are beautiful". They also have cookie boxes for baby announcements and new moms.
Order your own custom message cookies here.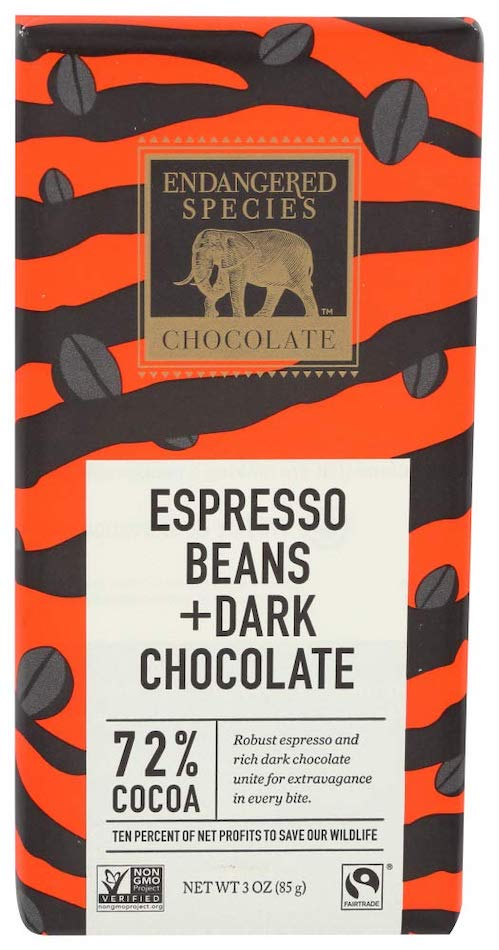 Endangered Species Chocolate That Protects Wildlife
These wildlife-supporting chocolate bars support species, habitat, and humanity. Endangered Species Chocolate has donated over $2 million since 2016 to support the protection of endangered wildlife and their habitat. (Ellen DeGeneres loves them!) Today, they continue to donate 10% of their net profits to this mission.
This money goes directly to GiveBack Partners including The Dian Fossey Gorilla Fund International and The National Forest Foundation. (In the past, they've also worked with organizations like Rainforest Trust and Wildlife Conservation Network.)
Since their founding, Endangered Species Chocolate has also paid $300,000+ in Fairtrade Premiums. This supports farmers, their families, and communities in Cote d'Ivoire, where much of ESC's chocolate is sourced. (As a result, they can guarantee the bars are made with Fairtrade-certified cocoa.)
It's chocolate that makes the world a better place– and it also just so happens to be delicious. The bars are super beautiful and the latest flavors are increasingly modern.
Flavors like Hazelnut Toffee + Dark Chocolate or Cinnamon, Cayenne, & Cherries + Dark Chocolate delight foodies. (Just look at these rave Amazon reviews!)
Seasonal holiday flavors like Fudgy Peanut Butter + 48% Milk Chocolate, meanwhile, are great for purists. They even have vegan oat milk premium dark chocolate chips! (<— I love baking with these! They're especially helpful if you're trying to make something vegan but you want to use milk chocolate.)
Ultimately, we love the colorful, heart-warming packaging, the mission, and the taste. Endangered Species Chocolate bars, meanwhile, are shaped into breakable, melt-in-your-mouth sections that are perfect for sharing. (If, that is, they last long enough to do so.)
***
Related: NYC's Best, Most Famous Cookies: 6 Must-Try Treats (<— Many of these ship nationally, too!)