New Orleans is one of the truly mythic cities of the American South, full of Native American, Creole, and down-home Southern spiritualism subsumed with the spirit of local jazz. It is a place full of soul, heart, music, celebration, struggles, and triumphs, at once cheerful and gothic, haunted by the past but evolving solidly towards the future. The best restaurants in New Orleans, as a result, are both a counterpoint to and mirror of this unique, inimitable local culture.
From the willowy cypress trees and unexpected hibiscus that define the landscape in "the Swamp," to colorful Mardi Gras celebrations and open-air drinking on Bourbon Street, there are many aspects of N'awlins' culture that you simply don't see in any other city– in the South, in America, or anywhere.
Food is a huge aspect of this celebratory local culture, informed by both the city's precarious location on the often hurricane-addled Gulf Coast– and also by the diverse and multifaceted immigrant populations that have inspired the city's traditions over the years.
Reigning over all of this dynamism is the iconic depiction of a fleur–de–lis— a stylized lily that used to represent the French royal arms, which is emblazoned on architecture, clothes, and souvenirs across the city.
Today, as one of New Orleans's most recognizable symbols, as the mascot of the New Orleans Saints NFL team and the unofficial "mascot" of post-Katrina life in New Orleans. (It's a lily that represents the Holy Trinity, thought to protect the city.)
A Down-Home Culinary Tradition
Whether you're looking for a nice restaurant at which to try gumbo, a Po'Boy, or traditional shrimp n' grits– or are simply in the mood for a good coffee, doughnut, or sandwich, New Orleans' best restaurants deliver on both character and flavor. This is a city with a lot of soul.
Ultimately, hospitality is a defining characteristic of New Orleans– a place where oyster bars, Italian delis, French cafes, and gourmet sandwich shops can all flourish in equal measure. The results, as they say in the South, make for some good eating.
Below, we spotlight some of the best restaurants in New Orleans– and what, specifically, you should eat where for the best experience.
***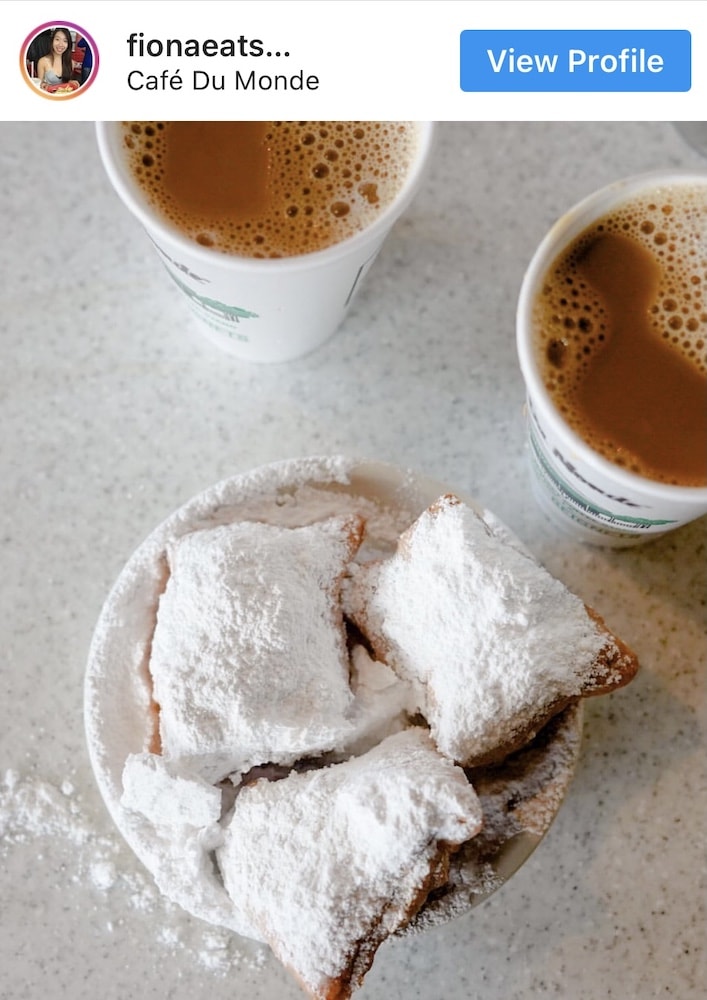 Late-Night Beignets at Café du Monde
Open 24 hours a day, 7 days a week, Café du Monde is likely the single most popular food destination in all of New Orleans. There's a reason why it's one of NOLA's most popular local establishments, as well.
Their café au lait is excellent, as is their rare and exceedingly hard-to-find chicory coffee. But above all– and the reason you've probably already heard about Café du Monde– is that they serve incredible beignets.
A beignet is a French-style fried dough covered in powdered sugar, which is both vaguely European and decidedly American. You simply have to sip a café au lait while eating beignets in New Orleans. You just have to. They are so good. But most importantly: it's a rite of passage!
Established in 1862 in the Original French Market on Decatur Street, Café du Monde is a traditional French coffee shop. In addition to top-notch coffee, they serve delicious white and dark hot chocolates, as well as fresh-squeezed orange juice.
Many people go here at weird hours of the night to eat under the twinkling lights on the open-air patio. Here, you'll find people chatting into the wee hours of the morning. (After a night of drinking in New Orleans, it's also a local favorite way to sober up.)
Head here after visiting a jazz club or swing by during an after-dinner stroll along the Vieux Carre.
This café is so popular that it now has many locations around the city (even the airport!), but we like the Riverwalk and original French Market location in the French Quarter best. (<— This latter offers the most "authentic" experience, after all.)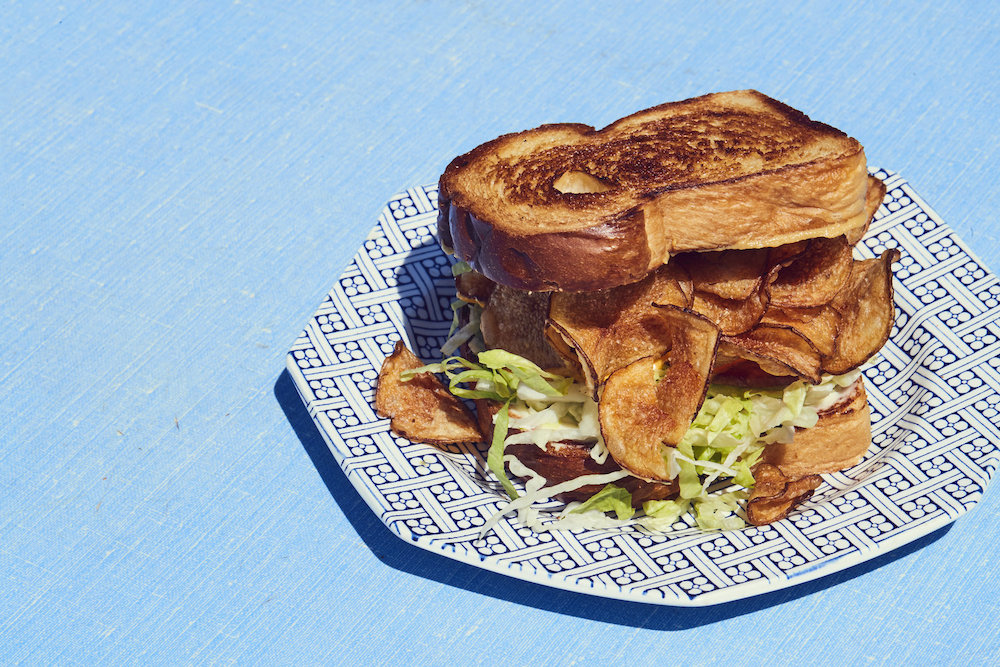 Sandwiches at Turkey and the Wolf
Shortly after it opened in 2016, Bon Appétit proclaimed that Turkey and the Wolf makes some of the best sandwiches in America– high praise from a culinary magazine that is rarely so fixated on casual dining.
Later, Food + Wine called it one of the most important restaurants of the decade, effectively cementing its reputation as one of the best restaurants in New Orleans today.
The praise, of course, is deserved. Founded by Mason Hereford, who moved to NOLA from Charlottesville, Virginia, this hipster sandwich shop serves some of the most inventive food in the city. The medium just so happens to be sandwiches.
At once unpretentious and surprisingly sophisticated, each is a powerhouse of umami. Consider Turkey and the Wolf's recent roasted cauliflower sandwich, slow-cooked with tomato goat cheese, basil, onion, honey, mayo, and muffuletta-style olive salad on Bellegarde bread. So simple, and yet so good!
Basically: we adore this quirky, colorful sandwich shop. If you like sandwiches, make Turkey and the Wolf a top priority. Just be advised that the menu changes regularly.
If you find something you love, the experience might be akin to witnessing a shooting star. (It's only there for a limited time, and that's partly what makes it so special.)
The cocktails here are also outstanding. Take, for example, the "Awwjeez, A Rad Place To Jamb"– cardamom vodka, pamplemousse liqueur, curaçao, lemon, ginger beer, and Mexican pilsner. So, yes: this place specializes in cocktails and sandwiches– but they're all amazing. It's a hipster match made in heaven!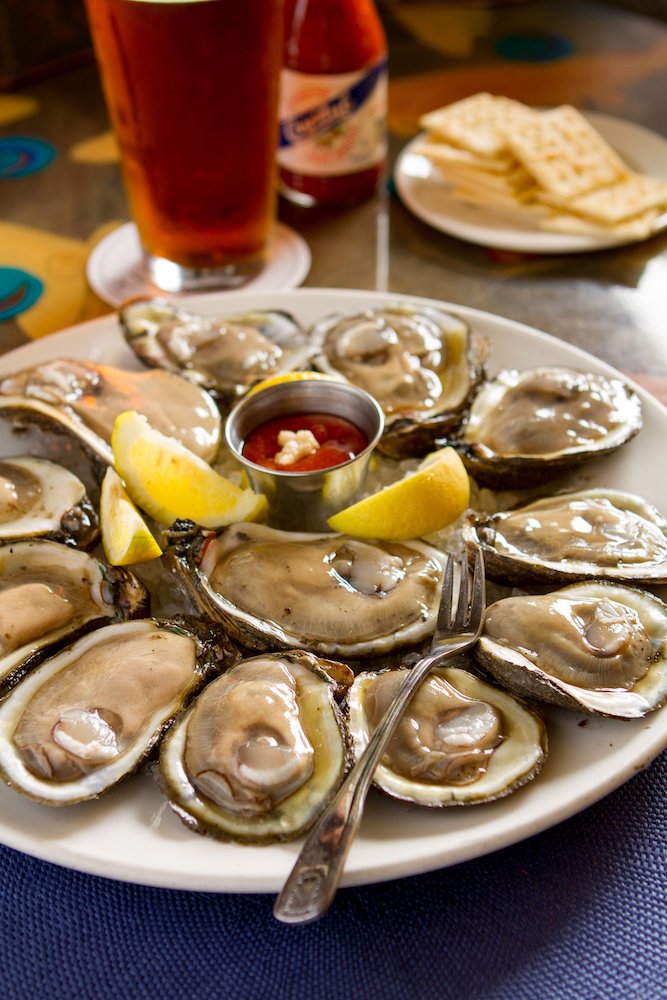 Oysters on the Half Shell with Tabasco and Lemon
Eating oysters in New Orleans is like having a croissant in Paris. You have to! Unless, that is, you don't like oysters– in which case, why did you go to New Orleans? (Just kidding– try them fried if you don't love the texture).
Red Fish Grill, Luke Restaurant, and Bourbon House on Bourbon Street are three of my favorite places to get oysters in the city, but literally, any walk-up oyster bar will do. It's all good.
Of all the seafood available in the gulf, New Orleans is best known for its oysters. They serve 'um super fresh here, either shucked before your eyes or grilled, fried, roasted, or even served BBQ-style, as they do at Red Fish Grill.
The classic preparation is fresh on the half shell, with a dash of tabasco and a generous squeeze of lemon. If you already like oysters, these are the best you'll ever have.
And if you've never had oysters before: New Orleans is a fantastic place to try them!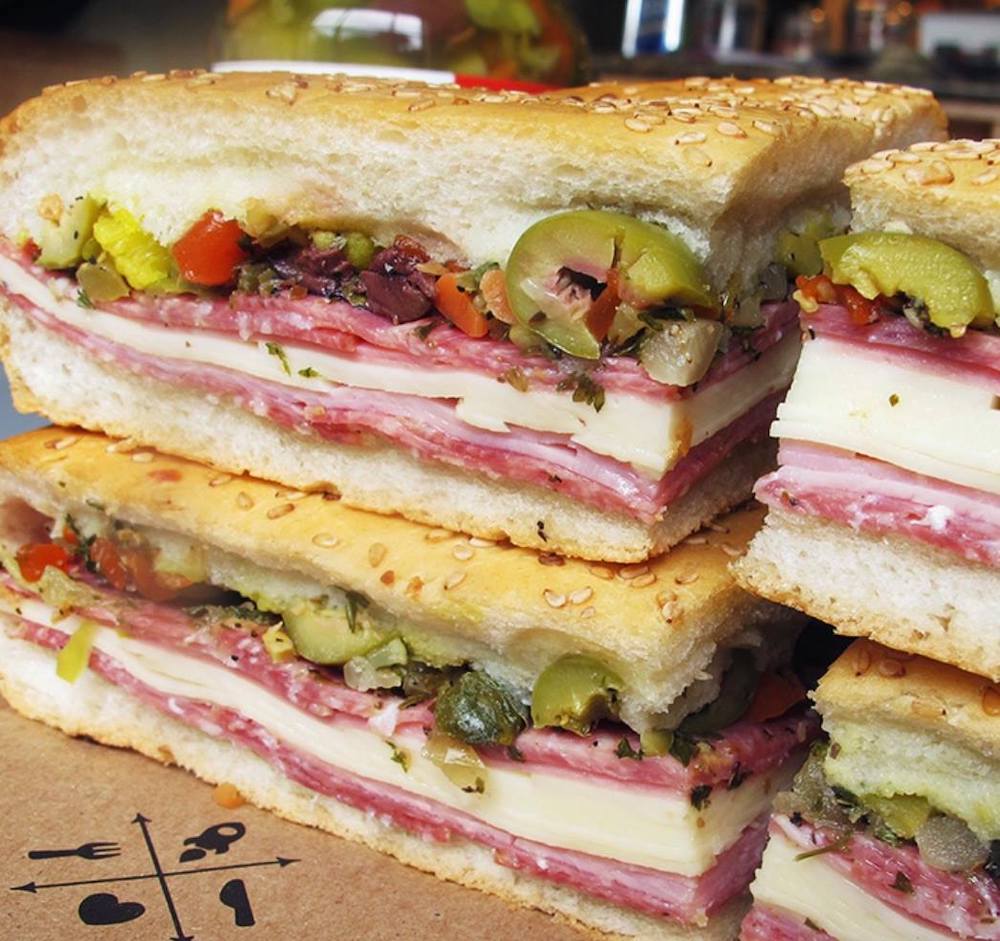 Muffulettas at Central Grocery
Ok, this isn't *technically* a restaurant. Central Grocery and Italian Deli is a dive grocery store and deli in the middle of the French Quarter that nevertheless is regarded as one of the best places to eat in New Orleans. They are famous for their super-famous muffulettas, a lunch-meat-and-olive-stuffed submarine sandwich made on Sicilian sesame bread.
An original NOLA novelty, this sandwich was invented by Italian immigrant and Central Grocery owner Salvatore Lupo in 1906. Today, it is a wildly popular local culinary touchstone.
Central Grocery makes their muffulettas on locally baked bread with their family's own Italian olive salad, the secret ingredient. There's a generous layer of cheese between two laters of deli meat in the middle.
So popular are these sandwiches, in fact, that the deli has partnered with Goldbelly to ship them nationwide! (You can order them here.) If you're a sandwich lover, this is another must-try.
Stop by for takeaway and browse the shop's interesting collection of sauces, olive oils, and aged cheeses. The whole place sort of looks like a grocery store from a Wes Anderson movie. It's surreal. Come for the muffulettas, stay for the #AccidentalWesAnderson vibes.
Also: For those of you who really love deli sandwiches, Stein's Market & Deli also makes excellent "muphulettas" with mortadella, molinari sopressata, Tuscan ham, aged provolone, and house-made olive salad. They're served on a ciabatta with garlic vinaigrette. (In case you want to try both.)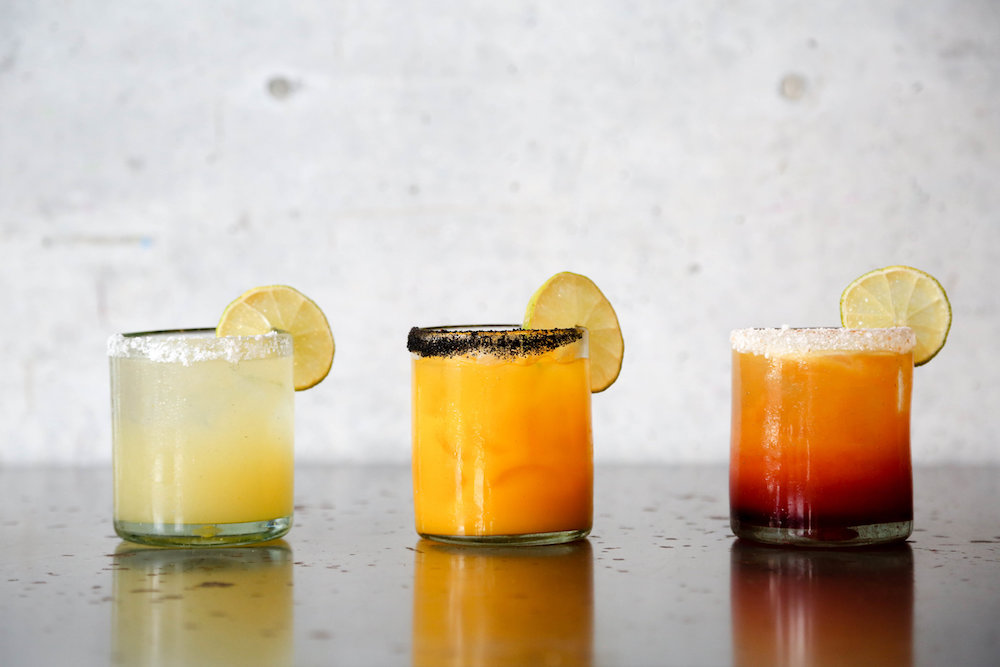 Louisiana-Style Mexican Food at Johnny Sánchez
Johnny Sánchez is the low country Mexican restaurant helmed by beloved Masterchef judge Aarón Sánchez, who specializes in authentic, rootsy Southern and Mexican cuisine. Unlike some of the Mexican food you'll get in California– or some of the Southern food you'll get elsewhere in the South– Sánchez masterfully honors tradition without getting bogged down in the simplicity of the past.
As a result, many critics regard Johnny Sánchez as one of the best restaurants in New Orleans. One taste and it's easy to see why.
Sánchez's dishes are both hearty and uplifting, herbaceous and deeply satisfying without being too greasy or overly seasoned. Instead, Sánchez brings together what is good about each culinary tradition while creating a unique, site-specific fusion cuisine.
Signature items include Louisiana Crawfish Enchiladas and masa-fried Catfish Tacos with avocado, grilled corn slaw, and jalapeño tartar sauce. (You get the idea.)
Here, the warmth and richness of Southern food meets the flavor and impact of the chef's most inventive Mexican dishes. Even the drinks are unique hybrids. Try the citrus-y house margarita, which matches the color and vivacity of Mardi Gras on a sunny day.
Decor-wise, we love the chic, high ceilings and epic tattoo wall art (inspired, no doubt, by Sánchez' own tattoo obsession). The food here is novel, but super delicious. And it aptly tells the story of a place through flavors that diners already know and love.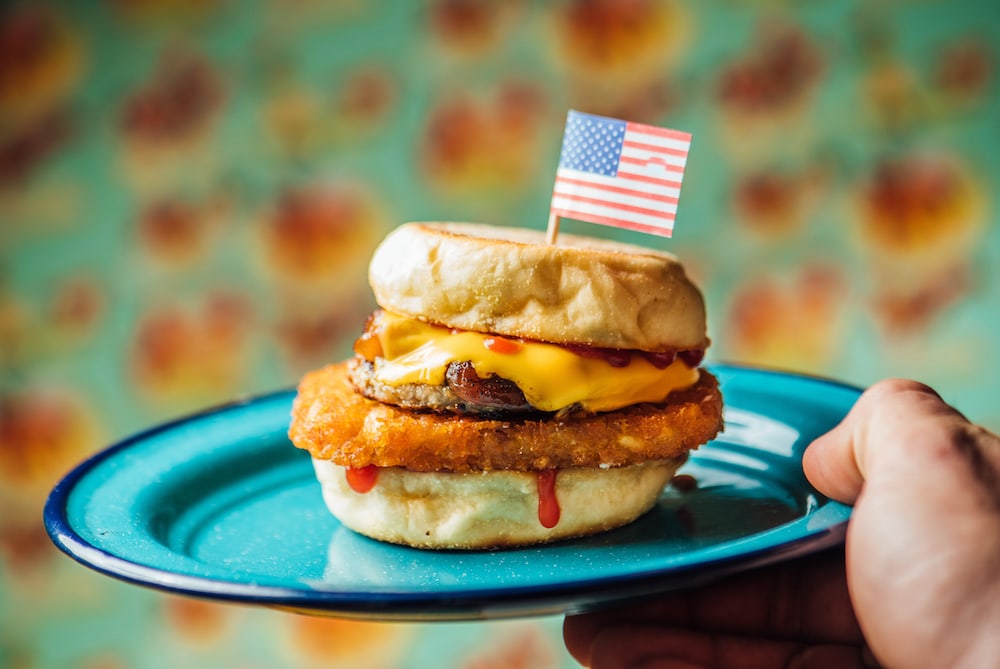 Brunch at Molly's Rise and Shine
If you're looking for a place to experience the best brunch or breakfast that New Orleans has to offer, look no further than Molly's Rise and Shine. Man, we love this place.
This hip, haute Magazine Street take on a greasy spoon serves excellent locally-inspired "only in New Orleans" foodie creations like a Fried Egg Salad Flautas and Deviled Egg Tostada featuring cotija egg mousse, Daniela's firey salsa macha, red bean puree, pickled peppers, cilantro, and lime– or sweet take on breakfast classics like housemade Blueberry-Lime Pop Tarts and Carrot Yogurt (yes, carrot yogurt) infused fruit and granola bowls.
Ultimately, we love their hearty breakfast sandwiches– Think: spicy smothered chicken biscuits and fluffy egg bodega sandwiches with charred jalapeno scallion spread and white cheddar. It's all delicious and filled with umami, the kind of breakfast food that is both novel and deeply satisfying. (And this makes sense, as the restaurant is brought to you by the same folks behind Turkey and the Wolf.)
They also serve some of the best pre-order pizza in New Orleans– check out this gorgeous carrot pizza with roasted carrots, smokey carrot puree, goat cheese, herby pesto, and walnuts. You never really know what to expect from these folks, but they also take care to thoughtfully rep their community, the season, and the network of New Orleans purveyors so that each menu offering is decidedly unique.
In this way, Molly's sort of feels like New Orleans' answer to Sqirl in LA, with just the right amount of cool-kid nonchalance undergirding the restaurant's unpretentious but sumptuous locavore spirit. Foodies and morning people– definitely dine here!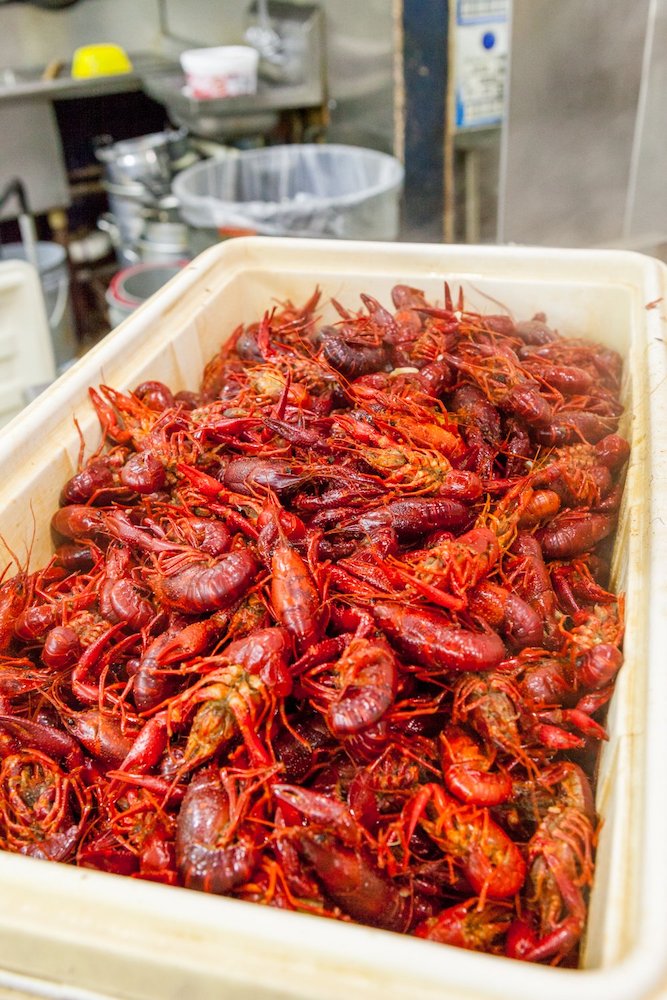 Brown Paper Bags of Crawfish
If you aren't squeamish, sucking your own crawfish is a rite of passage in New Orleans. Many seafood boil shops around the city serve this local delicacy, but we strongly recommend the cajun-style preparation at North Broad Seafood. (It somehow seems less messy over here, not sure why.)
We also like Cajun Seafood, a local chain that specializes in super-flavorful and affordable crawfish boils. Meanwhile, Schaefer & Rusich Seafood is a local staple in Metairie.
New Orleans' long tradition of family fishmongering dates back decades, and often much longer than that. Crawfish, like oysters, are a huge part of the Gulf Coast ecosystem. It's seafood that is synonymous with the place. As a result, the best way to experience crawfish in New Orleans is at someone's home. Ideally, in the company of locals who know what they're doing.
If you can't make that happen, then get takeout at any of these popular spots. (Everyone does it, even the locals.) Thus, the iconic "brown bags of crawfish" you will likely see on your trip.
To eat New Orleans-style crawfish, twist and pull apart the head and tail using your hands. Then, suck the juice from the head, and use your fingers to remove the meat from the tail. (As I said: this is not for the squeamish.)
Crawfish season in New Orleans typically peaks from early March to mid-June.
Take your order to a local park or waterfront picnic table and dig in. We love Audubon Park and the Crescent Park Riverfront, though City Park is huge and best for people watching.
Be sure to bring wet wipes and napkins to clean your hands afterward. (Eating crawfish gets messy.)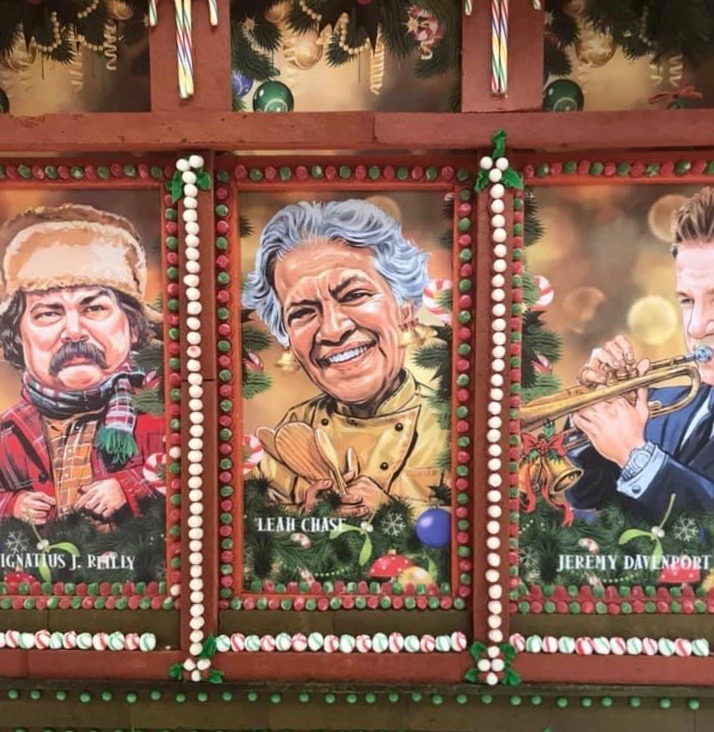 Gumbo at Dooky Chase Restaurant
One of the city's landmarks, Dooky Chase Restaurant is an old school creole joint previously helmed by food industry icon Leah Chase, who passed away in 2019. Dooky Chase is to New Orleans what Sylvia's is to Harlem. It's an iconic place to get regional soul food that is not only pioneering and historically important, but reliably tasty.
They serve a mean Louisiana-style gumbo. And while the space isn't as modern as some of the best restaurants in New Orleans, the gumbo is easily the best in America. (And it's what keeps super fans like Beyoncé coming back.)
Thus, if you eat here, get the gumbo! (Or try the shrimp n' grits.) The recipe is a powerful part of Chase's legacy. Through her spirit and the local art on the walls, the restaurant encapsulates a deeply American experience vis-à-vis Southern hospitality. As a result, it's one of the last remaining links to historic New Orleans dining.
Ultimately, Dooky Chase is one of the best restaurants in New Orleans for coming to understand local iconography. Check it out!
There's a reason Barack Obama ate here whenever he visited New Orleans. It's simply a nice way to experience the community. And if you love gumbo, there's nothing better.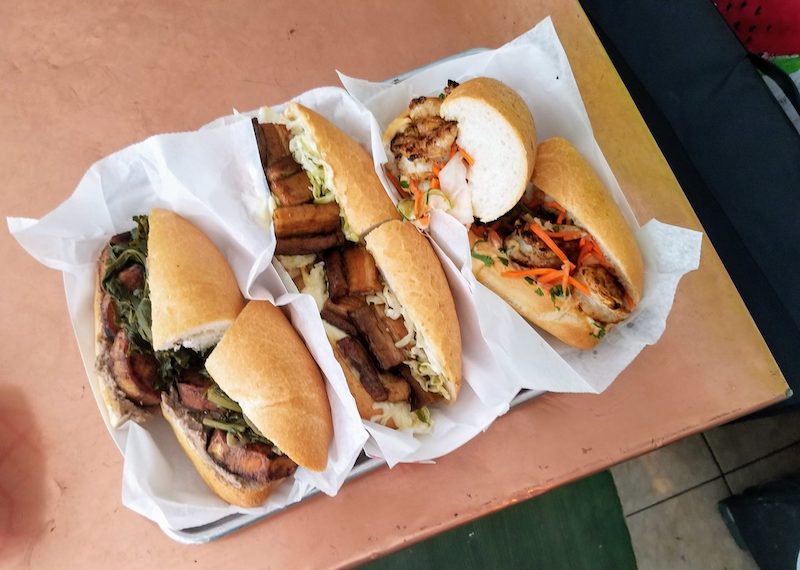 Po'Boys at Killer PoBoys
Killer PoBoys is a beloved contemporary po'boy shop that appeals to gourmands, foodies, and people seeking classic New Orleans style po'boys, alike.
Po'Boys are a local-style sandwich consisting of (typically fried) seafood or meat in a submarine roll. The sandwich is then dressed with delicious sauces and vegetables like pickles, slaw, collard greens, etc.
While there are a number of great places to get po'boys in New Orleans, the global flavors and skull-n-crossbones insignia make Killer PoBoys one of the coolest, hipster-approved places to try this local staple.
We love the friendly service and spicy potato salad. This is also one of the best New Orleans restaurants at which to try real Southern pimento cheese.
Order the Seared Coriander Lime Gulf Shrimp or the Braised Pork Belly po'boy for the quintessential experience. Everything on the menu is good, so no matter what you order you can't go wrong. (Just be aware that this is not a light meal. Most people could probably split one roll.)
The new KP walk-up in the back of Erin Rose Bar is good for lunch in the French Quarter. But for the classic Killer PoBoys experience, head to the original location on Dauphine Street. Yum!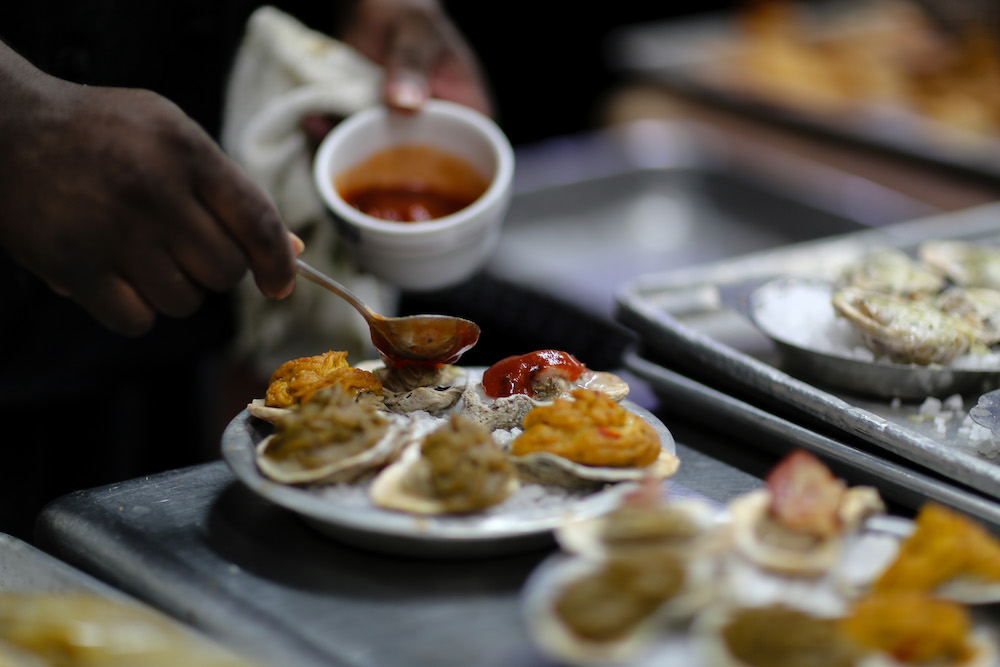 Oyster's Rockefeller at Antoine's Restaurant
Antoine's Restaurant is one of the "10 Restaurants that Changed America," according to celebrated food critic Paul Freedman. New Orleans' oldest restaurant is also one of the fanciest, in the sense that it's business casual in a city whose restaurants rarely require dressing up. If you're looking for a fancy dinner spot, this is your best bet.
For a fun date night, make a reservation in advance and ask for a table in the beautiful green Hall of Fame room.
Then, check out the pictures of celebrities, diplomats, sports heroes, and royalty who have dined here since the original restaurant opened in 1840. (Illustrious diners include Pope John Paul II, Bill Clinton, Franklin Roosevelt, and Bing Crosby, among others.)
For the classic experience, order the iconic Oysters Rockefeller or the Eggs Sardou– poached eggs nestled in artichoke bottoms with anchovies and hollandaise sauce. (It's way better than it sounds, trust me.)
For the last 180 years, Antoine's has also served Pommes de Terre Souffles– a puffy, French-style fried potato with a cult following. (These are so good, and hard to find elsewhere in the United States.)
Like the restaurant itself, the dish is elevated, but also intimately familiar. And true to the culinary spirit of New Orleans itself, the novelty is somehow always vaguely reminiscent of home.
***
Related: These are the 15 Best Restaurants in Charleston (& What to See While You're There).
Discover more places to eat in America's coolest cities in our Travel Well section. Our critically-acclaimed travel guides feature popular as well as up-and-coming foodie destinations, from Honolulu to the Hamptons.
Looking for a cute brunch spot in Savannah, local ice cream in Asheville, or the best crab cakes in Baltimore? We've got you covered.