According to peer-reviewed research investigating the prevalence of neck pain in the global population, anywhere from 16% to 75% of the population in countries around the world experiences neck tension. This is largely thanks to the ubiquity of computers and desk work, but subtle factors like stress and poor posture also effect how and where people experience tension.
One thing that is clear, however, is that nobody likes a neck pain, but most people don't know how to properly stretch a tight neck. Because most people lack awareness of how to do stretches for a tight neck, neck tension now ranks among the top five most common sources of pain in the United States.
Part of the problem has to do with the fact that most people hold all their tension in the neck and shoulders. Without realizing it, most people tense their shoulders when they are scared, nervous, or stressed, as if bracing for a blow. It's a subconscious pattern that increases tension in muscles that are already strained from daily use.
People also tend to tighten their neck and shoulder muscles when they are cold and shivering, but most people don't do stretches for a tight neck afterwards to loosen the tension.
Overall, this reduction in posture encourages shallow breathing into the chest, rather than into the belly, which increases tension in the upper back, neck, and shoulder areas. Fortunately, doing stretches for a tight neck can help relieve it.
Below, we spotlight five easy posture stretches recommended by chiropractors and physical therapists. These stretches can be done at a desk, on an airplane, at the gym, while standing in line, or anywhere that you don't have a lot of space.
1. Standing Abdominal Stretch

Standing Abdominal Stretch is a gentle, deceivingly simple back-bend that primes your body to counteract tightness that results from hunching over a computer all day, performing manual labor that strains back muscles, or sleeping on an unsupportive mattress.
Stand with your feet hip distance apart, with knees slightly bent.
Lift arms in front of you to extend straight overhead, then arch the back slightly to create a crescent shape that stretches the abdominal muscles.
Bring the palms to touch as you arch your upper back. Lower the arms back down to starting position.
Repeat 12 times, always lifting the arms out in front of you (as opposed to windmilling them out to the sides).
For best results, perform Standing Abdominal Stretch before and after long periods of sitting or strenuous exercise, like running or abdominal work.
2. "Thumbs-to-Pits" Stretch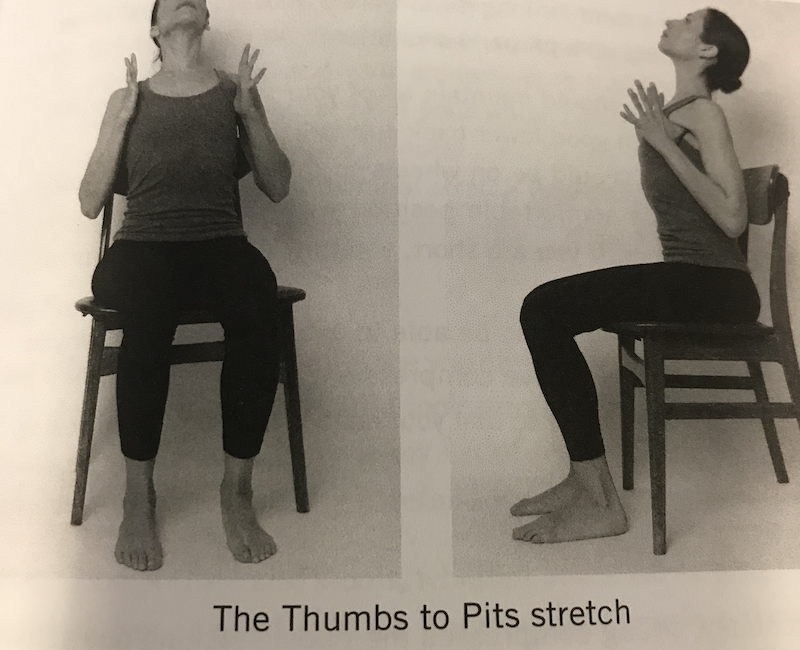 Even though we dislike the name, the "Thumbs-to-Pits" stretch is one of the most effective and easy posture stretches in the chiropractic cannon– and it's great for people who work desk jobs.
Sit with your back pressed against the back of a chair with both feet on the floor.
Fan your hands to create two "jazz hands", so-to-speak, and hook your thumbs into your armpits on the same side of the body as each hand, as in the picture above.
Drop your elbows to your sides and extend your gaze upward, slightly arching the neck.
Hold for 10 breaths, expanding your belly, not your chest. Repeat 3 times (three sets of 10-breath holds).
3. Bruggers Relief Position for Neck Tension
Bruggers Relief Position is another powerful corrective stretch that can be done at a desk. It's also one of the best stretches for neck tension.
Sit with your butt on the edge of a chair with your feet on the floor and legs at right angles (feet should be below or in front of knees, not behind them).
Open your palms and turn them forward while rolling your shoulders back and down your spine.
Stretch head and neck straight up towards the ceiling, away from your shoulders, as if the top of your head is being pulled by a string.
Tuck your chin back (as if to give yourself a double chin) and hold for a few seconds. Breath deeply, and feel the tension melt away.
You can also watch a video that explains how to perform this stretch, above.
4. Shoulder Squeezes
Shoulder Squeezes are one of the easiest posture stretches for tight neck and shoulder tension; there's a reason why dancers and athletes constantly roll their shoulders to loosen up tension. With shoulder squeezes, you can make the benefits of shoulder rolls last even longer.
To perform shoulder squeezes properly, roll shoulders back and down, inhaling when you lift them up towards your ears and then exhaling to roll them back and down.
Once your shoulders are back and down, pause to squeeze the shoulders towards each other and hold, as if trying to pinch a pencil between your scapular muscles.
Breath slowly and hold for 10 seconds, then release. Repeat 10 times.
5. Chin Tucks
Chin Tucks are an easy (if goofy looking) stretch for a tight neck.
Pull the chin straight back from the base of your skull, to give yourself what looks like a double chin. Hold for 5 seconds and repeat 10 times.
This stretch realigns the disks in the neck and balances neck muscles to counteract the constant forward motion that we make when we curl forward to look at computer screens, phones, and other small electronic devices. If you're self-conscious, do this stretch in private.
Other Tips to Keep In Mind
Getting up from your desk at least once every hour helps promote circulation and healthy posture. Moving regularly also keeps you sharp and focused, as improved circulation decreases brain fog.
Those who work many hours a day sitting should also consider investing in an adjustable standing desk, which gives people with computer jobs the option to stand while working at a desk, without having to hunch over.
Look for a desk that has "sit-stand-switch" capability, meaning that you can lift it up when you'd like to stand and lower it whenever you'd like to sit again. Like sitting, long periods of standing can also increase tension on the back, joints, and other tension-bearing parts of the body. The idea is to mix it up and move often– this is the key to staying limber.
Another worthwhile investment for those living the #OfficeLife is an ergonomic chair. We recommend the iconic and beloved Herman Miller Aeron Chair, which supports the lower back to prevent pain and reduce tension. The chair is pricey as far as desk chairs go, but it is built to last a lifetime and has a cult following among those suffering with lower back pain.
Finally, another easy posture stretch that works really well at combatting "desk hunch" is Cobra Pose or Bhujangasana— a gentle yoga stretch that also helps strengthen back muscles.
Cobra Pose is an ideal stretch to do at the gym or before/after working out. Also known as reclining back bend pose, it strengthens the vertebral column to balance the thoracic spine and stretch abdominal and shoulder muscles.
With time (and regular stretching) your body will be able to counteract neck tension before it even starts.
***
Related: 24 Helpful Gifts for Stressed Out People— including shoppable links to the best massage guns, trigger point release tools, and tension-busting gadgets on the market. (<– Some of these look silly but they really work!)