This homemade DIY body butter is perfect for giving your driest parts a little extra love during the coldest months of the year, and for sunburnt skin during the hottest months. Comfort and self-care is extremely important for mental wellbeing in the winter and the heat. Thus, this calming DIY lavender body butter can be an essential part of any wellness routine, especially if you are someone who suffers from dry, sensitive skin.
Plus, this body butter is so easy and fun to make! (Especially when you're cooped up indoors during inclement weather.) It's also vegan and cruelty-free.
Our DIY body butter combines soothing shea butter, coconut oil, lavender oil, and healing Vitamin E to make a rich, moisturizing salve. It also makes a lovely, low-cost gift– perfect for holidays and housewarming parties.
Studies show that lavender aromatherapy is effective at quelling mild stress and anxiety. We include lavender essential oil in this body butter recipe to give it added relaxation properties, but you can easily swap the lavender for rose oil, sweet orange oil, lemongrass oil, or another essential oil in your preferred scent. Choose your own adventure! 🙂
Finally, if you struggle to get a good night's sleep, this body butter can also be a great aromatherapeutic hand cream to incorporate into your pre-bedtime routine. Lavender essential oil is also naturally anti-microbial, so this balm is good for soothing skin irritations like razor burn.
***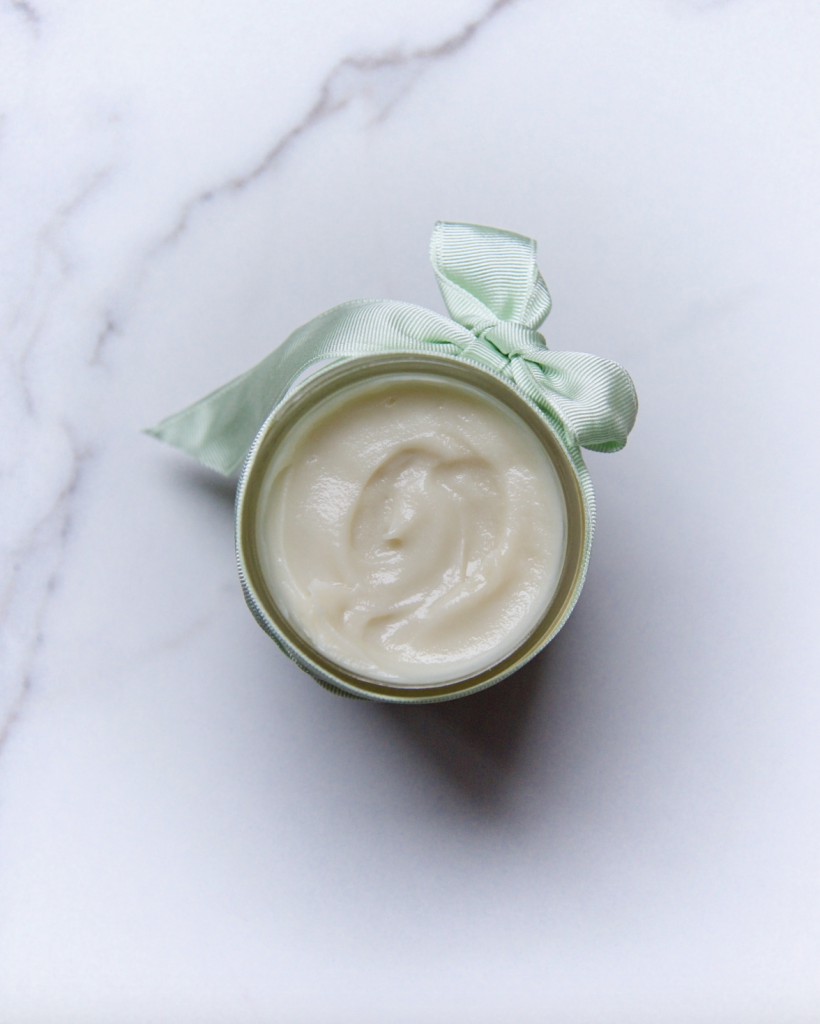 Easy DIY Body Butter Ingredients
This gentle DIY body butter combines soothing shea butter, coconut oil, lavender oil, and healing Vitamin E to make a rich, moisturizing salve.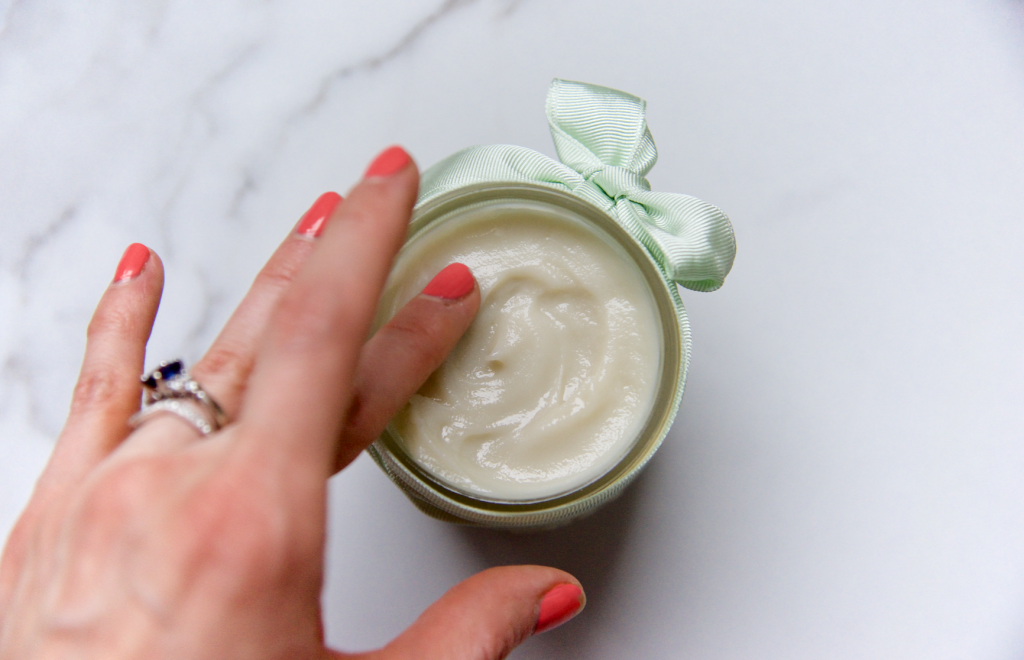 Instructions
Melt shea butter and coconut oil over a double boiler. If you don't have a double boiler, make one by placing a glass bowl over a saucepan filled with 1-3 inches of water. Bring water to a boil first, and then reduce to a simmer and place a glass bowl on top. There should not be any gaps between the bowl and the saucepan; the glass bowl should rest comfortably on top.
After both the shea butter and the coconut oil are completely melted, remove the bowl from the heat and let cool for 30 minutes at room temperature. Stir in the lavender essential oil and Vitamin E oil. Then, place the bowl in the freezer for 35 minutes to thicken up. It's ready when it looks like whipped butter or frosting.
Once the body butter is set, mix it together and scoop it into a clean glass jar. Viola! For best results, apply to the body post-shower, when skin is slightly damp.
Notes
For best results, store this lavender body butter at room temperature for up to 2 years. Keep it away from direct heat or sunlight. Enjoy!
Fun Fact: Vitamin E is a powerhouse ingredient in this DIY body butter formulation. Not only does it help mitigate wrinkles and fade scars, but it also acts as a natural preservative. It keeps the shea butter and coconut oil in this body butter stable for longer, without adding chemicals.
This post contains Amazon Affiliate links, which means in some cases we may earn from purchase. This is why we work extremely hard to research and test all of our recipes and products repeatedly, on our own families, so we feel extremely confident in these recommendations. Enjoy!
***
Related: DIY Lemon Balm "Gummy Vitamin" Recipe for Better Sleep.
Experiencing chronic stress or anxiety? Consult our Comprehensive Guide to Anxiety Relief— 25 effective, research-backed methods for calming an anxious mind.
Related aromatherapy tidbit: Read our article on How Peeling An Orange Can Induce a Feeling of Calm.