The best yoga studios in Savannah, Georgia are as charming as the city itself. As it turns out, the mossy oak and flower-filled "hostess city" of the South also has dozens of wonderful yoga studios that are equally welcoming.
No matter where you are at in your yoga practice– beginner, intermediate, or advanced– these well designed, expertly-staffed studios are worth visiting.
Hot– or more aptly, "heated" yoga is an emergent trend in the city; most of the yoga studios in Savannah now offer infrared heated yoga either exclusively or as part of the regular schedule. As a result, whether you're looking for a heated class or a hybrid class, there's a little something for everyone. (One might even say that You Never Know What You're Gunna Get.)
Below are some of the most unique and memorable yoga studios to visit in Savannah. Enjoy getting your stretch on, local-style.
***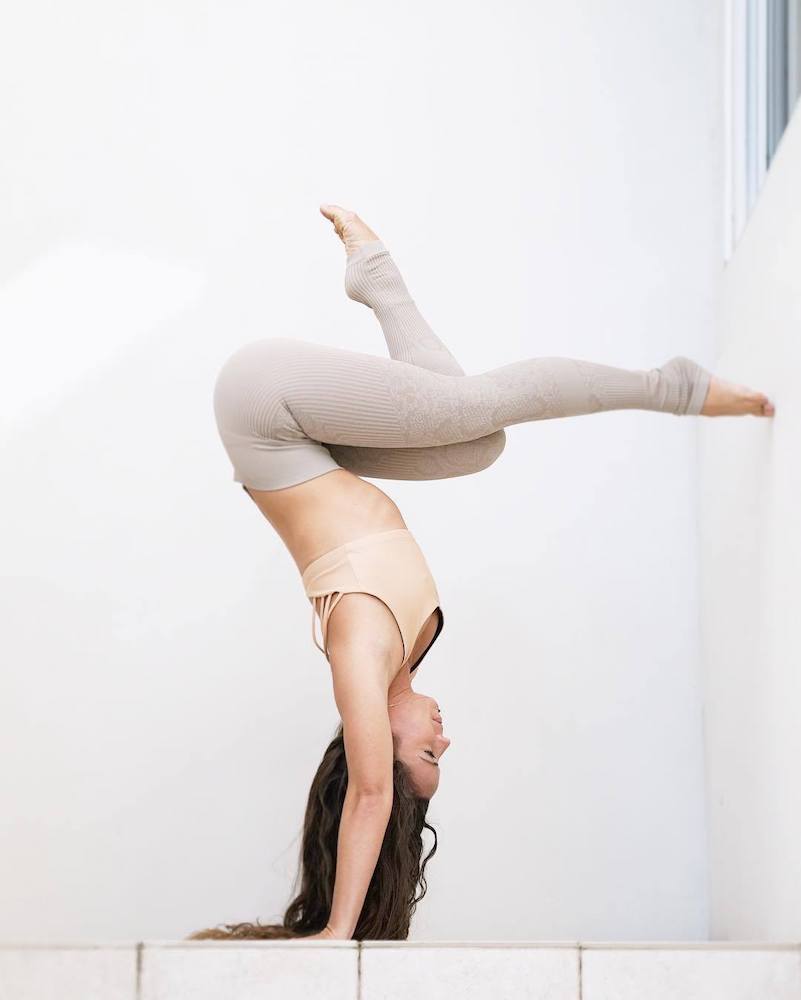 Otium
Lovely, chic boutique yoga studio Otium is a nice place to experience a good flow. They offer yoga and barre classes in their trendy (if tiny) one-room studio on Liberty Street. The posh storefront offers cool clothing and yoga wares stocked by a welcoming staff. We LOVE their selection of sustainably made athleisure clothing and organic White Barn Apothecary items (a local Atlanta favorite).
Try the Warm Yoga Flow– an intention-infused vinyasa yoga class with artful transitions and abundant breath work in a warm (not too hot) infrared heated room. Class is warmed to 79-85 degrees F to encourage an invigorating and detoxifying practice. The curated playlist during class is also excellent. It's abstract, moody, and introspective in the best way.
Otium also offers TRX suspension training and candlelit meditation classes. Their signature class combines barre, yoga flow, sculpt, and meditation.
Check out the weekly class schedule here. (Also, be sure to look out for their special Rooftop Flow. This open-air class takes place on top of The Perry Lane Hotel, which is great for people visiting the city.)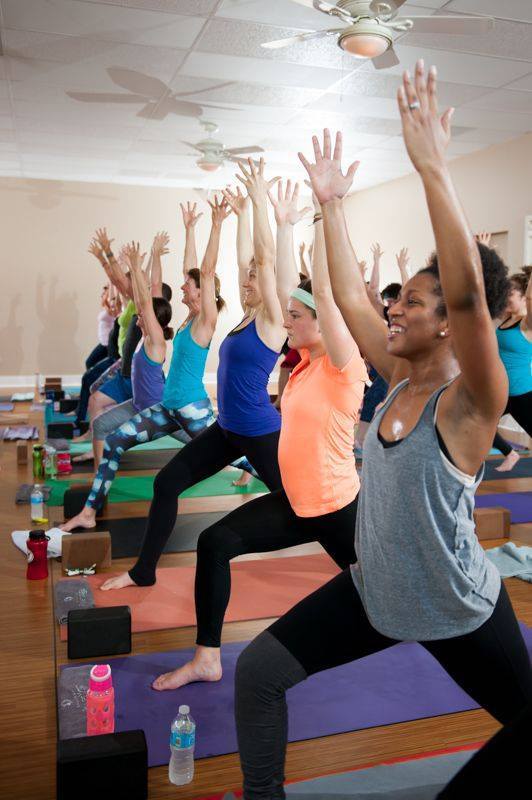 Savannah Power Yoga
Savannah Power Yoga is a good studio for hard-core yogis who want a vigorous, sweat-inducing vinyasa practice based on the Baptiste Power Vinyasa method. SPY was the first dedicated power yoga studio in Savannah. Most classes clock in at 90 degrees F, though the studio offers non-heated yoga classes, as well.
While SPY is primarily a locals yoga studio, the Wilmington Island location is a great place for visitors to catch a morning class before exploring Bonaventure Cemetery, a popular local attraction that is especially beautiful in the spring. (The Savannah Bee Company also offers Bee Garden Tours at their showroom and garden, also nearby.)
Take a class with Kate, who is lovely. Community classes are only $10, they have reverse osmosis treated water, the studios are modern, bright, and beautifully designed. They also sell gear, local kombucha, and electrolyte-rich coconut water for those looking to replenish after class. For a modern, uplifting twist, try one of their "Power Tunes" classes– a 1-hour class set to the rhythm of fun, funky music.
Savannah Power Yoga is also one of the few yoga studios in the area that offers movement + stillness classes for healthy aging. For example, they offer a chair class for people who have trouble getting up and down from the floor.
Find the Wilmington Island schedule here. SPY offers free parking on site.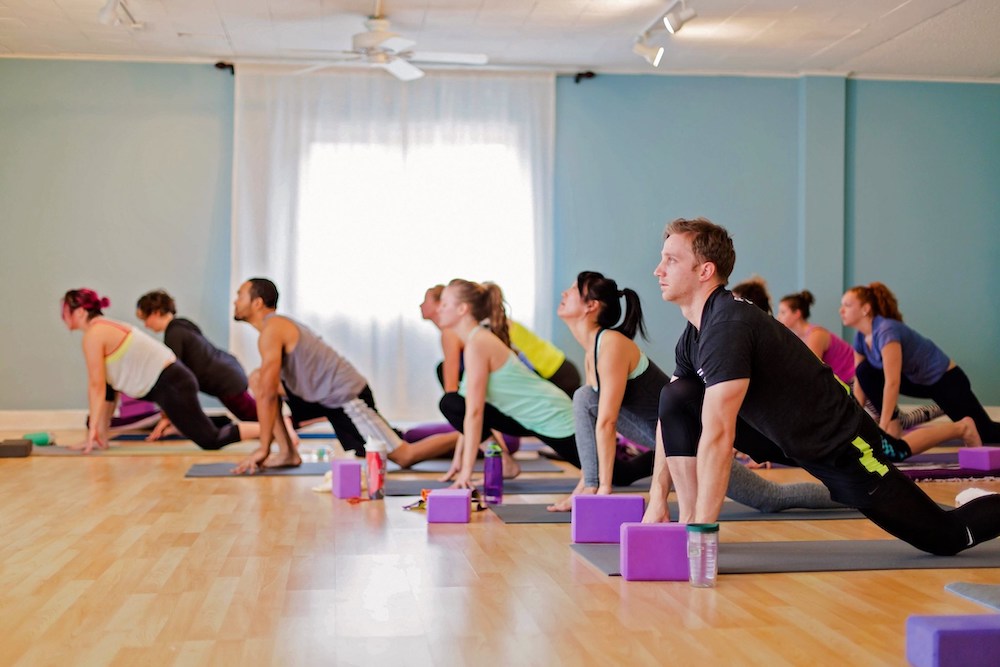 Savannah Yoga Center
Savannah Yoga Center offers the most yoga classes per week of any studio in the area, usually around 35-40 classes. SYC is also one of the city's oldest yoga studios. (They've been around since 2003, which is forever in yoga studio years.)
Consequently, the studio has a robust, diverse, dedicated community of regulars. We love their beginner classes, which also function as helpful tune-ups for experienced yogis.
This is one of the few studios in the area to offer Yoga Nidra and breathwork. Savannah Yoga Center also hosts a popular series of yoga teacher trainings and area retreats. It's a nice place to drop in for a relaxing class, anytime.
Their cozy, traveler-friendly studio also has an adjoining lifestyle boutique that wellness obsessives will love. (Plus, the studio is located not too far from Henny Penny Art Cafe, one of Savannah's cutest coffee shops.)
Find SYC's full class schedule here.
***
Related: An Insider's Guide to Savannah, Georgia (22 Delightful Things to do in the City)
Are you a well-traveled yogi? Check out our guide to the 10 Coolest, Hippest Workouts in New York City. (And the 11 Most Charming Yoga Studios in Manhattan, which are some of the best yoga classes anywhere.)