Looking for a good acai bowl on Oahu? Even though they were invented in Brazil, the Hawaiian islands have come to be associated with superb acai bowls, and with good reason. This healthy-ish, superfood filled dessert-that's-pretending-to-be-a-smoothie offers a unique vehicle for experiencing some of the best available tropical and non-tropical fruit on O'ahu. After all, there's nothing better on a hot day in Hawaii than cozying up with a good acai bowl (unless, that is, you prefer shave ice).
Since ice cream isn't really a thing in Hawaii– and not everyone loves the artificial sweetness of shave ice– acai bowls are the next best refresher. Still, you have to know where to go to get a good one.
Below, we spotlight where to get the best local acai bowls and the special local ingredients you should look for. Some of them– like the mammoth Whole Foods in Kaka'ako, which houses a local smoothie chain– may actually surprise you.
Here's where to get the best acai bowls on the island of O'ahu. Grab and spoon and dive in!
***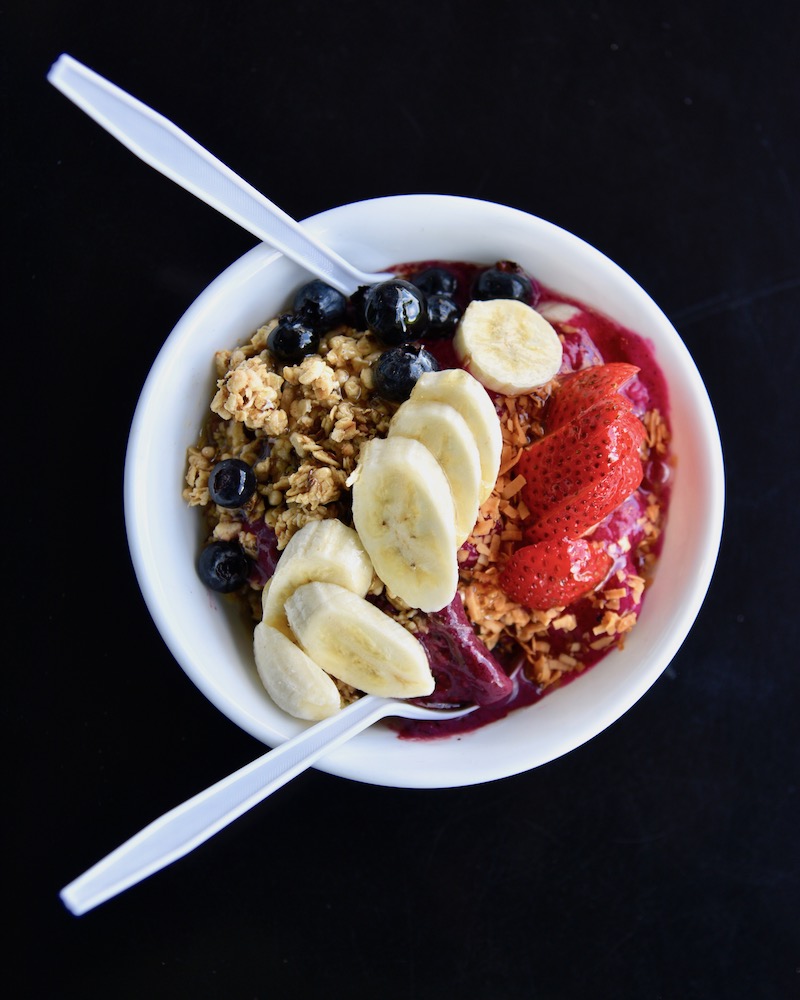 Da Cove Health Bar
Don't let its strip-mall location fool you: Da Cove Health Bar makes the best acai bowls on the island. Just ask any student! With their tiny, always-hopping location near Diamondhead, this is more of a local consensus than a point of fact, but we love the acai bowls here. They are heaping, inventive, and offer a wide variety of superfood twists like bee pollen, macadamia nut butter, local coconut chips, quinoa puffs, and a pitaya-blended base (half dragonfruit, half acai). Consequently, this is a great spot for health conscious folks, #rainbowfood lovers, organic food sticklers, produce aficionados, and vegans.
This smoothie and acai bar is also close to the KCC Farmers Market, which is easily the best farmers market on O'ahu (and a popular place to see and be seen on Saturdays). Walk to Da Cove either before or after your visit to the market for the quintessential experience. Personally, I like getting acai bowls here after doing a gorgeous morning hike.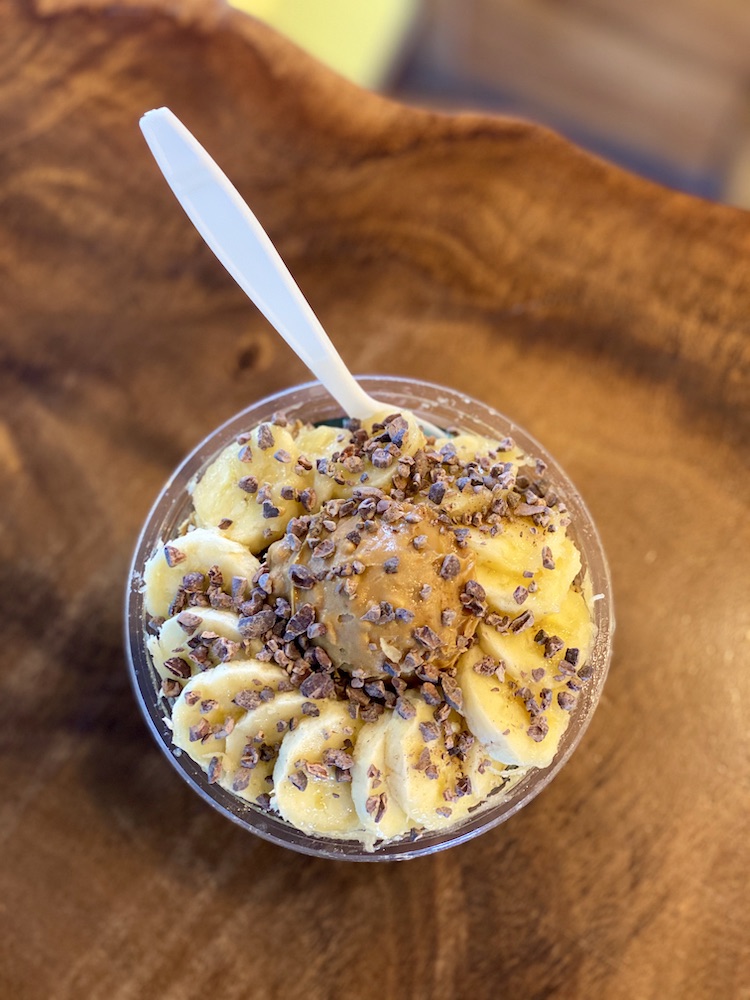 Lanikai Juice
Lanikai Juice is a local favorite juice and smoothie bar founded near Lanikai Beach, on the windward side of O'ahu. Locals describe is as Hawaiian-style Jamba Juice before Jamba Juice was Jamba Juice– only better. The chain was founded in 1997, and they've been making excellent fresh smoothies and OG acai bowls ever since.
Their excellent acai bowls are the perfect example of what they do so well. My favorite is the Acai Monkey, a bowl of organic acai topped with peanut butter, granola, banana, and organic cacao nibs (above). (We also recommend the high-protein Monkey Bowl, made with banana, peanut butter, organic almond milk, and chocolate or vanilla vegan or whey protein. They top it with granola, banana, and chocolate chips. There's no acai, but it's the best smoothie bowl on the island.)
Lanikai Juice also does yummy pitaya (dragonfruit) bowls. These are made with a blend of organic pitaya, coconut water, coconut milk, banana, and strawberry instead of acai. It's bright magenta and a welcome sight on a hot day. Top it with fresh local fruit or make your own bowl with any combination of toppings. (There are plenty of gluten-free and vegan options, as well.)
The smoothies, of course, are also great. Expect a constant crowd during peak hours at the original Lanikai location, or you can also try their acai bowls at the Whole Foods in Kaka'ako.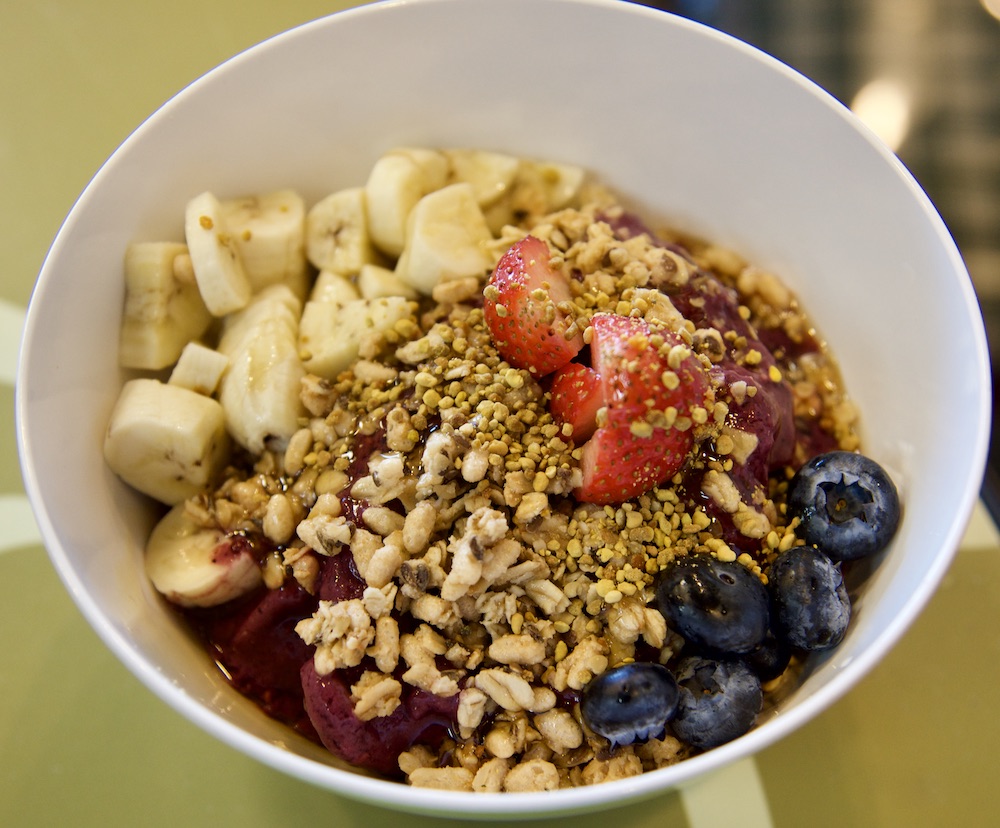 Whole Foods Queen
Yes, this sounds like sacrilege, but one of the best places to get a local acai bowl on O'ahu is actually at the Whole Foods in Kaka'ako, which houses a branch of the local chain, Lanikai Juice (detailed above). I mention this only because not everyone is willing to make the trip out to Kailua to go to the original outpost. Swinging by this Whole Foods (which also has an excellent poke bar!) is a great place to get a good, fast, authentic acai bowl in Honolulu proper. In a pinch, it gets the job done.
There's tons of parking available in the on-site garage. Plus, it's fun to walk over to Salt at Our Kaka'ako for shopping, dinner, or drinks afterward. Some people even stop here en route to the airport to get one last acai bowl before leaving the island. It's quick, tasty, and relatively cheap.
Heavenly Island Lifestyle
As we mentioned in our guide to the Best Breakfast in Honolulu, the popular-yet-slightly-hidden Heavenly Island Lifestyle cafe does amazingly fresh, super nutritious acai bowls. Made local, organic produce whenever possible, their acai bowls contain less added sugar than many of the other acai bowls on O'ahu, making for a clean, slightly more tangy mouthfeel. We love the lovely little orchid flower they place on top of each bowl. (Even those are locally-grown, as well.)
At Heavenly Island Lifestyle, the acai bowls and pitaya bowls come in "mini" sizes as accompaniments to other breakfast or brunch items. Pair it with a salad or eggs in the morning for a refreshing taste of the tropics. These you can actually finish before they melt. Or, you can get the large acai bowl as a meal– there's certainly enough fresh fruit to hold you over. (Just ask for tropical fruit to keep the flavors local.)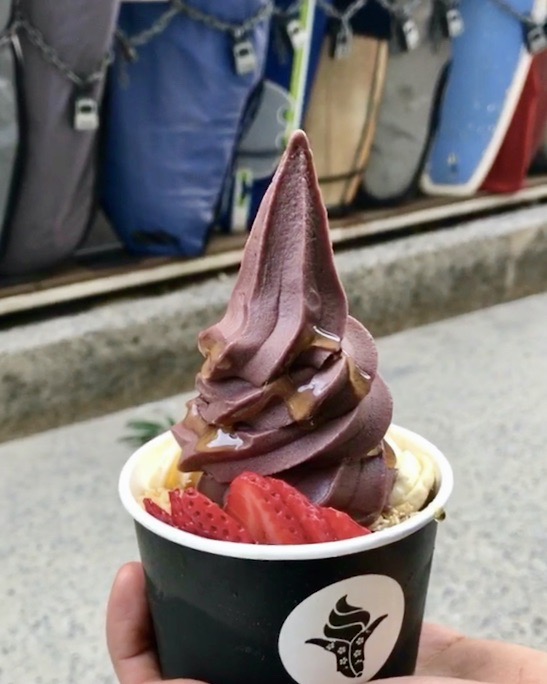 Banan
Traditionalists, beware: these are not your momma's acai bowls. Banan's modern, healthy twist on a classic acai bowl looks like soft serve ice cream, but it is in fact made with the same antioxident-rich acai blended with fresh, local apple bananas only. As a result, this deliciously sweet vegan, dairy-free treat is probably the healthiest acai "bowl" on the island of O'ahu.
Banan also offers banana soft serve blended with passionfruit, chocolate, mango, etc. They also make some of the best mac nut butter on the island. (They use this local alternative to peanut butter as a topping for various build-your-own bowls.) My favorite is what I call 'The Local Secret': plain banana topped with peanut butter, honey, coconut flakes and local cacao chips. Order it and tell them we sent you. The passionfruit twist is also INSANE– a refreshing balance of sweet and tart that beautifully captures this unique local flavor. <—- I strongly recommend this if you want to try a unique local twist off of a classic acai bowl.)
Most importantly, Banan offers an optional pineapple bowl or a half papaya bowl, which is exactly what it sounds like. They cut the fresh fruit in half and make your acai bowl inside. We love it, as do most of the health buffs on the island. The cafe's Kailua location has air-conditioned seating inside, while the Waikiki pop-up shop is more of a grab-and-go situation. There's also mobile Banan truck, as well as locations in Kahala and near the University.
Either way, you won't find another acai bowl like this on Oahu– and certainly not a proper soft serve twist. The acai flavor here is more mellow and less sweet (which I personally like better), and the mouthfeel is as smooth as it can get. Banan is fabulous. The picture above should speak for itself!
***
In search of other sweet treats on the island? Here's where to get the Best "Shave Ice" on O'ahu. (<—It's a local delicacy, and they say you haven't really visited Hawai'i until you've tried it.) We also have insider guides to the Best Restaurants, Coffee, Breakfast, and Hikes on the island.