Nashville might be famous for its hot chicken, but Asheville, North Carolina's best fried chicken could certainly give this rhyming city a run for its money. Among other classic Southern staples, Asheville's best restaurants have perfected the art of fried chicken, which is as excellent here as anywhere else in the U.S.
We love the local takes on dry rub and wet seasoning, as well as modern interpretations like fried quail (fancy fancy!) and "broasted" chicken (an old Southern classic). When it comes to fried chicken in Asheville, moreover, anything is possible.
And why wouldn't it be? Since circa-2015, Asheville has garnered a reputation as one of the most exciting, up-n-coming "food cities" in America. Chef's from New York City, Chicago, and beyond are slowly making their way into the city's most celebrated restaurants, which tend to specialize in globally-inspired Southern food with local, seasonal roots.
Much like Charleston, Asheville is a city that knows how to eat. And chief among the local staples is fried chicken– in both traditional and innovative forms. When you visit, you simply have to try it. Plain and simple.
Below, we highlight the best places to get fried chicken in Asheville– a city as delicious as it is weird (in a good way).
***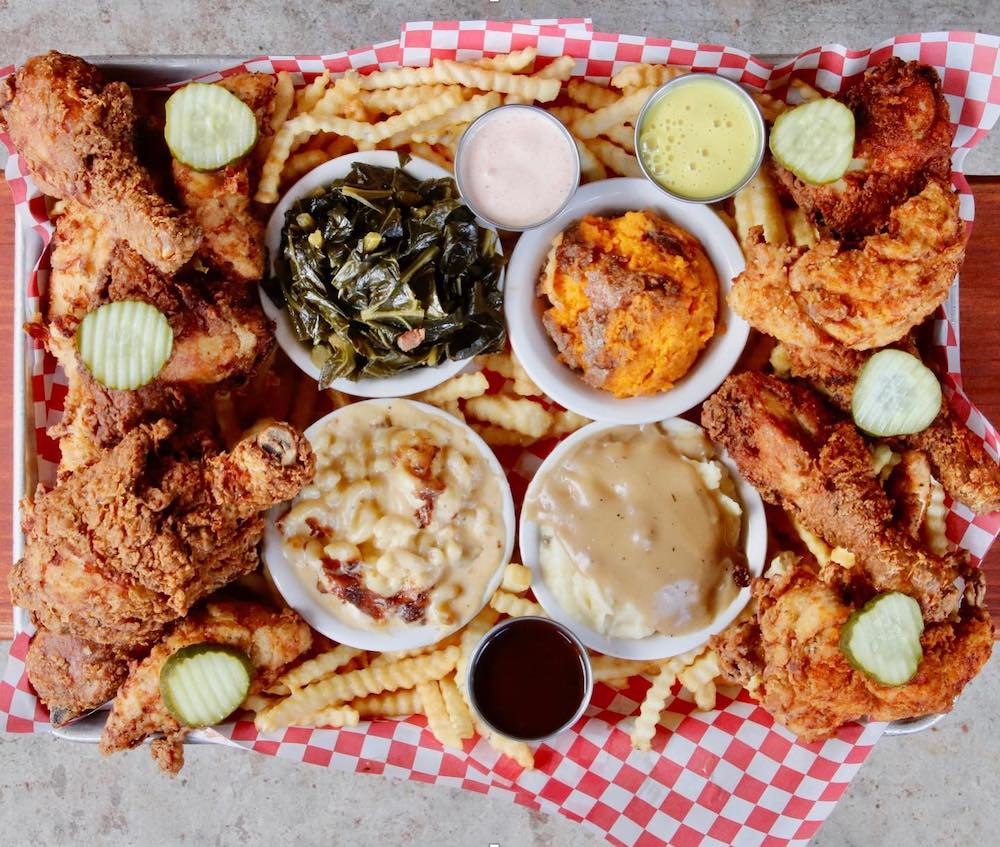 Rocky's Hot Chicken Shack (Finger-Lickin' Goodness)
Rocky's Hot Chicken Shack is celebrated for it's fried chicken– not just in Asheville, but everywhere. Among other accolades, it ranks among the "Top 20 Best Fried Chicken Joints in America" according to USA Today. Known for "Giving You The Bird Since 2009", Rocky's serves what is easily the best fried chicken in Asheville. As a result, it has a cult following among locals and visitors, alike. (And if you're looking for a casual hot wing joint, Rocky's is the place to go!)
Rocky's thick, juicy fried chicken is available in legs, wings, breasts, boneless tenders, or thighs. It has a crispy-rich crust that comes in various flavors (honey mild, traditional, Rocky's hot, etc) and various levels of spice (mild, medium, extra hot, etc). We like the "mild" as the flavor options tend to skew spicy. Sauce lovers should be sure to try some house made dips like zippy ranch, blue cheese, honey mustard, chicken gravy, etc. They even have a mango habanero aioli!
Also, the accompaniments here are incredible– the collard greens and sweet potato casserole are the best around. The fried chicken and waffles is also exceptional. And many people also rave about the banana pudding and butterscotch pudding, two classic Southern desserts. (If you have room after your chicken, they're worth trying.)
Rocky's has two locations in Asheville, notably recognizable by their iconic Drive-in Style neon signs. You can't miss 'um. One location is in West Asheville not too far from Whit's Frozen Custard (a fun place to stop if you're not feeling too gluttonous after eating at Rocky's). The other is in South Asheville. Take your pick– both locations offer the quintessential experience.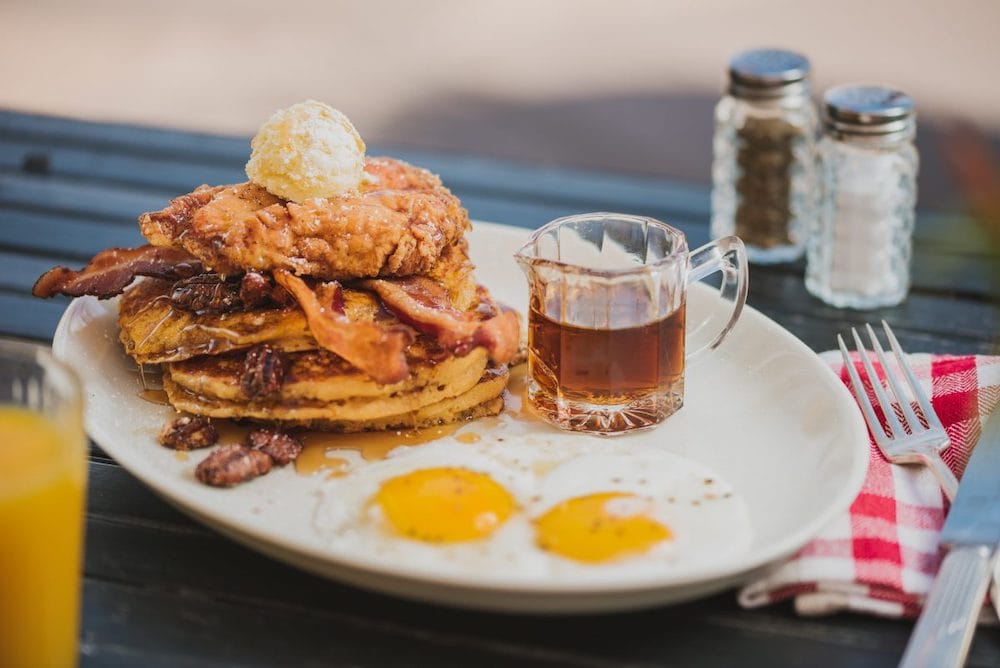 Tupelo Honey (Family Pleaser)
Yes, this mainstream restaurant is the one everyone talks about. Centrally located, popular with tourists, large, and in-charge, Tupelo Honey is known for their signature fried chicken and waffles, as well as their biscuits n' jam and various fried chicken dinner dishes.
Tupelo Honey's "fresh take on Southern cuisine" begins with Chef Eric Gabrynowicz' crunchy-yet-tender take on fried chicken, which is brined for over 18 hours and then dusted with either their signature honey "bee dust" or the restaurant's "sweet & spicy" sriracha honey sauce.
Tupelo Honey offers dark meat, white meat, and half bird bone-in fried chicken. (The fried pickles and famous fried green tomatoes are also excellent. These are ideal for vegetarians who want to experience the decadent, crispy batter.)
Overall, Tupelo Honey is a lively spot that usually draws a crowd (make a reservation for dinner if you want to sit at a table, as opposed to the chef's counter). If you want to eat fried chicken in a traditional restaurant setting, Tupelo Honey is among the best that Downtown Asheville has to offer.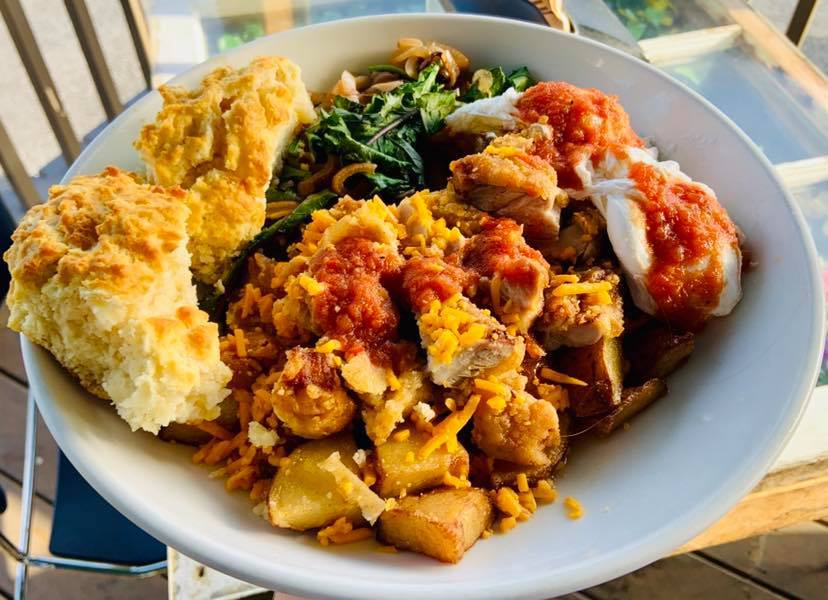 Biscuit Head (For Fried Chicken & Biscuits)
Biscuit Head's fried chicken is almost as famous as the buttermilk biscuits they serve it on. For a true fried chicken biscuit in Asheville, Biscuit Head is the place to go. We love the wide variety of decadent sauces and the rich, crunchy batter– which, as the restaurant puts it, are a great way to "put some South in your mouth."
While Biscuit Head is mostly known for the biscuits, fried chicken aficionados should try the foodie-coveted Mimosa Fried Chicken. This classic preparation comes with sweet potato butter, sriracha slaw, and a poached egg on a biscuit. (If you thought it was impossible to elevate fried chicken, think again. This is one of the more popular items on the menu, along with the Country Ham Biscuit and Pulled Pork Biscuit. But those are a story for another time.)
Biscuit Head also does biscuit bowls with fried chicken (pictured above) for those who don't want to order a sandwich. But if you're going to go here, we recommend at least trying a biscuit.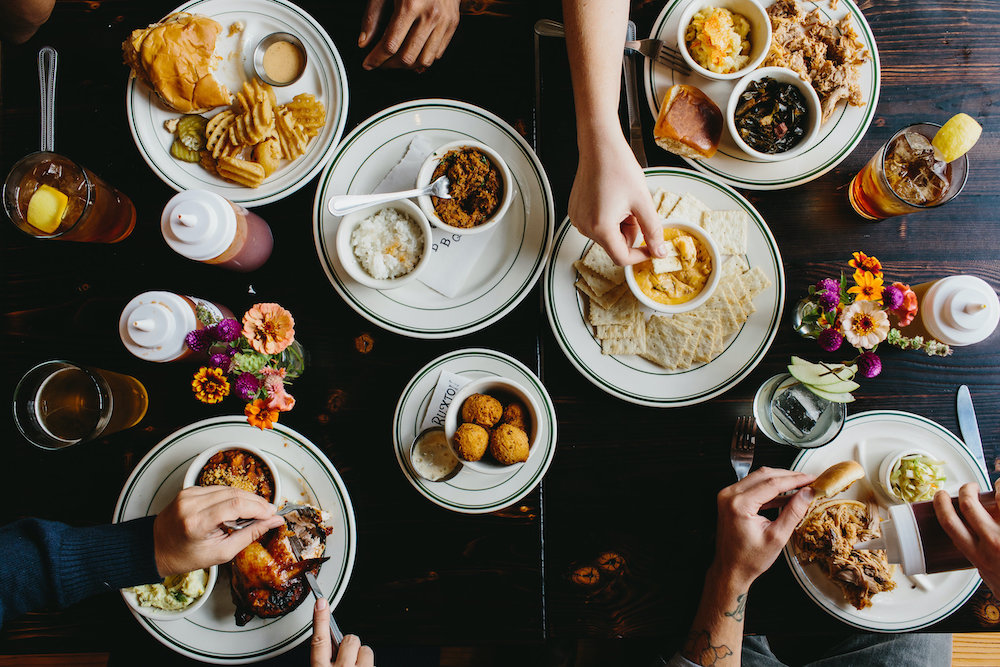 Buxton Hall Barbecue (Excellent Fried Chicken Sandwich)
Buxton Hall Barbecue is more known for its ribs, but the fried chicken sandwich is surprisingly delicious, and has a dedicated following online. This always hoppin' all-wood BBQ joint has a hip vibe and equally charming food. The restaurant operates in the spacious, industrial digs of what was once a 1930s roller rink.
Today, the restaurant has a reputation for whole hog, East Carolina style barbecue. Their pit masters rank among the best, and the flavors really kick. Consider the excellent fried chicken sandwich, a sleeper hit among those in the know. Regulars love the tasty, succulent meat, which is perfectly rendered every time. (BHB is a specialty meat place, after all. Unsurprisingly, their chicken has a great surface cook that traps moisture within. So good!)
Don't leave without trying a local Southern dessert– no BBQ dinner is complete without it. Accordingly, Buxton Hall Barbecue makes an excellent chocolate chess pie, for example, as well as delicious local peach pie, banana pudding pie, and classic Southern pound cake with lemon glaze. Mm, mm, mmmm.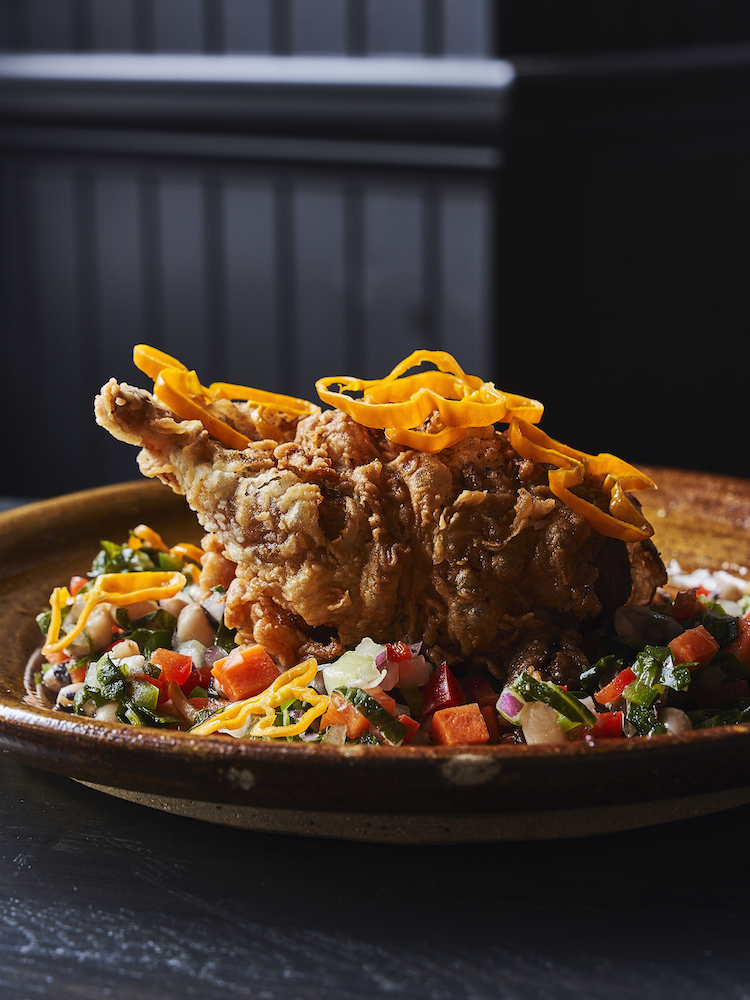 Benne on Eagle (For An Upscale Twist)
Benne on Eagle is fancier and refined, but excellent. This restaurant isn't on the typical "best fried chicken" lists for Asheville, if only because they do so many other things well. Consider Benne on Eagle's expertly fried quail– an elegant, upscale twist on classic fried chicken. With it's crunchy batter and rich dark meat, it's a distinctly regional dish.
The menu also features fried catfish and waffles, an "Affrilachian" take on the fried-chicken-and-waffles trope. (With two James Beard recognized chefs behind the concept, plates like these are as unique as they are tasty. Give them a try if you want something upscale and different.)
Located in a historically Black neighborhood, Benne on Eagle focuses on revitalizing local community from its perch in Foundry hotel. The entire menu is amazing, with incredible seafood dishes and flavor pairings seasoned with finesse.
Aesthetically, this eatery would revival any of the best restaurants in NYC, the Hamptons, and the like– without any overt pretense. It's lovely. Overall, it's a great place to go for a dinner date or celebration. Here, you can dress up and still eat fried poultry, too.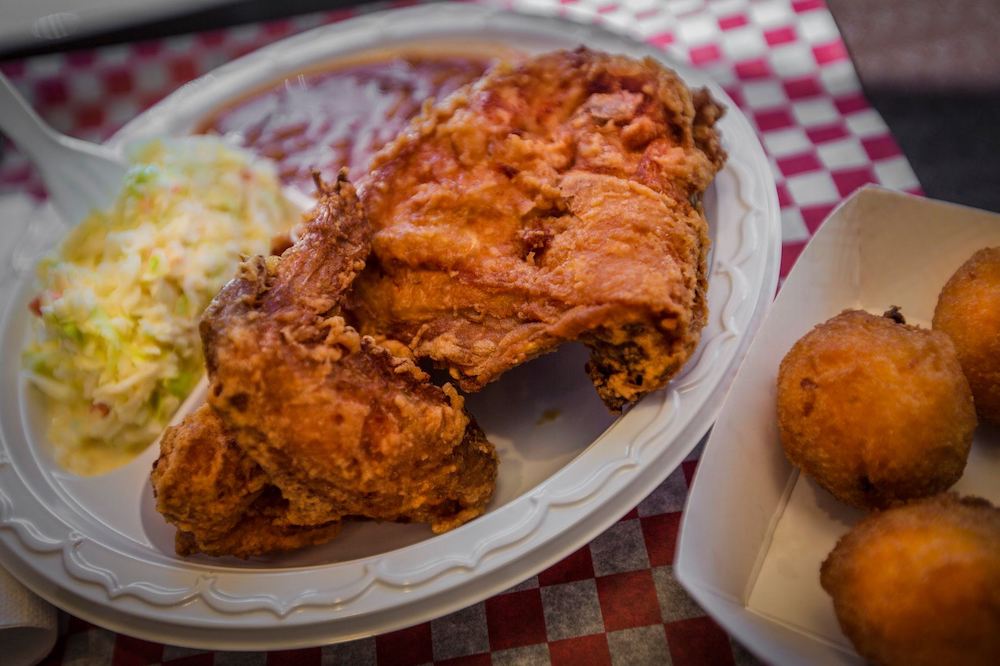 Little Pigs Bar-B-Q (For Super Affordable "Broasted" Chicken)
Little Pigs BBQ doesn't fry their chicken– they "broast" it, a combination of baking and flash frying. (They bread it and crisp it in a pressure cooker.) The resulting "broasted" chicken offers a delicious, crunchy-yet-moist twist on the classic. It's not fancy, but it delivers on flavor.
The chicken here is super affordable and unfussy, ideal for those who don't like pretense or large price tags. The sides are also solid if uninventive. (Think: deli-style coleslaw, BBQ baked beans, hushpuppies, etc.)
Consequently, Little Pigs has a dedicated following of locals and casual regulars. It's the kind of place where you'll eat off of plastic plates with plastic utensils and thin napkins. And, if you go often enough, they'll remember your name.
Stop by if you want to try broasted chicken, or if you want to take your own, thorough account of the best fried chicken in Asheville. This place has been around since 1963 for a reason.
*Honorable Mention*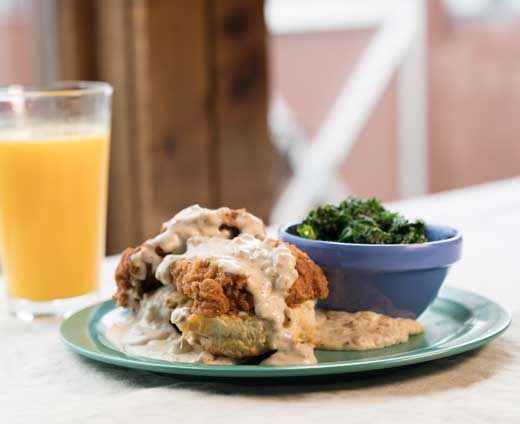 Homegrown (For Fried Chicken Biscuits with Gravy)
HomeGrown in West Asheville offers buttermilk fried chicken done right. This excellent real food establishment– their restaurant motto is "slow food right quick!"– sells delicious "Food for the People". Stop by for their popular "blunch" service. (A combination– you guessed it– of breakfast and lunch.)
We love their homemade fried chicken smothered biscuits n' gravy, as well as their Buttermilk Fried Chicken Sandwich with sprouts, lettuce, pickled red onion, pickles, and horseradish honey mustard. (Yum!) They also do great, fresh salads and excellent pimento cheese with farm-fresh dipping veggies.
Overall, Homegrown specializes in locally-sourced food made by, for, and in service of local people and local tradition. While the restaurant isn't as bustling as some of the other down home favorites in the area, Homegrown's flavors are tasty, the quality is there, and the portions are super generous. Plus, the people are super nice! If you're looking for homestyle fried chicken made with love in Asheville, this is the place to get it.
***
Related: The 12 Best Breakfast Spots in Asheville. (<– Yes, many of them offer fried chicken and waffles.)
Want to explore more of Asheville's local food scene? Read our rundown of the 6 Best Farmers Markets in Asheville, or choose your next dinner spot with our guide to the 15 Best Asheville Restaurants for Amazing Local Meals.