Tybee Island is sunny barrier island 30 minutes outside of Savannah, Georgia, that's known for its long, walkable beaches, salt marshes teaming with wildlife, numerous historical sites, and colorful restaurants and breakfast spots serving the day's freshest catch. Perched at the end of Highway 80, Tybee is Savannah's link to the Atlantic Ocean. Thus, seafood– and local shrimp in particular– are a defining characteristic of the often casual, eccentric restaurants of Tybee Island.
Savannah is surrounded by several barrier islands, but Tybee Island is the local favorite for dining and day-cations for the last century. (Tybee is the local Native American word for "salt", a signifier of the area's many salt marshes.)
In addition to fresh seafood restaurants, it affords miles of public beaches, popular fishing spots, iconic forts and lighthouses, and a number of lovely trails and wetlands. The latter are fun to explore by land (by walking or biking along the salt marshes) or by sea (roam the coast by sailing, surfing, paddle boarding, or kayaking).
One of the area's biggest draws is, of course, Tybee Beach, which is ideal for walking. In addition to the Loggerhead sea turtles that nest on the beach annually, this is also the home and spiritual epicenter of Tybee's best waterfront restaurants, which are great for viewing sunset over a meal.
Whether you're grabbing dinner after dolphin watching on the pier or looking for breakfast on Tybee Island before a day on the beach, there are enough restaurants to suit a wide variety of tastes.
Below, we spotlight a few of them. Scroll on for details on the best restaurants in Tybee Island (in no particular order)– and what to order where.
***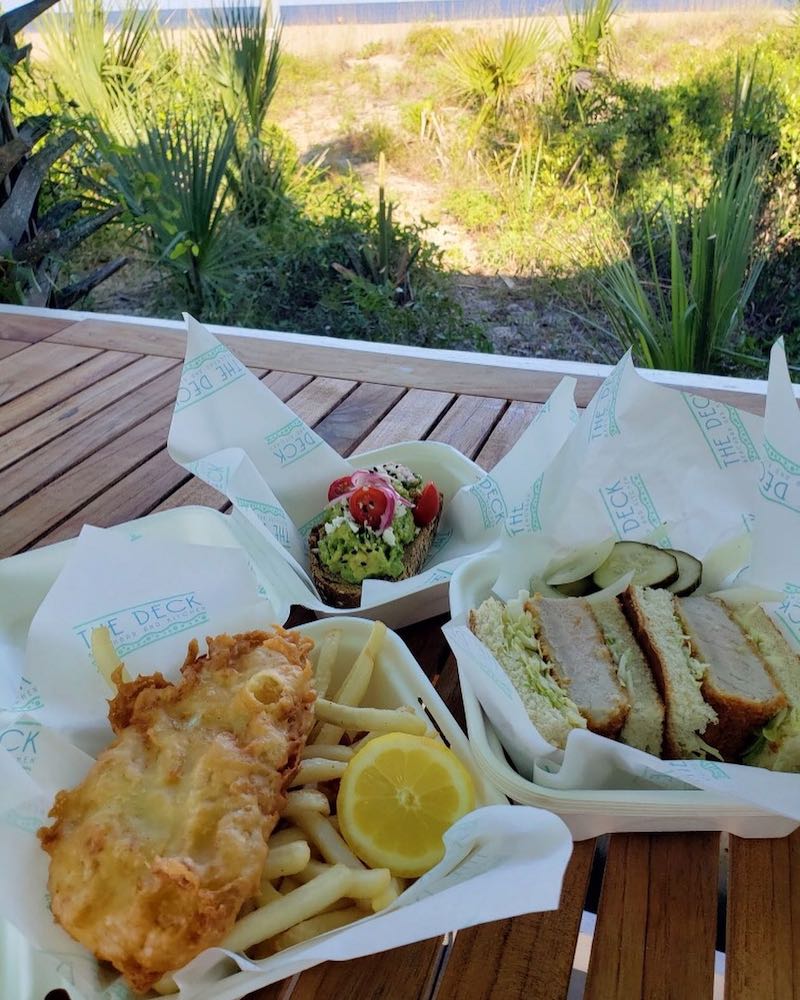 The Deck Beach Bar & Kitchen (For Trendy Beach Eats + Sunset Views)
The Deck Beach Bar and Kitchen offers delightful, internationally-inspired beach meals with epic sunset views. From cheeky popsicle cocktails featuring local Savannah Square Pops to delicious Vietnamese Shrimp Rolls, both the food and drink are innovative and playful.
The bar food here is great– think calamari, wings, the signature Deck Burger, coconut shrimp, and crispy fish tacos. There are also a number of lovely, internationally-inspired dishes, from Pulled Pork Banh Mi to Falafel.
Whether you're in the mood for a salad or a Salmon BLT, all of it is excellent and seasoned with skill. (They even have a faithfully-rendered Nashville Hot Chicken Sandwich– and we know a thing or two about fried chicken.)
We recommend ordering the Red Fish Tacos (Blackened redfish, poblano mayo, marinated onions, cabbage) or the Shrimp Roll (poached shrimp, red cabbage slaw, sriracha, New England bun) which are two great examples of classic Tybee Island eats. (The same people that own The Collins Quarter in Savannah own The Deck, so you know the food has to be good.)
Overall, it's a great restaurant for foodies, beachcombers, and dinner dates on the coast.
Plus, no matter what you order, your table is guaranteed to have an ocean breeze. On a nice day, what could be better?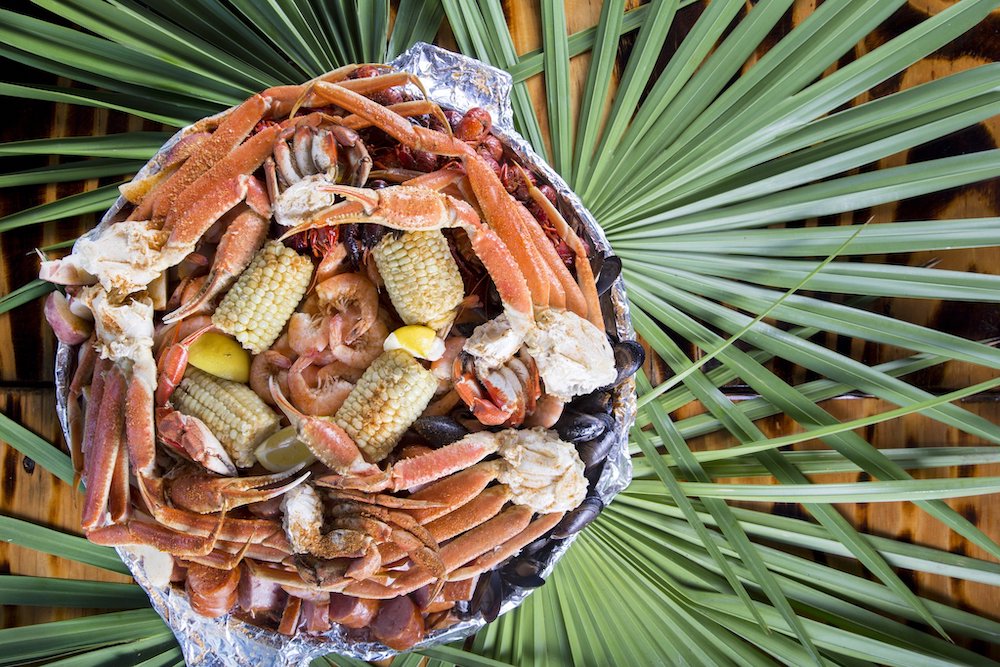 The Crab Shack (For Fresh Shellfish)
Easily the most popular restaurant on Tybee Island is The Crab Shack, a peel-and-eat seafood shack along an alligator lagoon with lovely sunsets. It's not elegant– heck, it's downright messy– but the utilitarian touches give this place a real charm.
The trashcan shoots located in the center of each table where you can throw your blue crab shells are hilarious, and the hand-painted signage is endearing. Ultimately, if you want to eat shellfish, this is the best restaurant in Tybee Island to do so.
The Crab Shack is also a great place to get a fresh, authentic Low Country boil— a regional style of seafood boil made with shrimp, corn, sausage, and potatoes. They also have a signature "Snow Country Boil" that adds snow crab into the mix. (We recommend ordering this to share for the classic coastal experience. It's a bucket list item!)
Overall, The Crab Shack has every style and preparation of crab you can imagine: Dungeness Crab, Snow Crab, King Crab, Deviled Crab, Crab Stew, and more! They also do delicious "Shackwiches"– try the signature deviled crab or shrimp salad sandwich.
For those who don't want seafood, they also have St. Louis cut ribs, a BBQ pork platter, and grilled chicken by the half. But really, The Crab Shack is known for its shellfish, which is what keeps happy customers coming back.
AJ's Dockside Restaurant (For Sunset Dining + Fried Plates)
AJ's Dockside Restaurant is a little quirky, but if you're looking for fried seafood plates in Tybee Island, this restaurant is a good place to go. And the secluded views of Back River can't be beat!
As you can see above, the sunsets here are pretty insane. Thus, we recommend going for dinner around 6 PM and lingering.
Enjoy sunset from a colorful picnic table on the dock, or dine under an equally-colorful umbrella under the midday sun. The restaurant has great service and super-friendly staff, and they are known for their excellent rum punch and frequent rainbows.
The fried food here is also slightly more sophisticated than you might expect. Consider, for example, their Deviled Crab Stuffed, Bacon-Wrapped Shrimp and hushpuppies. Or their trendy Fried Squash Blossoms or Buffalo Cauliflower Bites.
It's all delicious, and often surprisingly light. (They don't over-cook or over-batter anything.)
Above all, what's really cool is that you can arrive to this restaurant by car, boat, or seaplane! The dock is right there, so you can have your seafood and rent a kayak, too. It's a good way to get a large dose of Tybee Island culture all in one place.
View this post on Instagram
The Breakfast Club (For Homestyle Breakfast)
This popular no-frills breakfast spot often has a line but the turnover is quick. Located about a block's walk from Savannah Beach, The Breakfast Club is an unfussy family-owned establishment that is actually quite famous.
The owner is an alumni of the Culinary Institute of America, was instrumental in catering JFK Jr's wedding, and has "been on TV a bunch", the website proudly states.
All sausages and burgers are made from meat that's ground in-house. The hearty omelettes, meanwhile, don't disappoint.
We like the Blackhawk Breakfast Burrito, the authentic chicken-fried steak, the pecan waffle, and the classic, buttery grits. This is a white-toast-and-hash-browns kinda place. If you're in the mood for a traditional, old-school Southern breakfast, you will not be disappointed. (You won't leave hungry either. The portions here are huge!)
The Breakfast Club is open from 7 AM "'til we drop from exhaustion". Come early, expect a crowd, and try not to linger. (<– Chef's request, not mine. This is one of the most popular breakfast places in Tybee Island and there are only so many hours in a day!)
Cozy up on one of their green leather barstools and let that massive nest of hash browns do the talking. Also, be sure to look up once in a while to enjoy the coastal-themed stained glass.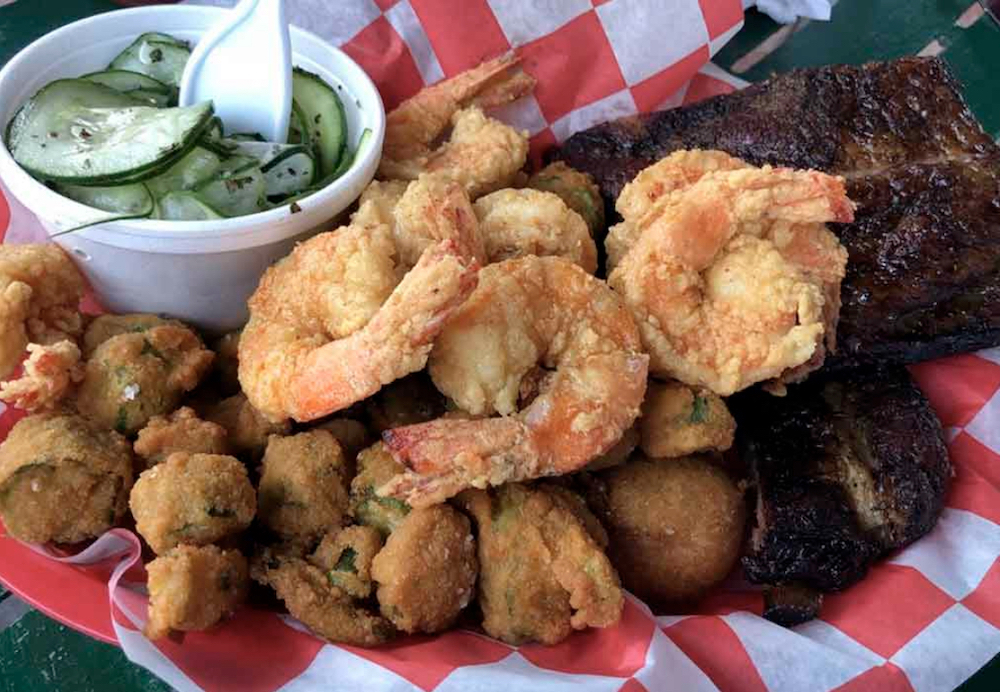 Gerald's Pig & Shrimp (Quirky, Kitschy BBQ)
Gerald's Pig & Shrimp looks kind of carnivalesque on the outside, but the food here is quite serious. They have award-winning locally-caught fried shrimp and colorful, unfussy outdoor seating on the side of Highway 80. (Fortunately, you can't miss the exuberant sign.)
We love the shrimp n' ribs dinner and the various combo options that allow you to create unique meals out of your favorite surf and turf options. They also have great po'boys– choose from shrimp, oysters, or fish– and they even have fried duck wings.
Locals love the chicken wings tossed in their signature "Tybee sauce". However, for the classic experience, you should order the fried shrimp and hush puppies. (You won't regret it.) Also, the portions here are huge– which is what you'd hope for when the shrimp are this good.
Tybee Island, moreover, is known for its fried shrimp– thus the number of fried shrimp mentions in this guide– but each restaurant puts their own spin on the dish.
At Gerald's, it's straightforward and simple, with just the right amount of batter. And at less than $10 for 6 fried shrimp and 2 hush puppies, it's one of the cheapest, tastiest meals in Tybee Island.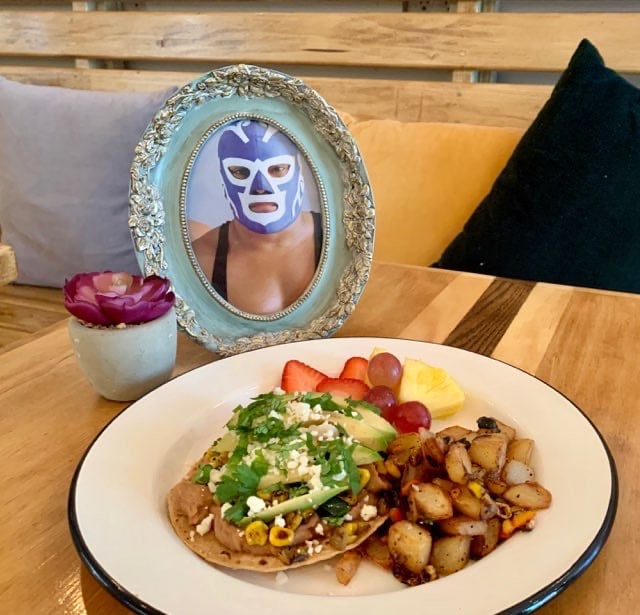 Chamacos Tacos & Surf (Best Tacos in Tybee)
Chamacos Tacos & Surf is a homespun taco shop that's great for people looking for yummy, authentic tacos in Tybee Island.
This is secretly one of the best places to get a delicious breakfast on Tybee Island, as well. They've got great breakfast tacos, huevos rancheros, and huevos divorciados served with fresh fruit and hash browns. The menu isn't large, but it packs a punch.
The taco menu here rotates constantly. Expect classic delicacies like Cochinita Pibil (succulent pork wrapped in banana leaves, soaked in achiote and sour orange, and seasoned with chili piquin). Topped with spicy pickled red onions and fresh cilantro, it makes for a delicious, satisfyingly simple taco– the way real Mexican tacos should be.
In addition to tacos, they sell other Mexican staples like Elote Mexican street corn and Pacífico beer. Their recent Pinche Chowder similarly honors tradition, made with local shrimp and crab, roasted poblanos, and served with a cheese tortilla. (So good!)
Of course, as a true beachcomber restaurant, Chamacos also sells clothing, surfboards, and other surf gear. Come for the eats, leave with a new hobby!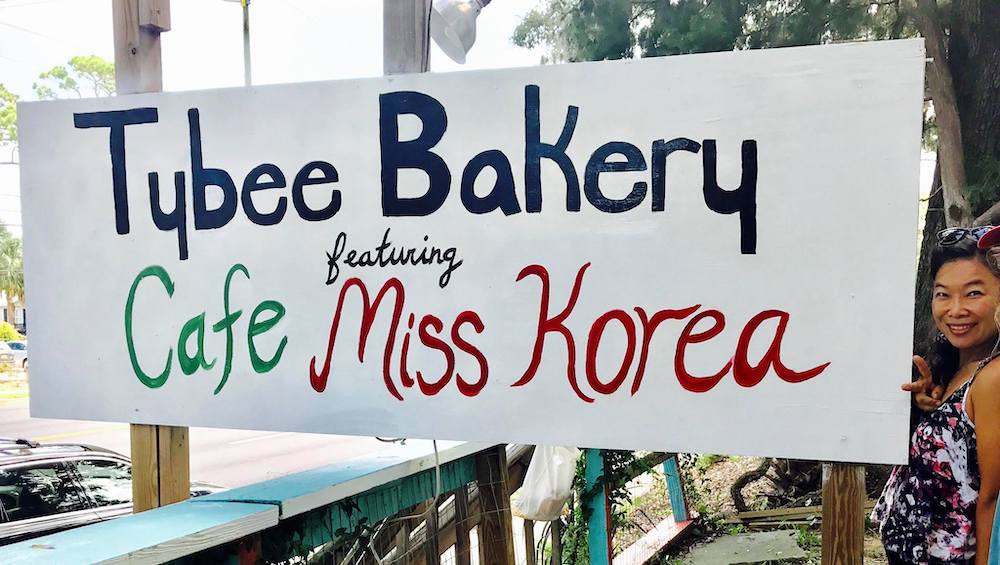 The Tybee Bakery Featuring Cafe Miss Korea (For Great Korean Food & Baked Goods)
Cafe Miss Korea is good for a quick bite and has excellent, authentic Korean Food– who knew?
They have home made kimchi and other Korean BBQ staples, but also made-from-scratch baked goods like key lime pie and chocolate cake. (Thus the bakery part.) Yes, it is quite the mis-mash of foods (only in Tybee Island!) but the baked goods and the Korean fusion foods are both excellent, as is the cappuccino.
While the hours are kind of inconsistent– you literally have to call the number on their Facebook page for hours, or just stop by when driving down Highway 80 (it's right on the main drag if you're coming from Savannah)– this quirky little cafe is usually worth the hassle. They also sell great homemade sauces and Korean pickles for takeaway.
Stop by for coffee and baked goods and get something to-go, or sit for the full, hearty meal experience. (We recommend the Bibimbap!)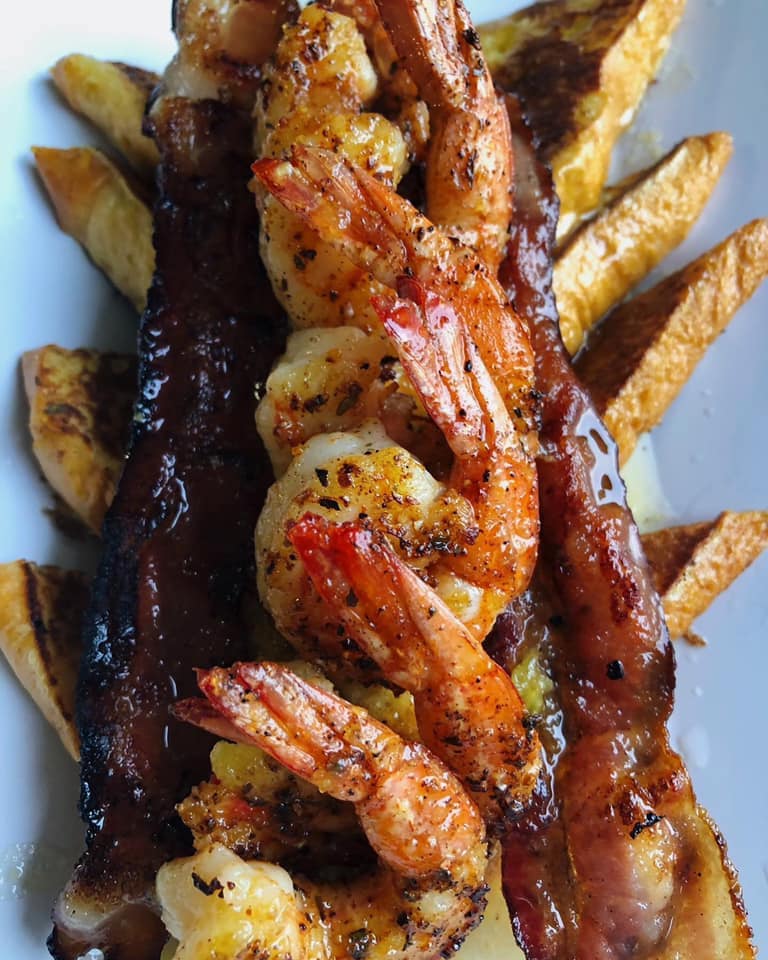 Bubba Gumbo's (Best Fish & Chips)
"Friends don't let friends eat imported shrimp", reads a sign at Bubba Gumbo's makers of excellent fried and steamed fish and shrimp. This family-owned restaurant is a good place to try local low country shrimp in a truly charming local setting.
Located on the docks of Tybee Island Marina, owner Caitlin Burns and esteemed Chef Gordon Card have serve quality interpretations of classic Southern seafood dishes as well as hip new inventions of their own, like the LoCoBoRo– a Low Country Boil Roll.
Diners also have the opportunity to observe wildlife close up through the lens of the restaurant's hip marsh bar. With its unique location on Lazaretto Creek, the scenery and historicism are a wonderful reflection of local vernacular. (The restaurant building was built in 1940.)
Overall, with great food and hip, modernized digs, Bubba Gumbo's feels like a true neighborhood hangout.
While they are mostly known for their shrimp and scallops, upscale Tybee Island breakfast items like Smoked Salmon Eggs Benedict delight with every bite. They also make surprisingly awesome burgers.
Ultimately, Bubba's Seafood Gumbo and the fried shrimp are signature items worth coming back for again and again. The fried flounder is also great, and most dishes are ideal for sharing.
This restaurant hasn't been around long, but it is quickly becoming one of the most memorable restaurants in Tybee Island. Check it out!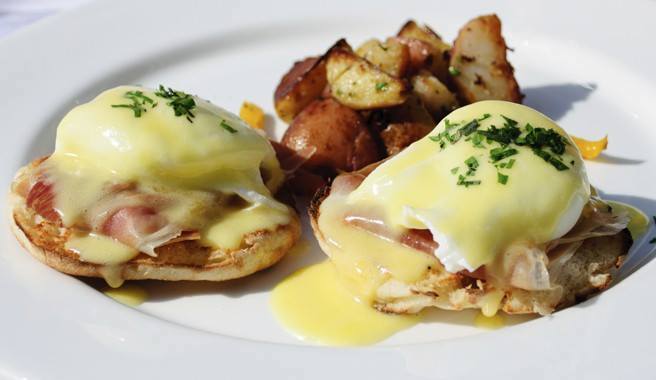 Fannie's on the Beach (For Colorful Sunday Brunch)
Fannie's on the Beach is a famous colorful Sunday brunch hot spot known for its prime location right on the beach— and the reliably good Blood Marys. You can't miss this giant pink building and its iconic beachfront sign, which says "Time To Eat".
If you go for brunch, Fannie's breakfast shrimp n' grits are sensational. It's easily one of the best breakfast items on Tybee Island. Just be sure to come hungry!
If you're doing for Happy Hour, be sure to try their delicious Frozen Pineapple Cocolada cocktail, ideal for a hot summer day. It's kitschy, but it's also a classic Tybee Island drink. You may have even seen it in pictures. (It comes in a pineapple topped with two popcorn shrimp and maraschino cherries.)
When it comes to cocktails, outlandishness is a theme here. Some of Fannie's other drinks, like the signature Bloody Mary, come with a tiny hamburger on top! If you're looking for a photographable cocktail on the beach, this is it.
Overall, this is a fun place to hang out, meet people, and enjoy the beach-going crowds. (If you don't like loud or overly social restaurants, then go for brunch rather than the cocktail hour.)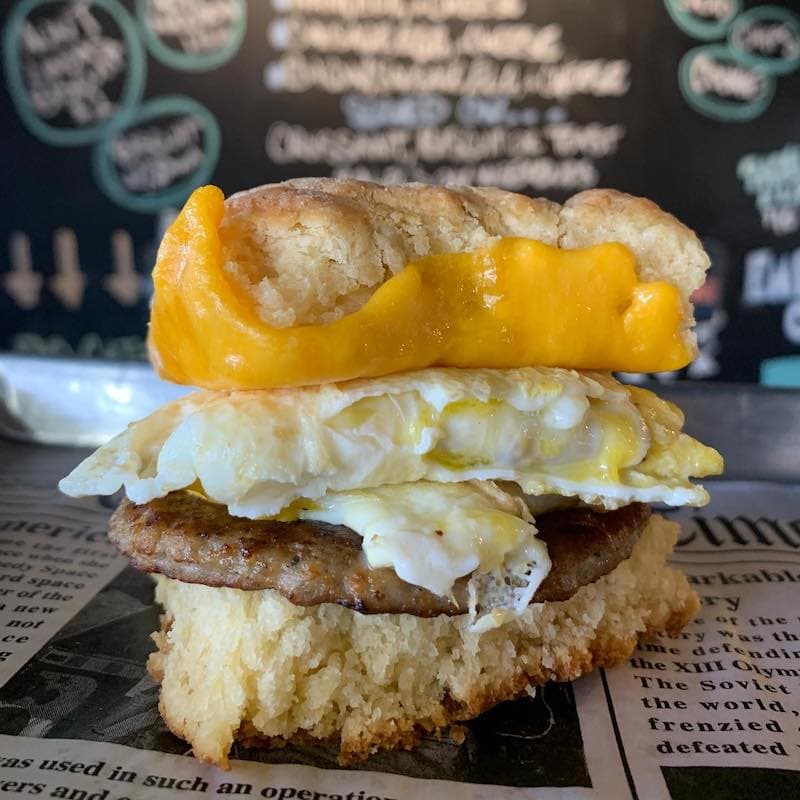 Potlikker Pantry & Kitchen (Great Breakfast + Ice Cream)
Super creamy ice cream and scrumptious sandwiches make this homey chalkboard cafe a reliable place to stop for a quick bite. Potlikker Pantry & Kitchen (formerly The Cafe on 80 Deli & Bakery) is a longtime favorite for excellent, fast breakfast in Tybee Island.
Get some ice cream at their walk-up to-go window, or try one of their signature doughnuts, "Aunt Linda's" homemade biscuits, or any of their desserts or pastries.
People also rave about their meatball sub, buttery egg-stuffed breakfast croissants, and hangover-crushing breakfast sandwiches (see above). The salads, meanwhile, are also surprisingly great, even though they don't get a lot of attention.
Also, we'd be remiss not to mention the over-the-top ice cream treats that the cafe also serves.
One recent example is The Graceland, a honey-roasted peanut butter and banana pudding milkshake topped with glazed doughnuts, whipped cream, and– need I say more– bacon. It's totally insane, in a good way. (Just take a look at that linked picture! It's more of a meal than a dessert.)
Overall, this is a friendly, homey place for a quick bite. Like most restaurants in Tybee Island, it's not fancy– but the food is hearty, tasty, and enjoyable.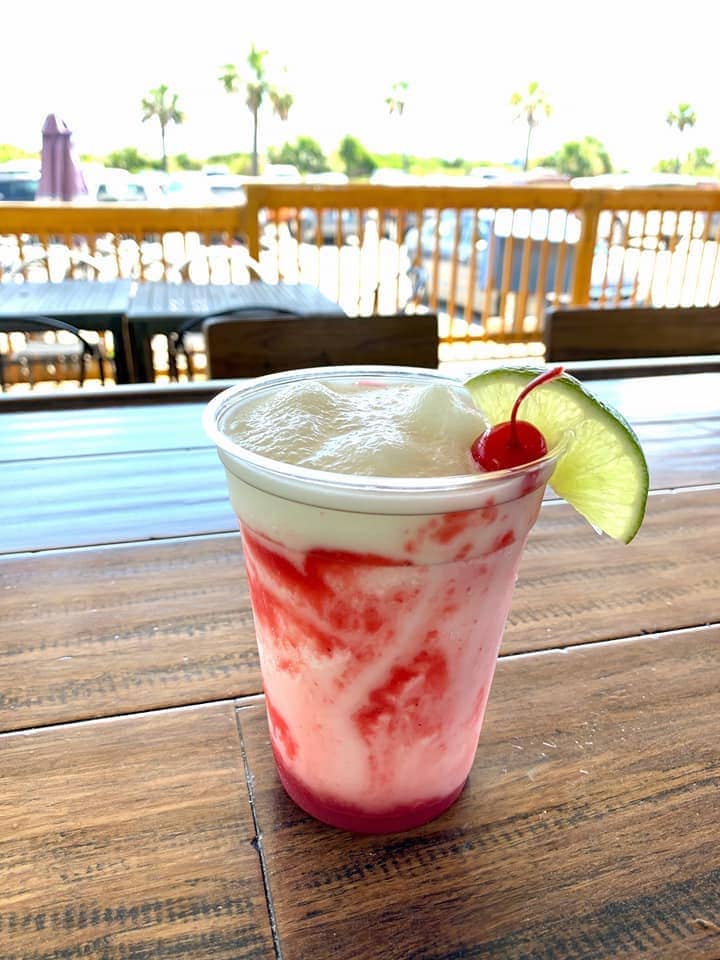 North Beach Bar and Grill (Caribbean Fusion + Tropical Drinks)
Locals love North Beach Bar and Grill's unpretentious fusion menu, which manages to incorporate Caribbean fare and American beach staples like grilled burgers and hot dogs.
In their quaint, casual "shack" nestled between the lighthouse and the beach, they also serve excellent crab cakes and fish tacos.
If you're looking for a fast-casual spot with more exotic flavors and a water view, North Beach Bar and Grill is a great place to start. We love that they focus on cooking with local, sustainable seafood. (That might sound obvious as they're near the beach, but not every local restaurant does that.)
They also regularly have live music and a good bar– a plus for people who like a lively, local atmosphere.
Sit under an umbrella and order the jerk chicken, Jamaican escovitch, or the crab cake for a quintessential experience. The tasty plantains and frozen tropical drinks (see above) are also worth trying. And the service is always super friendly!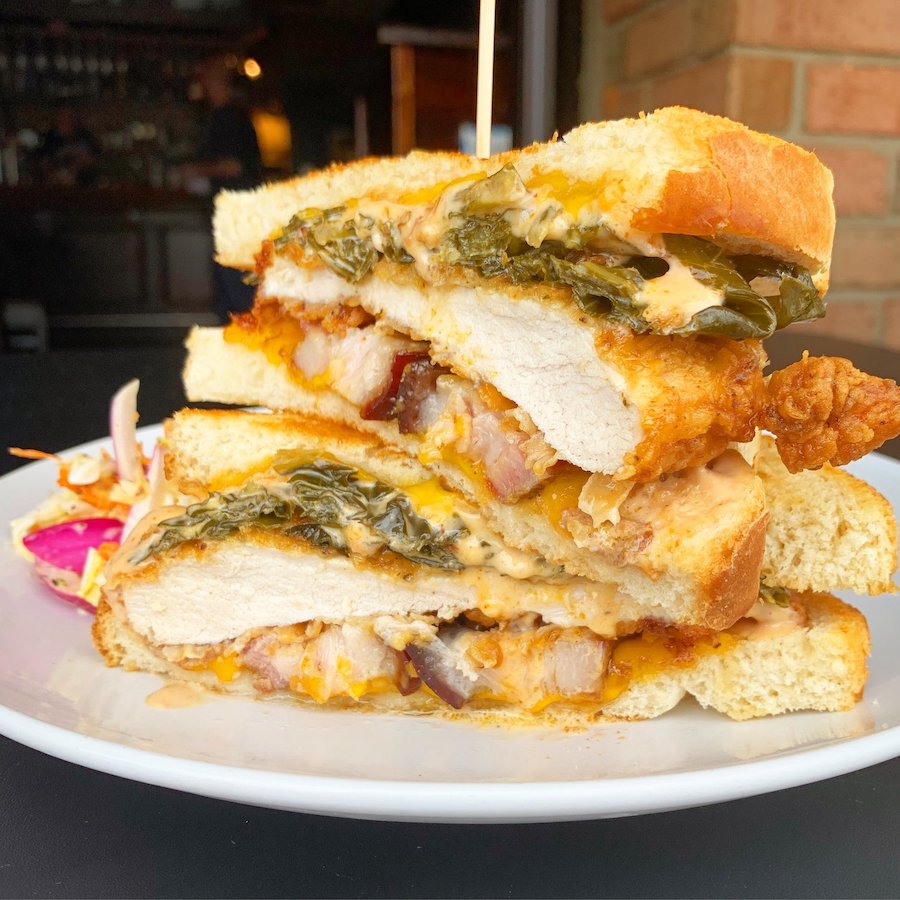 Sundae Cafe at Tybee
Charming new-ish hot spot Sundae Cafe is Tybee is simultaneously upscale and down-home. It's a refined spot for Southern Lowcountry classics like seafood, hand-cut steak, and burgers ground by hand.
Their sandwiches and cocktails are reliably hefty and excellent– and there are a lot of regional staples across the dinner and lunch menus, from okra and pimento cheese to Georgia white shrimp and Sea Island Hoppin' John risotto. (Yum, yum!)
This is a great restaurant for those visiting from Savannah who want more of an urban upscale vibe, which is not always the way in Tybee. The food, moreover, showcases global influence and exceedingly modern culinary finesse.
Nevertheless, the seasonally-inspired menu at Sundae Cafe maintains a strong throughline to the classically-Southern flavors that make this area so distinct. Fried green tomatoes with goat cheese, apricot horseradish, and balsamic? Yes, please.
~ Honorable Mention ~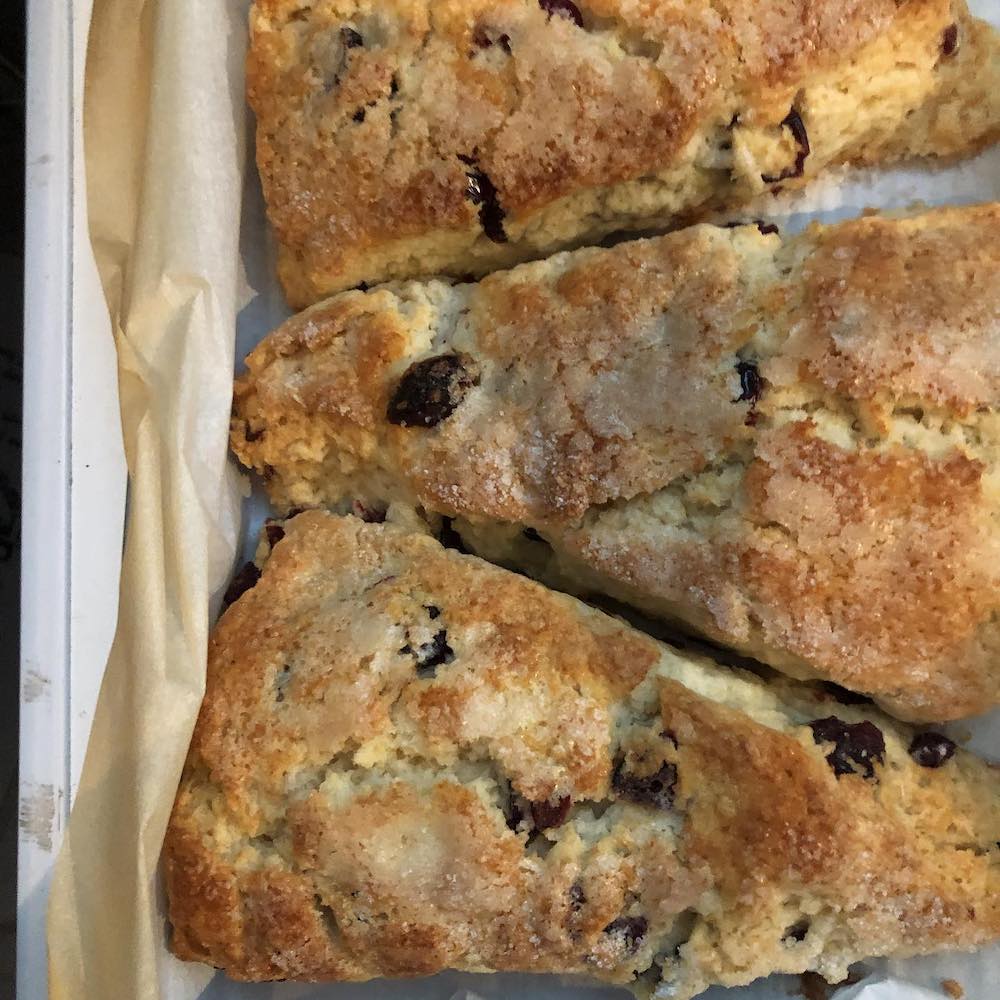 Tybean Art and Coffee Bar (For Espresso + Delicious Scones)
This tiny turquoise shop is a staple for getting delicious espresso, scones, and smoothies on Tybee Island. Tybean Art and Coffee Bar is a lovely little hideaway inside the Shoppes at Tybee Oaks.
Nestled amongst the trees, you can get a cup of morning joe and light breakfast in what feels like a secret treehouse. (It's also located across from a cool hot sauce shop and ceramic studio that are both worth checking out.) Pet the cat and chat with regulars. It's a vibe.
Above all, be sure to try one of their famous, decadent scones. (Their signature chocolate chip scones and classic cranberry scones are the most popular.)
The daily scone menu is scrawled on a paper lunch bag at the counter, which is just one of many eccentric details at this animal-friendly beach cafe. If you're the kind of person who loves checking out local coffee shops, add this to your list.
Service is friendly and quick, and the menu features premium coffees roasted by Batdorf & Bronson of Atlanta. Overall, we love the cold brew, the hand-painted signage, and the beatnik vibe.
Food-wise, don't miss the quirky extras like their recent hot dog and cheddar scones, or seasonal delicacies like apple fritters. The muffins and breakfast burritos are also reliably good if you want a fast Tybee Island breakfast to-go, as well.
Most people who are staying on the beach ride their bikes here, so everything can be made portable if you ask. 🙂
***
Related: The 8 Most Charming Breakfast Spots in Savannah.
Finish your day trip to the beach at one of Savannah's Coolest, Hippest Yoga Studios.