Apple picking in Northern Virginia is almost as fun as pumpkin picking in Northern Virginia. Fortunately, at many of the farms on this personally-vetted list, you can do both!
Even the people who live in the area don't always know that Virginia is a state known for its incredible depth and variety of apples. NPR did a story a couple of years ago about how some of the rarest and exceedingly artisanal apples are grown in this state. This novelty is a joy to explore if you're a foodie or someone interested in local food, botany, or plants. (FYI NPR also did a story on how There's More To Apples Than Meets The Eye, which is an interesting– and dare I say pulpy— read.)
Either way, Northern Virginians should rejoicece that Central Virginia's verdant bounty is just a short day trip away. Below, we spotlight the best, most picturesque, and fun places to go apple picking in Northern Virginia. All of them are super family-friendly.
We've also included mention of the farms where you can go pumpkin picking in Northern Virginia because, well, people who like apple picking often like to do both. It is Fall, after all.
Enjoy your time outdoors in the crisp, cool weather!
***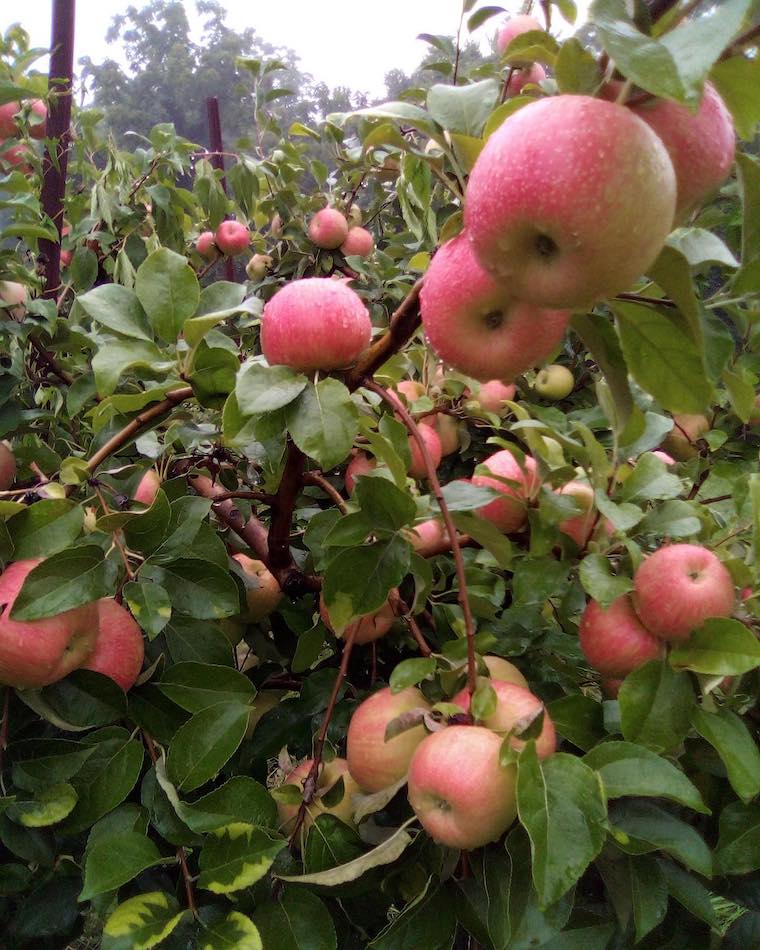 Great Country Farms in Bluemont, VA
Pastoral Great Country Farms is a 400-acre farm in Bluemont, VA that has great apple picking and an equally fun pumpkin patch. When it comes to apple picking, they're known for their delicious Honeycrisp apples. (Honeycrisp is usually available to pick by the end of August and lasts through October. We also love their sweet summer "Pristine" apples, which are great for eating, making apple sauce, and juice.)
In addition to seasonal pick-your-own fruit (they have gorgeously plump U-pick peaches, blackberries, and plums earlier in the summer!) they also have a Farm Market and an award-winning CSA. Both feature non-GMO veggies and other produce grown on-site using regenerative farming practices.
When seasonal Fall festivals roll around, this is one of the best apple picking farms in Northern Virginia for sustainability and land stewardship. As a result, Earth-conscious folks flock here to support the mission, which is one we should all get behind.
Because of the mission-driven ethos, the staff here are also super friendly and focused on education. Kids can frolic in a 12-acre play area, get up close and personal with tractors, and even pet baby goats under their watchful eyes. We'd also be remiss not to mention Great Country's epic 1.5-acre corn maze, as well. It's a fun interactive experience for kids and adults, alike.
While kids explore, adults can buy Henway Hard Cider and try the farm "Roosteraunt"'s gluten-free pizza. The Knead It Bakery concession stand also serves hand-dipped ice cream and the farm's famous apple cider donuts. (<— The whole family will love these!)
Advance tickets are encouraged, and they do sell out. Book your visit here.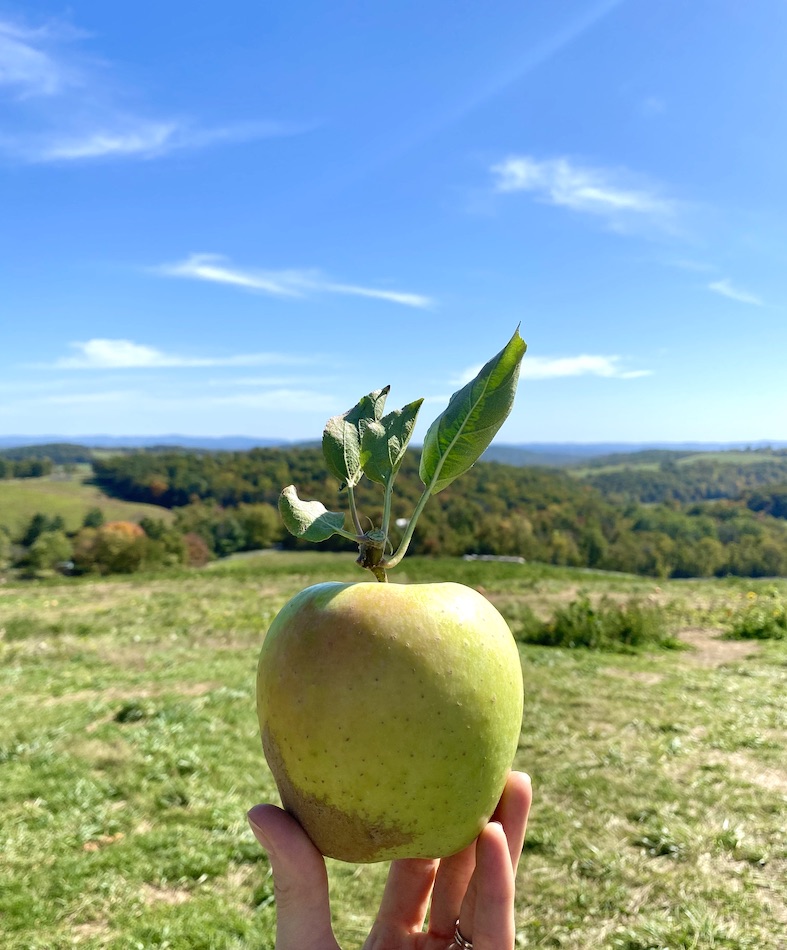 Hollin Farms in Delaplane, VA
The rural, pastoral views and incredible apple varieties at Hollin Farms in Delaplane, Virginia make this beautiful farm feel like a hidden gem! Not only do they have delicious, abundant pick-your-own apples and veggies throughout autumn, they even have dig-your-own peanuts!
This lovely hillside farm sits atop a beautiful slope of the Blue Ridge Mountains, next to Sky Meadows State Park. (It's a fourth-generation family farm.) Here, a sunflower border bookends an upper and lower orchard that each grows different varieties of apples on site. Be sure to check out both levels!
Go here if you want to pick rare apple varieties like Gold Rush, Arkansas Black, Aztec Fuji, Enterprise, and Cameo apples as well as storied local varieties like Winesap and Albemarle Pippin (<– my personal favorite!). They also grow classics like Granny Smith, Pink Lady, Fuji, Rome, and Braeburn.
And the views? Well, they are about as lovely and serene as they come. When the sun is shining and the leaves are turning colors in mid-October, it's one of the most gorgeous places to go apple picking in the Northern Virginia region.
During autumn, Hollin Farms also has dig-your-own-potatoes and an incredible selection of guards, squashes, and pumpkins for purchase. These include the largest, coolest, craziest butternut squashes I have ever seen! (Seriously, they are huge and so intriguingly goofy-looking. It's worth going to see them, alone.)
Veggie-wise, you can expect pick-your-own salad greens like arugula, mustards, turnip greens, radishes, Napa cabbage, tatsoi, bok choi, and fresh lettuce, as well.
To get to Hollin Farms from the DC area, hop on Route 66 and take Exit 23 (Route 17 North to Delaplane). GPS can direct you to the rustic, at-times bumpy Leeds Manor Road, at which point you may lose cell reception.
At this point, just follow the signs that say "Apples —->" and you'll be fine. It's a lovely hidden drive that makes you think you've discovered a rural oasis once you arrive at the farm. It's very charming and quiet, even on a busy day.
Also, be sure to check the Hollin Farms picking schedule daily for the most updated hours during the season. (The hours change often in response to weather and other farm circumstances, but it's worth the slight hassle. Be sure to check that link before making the drive out.) Enjoy!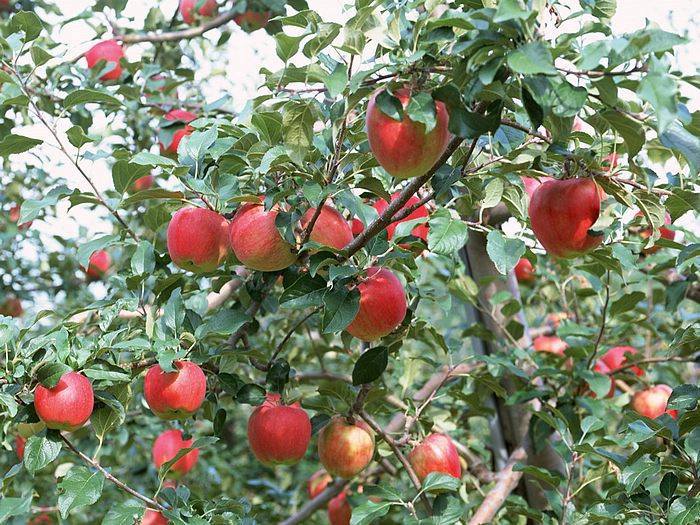 Stribling Orchard in Markham, VA
A Fall visit to Stribling Orchard in Markham, Virginia is a tradition for many Northern Virginia families. At this 6-generation family-run orchard, you can pick apples and pumpkins in the glorious Autumn sun, with 360 views of the surrounding Blue Ridge.
Then, stop by the Harvest House to shop for house-made cider, local honey, jams, jellies, salsas, and hot sauces, as well as local cheese, eggs, Virginia peanuts, and fresh baked goods– including, most importantly, a very popular apple pie that frequently sells out.
The orchard, which has operated since 1816, is open from July to November and features pick-your-own apples, peaches, and pumpkins. (Peaches are only available in the summer, of course, but those are worth seeking out when the time is right, as well. Nothin' like a sun-ripened peach!)
Be sure to check the farm's Facebook page for the latest updates on pick-your-own apples. Depending on when you arrive within the season, a different set of apples will be available for picking. Varieties can range from local standards like Rome, Fuji, Winesap, and Jonagold to the more rare, like Nittany, Grimes Golden, Idared, Rambo, and Lodi.
We love the charming, wild n' craggy apple trees and lush rolling hills that define the picturesque landscape at this orchard. Outside, kids (and curious adults) also have the opportunity to visit with farm animals and bask in the cool Fall weather.
There's usually live music on weekends, and pop-up vendors selling kettle corn, hard cider, and local wine, as well. Plus, you can find local beef and other animal products inside the farm market, making it a great spot to do a little grocery shopping that supports local farms.
Overall, Stribling Orchard is a lovely place to get outside and into unspoiled nature during everyone's favorite season. The orchard is much more wild and unkempt (with fewer signs and restrictions) than many other apple orchards in Northern Virginia, but that makes it even more fun to explore. (And as a result, it's a great orchard for kids who want to run around and get their energy out.)
Plus, they always have fresh pre-picked produce to make pies, jack-o-lanterns, and other baked goods, at a fraction of the cost of local farmers' markets. So, if you just want to take in the vibes without getting your boots dirty, you can do that, too.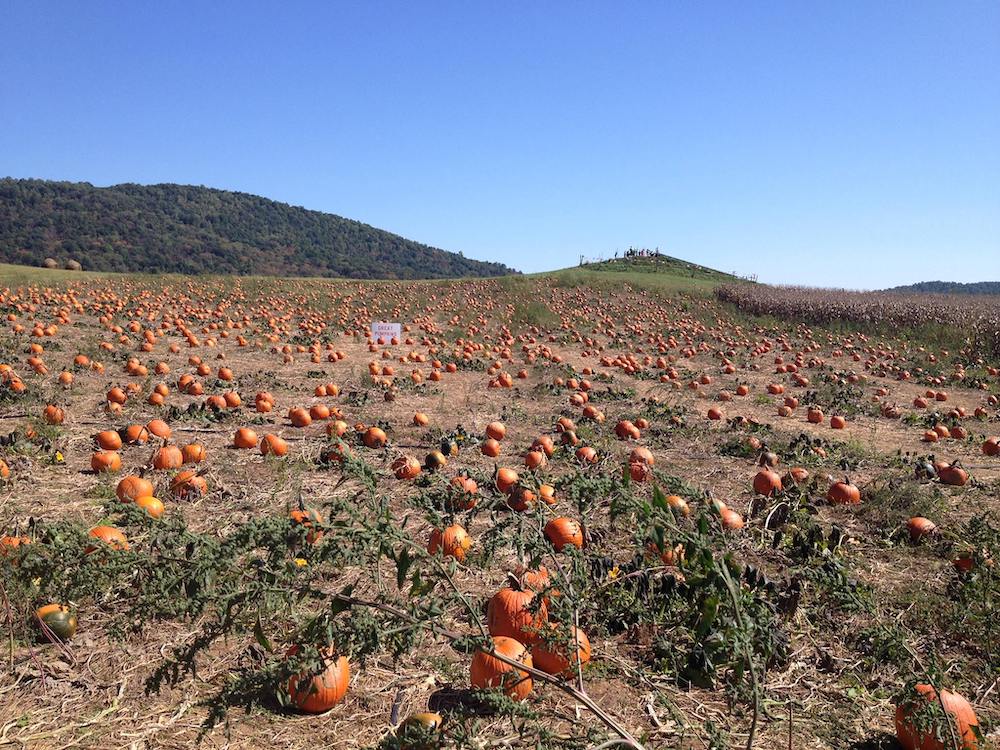 Hartland Orchard in Markham, VA
Sprawling Hartland Farm & Orchard in Markham, VA offers pick-your-own granny smith and fuji apples as well as pumpkin and winter squash patches, a kid-friendly corn maze, seasonal hayrides, and a so-called "FUN field". They are known more for their pumpkin patch (above) than apple picking, but you can technically do both on-site.
This working orchard is actually three farms in one, and it's open from 9 AM to 5 PM every day. Please note, however, that they accept cash and checks only.
Hartland Orchard specializes in several varieties of apples, including staples like Gala, Macintosh, Golden Delicious, Red Delicious, Granny Smith, York, and Cortland. They also showcase lesser-known varieties like Rambo, Greening, Grimes Golden, Smokehouse, and Stayman apples (a local area specialty). Most are good for cooking as well as eating, but all of them are delicious.
Meanwhile, Green Truck Farm offers pick-your-own tomatoes, raspberries and blueberries, cherries, and peaches in the Summer. (This is the area that's turned over to pumpkins in the Fall.) Thus, it's a (mostly) year-round adventure for the whole family.
You can find last-minute info about hours/seasonal changes on the farm's Facebook page.
Also: containers and bags will be provided for you upon entering the orchard. They also have homemade cider and local Hartland honey available for purchase. But seriously: get a load of those pumpkins!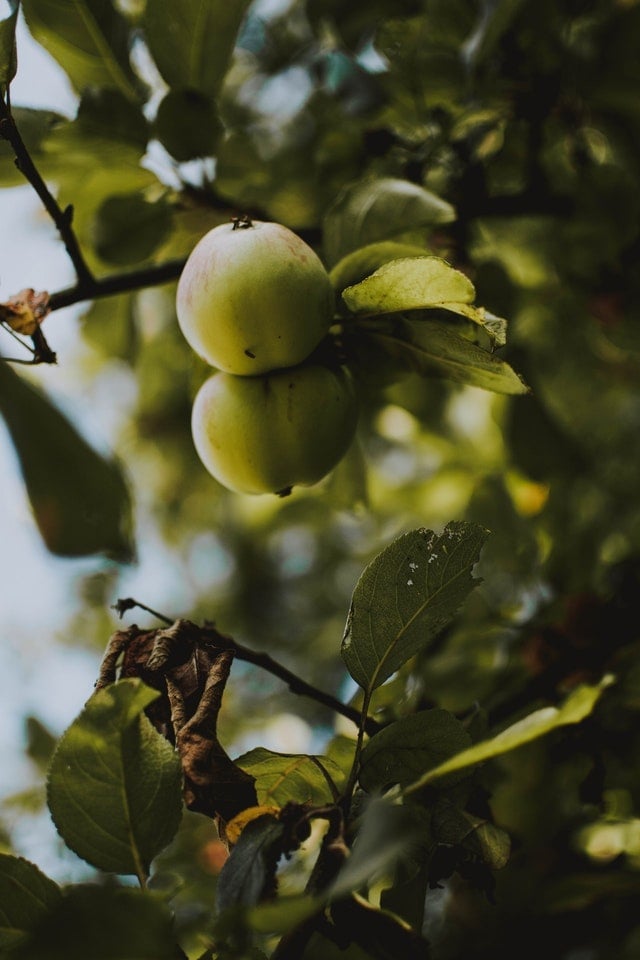 Crooked Run Orchard in Purcellville, VA
Crooked Run Orchard in Purcellville, VA is a rustic pick-your-own apple farm in a quiet, endlessly verdant part of Virginia. Even more impressive, this family-run farm has belonged to the Brown family for over 250 years!
Today, the orchard is cash or check only. Advance reservations are not required, as they're real casual over there. Admission is also free, and there is a portable restroom available on site. Importantly, this orchard also allows dogs (!), a boon for canine lovers and those who don't want to leave their pets at home. (Or people who secret hope to encounter some pups in the orchard, like me.)
Apple-wise, they have Red and Golden Delicious as well as Rome apples, Mutsu apples, and Jonagold apples for self-picking. However, like any orchard, the specific varieties available vary throughout the Fall. This way, it'll be a surprise as to what you'll be picking based on the week you go.
Be advised, however, that the farm doesn't have an official website and isn't very responsive on their Facebook page. Be sure to check there for the latest hours or go at the height of the day before making the drive out.
Otherwise, picnic tables are available on site (they don't sell any food, but you may bring your own). Wagons and strollers are welcome, though they are difficult to navigate over the historic, gnarled terrain. This land has been farmed for over two centuries, so it is a little rugged. Be sure to wear closed-toed shoes– and ask about trying their fresh-pressed apple cider!
~ Honorable Mention ~
Three great farm markets that have local apples and pumpkins available for purchase, but not pick-your-own.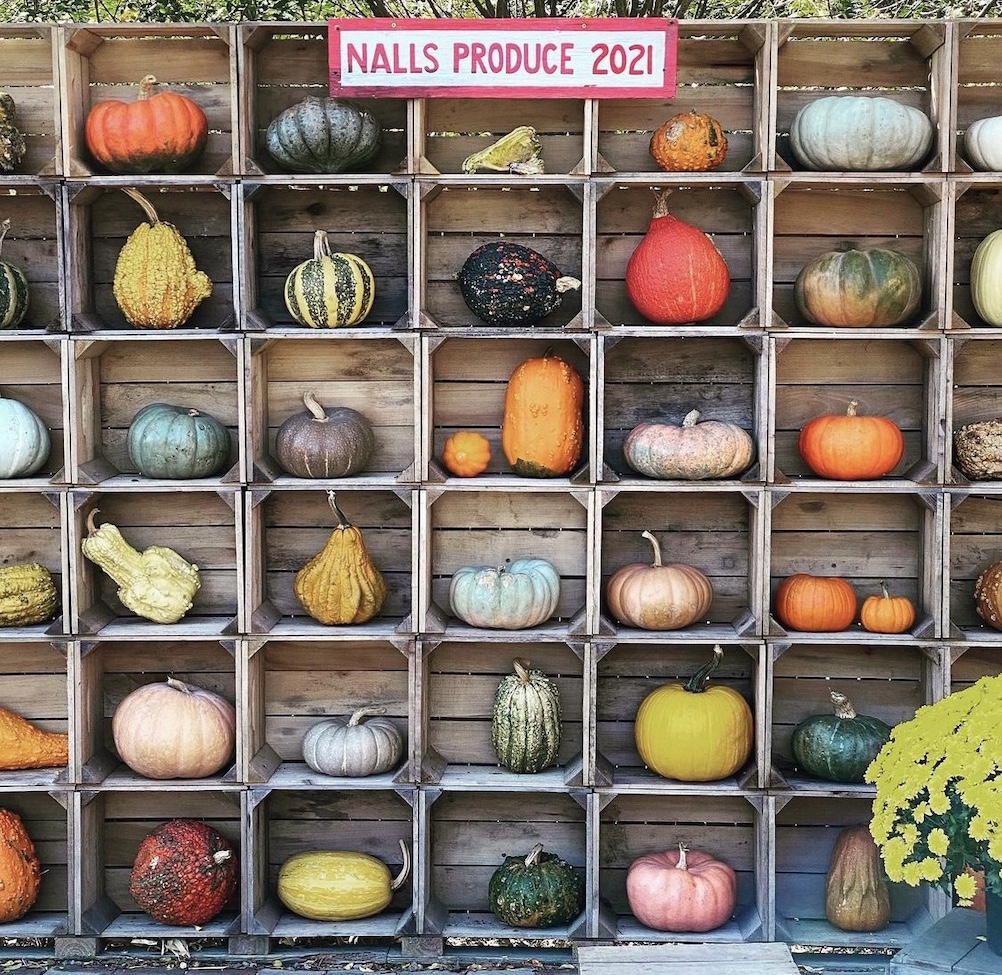 Nalls Produce (For Funky Pumpkins in Fall)
Since 1961, Nalls Produce has been a family-run area staple for plants, flowers, pumpkins, seasonal produce, veggies, and more!
This gorgeous hidden gem on Beulah St (in a more rural stretch of Southern Alexandria that dips into Franconia) also sells gourmet food and pantry items from local producers– including Shenandoah Spice Company's "Bread Dip" olive oil seasoning, Scratch Pasta Company's Spinach Fusilli, and South Mountain Creamery's line of grass-fed ice cream. (<– These are worth seeking out!)
They also sell a wide variety of local honey + barbecue sauces, an impressive selection of raw and pasteurized cheeses, duck eggs, fresh bread from local bakeries, seasonal fruit (including cherries, apricots, blueberries, blackberries, apples, and sugar plums, oh my!) as well as pickles galore. Local tomatoes, summer squash, watermelon, cantaloupe, and OMG Pretzels are just a bonus.
There's also a koi pond, a housecat, and a friendly teacup pig named Penny.
The real star, here, however, are the gorgeous rows of flowers as far as the eye can see– and curious gourds in Autumn.
The nursery, moreover, is absolutely gorgeous in the Fall, when the whimsical pumpkins and mums come out. (See above.) You might not be able to pick your own pumpkin from the ground, but it sure is fun to pick one from Nalls' impressive collection.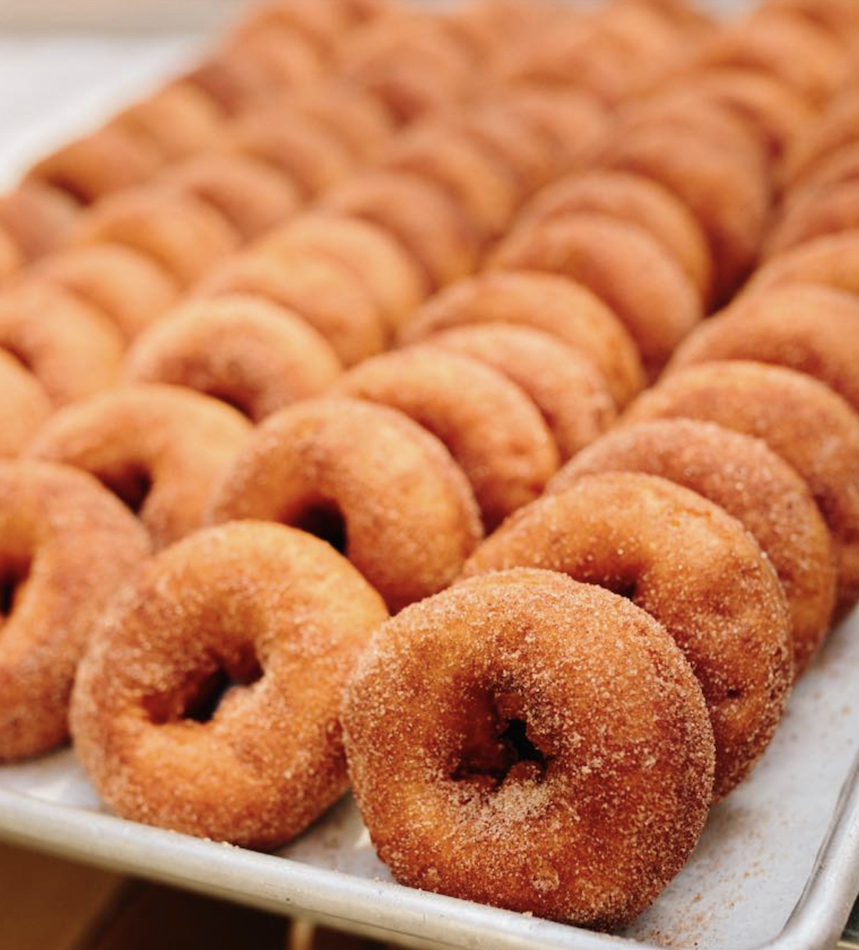 Cox Farms in Centreville, VA
Cox Farms in Centreville, Virginia is a family-owned farm that offers a petting zoo with adorable baby goats, a produce and flower market, and a "scary" Halloween-themed corn maze known as the "Fields of Fear". It's more commercial and carnivalesque than the other country orchards on this list, which can be a plus if that's what you're looking for– or if you need lots of entertainment for active children.
In addition to fresh local apples and pumpkins available for purchase, Cox Farms' annual Fall Festival is the big draw here, when thousands of people gather to enjoy hayrides, an insanely fun giant slide, apple cider, s'mores, and more seasonal fun. (To be clear: they do not have U-pick apples or pick-your-own pumpkins on-site, but they do sell them.)
They also have live music, kettle corn, and delicious apple cider donuts for sale. When the sweater weather kicks in with crisp, cool air and Halloween vibes, there's no better place to gather with a group for some outdoor fun.
The on-site Corner Market has an amazing selection of seasonal farm produce, as well. If you're looking for charming country store ethos in Northern Virginia, this is a great place to soak it up.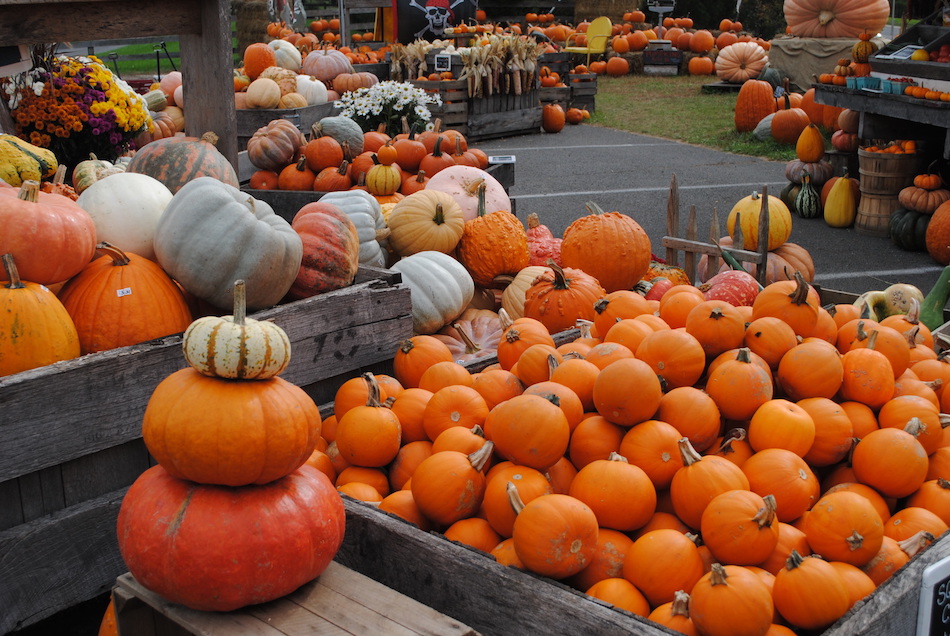 Burnside Farms in Nokesville, VA
Burnside Farms in Nokesville, Virginia has tulip fields in the Spring, sunflower fields in the Summer, and impressive pumpkin fields in the Fall. In fact, they have one of the area's largest selections of pumpkins and guards, with over 50 varieties for sale. Purchase them at their farm in Nokesville or at the lovely roadside market at their Haymarket farm (above).
While they don't have an orchard, they do have fresh apples from a local farm for purchase at their market. Otherwise, this is a good place to go for pumpkin picking, corn mazes, and Christmas trees. Fun!
The Nokesville Farm is open in the Fall (peak in October) for pumpkin picking, a corn maze, and other fall activities. The Haymarket Farm, meanwhile, opens after Thanksgiving and into December for Christmas Tree sales.
Book tickets for Summer sunflower picking/ the Fall corn maze here. Then, get out and enjoy this beautiful season in all its glory!
***
Looking for more regional entertainment? Search "Virginia" in our critically-acclaimed Travel Well section.