You can't visit Baltimore without trying some succulent Maryland blue crab– the prized local ingredient that makes Baltimore's crab cakes so delicious and renown. Crab is so popular here that it's no surprise the world's favorite crab seasoning– Old Bay— was actually invented in Baltimore.
Baltimore, moreover, is known for its crab cakes, and there are a number of intriguing places to eat them here. Each of the restaurants on this list use recipes that have their own flavor, nuance, and style.
Some people swear by no-frills takeout counters like Faidley's, while others prefer the charming dining experience at sea-to-fork establishments like Gertrude's.
Either way, no matter what kind of crab cakes you're looking for in Baltimore, the ones below will not disappoint. The seasonings and presentation might differ, but the fresh local crab at the core of each recipe offers an indelibly authentic taste of Maryland.
For the quintessential Baltimore crab cake experience, try more than one crab cake. (Everyone puts their own spin on it.) Then, decide for yourself which one you like best.
Also: Crab is a rich source of anti-inflammatory omega-3 fatty acids, which helps quell inflammation and improve mood. (We don't often get to talk about this in our foodie travel guides, but crab is a much more nutritious superfood than many people give it credit for. Not that you should consider crab cakes a "health" food… but still. It's good to know while traveling because omega-3's can also fight fatigue.)
Below, we spotlight the best places to try authentic Baltimore crab cakes in the city. Enjoy!
***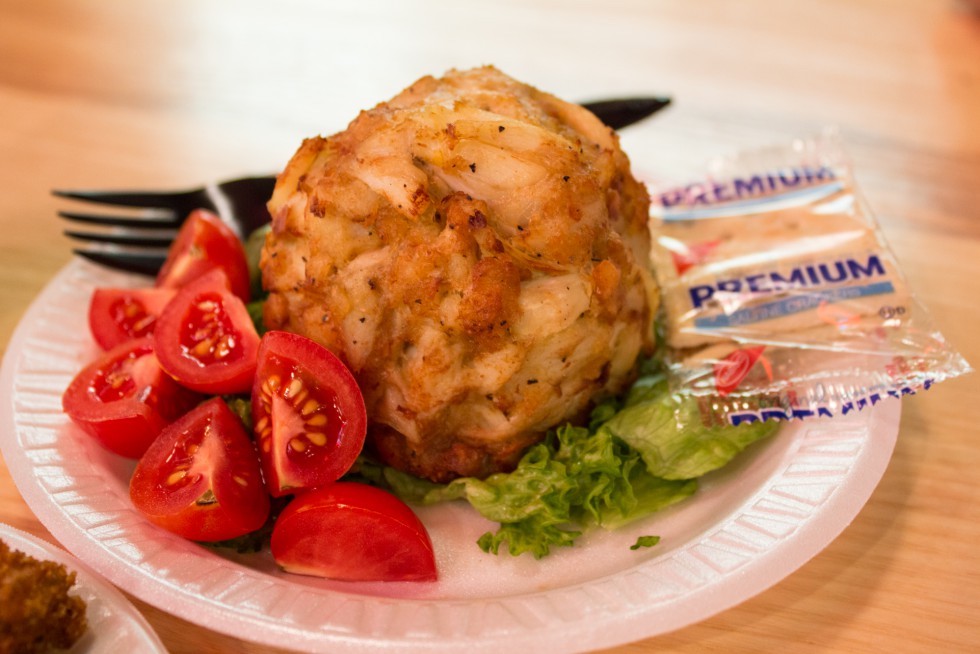 Faidley's Seafood (Best Crab Cakes in Baltimore)
Faidley's Seafood is an iconic walk-up restaurant inside Lexington Market (more on that, below) that has been serving softball-sized crab cakes since 1886. This veteran seafood joint is not fancy, but the make what is easily the best crab cake in Baltimore– and Maryland itself.
Their award-winning jumbo lump crab cakes average about 6.5 ounces of crab. At under $18 each, they're also the bet in Baltimore in terms of value. (This is a great price for a fresh, local, handmade Maryland crab cake.)
Eat a classic crab cake and coleslaw at one of the red standup counters, or order a crab cake sandwich and a side of Faidley's own macaroni and cheese to-go. This is a great place to order for a picnic at Canton Waterfront Park. Be sure to call ahead, otherwise expect to wait in line.
Also, a PSA for history buffs: Lexington Market is the oldest continually-running public market in America. The space opened in 1782, and is now home to a handful of other famous Baltimore eateries, including Connie's Chicken and Waffles. (<—That's worth trying for lunch another day.)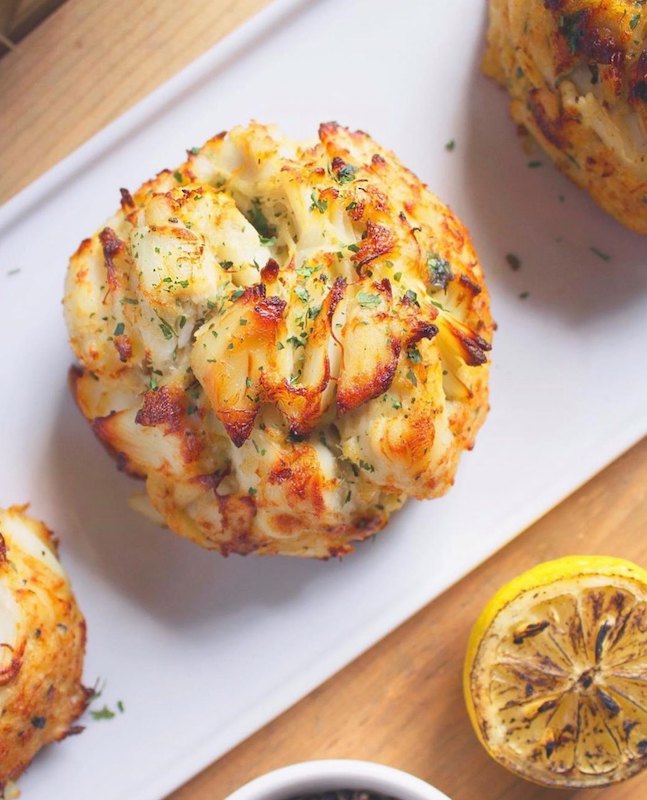 Jimmy's Famous Seafood (Try the "Crabby Waffle")
Jimmy's Famous Seafood is another classic Baltimore crab institution. These crab cakes are so, so good. Delightfully crispy on the outside, without too much batter, they are in such high demand that the company now ships them nationwide.
Jimmy's award-winning "masterpiece" Baltimore crab cakes are excellent, as are the steamed crab (a must for fresh crab lovers). They also serve some of the best gluten-free crab cakes in Baltimore.
Comfort food lovers should be sure to try the new "Crabby Waffle"— a spin of the classic fried chicken and waffles combo. Instead of fried chicken, the waffles are sandwiched around a fresh crab cake and bacon, and served with herbed country hash browns.
It's so rich it's practically sinful– and it'll keep you full and happy all day. (You haven't had brunch in Baltimore until you've gotten a load of this.)
Pappas Seafood Co. (Oprah-Approved)
Pappas Seafood Co makes crab cakes adored by everyone from Oprah Winfrey (who started her career in Baltimore) to celebrity chef Aaron Sanchez. This small, family-owned seafood market has been serving some of Baltimore's best crab cakes for over 40 years!
The "colossal" Maryland crab meat that goes into Pappa's 6-ounce crab cakes– always fresh, never frozen– yields a succulent, browned butter taste. This is a good crab cake for people who like their crab cakes more dense and chunky. (As opposed to a loose, more creamy configuration.)
If you want to try more local delicacies, order the delicious Baltimore "coddies." The decadent "padded" oysters and the gluten-free imperial crab are also great. It's all good.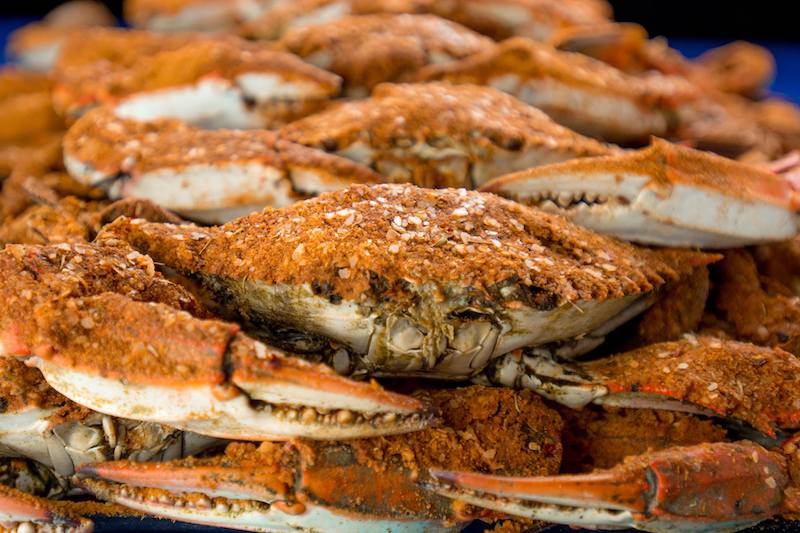 Costas Inn (Local Favorite)
Costas Inn is a longtime popular crab cake house that's a staple among locals. There are people who have been dining here for 20+ years! What keeps them coming back is the excellently-seasoned signature 5-ounce Baltimore crab cake– and the friendly service.
Like many of the eateries on this list, Costas Inn is not fancy. Nevertheless, the flavors deliver above and beyond the ambiance. Crab cakes are often eaten in refined settings, but in Baltimore, they're basically comfort food. Here, crab dishes are made with the same down-home zealousness as BBQ or Southern cuisine. Costas is a prime example.
Today, the restaurant specializes in 5-ounce jump lump crab cakes that have been featured on the Today Show and other syndicated spots like Michael Symon's show, Burgers, Brew, & Que.
Personally, I also love their creamy crab soup. It's part of why USA Today calls Costas the Best Seafood Restaurant in Baltimore. (The prices here are great, too.)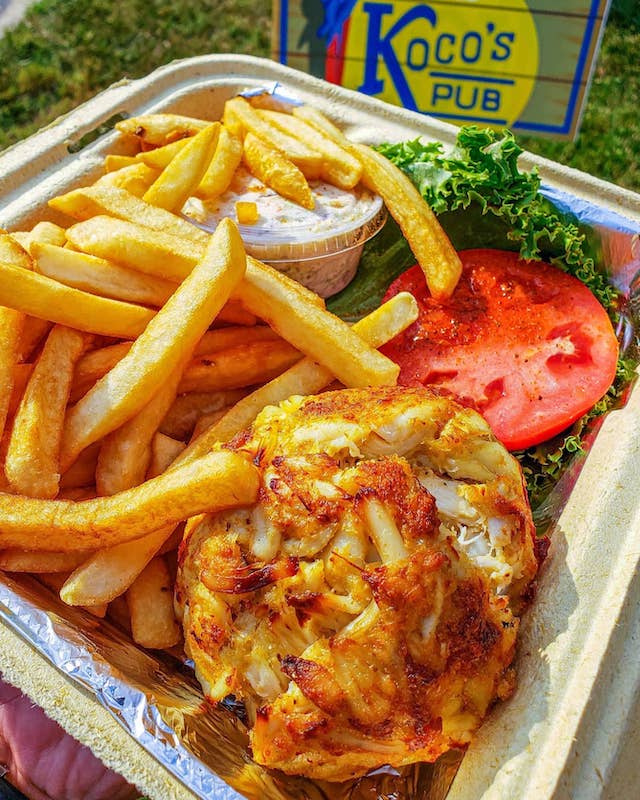 Koco's Pub (Baltimore's Largest Crab Cake)
Koco's Pub is a popular neighborhood pub that, in addition to the largest crab cakes in Baltimore, serves satisfying burgers, wings, and beer. It's not fancy, but the food is homey. It's a real comfort food kinda place.
Order the ginormous 11-ounce crab cake for the quintessential Koco's experience. With its generous hit of Old Bay seasoning and super creamy interior, it's one of Baltimore's most memorable– and most filling– crab cakes. And the french fries that come with it are fabulous! Ultimately, the flavors here are old-fashioned, in a good way. It's a true diner-style experience.
Pair it with Marcella's Margarita or a local craft beer and you're well on your way to a perfect meal. This also might be the only crab cake that you could conceivably share with a friend. (Not that you'd want to.)
Also: like many of the restaurants on this list, Koco's also ships their crab cakes nationally.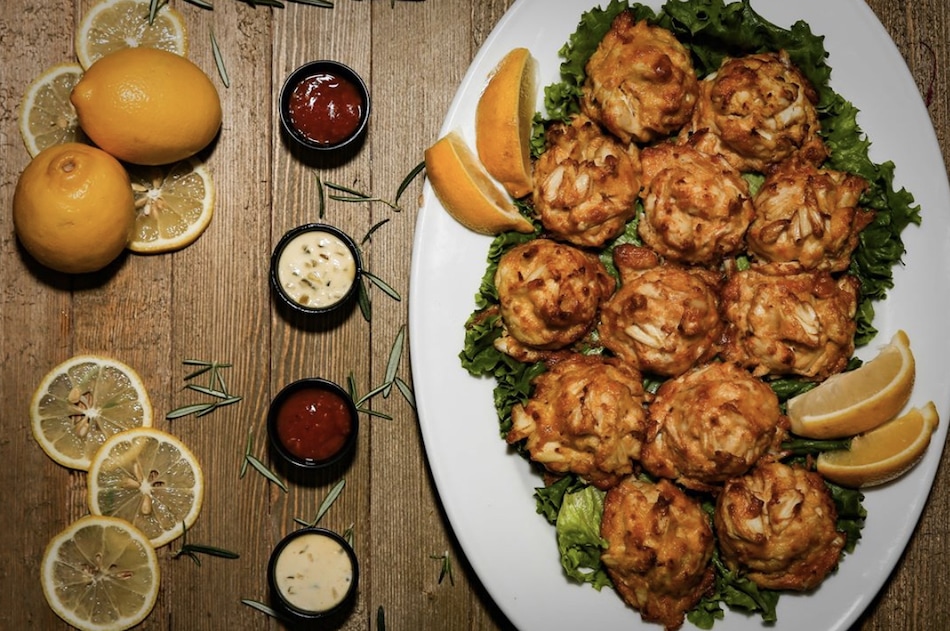 G&M Restaurant (Super Reasonable Prices)
G&M Restaurant & Lounge is a fast-casual surf and turf restaurant that grew out of what was once a neighborhood pizza shop. Since opening in Baltimore in 1947, it has evolved over the years into a two-tier family dining restaurant. Today, it's a whole enterprise.
The restaurant appeals to a wide audience, as they serve some of the best and most affordable crab cakes in Maryland. They're known for their large 8-oz crab cakes and popular crab cake sandwich, as well as their sampler-size mini crab cake balls.
No matter what size or preparation of crab cake you are looking for in Baltimore, G&M Restaurant likely has it. They even have crab cakes stuffed with shrimp! (Those are real people-pleasers.)
Due to popular demand, they also ship their crab cakes overnight to all 50 states. They also sell moderately-priced crab cake tubs popular holiday party platters. Have your crab cake and eat it, too– no matter where you live.
~ Honorable Mention ~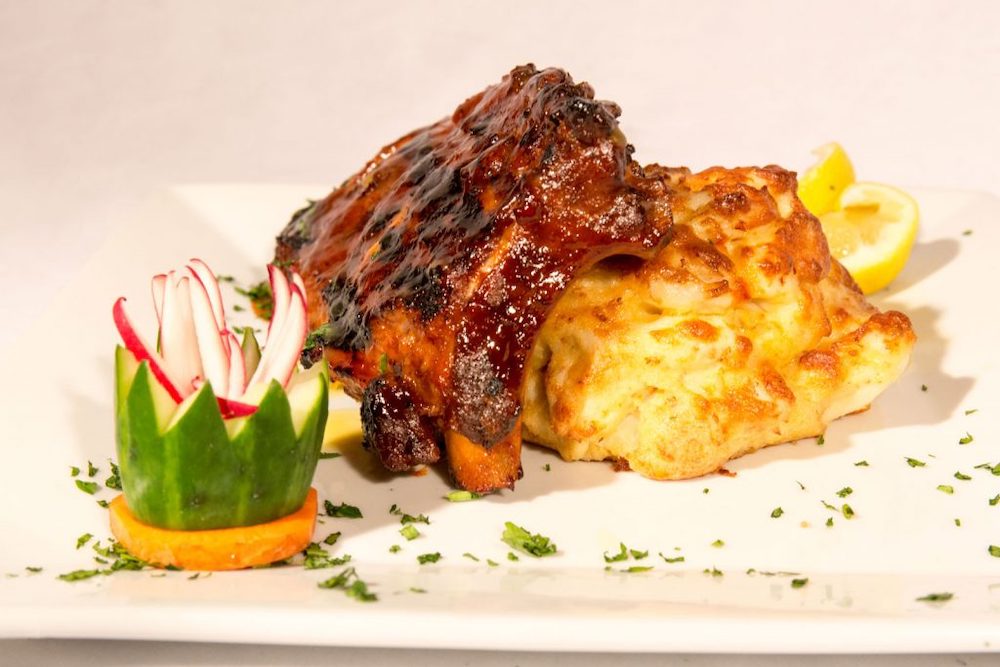 Timbuktu (Crab Cake + Ribs Combo)
Located right next door to Baltimore in Hanover, Maryland, Timbuktu is another family-owned favorite for massive Baltimore-style crab cakes. While not technically in Baltimore, this no-frills restaurant is close, and their reputation proceeds them.
The restaurant serves a famous ribs-and-crab-cake combo that locals love– many Baltimore folks make the pilgrimage out specifically to order it. In addition to their "colossal" crab cakes, Timbuktu also offers an array of rich alternative crab-centric seafood options, like stuffed soft shell crab (surprisingly hard to find elsewhere!), creamy crab dip, and massive broiled seafood platters.
Cocktail lovers should try the epic-looking "Ultimate Bloody Mary". It's adorned with bacon, fried shrimp, and jumbo lump crab meat in addition to celery. It's worth it for the picture, alone!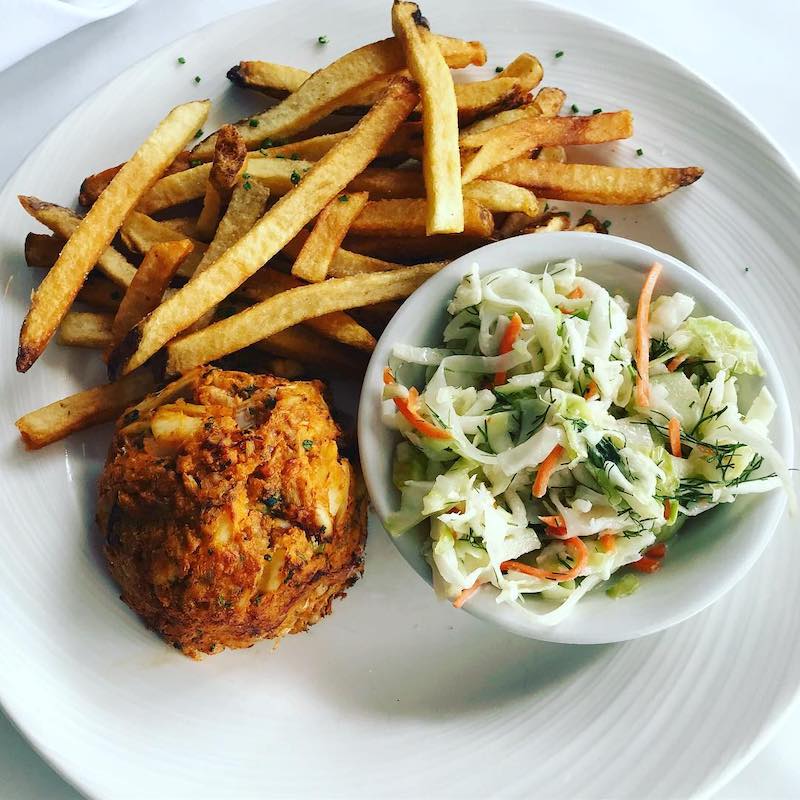 Gertrude's (Upscale, Seasonal Dining)
Gertrude's is a lovely, artisanal-seasonal restaurant located inside the Baltimore Museum of Art. They've got a sensational local menu that focuses on regional Chesapeake cuisine, and a surprisingly amount of variety within that specific niche.
Try their seafood salad with lump crap meat and avocado for a lighter crab option. Otherwise, stick with the classic Crab Cake order: the small-but-mighty Boardwalk Crab cake, which will have you licking the plate.
Not only does Gertrude's serve some of the best crab cakes in Baltimore, but they even have vegetarian crab cakes. Their "Zuchettes" 'crab' cakes are made with zucchini instead of crab. It's a nice veggie alternative to the traditional, served with roasted potatoes and garlic sesame spinach. (For what its worth, their Tilghman Island Eggs Benedict with fried oysters– a weekend brunch staple– is also incredible.)
The main dining room overlooks the sculpture garden featuring works by Alexander Calder, Auguste Rodin, and Isamu Noguchi. In addition to the lovely views, the restaurant was on the vanguard of the first-wave farm-to-table movement in the U.S.. It maintains strong connections with local Maryland farms and fisheries to this day. As a result, the seafood is as fresh as fresh can get.
Come for the crab cakes, stay for the crab cakes– and everything else on this thoughtful, uniquely Baltimore menu. Yum!
***
Related: A Beautiful Baltimore Travel Guide: 15 Cool Things to Do in Charm City.
Want more niche eats in the Mid-Atlantic? Find out where to get the Best Cakes in D.C., or the Best Fried Chicken in Asheville, North Carolina.