The best ice cream in Asheville is relatively easy to find if you know where to look. With a number of inventive, dairy and non-dairy allergy-friendly ice cream shops around this eclectic little mountain town, the flavors and creativity never fail to impress. Ultimately, we cobbled together this guide to Asheville's best ice cream shops so that first time visitors– or locals who want to take a more complete dive into the local food scene– can discover where to get the best scoop in the city.
Asheville is quirky, and so is the ice cream (and we've had our fair share of cool, weird ice cream). That being said, there are also a number of classic Southern staples that you don't want to miss if you're a dessert lover. This is a city full of original food concepts, and frozen treats are no exception.
Here's where to get the best ice cream in Asheville, North Carolina.
***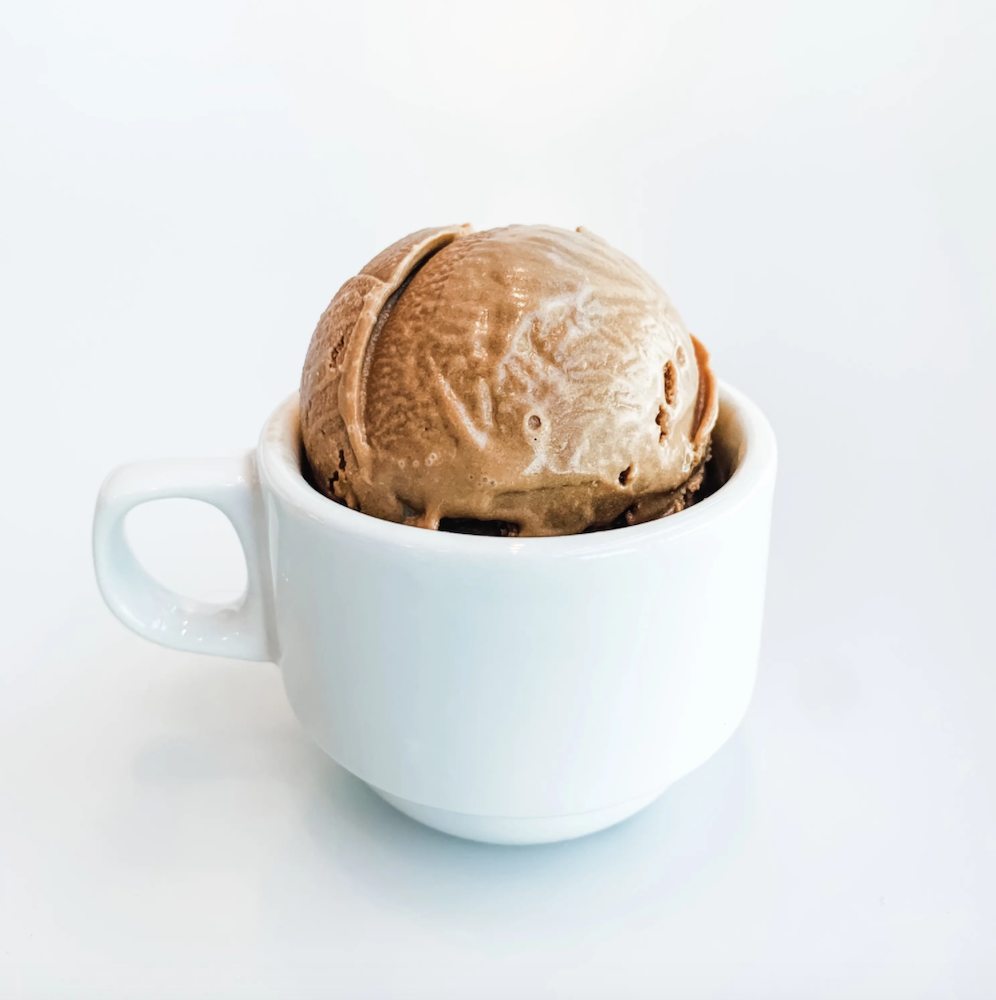 French Broad Chocolate Lounge, Boutique & Factory (Popular Chocolate Hot Spot)
French Broad Chocolate's chocolate boutique and lounge is one of the most popular tourist destinations in Asheville, known for their all-chocolate everything menu and lovely, beautifully-wrapped bars. The housemade ice cream is, of course, fantastic, made using "Farm to Home" milk. Here, they serve unique, seasonal, chocolate-centric ice cream flavors like Mocha Stout, Golden Milk, Nutmeg, and Pumpkin Spice. (When it's available, I recommend the Mocha Stout, which is made with French Broad Chocolate and local Asheville beer.)
French Broad's giant, handcrafted waffle cones are excellent, as are their indulgent milkshakes, ice cream floats, affogatos, and frappes. (They also sell chocolate cake, brownies, "liquid truffles", boxed bonbon collections, hot + cold chocolate drinks, and chocolate bars– but these are just bonuses.)
The company operates tours of their chocolate factory on Riverside Drive, as well. This location has it's own cafe and ice cream, as well as tons of merch, including "sipping chocolate", local ginger beer, surprisingly stylish T-shirts, and books. No matter which location you visit, be sure to buy some delicate, powder blue "boxed" chocolate bars on your way out. These are a classic Asheville souvenir!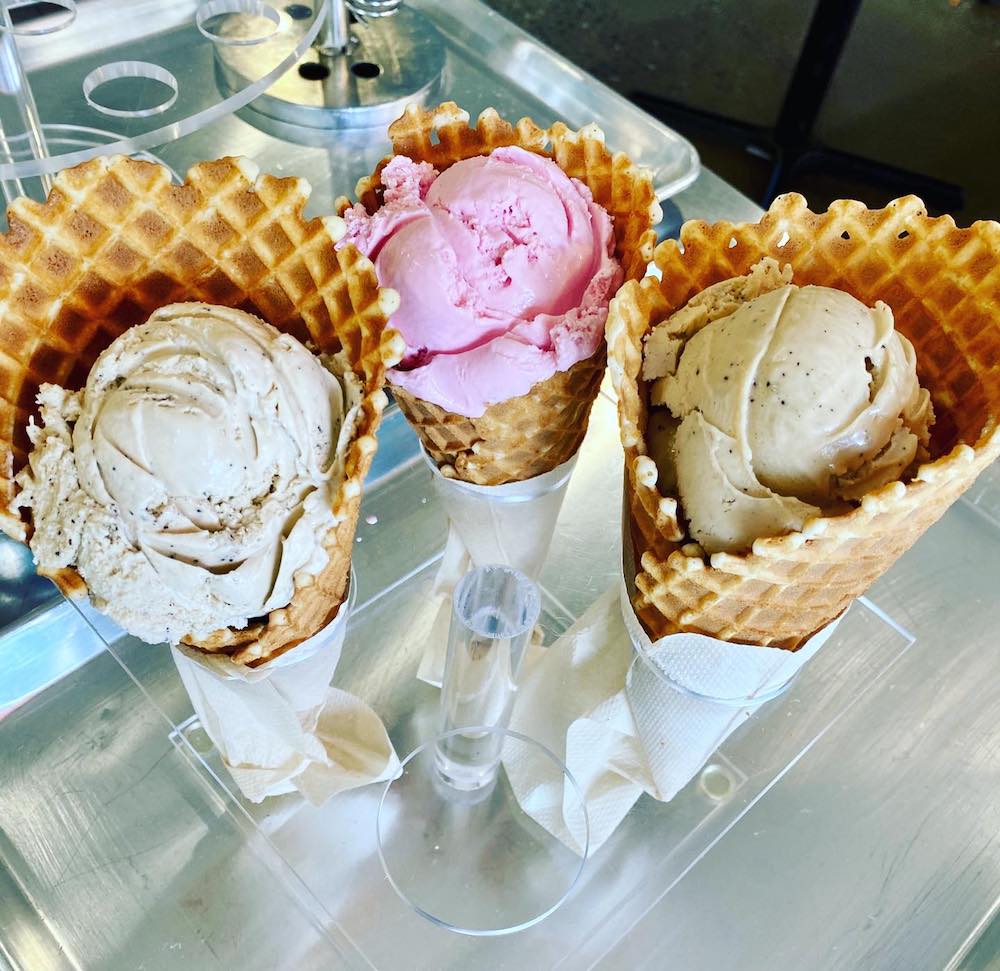 The Hop Ice Cream Cafe (A Vegan and Allergy-Friendly Asheville Classic)
With three locations around Asheville, The Hop Ice Cream Cafe is an excellent place to get not just regular ice cream, but some of the best vegan ice cream we've ever had! In addition to dairy options, they have hemp milk ice cream, coconut ice cream, almond milk ice cream, as well as a rotating case of other intriguing non-dairy alternatives.
Here, you can try vegan twists on classic ice cream flavors, like Cookies n' Coconut Cream or Local Blueberry ice cream made with pepita milk. They even have sunflower seed milk based ice cream for those who cannot eat nuts! (We love their gluten-free "Bulldog Tracks" Oat Milk ice cream, too.)
The dairy-based flavors here are also super unique, as well. From Benne Sorghum & Spice, Caramel Latte, and Cookie Butter to "weirder" twists like Salted Licorice and rainbow-themed "Unicorn Poop", there's truly something for every palette. (They even made a Blueberry-Kale ice cream!)
The Hop also works with local artisan food companies to showcase local ingredients in their delectable ice creams, like locally-made spices, cookies from local bakeries, and even Asheville-brewed kombucha. (Ultimately, this is my personal favorite ice cream shop in the city.)
In addition to fresh scoops, The Hop also sells dairy and vegan pints for take away. They even sell ice cream for dogs! (If that's not a sign of Asheville's wholesome tendency towards inter-species inclusivity, I don't know what is.)
Also, lest we forget: The Hop makes some of the best ice cream cakes we've ever had!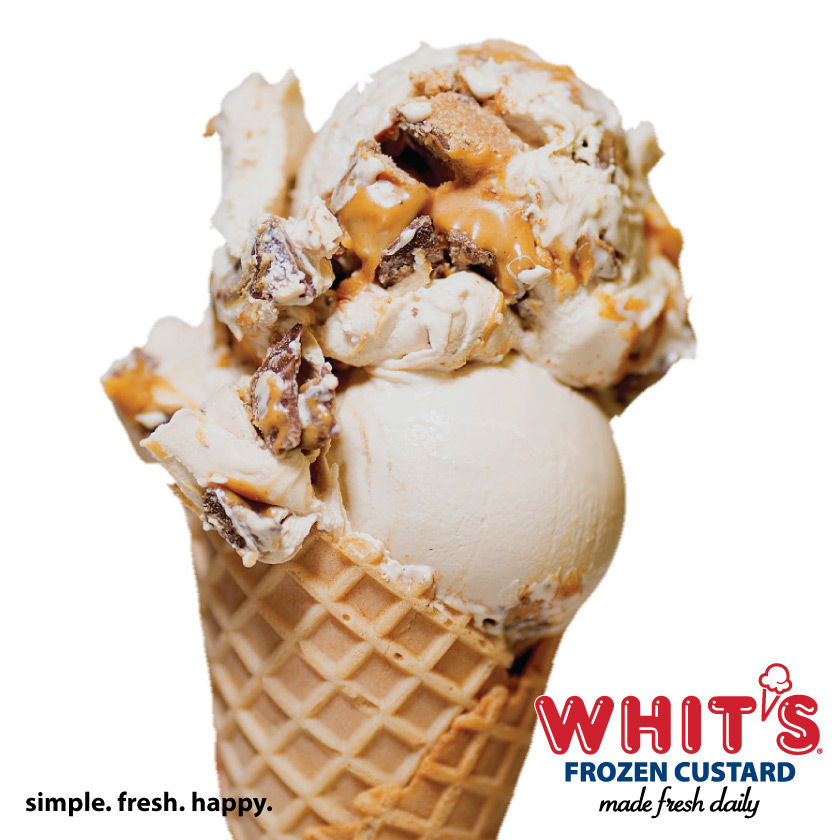 Whit's Frozen Custard (Ultra Creamy Twist on Classic Ice Cream)
Made fresh daily, Whit's Frozen Custard offers a unique twist on the classic ice cream experience. Try a seasonal flavor of their signature frozen custard or experiment with one of their legendary "Whitties"– a cookie ice cream sandwich with frozen custard in the middle, rolled in various crunchy toppings like crushed butterfingers. These are a charming local delicacy known for their super creamy texture. Every couple of days, they also offer a new "Flavor of the Week" like Waffle Caramel Crunch or Key Lime Pie.
Whit's North on Merrimon is located in a charming stone house– the surrounding area is fairly suburban, but its a fun experience making the pilgrimage to the homey walk up custard shop. It feels like an old time-y experience, in part because it is. Frozen custard shops are increasingly hard to find in the United States. For foodies visiting Asheville, it's worth checking out.
For a unique (if indulgent) summer pairing, go to Whit's after eating at nearby Rocky's Hot Chicken Shack. There's always room for ice cream!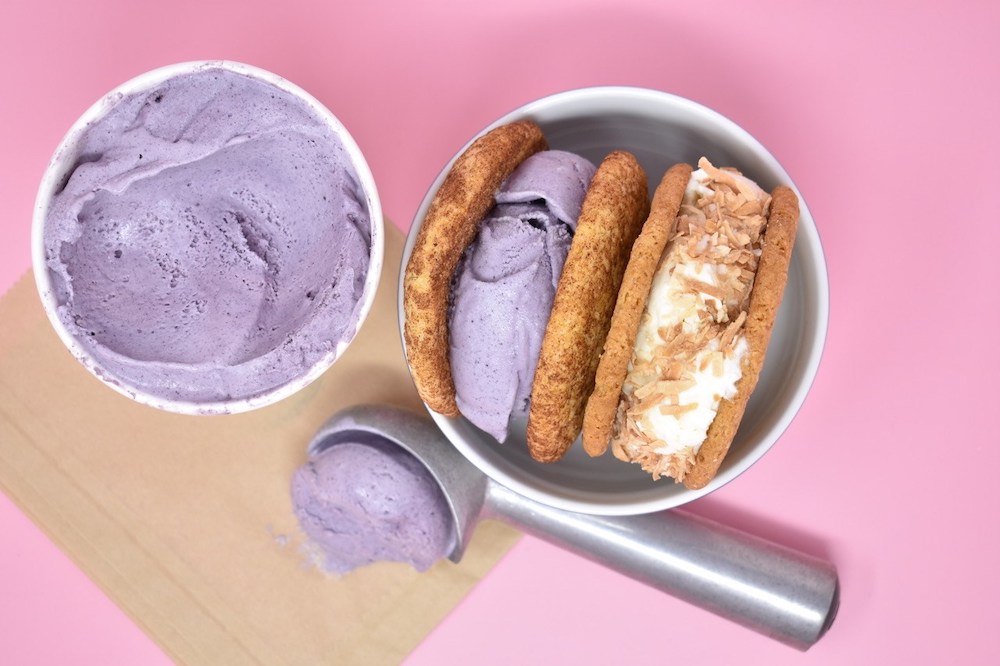 Sunshine Sammies (Epic Cookie Ice Cream Sandwiches)
Sunshine Sammies Bake Shop & Creamery makes some of the best darn ice cream sandwiches in the South (no offense, Peace Pie!). They are also known for their homemade pints, as the ice cream alone is invariably delicious.
At their Downtown Asheville scoop shop, choose your own homemade cookies and house made ice cream flavor to make your own unique ice cream sandwich. Or, select one of their suggested combos. The "Local Strawberry Ice Cream + Sugar Cookies" and "Mint Chocolate Cookie Ice Cream + Chocolate Cookies" are two popular combos. Sunshine Sammies also has vegan ice cream and vegan cookies, in more limited flavors. (PSA: The vegan graham cracker cookie is super good. Ice cream s'more, anyone?)
Like many of the best restaurants in Asheville, the flavors here are seasonal. As a result, the ice cream menu rotates often. Still, there are a few classic favorites. In Winter, expect more chocolate-y flavors and in Autumn, more spiced blends. In Summer, they showcase seasonal fruit flavors, like Blueberry and Peach.
Personally, I think ice cream sandwiches are best in Summer– but I always have room for their Malted Chocolate Pecan ice cream regardless of season. (And when it's available, the Local Strawberry Ice Cream is a must for strawberry ice cream lovers. Be sure to try it!)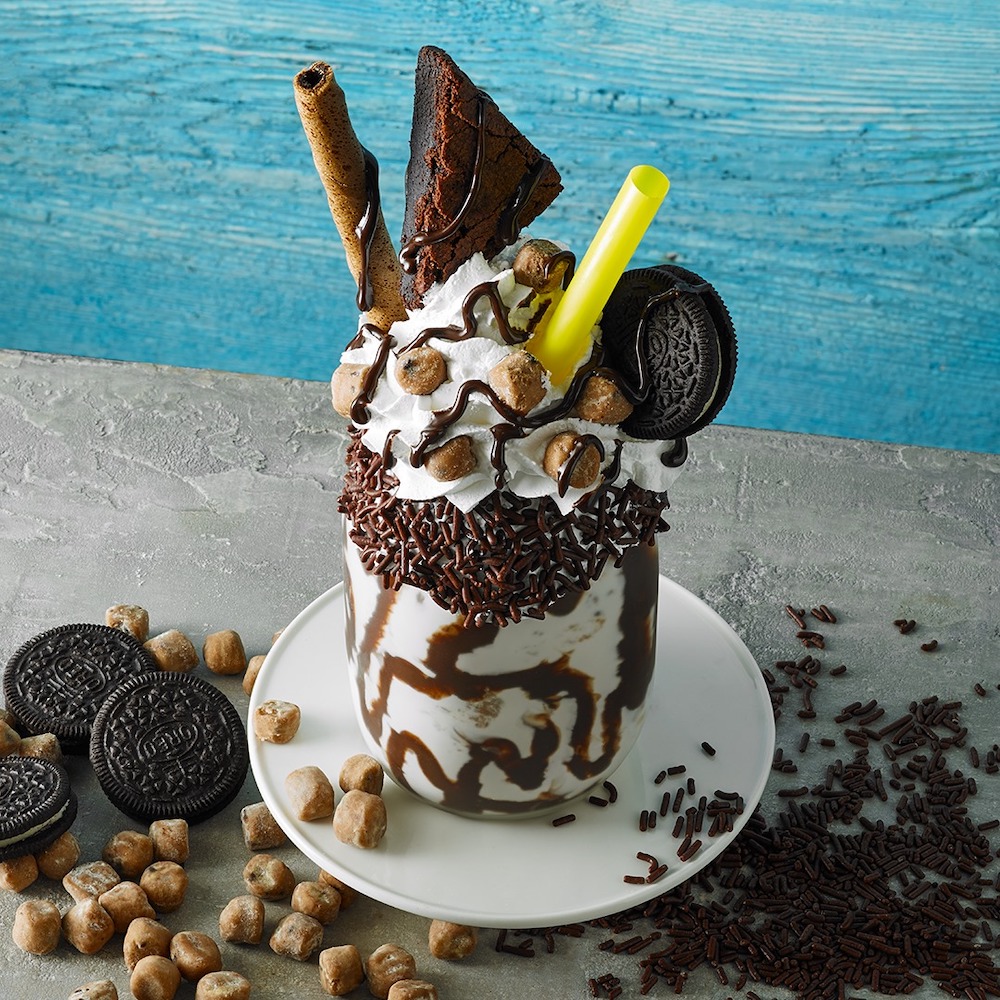 Marble Slab Creamery (For Hand Blended Ice Cream with Colorful Mix-Ins)
The Asheville location of this regional hand-mixed ice cream chain is conveniently located on Biltmore Ave. (The main drag through downtown Asheville.) Here, Marble Slab Creamery makes small-batch, carnivalesque ice cream with mix-ins, before your very eyes. (It's like Cold Stone in concept, but it has much more small town personality.) This is a good ice cream shop for families with kids.
We like their Cinnamoo Bun and Banana Pudding ice cream, but the flavor list is extensive. Kids tend to gravitate towards the brightly colored options like Bubble Gum and Blueberry. (The dyes aren't exactly natural, but they're nothing if not whimsical.) And you if like sprinkles, cookie dough, brownies chunks or lots of toppings in general, this is the Asheville ice cream shop for you. The flavors are more "mainstream" than artisanal, which is not always the case at some of the smaller ice cream shops in the area.
Marble Slab also makes ridiculous, over-the-top "majestic shakes" the likes of which are popular on Instagram. (That's a picture of one, above.) These are a cross between a sundae and milkshake, replete with all the fixins. If you're looking for something super indulgent, you've come to the right place.
***
In the mood for a different kind of sweet treat? Check out our guide to Asheville's Best Cake Bakeries.