With remote work and digital nomad-ing on the rise, eco-friendly, ethically-made comfy clothes are more desirable than ever. As we previously wrote in our viral Gift Guide for Stressed Out People, today the average person spends more time in their pajamas than in their work clothes. Why not make them just as nice?
Studies show that the advent of remote work, home delivery services like Amazon, UberEats, and InstaCart, as well as home entertainment services like Netflix, FitOn, TikTok, and HouseParty are also aiding this phenomenon.
The effects are simple: when people have fewer reasons to leave their homes, they spend more time in leisure clothing.
Thus, for the homebody-chic inclined, leisure clothing has become the most important and essential part of their wardrobe. The below brands make cute, stylish, at-time downright chic comfy clothing that also has a positive social impact.
And at a time when the impact of consumer purchases matters more than ever, this is an important consideration to make when shopping for comfy clothes. (Or anything else in your home.)
Noctu, for example, makes all of their adorable sleepwear from sustainably sourced, GOTS-certified 100% organic cotton. Other brands like Naja empower women seamstresses with job creation.
Ultimately, these awesome comfy clothing companies make products you can feel good about. They do it right. They make everything functional while also looking good– and accommodating different body types.
Remember: wearing loose, comfy clothing instills a sense of calm and ease. It makes us feel safe, and this has a subtle but powerful effect on our day.
When it comes to versatile, eco-friendly comfy clothing, you can do no wrong with the brands on this highly-curated list. They make great basics in a sustainable way without harming anybody. It's the best of both worlds! This is why I love them and wear all of these brands myself. Cozy up!
***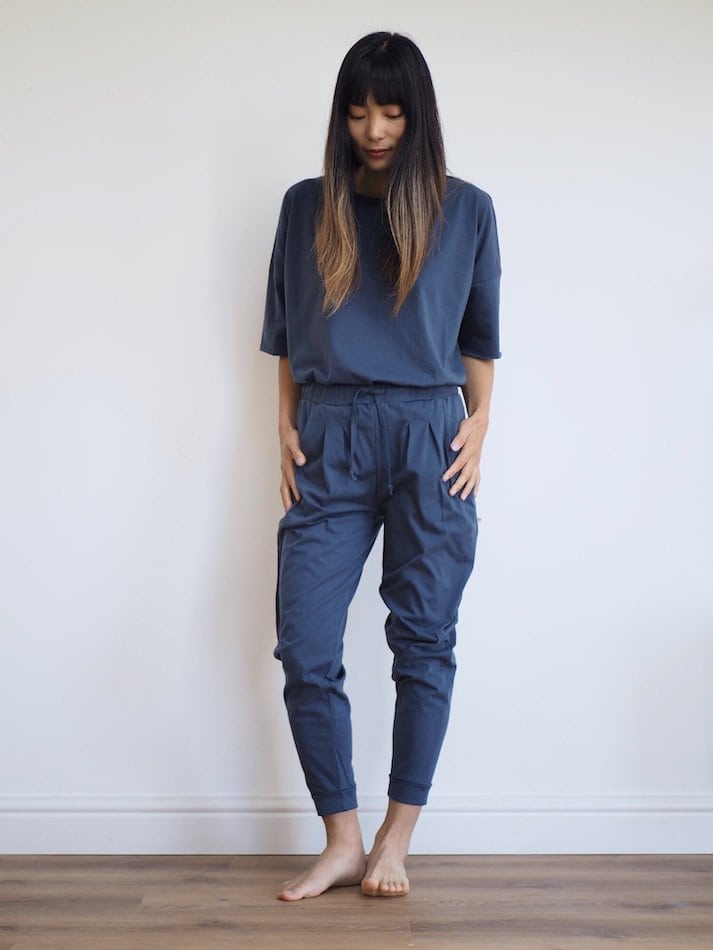 Noctu (Chic, Comfy Organic Cotton Nightwear)
I love Noctu's chic, sustainable, organic cotton pajamas. Made with GOTS-certified organic cotton (the strictest environmental designation in the UK), the fabric is enduringly soft and stretchy, with a really nice, dense weft. I absolutely love everything they make!
Best of all, with every purchase, you save 10 square meters of endangered wildlife thanks to Noctu's partnership with the World Land Trust. (Their organic cotton nightwear is also Oeko-Tex certified, meaning that every component of the fabric itself has been tested to ensure that the garment is free from substances known to be toxic to human health.)
Noctu bottoms and tops are sold separately, so you can mix and match styles OR mix and match if you're in between sizes.
The Aku Harem pants, for example, are so functional because of the tapering– I have them in every color! The Nova T-shirt, meanwhile, is so fashionable with its raw seam, boho fit, and stylishly elongated sleeves. (I also love the Nova T-shirt because it has slightly more coverage/warmth than a regular sleep shirt, without being too hot. It's like a cross between a T-shirt and a long sleeve shirt.)
Ultimately, they make eco-friendly comfy clothes that look great, too. All Noctu designs are fashionable but understated. (Though since they are an English company, I suppose they'd have to be.)
As a result, these nightwear basics easily masquerade as casual daywear. You can wear the tops with jeans, or the bottoms with a fitted blouse or sneakers.
Whether it's day or night, every time a family member sees me in my comfy clothes, they ask where I got them. That should be telling enough. People crave clothing that feels as comfortable as it looks, and Noctu's does.
Related: Why Sleeping Naked Can Boost Self-Esteem.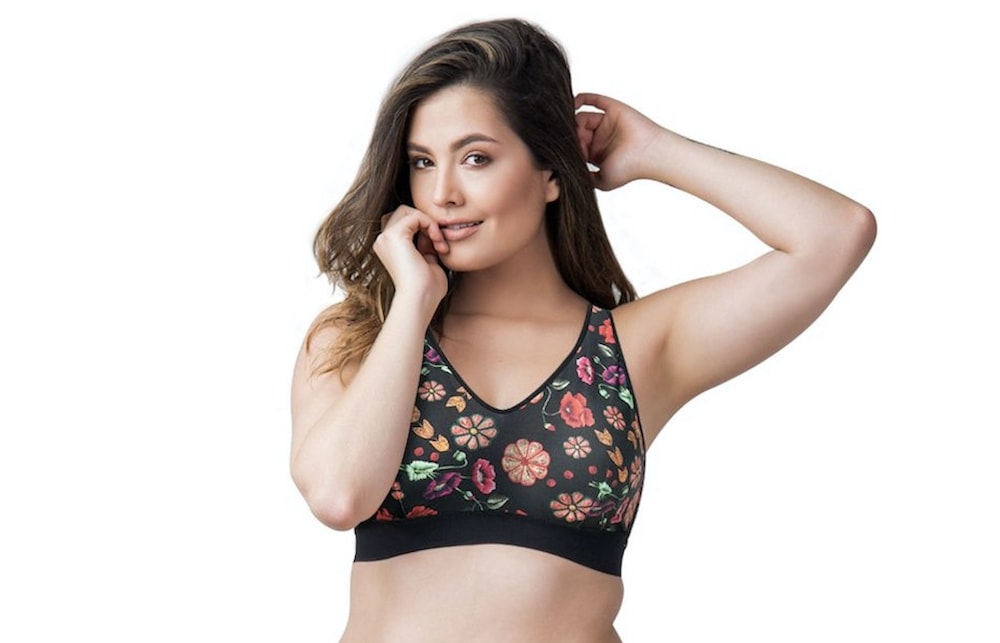 Naja (Colorful, Cozy Underwear That Empowers Women!)
We love Naja's cheeky, personal, homemade-feeling intimates. They make awesome, comfortable bras and panties that empower women makers through employment and quality of life benefits.
The company operates according to dual principles of empowering women and eco-consciousness— all while supporting craftsmanship to create what they call "underwear for hope". Best of all, they don't just talk the talk.
Naja's garment factory specifically employs single mothers or female heads of households and pays above market wages with healthcare benefits. They've also implemented flexible work policies to make it easier for women to balance work and childcare.
Every child of a Naja garment worker, for example, receives books, school supplies, uniforms, and all school meals paid for by Naja.
It's a beautiful, aspirational model for what the future of Fashion manufacturing could look like. (And it's a far cry from what, say, Victoria's Secret is doing.) I love their cozy, colorful limited edition bralettes, but their website has something for every size and style.
For eco-conscious folks (and really, who isn't?) they also have a "Shop Zero Waste" option. Here, you can browse through a cute, affordable eco-friendly collection of bras, underwear, bralettes, and other undergarments made from recycled remnant fabric that would have otherwise ended up in a landfill. Go green and look cute while doing it. (I love this concept!)
Plus, because these garments are recycled, they cost less to make and are super affordable. However, because everything is small-batch, they sometimes run out of popular sizes.
Fortunately, they're always adding new inventory. Stay on it, and you can find some real treasures.
Naja also frequently has sales so in many cases you can get boutique, one-of-a-kind garments for as little as $10! Seriously: you won't find those prices anywhere else.
Related: The 5 Best Eco-Friendly, Hypoallergenic Down Alternative Comforters.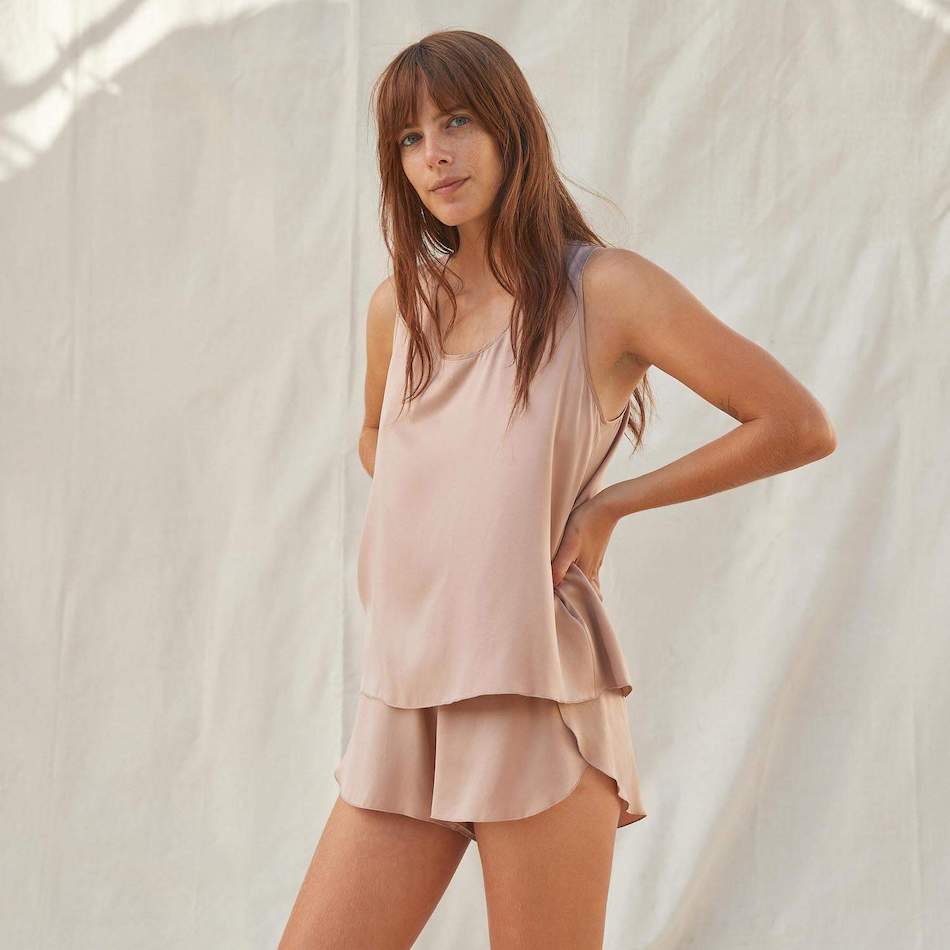 Lunya (Cool, Breathable Silk Sleepwear)
Lunya's beautiful silk intimates and sleep collection includes tops, bottoms, robes, cardigans, and nighties ideal for lounging around the house. Framed as "sleep wear for the modern women", their brand also makes insanely gorgeous sleep rompers, jumpsuits, and dresses.
Most intriguingly, they also use fabrics that are specifically designed to keep you cool (e.g. silk, supima cotton, or linen-silk blends).
All of Lunya's Organic Pima Cotton is GOTS-certified. Silk sleepwear is also great for people who suffer from eczema, as it won't irritate itchy skin. (As a result, many dermatologists recommend it for people who suffer from itchy legs at night.)
Ultimately, Lunya sells beautiful, flow-y, washable silk leisure wear that's perfect for day as well as night. And we cannot stress enough how hard it is to find silk clothing that you can actually put in a washing machine!
Silk is the ultimate cool, cozy material, but no reasonable person has time to be dry cleaning their pajamas. Lunya was the first comfy clothes brand to solve that problem.
These stylish pieces will keep you cool and looking elegant at all hours of the day. (Seriously. Dress up these nightgowns with heels and long, layered necklaces and you'll look red carpet ready. Fancy fancy!)
Shop "The Bedroom" or Online
Lunya's New York and Atlanta "bedrooms" showcase their fashionable, seasonal collections in beautiful, eye-appealing color blocks– but most people still shop online. All of their pieces come in classic colors, with no patterns or trendy motifs. As a result, it has an enduring, timeless appeal.
I love the flow-y, breathable tops, enduringly cozy and totally chic pullovers, and relaxed silk shorts for hot summer nights. Mostly, I love that everything is thermoregulating, hypoallergenic, and can be thrown in the wash.
Related: How To Stop Racing Thoughts at Night.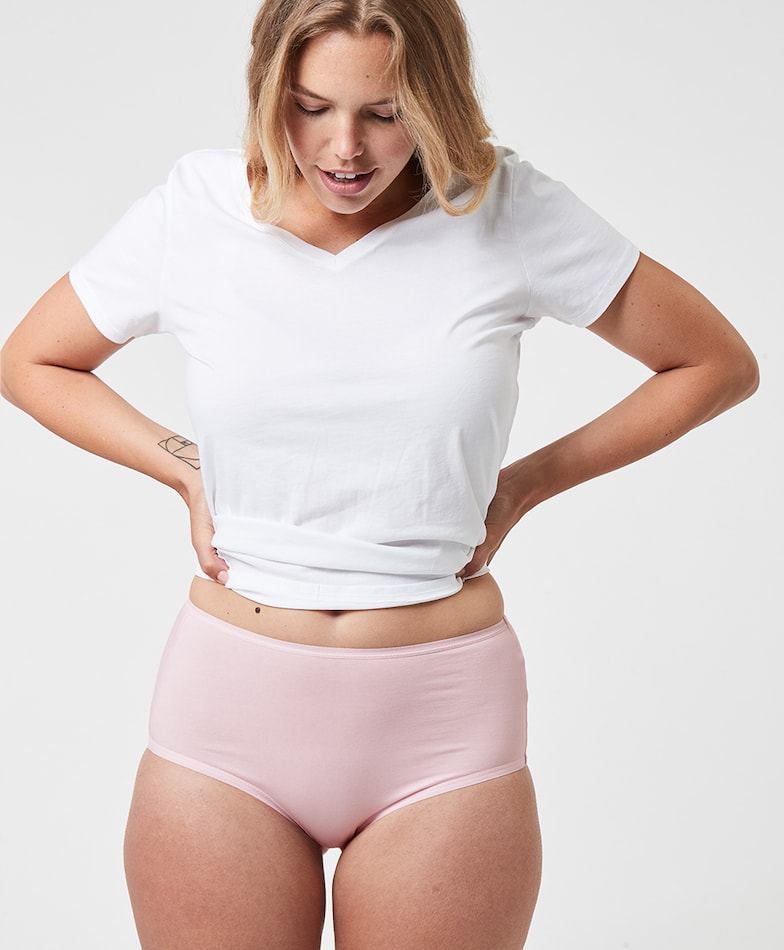 Pact (Super Comfortable, Shrink-Resistant Organic Underwear)
Pact is a sustainable organic clothing brand that I originally discovered, of all places, at Whole Foods. Little did I know, what was initially an accidental purchase made while traveling without enough underwear would actually introduce me to the most comfortable underwear brand I have ever worn! Seriously. It's the best.
All Pact underwear is made from organic cotton in a fair trade factory in sizes that fit every woman. Best of all, each pair is about ~$10, which is roughly what you'd pay for regular underwear in a store like Gap, but with a MUCH better environment and social impact. (Pact underwear better for our waterways, better for people, and it fits and lasts much longer than most retail brands.)
Frankly, it's hard to find basic underwear that isn't made in China– even if it's made from organic cotton.
Thankfully, Pact's eco-friendly comfy clothes are made in India (which has better health and safety practices than China). Plus, they meet Whole Foods' rigorous fair trade sourcing standards.
Great For Buying Multiples
Pact sells classic-fit bikinis, briefs, high-waisted underwear, hipsters, and boy shorts in a wide variety of colors. As a result, it's a great brand for buying multiples. The majority of Pact's underwear is also tagless (awesome!) with the rare exception of thongs, which have tear-away tags. (The next best thing!)
Also, PSA: some of the products will say that you should hand-wash them, but you totally don't have to. (I machine wash mine on COLD or GENTLE and they are just fine. 🙂 )
Ultimately, I LOVE the fit of Pact's Lace-Waist Brief underwear, but all the underwear and clothing is stretchy, comfy, and amazing– at a great price, too!
Check their Women's Best Sellers to buy comfy daywear staples like side slit tunics, leggings, and henley shirts. The brand focuses on simple colors and shapes, making it an excellent eco-friendly comfy clothes brand for stocking up on basics. Moms love it!
Related: Self-Care vs. Self-Comfort (And Why You Need Both).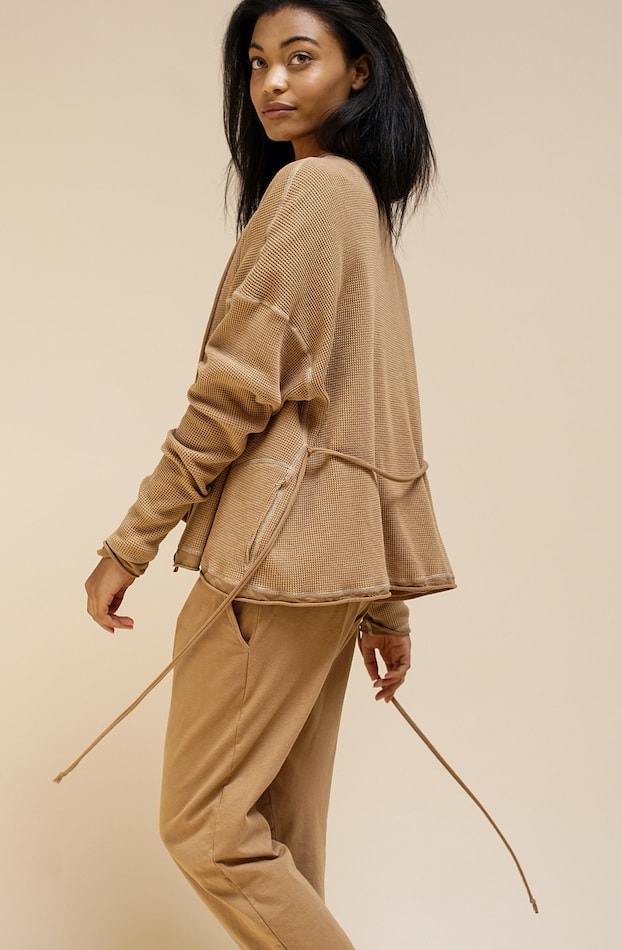 Alabama Chanin (SUPER High-End, Handmade Loungewear)
This brand is pricy, but so cozy. When it comes to comfy clothes, Alabama Chanin is the ultimate luxury American clothing company. It's super fancy and at times expensive, but I love the leisure pants and crop top tankini style bra I first purchased from them a couple of years ago; it's fabulous for sleeping when it's hot out, and so, so soft and flattering!
This brand has a roster of eco-friendly comfy clothes options that are constantly changing. This can make it difficult to re-purchase something you love, because every design is like a shooting star. Most pieces are available for a limited time before they innovate something new.
Thus, shopping here can be fun and feels like a highly bespoke experience– because, well, it is.
Also, A Word on the Price
Part of why these items are so expensive is because they don't take shortcuts. Everything is made in America, completely by hand, from original patterns, and the makers are paid a living wage. The gentle beauty of each piece reflects that.
Ultimately, I support and shop from this company because it supports American textile manufacturing in a meaningful way.
Alabama Chanin's business model is the opposite of fast fashion. It gives talented people jobs. (Work that most aesthetically similar fashion brands outsource to other countries.) This gives each piece more meaning.
Because every Alabama Chanin piece is so thoughtfully made, their loungewear items can be worn as daywear, as well. For example: I was in Milan a couple of years ago when a tourist asked me for directions at a market near Il Duomo. At the time, I was wearing a pair of black Alabama Chanin loungewear slacks and a black turtleneck.
I was flattered that this tourist thought that I, a fellow tourist, was actually a local— but I like to think that my outfit had something to do with it. (And If THAT isn't a testament to the timelessly elegant styles that Alabama Chanin seamstresses make, then I don't know what is. Italian women are some of the best-dressed people in the world. To be mistaken for one is a distinct honor!)
Unfortunately, select comfy clothes styles can stretch out if you don't wash/ launder them correctly, so be sure to follow the laundering instructions. If you're looking for something to wash normally, maybe shop with another brand on this list.
However, if you're looking to splurge on comfy clothes while supporting American artisans who are paid a dignified living wage, Alabama Chanin is the comfy clothes company for you. Ultimately, every super-soft item is one-of-a-kind and will leave you feeling like the safest, coziest version of yourself.
***
Related: The 11 Safest, Most Effective Herbal Remedies for Insomnia
5 Super Cozy, Eco-Friendly Maternity Clothing Brands
Looking for more comfort at home? This Weighted Blanket Can Improve Stress, Anxiety, and Your Quality of Sleep.