When it comes to getting better sleep, your choice of a comforter couldn't be more important. If you aren't already using a weighted blanket to encourage deep, restful sleep, these eco-friendly, hypoallergenic down alternative comforters are the next best thing to a prescription. Trust me!
This is in part because staying cool is key to staying asleep and resting well. According to numerous peer-reviewed sleep studies, temperature regulation and thermoregulation are key aspects of healthy sleep hygiene. Meaning: if you want to get good sleep, you need to stay cool (but not too cold) and wrap yourself in breathable blankets and bed linens whenever possible.
For this reason and more, down alternative comforters are a great option for those looking to upgrade and improve their quality of sleep. Down alternative comforters are cruelty-free and naturally hypoallergenic– a boon to seasonal allergy suffers. Plus, the light, non-feather fibers are naturally ventilating and breathable, which is ideal for sleepers who run hot.
Where applicable, this shopping guide to the best eco-friendly, hypoallergenic down alternative comforters contains Amazon Affiliate Links for easy, direct purchasing. (As an Amazon Associate, we earn from qualifying purchases. This is why we work our butts off to make sure these recommendations are solid and backed by the latest sleep science. We also include alternative links if you prefer to make your purchases at retailers other than Amazon.)
Below, we spotlight five great eco-friendly, hypoallergenic down alternative comforters on the market today, in no particular order.
We hope they help you get those precious zzz's!
***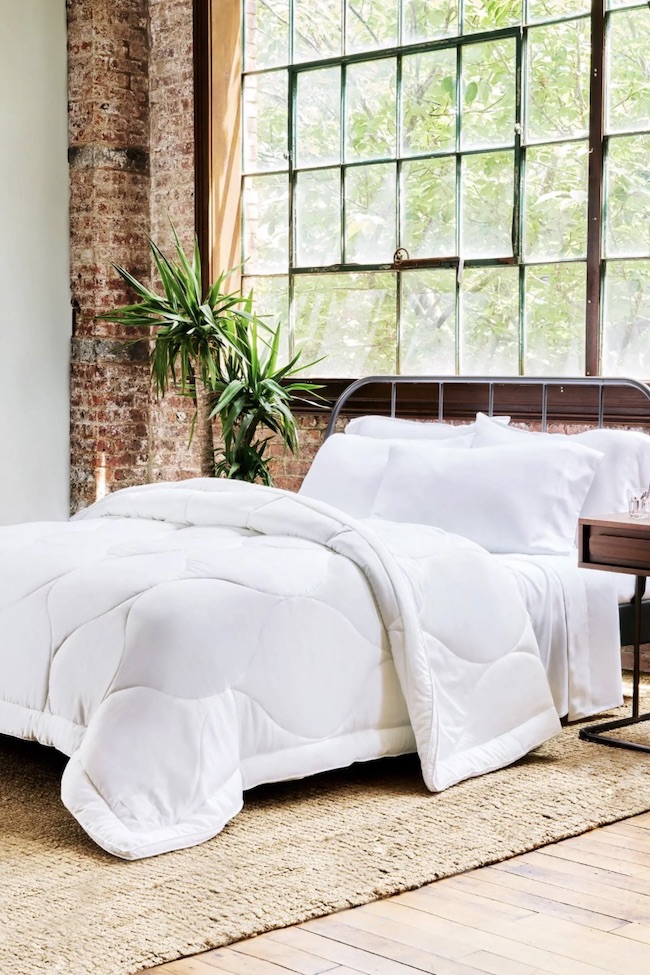 Buffy's Cloud Comforter (Our Favorite Eco-Friendly, Hypoallergenic Down Alternative Comforter)
Fluffy as a cloud and better for the earth, too! Buffy's Cloud Comforter is made with sustainable eucalyptus fabric and 100% recycled fibers. (Each comforter recycles approximately 50 plastic bottles– but don't worry; the fill is PET and BPA-free.)
The company also uses carbon offsets, and they let you try the product free and allow for financing through Affirm. (Otherwise, you can buy it on Amazon for quicker delivery.)
For these reasons and more, this cruelty-free, all-season comforter has 15,000+ 5-star reviews from the chemical-conscious crowd. We love the extra-soft Oeko-Tex-certified fabric and the fact that it's insulating and breathable enough for use in all seasons.
Thankfully, this comforter has loops in every corner so it won't slip within a duvet cover, either.
For allergy sufferers, the smooth woven shell is naturally resistant to dust, mites, and mold, as well. Plus, the eucalyptus fiber used in the fabric does not contain any trace essential oils, so it is safe for pets.
Today, Buffy has an outpost in New York's Soho neighborhood and the chic reputation that comes with it. Ultimately, this comforter tends to appeal to a well-heeled crowd– and with good reason. Its specs are super luxurious– and with a super soft, 300 single-ply thread count, so is the feel.
If you're looking for an eco-friendly down alternative comforter that's also hypoallergenic, this is one of the trendiest ones on the market.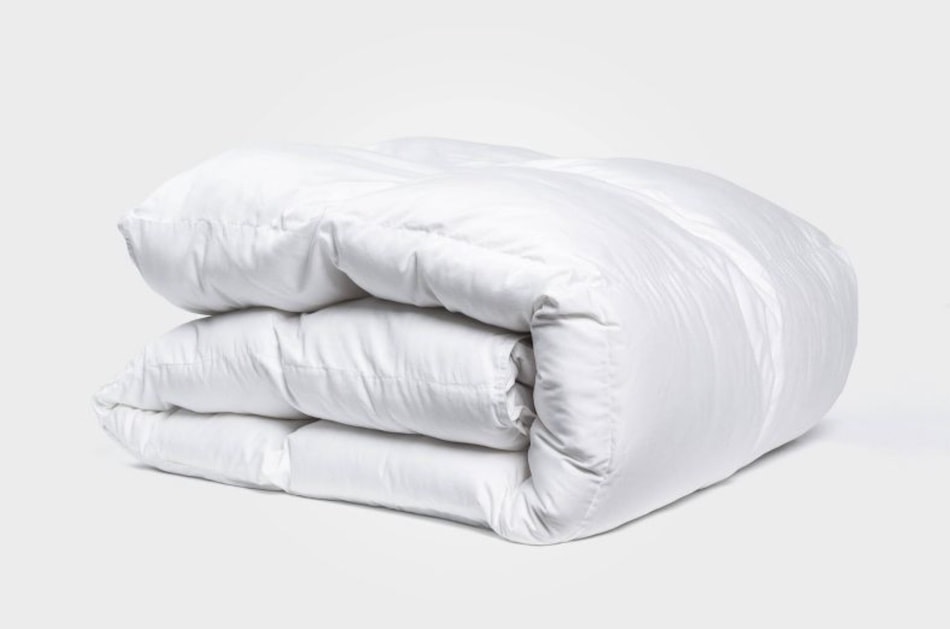 Molecule's Year-Round Comforter
Molecule's Year-Round Comforter (which is conveniently available at Target and the brand's website, alike,) is Oeko-Tex certified and made with Tencel.
This tech-forward eco-friendly down alternative comforter is marketed to athletes and those in need of deep sleep recovery. It's one of the more breathable comforters on the market, ideal for people who run hot and like to sleep cool. (It's even repped by a bunch of sleep-obsessed professional athletes like Russel Wilson.)
It's also naturally antimicrobial because, like many of the down alternative comforters on this list, it's made with Tencel. However, it runs on average about $20-50 cheaper than most other brands on this list, which makes it a slightly more affordable option as of this writing.
Plus, there are eight secure loops to anchor a duvet cover in place– no slippage here!– and the comforter itself also features box stitching to ensure that filling stays in place throughout the blanket's lifespan. It's also made with long-staple cotton, which makes it extra soft as the individual fibers in the weft are slightly longer than standard cotton.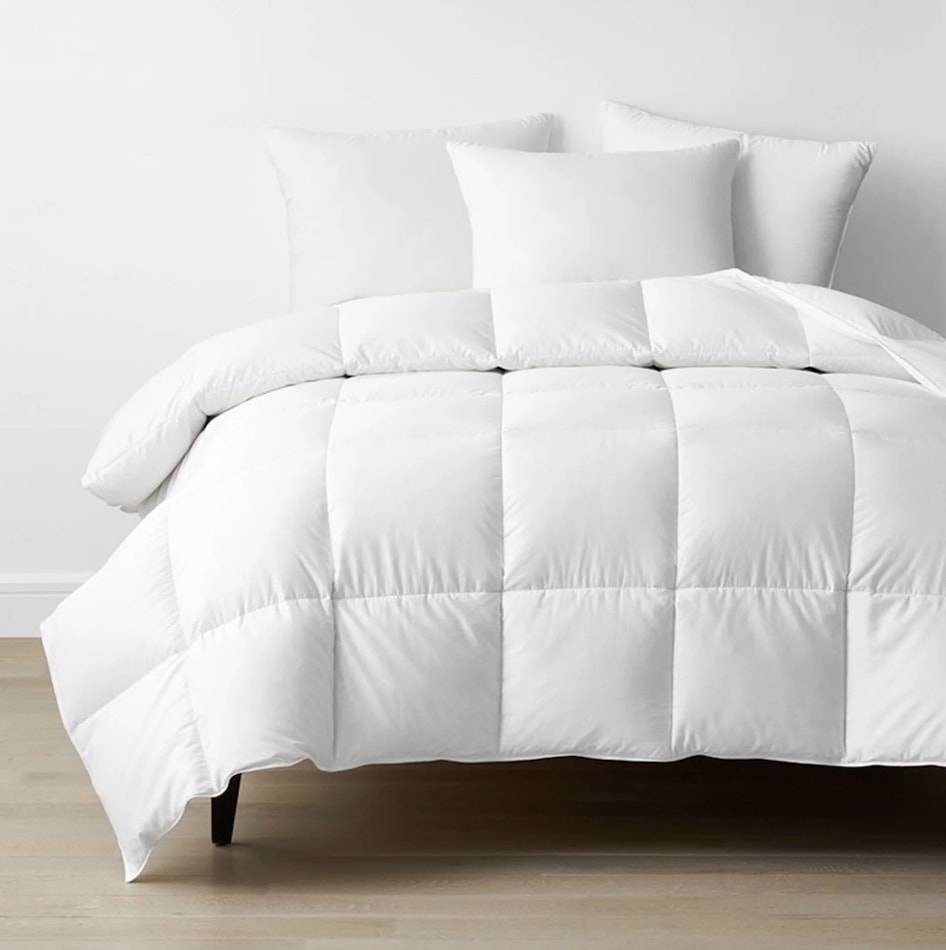 The Company Store's Company Conscious Down Alternative Comforter
The Company Store's Company Conscious Down Alternative Comforter is a fixture of The Company Store's robust line of hypoallergenic down alternative comforters.
This new edition is one of the brand's most environmentally-conscious down comforters yet. The inside is made from a recycled water bottle polyfill that's blended with Tencel lyocell to maximize heat retention capacity. (And don't worry– you can still machine-wash and tumble dry this comforter, no problem!)
The sateen woven shell is a blend of cotton and lyocell as well, so that it's equally hypoallergenic, soft, moisture-wicking, and breathable. Basically, it's gentle against the skin while also being resistant to dust mites– a win-win combination!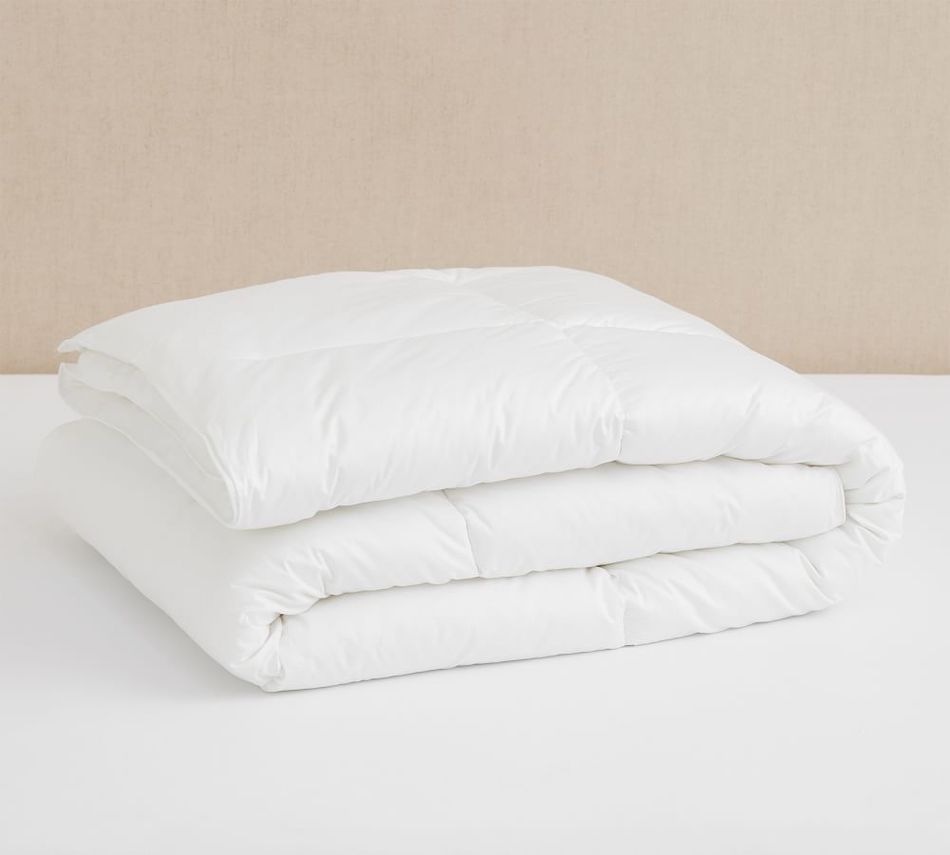 Pottery Barn's SleepSafe Down Alternative Duvet Insert
Pottery Barn offers a down alternative comforter in lightweight, midweight, and heavyweight density so that you can customize it to your liking. The SleepSafe Down Alternative Duvet Insert is Standard 100 by Oeko-Tex certified, which means that it has been tested and certified free from 350+ chemicals and VOCs that are common in textile manufacturing.
The shell is made from 100% cotton and the fill is made from 100% regenerated polyester fibers. (Regenerated fibers produce fewer CO2 emissions than virgin fibers.)
We like that this comforter is made the in USA and that the company offers different densities to support sleep in every season. (Summer Weight is a lightweight comforter, All Season is a mid-weight comforter, and Winter Season is a heavy-weight comforter that's ideal for those living in the Northern latitudes or in cold, drafty homes.)
PB's SleepSafe Down Alternative Duvet Inserts also come in a variety of sizes, including XL length versions of all the standard bed sizes as well as California King. Sizing your eco-friendly down alternative comforter with a particular bed size in mind shouldn't be a problem!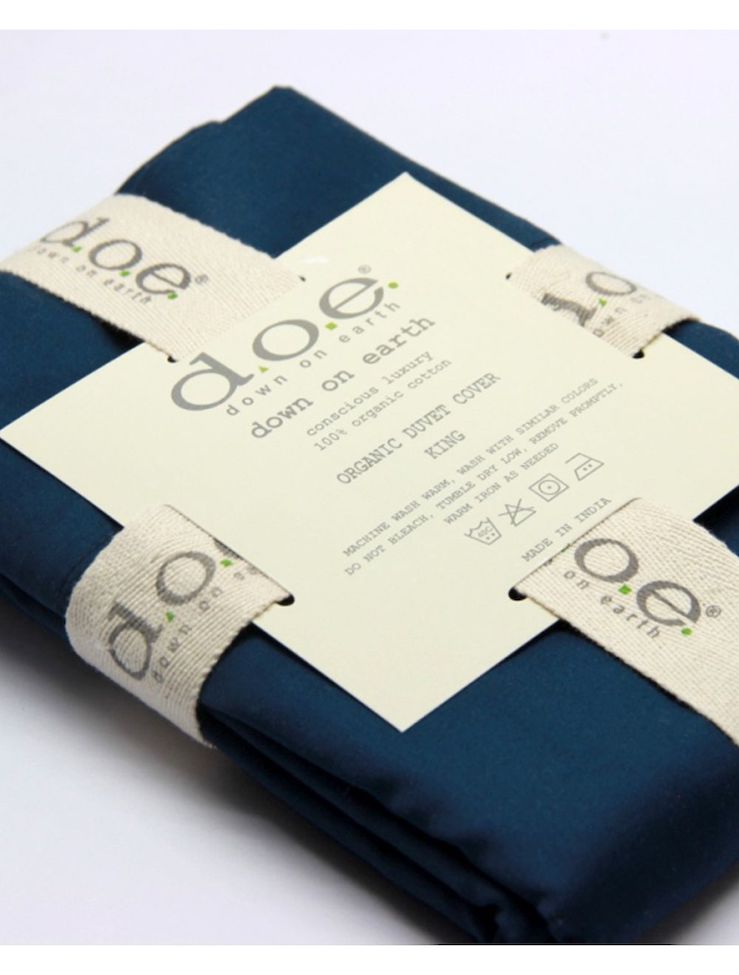 Honorable Mention
Down, Etc's Organic Cotton Duvet Covers & Sheets
Down, Etc's Organic cotton duvet covers, sheets, and other bedding make great accompaniments to any eco-friendly down comforter alternative.
We love the luxurious organic cotton duvet covers and the fact that they come with wooden buttons (no plastic here!) as well as built-in ties. (Sadly, not all duvet covers have these– why?)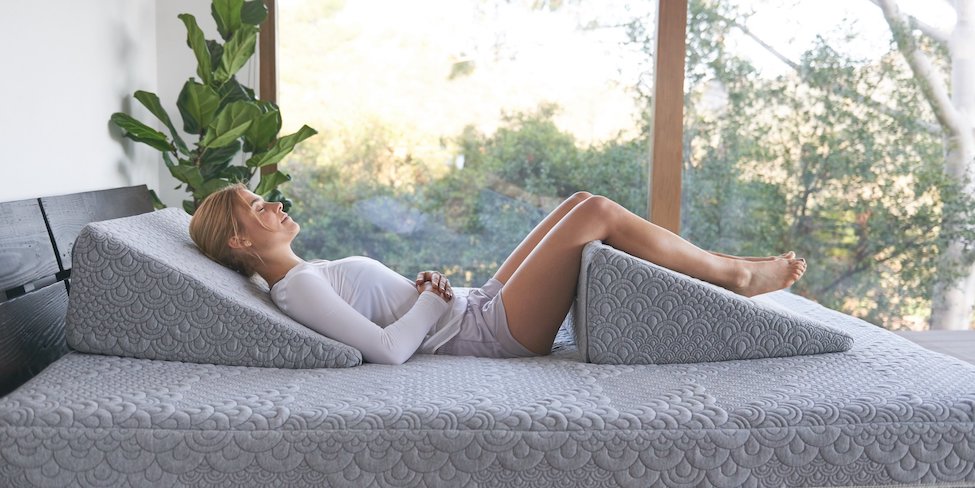 Brentwood Home's Carbon Neutral Pillows
Brentwood Home's Pillows, Cushions, and Bedding are Climate Pledge Certified and several contain the brand's signature activated charcoal-infused BioFoam memory foam. What does that mean, you ask?
Basically, their proprietary foam activates in response to body heat to provide adaptive pressure relief. As a result, it's a great natural wedge pillow for resting tired legs.
We love the Crystal Cove Wedge Pillow, which promotes proper breathing and circulation while reading, sitting in bed, or even breastfeeding. Most importantly, it's also Greenguard Gold certified, thermoregulating, and it comes with a washable cover for easy cleaning. It's a nice compliment to a bed topped with an eco-friendly down alternative comforter. Happy lounging!
***
Related: The 11 Safest, Most Effective Herbal Remedies for Insomnia.