Suffering from itchy skin? This mild stress response typically happens when your immune system overcorrects itself. Fortunately, these research-backed all natural, steroid-free eczema creams will tone down itch and calm inflammation without using harsh chemicals or steroids.
Ultimately, you'll need a "barrier cream" that protects the skin barrier– which usually means a lotion or cream containing ceramides and some form of natural anti-inflammatory.
Another helpful FYI: A strain of probiotics called Streptococcus thermophilus has been shown to increase the skin's production of ceramides, which can be very helpful for people suffering from eczema. This can be helpful when applied both topically (via a lotion containing probiotics and prebiotics) and internally (by taking a probiotic like Dr. Ohhira's Probiotics, which contains this specific helpful strain).
Consult with your doctor to see if this line of treatment is right for you.
The Science of Eczema
Here's a little more background as to why caring for your gut can help with eczema flare ups:
When the body is under stress, digestion slows down and blood shunts to the extremities. Over time, this can result in an overgrowth of unhealthy bacteria in the small intestine, which in turn deteriorates the gut lining.
So-called "leaky gut" results when these inflammatory molecules "leak" into the blood stream, which causes system-wide inflammation that can manifest as eczema or psoriasis.
Most people treat eczema flare ups with hydrocortisone cream or a medicated corticosteroid cream like Triamcinolone Acetonide Ointment USP, 0.1%, which your dermatologist can prescribe.
This, for the record, works. But regularly using steroids to treat eczema can lead to thinning of the skin and weakening of the skin barrier over time. Thus, for long term use, it might be desirable to start integrating a natural eczema cream into your skincare routine.
Our Process
When you're trying to relief eczema itch naturally, manuka honey is a key ingredient to consider. It's naturally anti-bacterial and soothing to the skin, which is why many of the below brands include it in their eczema cream formulations. (Research also shows that manuka honey can help heal the skin of burn victims, for example.)
Other analyses have shown that topical gotu kola may be also helpful, as it triggers collagen production and a wound-healing response.
This guide contains Amazon Affiliate and Etsy links for easy purchasing. (As an Amazon Associate and Etsy Affiliate, we may earn from qualifying purchases. This is why we work our butts off to make sure these reccomendations are solid, and we use them ourselves!)
Below, we spotlight the best all natural eczema creams on the market today. We're happy to report that all of them are reasonably priced. Try a few over time and see if one of them works better for your skin type.
Often, with natural products, it's helpful to try a few options before settling on one– but this takes time and patience. Fortunately, these tirelessly-researched options are a good place to start. We hope they bring you some relief!
***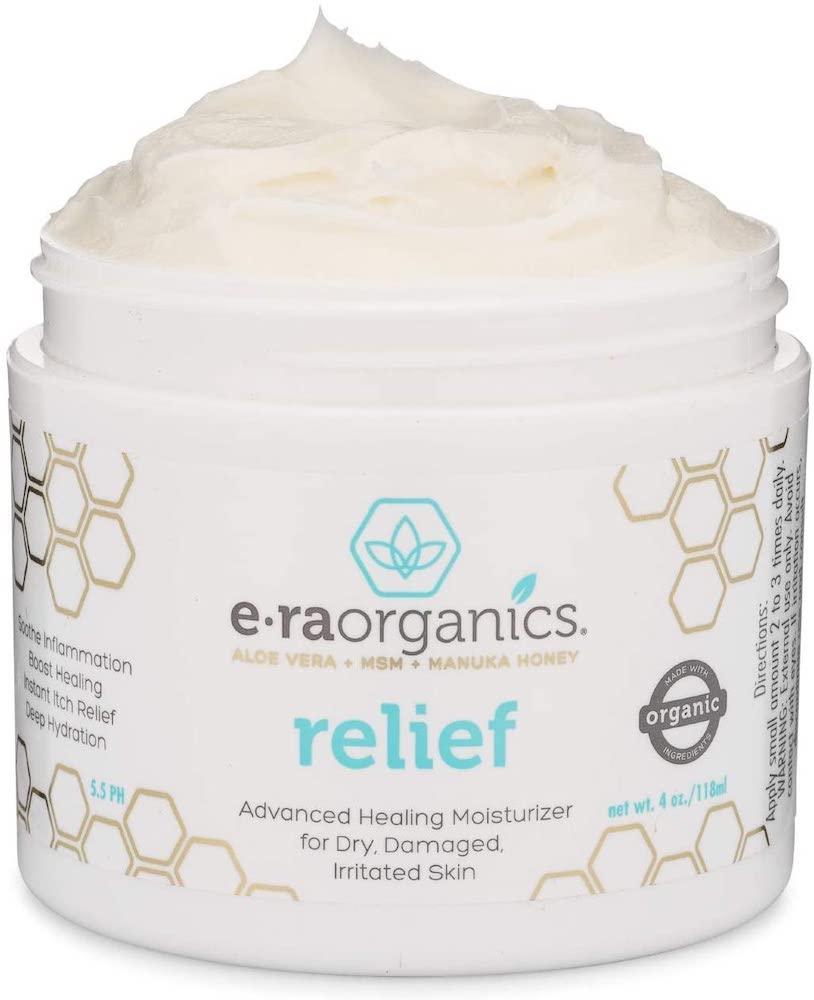 Era Organics Relief Healing Moisturizer
Era Organics Relief Healing Moisturizer is one of the best natural eczema creams that can also be used for rosacea. Made with manuka honey, MSM, and aloe vera gel, this non-greasy formula for sensitive skin goes on silky smooth and absorbs quickly.
The organic formula is also so clean that it also functions as a safe alternative to hydrocortisone cream. We love the matte finish and the fact that it's balanced to skin's natural pH of 5.5. Plus, it's cruelty-free. (It's also non-GMO, paraben-free, and hypoallergenic.)
Meanwhile, EO's Elixir Cream is also a good natural moisturizer for normal, itchy skin. (As opposed to their Relief Cream (above) which is a safe, more intensive moisturizer for itchy and damaged skin– skin suffering from redness or rash, eczema breakouts, etc.)
Both creams are versatile and can be applied to face as well as body. (I frequently recommend Elixir as a healing anti-itch face cream for people who have used too much retinol. This cream is a gentle way to improve the skin barrier while also taming inflammation, naturally.)
A Gentle Hydrocortisone Dupe
If you're the type of person who's trying to get over using too much hydrocortisone cream, this is a good natural alternative. Era Organics products work for every skin type and a wide variety of skin conditions– not just eczema, but also psoriasis, rosacea, and dermatitis.
(They also have a dedicated mom and baby line that treats cradle cap, baby eczema, and other mom and baby skin conditions. Check out their Superbalm, Diaperbalm, and Mommybalm if you are pregnant or breastfeeding.)
For what it's worth, Era Organics is also now one of the best selling skincare brands on Amazon. They've been featured in a number of beauty articles about "products that seem too good to be true but actually work". (Looking at you, Elite Daily.)
The growing popularity is more proof that you can have an effective itch cream that's natural, too.
Puriya Mother of All Creams
Puriya's Mother of All Creams anti-itch cream for cracked skin, redness, and swelling is one of the most popular pregnancy-safe alternatives to hydrocortisone cream on the market. This rich, plant-based formula isn't specifically for eczema, either.
Nevertheless, it works wonderfully to treat it naturally, either as a solo therapy for mild eczema or as an adjunct treatment to a medicated cream (for those with severe eczema). For first timer users of natural skin creams, this is a great option.
PSA: that this cream has a mildly earthy scent because it doesn't contain any artificial fragrance.
It also might not be strong enough for those with a pronounced eczema rash, though it can reduce it significantly. (If your skin is excessively dry, however, this is a great amino-acid rich, paraben-free emollient cream. It's safe for use on the whole body, and made in the USA.)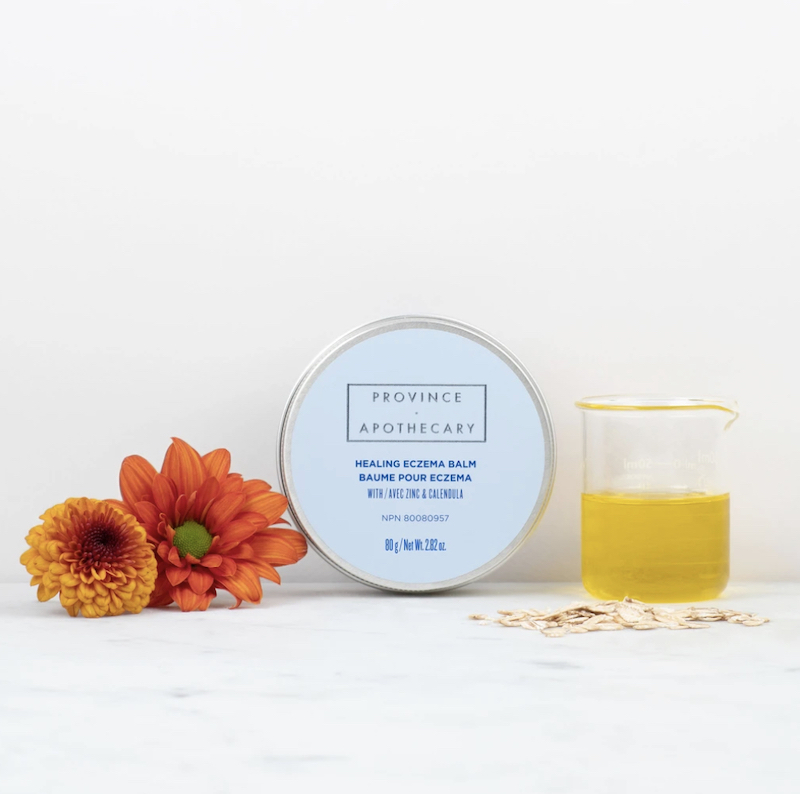 Province Apothecary Healing Eczema Balm
Province Apothecary's Healing Eczema Balm is a targeted all-natural anti-itch cream formulated with zinc, calendula, and 1% colloidal oatmeal. Because it temporarily relieves itching and irritation due to eczema, it's better as a targeted treatment as opposed to an overall body cream. And yes: but it also works well to heal rashes, poison ivy, and insect bites.
We use this balm as a nighttime treatment for itchy legs. (Just be sure to wear loose-fitting pajamas to allow the salve to soak in overnight.) The balm has a slight white cast, from both the zinc and the oatmeal, so you can easily see where you've applied it. Consequently, you may notice a little white sheen as you rub it in. That means it's working.
Province Apothecary is a small batch, Toronto-based skincare brand whose founder, Julia, suffers from eczema. She made the cream after being frustrated that there were so few steroid-free eczema creams on the market.
The Healing Eczema Balm is the product that started it all, and is safe enough for babies. Accordingly, all Province Apothecary products are free from steroids, hydrocortisone, parabens, alcohol, petroleum, synthetic fragrance, and toxic ingredients.
Plus, it comes in a lovely, luxurious tin that reminds us of artisanal lip balm. (Although just to be clear: this is for your body, not your face!)
Wild Naturals Eczema & Psoriasis Cream
Wild Naturals' cult-favorite Eczema & Psoriasis Cream is one of our favorite all natural eczema creams on the market. We adore the quick-absorbing silky finish and neutral, pleasant smell.
This pH-balanced formula includes soothing aloe vera, healing manuka honey, and moisturizing shea butter. These work synergistically to smooth and repair skin, gently. It also has a nice hand feel.
The cream is also mild enough for use 2-3 times per day. (Use more often to address flare-ups and itchiness.) Plus, it's made in the USA. And this is just another small, weird detail, but we love the way this cream comes "dolloped" inside the jar.
When you first open it, it looks like a pile of frosting. (Obviously, this cream is not edible, but still. It's cute! And it doubles as a great natural hand cream.)
Thena Healing Cream
Thena Natural Wellness Healing Cream is a great all-around moisturizer for any itchy skin or mild rash related problems. It's one of the most popular creams for itchy skin on Amazon, with raw shea butter, calendula, comfrey, Vitamin E, and MSM.
If you've ever suffered from itchy legs or razor burn that doesn't fully break into a rash but nevertheless bothers you, this is a great, affordable cream to help fix that problem by restoring a healthy skin barrier.
It's also safe for use on diaper rash and bug bites.
Ultimately, this deeply hydrating, dermatologist approved cream is made in the USA from natural and organic ingredients. It's cruelty-free and paraben-free.
Basically, it's one of those old medicine cabinet staples that long time users swear by. And you can use it for a wide variety of skin issues.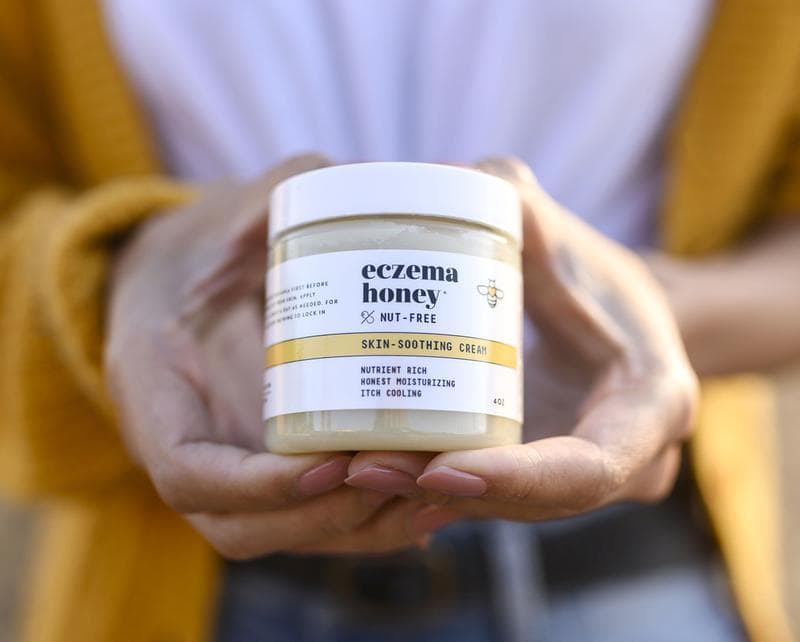 Eczema Honey Original Skin Soothing Cream (+ Nut-Free Formula!)
Hip new brand Eczema Honey makes really beautifully packaged line of eczema balms from natural ingredients. The cool, modern glass jar is lovely to behold and better for the environment.
Fortunately, using these creams also feels like a luxurious experience. (And they make a line of nut-free natural eczema creams, which is great for people who have allergies.)
Formulated with skin-restoring beeswax and manuka honey, Eczema Honey's Original Skin Soothing Cream is an emollient that melts directly into the skin. This protects the barrier while conditioning with antioxidants and boosting hydration.
Because there is almond oil and sunflower in the original formula, however, it can feel a tad greasy. This is especially so if you apply it over large swaths of the body. If you're using this to treat hands, legs, or torso, it's best to use it at night.
Bee Real Advance Skin Cream
Bee Real Advanced Skin Cream is made with organic medical grade New Zealand Manuka Honey ( which research shows can help heal skin in burn victims) as well as rare blue-green algae (which is naturally antimicrobial and thus kills off overgrown Candida/yeast, which can cause infection).
It's great for sensitive skin on the hands and face, and is a great, affordable alternative to boutique face moisturizer.
All Bee Real creams are cruelty-free, gluten-free, paraben-free, and fragrance-free. Their Advanced Skin Cream doesn't contain alcohols, sulfates, pthalates or fillers like water or perfumes. And because it's a water-free formula, you can be sure it will have a long shelf life.
Related: Make This Easy Calming DIY Lavender Body Butter.
Honest Company Soothing Therapy Eczema Cream
The Honest Company's Soothing Therapy Eczema Cream is one of the few natural eczema creams that's also certified by the National Eczema Association. We like that it's a cream that comes in squeeze bottle form, too– it makes application easier. (No dunking your hands into goop!)
And at $13.99 it's an absolute steal— this is easily the most affordable "natural" eczema cream on the market.
This is an ideal eczema cream for babies. Over 97% of parents polled said they saw improvement in their child's skin after use, according to the brand.
For best results, use eczema cream continuously for 3 weeks. This formula is made without steroids, parabens, phthalates, mineral oil, petrolatum, phenoxyethanol, or silicones of any kind.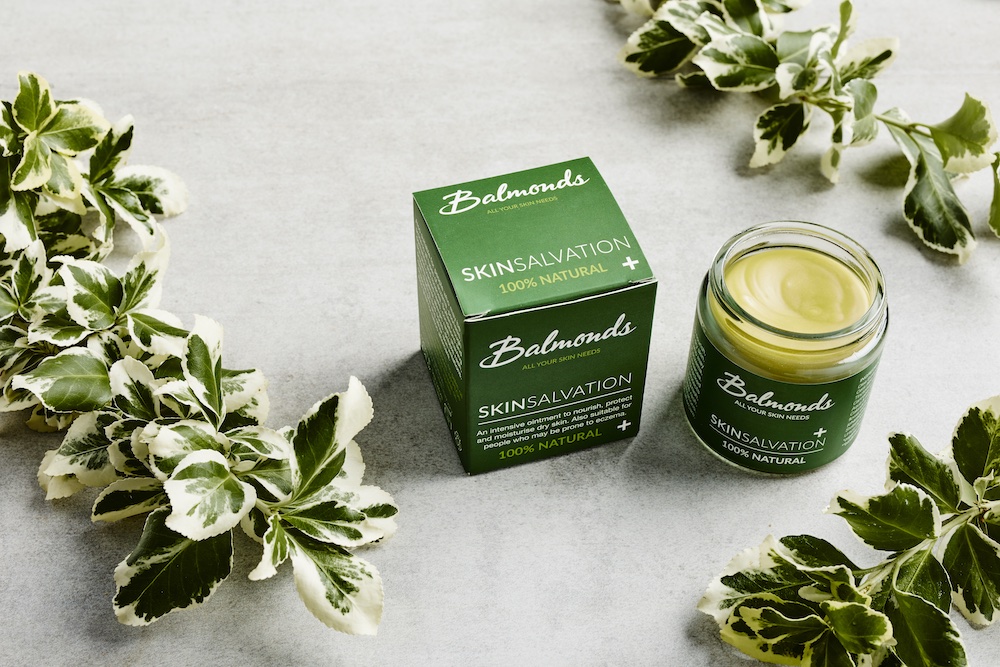 Balmonds SkinSalvation Ointment
Award-winning Balmonds SkinSalvation Ointment is a wonderful all-natural moisturizer with roots in the UK. Whipped from a signature blend of hemp, safflower, olive oil, and beeswax, this rich oil-based ointment locks in moisture in eczema-prone areas where your skin needs it most.
This emollient salve works by creating a semi-occlusive barrier, which protects the skin from potential irritants and allows the epidermis to heal itself. Calendula, chamomile, and nettle extracts also work synergistically to soothe the skin and tame inflammation. Ultimately, improving skin barrier function while nourishing the epidermis with essential fatty acids helps support cell regeneration.
This balm has a neutral smell, which makes it great for people who like to avoid fragrance, and it absorbs quickly.
In cold weather months, you might just need to warm the product between your fingers before applying it to the skin. (Like most natural eczema creams, it's temperature sensitive.)
Plus, the formula is paraben- and sulfate-free, as well as vegan and cruelty-free! As a result, it's safe for babies and their caretakers, alike. It's light, super nourishing, and made with simple ingredients that you can pronounce. A win all-around!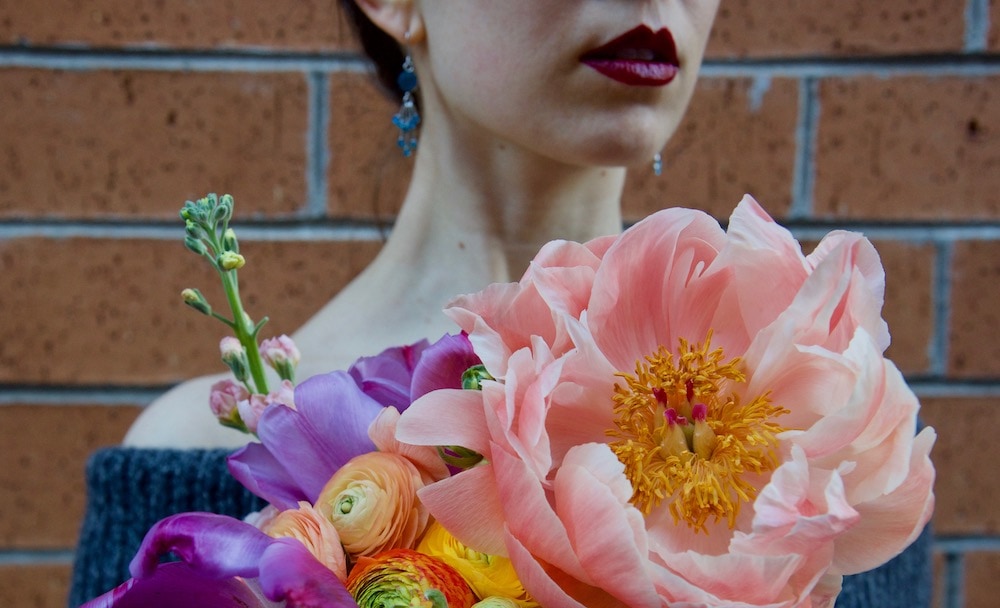 Other Things That Can Help Itchy Skin
Dry skin brushing can be very helpful at relieving minor skin itch that doesn't present as a rash. Use an exfoliating natural bristle brush to improve circulation in skin before showering for maximum effect. Start by buffing your skin in small circles, beginning at your ankles and traveling up your legs/torso/arms all the way to your shoulders. (Don't be surprised if you see dead skin "flick" off the brush like dust. It's oddly satisfying.) Then, shower and lotion up as normal. Never use a dry skin brush on damp, broken, sunburned, rash-covered, or lotion-covered skin.
Sleeping in silk pajamas is a Dermatologist-recommend way to mitigate itchy legs at night. Derms often suggest this to people with chronic eczema and/or psoriasis who suffer from major, insomnia-provoking, nighttime itchiness. Try searching Amazon for silk pajamas that match your budget, as they can be pricey, but worth it. You can also start by sleeping on a silk pillowcase, which is ideal for summer as it always stays cool. (<– That's an Amazon link, but Etsy also has many colorful and much for affordable silk pillowcase options.)
***
Suffering from itchy scalp? These 7 Natural Eczema Shampoos can help mitigate discomfort without harsh chemicals, steroids, or medication.