This bespoke Seattle Travel Guide features a mix of quintessential must-sees and decidedly charming, little-known delights. Whether you're a first timer to the Pacific Northwest or merely someone looking to get an insider's experience in Seattle, the landmarks, restaurants, shopping, and adventures detailed in this guide capture the dynamism and self-sufficiency that has come to define modern day Seattle, which is easily the most "East Coast" of the West Coast cities.
Whether you like sipping coffee and wandering around bookshops or are using Seattle as a home base to plan your next hiking trip in the Cascades, this travel guide offers insight to the iconic sites and simple, whimsical details of life in Seattle. For the full experience, try a little bit of everything. You don't have to be a foodie, an outdoor adventurer, or a music lover to get the most out of Seattle– but having those interests certainly helps.
Also: it rains nine months out of the year in the Emerald City– Seattle's nickname, so given because Seattle's surrounding forests are filled with greenery year-round. As a result, it's a great place to hike further afield and be outdoors (most of the time). Just bring a rain jacket unless you plan buying one as a souvenir at one of Seattle's many iconic outdoor adventure stores (looking at you, REI). Below, we spotlight the best things to do in Seattle. Enjoy your trip!
***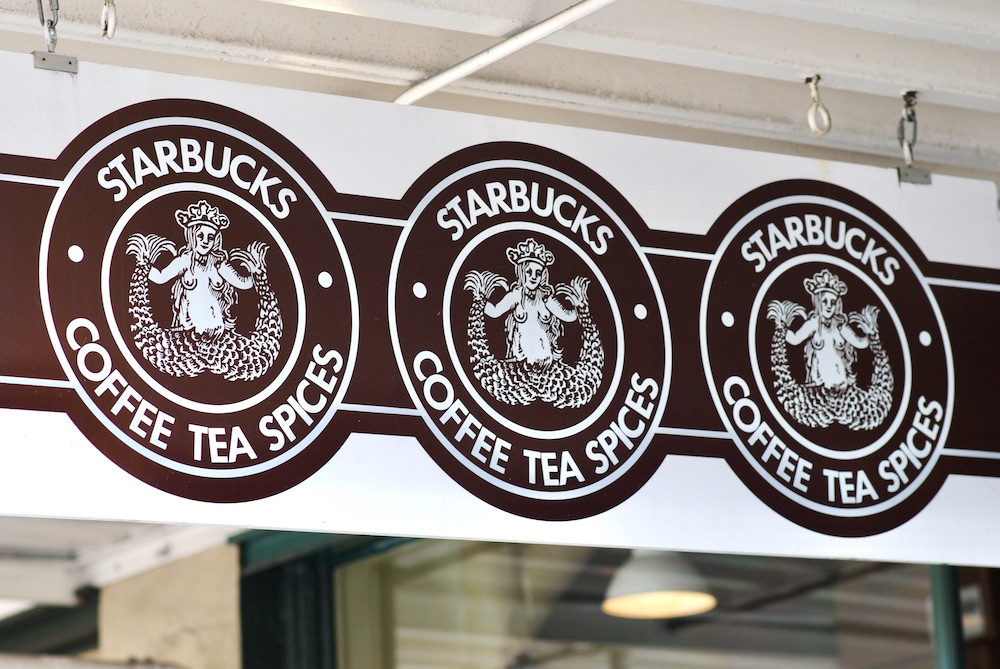 Explore Pike Place Market (& Keep an Eye Out for These 5 Specific Gems)
No Seattle travel guide would be complete without mentioning Pike Place Market, an open air seafood and produce market that is synonymous with Seattle. It's super touristy, but worth the visit to see (1) the fishmongers throwing fish (Google it). If you'd like to sample some regional seafood casually or in a unique capacity, get a smoked salmon piroshky (a decadent stuffed Russian pastry) at (2) Piroshky Piroshky Bakery. (They are so good!)
If you're a real salmon lover, don't leave the area without getting some smoked fish, pate, or salmon jerky at (3) Totem Smokehouse, a longtime purveyors and a great place to shop for unique Seattle souvenirs. Pike Place Market is also home to the original Starbucks (4), which will have a crazy line of tourists and isn't really worth going to since it's just like a regular Starbucks (–but it's still cool to see). Like the iconic red "Public Market Center" sign, you can't really miss it.
Downstairs is the iconic Gum Wall (5)– which is technically gross but a must-see. It's a local landmark, comprised of millions of pieces of chewed gum affixed to a wall outside of Unexpected Production's Improv Theatre. (You haven't really visited Seattle if you've never seen the gum wall.) Finally, The Athenian Inn (5) inside inside the marketplace is a good place to get a low-key seafood dinner– mostly because it's where they filmed iconic scenes in Sleepless in Seattle. Ask for a window booth for the full experience.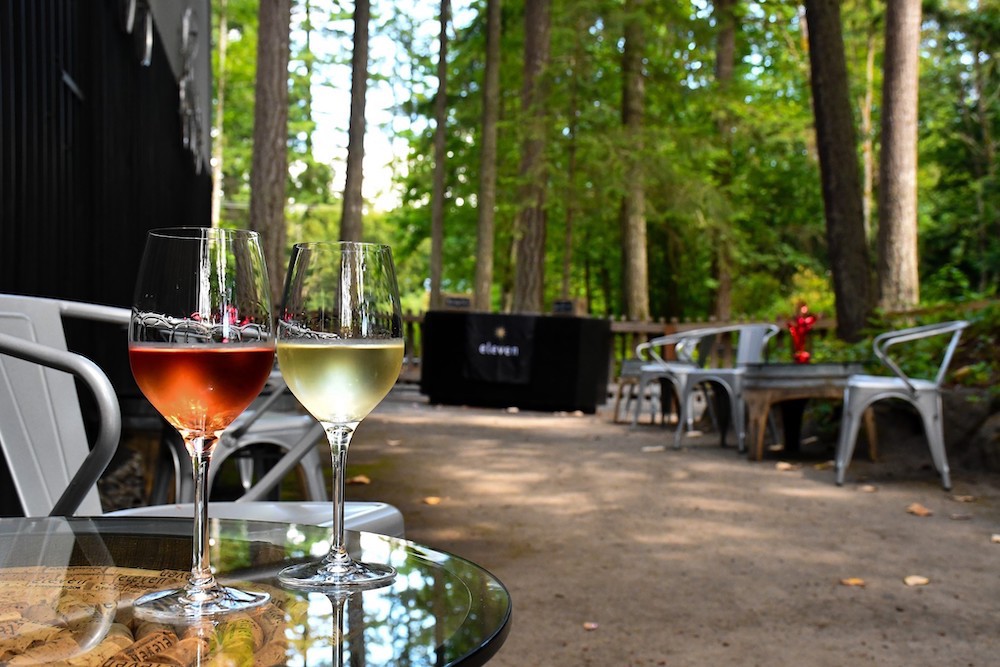 Wine Tasting on Bainbridge Island (Beautiful Day Trip Not Mentioned In Most Seattle Travel Guides)
Take a ferry from Seattle out to Bainbridge Island for wine tasting if the weather is nice. It's lovely. Bainbridge Island is an easy day trip from Seattle, ideal for biking and exploring on foot. It has lovely eclectic boutiques, art galleries, dining, and easy recreation opportunities like hiking at Gazzam Lake Nature Preserve, which feels miles apart from the bustle of downtown Seattle. It's also something of a local gem that not many tourists visit.
The 35-minute ferry ride to the island (locals merely call it "the boat") is also beautiful, offering pleasant views of both the shrinking Seattle skyline and charming beachfront properties as you approach the island. You can also occasionally see Orcas (aka Killer Whales!) jumping across the waters of Puget Sound. <— Be sure to keep your eyes peeled for that.
Once you land on Bainbridge Island, visit the eponymous Bainbridge Vineyards or Eleven Winery. The former is a super local, family-run establishment. The latter is near the Bainbridge Museum of Art and also has great food. If you're interested in trying local wine, including signature cool-climate varietals, these two Bainbridge Island vineyards are the best. (All told, there are 7 vineyards on the island.) Perennial Vintners also offers tastings of a delicious raspberry wine made from island-grown raspberries, which is pretty cool.
View the ferry schedule here. Tickets are first-come, first-served, and cannot be booked in advance. (But that's usually not a problem.)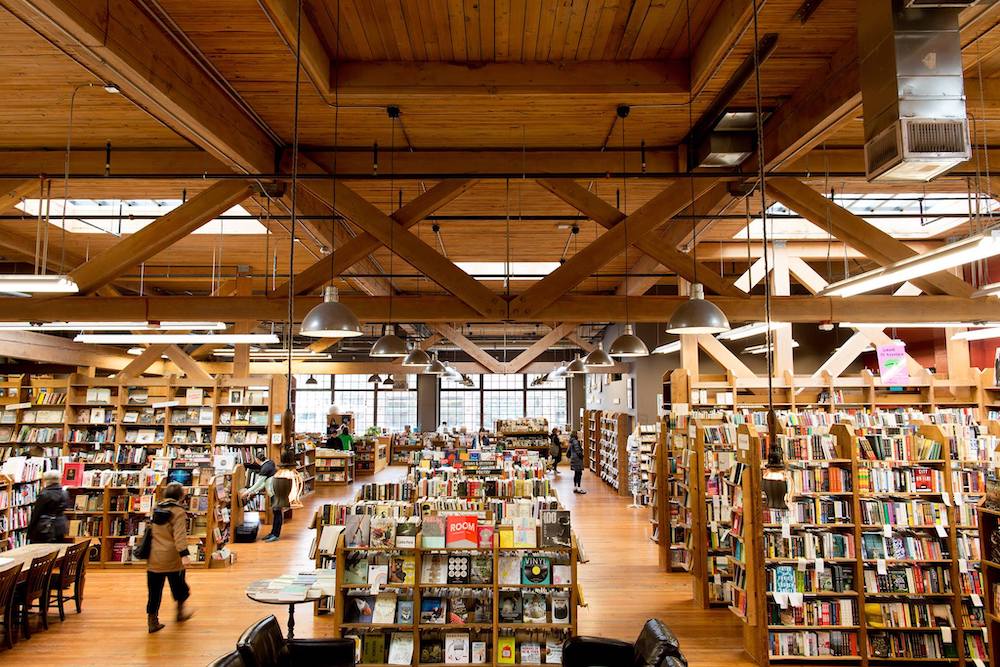 The Elliott Bay Book Company (Seattle's Beloved Local Bookstore)
The Elliott Bay Book Company is easily the most gorgeous, independently-run bookstore in Seattle. It's one of my favorite bookshops in the country, and a great place to buy books from local authors like Chuck Palahniuk, Sherman Alexie, and Lucia Perillo. It's amazing. (If you can find a copy of Perillo's Happiness Is A Chemical in the Brain, it's one of my favorite short essay collections of all time. It's melancholy in all the right ways, and great for reading at any of Seattle's sleepy coffee shops, especially when it rains. Read more about it in our article on 9 Inspiring Books That Will Restore Your Faith in Humanity.)
Anyhow, the bookstore offers an incredible variety of world class and local literature, with specifically curated tables of regional interest. They have over 150,000 titles in stock. (They'll also ship books anywhere in the world.)
Most of all, I love the exposed wood interior– be sure to look up and marvel at the singular ceiling beams made from local giant trees of the Pacific Northwest. The architecture of this place gets me every time. Local bookshops are singularly intimate and contemplative spaces. The ceiling at the Elliott Bay Book Company, moreover, is just one subtle, moving detail.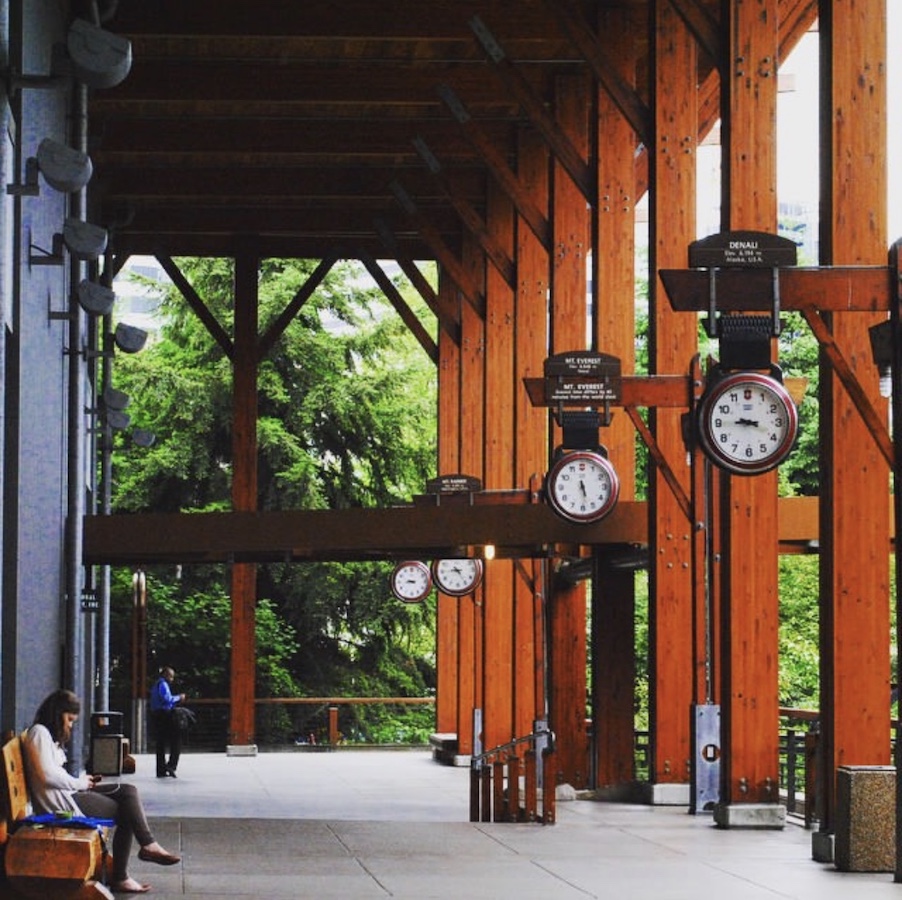 Visit The Flagship REI (And Other Iconic PNW Outdoor Ateliers)
There are many "originals" in Seattle– Amazon, Boeing, Starbucks, and Nordstrom among them– but none of these OG Seattle Corporations has a headquarters as charming as the original REI outpost. Frankly, the flagship REI in Seattle is off-the-chain. It's huge, built partly into an immersive treehouse complex within a little pocket of woods inside the city. (It's been around since 1938.) If you're an outdoorsy-type, it's worth shopping here. The place is full of canoes and smells like cedar. If they made a perfume, I would wear it.
In general, Mountain Hardware, The North Face, Eddie Bauer, Arc'teryx, Fjällräven, Patagonia, and all the outdoor brands also have amazing storefronts in Seattle since most of them are based here. Consequently, Seattle is a great place to buy a fleece, vest, or raincoat.
Brooks Running Company and Nuun (maker of the cult-favorite hydration tablets) are also based in Seattle.
And if you're actually thinking about camping: have at it! You could easily spend hours in each of these stores.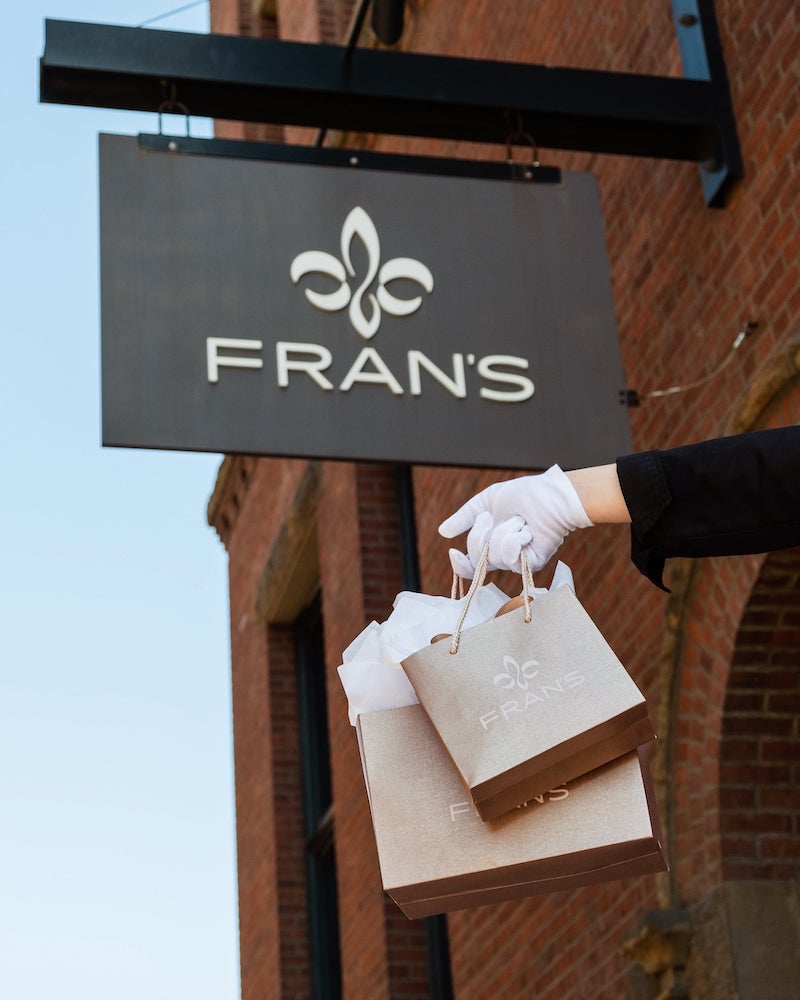 Fran's Chocolates (A Hidden Gem in Seattle– And A Cute Story)
By now, Fran's Chocolates is synonymous with Seattle, though it is often overshadowed by the more mainstream Theo Chocolate Factory, another famous Seattle chocolatier whose production facility in Seattle is open for tours and tastings. Fran's lovely milk and dark chocolate Salted Caramels, however, are very special. I like purchasing them at the Four Seasons Seattle (Downtown location) where I am often reminded that Fran's caramels are Barack and Michelle Obama's favorite chocolates ever. (Obama likes the milk, Michelle likes the dark.)
Founder Fran Bigelow introduced the iconic Gray Salt Caramels in 1997, combining an original recipe for slow-cooked caramel with the "unexpected boldness" of gray smoked salt. Since that time, the caramels have taken on something of a cult following among those in the know. (Chief among them: me!)
Supposedly, President Obama discovered Fran's caramels through Seattle businesswoman Cynthia Stroum, the lead fundraiser for Obama's National Finance Committee. She included a fateful box of caramels in a welcome basket for the Obamas when they made a campaign stop in Seattle for the first time.
"He had it backstage before he came out to make his speech," Stroum told Seattle P-I of the event that started it all. "As he was entering the stage, he saw me and whispered in my ear, 'Oh my, what were those? Those are phenomenal. I want more.' So that became my little treat for him."
Now, says Stroum, "He sees me and before he even says hello, he puts out his hand– 'OK, where are they?'" Apparently, the 44th President loves these caramels so much that he refuses to share– not even with Michelle.
Admittedly, I have a bias for writing about both Barack and Michelle in other columns of this magazine– but the fact remains that Fran's caramels are wonderfully nuanced and delightfully dainty. They don't need White House approval: these are among the best souvenirs to purchase in Seattle (if you like chocolate).
Fran's also has locations in Georgetown and University Village, but I love the white-gloved service at the Four Seasons. Chocolate never felt so regal.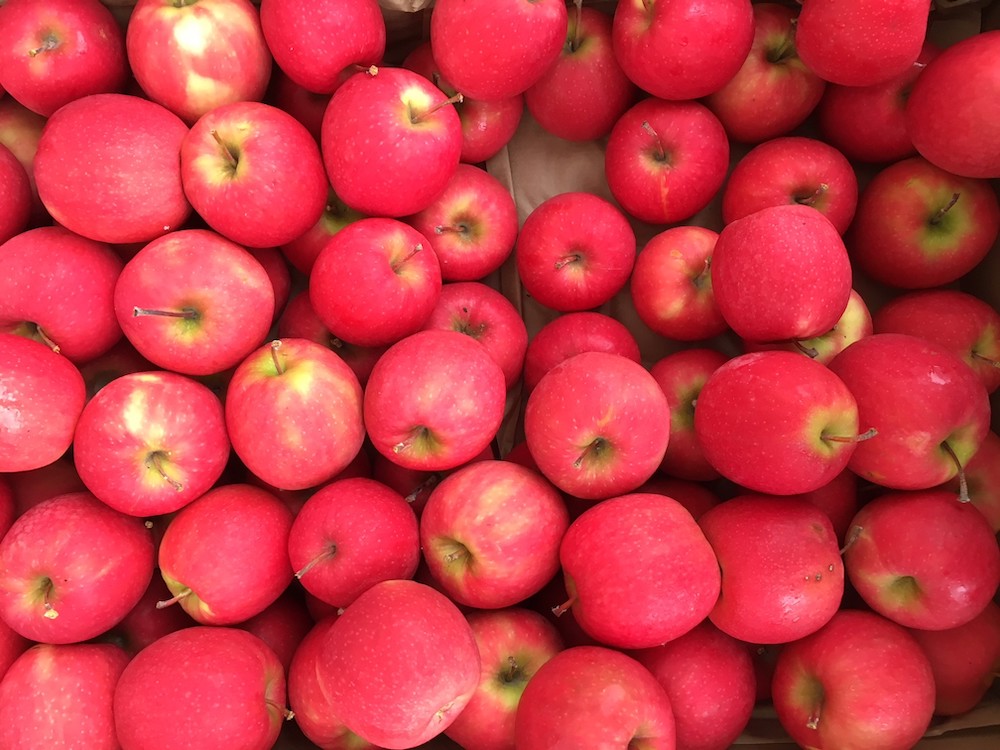 Stroll the U-District Farmers Market (No Seattle Travel Guide is Complete Without Mentioning Seasonal Produce)
There are a number of amazing farmers markets in Seattle, but the U-District Farmers Market is the only one open on Saturdays, and it's open year-round from 9 AM to 2 PM. Thus, it tends to be busier and is more of the place to "see and be seen".
Look for locally-foraged morels in May-June; dark red cherries, delicate blueberries, and delicious, juicy peaches in August; insane-smelling local lavender from the islands off of Washington state; and gorgeous, world-renown apples in the Fall. (There's a reason why so many organic braeburn apples in supermarkets across the U.S. are from Seattle.) You're also sure to run into some creative gluten-free baked goods and home-brewed kombucha (those are worth trying).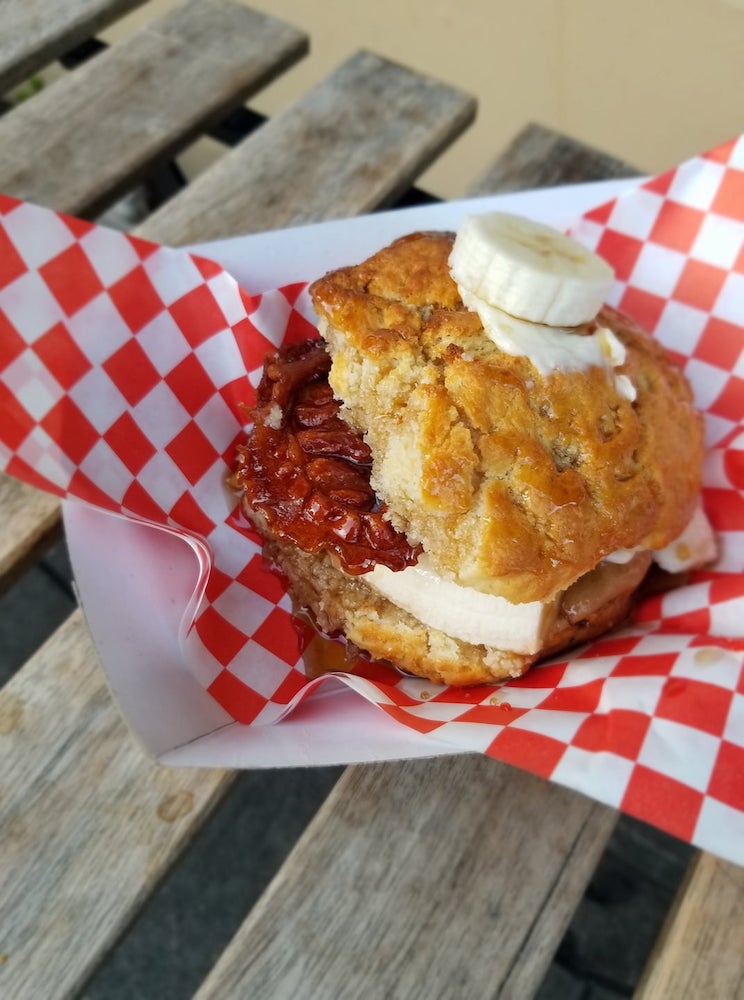 Biscuit Bitch (Breakfast with Attitude)
Biscuit Bitch's locally-franchised "trailer park to table" restaurants serve hearty, locally-beloved breakfast staples. Visit them in Belltown, Pioneer Square, or near Pike Place for some delicious "Southern inspired fixin's and kick-ass espresso". (We can confirm that the espresso does, indeed, kick ass.) Their signature "Bitches Brew" cold brew is insane– but we also love other "dranks" like the "Seattle Fog" (loose leaf black tea, steamed milk, a splash of vanilla, and orange zest) as well as the cheekily-named "Dirty Pumpkin" (a "naughty" pumpkin pie chai latte with two shots of espresso = not for the faint of heart or those with caffeine sensitivity).
Food-wise, opt for a biscuit "bitchwitch" with egg and cheese or egg, cheese, and bacon for the quintessential experience. They also have sausage, SPAM, and veggie sausage options, which will likely be served to you with a welcome dose of rockabilly sass (this place is a whole mood). They even do sweet-and-savory mixups like a "Canadian Bitch" with peanut butter, banana, and bacon. (Don't knock it 'til you try it.) For the coolest staff, visit the Belltown location.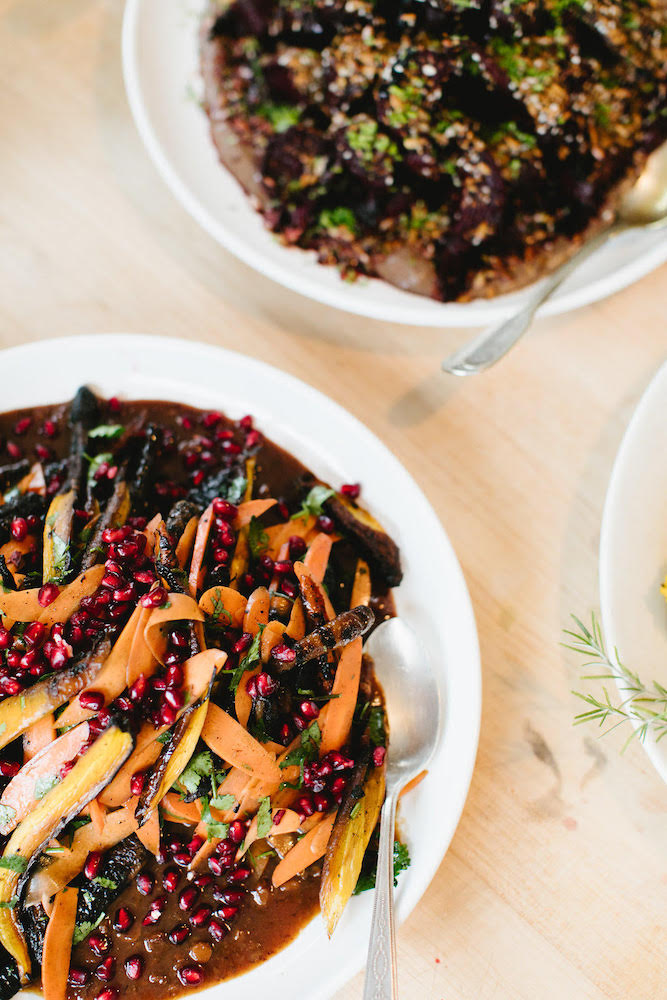 Homer (Excellent For Dinner)
Homer is a beautifully-designed neighborhood restaurants in Beacon Hill, Seattle, that is an excellent place for foodies to have dinner and cocktails. (Though they're mostly known for their hip, minimalist digs and locally-sourced rustic fare, I actually think they have the best cocktails in Seattle.) The restaurant is inspired by Mediterranean and Middle Eastern flavors and influenced by the ingredients of the Pacific Northwest.
The menu here is seasonal, but longer than you'd expect with a kitchen that's constantly innovating. Expect items like rich Coho Salmon and expertly-rendered Roasted Chicken. The devil is in the details when it comes to appetizers, as even the side hustles (like the whipped garlic, or the charred eggplant pecan dip they serve with their famous pita) are handled with aplomb. For me, Homer is one of the best farm-to-table restaurants in Seattle, of the same spirit as Kismet in LA. I love the salads and the wallpaper. What more do you need?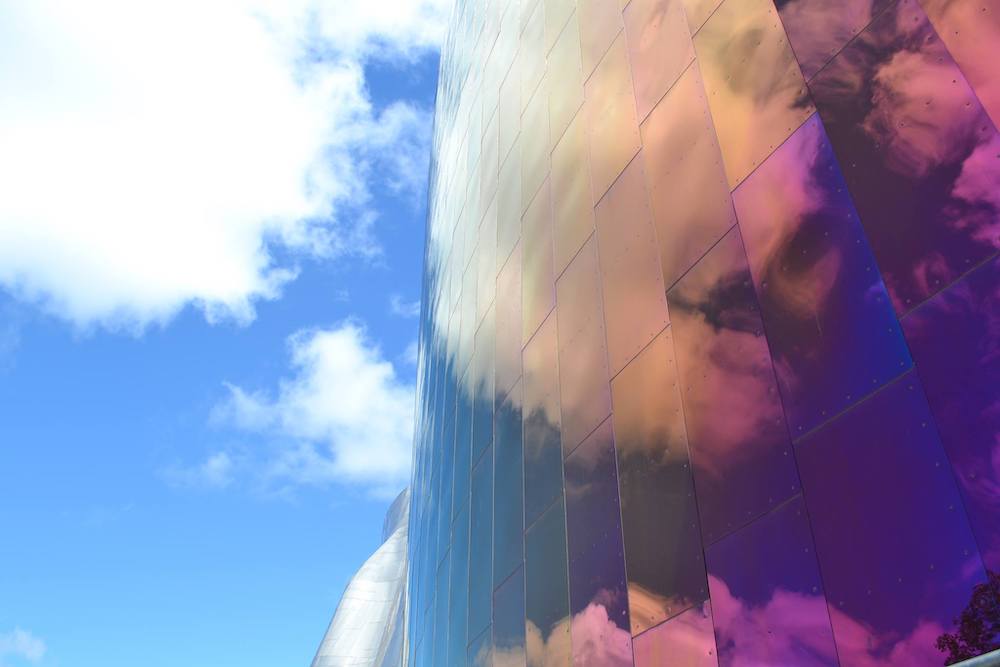 The Museum of Pop Culture (A Quirky Local Must-See)
The Museum of Pop Culture— or MoPOP, for short– is housed inside one of Seattle's most futuristic and architecturally-expressive structures. It looks like a cross between the Walt Disney Concert Hall in L.A. and Easter-themed cellophane wrap. As such, the outside may rightly attract architecture busts, but visiting MoPOP is a MUST for music lovers as this is the only place you can find the world's most extensive archive of Nirvana artifacts, Jimi Hendrix' guitar from the 1967 Monterey Pop Festival, and other rare, precious music history artifacts.
They also have cool, extensively curated exhibits on pop culture relevant topics like tattoo culture and the art of Disney costume. Be sure to stop by the MoPOP Shop on your way out.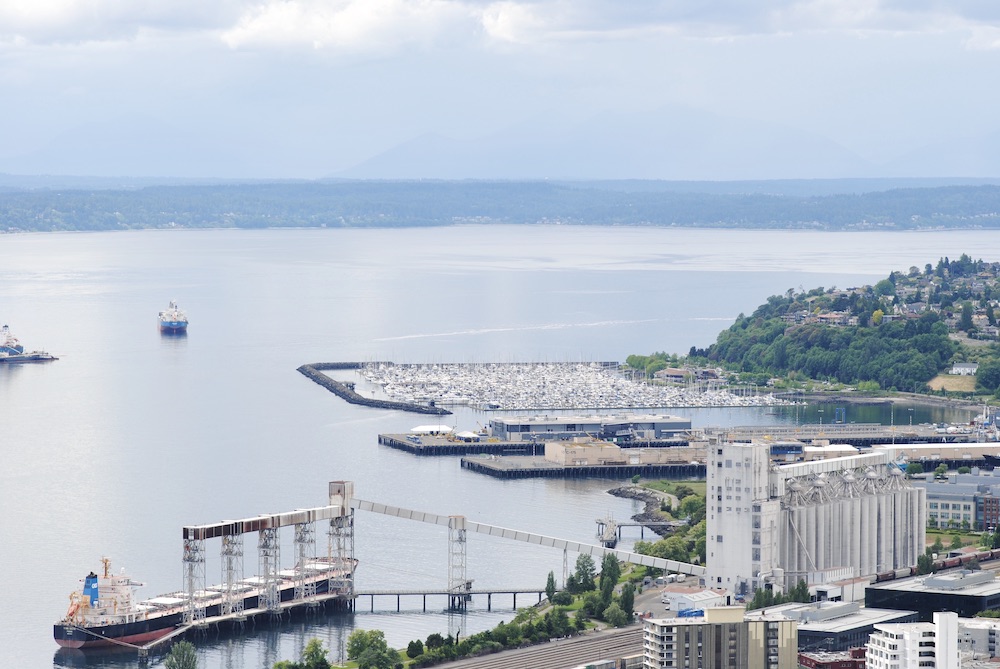 Visit The Top of the Space Needle (For Perspectival Views of Seattle)
Next door to the Pop Museum is the iconic Space Needle— the futuristic tower that defines Seattle's skyline. (Anytime you see a postcard of Seattle, this is the most recognizable feature.) It's worth going to the top for the views. Specifically, it's cool to go up here at the beginning or end of a trip to get a sense of perspective as you where you've been all over the city. The marine is lovely, and you can see out to Bainbridge Island and the Cascades further afield.
Be sure to book tickets early, especially if you are on a strict time schedule, as it can get crowded with tourists. (Still, it's worth it. The views from the open-air balcony are oddly serene– but likely best avoided if you are afraid of heights. Otherwise, stay inside behind the glass panopticon.)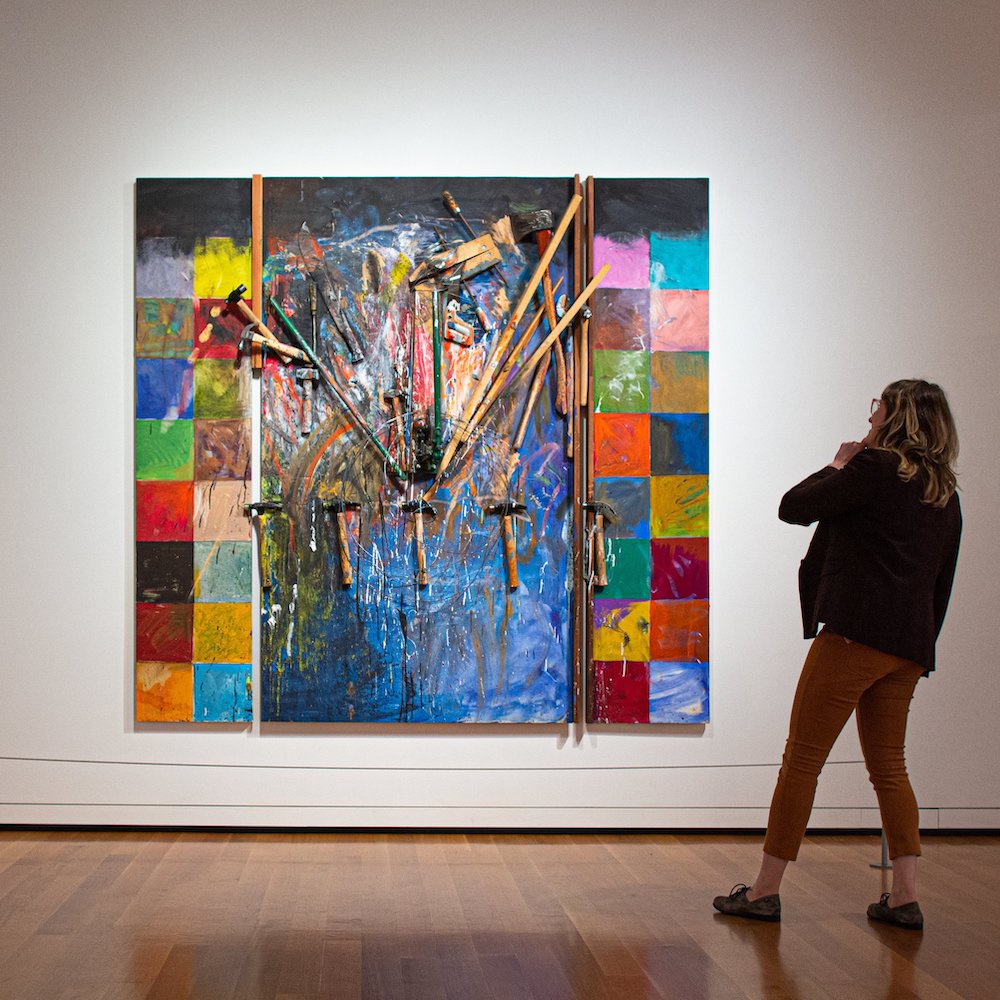 Seattle Art Museum + Olympic Sculpture Park (Fixtures of the Local High Art Scene)
The Olympic Sculpture Park affiliated with the Seattle Art Museum can be really lovely to walk around at sunset, with lots of Alexander Calder and Mark di Suvero statues and good views of the Olympic Mountain range across the water. (The outdoor sculpture collection here is of the same persuasion as that which appears at Storm King Art Center in upstate New York.)
Once you get inside, the art is equally intriguing. SAM's collection of Asian, African, America, Australian Aboriginal, Islamic, Ancient American, and Native American art is fairly impressive and comprehensive. Today, the museum has nearly 25,000 original works from all over the world. For those who love curated ancient and contemporary art, a visit here is a must.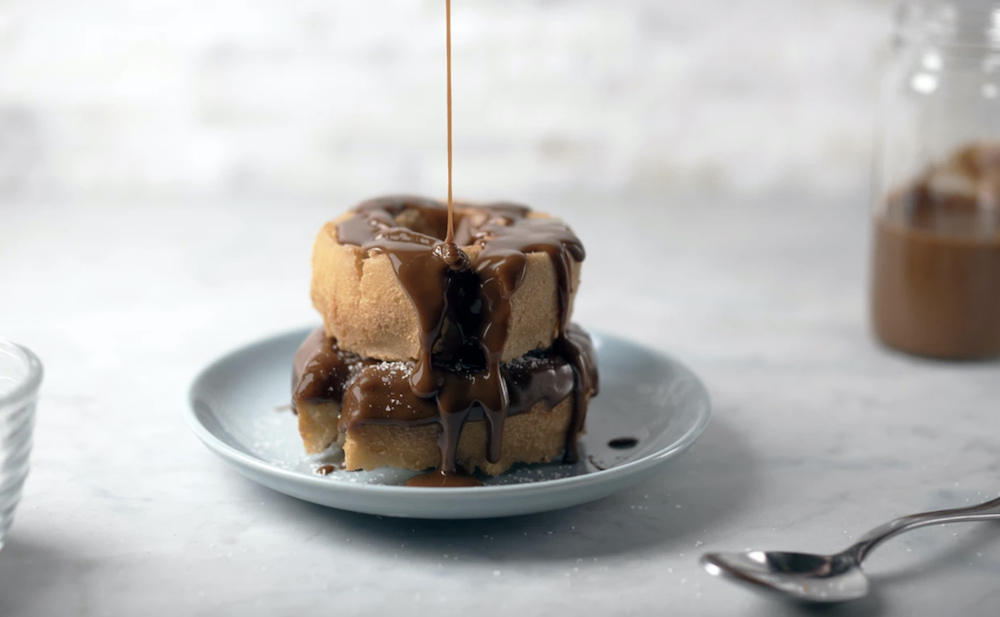 Top Pot Hand-Forged Doughnuts & Coffee (Veterans of the Local Doughnut Culture)
Top Pot Doughnuts makes the best artisanal doughnuts in Seattle. With multiple locations around this city, this boutique veteran of the local doughnut scene is beloved by locals and tourists alike. (Editor's Note: Because there's such a robust coffee scene, doughnuts are also a big thing in the Pacific Northwest. In nearby Portland, you have many iconic places like Blue Star and Voodoo Doughnut, while Tacoma institutions like Legendary Doughnuts and Pao's are always bustling.) In Seattle, Top Pot reigns supreme as a purveyor of boutique, foodie-friendly doughnuts– upscale versions of the classic American pastry.
We love the classic cake doughnut, the seasonal apple cider cake, and the blueberry fritter, but really, you can't go wrong. There are more than 40 different daily offerings, and each of them are beautiful. Here, doughnuts are a fine art– closer to French pastry than a carnival treat. If you want to be extra, get a "Feather Boa". (The name will make sense when you see it.)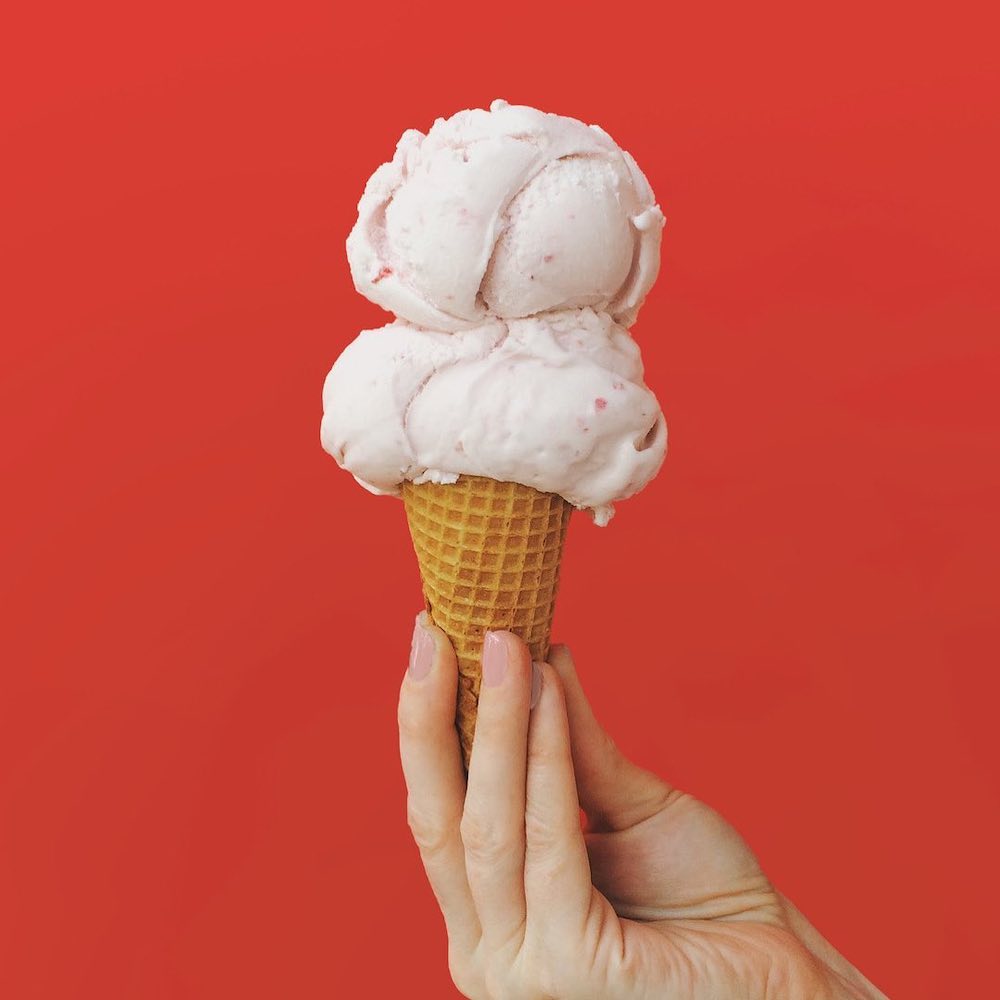 Molly Moon's Homemade Ice Cream (The Best Ice Cream in Seattle)
I'm a little biased here, but every local agrees that Molly Moon's makes Seattle's best ice cream. They have several locations around the city, but I suggest visiting the flagship Wallingford scoop shop. Here, as at every location, you can experience Seattle's seasonal ice cream scene in the place where it all started. (They still have the original swing seats!) Expect fresh fruit flavors in Summer, spiced, autumnal blends in the Fall, and rich, comforting hybrids like Melted Chocolate and Rose Milk Tea in the Winter.
In the Spring, we particularly love the Yeti— one of the shop's standard flavors "inspired by its Spring counterpart, Sasquatch". It's sweet cream swirled with homemade vanilla bean caramel, homemade yeti granola chunk, and local Theo Chocolate bits. (They make their yeti granola in-house by mixing pepitas and pepita butter, flax seeds, rolled oats, honey and a touch of salt before roasting in the oven. It's lovely, both in concept and execution.) Like a good farm-to-table restaurant, the flavors change based on what's in season. It's how ice cream should be!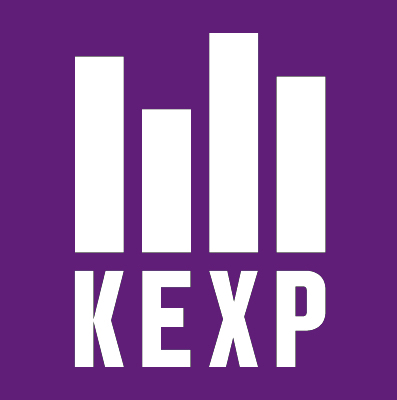 Listen to KEXP Radio (A Local Music Tradition)
Just a suggestion: If you're driving around the city, be sure to listen to the iconic local independently run public radio station, KEXP. With a distinct focus on regional indie rock, this legendary radio station is famous for breaking bands like Nirvana, Black Rebel Motorcycle Club, Lykke Li, and Phoebe Bridgers. They also occasionally play funny stuff, like Flight of the Conchords. KEXP runs on 90.3 FM in Seattle. For me, it is the indisputable soundtrack of the city.
Music and KEXP radio's role in it, moreover, is an entrenched aspect of Seattle's fertile music scene. Once you visit the Museum of Pop Culture and listen to KEXP, you begin to appreciate its depth and nuance. Nirvana, of course, is the quintessential Seattle luminary– but so is Sleater-Kinney, who are named after the highway you drive between Portland and Seattle. If you grew up listening to those bands, give KEXP a listen while you're here. You might even discover a new favorite.
You can also stream KEXP radio online from their website.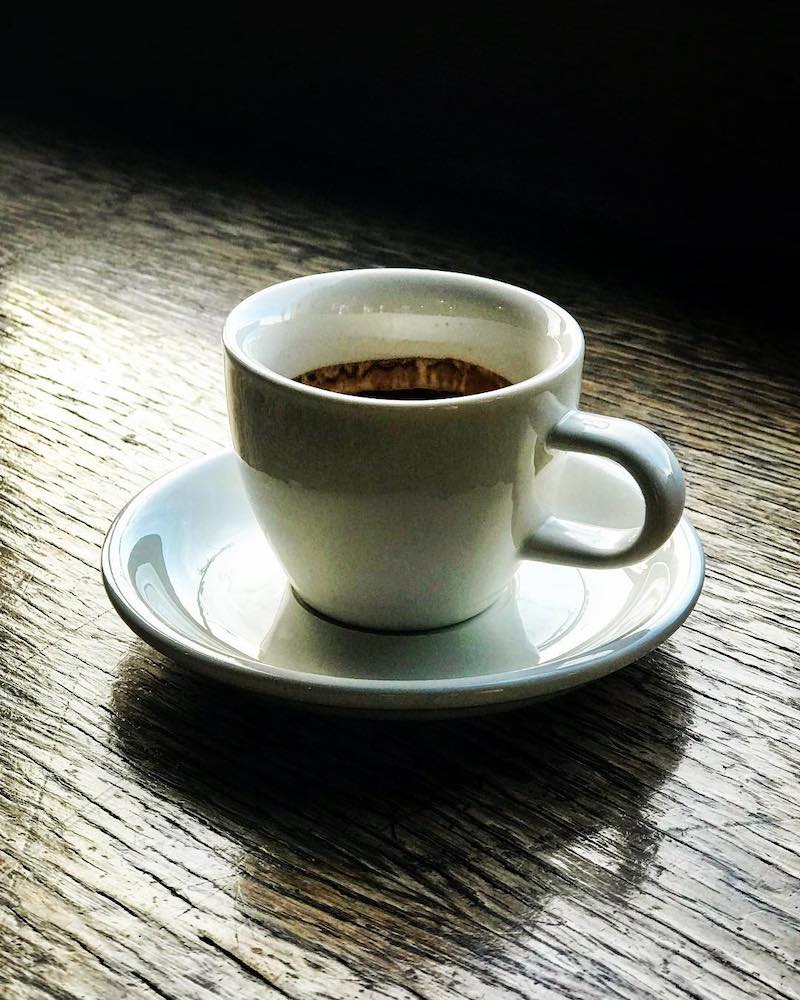 Get a Coffee at Lighthouse Roasters (or Zoka Coffee)
The Seattle coffee scene– much like the Portland coffee scene– is something of a religion. If you ask any local about their preference for where to get the best coffee in Seattle, they will invariably say Lighthouse Roasters or Zoka Coffee. The former has a spacious, artsy storefront and is a good place to get fresh beans. The latter does a great mocha and excellent lattes. (Get Zoka's honey cardamom latte for a real treat. I like the Blakeley Street location best, as it has huge table front windows and lots of students. As a result, the space has a nice energetic bustle. It's also near University Village, which has open-air shopping and some nice, locally-owned boutiques.) Either is a great place to get a perfect cup of coffee in Seattle.
Zoka Coffee is also, incidentally, Dave Matthews "favorite coffee shop" (he's a local). So, there's that.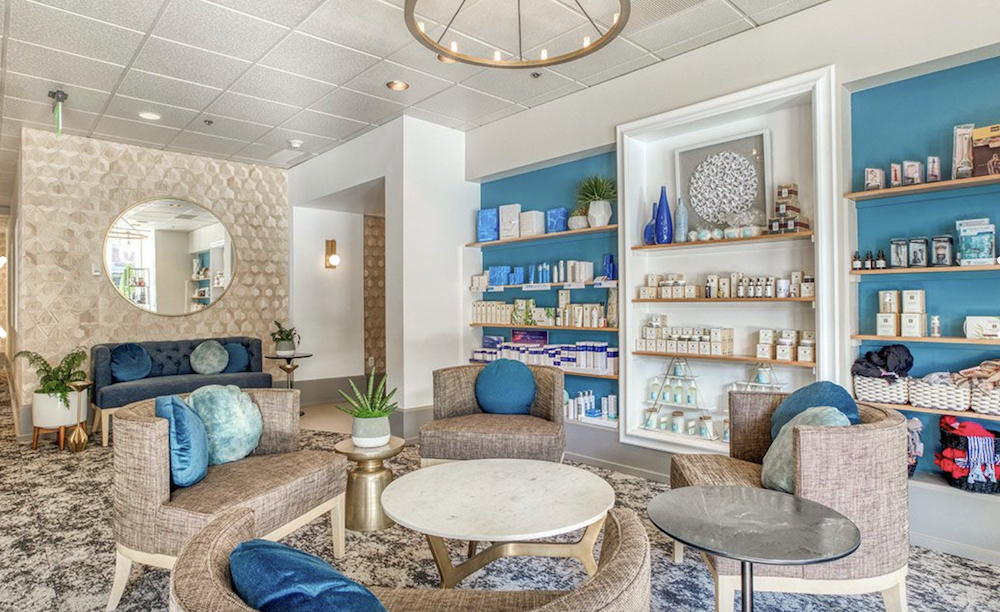 Get a Massage (or Mani-Pedi) at Woodmark Hotel's Still Spa
Still Spa at the waterfront Woodmark Hotel is a gorgeous, luxury haven on the shores of Lake Washington, just 15 minutes outside of Seattle. The newly renovated and beautifully-lit interior features soothing blue hues that induce relaxation immediately upon entry. Their mani-pedi corner is elegant, plush, and private– just the way we like it– and the entire spa menu is highly customizable.
Get a bespoke facial or try their relaxing 60 Minute Mt. Rainier Stone Revival Massage, which is perfect for staving off get lag (or preventing it on your flight home). They also have a fully-stocked locker room and dry sauna. Divine!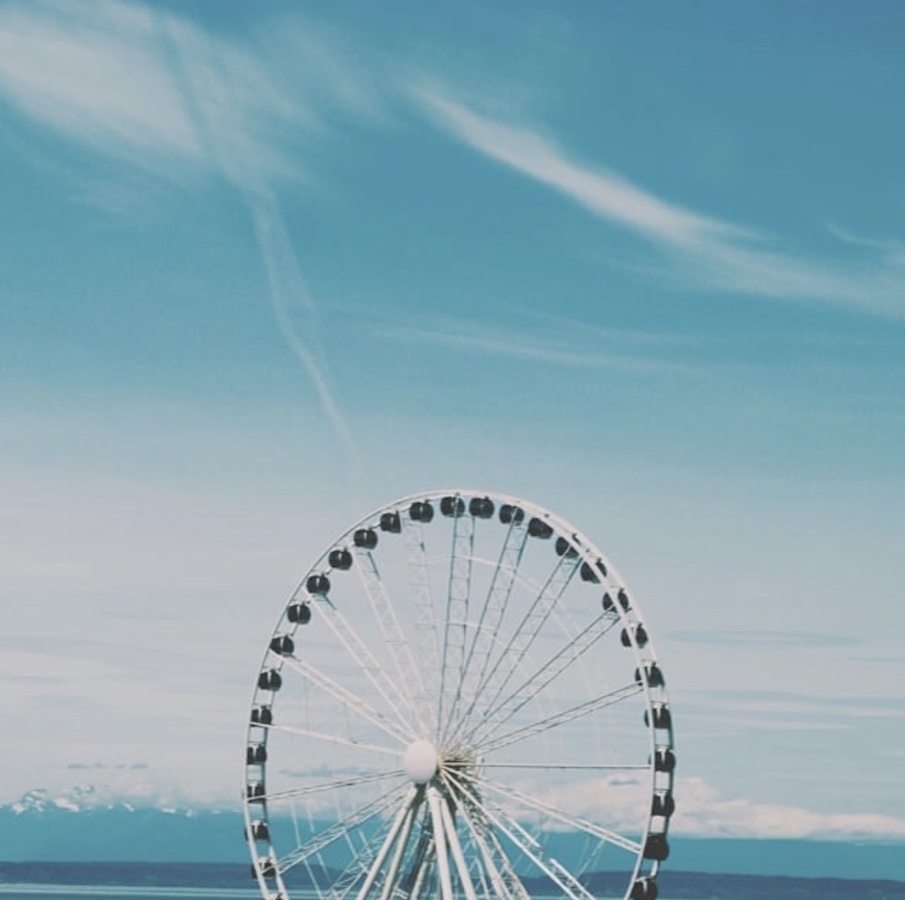 Ride The Seattle Great Wheel Over Elliott Bay (A Touristy Favorite)
Kinda touristy, but fun! Riding the Seattle Great Wheel and taking in the panoramic views over Elliott Bay is breathtaking. It will make you feel like a kid again. This giant ferris wheel on Pier 57 is a fixture of the Seattle skyline– not unlike what "The Eye" is to London. At the time of this writing, it's also the tallest ferris wheel on the West Coast, rising over 175 feet into the air. (This is a good 100-feet taller than most ferris wheels.) This ferris wheel is also unique in that's it's built over water, emerging from the pier with imposing largess.
Rides last approximately 15-20 minutes, and you can go solo or with a small group of 8 or fewer.
Seattle's ferris wheel is also affixed with over half a million LED lights. These put on quite a colorful show on weekends in the summer. (Their themed light displays are especially popular, and free to watch.) Book your tickets to ride here. Otherwise, you can also purchase them on site at the ticket booth the day of your ride.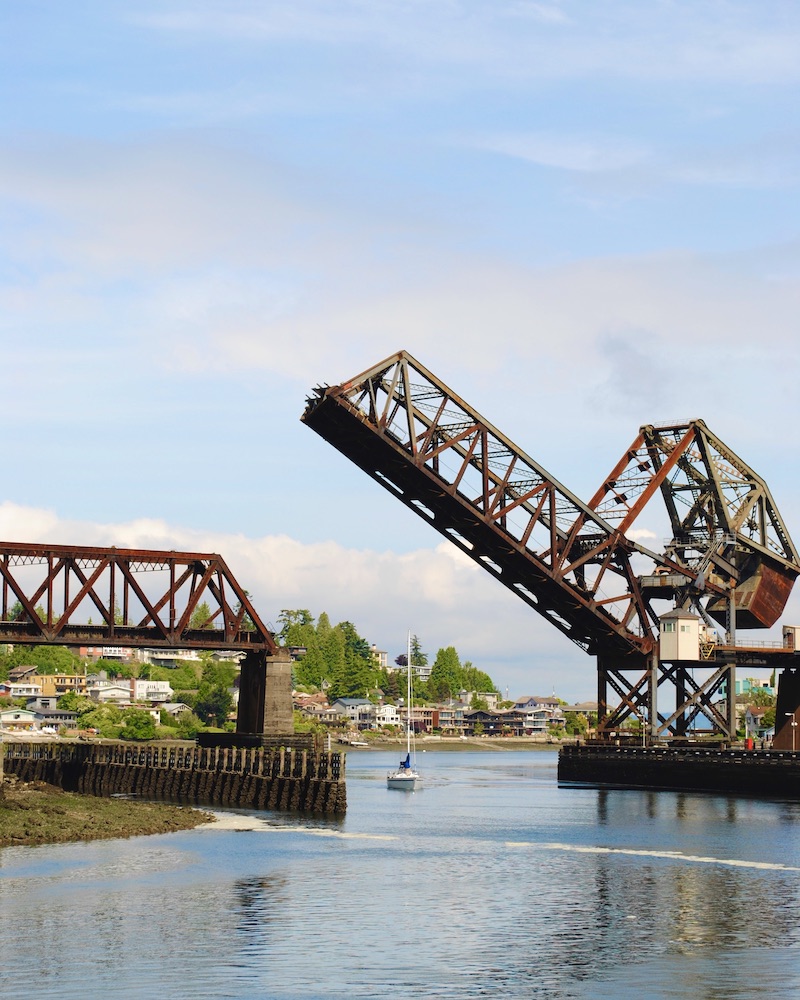 Take a Moment to Notice Seattle's Drawbridges + The Ballard Locks (Both Are Unique to Seattle)
There are two interesting features of American maritime history and civil engineering in Seattle. One is Seattle's three drawbridges, and the other is the Ballard Locks. Both are subtle features of local city design that are worth noting.
Three drawbridges in Seattle are still in use: Ballard Bridge, Fremont Bridge, and University Bridge. These bridges rise and lower to allow boats to pass before cars can cross the river– see above. It's so crazy to see an active bridge lift like a fixture of a Medieval castle. Witnessing this act is a decidedly Seattle experience. (And yes, they also have drawbridges in Chicago, but they're not as rugged as these.)
After each boat passes, the bridge lowers back down so that car traffic can resume. It's just a subtle Seattle thing, but its cool to witness this normal part of everyday rush hour.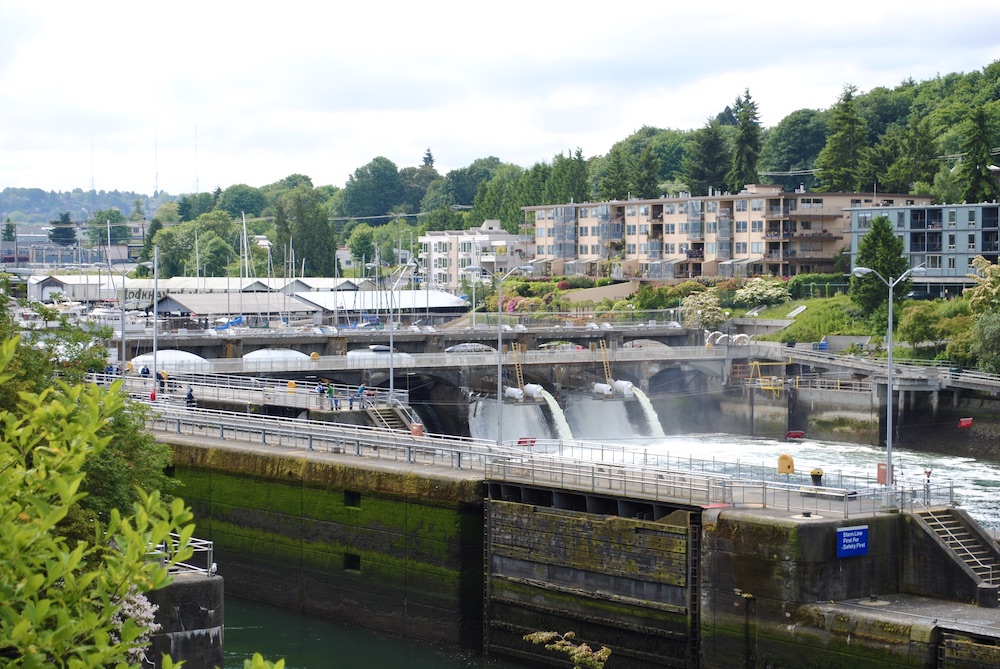 Meanwhile, the Hiram M. Chittenden Locks, aka the Ballard Locks, is a complex feat of civil engineering at the west end of Salmon Bay. The locks connect freshwater Lake Union to saltwater Puget Sound. At the massive complex at 3015 NW 54th St, boats of all sizes pass through the canal, which was originally built in 1911 to prevent saltwater intrusion into the freshwater lake system.
I love walking or running across the locks between the Ballard and Magnolia (two fun Seattle neighborhoods). There's a viewing area where visitors can watch the "weirs" that allow spawning fish to climb to the freshwater side. Once you see the fish ladders in operation, head over to the Carl S. English Jr. Botanical Garden (one of Seattle's most beautiful parks). Ballard also has a number of stylish boutiques and restaurants, like The Walrus and The Carpenter, an excellent oyster bar.
What To Buy: Seattle Travel Guide Addition
The best souvenirs/local items to buy in Seattle are outdoor gear (clothing and equipment); books; records (look for Nirvana and Sleater-Kinney for the real local experience); Fran's chocolates (detailed above); Theo chocolate; salmon products (smoked salmon jerky is TSA approved; pates and fresh fish can be shipped); vintage T-shirts; wild-foraged PNW teas and herbal medicine; artisanal soap; studly, often decidedly hipster bicycles; and dried local morels (fun for foodies). You may also want to ship home some local Washington wine.
Other Things to Note
Seattle, Washington runs on Pacific Daylight Time (GMT-7), which is 3 hours behind the East Coast of the United States. The local currency is the US Dollar.
Uber and Air BnB both operate in Seattle.
The best time of year to visit Seattle is between May and September. Winters are cold and rainy; summers are sunny, averaging around 72 F in the peak summer months, with a lovely maritime breeze.
Nevertheless, as I wrote above, it also rains 9 out of 12 months in Seattle. Bring a light raincoat and shoes that can handle an unexpected shower. If you're a runner or walker, bring active shoes as the sidewalks are accommodating and there are a number of lovely urban parks.
Culturally, Seattle is very liberal and artsy. However, white collar politics are a bit more stiff than, say, nearby Portland. Young people tend to be very outdoorsy and lean hipster.
Fishing, lumber, biotechnology, and environmental engineering are the biggest industries. Amazon, Boeing, Starbucks, REI, and Nordstrom all began in Seattle.
Finally, 10 Things I Hate About You, Sleepless in Seattle, and Into the Wild were all famously filmed in Seattle. Consider watching them before or after your trip to really absorb the experience. Enjoy!
***
Staying in the Pacific Northwest for a while? Explore our critically-acclaimed Insider's Guide to Vancouver. (It's only 2 hours + 45 minutes across the Canadian border.)