Once known merely as the dreamy backdrop of the Bush family compound, Kennebunkport, Maine is a tiny New England town on the state's rocky southern coast– the perfect place to have a quintessential New England beach experience.
Today, however, Kennebunkport also has a hotel and restaurant scene that makes it a world-class summer travel destination. I've been vacationing in Kennebunkport every summer since I was a kid, and having grown up in New England I can truly attest that this is one of the best vacation towns for those looking for an accessible, immersive Maine experience– especially if you want to get a big dose of Maine in a short period of time.
From gorgeous beaches and lobster rolls to family-run ice cream stands and quaint nautical design shops, "Kport" has become shorthand for leisure, luxury, and slow living.
In addition to the reliably beautiful ocean views and enduringly "small town" feel, Kennebunkport boasts its fair share of art galleries, spas, lovely antique shops, charming local farm stands, coastal inlets for kayaking, fishing, sailing, and more. There are also enough bike routes to explore for a lifetime.
All of these features and more make Kennebunkport, Maine a beloved summer travel destination– New England par excellence. Below, discover where to stay, what to eat, a shortlist of things to explore, and what you shouldn't miss.
***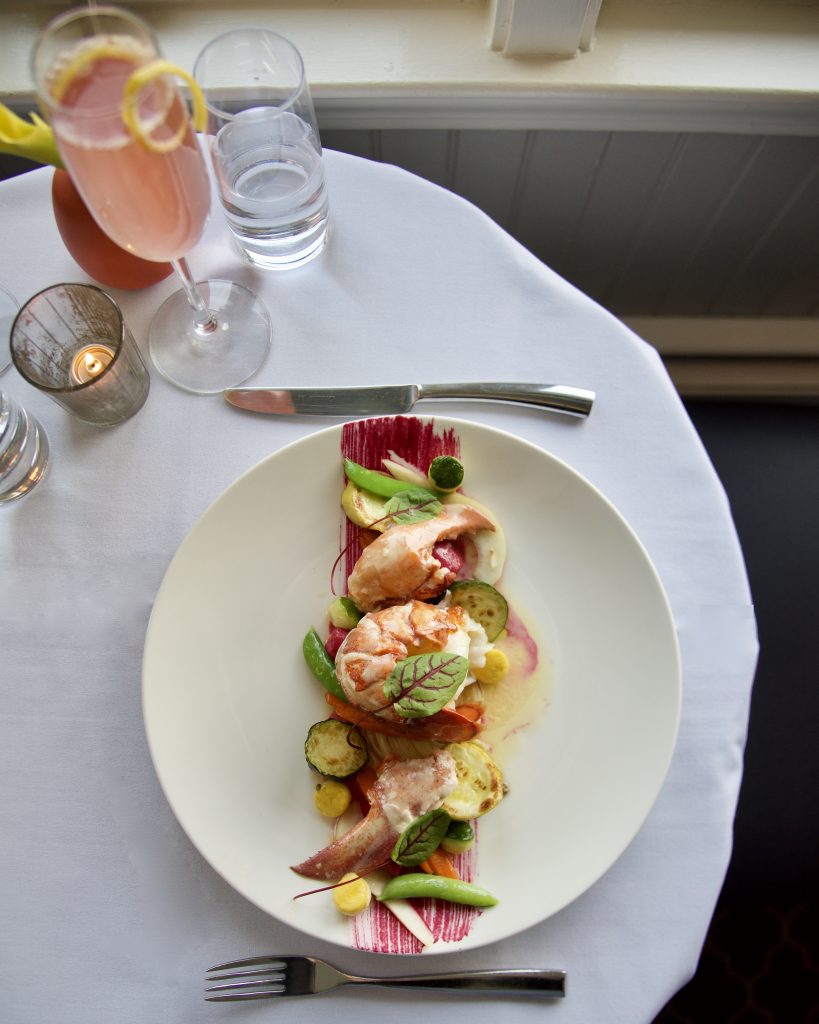 Dinner at Ocean at The Cape Arundel Inn
Cape Arundel Inn & Resort is an elegant waterfront inn with a fabulous restaurant perched right on the Atlantic's rocky coast. Ocean is one of the most scenic restaurants in the country, where food is sourced and plated with undeniable finesse.
This All-American dining experience offers a rare glimpse into the food geography of Kennebunkport and Maine in general, as gorgeous plates are tailor-made from locally sourced ingredients. They even grow herbs and vegetables in an on-site garden directly across from the crashing waves.
Ocean, moreover, is true to its namesake, with sweeping oceanfront views that you can experience from inside the Cape Arundel Maine House, the dining room, and the front porch. Dine here for excellent lobster and crab dishes, as well as beautiful cocktails and desserts.
Nestled among turn-of-the-century mansions, Cape Arundel is one of the most luxe and quintessentially "Maine" environs visitors can frequent in the area. Ocean's beautiful front porch is also ideally situated for sipping apéritifs while listening to the waves crash at sunset.
Ultimately, it's a picture-perfect vision of New England in the summer. Leisurely beautiful aesthetics and unparalleled relaxation are just a bonus.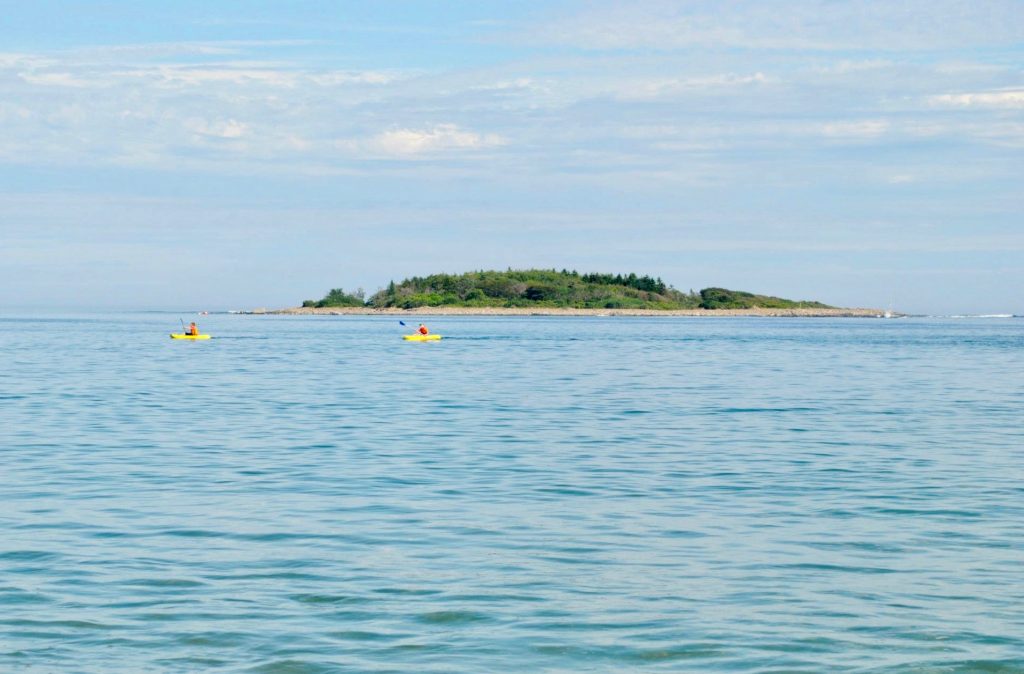 Explore Goose Rocks Beach (Kennebunkport, Maine's Best Beach)
Goose Rocks Beach is by far one of the most beautiful beaches in America– and a quintessentially New England one, at that! This long, flat 3-mile beach is an essential stop in any Kennebunkport itinerary. It's best at sunset or in the early morning (before the crowds roll in) as it's a great "walking beach." However, commuters should be advised: parking is limited, and there is no public restroom.
Goose Rocks Beach is good for dogs, for those renting homes nearby (which we recommend doing). The beach is also extremely family-friendly, with gentle waves and long, folding stretches of beautiful coastline. There's plenty of room to swim, walk, or camp out all day.
Nearby, Tides Beach House offers delightful lunch, lite bites, cocktails, and dinner across the street. They also have luxurious plush beach chairs for rent.
Other than that, the neighborhood consists of mostly rental homes. Stop by the Goose Rocks Beach General Store for convenience goods and sundries like cold drinks, snacks, beach items like sunglasses and towels, and the best-ever corn muffins.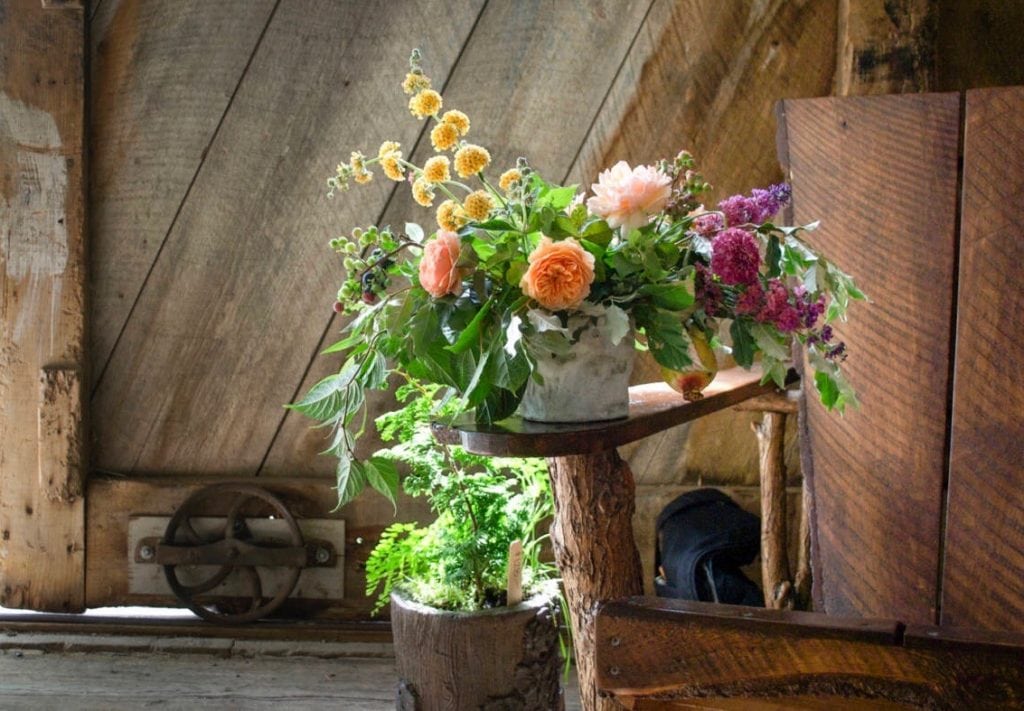 Visit, Shop, and Wander at Snug Harbor Farm
Snug Harbor Farm is a lovely little garden and home shop located on a flower farm where horses, peacocks, furry chickens, ducks roam freely. The beautiful grounds are filled with some of the best garden staples in New England, which are lovely to explore even if you don't buy anything.
The shop sells high-end interior homewares and locally-made artisan goods– a must for design lovers. On any given day, you can find copper jewelry, artisanal soap, vases, terra cotta objects, linens, paper goods, wooden signs, and more. It's a great place to buy locally-made souvenirs. The vibe is "artsy farmhouse chic," and I absolutely love it.
Outside, there are thousands of potted plants, topiary, and succulents housed in half a dozen small greenhouses. There's also an ample variety of small local trees, rustic metal statues and garden vessels, cement garden objects, a small vegetable garden, as well as local New England staples like hydrangeas, blueberry bushes, and lovely espaliered apple trees for purchase.
Don't mind the ducks and chickens that roam freely amongst the flowers; fowl and flora coexist peacefully at this side-of-the-road sanctuary.
In the summer, Snug Harbor Farm also offers "flower foraging" and floral arrangement workshops in which guests can cut their own flowers from the garden right outside the studio. Check Snug Harbor's events page for more info– or simply stop by to shop and smell the flowers.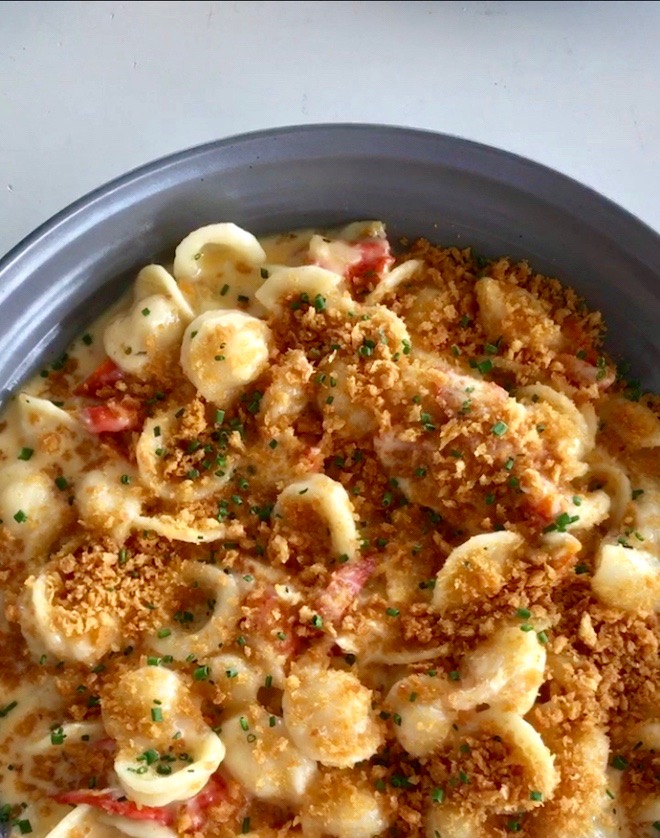 Dine at The Boathouse Waterfront Restaurant
The Boathouse serves classic Maine seafood with an Asian influence– a delightful twist on the local vernacular in a restaurant situated inside a waterside hotel of the same name. We love the sumptuous lobster mac & cheese and the adorable finger-sized crab and lobster tacos, which are small enough to share while you wait for your mains.
The view is lovely, as the Boathouse Waterfront Hotel & Restaurant straddles a central stretch of the Kennebunk River. The restaurant's raw bar is also notable, featuring the best local oysters, fresh shrimp, scallops, and the like.
The Boathouse also notably supports local farmers; a portion of the proceeds from select menu purchases also support local charities. As a result, their salads will make you feel good on the inside and out.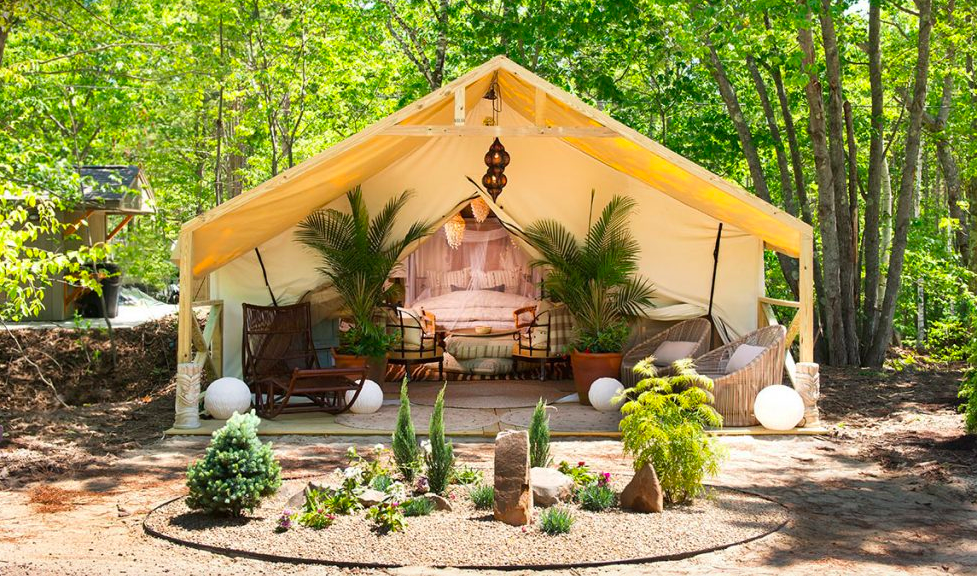 "Glamping" at Sandy Pines Campground
Looking to camp in the woods but don't want to give up creature comforts? Look no further than the luxe "glamping" tents and air-conditioned carriage houses at Sandy Pines Campground. ("Glamping" is shorthand for "glamorous camping".)
Sandy Pines Campground is great for people who want to immerse themselves in the woods while staying close to civilization. The site offers tent camping, RV rental spaces, and lovely pre-fab rooms like the "hideout" (above). No matter what your preferred camping style, Sandy Pines can likely accommodate it.
We love that this campground is close to Goose Rocks Beach, which is about a 10-minute bike ride away. The grounds are also straight across Route 9 from Goose Rocks Dairy, which sells excellent, locally-made ice cream.
WiFi is available throughout the entire 300-site camp. Laundry facilities and bathhouses are available. Best of all, Tides Beach Club and Earth (two excellent area restaurants) are both nearby.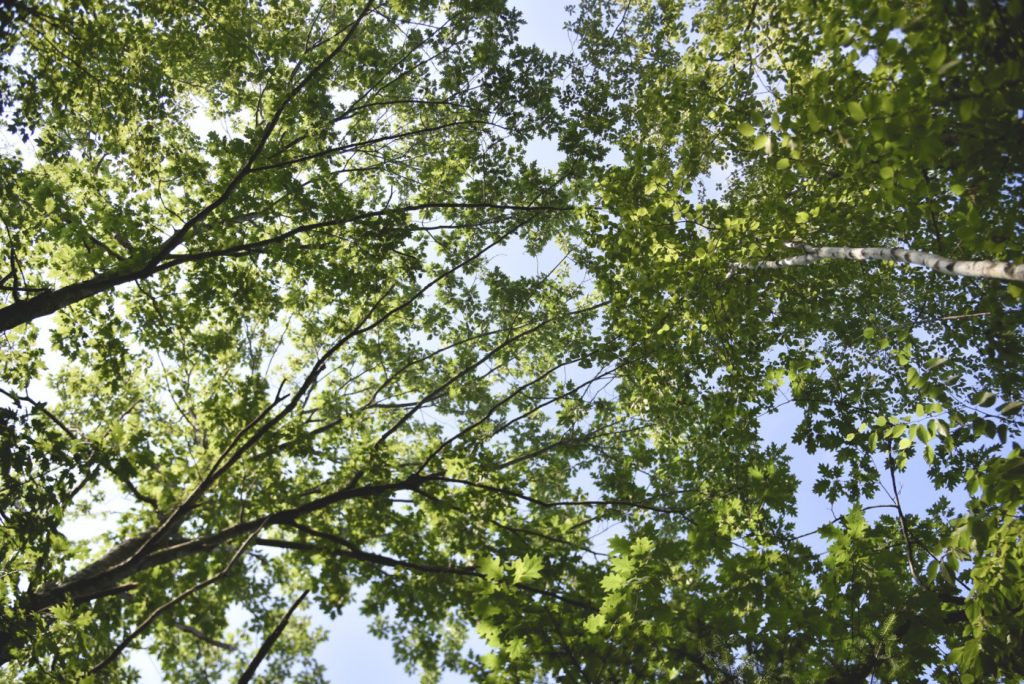 Dine at Earth at Hidden Pond
Earth at Hidden Pond offers exceptional farm-to-table cuisine, featuring produce partially grown on-site in the picturesque environs of Hidden Pond (a luxury resort located One Mile from Goose Rocks Beach). With its immersive, rustic decor and exceptional menu, it's one of my favorite restaurants on the East Coast!
Earth's homemade charcuterie, bread, pasta, and wood-fired meat dishes are excellent, and the woodsy decor is both welcoming and refined. Overall, it is hands down one of the best restaurants in Kennebunkport and Maine in general.
Earth's "organic inspired" al fresco dining is also some of the best in the area. Like the Hidden Pond resort itself, it's an ideal destination for those who love being immersed in nature.
Ultimately, Kennebunkport, Maine is a quintessential New England travel destination because of how neatly the village wraps around the coast, giving visitors a mix of coastline, woods, and beaches. At Earth, you feel all these elements at once through the expertly manicured landscape, beautifully designed property, gardens, and decor. It's gorgeous!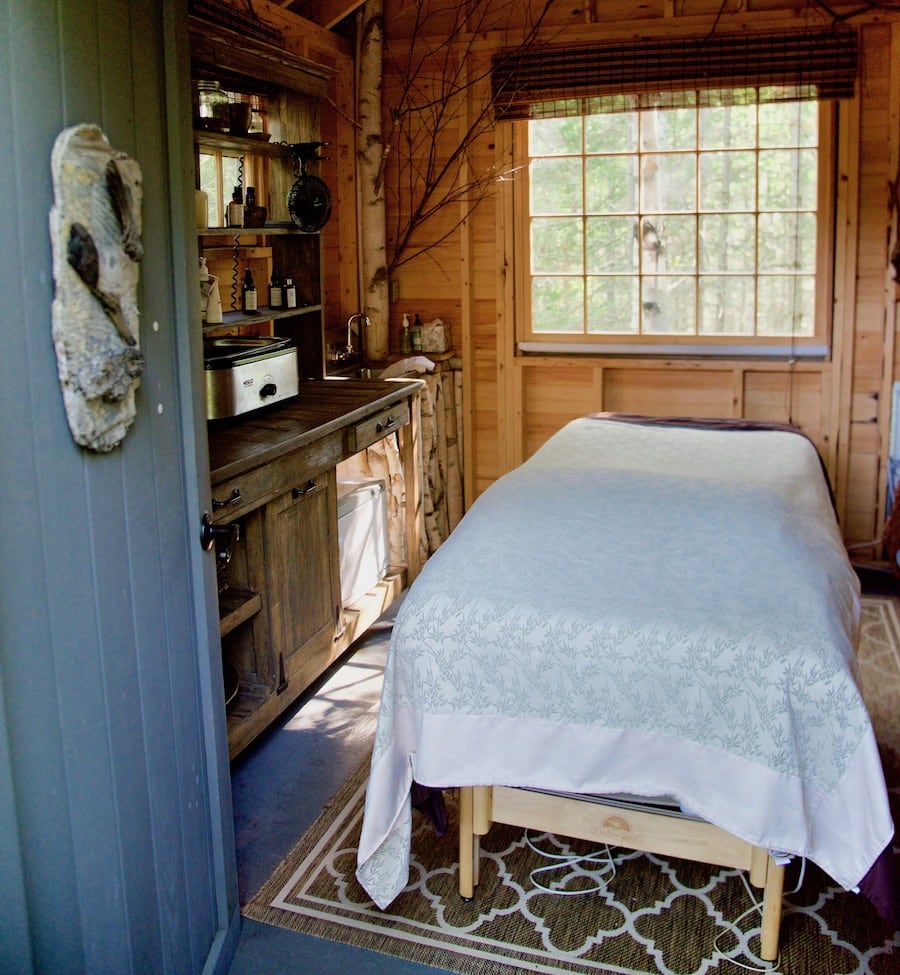 … and Visit The Tree Spa!
The Tree Spa at Hidden Pond, meanwhile, is a lovely, meditative oasis nestled in a birch forest on the same property as Earth restaurant.
The Muscle Melt Renew Massage (which I strongly recommend!) incorporates scented oils, warm towels, and therapeutic arnica gel to dissolve tension. Highly skilled therapists, meanwhile, focus on loosening up the upper back, neck, shoulders, and scalp. (Something that almost everyone with a computer or smartphone needs these days.)
Plus: you can't beat the surroundings. The Tree Spa features a cluster of treehouses connected by a series of canopies near the serenity pool. Inside, your massage table awaits.
Spending time in nature already feels like luxury, but this place takes the experience to a new level. For the best experience, plan a massage for the late afternoon, then head to dinner at Earth afterward.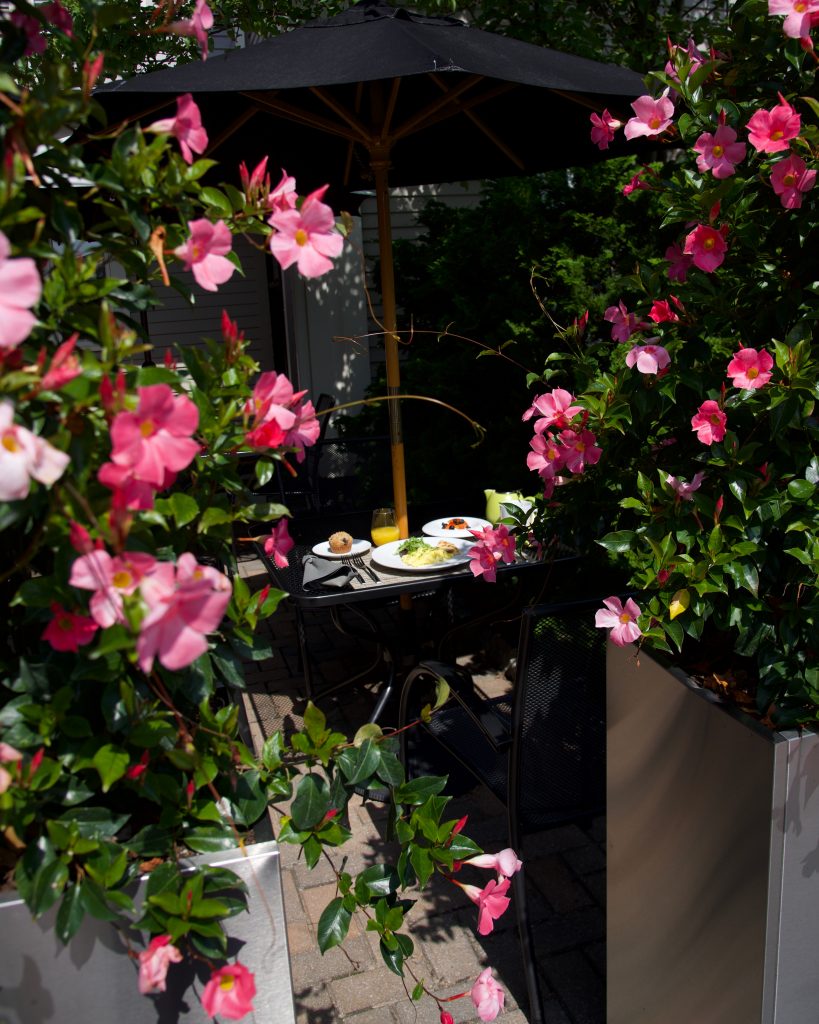 Breakfast Among the Morning Glories at The Inn at English Meadows
Many people associate New England travel with lovely B&B experiences, and to that end, The Inn at English Meadows does not disappoint. The Inn's charmingly appointed historic rooms and suites are just a short walk from some of the area's most rugged and beautiful coastline. They also have a lush patio where summer guests enjoy breakfast among the morning glories.
Owner and Innkeeper Elizabeth Arruda has worked tirelessly to keep what was once a home dairy business looking pristine. Today, you can look her property up in the Select Registry of Distinguished Inns of North America– a great honor.
The homemade breakfast– best enjoyed on the small, flower-covered terrace– is particularly charming. Expect items like homemade Maine blueberry muffins; fluffy, farm-fresh eggs with local greens; and fresh orange juice. What's not to love?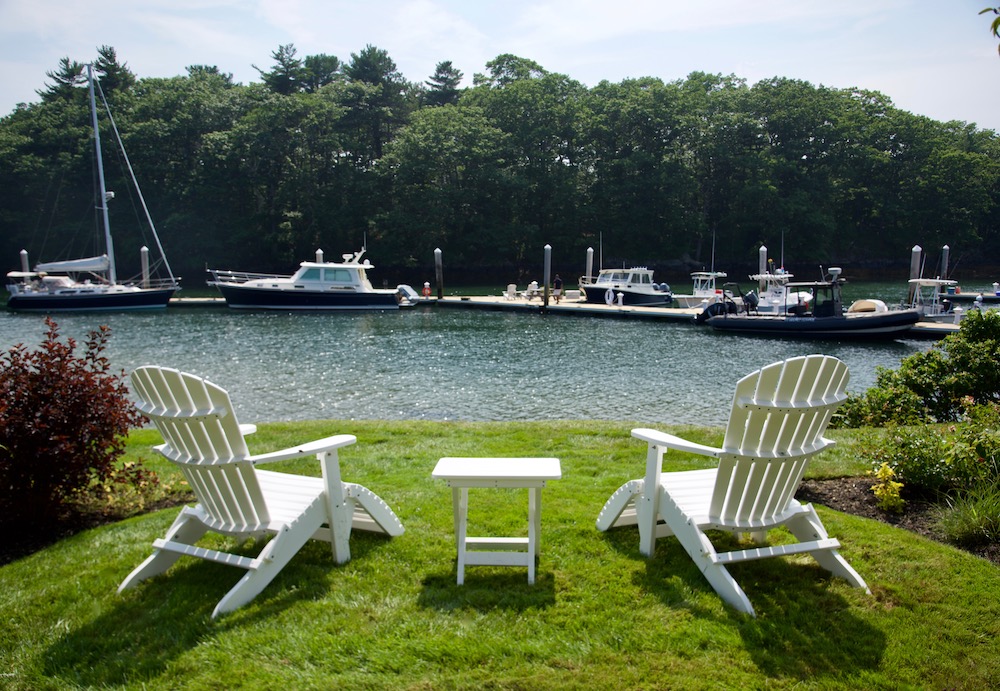 The Yachtsman Hotel & Marina Club (For a Chic Stay)
The Yachtsman Hotel & Marina Club offers 30 luxurious harbor front bungalows with garden terraces and luxe designer furnishings by local power couple/design partners Louise and Ralph Hurlbutt, of Hurlbutt Designs. Expect bright, elegant colors, lushly padded headboards, and fabulous Adirondack chairs that are signature to the area.
Strategically located on the Kennebunk River, YHME is close to Dock Square and a number of notable restaurants. The Arundel Wharf, The Boathouse, Mabel's Lobster Claw, and The Burleigh are all within walking distance.
The hotel also offers complimentary kayak, canoe, and stand-up paddleboard rentals for exploring the coves and inlets of the Kennebunk. You can't vacation in Maine without spending time on the water.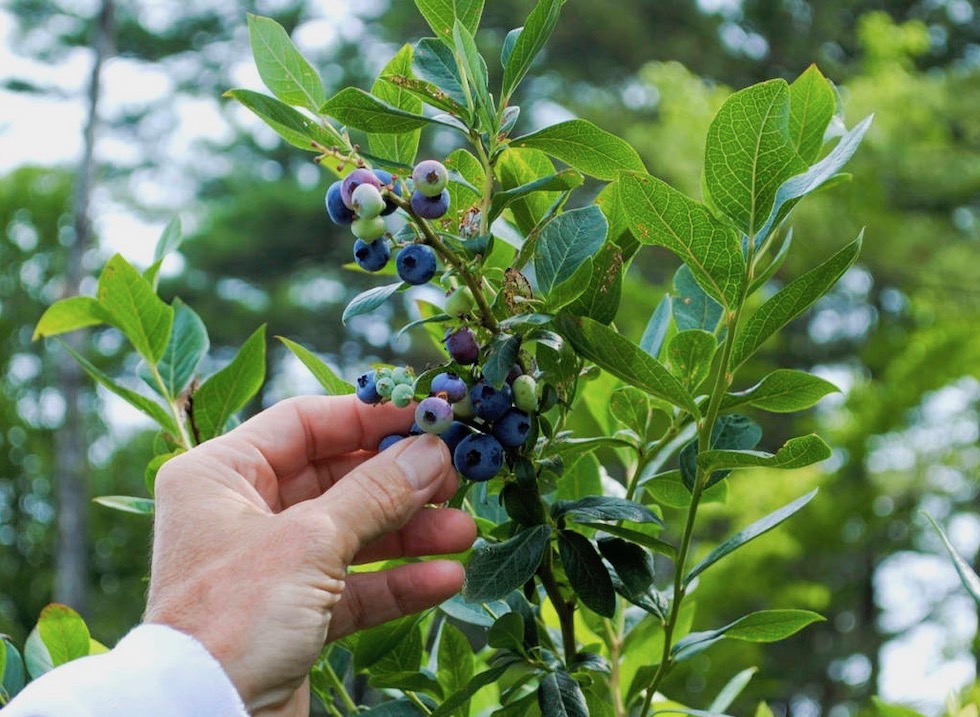 Blueberry Picking at Spiller Farm
Blueberries are a classic Maine commodity, and nothing is better than fresh. Spiller Farm offers an excellent family-friendly option to pick your own blueberries. It's super fun!
While the farm is technically located in nearby Wells, Maine, it's worth the short drive out to pick fresh, local blueberries. (In Maine, blueberry season extends from mid-July to mid-August.)
We love Spiller Farm's "U-pick" option; often, you can pick several pounds of fresh blueberries for much cheaper than you could find them in the supermarket. Then, take them and home eat them fresh or make a pie; the flavor is fantastic. Plus, you get to pick them yourself from a quaint little blueberry patch in the shadow of a forest grove. It doesn't get more whimsical than that!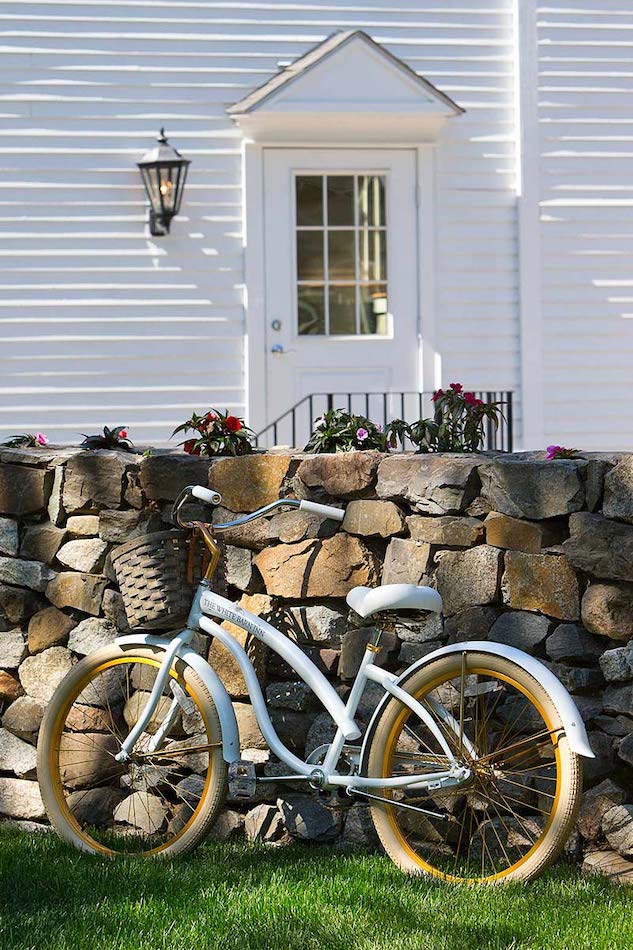 White Barn Inn & Spa (For Lunch + Spa Experience)
White Barn Inn & Spa was one of Kennebunkport, Maine's first upscale hotels. It's a fabulous property with gorgeous dining and a spa that can't be beaten. We love their Kennebunk River Hot Stone Massage, which blends Swedish hot stone modalities with local therapeutic finesse.
The facials and acupressure flourishes they incorporating into their treatments are also lovely, which is partially why the White Barn Spa is consistently ranked one of the Best Spas in Maine. They even offer raindrop therapy based on ancient Native American healing traditions!
The White Barn Restaurant is also Forbes Five Star certified, serving contemporary New England cuisine in an elegant, atmospheric setting. For a more casual take, the Bistro serves relaxed classics like lobster pizza and surf & turf. Either way, you can expect beautifully presented dishes from local farms, fishermen, and foragers throughout coastal Maine.
Like the Inn itself, the entire aesthetic experience on this property is lovely. It's beautifully quaint, quiet, and serene. Quintessential Maine at its finest!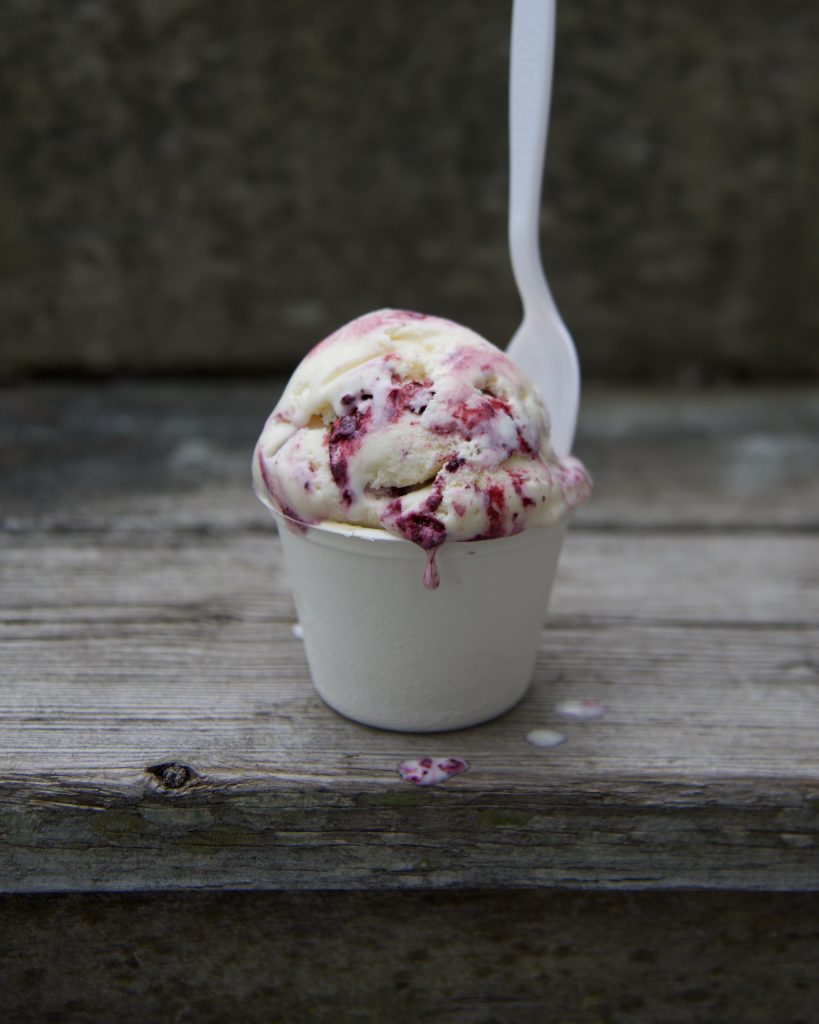 Artisanal Dessert at Rococo Ice Cream
With its sweet location just off of Dock Square, Rococo Ice Cream is handcrafted in Southern Maine using fresh local ingredients, but it's really the elevated flavors that inspire. Foodies love it!
Above is a picture of the signature Blackberry Goat Cheese Chambord ice cream. (There's a scoop of their signature Sweet Avocado Cayenne gelato below that, but you can't see it.)
You'll know when you've found the place when you see the line out the door. They also have gluten-free cones! Next door at Satellite Doughnuts (for those who want a different kind of sweet treat), look for specialty mini doughnuts in flavors like potato chip, nutella, and salted chocolate pretzel. Understandably, people love posting pictures of these colorful doughnuts on Instagram.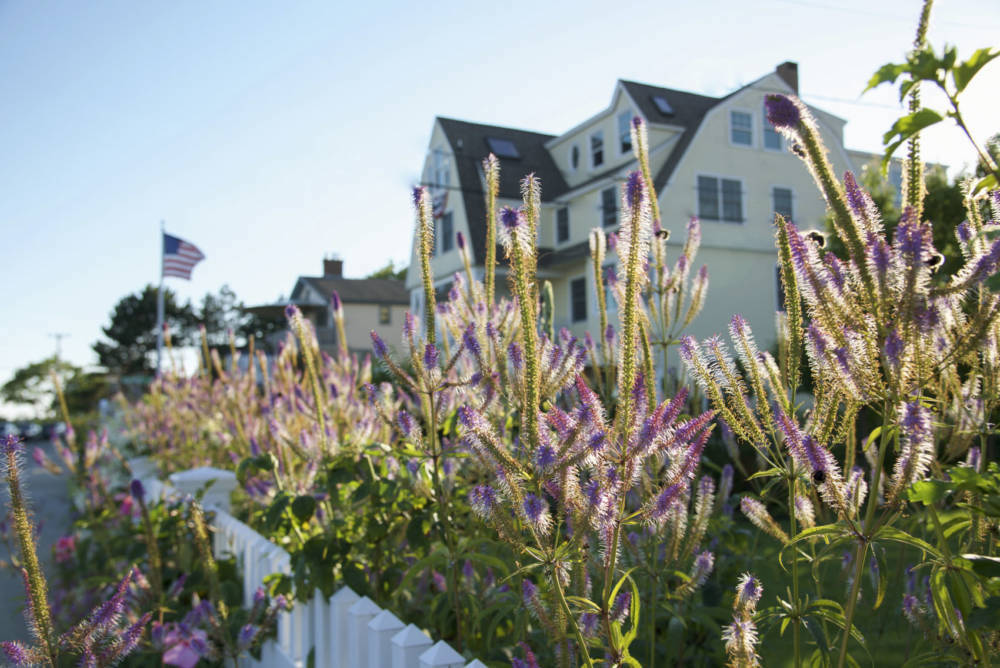 Post-Beach Drinks at The Tides Beach Club
The Tides Beach Club is a charming-yet-refined hotel and restaurant on Goose Rocks Beach. The iconic yellow house has a lovely porch with fire pits facing the ocean, and it's a great place to grab lunch, dinner, or cocktails after a day on the beach.
Expect an elevated B&B vibe with the fixings of a luxury resort: the club is situated in a house that honors the local architectural tradition, and meals reflective of the region. Dinner starts with delicious homemade bread and maple butter. Salads come from local farms and all seafood is sourced from local fishmongers.
The restaurant serves an incredible lobster roll (both a hot and cold option!) on a notable potato bun. Really, the quality is in the details. Rustic margaritas come in salt-rimmed mason jars. Appetizers are always ample.
Other than that, expect fresh, beautifully orchestrated salads and satisfying seasonal mains with meat and dairy sourced from local farms. This is a great place to hang out for sunset and lite bites near the beach, as well. It's a local staple!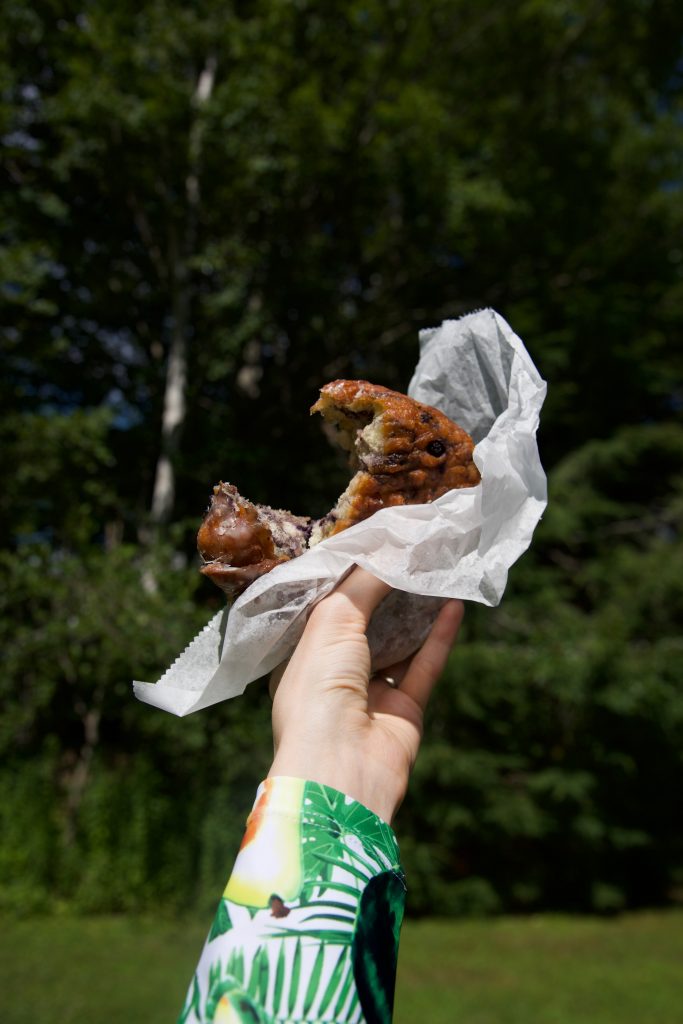 Blueberry Fritters from Congdon's Doughnuts
The Blueberry fritter from Congdon's Doughnuts is repeatedly voted one of the "Best Doughnuts in America." Fluffy, crisp, and decadent, this fritter is best enjoyed fresh out of the oven while sitting in an Adirondack chair on the porch of a beach house. (I'm obsessed!)
While Congdon's is technically located in the next-door neighborhood of Wells, it's worth the slight detour.
This doughnut shop has been serving the same old-time-y doughnuts since 1955– including a unique *blueberry* jelly donut and excellent classic honey dips. Go early, as they tend to sell out of certain varieties throughout the day.
Congdon's also makes the largest honey dip doughnut I have ever seen: 11 inches in diameter and large enough to feed a small army! Without exaggeration, this donut is the size of a bundt cake. And it only costs $2.99!
Gluten-free options are also available. Congdon's is open from 6 AM to 2 PM daily. Be sure to go early before the fritters sell out!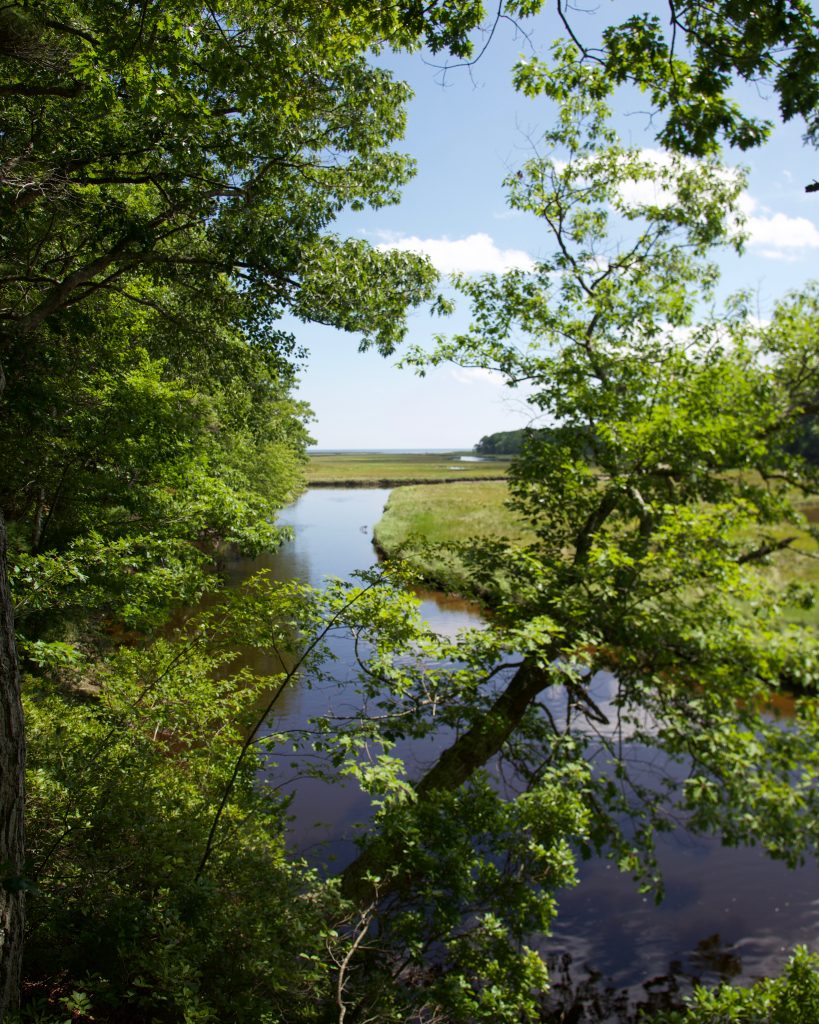 Walk The Rachel Carson National Wildlife Refuge
The Rachel Carson National Wildlife Refuge is a constellation of preservation lands that dot the coast of Southern Maine. This particular piece of the refuge is a short one-mile circuit on the border of Kennebunkport and Wells that really isn't a destination in its own right, but still a beautiful place to stop and picnic or walk around if traveling between the two towns.
The rustling of leaves in the canopy, the ocean breeze, and the views over the iconic salt marsh are all intoxicating. It's open from 8 AM to 5 PM daily.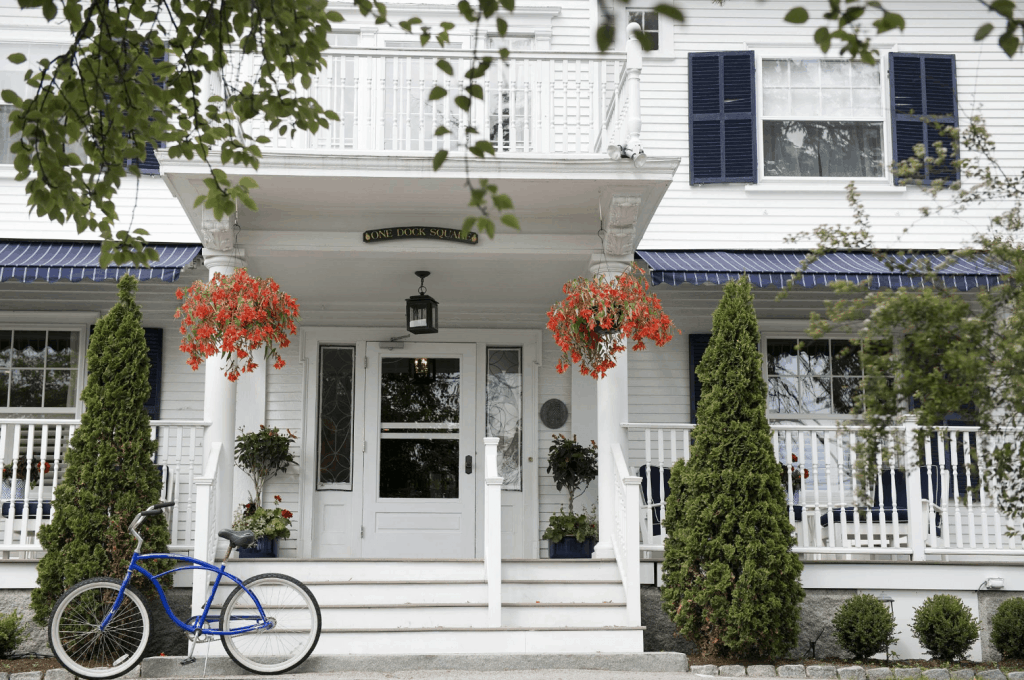 Dine or Stay at The Kennebunkport Inn
Conveniently located right in Dock Square, the Kennebunkport Inn features Ralph Lauren-inspired interiors and convenient proximity to Abacus art gallery, Hurricane restaurant, and Rococco Icecream.
The on-site Burleigh restaurant offers elevated takes on traditional pub fare (onion strings, fried brussels sprouts, deviled eggs, etc). The main dishes– chicken, pork, local seafood, and burgers– are slightly elevated and always expertly prepared. This is a great place to stay if you want to be in town, as opposed to on the beach.
Moreover, the Kennebunkport Inn hybridizes what feels like a traditional Maine B&B experience with the refined touches that high-end hotel goers look for when they travel. It's nautical-inspired, without being hokey. It feels like someone's home, albeit an extremely nice one with opulent period antiques and lavish linens.
Here, you can have the best of both worlds. The luxurious decor is sure to inspire, and the central location in the middle of town can't be beaten.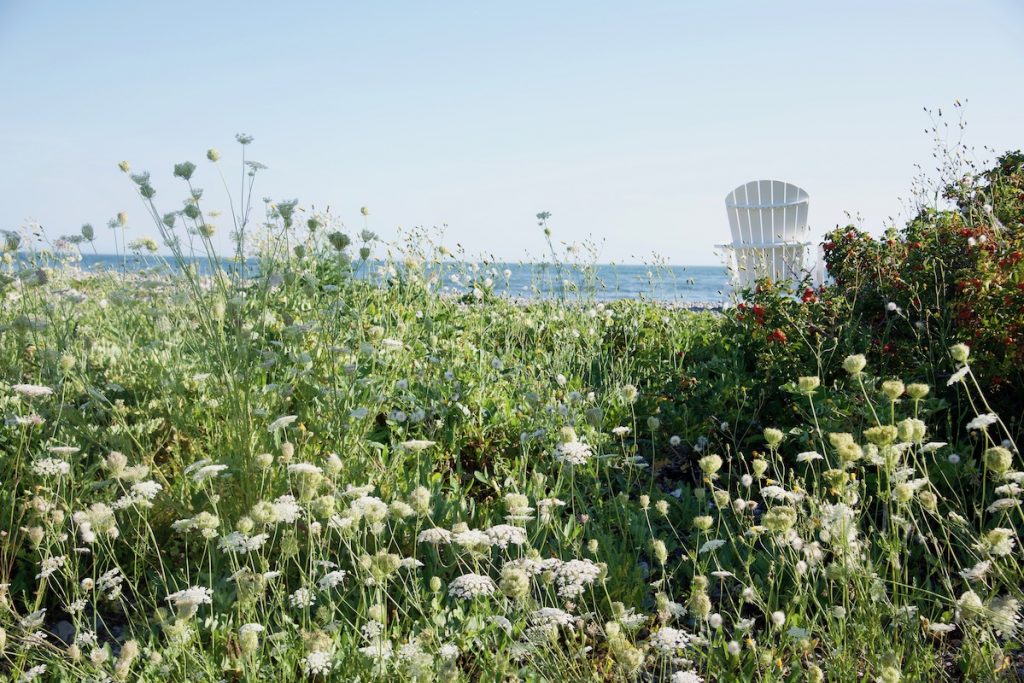 Long Bike Rides To Fortune Rocks Beach
Fortune Rocks Beach sits on the border of Biddeford, Maine, and Kennebunkport, Maine. While the area is mostly residential, it also features dazzling long stretches of public coast.
We recommend enjoying these beautiful views from the seat of a bike zooming down a beachfront road. (And in Fortune Rocks, it seems like every road is a beachfront road.) Take note of the beach flowers, birds, and beautiful homes along the way; this is part of the charm.
On the northernmost tip of Biddeford Pool, visit F.O. Goldthwaite's & Pool Lobster for lobster rolls, ice cream, and other seacoast-inspired deli fare. It's a great place to stop for lunch when you ride in from Goose Rocks Beach. This is a nice approximately ~15-mile ride out and back. Just remember that you'll have to pedal your way back!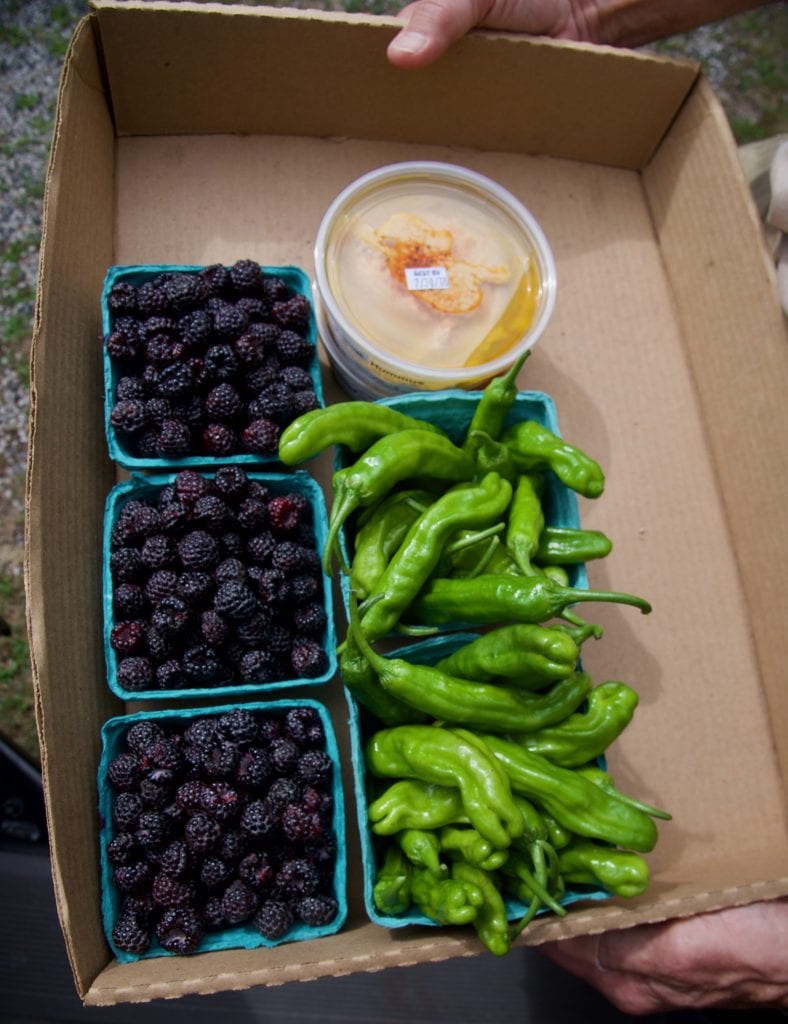 Shop Fresh Produce at Frinklepod Farm
Roadside farm stands are a dime a dozen in coastal Maine, but in the summer, full-fledged working farms like Frinklepod Farm take on a special charm.
Stop by this picturesque roadside farm to gather local shishito peppers, cosmos, fresh blackberries, locally-made cheeses, hummus, and jams, and other garden-fresh staples.
Be sure to stop and marvel at the gorgeous heirloom tomatoes and beautiful flower patches, as well. The owners are not precious about keeping shoppers off the land, so feel free to explore the beautiful garden. Time moves slow on this beautiful property, which is something of a hidden gem.
Explore Dock Square
Located in the middle of downtown Kennebunkport, Dock Square is the "main drag" for tourists and newcomers to the area. While it may be overly touristy, Dock Square is actually home to several hidden gems, like Abacus— an avant-garde art gallery that wouldn't feel out-of-place in LA or New York– and Coastal Jewelers, which is home to a beautiful collection of jewelry made from colorful "watermelon tourmaline"– a rare gemstone mined specifically in Maine. (My husband bought my engagement ring there.)
Next to Coastal Jewelers is Flaming Gourmet— a great place to get locally made sauces, local sea salt, Maine blueberry jam, Maine maple syrup, local gooseberry jam, and the like.
Across the street, be sure to check out Hurricane Restaurant— a slightly upscale dinner hotspot featuring foodie-friendly staples like braised local short rib and fresh-shucked oysters.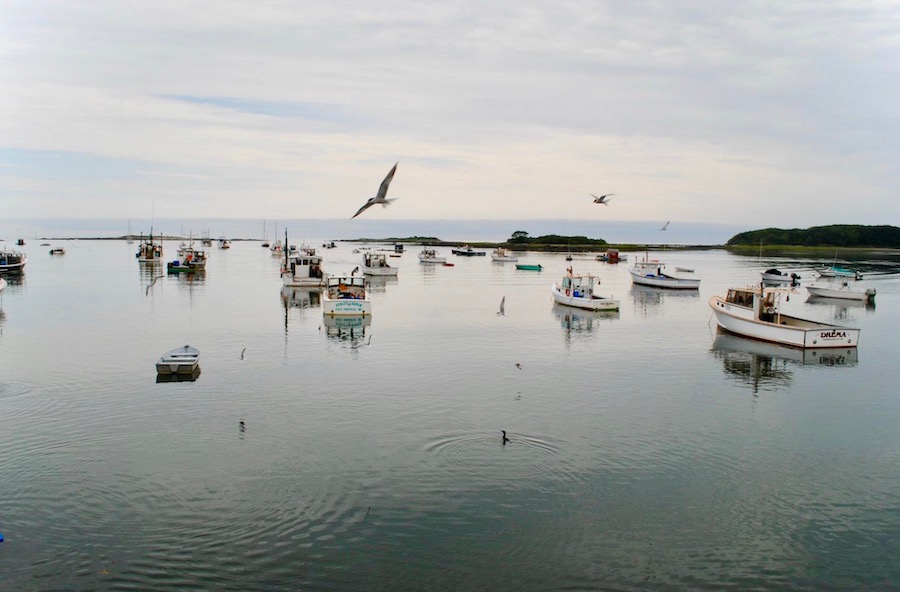 Bike to The Dock at Cape Porpoise (+ Dine at Pier 77 Restaurant)
Cape Porpoise is a charming little inlet and residential neighborhood on the coast of Kennebunkport. The area is known for its beautiful homes, colorful gooseberry bushes, and quiet but respectable restaurant scene.
The Cape Porpoise Pier is a great destination to bike to from Goose Rock Beach (it's about 10 miles round trip). Sit on the dock and take in the views, or launch a kayak, explore the water's edge, and observe barnacle-covered lobster traps up close.
Adjacent to the dock is Pier 77 Restaurant— a famous upscale gathering place for the area's well-heeled. The Bush family are famously fans. The regional menu includes classic dishes like Lobster Ravioli and Pan Seared Atlantic Scallops; we also love the salads and fresh oysters.
Meanwhile, the dining room boasts charming panoramic views of the cape, just past the piano in the dining room (it's that kind of place). Ultimately, the food here is reliably excellent and plated with finesse.
Reservations are advised. Be sure to check out the guitar signed by Jimi Hendrix mounted on the wall, as well. (The owner is a big collector.)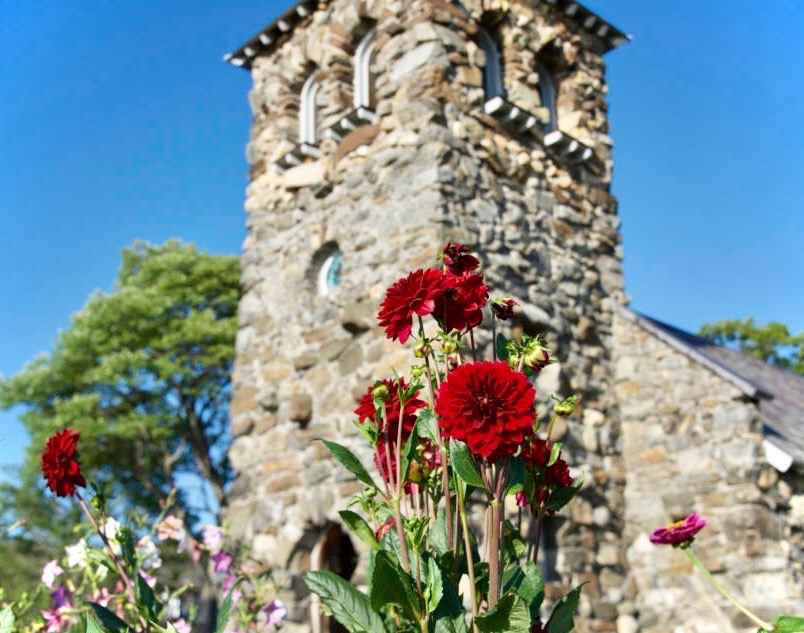 Watch Sailboats from the St. Ann's Church Lookout Point
St. Ann's Episcopal Church is conveniently located off of Ocean Ave on the Kennebunkport Maine breakers. With its unique perch right on the edge of the water, the church's small campus offers a beautiful, contemplative escape just down the road from the Cape Arundel Inn.
The church has lovely stained glass windows and a nice flower garden– but really it's the stellar ocean views that consistently bring people back.
Entry is free to the public as long as it isn't a service holiday or wedding day. St. Ann's is a beautiful spot to take in the sunset after dinner. Some people also like to picnic here. (Just bring your own blanket.)
You might even witness an engagement happening, as this spot is that romantic. Overall, it's one of the best places in New England to watch sailboats drifting across the Atlantic. In the midsummer sun, the ocean sparkles like diamonds.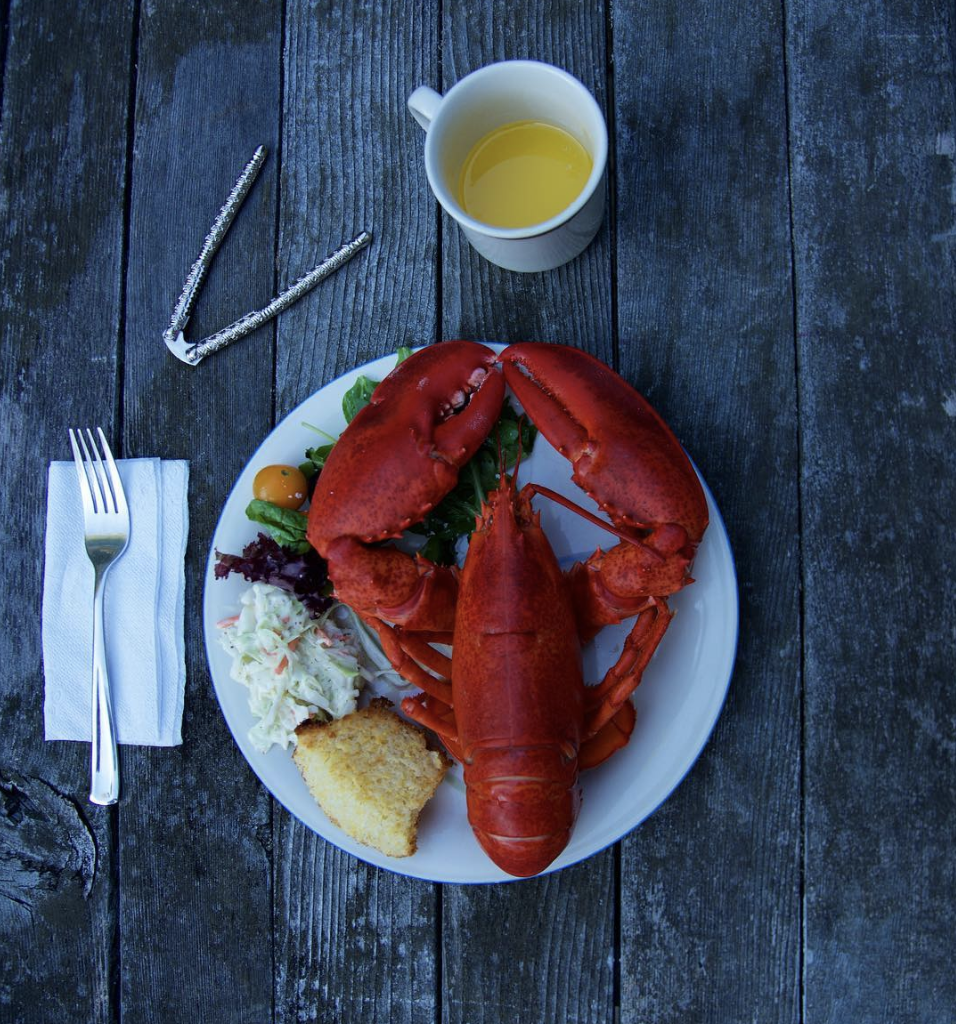 Eat Fresh Lobster– Anywhere!
You can't leave Kennebunkport, Maine, without experiencing a fantastic lobster roll. While lobster rolls, baked stuffed lobster, and lobster chowder can be found on almost every menu in town, we particularly love the hot and cold lobster rolls at the Tides Beach Club (detailed above). You can also get your fix at The Clam Shack, Nunan's Lobster Hut, or The Ocean Roll takeout truck.
The Clam Shack in particular is famous for offering lobster rolls with "butter, mayo, or both". ("Both" is the way to go; it's delicious!) This lobster roll was voted "America's Best Lobster Roll" in 2013. It won "Maine's Best Lobster Roll" on the Travel Channel's "Food Wars." It was Barbara Bush's favorite lobster roll; the former First Lady even wrote a letter saying so.
In addition to the "both" lobster roll, be sure to try their crinkly-cut french fries. (These remind me of Shake Shack's in the best way.)
Nunan's Lobster Hut, meanwhile, offers more of the traditional boiled-or-baked style lobster at competitive prices. The environment is pretty lackluster, but the lobster is good.
Adventurous parties staying in kitchen-equipped rental cottages can also purchase fresh lobster from Langsford Road Lobster & Fish House in Cape Porpoise. In my opinion, this is the best way to enjoy local lobster at home. Cracking your own "lobstah" is a New England rite of passage, after all.
***
Related: Looking for more summer getaways in the Northeast? Read our Essential Hamptons Travel Guide or check out Rhode Island's Most Charming Sunflower Farm.
Headed further afield? Consult our American Cities travel index, which features popular U.S. destinations from Pittsburgh to Honolulu (and everywhere in between).