Cumberland, Maine is a lovely little idyllic town in Southern Maine that's known for its peaceful recreation areas and luxuriously slow summer living. It's full of charmingly expansive farmland, lush wooded areas, and welcoming small town New England heritage that makes it a nice place to, quite frankly, simply wander around.
Having a car is essential– you'll need it to drive between wooded recreation areas!– and, because it's just 11 miles south of Portland and about a 1-hour drive from Kennebunkport, it's a nice place to take a day trip if you want to dodge the vacation crowds and get out into secluded nature.
Many of the nature preserves in Cumberland, moreover, are large enough that no matter what time you visit, you feel like you have the place to yourself. There are pine- and oak-filled forests, hidden ponds with dragonflies and lily pads, and serenely sunlit groves beckoning between uninterrupted stretches of old-growth canopy.
Plus, there are a few charming food stops in town (and one of them is literally named "Food Stop") which are worth exploring if you'd like to picnic before or after a short hike.
Thus, armed with a vehicle, water, and some trail-ready shoes, Cumberland is a great place to explore solo or with family and friends.
Below, we spotlight a handful of cool things to do in Cumberland, Maine. It's a cute hidden gem on the Southern end of the state, especially if you like driving around back-country roads and listening to music between hikes. (Been there, done that, and strongly recommend it!)
***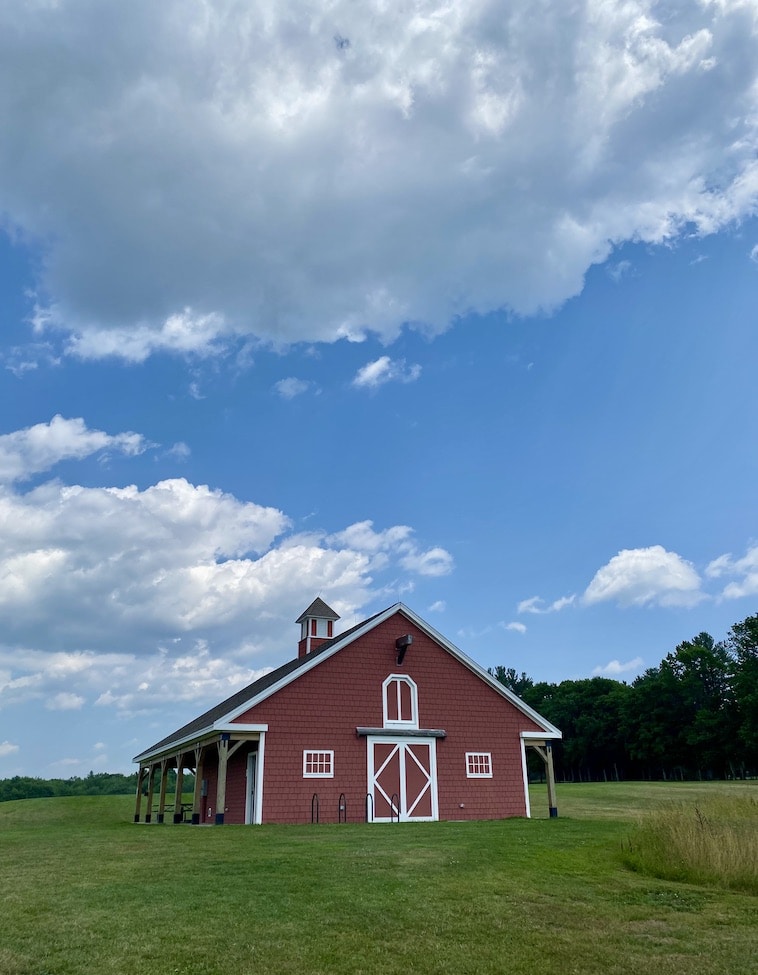 Explore Twin Brook Recreation Area
Twin Brook Recreation Area has some of the area's most beautiful and secluded trails for walking– and it's lovely in all four seasons. This 224-acre forest is respectfully maintained to include about 4 miles of trails for walking, cross country skiing, exploring, kite flying, and even disc golfing.
The park is known for its iconic, photogenic red barn (above shown), which houses public bathrooms, shaded picnic tables, and water for dogs, which are always welcome. Parking is available on-site at the entry points to the trailheads.
The trails here a lovely and inviting– there are both paved and non-paved options. I recommend getting a sandwich and snacks from Food Stop (detailed below) and going here for a picnic in the wide-open meadow. Afterward, go for a walk in the woods.
In the summer, runners can look forward to racing the Twin Brook Barn Burner, a 5K trail race and 1K fun run that turns out the local community for a day of frolicking in the woods. (There's a 2-mile paved trail loop and a .5-mile ravine trail for those looking for more accessible ways to access nature.
The entire experience of being here, moreover, feels like a scene from Bill Bryson's novel A Walk in the Woods— the forest is carpeted in dry pine needles strewn with pinecones and undergrowth, so picturesque it's worthy of being painted.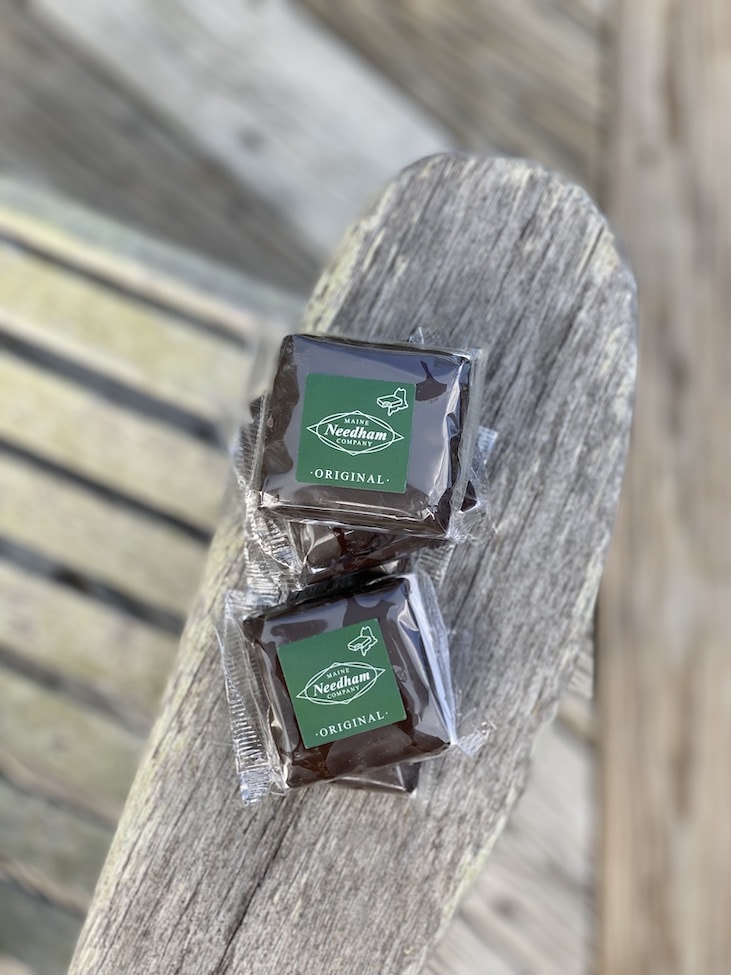 Get Paninis, Needhams, and Other Picnic Items from Food Stop
Food Stop is a very quaint, no-frills local watering hole that pretty much everyone who lives in Cumberland has a special relationship to. Because of its central location across the street from quaint Greely High School, it feels like a true community watering hole, a place where youth, retirees, local workers, families, and the occasional outside visitor collide.
Sandwich-wise, you'd be hard-pressed to find a better panini in town. Food Stop is famous for their sandwiches and the iconic "Stop Sauce", which is the equivalent of what "mac sauce" is to a Big Mac. They're known for it, and they use it as a crowning jewel in most of their sandwiches.
For the classic experience, order the House Panini with your choice of grilled chicken, turkey, or sliced smoked brisket, plus mixed greens, pickled red onion, tomato, cheddar, and Stop sauce on a torta bun. It travels well, but it's even better warm, which is how they'll serve it.
This is also a good place to buy needhams! Needhams are a candy that was created in Maine in the late 1800s. It consists of a blend of Maine potatoes, shredded coconut, and powdered sugar covered in dark chocolate. They're also often infused with a slight peppermint flavor– think of them as the precursors to modern-day peppermint patties.
According to the New England Historical Society and the Maine Needham Company– who sell their signature needhams at Food Stop– "needhams were first introduced by candy maker John Seavey, of Auburn, Maine, around 1872."
Today, you can buy them and a hot sandwich at Food Stop, and then go for a lovely picnic in the woods! (Any of the recreational areas on this list will do.)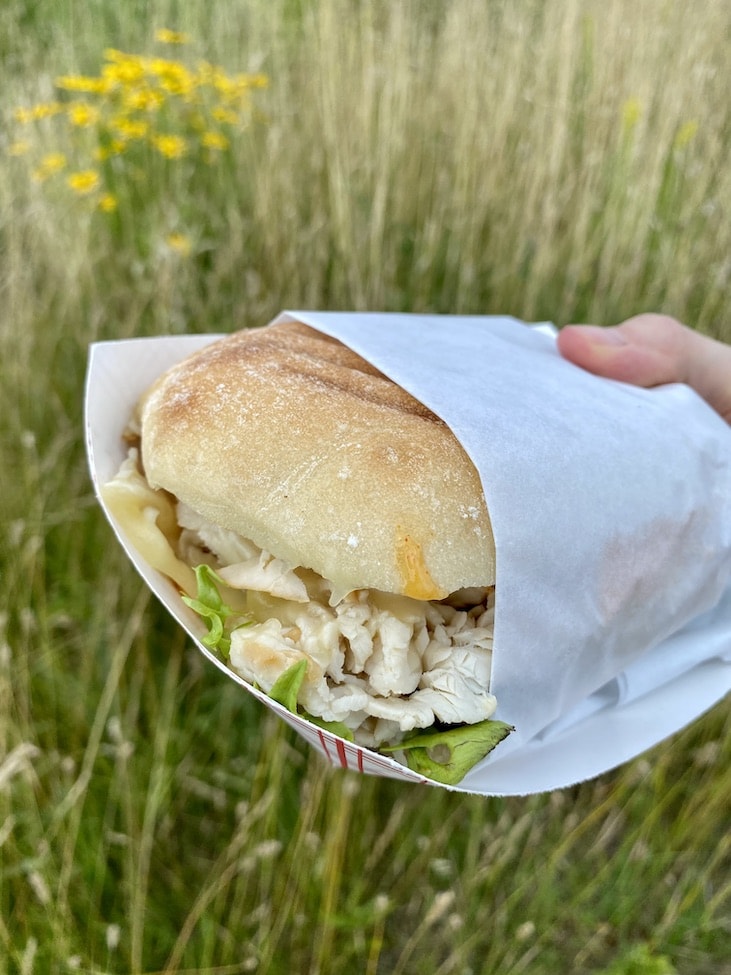 Beyond the paninis, pizza, burgers, wraps, salads, and other grill items like pulled pork and pastrami sandwiches, Food Stop also sells basic convenience store items like cold drinks, snacks, local asparagus, eggs, and potatoes grown right here in the community, as well as super-Maine-y staples like whoopie pies (blueberry and original) as well as SHORTly Gone's Maine-shaped shortbread cookies and local ice cream.
The check-out guy even wears a dapper tie and button-down shirt, as if to appropriately greet the hoppin' lunch crowd. (Seriously, this place is packed around lunchtime even during the weekdays, and especially in the summer.)
While there's some picnic table seating in the sunny parking lot– where a BBQ smoker is constantly going– Food Stop is mostly a grab-n-go destination, thus the name. And that's part of the charm!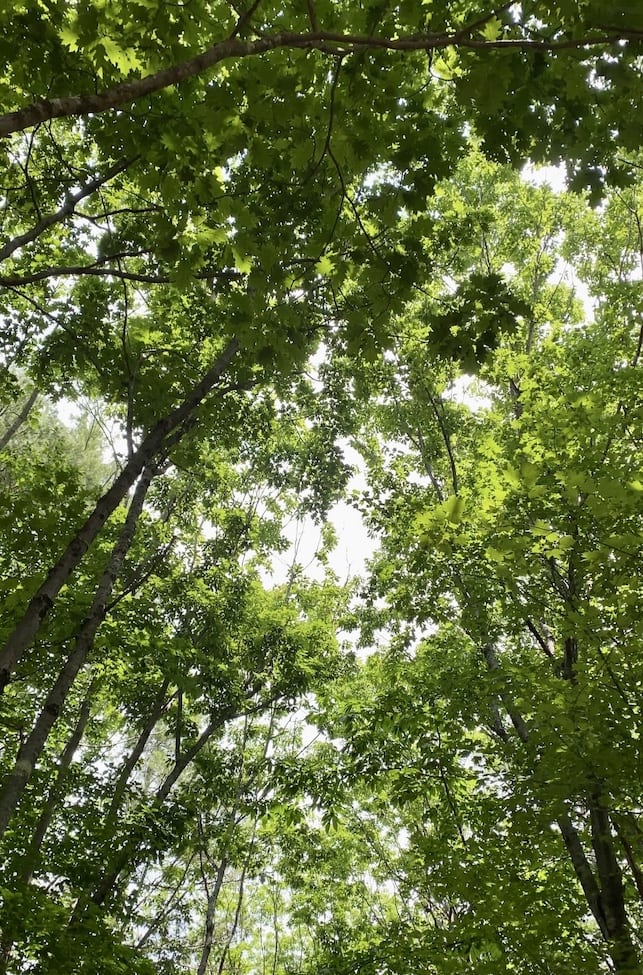 Walk in the Woods at Knight's Pond Preserve
Knight's Pond Preserve features a pretty, glassy, deep blue 46-acre pond surrounded by lovely old growth forest. It's a welcome respite for walkers, kayakers, fitness enthusiasts, and children's camps– the whole gamut.
This is a lovely spot to go for a serene walk in the woods, noting subtle details like the carpeting of pine needles on the forest floor, or the fact that some of the felled trees used to make ad-hoc benches have tiny, discreet red hearts painted on them.
The canopy here is really robust and full, so you don't need to worry about the direct sun. The paths are fully shaded under a dense canopy of oaks, which always cast a cool shade.
Plus, the lake is filled with lily pads and fluttering dragonflies, which gives it a real picturesque Ferngully vibe.
The area is so well-marked and inviting that local summer camps even hold outdoor adventure activities here– a feature that makes it feel even safer for solo walkers and explorers. The trails are also oriented so that you always feel like you have the place to yourself, even when there are people around. It's a lovely dynamic that makes walking here as peaceful as it is pretty.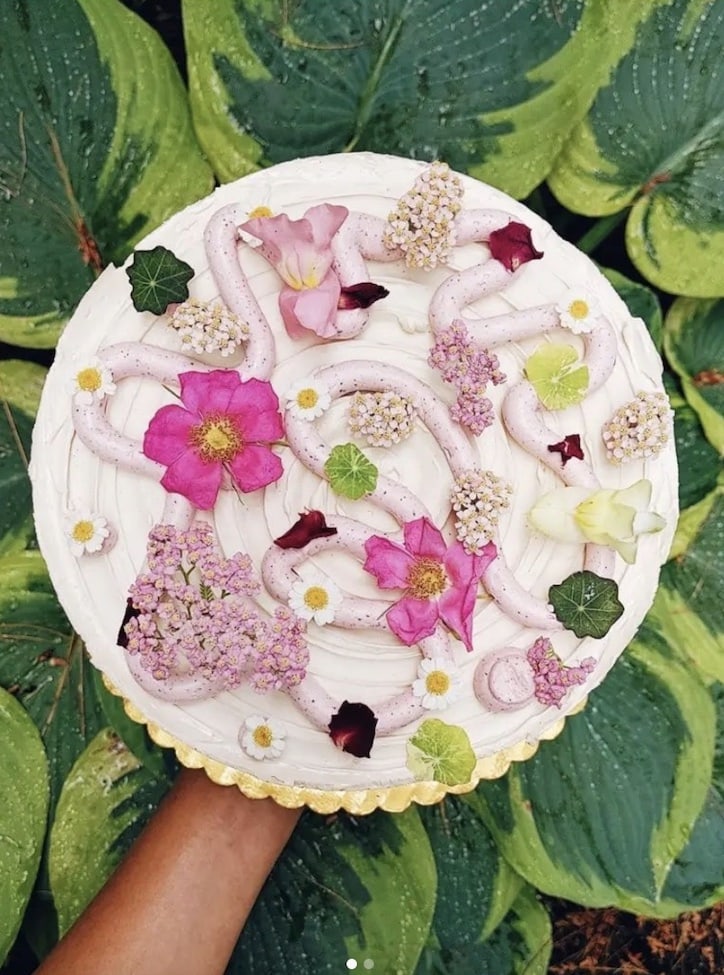 Picnic Locally with Gorgeous Cakes + Cupcakes From Siblings Bakery
Siblings Bakery is a cottage bakery run by Victoria Nam-Sonenstein, who operates out of Cumberland, Maine.
Here, you can pre-order desserts (like the above example cake) as well as beautiful cupcakes and excellent brown butter granola, which are all available for local pickup only. Just be sure to place your order ahead of time online!
Pick up your order in the morning (as of this writing, Nam-Sonenstein usually does pickup between 11 AM and 1 PM most days) and then take them for a picnic in nature. Stop by Food Stop (or maybe even Dara Bistro, depending on the time) to get other grab-n-go lunch items.
Any of the local natural areas on this list– Twin Brook Recreation Area, Broad Cove Reserve, and Knight's Pond– make for a perfect picnic destination.
Recently, Victoria made us two types of cupcakes that were a hit with the whole family: a Devil's Food Cake with peanut praline buttercream, sour cherry preserves, and buckwheat crumble; and a Buttermilk Cake with blueberry basil buttercream, wild Maine blueberry preserves, edible flowers, and a funfetti crumble.
Everything is seasonal and beautifully one-of-a-kind, and she typically offers cupcakes in both chocolate and fruit varieties.
Above shown is an almond chiffon cake with wild blueberries and brown sugar swiss meringue. Custom-order cakes like this will always showcase seasonal fruit and flora, which is a delightful detail that makes these cakes so charming. (And trust me, we know a thing or two about cake.)
Outside of her own micro-bakery, Nam-Sonenstein sells her cakes at Smalls cafe in nearby Portland– a great local coffee shop + marketplace that's worth exploring if you go into the city (it's only 12 minutes away).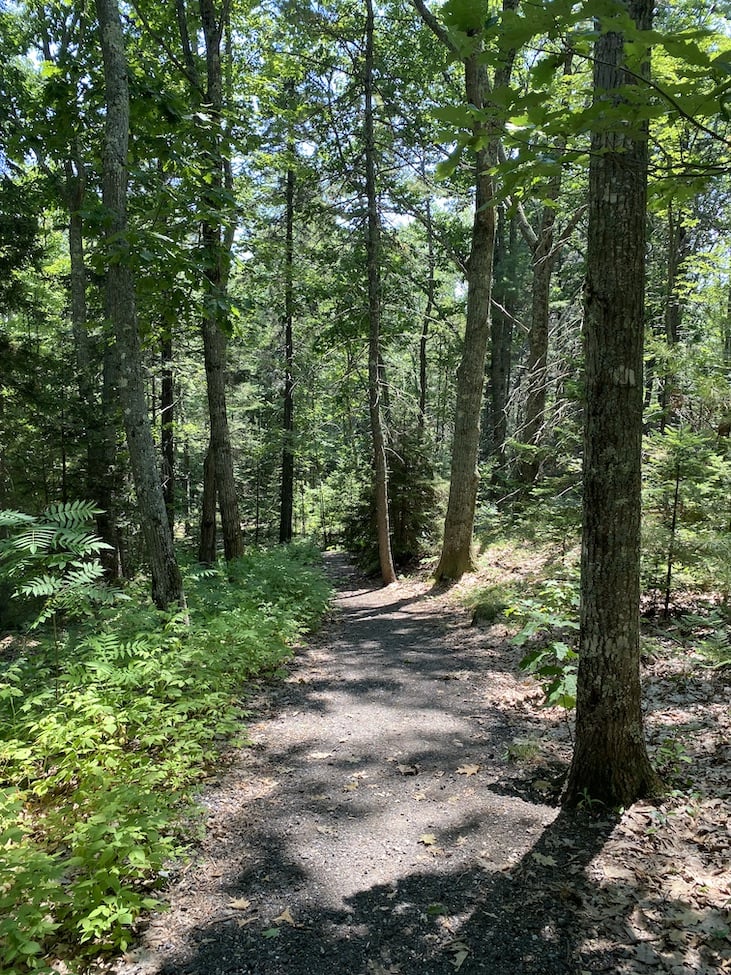 Paddle or Hike Around Broad Cove Reserve
Broad Cove Reserve is a nice place to paddle out on the water and enjoy the cove– or simply walk around near it. There's a secluded beach, a pier, and trails lining the perimeter that makes Broad Cove feel like a quintessential small town New England inlet, with lots of serene, quiet charm.
As a sign on site explains, Broad Cove was once the location of Cumberland's Town Farm. Nineteenth-century Maine law authorized the building of workhouses here to employ locals in agricultural pursuits in the 1800s. Before that, these were important fishing grounds for the Abenaki people.
Today, local homes enshroud and protect this secluded recreational area, which is full of shaded, welcoming paths that are great for hiking in the summer.
It's also a good spot to recreationally walk barefoot (do so at your own risk, but "grounding" is good for the soul) or practice tree-hugging (another stress-reducing hack that can improve cortisol levels, reduce high blood pressure, and improve overall wellbeing).
Water-wise, this is also a good spot to launch a kayak or swim/fish (again, at your own risk) or picnic by the water. The beach is about half a mile from the parking lot downhill.
The cove is open from 6 AM to 9 PM daily. (The address for parking is 179 Foreside Road, Cumberland Foreside, ME 04110. Type it into your GPS as reception can sometimes be finicky!) During the summer months (June-August) a Park Ranger will also be onsite to oversee activity on the property.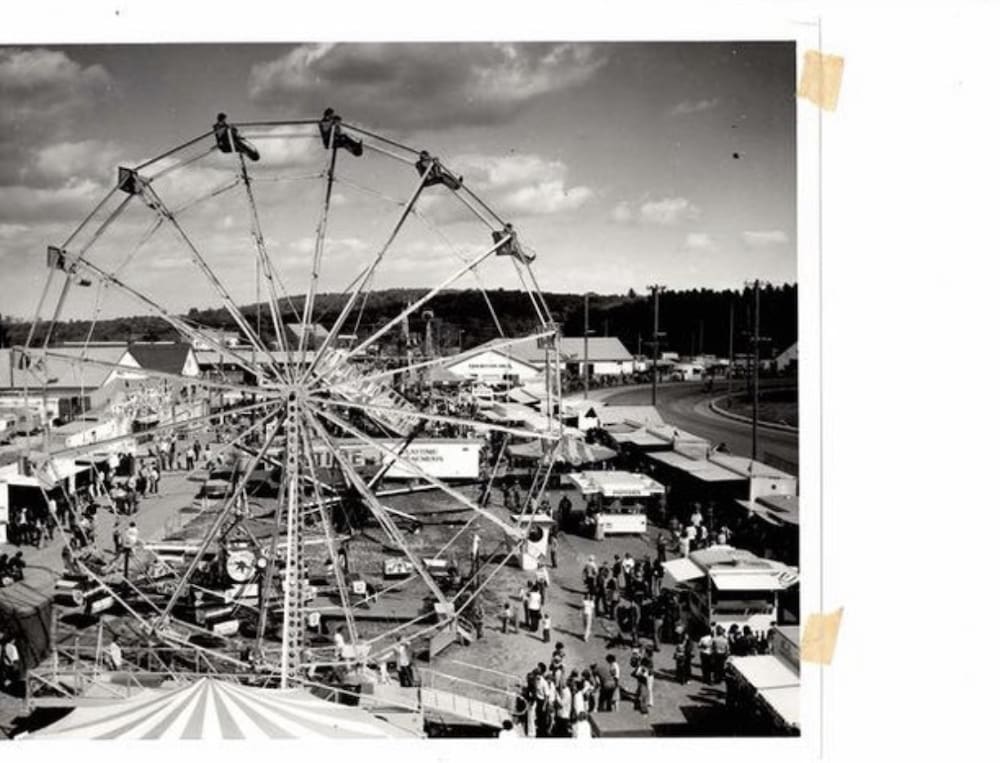 Attend The Annual Cumberland Fair (Last Week of September)
For over 150 years, the annual Cumberland Fair has brought the trappings of a traditional country agricultural fair to the people of Cumberland, Maine.
This annual event has been running since 1869, when it starts as a way for locals to show off their animals (through horse races and ox pulls) as well as cooking and needlework skills. Today, it remains one of the biggest fairs in the state of Maine.
Held during the last week of September in Cumberland, when the weather is just about perfect– it features carnival rides, a petting zoo, carnival fare like fried dough, candy apples, and cotton candy, plus unique farm-related experiences like pig races and pumpkin weigh-offs.
If you see a giant pumpkin, make a wish: the miracles of nature are all around us.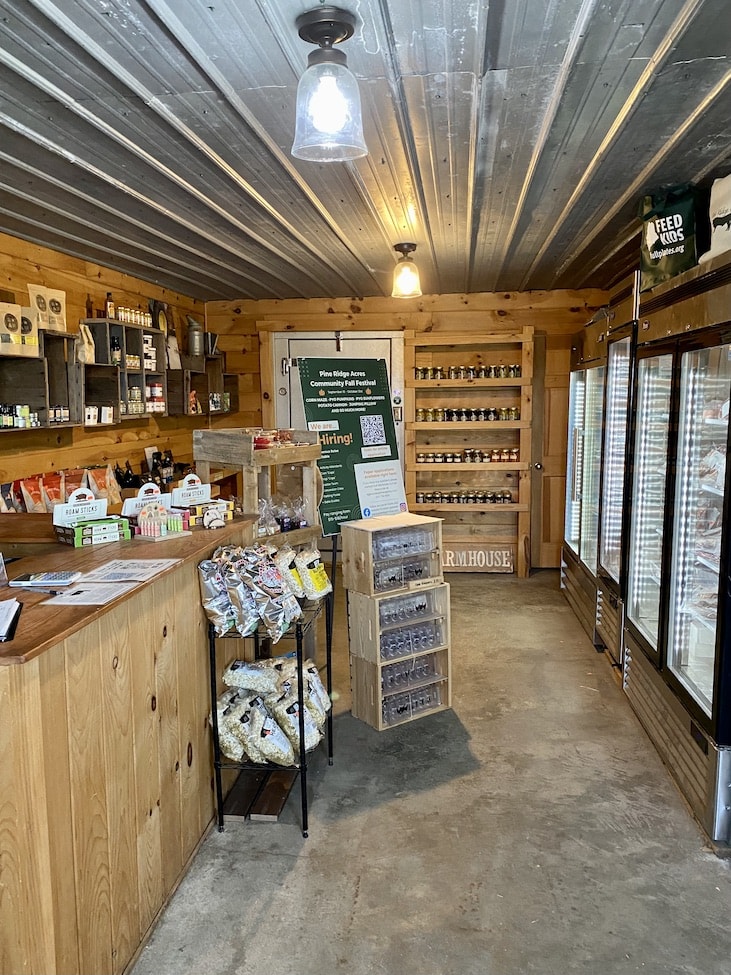 Check Out Pine Ridge Acres' Adorable Honor System Farm Store (+ Community Fall Festival!)
Pine Ridge Acres is a lovely Maine family farm that has an adorable Honor System farm store overlooking the rural Maine countryside.
Here, they sell everything from local milk, bacon, and sausage to strawberry-rhubarb pies, spice blends, locally-made popcorn, jam, pickles, jerky sticks, garlic scape vinegar, and peanut butter made exclusively from Maine-grown peanuts.
There are freezers and fridges stocked with steak, chicken thighs, peanut butter whoopie pies (a local Maine staple!) and lemonade infused with Maine maple syrup. You get the idea. Simply write down what you want to buy on the ledger and pay using Venmo and the shop's QR code. It's adorable!
On your way out, you might even catch a glimpse of a freight train inching through the green hills across the valley. It's super idyllic.
In mid-September to late October, Pine Ridge Acres also hosts a Community Fall Festival with a 5-acre corn maze, PYO pumpkins, PYO sunflowers, a giant Jumping Pillow, Hay Rides, a Potato Canon, Barrel Train Rides, a hay pyramid and culvert slides, PRA "Kattle" Corn, donuts, a petting zoo, food trucks and more! If you're visiting in the Fall, it's worth checking out.
Follow Pine Ridge Acres on Instagram and Facebook for more info.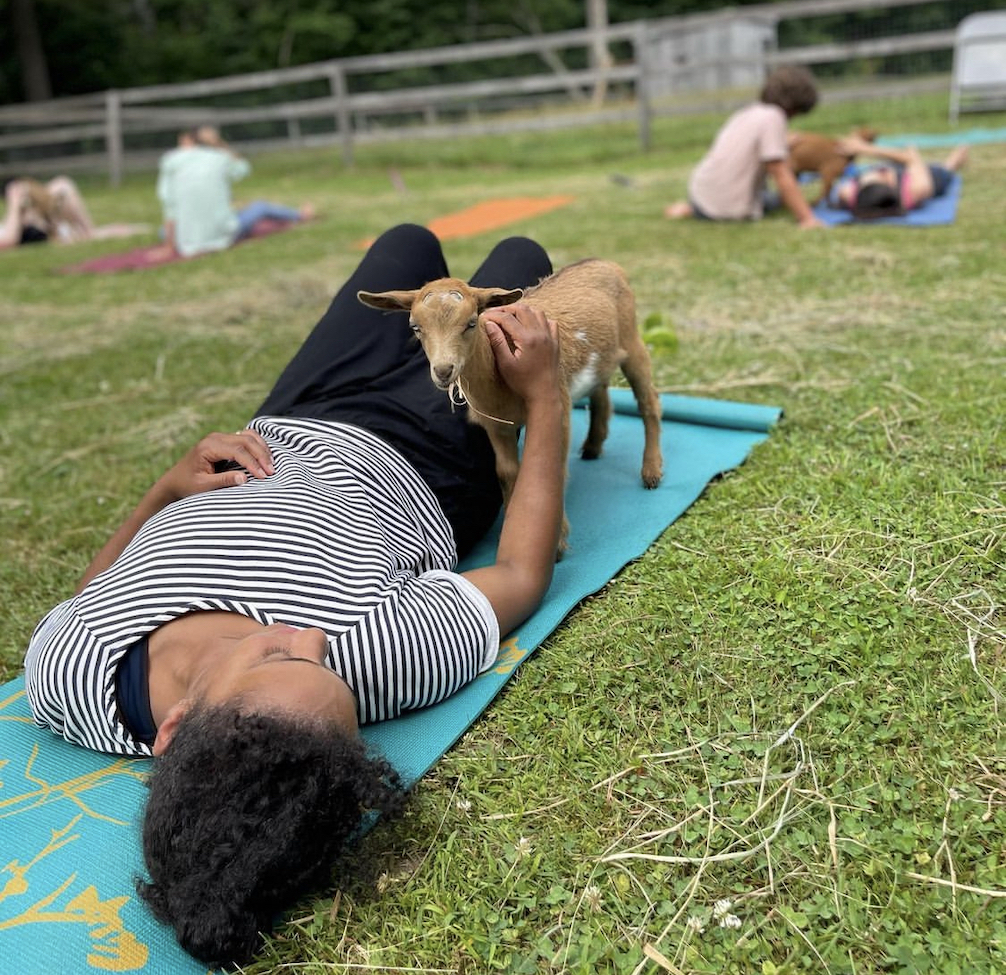 Experience Sunflower Farm Creamery's Nigerian Dwarf Goats
Sunflower Farm Creamery is a Nigerian dwarf goat dairy where you can go to pet the goats, do goat yoga, buy goat milk dairy products, and more!
Following the weirdly-specific goat yoga trend that has gripped the country in recent years, Sunflower Farm Creamery's goat-centric fun will have the whole family smiling.
The farm offers goat yoga twice a week, special events like weekend brunches and opportunities to shop the dairy fridge for specialty items like goat milk ricotta or chocolate chip cookie chevre ice cream sandwiches. (Oh la la!)
Foodies love that you can also buy boutique items like goat milk caramels, chipotle lime & chive chevre, vanilla goat milk yogurt, and goat milk feta. Animal lovers, meanwhile, love cuddling these adorably cute creatures!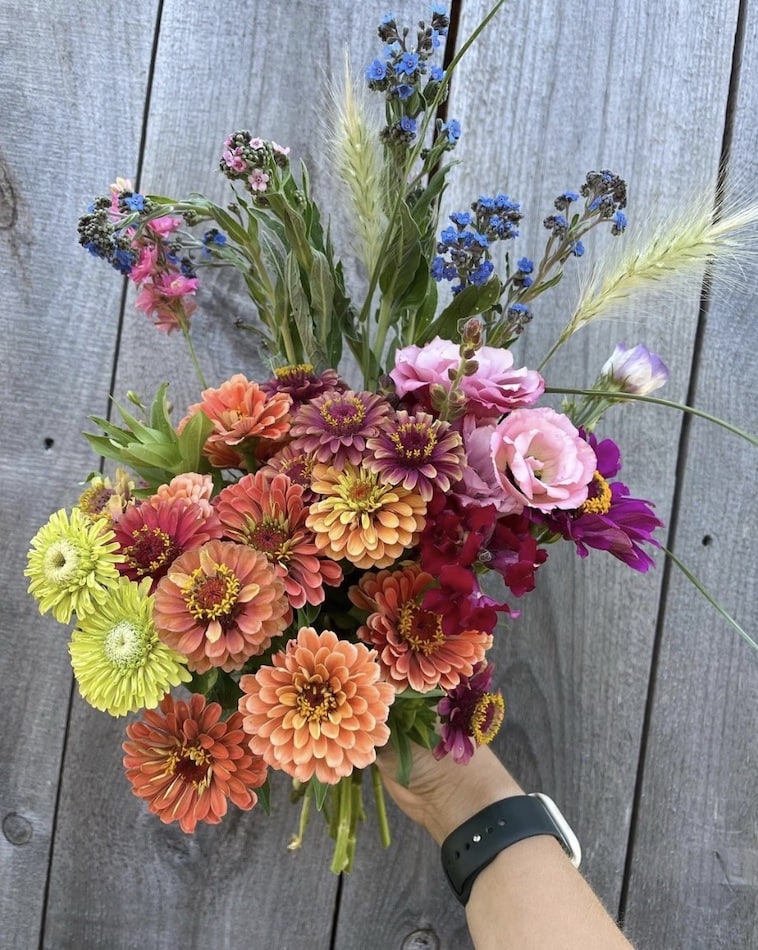 Stop By The Sprout and Bloom Self-Serve Farm Stand
Sprout and Bloom flowers has a self-serve farm stand on a gorgeous stretch of Range Road (72 Range Road in Cumberland, Maine to be exact) that is cheerful and inviting for flower lovers and those seeking a dose of whimsy.
Here, you can pick your own flowers and seasonal stems (e.g. tulips in the spring, sunflowers, and zinnias in the summer, etc) to create a bouquet of your own. Use your own taste and judgment– you could even just buy a single stem if you want.
On your drive over, catch views of boxcar trains cutting through the pastoral countryside in the distance– it's gorgeous in the summer!
Ultimately, the fact that Cumberland is only 12 minutes to the center of Portland makes vistas like this one all the more special. Driving around here as an outsider will make you feel like everyone in town probably knows you're not from here (in a good way). It's that kind of magic.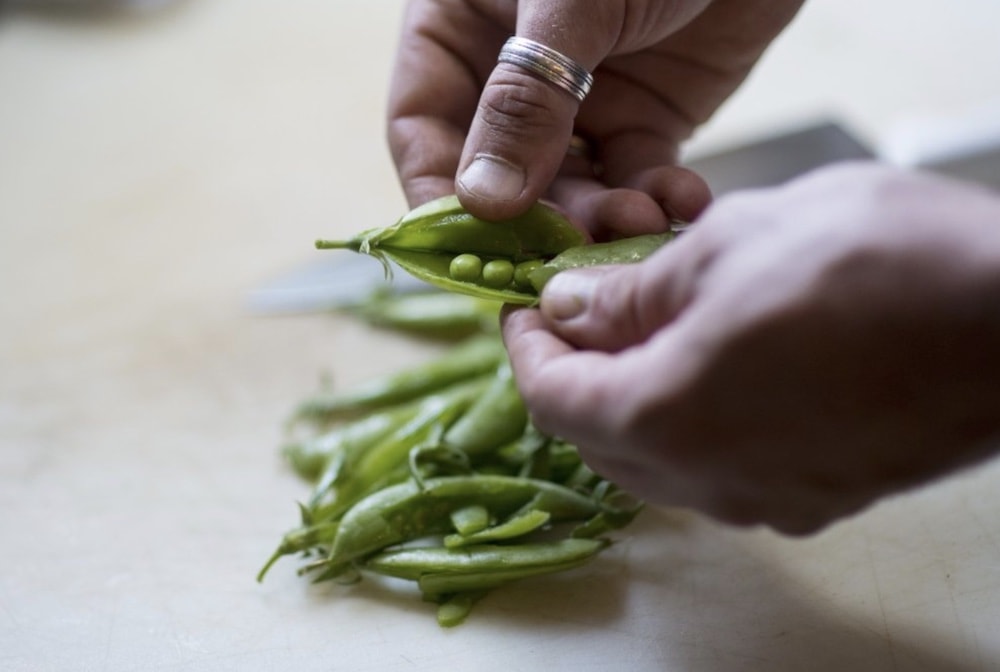 Coffee (AM) or Dinner (PM) at Dara Bistro
Dara Bistro (formerly Cumberland Food Company) is a casual coffee shop by day and a welcoming. more formal dining space by night. No matter which time you visit, the food here is excellent and it's right in the center of town.
They specialize in Southern-style comfort food, but the menu somehow feels appropriate for the local Maine agrarian surroundings, as they use fresh local ingredients whenever possible. The restaurant's building at 371 Tuttle Road was originally a jersey cow dairy farm that dates back to the 1800s.
Thus, the building, which is ensconced in woodlands near a local cemetery, has the simultaneous charm of an old historic home and what feels like a massive, renovated barn.
They have indoor and outdoor dining (weather permitting) and are generally open for dinner from 5 PM to 8 PM on Thursday, Friday, Saturday, and Sunday as of this writing. (Be sure to google their latest hours before visiting; they are very specific!)
Coffee and grab-n-go is available from 7 to 11 AM most days. The menu features items like Bacon Egg and Cheddar Sandwiches and Fruit n' Granola bowls.
Dinner is a decidedly more upscale affair, and the menu changes regularly with the seasons. Suffice it to say, however, that it features beautifully rendered locally-reared dishes like Pineland Farms Bean Salad with slow-cooked egg and goat cheese; Country Pork Terrine & Rillette with crusty bread, radish butter, and Chef Bryan Dame's grandmother's bread-n-butter pickles; and fried Castelvetrano Olives with parmesan, herbs, and goddess dressing– and those are just starters!
Maine Pork three ways, local Bistro Steak, and Pan Roasted Cod with potato gnocchi, trumpet mushrooms, and red wine butter sauce are all recent, delectable offerings, as well. You get the idea.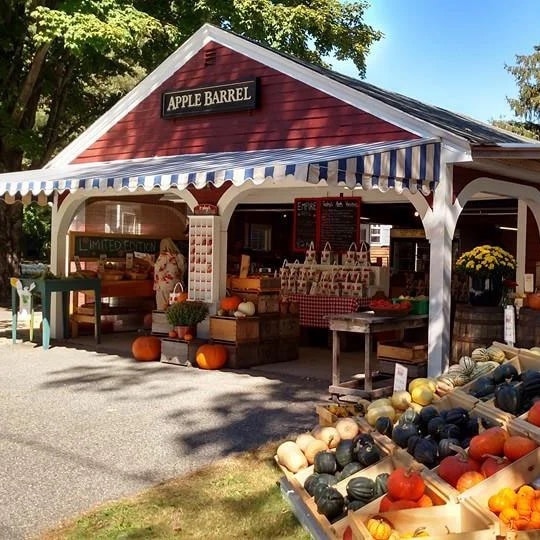 Visit Sweetser's Apple Barrel & Orchards (Late Summer to Fall)
This longstanding family orchard stall is behind a house that initially might not reveal itself from the street– but Sweetser's Apple Barrel & Orchards is a gem of a family operation. Here, they grow over 50 kinds of apples, many of them native heirloom varieties that are hard to find elsewhere.
Ben Davis? Pound Sweet? Blue Pearmain? Duchess? Northern Spy? These are just a few of the apple varieties most visitors will have likely never heard of before. (My favorites are the "Wealthy" apples and the appropriately Maine-y "Snowapple".)
Purists, however, will be happy to see that influential classics like McIntosh and Honeycrisp are also available.
And of course they would be, as this quaint orchard has been a family farm operation since 1812. (The original 1812 home still stands, with an additional ell that was added in 1850.) Accordingly, a few dozen trees here are over 150 years old and still producing fruit!
Some of these apple varieties are available in late August, though most apples at Sweetser's grow through the classic Fall apple season months of September and October. Be sure to mark your calendar– it's nice to head out on a crisp day with a good sweater.
In addition to apples, this farm-style market stall is a great place to buy select vegetables, cut flowers, maple syrup, pumpkins, honey, and cheese, as well as the associated apple cider, apple butter, cider donuts, fresh baked apples pies, pastries, and bread. Everything is made locally– look for Maine food purveyors like Squire Mountain Cheese, Cooper Farms, Two Fat Cats Bakery, Cumberland Baking, and Coastal Maine Popcorn.
Ultimately, it's a quintessential small-town Maine market. But seriously: check out some of their unique apple varieties! They offer everything you could imagine and more.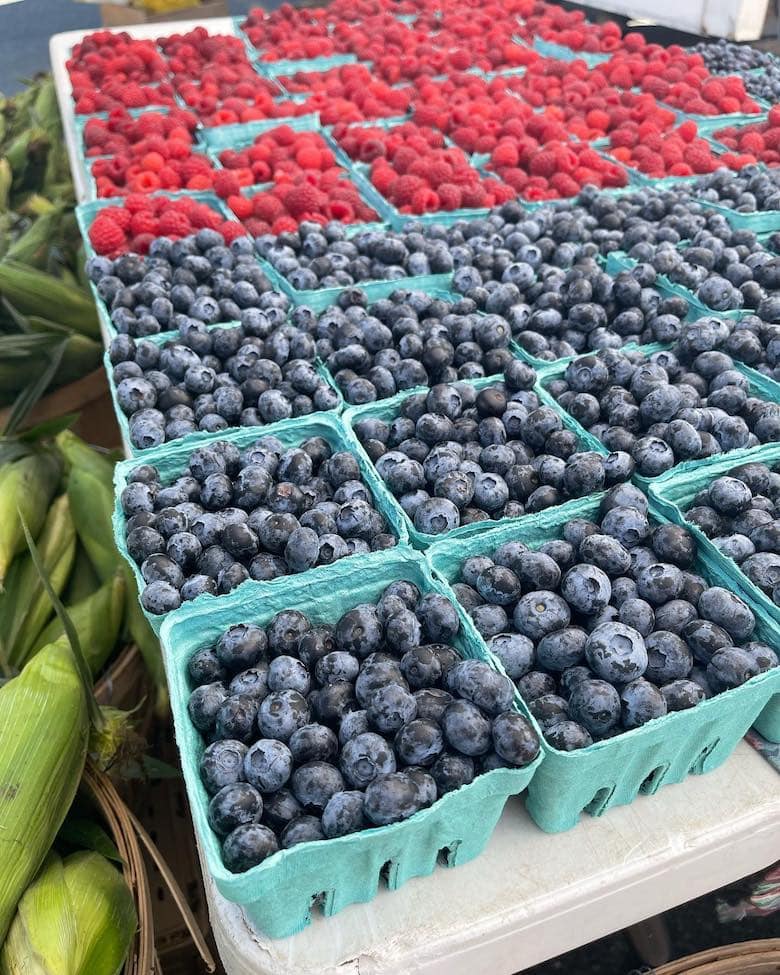 Visit The Cumberland Farmers Market (May-October)
The Cumberland Farmers Market takes place on Saturdays from 10 AM to 1 PM at 290 Tuttle Road, just outside of the Cumberland Town Hall (also in the center of town).
Here, you can shop the riches of the culinary season from mid-May to late October. There's something for everyone, whether you're looking for sweet corn, heirloom tomatoes, local blueberries, radishes, fiddleheads, and greens, or value-added items like locally-baked cinnamon buns, flower bouquets, artisanal soap, and wild-harvested plant medicine.
The whole affair is very low-key, but it has the decided terroir of the place. If you want to get to know the Cumberland community vibe, make this farmers market your first Saturday stop.
***
Related: An Insider's Guide to Kennebunkport, Maine
A Weekender's Guide to Keene, New Hampshire