Searching for the "best" lobster roll in Kennebunkport, Maine, is sort of like searching for the "best" grain of sand on any of the beautiful local beaches: it's hard to find one that's better than the rest. This is because there are so many great options!
As we wrote in our Insider's Guide to Kennebunkport, lobster is a must-eat when visiting any part of Maine. It's the traditional state food, and an iconic summer treat that has locals and visitors lining up across the area's many great seafood restaurants every summer.
That being said, the lobster roll offerings in Kennebunkport are particularly special– and not all lobster rolls are created equal. Pretty much anything you could order in this town will be good, but when it comes to garnering praise as one of the best lobster rolls in Kennebunkport, the below "lobstah" purveyors are a cut above the rest.
Ultimately, if you get a lobster roll at any of the below establishments, you'll have the quintessential Maine lobster roll experience. All of them are excellent and mind-blowingly delicious, so these are in no particular order. But they do each have their own subtle style and panache, which is what makes them all worth seeking out, for different reasons.
Bookmark this list for easy reference later and taste your way through this charming little New England town.
Enjoy!
***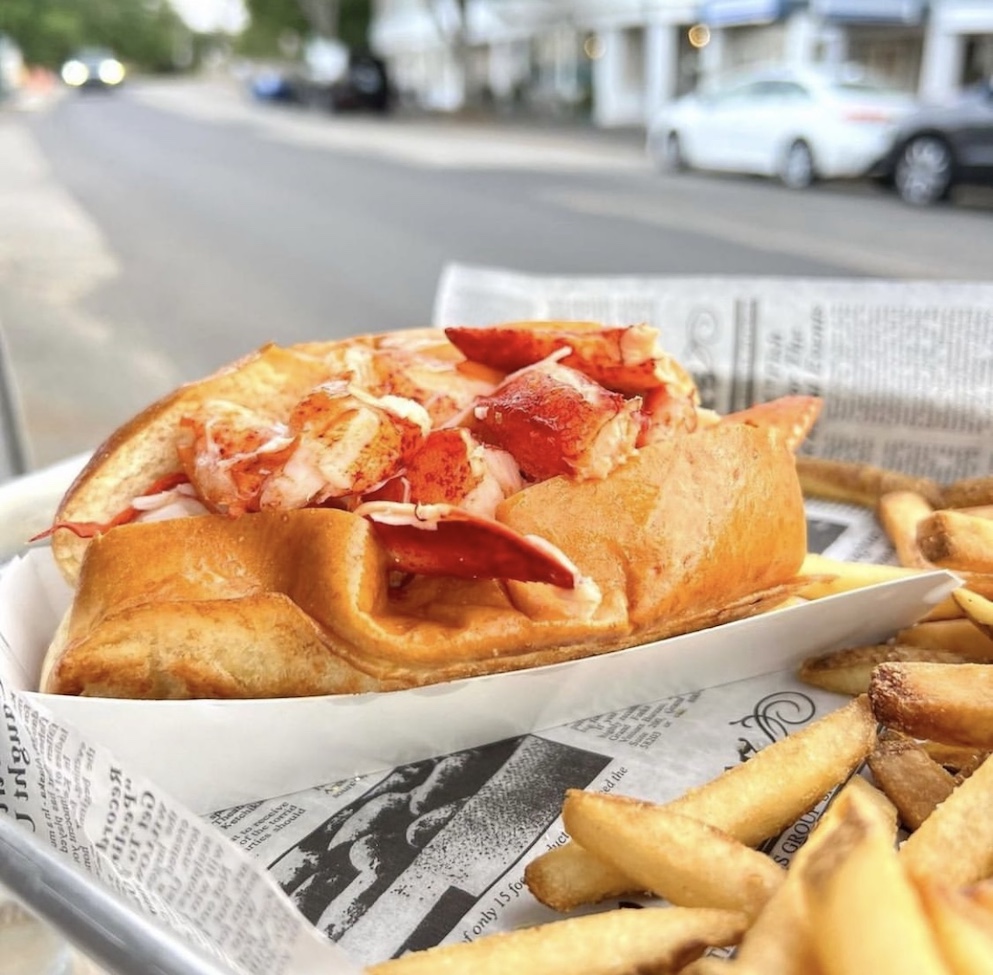 Mabel's Lobster Claw
Mabel's Lobster Claw serves what is one of my personal favorite lobster rolls in Kennebunkport, nestled on a butter-grilled potato bun that is lovely and ethereal. (They also do an amazing lobster cobb salad for those who want to enjoy lobster without the bun.)
Mabel's, moreover, is fast and efficient, great for takeout, and they know how to play the hits. Often the claw meat is artfully situated atop their lobster rolls, as if to say, "We know this is exactly what you wanted."
As a result, every summer when my family is in Kennebunkport, we get multiple take-out orders from Mabels– our local tradition.
As an added bonus, the fries here are also great– try them with malt vinegar for a quintessentially New England experience. Everything is served on a quaint newspaper placemat of sorts, which is part of the charm. (This is only if you dine on-site, of course.)
We also like that this classic lobster roll establishment is situated off the Kennebunk River, away from the tourists of Dock Square. For this reason, it always manages to feel much more secluded even when it's hoppin' (like on the weekends or near the 4th of July).
Ultimately, it feels like a best-kept secret that all the locals love– and in town with this many lobster roll options, that's sayin' something.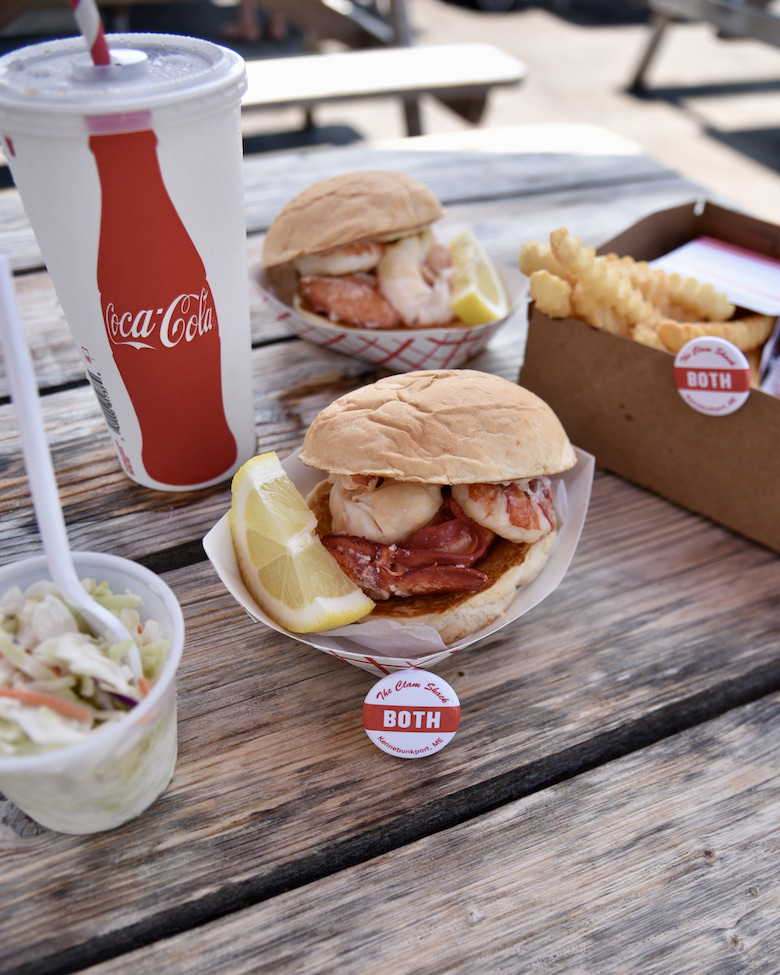 The Clam Shack
The Clam Shack is known for the cheeky premise that begins when you order your lobster roll: "Would you like mayonnaise or butter, or BOTH?" They will ask you. (Ideally, get both.)
While the classic New England-style lobster roll is served cold with mayonnaise, the butter option is great for enjoying the depth of lobster flavor. And the option to get "both" just drives the whole experience over the top.
If you're looking for a quick, popular lobster roll in Dock Square, The Clam Shack is not only your best bet– it's the defacto choice. This place has been around for decades (since 1968, to be exact) and in that time they've garnered praise from everywhere from the New York Times to Travel + Leisure to Yankee Magazine.
At one point, Barbara Bush wrote a letter saying it was her favorite lobster roll anywhere (the restaurant still has a copy on its bulletin board).
Another aspect of this lobster roll that's unique here is the round bun. Their signature "Reilly Roll" comes from fellow local establishment Reilly's Bakery in Biddeford, Maine. Here, the family-run bakery churns out hundreds of these slightly sweet rolls daily, as their sweetness compliments and balances the salt in the Clam Shacks lobster.
Because most Kennebunkport lobster establishments serve their rolls on hotdog-style buns, the bread here is a real differentiator.
Other than that, The Clam Shack is known for serving super-fresh, locally caught lobster and seafood right on the water. (The shack itself seemingly hangs precariously over the river, adjacent to the bridge.) You'll know you're in the right place when you see the line of tourists backing up into the neighboring gas station.
The digs aren't exactly glamorous, but the service is fast and fun. Eat outside on picnic tables or take your roll to go. (This is another great take-out spot.)
And, if you're still deciding whether or not to get "both" mayonnaise and butter with your lobster, consider that this is the only place in town that will give you that option. They make their iconic "Both" pins for a reason, after all.
The Tides Beach Club
The Tides Beach Club is a Goose Rocks Beach establishment that makes what is one of the most nostalgic lobster rolls in the area. They famously serve two lobster roll options: hot with garlic herb butter or cold with chive, mayonnaise & lemon.
For a while, the Tides was the only spot in town that served a hot lobster roll, and theirs is still iconic even as the trend has caught like wildfire throughout Kport.
Periodically, the chef switches up the specific hot lobster roll flavor profile (will this season feature lemon brown butter or garlic n' herb butter? who knows!) and that's part of the charm. The lobster rolls here, moreover, always deliver on both flavor and presentation. The plates and proportions are perfectly sized.
Recently, the Tides also started offering lobster bao buns and whole chilled lobster in their raw bar (served with cocktail sauce; not your mama's shrimp cocktail!).
Ultimately, something about the Tides' historic home setting invites a tidy, cozy intimacy that pervades even the food. I love going here for early dinner and cocktails while listening to beach waves lapping the shore across the street. 🙂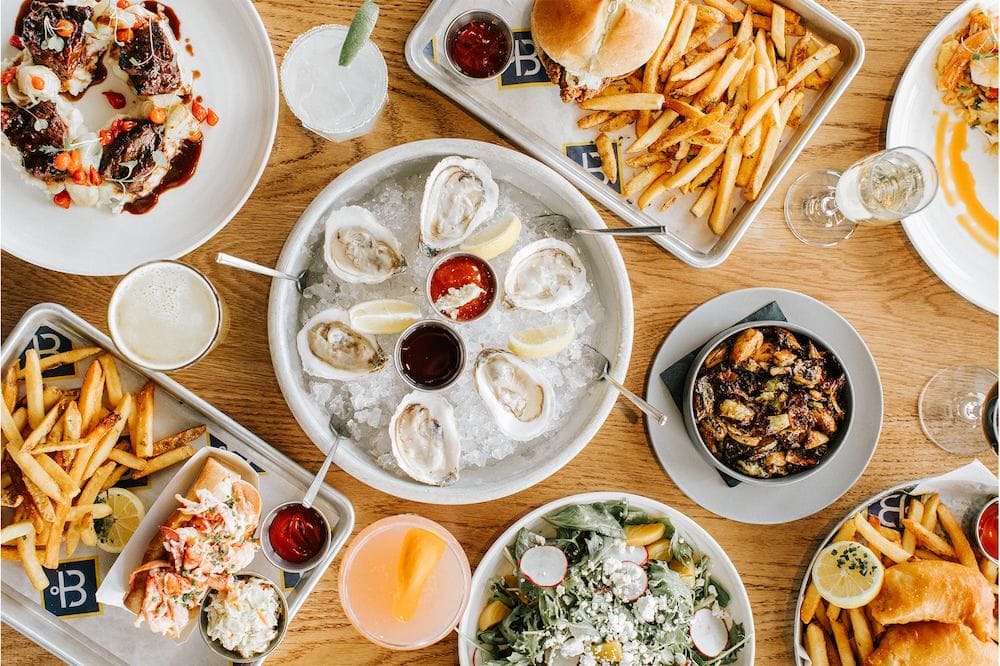 The Boathouse
The new school classic lobster roll at The Boathouse— a boutique hotel and restaurant in the center of Dock Square– is a noble contender for the best lobster roll in town.
Their signature lobster roll features fresh-picked knuckle and claw meat dressed in Kewpie mayonnaise (a cult-favorite condiment among lovers of Asian food) with lemon on a toasted New England-style hot dog roll with fries. The use of Kewpie mayo adds a smidge of umami to the classic mayo dressing used in traditional lobster rolls, without masking the succulent, sweet flavor of the lobster meat.
FWIW, this is also a great place to get oysters and other fresh-from-the-boat seafood. (As we wrote in our Insider's Guide to Kennebunkport, they have the best raw bar in town!)
Ultimately, the Boathouse has seemingly mastered the art of paying homage to tradition while modernizing the whole "fish house" experience. Here, it's a very elegant affair, no matter how you shuck it.
And, with serene views across the Kennebunk River and marina, it's a great backdrop against which to enjoy your lobster roll. If you're looking for an upscale, sit-down lobster roll experience in the heart of Kennebunkport, this is the best place to go.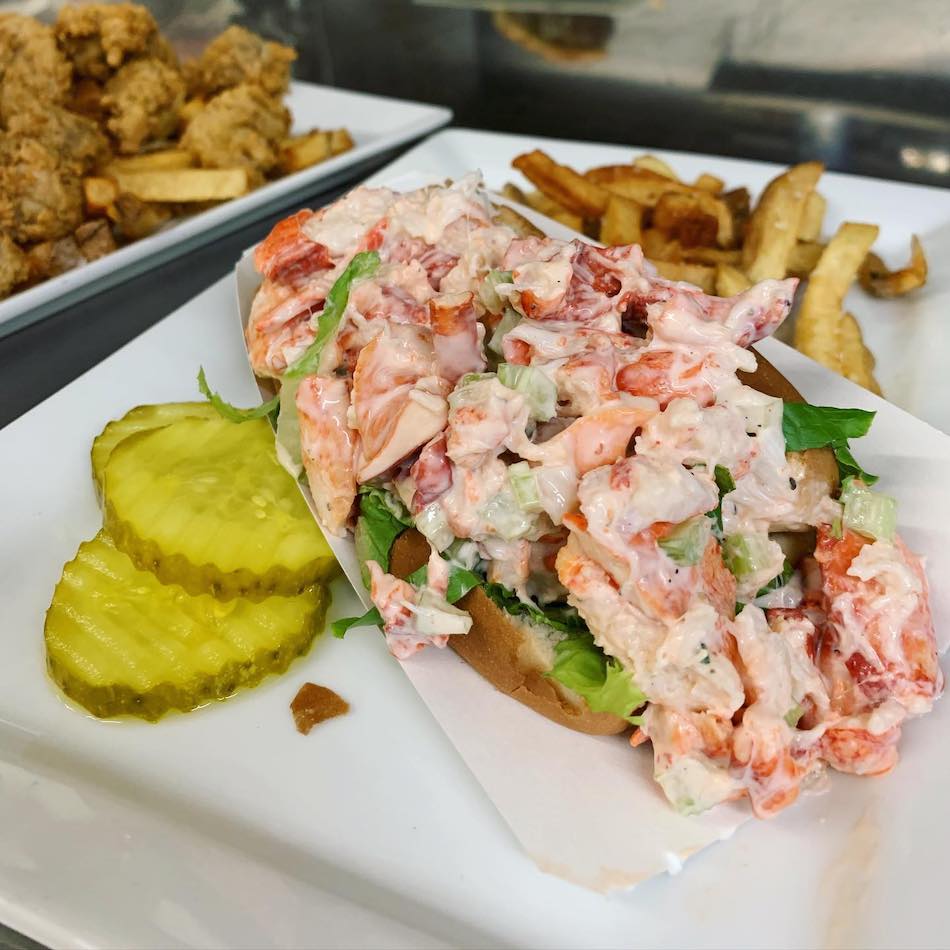 Hurricane Restaurant (Lunch Only)
The house lobster roll at Hurricane Restaurant is a rich, perennial crowd-pleaser. Here, they stick closely to tradition, serving their lobster roll with the classic mayo and celery preparation, with a choice of sweet potato or regular fries, coleslaw, seasonal vegetable, or side salad.
Hurricane is an upscale restaurant, so they only serve their lobster roll at lunch.
At dinner, expect a more elaborate range of hot lobster offerings, like a classic New England baked stuffed lobster (featuring crab meat, shrimp, and Ritz cracker stuffing with sea scallops and drawn butter) and boiled hard shell Maine lobster with PEI mussels, white wine, and garlic broth with drawn butter.
And, FWIW, they also do a lovely lobster eggs benedict for the weekend brunch crowd.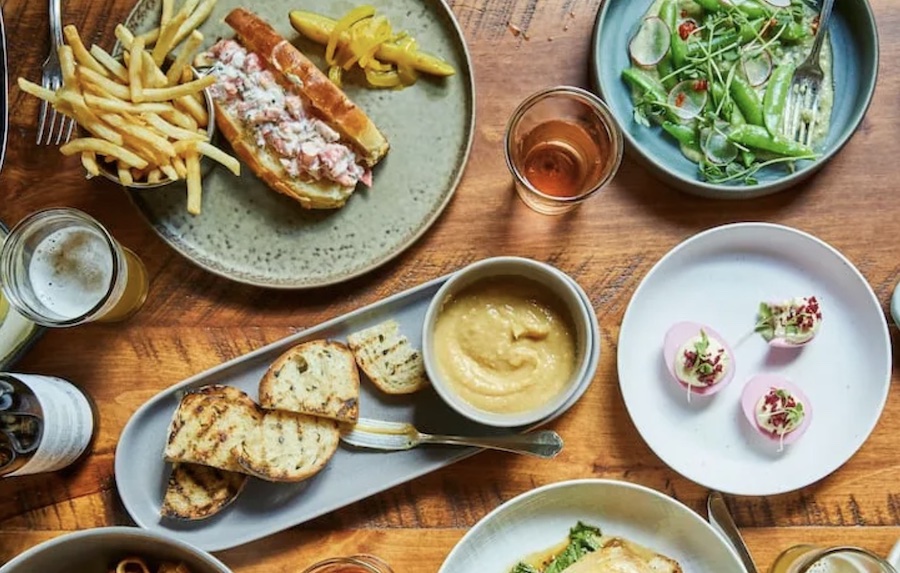 ~Honorable Mention~
***
Related: An Insider's Guide to Kennebunkport, Maine.