The best restaurants in New Haven, Connecticut are often those located in and around Yale. This is just the reality of having a proximate population of hungry students and faculty from all over the world who have a wide variety of interests and culinary preferences.
As a result, the restaurant scene in New Haven is multifaceted and diverse. This is why it's so amazing. There's a veritable smorgasbord of options ranging from casual to fancy, with lots of quintessential homespun New England cuisine and international offerings to delight and inspire.
While the student population is constantly changing, various New Haven staples have stood the test of time. Many of them– like Atticus Bookstore Cafe– are both community staples and change agents working to improve the quality of life in New Haven through food.
Whether you're swinging by Claire's Corner Copia for all-natural vegetarian bites, or hitting up Basta for locally sourced Italian cuisine, the ethos of "doing good through food" pervades the city.
Below, we spotlight a handful of cool restaurants in and around Yale that are doing just that– and making some of the best food in New Haven in the process.
Also, A Word
P.S.: Some parts of New Haven are better than others. The reputation as the sometimes-seedy city where Yale is located is based stereotype, but it's also not necessarily fair, addled by racial insensitivity and classism.
Do your part to support the local community by supporting restaurants that have the city's best interest in mind. (Again, we direct you to any of the restaurants on this list.) You'll be doing good and eating well. Enjoy!
***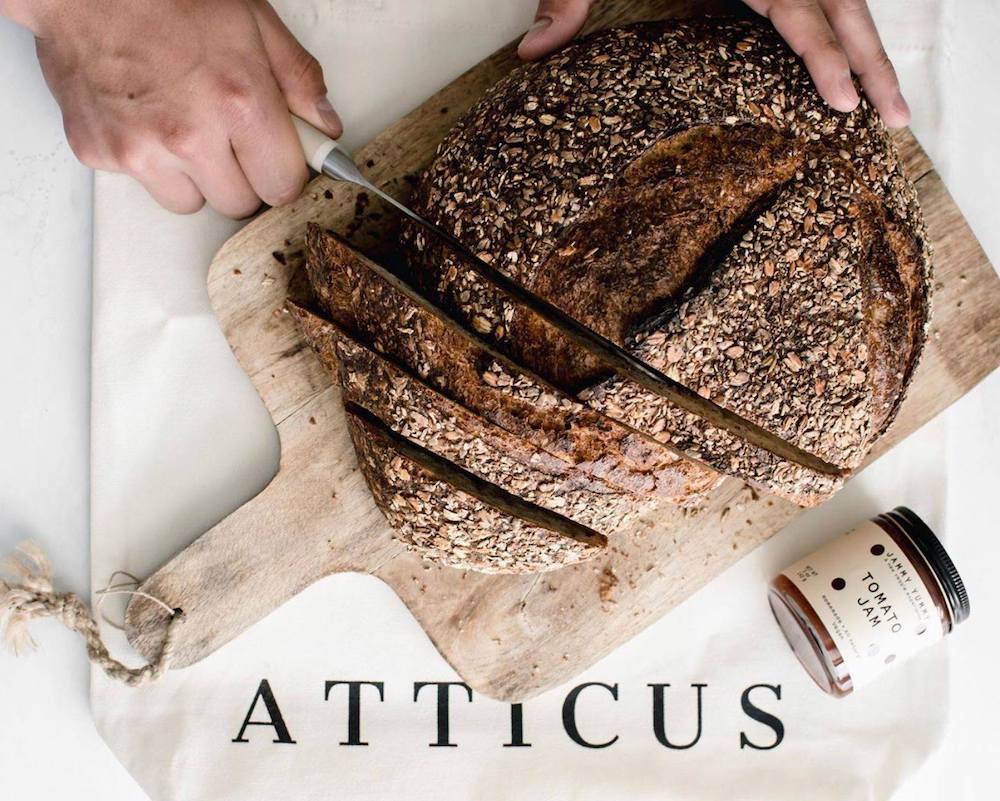 Atticus Bookstore Cafe
Atticus Bookstore Cafe is a lovely little cafe inside a bookstore that serves excellent salads, soups, sandwiches, and awarding-winning bread and pastry products made from locally grown New England grains, made of which are grown right in Connecticut.
This is particularly intriguing because the majority of grains grown for consumption in the United States are from the Midwest. (The cafe aims to create a truly sustainable local grain economy by creating partnerships between farmers and bakers in the region. Increasingly, they work with local farmers to source grains grown in the state of Connecticut, specifically.)
Atticus Bookstore Cafe has been doing this, and "supporting a more connected, thoughtful New Haven" since 1975. Naturally, the food is excellent, and the book selection is even better.
Have lunch on site– we love the poached pear salad, the miso squash toast, and the honey lavender latte. Avocado toast and smoked salmon toast are also popular staples. After eating, take home some porridge bread or a rye shortbread cookie for later. Oh yeah, and the green cardamom and lemon financiers? To die for.
As with all the baked goods, the secret lies in the locally-sourced flour. At Atticus, moreover, bread and books reign supreme. This cafe is casual, but it's also one of the best restaurants in New Haven. It's lovely.
FWIW, Yalies love a bookstore cafe, and there is another great cafe-slash-bookstore right down the street called Book Trader Cafe. They do great coffee and lite bites, specializing in academic books and artistic titles.
We love their glasshouse/ greenhouse-like seating area. Here, you're sure to find students poring over books and their laptops, drinking lattes at all hours of the day.
If Atticus is full– or if you're by yourself and don't want a full-on meal, this cafe is a great alternative. (However, if you're a book lover and you're already on Chapel Street, you can also easily go to both.)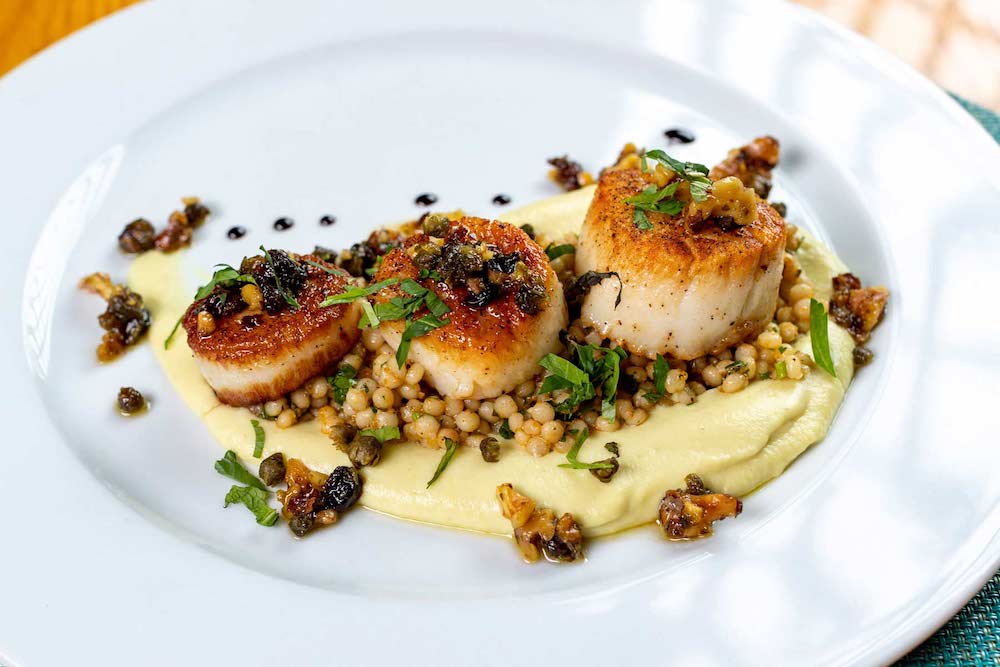 Atelier Florian
We love Atelier Florian's bright, inviting dining room, which serves excellent "sea and meat" delicacies at the critically acclaimed restaurant and raw bar. Here, you'll find all the latest menu trends: crispy brussels sprouts, blistered shishito peppers, lobster ravioli, beet salad with goat cheese, and pecans. They even offer Faroe Island salmon! But upon further exploration, regulars will note that what makes this New England seafood hot spot really unique is its mussels.
The restaurant has a dedicated "Moules Frites" section of the menu, which features a rotating collection of themed preparations. For a light, fresh take, opt for Tequila (tomato, onion, celery, red bell pepper, garlic, tequila sauce, and roasted jalapeño).
Or, try the Provençale (a classic preparation of tomato passata broth, olive, fennel, caper, garlic, and saffron). Each serving is two pounds of mussels that are delivered fresh daily. (Not a bad supply line for an urban restaurant.)
They also have an exhaustive, delicious brunch menu. Also, many of the items on the menu (lunch, dinner, and brunch) are gluten-free and vegetarian.
As a result, Atelier Florian is a great option for people with allergies. The upscale environment is also good for dates and dinner when your parents are visiting you at Yale (just sayin').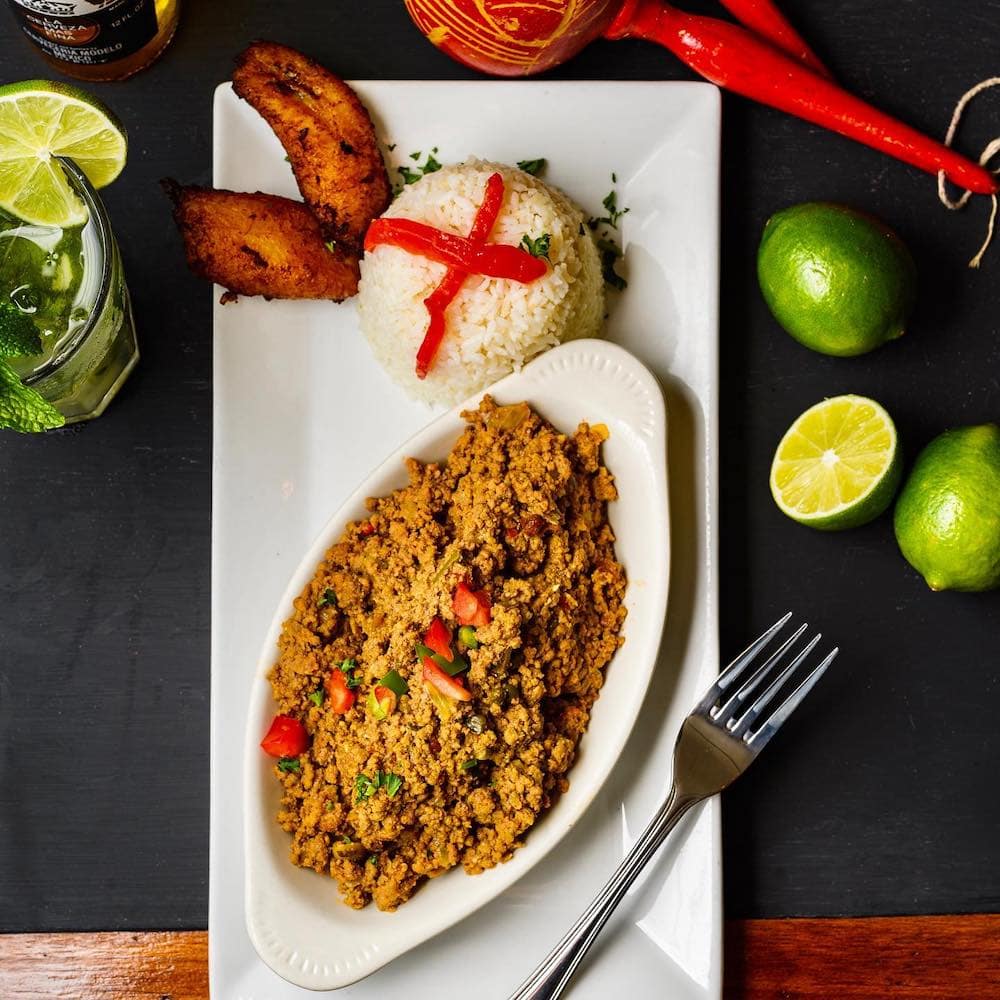 Soul de Cuba Cafe
This excellent, homey Cuban restaurant is constantly innovating its own heritage cuisine. Soul de Cuba is THE go-to spot in New Haven if you want an exquisite Cubano sandwich, but El Picadillo and the signature Ropa Vieja (shredded flank steak with vegetables and rice, Cuba's national dish) is also delightful. As New Haven's best Cuban restaurant, Soul de Cuba more than earns its praise. Locals love it, as do visitors to the area.
True to the Cuban spirit, portions are generous and the flavors honor tradition. Consider, for example, the Lechon Asado (a typical celebration dish of Cuban roast pork), which features pork marinated and simmered in a traditional mojo sauce with garlic, onion, citrus, and vinegar. Served on a massive bed of rice, beans, and plantains, it's enough food to feed three people!
The mint mojitos and seafood dishes are also lovely. We recommend the Cangrejo y Camarones Enchilado– spicy lump crab meat and tender shrimp in a sweet n' spicy tomato-garlic sauce over angel hair pasta. This picture says it all.
Apart from the food, we love the family photos and religious iconography dotted throughout the restaurant, which lends the space a really integral, authentic aesthetic. Eating here feels like family.
As a result, it draws a crowd. Be sure to make a reservation ahead of time.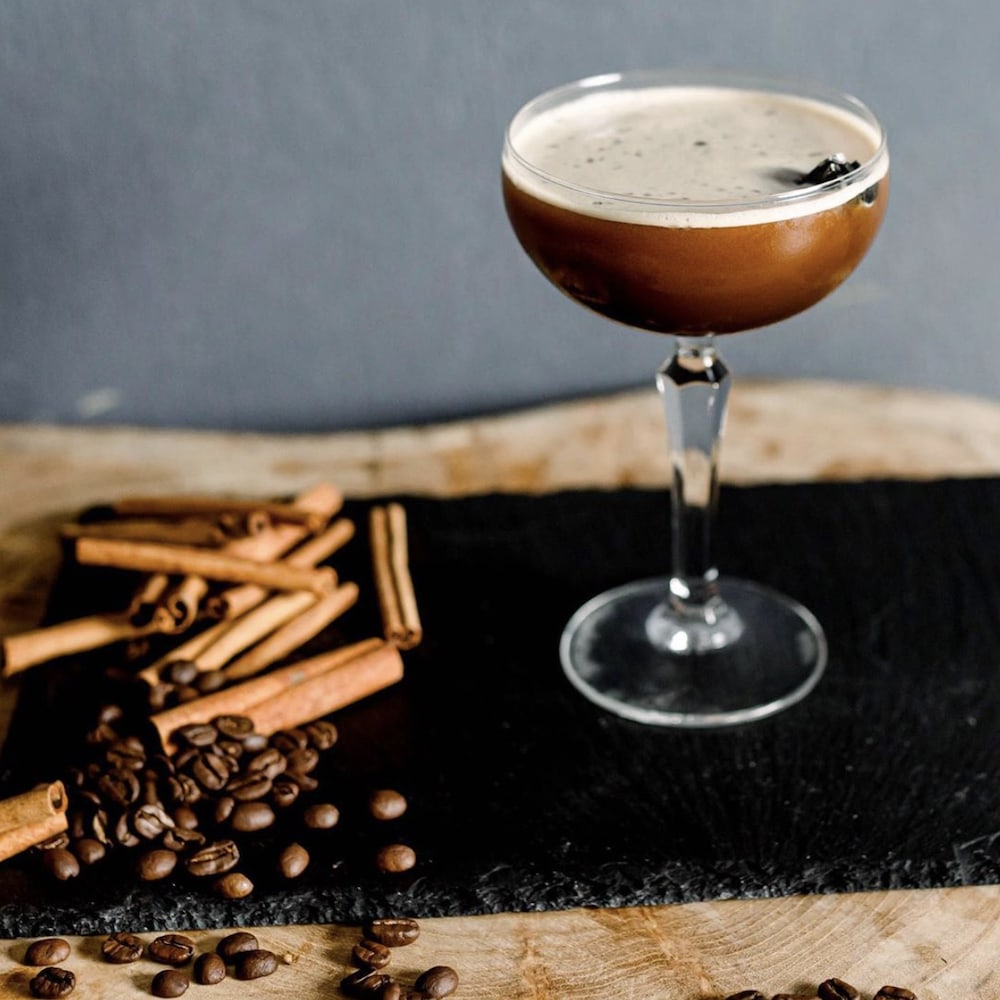 Heirloom
At Heirloom, the food is beautiful, seasonal, and well-sourced– though some might find it a little pretentious (but it is Yale, after all). Located within The Study at Yale, a 4-star hotel near Yale's campus, we like them best for a fresh, elevated lunch or fancy dinner. (Expect to see lots of parents visiting their children, that's the vibe.)
The cocktails here are excellent, adorned with cheekily dignified names like "Churchill's Breakfast". (A mix of Rittenhouse Rye BIB, Illy cold brew, maple syrup, Angostura bitters, and cinnamon smoke, above.)
We also love their salads, the signature kale frittata, and the warm local ricotta appetizer. Local cheese lovers, rejoice!
Dinner comes from land and sea, featuring signature dishes like baked, stuffed Connecticut Clams Casino, Seared Maine Sea Scallops, and a grass-fed Connecticut burger. The local oysters and New England clam chowder are also always on point.
Seafood lovers enjoy the beloved New England Bouillabaisse (a New York Times critic's favorite). Heirloom also does a mean CT lamb ragu. Ultimately, no matter what kind of protein you're interested in, you can't really go wrong.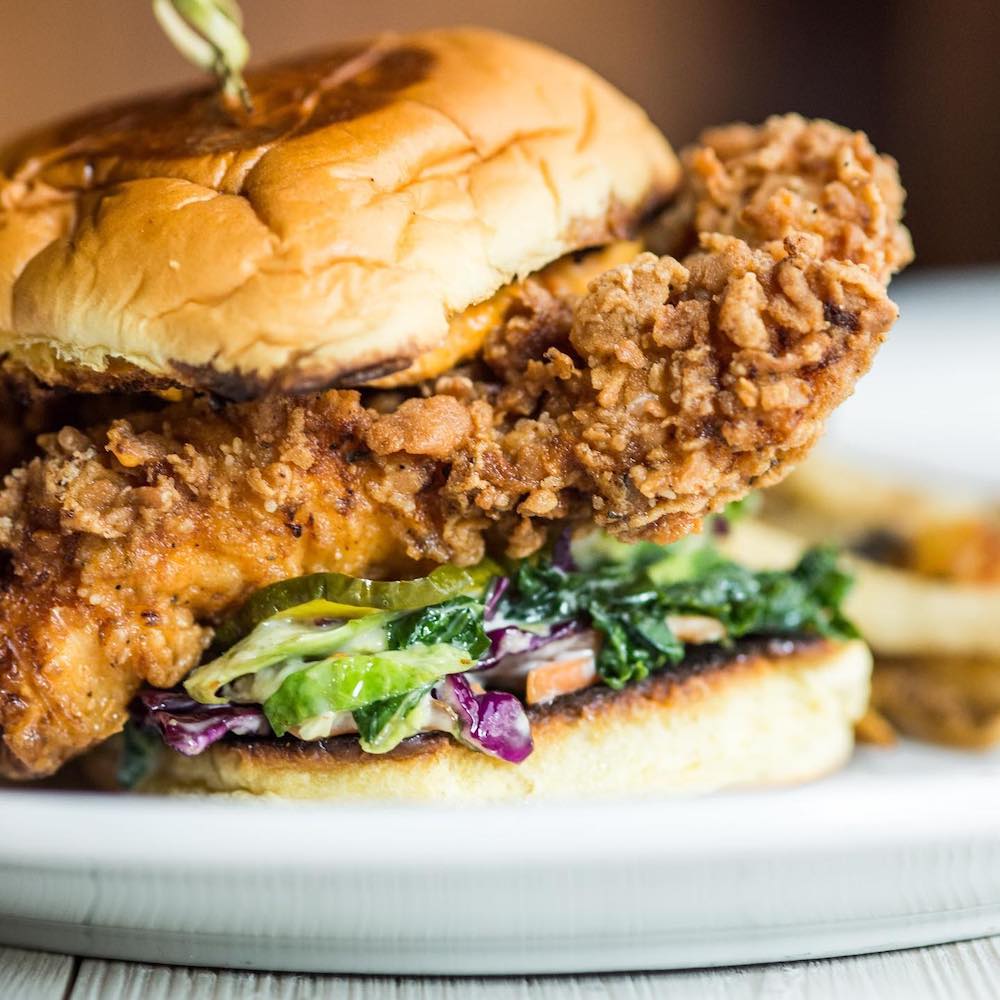 Elm City Social
Elm City Social is a popular, casual, well-attended, pub-inspired restaurant that's also relatively cheap. It's perfect for group gatherings, Happy Hours, and burger lovers. Come for the respectable beer and wine list, stay for the lively environment. The menu strongly appeals to those who like Southern-style bar food. (Think: shrimp and grits, mac & cheese, chicken pot pie, Swedish meatballs, and baked brie.)
There's even an entire section of the menu dedicated to chicken and waffles, one of the restaurants' signature dishes. The food here is sturdy.
Locals enjoy Elm City Social, too, as evidenced by their willingness to brave a more touristy crowd. Part of this appeal stems from the inventive cocktail menu, which features a selection of seasonal punches. Try, for example, the Pecan Pie Old Fashioned. (It's a little rich, but amazing.)
Around the holidays, Elm City Social also makes "Beer Nog" from Real McCoy 5 Year, East India sherry, baking spices, egg, and Guinness. This item we strongly encourage but have never been brave enough to drink to completion.
We can, however, say that the restaurant makes excellent deviled eggs, duck sliders, and squash chips. These are good for sharing– but also possible to finish on your own. Order a drink and a few apps, and dig in!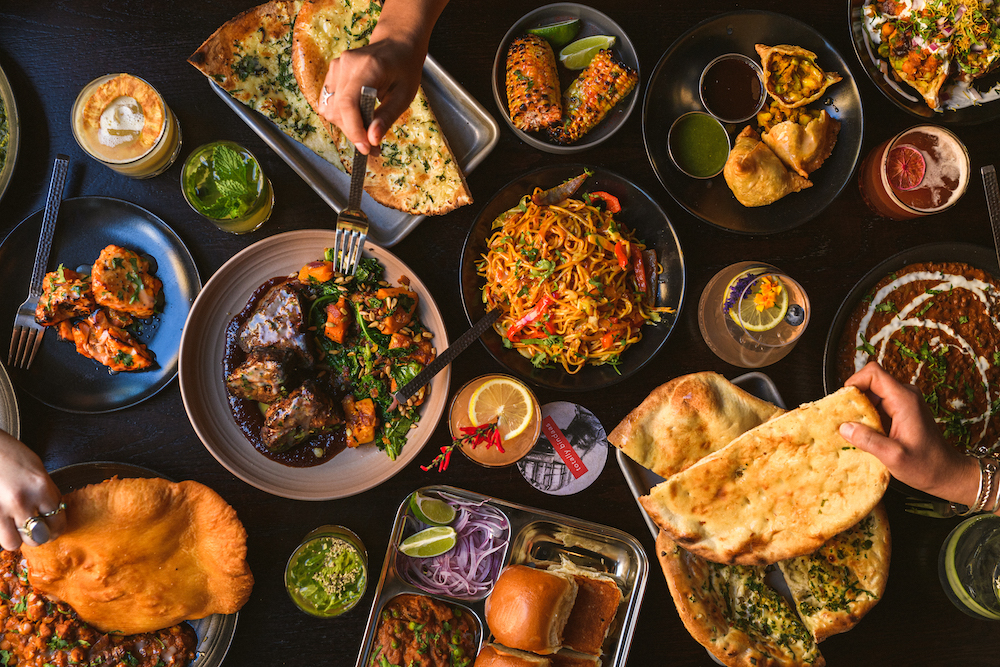 Sherkaan Indian Street Food
Across the street from the Yale Bookstore, Sherkaan Indian Street Food appeals to hipsters, and with good reason. This elevated Indian street food hot spot does a fantastically unique Indian-inspired brunch. Eat here for imaginative, flavorful, East-meets-West dishes.
Consider, for example, the chickpea-fried chicken thighs with lentil waffles. Or the "Desi Home Fries" with curry leaf, green chili, and Maggi seasoning.
If you already love Indian food and are interested in experiencing a modern twist, this is the restaurant for you. Sherkaan sometimes flies under the radar on these kinds of lists, but make no mistake: it is easily one of the best restaurants in New Haven.
Other menu items (which are actually elevated, American-inspired takes on traditional street food) include an excellent Sweet Potato Dosa (filled with goat cheese, brussels, and sweet potato), as well as Kale Pakora and okra fries. The Indo-Chinese ribs are so flaky and tender that you'd swear they came from an upscale BBQ joint. Sherkaan even has a "Chaat Dog," a vegetarian seekh kebab with cucumber raita, pomegranate, dry garlic chili chutney, and cilantro. Just tread carefully, as some elements can be spicy.
Drinks are seriously inventive, if heavy. Sherkaan's "Are You Kheerious" features basmati horchata, almonds, golden raisin gastrique, and mood-boosting rose water. In the late Fall and Winter, it's the perfect warming, calming drink.
There's also a cocktail called the Mangomosa, a play off a traditional mango lassi, featuring brut bubbles and Kesar mango pulp. Non-drinkers love the Lemon Grass Mojito mocktail, a refreshing mix of cane juice, lemongrass, mint, lime, and bubbles.
Overall, the menu offers a large roster of bountiful, elevated dishes to suit any taste, especially if you're craving South Asian flavors. Initially, cocktails and Indian food might seem like an unusual pairing. But at Sherkaan, the combinations work so perfectly that you'll wonder why no one thought of them sooner.
And Oh Yeah: we love the decor. Who doesn't love 3D murals and a bike rack mounted on the ceiling? Plus, it's right next to the Yale Bookstore– stop there on your way out.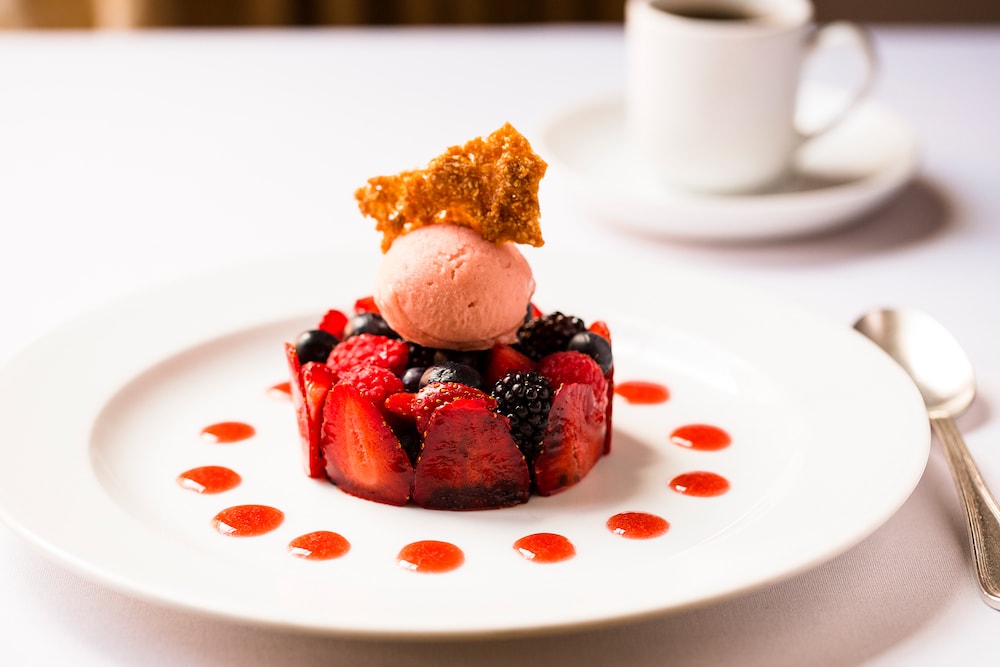 Union League Cafe
If you want to get the best steak tartare and cherry clafoutis of your life, this upscale Yale staple will deliver on that promise. Union League Cafe is easily one of the best fine dining restaurants in New Haven, taking its culinary cues from a traditional Parisian brasserie.
While it's typically known as the kind of place you'd go to celebrate graduation or successfully defending your PhD, for example, ULC is also a beautiful dining destination for serious foodies. (It may also go without saying that it's a perfect date spot, as the atmosphere is unsurpassed. The restaurant is full of dark wood, arched doorways, and flattering low light. Service is exceptional, if a little formal.)
Despite upscale leanings that suggest going here for dinner, Union League Cafe is also great for a nice lunch. The beautiful salads and finely articulated risotto dishes pack all the flavor and storytelling that you'd expect from this kind of seasonal, regionally-sourced cuisine.
Meanwhile, the duck dishes are always fabulous. The menu rotates often, but if they're ever serving duck, you'll be rewarded for ordering it. (Trust me.)
Overall, if you like wine, micro gastronomy, or fine dining in general, Union League Cafe is an ideal New Haven restaurant for you. Here, every culinary aspect is executed with precision and finesse. Even the desserts– as you can see above– are beautifully presented, down to the finest detail.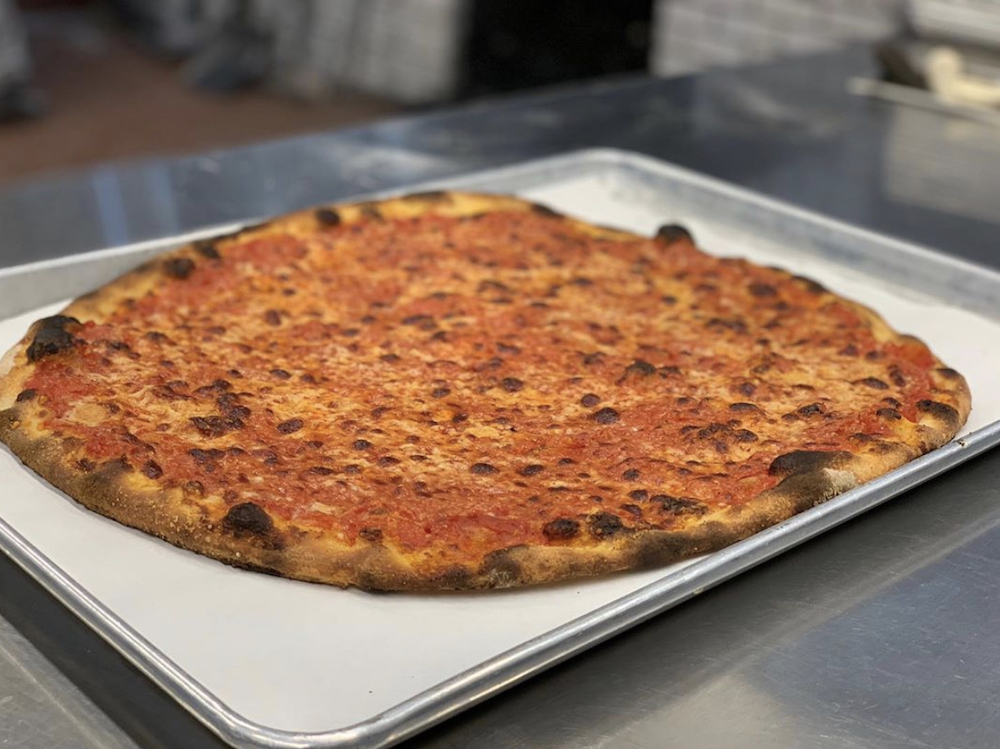 Frank Pepe Pizzeria Napoletana (Obligatory Mention)
Of course, no article about the best restaurants in New Haven would be complete without mentioning the original Frank Pepe Pizzeria Napoletana. This New Haven pizza place is often referred to as "the best pizzeria in America". (<— While that's a matter of fierce contention, Pepe's is certainly THE place to get pizza near Yale. This iconic pizza parlor has served coal-fired pies since 1925!)
It was here that Italian immigrant Frank Pepe pioneered New Haven-style pizza, which is a style of HUGE flat pies with a thin, blackened crust. (Is it a little burnt around the edges? Yes. Should it be that way? Yes.)
Everyone always talks about Pepe's garlic-and-clams white pizza, which is controversial among some pizza-loving purists. (Take them up on the option to add smoked bacon if you want to try the original.)
If you crave red sauce, order a Margherita Pizza or Classic Tomato Pie instead. For the full experience, order the white clam pizza and the original tomato pie with mozzarella.
Located in New Haven's Little Italy, Pepe's is about a 7-minute drive from Yale's campus. Also note: Pepe's Pizzeria has two locations right next door to one another. The menu is the same, but the ambiance is slightly more elevated at the street-front location. (The one with the massive sign.)
Expect a crowd, too, as Pepe's popularity surges every time Netflix films a new pizza docu-series in their kitchen. Seriously. It's a thing.
Ultimately, food tourists make the pilgrimage from all over the country to eat here. When at Yale– either visiting, working, or studying– you have to try it at least once.
***
Related: Looking for more New England foodie travel guides? Check out the culinary scene in the beautiful, trendy beach town of Kennebunkport, Maine.