Those looking for more concrete examples of how, exactly, anxiety impacts health should know that there might be a hidden link between allergies and mood disorders– at least according to new research recently reported in The Atlantic. Apparently, the inflammatory pathways of these two diseases are so similar that they might have a cause and effect relationship.
In 2016 a pediatric allergist at the Cincinnati Children's Hospital Medical Center published a study that demonstrated a link between allergies, depression, and anxiety among 7-year-olds. More recently, in April 2019, German allergists found a link between generalized anxiety and seasonal allergies in adults. The results underscore a long-held belief that stress may be the difference between whether curable diseases manifest or not.
We're all familiar with the folk wisdom that suggests those who are more stressed during the winter months are more likely to get sick. Most people have also had a loved one tell them that they are capable of "making themselves sick" with worry. Perhaps it's not only germs or allergen exposure that makes you sneeze at work; maybe it's the stress of work itself. These are all considerations that immunologists are already studying. But now evidence is emerging that stress may play a role in determining who has allergies in the first place.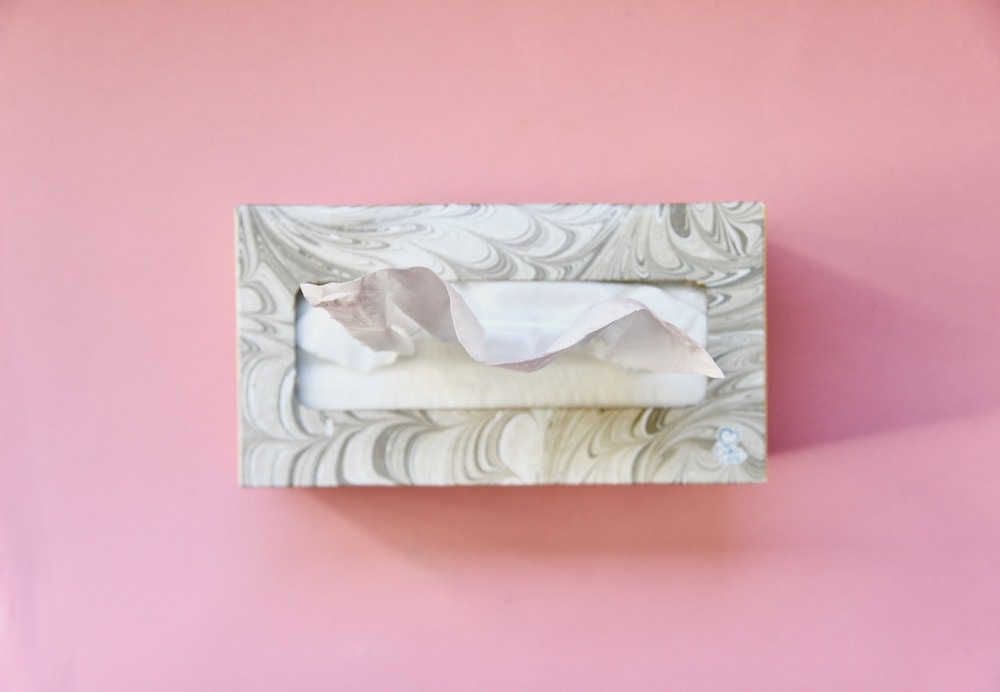 As The Atlantic also points out: "A small 2017 study found that children with a food allergy were significantly more likely to have anxiety. Other studies have even identified a link between pollen allergies and an increased risk of suicide– a potential explanation for why suicides seem to rise in the spring."
An extensive body of research has previously suggested a link between mental illness and immune dysfunction. More recently, research into the link between healthy gut flora and mood disorders has further underscored this hypothesis.
Anxiety and Seasonal Allergies
Part of the reason why anxious people often have seasonal allergies might be because allergies cause a stress response. Among other biological reactions, this causes the release of the stress hormone cortisol. If produced in excess, cortisol can interfere with the production of serotonin, the neurotransmitter responsible for happiness and contentment. [You can read more about this in our articles on The Best Snacks for Flight Anxiety and How to Treat Seasonal Affective Disorder with Dietary Changes.] With serotonin production down, mood plummets.
This could easily be a chicken or the egg issue– Does the stress of having allergies cause anxiety? Or does the stress response resulting from anxiety lead to allergies? Researchers don't yet know where the cycle begins, but the evidence suggests that the two illnesses may be comorbid. Clinically, the link between anxiety and allergies shows a lot of potential. Additional studies may indicate how immunologists and psychologists might be able to administer synergistic treatment plans. With more research and innovation, the same drug could one day be used to treat these two different diseases; or perhaps to treat two different diseases at the same time.
For example, Selective Serotonin Reuptake Inhibitors– commonly known as SSRIs— have long been used in the treatment of anxiety and depression. These include drugs like Zoloft and Prozac, which often have immunosuppressant side effects. As a result, people who take prescription drugs for mood disorders sometimes find that their anxiety medication also helps with their allergies. These reports are anecdotal but common, and would underscore the conclusions of these latest findings.
Either way, anxiety and allergy sufferers should benefit from understanding the link between the two. If you treat one issue, it may be easier to treat the other, and vice versa. There's a benefit to knowing where and how the pathways of disease intersect, even if we don't yet know exactly where they are going.
***
To learn more about how to mitigate the health impacts of stress, read our article on the emerging science of stress granules.