Asheville, North Carolina is a funky city with a delightful and unpretentious food culture– and the best breakfast spots in Asheville are a perfect reflection of that.
This beloved North Carolina mountain town is known for its rugged beauty and impressive local food scene, and in many cases, experiencing one begets the other.
By that I mean: the local food shed of this particular region in Appalachia both informs and ensures delicious meals for all who pass through. When you have access to as much quality produce, meat, dairy, ferments, and foraged herbs and plants as you do in the city of Asheville, the food that these chefs and creators make is bound to be both delicious and intriguing.
Below, we spotlight the best, most unique places to get an awesome breakfast or brunch in Asheville, North Carolina. As with all of our restaurant guides, we visited all of these restaurants repeatedly and anonymously. (No bias here!)
Ultimately, both locals and tourists agree that these Asheville breakfast spots rank among the best– especially for those looking for a truly local food experience.
FWIW, many of the restaurants on this list are also great for dinner, lunch, etc. (It's worth keeping that in mind if you have a limited number of meals in the city. We love them all!)
But first: breakfast.
Enjoy!
***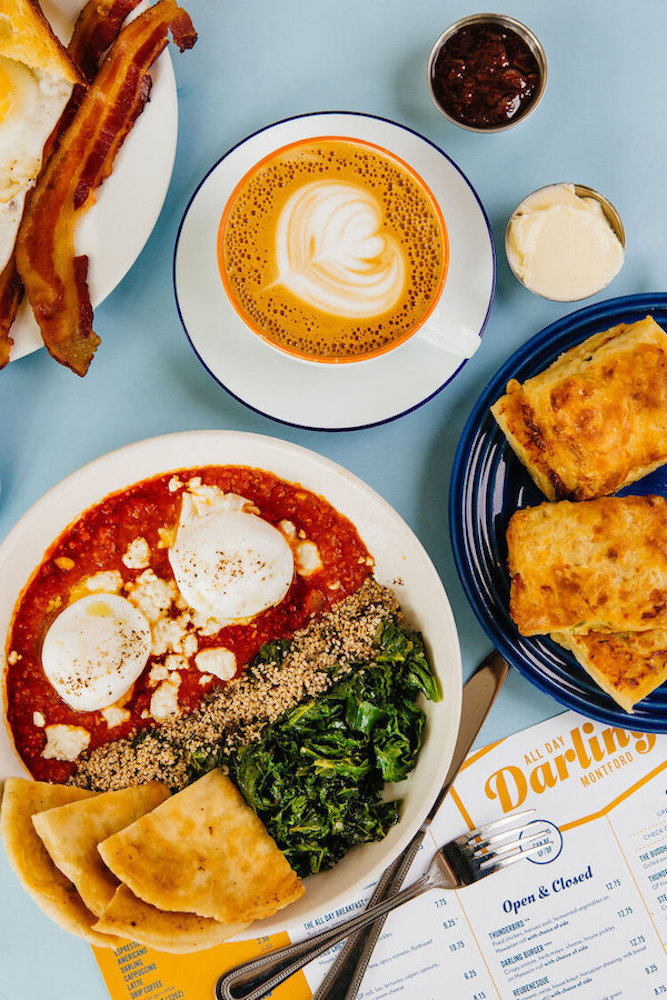 All Day Darling (for Iconic Shakshuka)
All Day Darling serves all day breakfast, coffee, and cocktails. They are most famous for their Israeli-style Shakshuka, which consists of eggs with zesty Israeli-style tomato sauce.
The family-friend locale also has nice outdoor seating, and really incredible cake in the bakery case that should not be overlooked.
FWIW, we also enjoy their tender dressed greens, "lululemonade", chai tea lattes, sorghum sticky buns, and gluten-free darling pancakes. (<— Which, yes, this is also a great Asheville breakfast spot to visit if you or someone you're with is gluten-free. They have a number of delicious menu items– like the Lox plate, the All Day Breakfast, and the naturally GF Thunderbowl (gluten-free fried chicken, harissa aioli, and pickled veggies)– that are either already gluten-free or easy-to-swap without cross contamination. Just be sure to tell the server if you are a super sensitive Celiac.)
The portions here are hearty, so come hungry and plan to skip lunch. Even the foodie-friendly snacks– like the Fried Cauliflower and the "Devils on Horseback" (dates, almond, bacon) are not-to-be-missed. So good!
Ultimately, the picture above really speaks for itself. All Day Darling is an Asheville breakfast staple, especially among locals.
Over Easy Café (For the Best Eggs Benny in Asheville)
Oh, my god: the eggs benedict at this charming little cafe in downtown Asheville is one of the best I've ever had! The picture above should speak for itself: that's the country-style eggs benedict, which is what you should order here for the quintessential experience.
Open 8 AM to 2 PM every day, Over Easy Café is a bright, art-y breakfast cafe that uses locally sourced, free-range, and organic produce. The quality here is unparalleled! And we're not kidding when we say that the café serves what are easily the best eggs benedict in Asheville. Take one bite into the moist, crispy biscuit with excellent hollandaise and perfect runny eggs and you'll understand.
This dish, like the entire menu, is seasonal. One day it could feature everything from pulled pork to goat cheese, country ham, and local greens. (This particularly delicious recent variation had us licking our plates!) Either way, the benny a must-order item. Even the subtle flourishes– like the artfully-sliced sides of seasonal fruit, and the fact that they use tri-color potatoes in their hash browns– will leave foodies smiling.
Much of the food here is downright beautiful, optimized for both flavor and nutrition. Food snobs and locavores love it. But artsy folks, beatniks, and locals also count it among the best, most beloved breakfast spots in Asheville. Even their simple granola bowls are exquisite! (Hipster and chef-approved, FWIW.)
We also love the fresh-squeezed juices and innovative smoothies, which seem to have a taken a page out of the Southern California playbook. (Expect cute names and nourishing infusions of local greens, ginger, citrus, and beets.)
As a result of using the freshest possible produce (both in their juices and in their food,) the menu at Over Easy Cafe changes often.
Still, if they're serving eggs benedict, you'll want to order it ASAP. "Over Easy" is in the restaurant's name, after all.
Ultimately, this cafe is very hip and close to some great shopping on Broadway Street. It's worth wandering around while you wait for a table. (They do NOT take reservations, and there's no place to wait outside. They'll just text you when your table is ready– and believe me, it is worth the wait.)
Come hungry, leave inspired!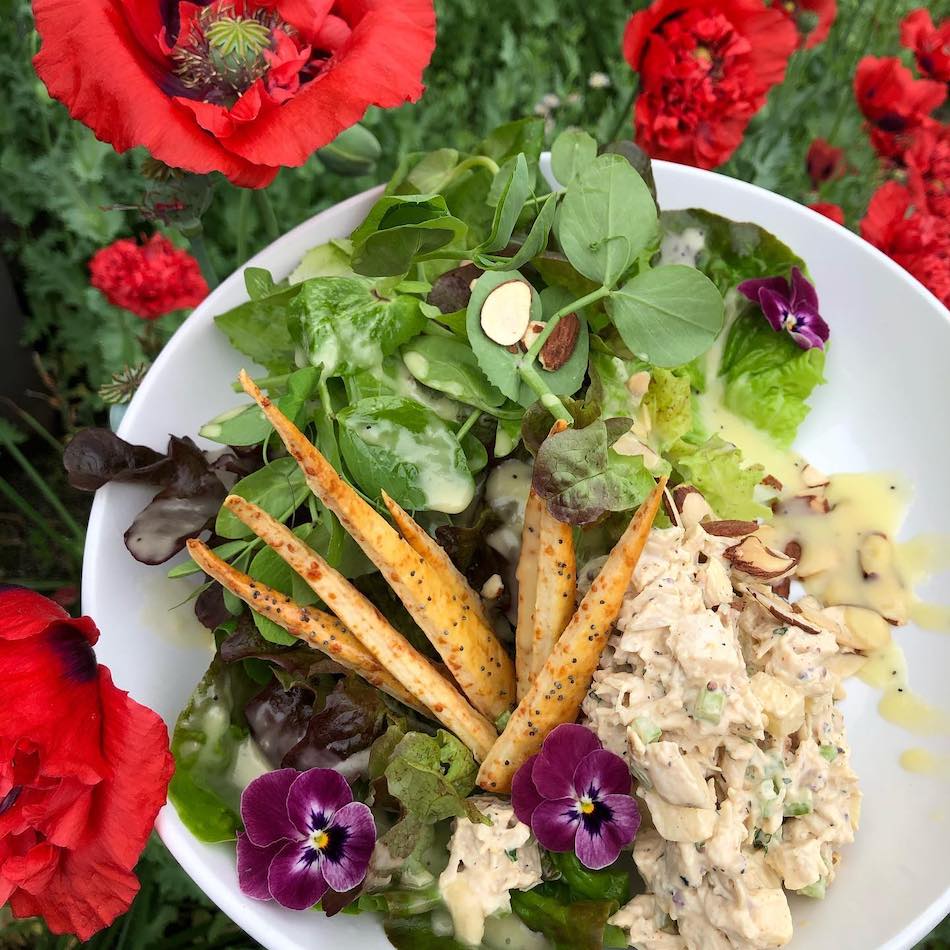 Sunny Point Cafe (For Farm Fresh, Hearty Eats)
Sunny Point Cafe is a family run farm-to-table comfort food restaurant known for hearty breakfast staples like huevos rancheros and the "mighty good breakfast pie," featuring their signature bacon, free-range eggs, and sharp white cheddar baked in a cream cheese crust, served with a side of fresh seasonal fruit. (They also serve a delicious maple-black pepper bacon that you can also get 12 pieces of as a side. Highly recommended for bacon-lovers!)
We love that this Asheville breakfast spot is always cooking with super fresh, hyper-seasonal ingredients. Whether it's strawberry blintzes or steak-n-eggs, everything has a farm-forged quality and integrity behind it.
Breakfast is served all day; the food is delightful and filling. We love their sweet rolls and sour cream waffles. The straight-from-the-farm salads are also excellent, which is ideal if you're going here for a later brunch.
Also: Be wary of their giant 16-ounce mimosas. They're a great value, but one that's probably best split among friends. 🙂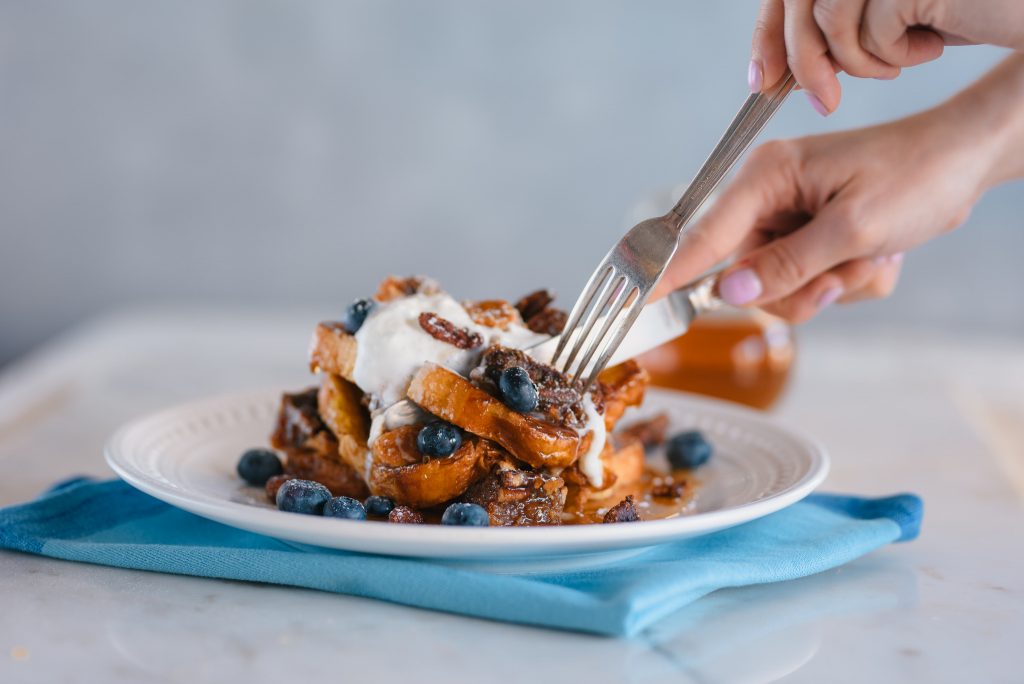 Tupelo Honey Cafe (For Tasty Southern Classics)
Tupelo Honey Cafe is the kind of place you visit for chicken & waffles or classic pecan french toast: true regional breakfast staples. Locals love the Southern-inspired flare at this popular downtown restaurant, which specializes in the specific genre of Southern cooking that's rooted in the Carolina mountains. (Though the food has become so popular that they now have locations all over the East Coast.)
As a result, the restaurant tends to draw in lots of tourists, like local sports fans looking to get brunch before a basketball game, for example. The food here is consistent, and reliably good.
With locations in Downtown Asheville and Southern Asheville, the made-from-scratch menu includes everything from comfort food staples like Shrimp & Grits, honey-dusted fried chicken, and Shoo Mercy Griddle. (A stack of sweet potato pancakes or brioche french toast topped with buttermilk fried chicken, apple cider bacon, spiced pecans, powdered sugar, and two fried eggs. That's what you see a variation of in the picture, above.)
Fortunately, for those who don't want to limit their breakfast to daylight hours, Tupelo Honey serves brunch all day. Get a sweet potato shortstack, an "Old Skool" Breakfast Bowl, or the Southwestern Omelet (chorizo, avocado, cheddar cheese, salsa, sour cream, served with parmesan & rosemary potato cracklins) for the classic experience.
Otherwise, you can't go wrong with their Banana Pudding Dream french toast or the "Fit to Be Tied Pickled & Fried" (two medium poached eggs over fried pickles, melted pimento cheese, bacon crumbles, pickled onion, and hollandaise).
Honestly, it's all so, so good. However, it's definitely not a place to go if you want a light breakfast, by any means. Come hungry! And if you're in a rush, be sure to make a reservation.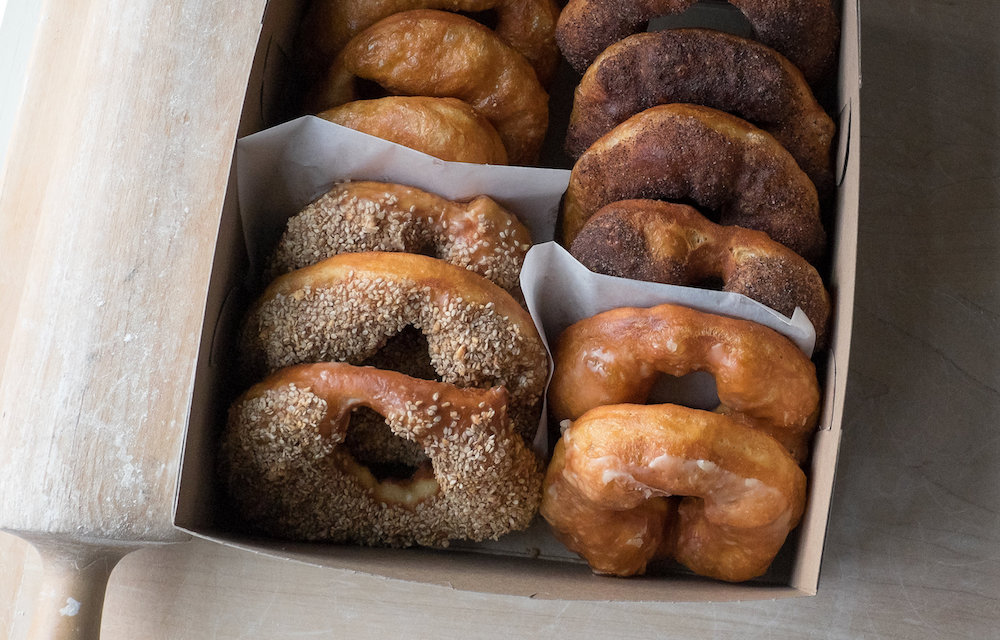 Hole Doughnuts (Best Doughnuts in Asheville)
Hole Doughnuts is a buzzy, fried-to-order doughnut shop in the River Arts District where the doughnuts are perfectly imperfect. Each one looks like a folk-art depiction of the most delicious doughnut you've ever had. Bon Appétit even ranked Hole's molasses-bourbon doughnut on their list of the Best Desserts of 2016. (A national distinction!)
These delectable treats are also a bargain, costing around $3 each! We love the rusted powder blue food truck that occasionally sells Hole doughnuts on-the-go. But we also love the distressed wood and thoughtful vases of wildflowers placed on the tables at their RAD location. Ultimately, these are some of the South's best doughnuts, and Hole has plenty of awards to prove it.
Each doughnut is hand-rolled, hand-cut, hand-shaped and fried-to-order. The entire process takes about 7 minutes, and it's fun to watch. This ensures a delightfully misshapen doughnut that looks as good as it tastes. Aesthetically, each looks like it should be on the cover of a rustic baking magazine. They're gorgeous!
World Class, Foodie-Beloved Doughnuts
Each piece is finished off with a hand-dipped glaze– or a sprinkle of seeds, nuts, or spices, depending on what you order. (Their foodie-friendly flavors can vary wildly, from Tangerine to Toasted Almond Sesame Cinnamon.)
The result is a delightfully-yeasted doughnut that is hot and fluffy on the inside and perfectly crunchy, crispy, and buttery on the outside. For a certain type of doughnut lover (myself included!) they are just about as perfect as it gets. These might even be the best doughnuts I've eaten anywhere in America– and I've been everywhere.
Hole Doughnuts is open from 7:30 AM to 2 PM every day except Tuesday. They occasionally sell out before closing time, so get in early!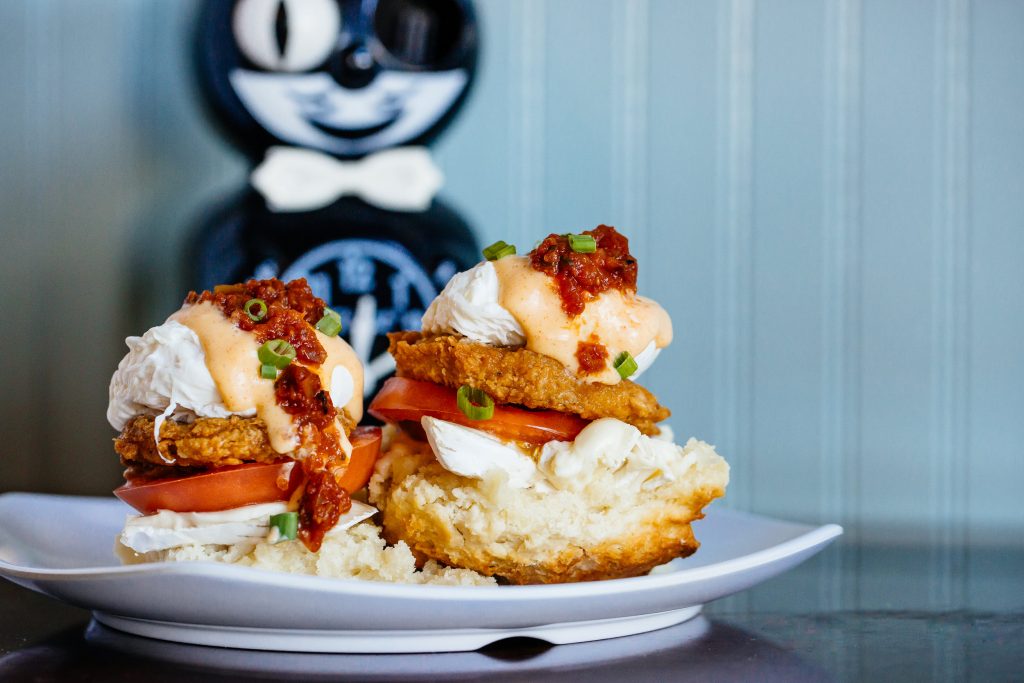 Biscuit Head (Divine "Cathead" Biscuits)
With multiple locations in West, South, and downtown Asheville, Biscuit Head is a local favorite craft breakfast cafe that specialized in– you guessed it– biscuits. Specifically, they serve so-called "cathead" biscuits. This is a Southern term for a drop-style biscuit that is approximately the size of a cat's head. (Now you know!)
Biscuit Head also works with local farms and vendors. As a result, there's a big emphasis on homemade fixins'– from gravies and jams to hot sauce. People who love toppings, rejoice! The spreads here are wildly creative. ("Put some South in your Mouth" is the restaurant's motto, after all.)
The most popular items are the Asheville Benedict, the Mimosa Fried Chicken, and the Pulled Pork. But honestly, go with your gut. Order whatever you feel drawn to. It's all super tasty, and great as a to-go meal for a picnic.
I always tell people to stop here en route to driving the Blue Ridge Parkway during leaf season. These biscuits make a hearty, warming breakfast that's perfect for autumn weather– and they'll keep you feeling sated all day!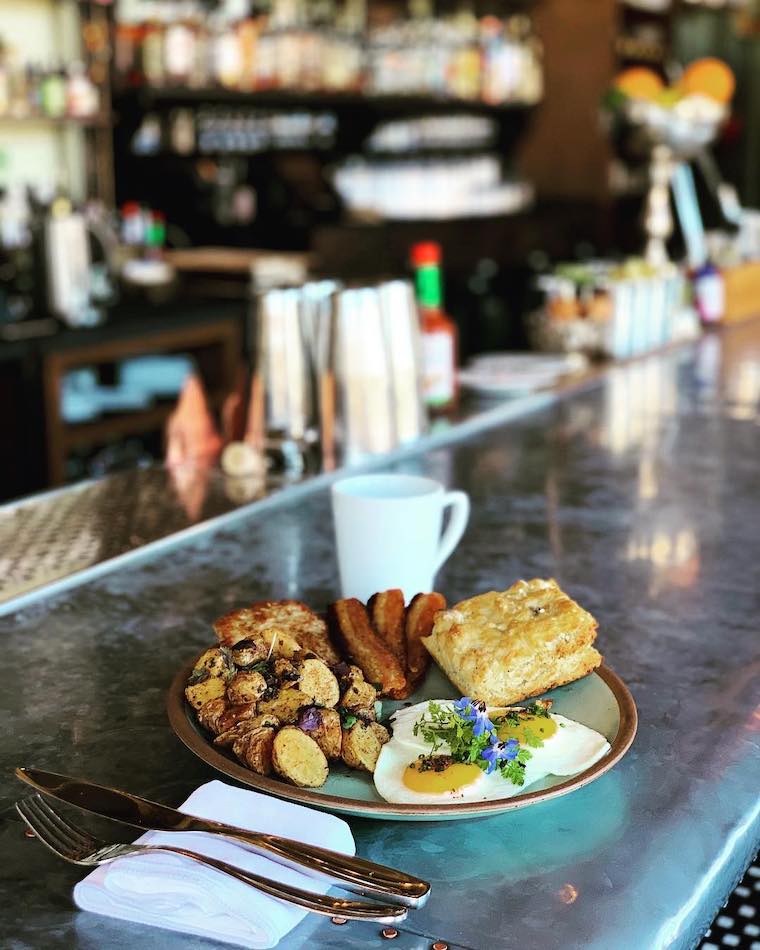 Sovereign Remedies (Herbaceous, Edible Art)
Sovereign Remedies is known mostly as a cocktail bar and dinner spot, but the weekend brunch fare at this trendy destination looks like edible art. With its airy, cool vibe and vintage decor, the restaurant offers modern Appalachian-inspired American fare, from artisanal fried bologna sandwiches (literally!) to Mocha Almond Donuts dressed in edible flowers, the latter so dense and rich you need to eat it with a fork.
Styled like an old school pharmacy, the restaurant is surprisingly excellent for brunch. In seeming homage to their alchemically-inspired decor, the menu relies heavily on wild plants and herbs.
As a result, the food, truly, always looks so beautiful! Many of the brunch items here simply beg for you to photograph them.
The delicate finesse on each dish doesn't mean the food isn't hearty, however. This restaurant does a mean steak & eggs as well as seasonal omelets and incredible brunch cocktails (which is what first put them on the map).
Overall, you can expect a host of local brunch standards– Fried Green Tomato Benedict, a housemade "Hangover Cure"– as well as creative specials that reflect the flavors and cosmopolitan culture of the region. See, for example, their Brunch Burger with smoked cheddar, fried eggs, carrot catsup & truffle fries or their seasonal Sovereign Brunch Salad. (I also love the creative Carnitas Fries.)
The menu here is perfunctory, but it packs a punch.
It also just feels so wholesome to see them dress a hearty plate with foraged flowers and herbs. There's something wild and free-spirited about it. And with food this excellent, it all feels like a distinctly Asheville experience.
Sovereign Remedies, moreover, serves nourishing and enlivening real food breakfast. Each brunch dish is a reflection of the natural surroundings with just the right amount of aesthetically-pleasing quirk. If you're looking for an excellent brunch in Asheville, what more could you ask for?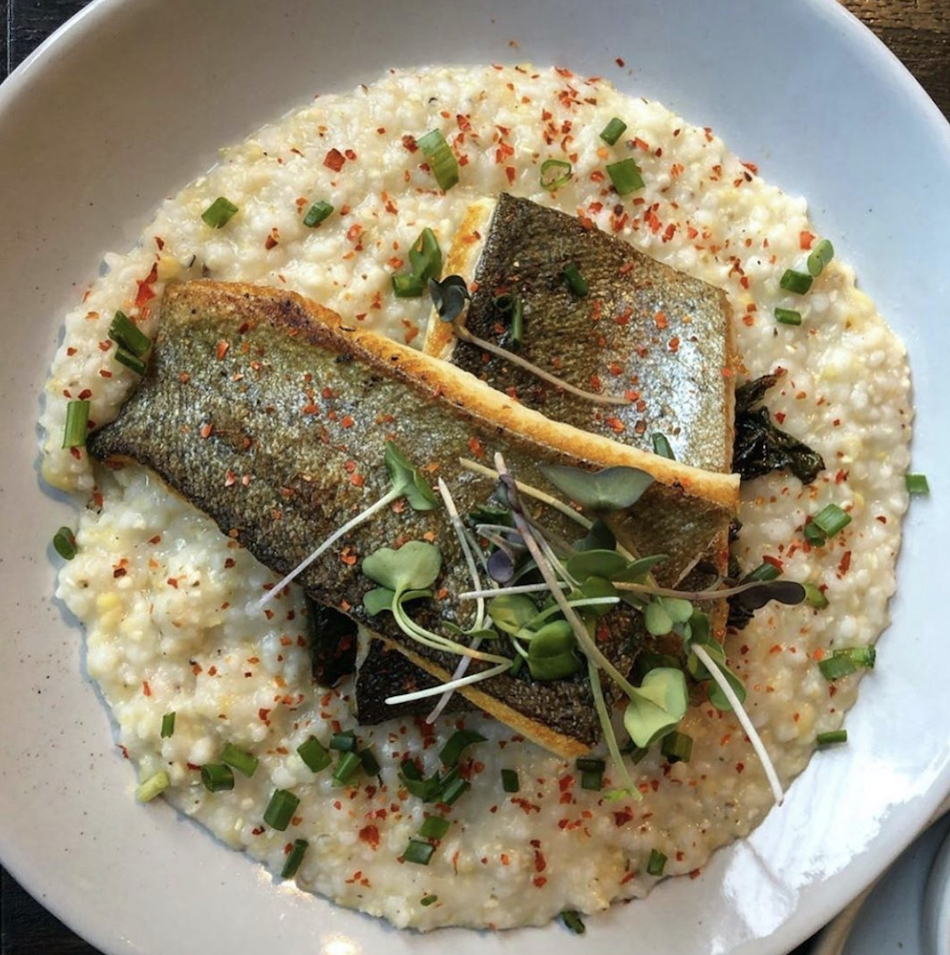 Benne on Eagle (Refined Comfort Food)
Benne on Eagle at the Foundry Hotel serves modern soul food in the spirit of New Orleans' Dooky Chase Restaurant and Harlem's Red Rooster– but with it's own unique, elevated, location-specific flair. We love their upscale Sunday Brunch, which captures the flavors and vibrancy of Asheville.
The restaurant, moreover, uses fresh, seasonal ingredients to pay homage to the rich African-American culinary traditions that once thrived in The Block. (The neighborhood where the restaurant resides.) The passion comes through in each bite.
Today, they easily serve the best comfort food breakfast in Asheville, though it is upscale. Try their signature "Benne Benedict"— runny-yolk eggs with Kitchen Pepper Hollandaise atop an open-faced benne seed biscuit.
Or, opt for something on the sweeter side. We love their gorgeous french toast with sorghum-maple syrup and blueberry compote, two staple toppings of the South. If you like a sweet breakfast, it's a beautiful, unique option.
Intriguing Regional Flavors
We love the fried catfish and waffles (a so-called "Affrilachian" twist on classic fried chicken and waffles) and the foodie-friendly farro porridge, two local Southern dishes that are distinctly Ashevillian. (They serve the porridge with poached egg, brussel sprout kimchi, fried garlic, and shiitakes. You won't find these kind of intriguing flavor pairings anywhere else in the city!)
Oh, and the exquisite Rose Sangria? We never met a brunch cocktail we didn't like, but this one ranks among the best in the city.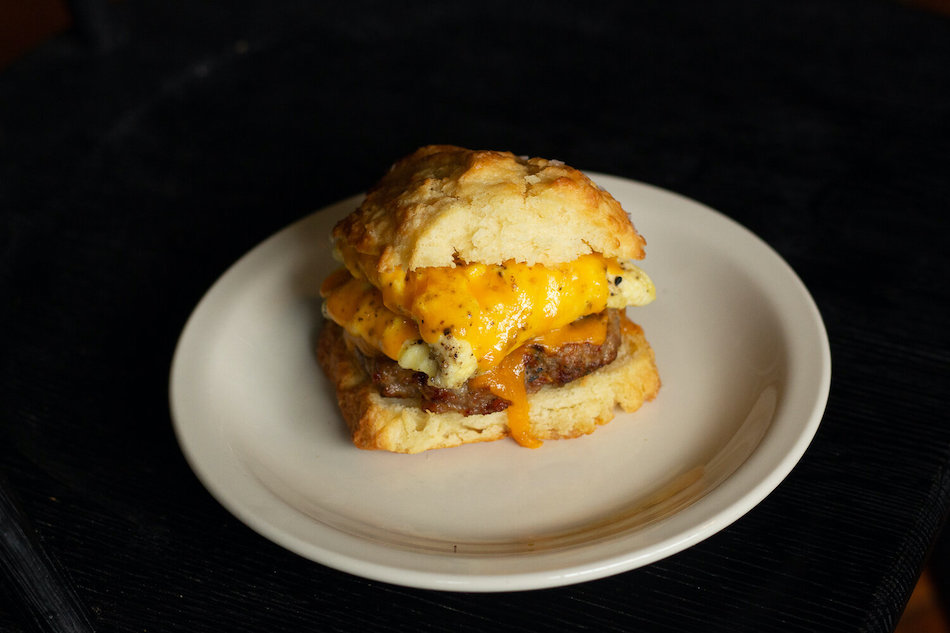 The Rhu (Baked Goods, Breakfast Sandwiches, & Coffee)
This unassuming kitchen shop and cafe on Lexington Ave has lovely, homemade baked goods and breakfast sandwiches. The Rhu is helmed by the same people behind Rhubarb, a popular Appalachian-style farm-to-table restaurant just a few blocks away.
We love their Bread & Spread offerings: you pick a baked good, and choose from a list of toppings. For example, you could an English Muffin, a Buttermilk Biscuit, a Gluten-Free Buttermilk Biscuit, various bagels, Multigrain Levain, or Ciabatta. Then, top it with butter, Imaldris Jam, honey, or locally-made Big Spoon Peanut Butter. If you want to go savory, they also have local cream cheese, Looking Glass Fromage Blanc, or Pimiento Cheese. You decide!
We also love their creative breakfast sandwiches, which emphasize their delicious carbohydrates. Try the The Dirty South, featuring house pulled pork, collard greens, pimiento cheese, and caramelized onions on a buttermilk biscuit.
The Smoked Sunburst Trout Bagel, meanwhile, showcases local seafood as a clever alternative to lox. (It's served with cream cheese, capers, and red onions on your bagel of choice.) The Quiche of the Day is also reliably great.
Ultimately, the simplicity of this bakery and coffee shop is great for "coffee and toast" types. If you love a simple, fast breakfast, this is the walk-up eatery for you. No reservations necessary, just come on by! (And be sure to shop the charming pantry for local sundries on your way out.)
~ Honorable Mention ~
A few more breakfast spots that are still worth checking out if you have time.
***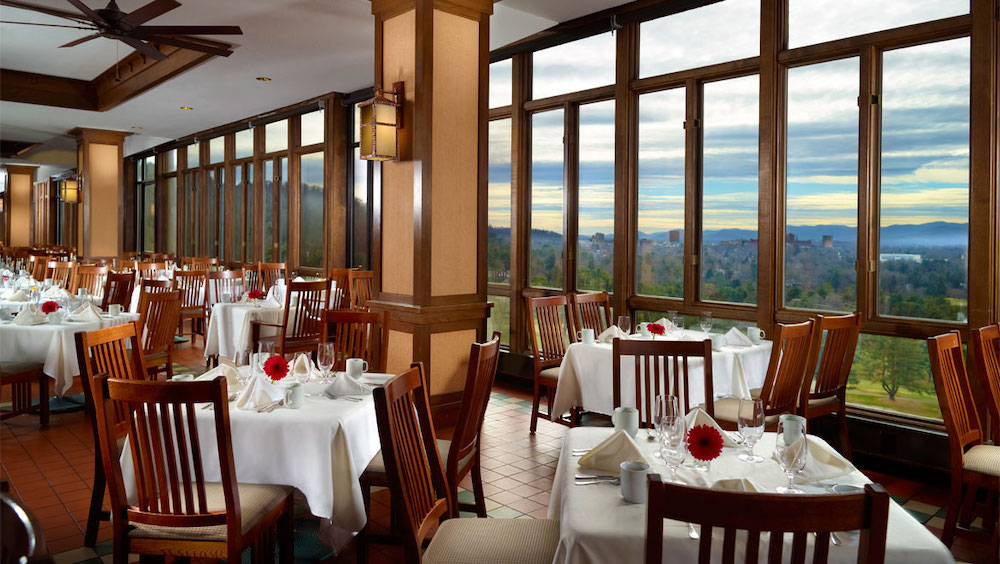 Blue Ridge Restaurant at Omni Grove Park Inn (Upscale Brunch with a View)
Each morning Blue Ridge Restaurant at Omni Grove Park Inn serves an "Art of Breakfast" buffet with attendant service at each food station. The restaurant also affords the best and only "breakfast with a view" in Asheville.
Blue Ridge Restaurant at the Omni Grove Park Inn has gorgeous views of the Blue Ridge Mountains and downtown Asheville. (It's located about 2.5 miles from downtown.) Ultimately, there's a reason people have been staying here for over a century.
We love the stately-yet-understated charm and the sweeping views from the terraces. (One of them is specifically dedicated to sunset dinners, but that's a story for another time.)
If you're looking for an upscale brunch to celebrate an event in Asheville– say, a birthday, anniversary, or a bachelorette party– this is an ideal restaurant for groups. It's elegant and has great ambiance. Service is quick and efficient. They also just so happen to serve some of the tastiest breakfast in Asheville, special occasion or not.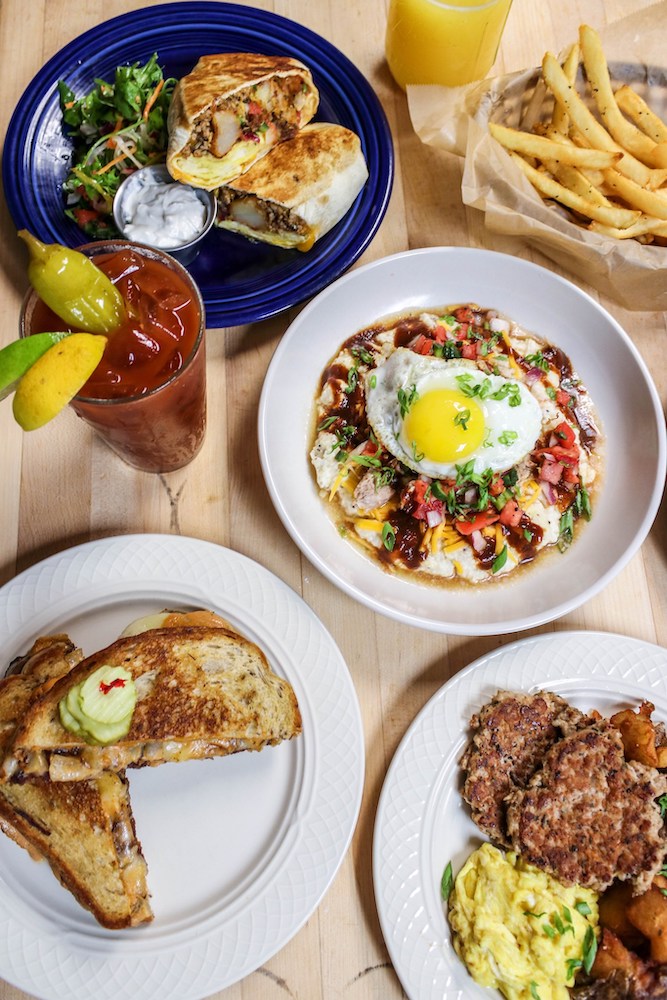 The Med (Greek-Inspired Diner Breakfast)
If you're looking for a good diner-style breakfast in Asheville, look no further than The Med. The Greek homestyle diner has been serving great homestyle diner breakfast and Greek food for the last 50 years! We love the Hash Bowl, the shrimp & grits, the breakfast burrito, and the classic house Bloody Mary, but most people will also shout out how much they love the prices. (The Hash Bowl– Breakfast potatoes topped with sausage, parmesan, peppers, onions, tomatoes and 2 eggs any style– is only $9.50!)
For a unique experience, try one of their local-inspired breakfast plates. For example, the Pisgah Bowl (pulled pork, over easy egg, grits, pico de gallo, bbq sauce + cheddar) or a breakfast sandwich like the Fried Chicken Biscuit. You can order it spicy or sweet!
The Brunch Burger, meanwhile, is a Med special. It's a classic burger with arugula, cheddar, spicy sauce, and an over easy egg with a side of breakfast potatoes.
Ultimately, if you're looking for a greasy-spoon vibe with international influence, this is the Asheville breakfast spot for you. Classic diner dishes are expounded on, but still comforting, familiar, and unpretentious. Yum, yum!
***
Related: The 15 Best Restaurants in Asheville for Amazing Local Meals.
Want more niche Asheville eats? Find out where to get the best coffee, ice cream, fried chicken, or fresh produce at the city's most charming restaurants and farmers markets.
17 Cool Things to Do in Asheville, North Carolina (A Charming Visitors Guide)