Asheville, North Carolina is a local food hot spot in the South Atlantic, celebrated for its amazing farmers markets and farm-to-table restaurants. With an emphasis on both industry and education, the local food IQ in this increasingly quirky mountain city is unparalleled in the region. As a result, Asheville's best farmers market offer a wide variety of local and indigenous produce as well as internationally-inspired eats made with fresh, local ingredients. For these reasons and more, 10 million people visit Asheville every year— and local food is the main reason why.
At the city's best markets, you can enjoy live music, local artisan goods, family activities, and free samples– in addition to shopping for local fruit, veggies, pasture raised meat and eggs, cheese, baked goods, natural body products, mushrooms, herbal medicine, kombucha and other ferments, artisanal bread made from locally grown and milled flour, and more.
Asheville's Unique Produce
In Asheville, look for local indigenous plants like Yaupon holly, burdock, black walnuts (an acquired taste; good for baking), peaches, strawberries, wildflowers, and native Appalachian apples. Also be sure to try some local honey, grits, or Carolina rice– three other culinary staples of the region.
Many Asheville farmers markets also have artisan craft items, from wood carvings and hand-dyed merino yarn to all-natural soap and textiles. Shop at a farmers market and you'll be sure to find items you can't find anywhere else in the city.
PSA: "Tailgate" markets are producer-only farmers markets where you can buy directly from farmers who grow the food. (As opposed to regular farmers markets where the goods can be made locally from non-local ingredients.) They get nicknamed "tailgate" markets because farmers often sell produce directly off the back of their trucks.
All of Asheville's farmers markets accept credit cards, debit cards, cash, and SNAP/EBT. Local food is for everyone– and the regional Appalachian Sustainable Agriculture Project is working hard to ensure it stays that way. Below, we spotlight the best farmers markets in Asheville, which are also some of the best in the South.
***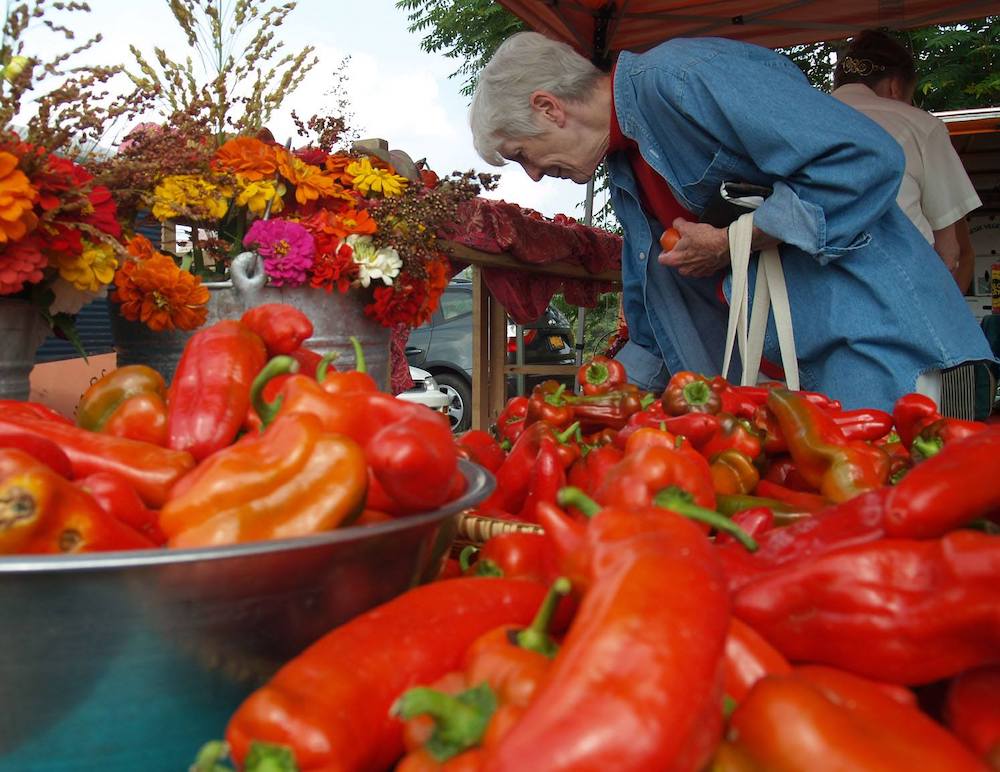 Asheville City Market– Downtown
Saturday from 8 AM to Noon from April to December at 52 N. Market St., Downtown, between Woodfin St and Walnut St. (Free parking at nearby HomeTrust Bank.)
The Asheville City Market is the "main" farmers market in Asheville. Known for its bustling tempo and wide variety of vendors, it's a great place to buy local produce, meat, dairy, and every bakery item you could imagine. From cheese and mushrooms to vegan cheese and macarons, the Asheville City Market has a wide appeal that makes it one of the more popular markets among tourists– and the central location ensures that visitors stumble across it and end up having a great time perusing the vendors.
In addition to the expected produce and meat vendors, they even have people selling locally grown and milled flour. Meanwhile, boutique growers like Carolina Flowers sells fresh, local flowers while Sister of Mother Earth, another vendor, sells beautiful herbal medicine concoctions like shelf stable elderberry syrup, fire cider, and infused honey. (Whether it's cold season or allergy season, they've got something for everyone.) And like every vendor at the market, it's lovely to see how their offerings vary with the season. In this way, repeat visits to this farmers market always feel like the first time.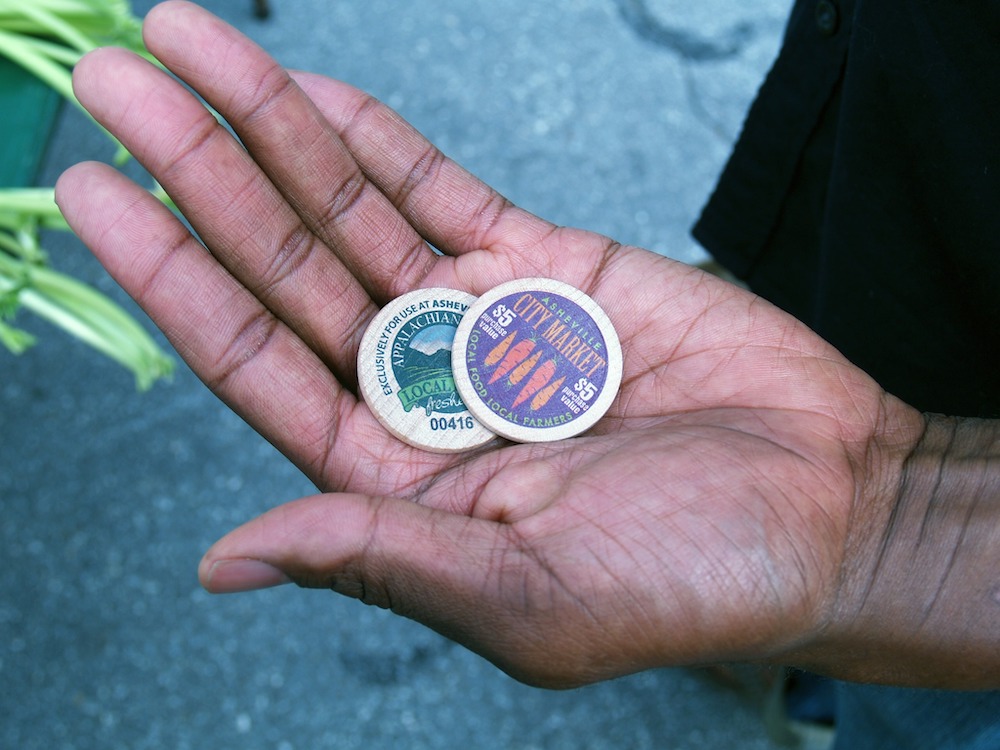 Asheville City Market– Winter
Saturday from 9 AM to Noon from Jan to March inside the Asheville Masonic Temple, 80 Broadway St. (Free parking at nearby HomeTrust Bank.)
A smaller iteration of the Asheville City Market, one of Asheville's only winter farmers markets features seasonal produce and specialty items. By extending the growing season to meet the demands of local food lovers in the region, the winter edition of Asheville City Market makes buying local produce a year-round affair.
Keep up to date with the market's latest events and off-season updates on their Facebook page. If you're visiting Asheville between January and March, this market and the WNC Farmers Market warehouse (detailed below) are the only two markets that will be open. Still, there are many treasures to be found, especially if you like pickles and preserves.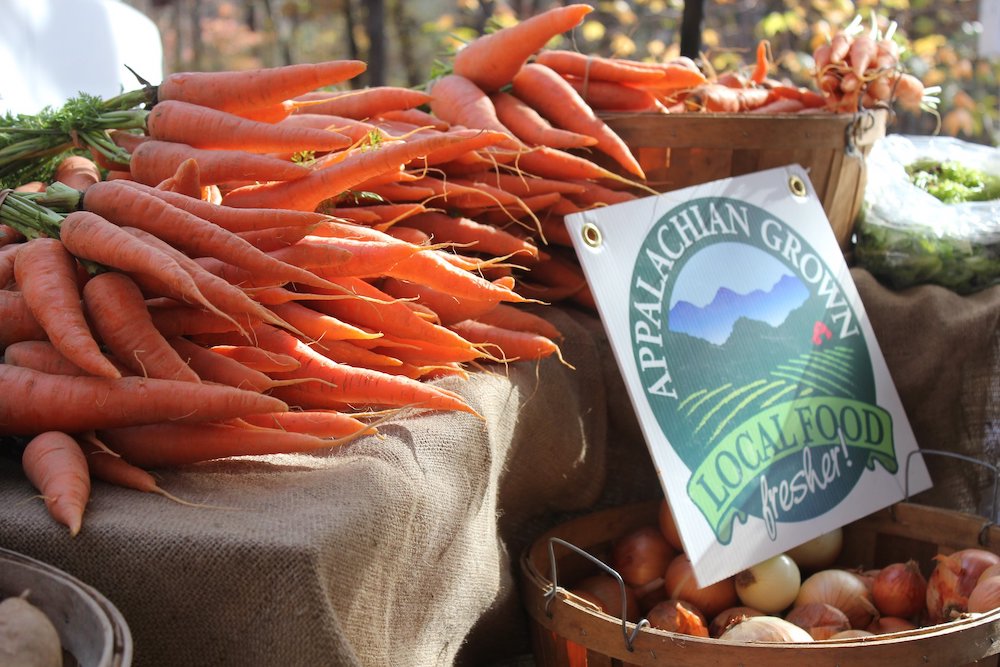 Asheville City Market– South
Wednesdays, Noon-4 PM from April to October at Biltmore Park Town Square, 3 Town Square Boulevard.
This South Asheville farmers market is a lovely little hidden gem serving South Slope and Biltmore Village. While it's less frequented than the downtown ACM, the Asheville City Market–South offers just as robust a list of products, as it is organizes by the same nonprofit, the Appalachian Sustainable Agriculture Project. And, it's distance from the center of town makes it feel even more intimate and charming.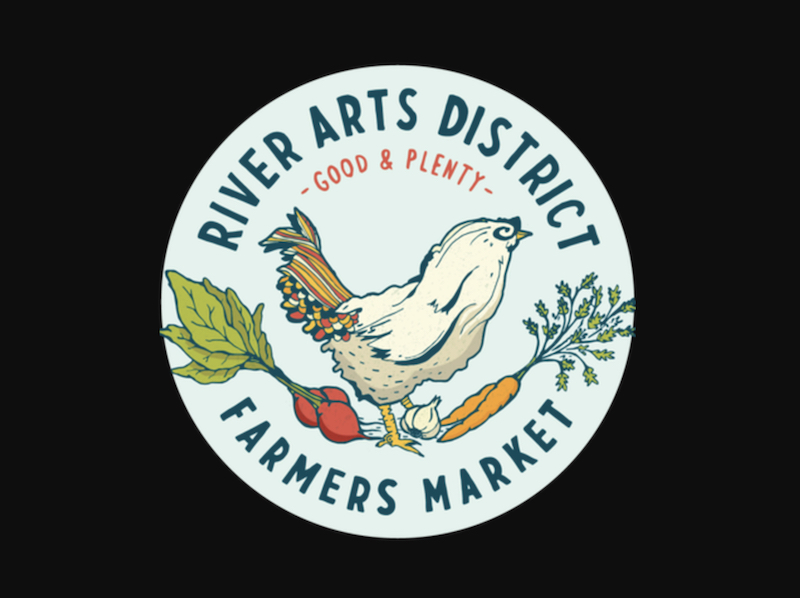 River Arts District Farmers Market
Wednesdays 3-6 PM from May 1 to November 27, at 175 Clingman Avenue.
The River Arts District Farmers Market is a mid-week market that features produce, meats, cheeses, eggs, fresh bread and pastries, cider, and honey from local favorite farms. It's also the most artsy and "hipster" of Asheville's farmers markets. Sauerkraut, cupcakes, mushrooms: you name it, this market has it! As a long time local favorite, the so-called RAD market is one of the more fun ones in the area, with local music and activities for kids, in addition to produce and food for sale.
This market is also located right next to All Souls Pizza, which, the for the record, is a great local specialty pizza place, which strives to use seasonal ingredients and to source their meat and produce from as close to home as possible. They also mill their own flour and polenta from organic grains. (Very few pizza places in the world actually do that!)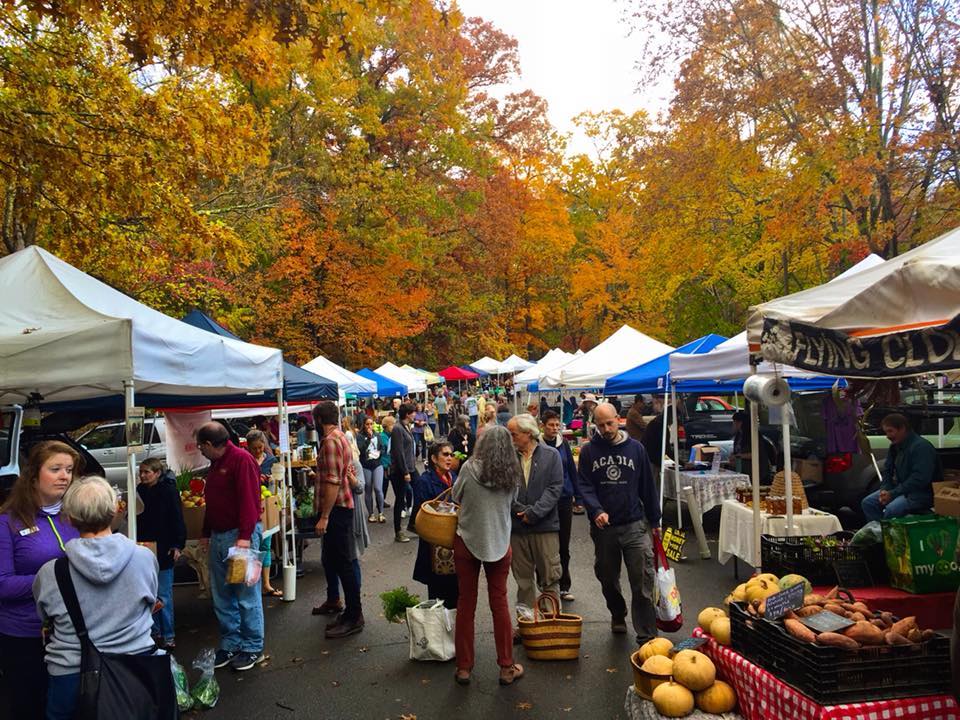 North Asheville Tailgate Market
Saturdays 8 AM to Noon from April to December, at the UNC Asheville Campus Commuter Parking lot P28.
This weekend market is the oldest and best farmers market in Asheville! Featuring over 40 vendors pedaling everything from coffee to crepes, the North Asheville Tailgate Market is busy and bustling. They've been selling and celebrating produce, eggs, meat, baked goods, cut flowers, plants and more since 1980. As a result, this one stop market for epic pantry-stocking is truly a community affair, bringing excitement to the UNC campus that rivals that of a real tailgate (and with almost as many people).
In the peak of summer, look for gorgeous, voluminous tufts of flowers at the Full Sun Farm Stand and plant like Lemon Drop and Cactus Zinnias for sale. In Fall, the market is just as crowded as in the summer, surrounded by Asheville's iconic golden-orange trees in all of their "leaf" season glory.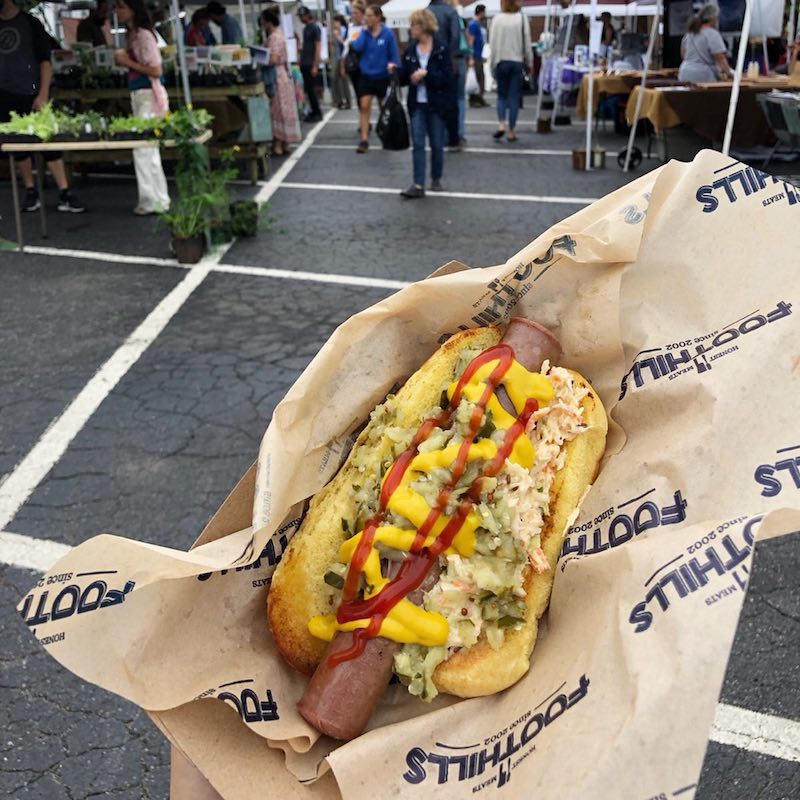 West Asheville Tailgate Market
Tuesdays 3:30-6:30 PM from April 7 to late November, in the parking lot of Grace Baptist Church, 718 Haywood Road.
The West Asheville Tailgate Market showcases organic produce, baked goods, ferments, flowers, jams and sundries, mushrooms, herbal medicine, natural homemade body products, crafts, eggs, cheese, and meat. In typical West Asheville style, it's also very dog-friendly and beard-friendly. The market also has live music and free kids activities, making it one of the most popular farmers markets in Asheville.
Stop by the Foothills Honest Meats pop-up for the most delicious, quality hot dogs ever, or swing by any of the herbal vendors to pick up floral incense, CBD products, spice rubs, and various herbal medicines. It's all quirky and lovely, at once dependable and also worthy of Asheville's unwritten motto of "Staying Weird."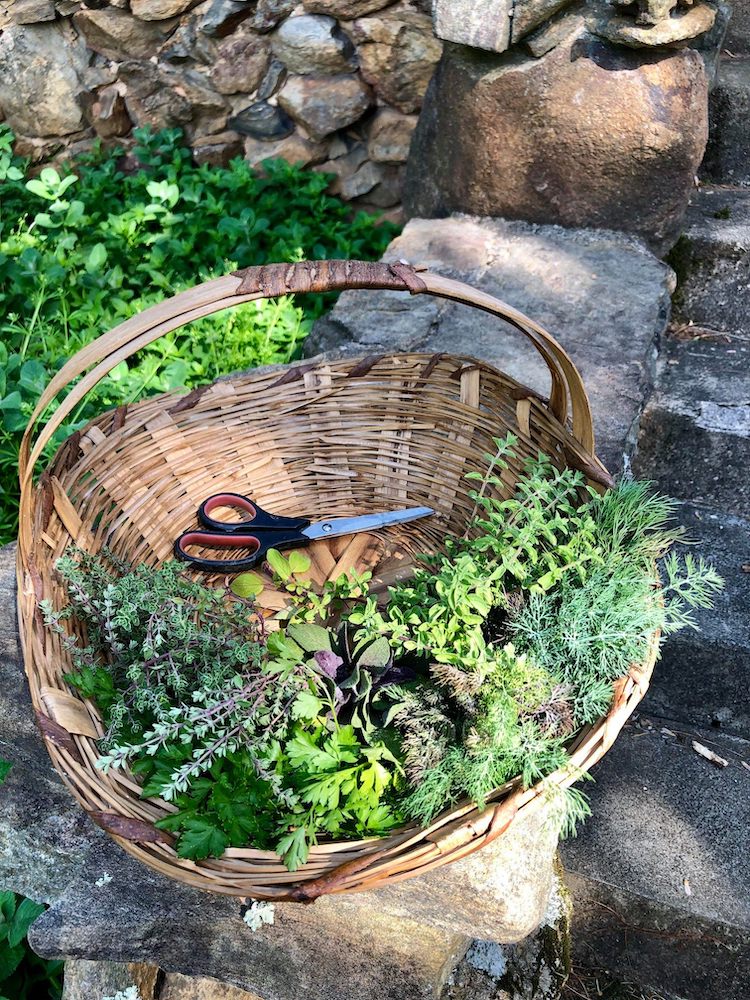 East Asheville Tailgate Market
Fridays 3-6PM from May to September, outside of Groce United Methodist Church, 954 Tunnel Road.
As a nice counterpart to the West Asheville Farmers Market, the East Asheville Farmers Market is a little more artisanal. From fancy popsicles to rare plums, they offer unique local produce, meat and seafood, bread and baked goods, body products, and crafts as well as value added products. They have a delightful array of honey and flower vendors (sometimes at the same table!) and during peach season– well, there's no better place to be.
Sweets lovers with adore the Czech-style Bourbon Pecan Bars at Leroy Digs It. Knitters, meanwhile, can pick up hand-dyed merino yarn and culinary herbs from Heartstone Farm. There aren't as many vendors at this market as at others in the area, but what the market lacks in numbers it makes up for in spirit.
Honorable Mention
***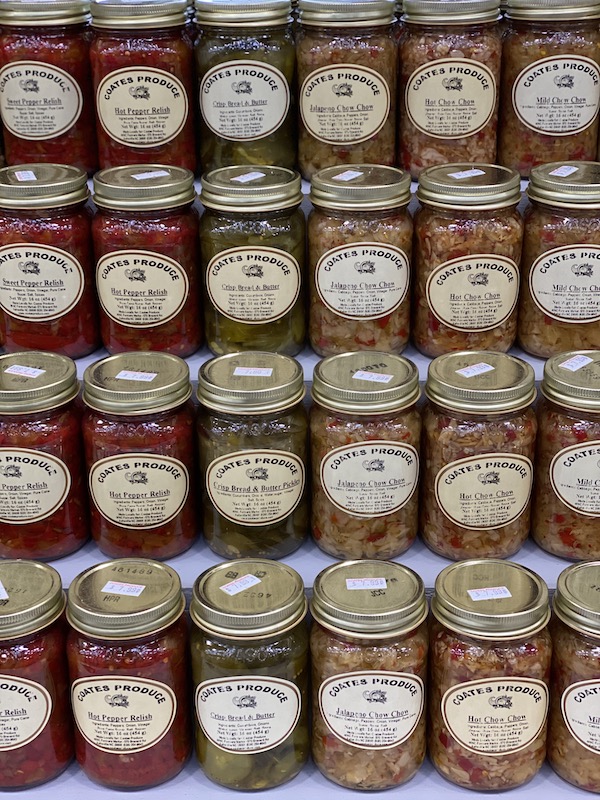 WNC Farmers Market
Open daily 8 AM to 5 PM year-round, 570 Brevard Road.
The WNC Farmers Market is open daily from 8 AM-5 PM, but hours change seasonally. This friendly, decidedly normcore farmers market in Truck Shed No. 1 is designated for farmers who sell only what they grow. Coates Produce, the largest and most impressive vendor here, has specialty local items like black walnuts by the jar, pickled okra, iced green tomato pickles, pickled quail eggs (spicy, mild, or beet-infused), cured country ham, watermelon rind pickles, corn salsas, amaretto pecan honey butters, local sourwood honey, and a huge array of sweet and savory jams, from jalapeño jelly to blackberry preserves. When you really start looking around their shelves, there are a number of super unique local items to behold.
They also have a concise selection of fresh produce– but not all of it is local. WNC is good for a quick stop when you want fast, fresh veggies and ferments from a local vendor. They also have mountain crafts and vendors who sell local carvings and artisan wood carved objects. On the first weekend in May, WNC also hosts the Asheville Herb Festival, one of the largest herb festivals in North America.
Mostly, we like that this market is open every day of the week. But if you want to experience an open-air market– or if you really want to "see and be seen"– head to any of the other farmers markets on this list. No matter where you go, vendors are sure to great you with a sample and a smile. That's the North Carolina way, after all.
***
Related: The 15 Best Restaurants in Asheville for Amazing Local Meals.
Also: 17 Cool Things to do in Asheville (A Charming Visitors Guide)