Orlando, Florida is a city that is often overlooked for its coffee culture because of its synonymous association with Walt Disney World, which is just outside of the city limits. The city itself, however, has emerged in recent years as a bastion of Central Florida arts and culture— especially with respect to food, mixology, recreation, and leisure.
Accordingly, the whole vibe of Orlando's best coffee shops is angled at creating vibrant, air-conditioned community spaces where people can relax, enjoy quality libations, and hang out.
Some of Orlando's best coffee shops, for example, have a hip skate-punk influence, with snake plants and sticker decal machines, Orlando Magic bobbleheads, and pictures of icons like Gerry Garcia and James Baldwin, etc. Time moves more slowly down here. There are often CBD products and art-inspired logo T-shirts. You get the idea.
Other places nod at the kind of chic, minimalist, greenery-filled spaces one might find in Brooklyn or LA, with airy industrial interiors, blonde wood chevron tables, and vintage-inspired espresso machines. These tend to be a bit more bustling. Either way, no matter what vibe you're looking for, the robust coffee shop scene in Orlando can amply provide it.
Orlando is a big, sprawling city, and fortunately, there are nice cafes in seemingly every corner of its limits. Many of the most popular ones, of course, are clustered around picturesque Lake Eola and Thornton Park, downtown.
Still, if you want to know where to go for the best ambiance and coffee in Orlando, you need to know where to go. Fortunately, you're in the right place. All of the below coffee shops highlight aspects of local culture and trends that are often unique to the city.
Scroll our guide to the best, coolest coffee shops in Orlando– including insider tips on what to order where for the classic experience– below. Bookmark this list for easy reference later!
Enjoy! ☕️
***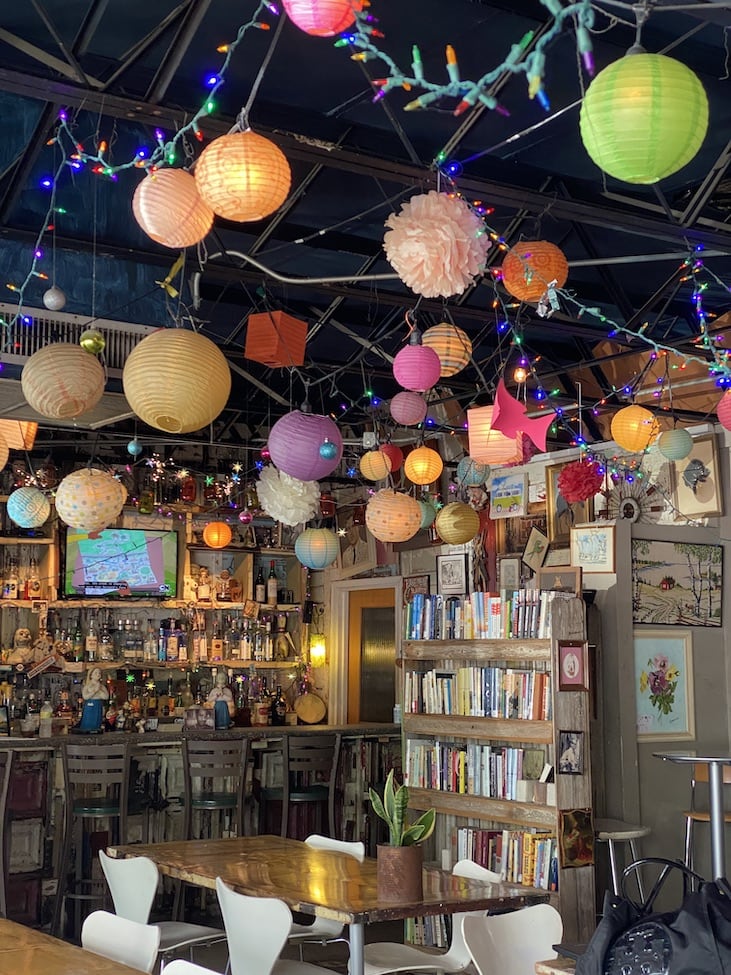 Stardust Video and Coffee
Stardust Video and Coffee is not really "on" the Internet, so it feels like an amazing hidden gem! Even the exterior is hidden beneath a layer of hanging vines, so walking into what feels like an enchanted vintage expat bookstore is just wonderful.
The facade is even covered with vines, so you can't see the sign outside, as if the coffee shop itself is trying to hide from the world. Once you step inside, however, it's immediately clear that this place is something special.
We love the paper lanterns hanging from the ceiling and the vintage memorabilia, plus the well-used photo booth and cheeky graffiti-like notes that have been saved over the years. They even have a signed photograph from Britney Spears, who, according to this note, "loved [Stardust coffee] so much she [did it] again."
It's a legendary artsy and offbeat cafe, open late! And only 10 minutes by car from Lake Eola. For the quintessential experience, order an iced latte or cold brew. They can also grind fresh beans for you to take home as a souvenir.
Also, FWIW, the food here is lovely and very veggie-forward. Take, for example, the Luis Guzman vegetarian chili, which has been "a crowd pleaser for decades." They also make a great "Neo-Philly": a pressed sandwich made with tempeh, onions, red peppers, vegan mozzarella, and bbq sauce.
Many of the salads and sandwiches, moreover, are listed with a "CV" meaning they "could be veganized". You get the idea– the menu is cheeky. Vegans and vegetarians are openly welcome alongside meat eaters who enjoy sandwiches like the Crispin Glover (pesto chicken with parm, tomato, and lettuce) and the Grinderman (chicken, pesto, goat chez, and hot sauce).
Plus, they even have an "American Psycho" hummus sandwich that is never made the same way. (Unlike their coffee, which is reliably excellent every time.)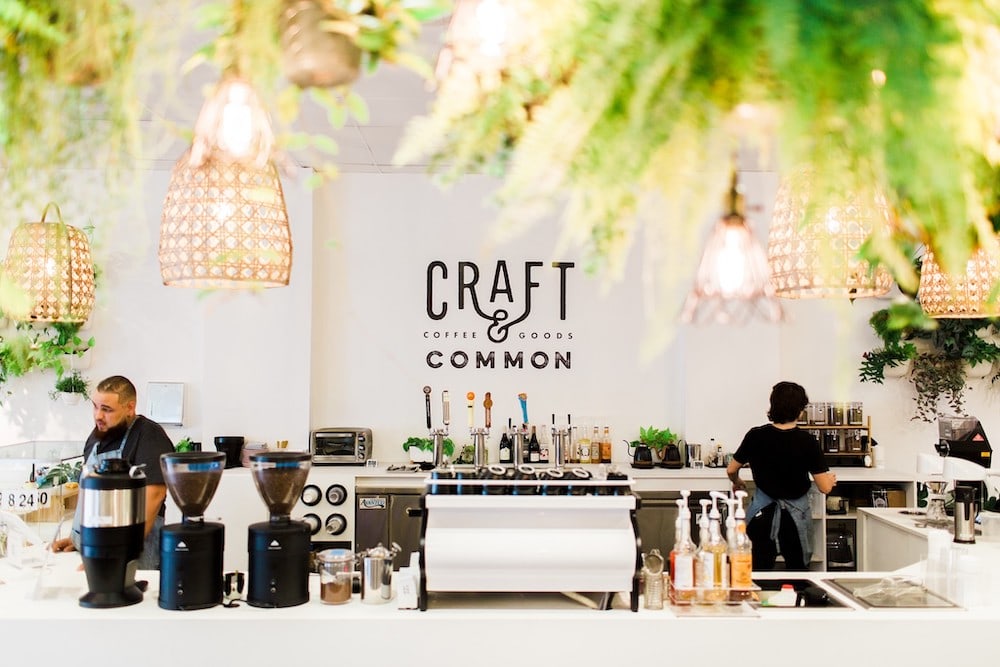 Craft & Common
Bright and airy Craft & Common is a quintessential downtown Orlando coffee shop that's proudly woman-owned and woman-led.
With its minimalist white plant-filled interior and open-air barista station, it oozes bohemian Brooklyn vibes. C&C is a classic stop for coffee lovers– especially those who will appreciate their cool collection of prints, local sundries, can-shaped coffee glasses, and vintage-inspired logo T-shirts. (We love the one that says, "Death Before Decaf".)
While its curbside exterior doesn't offer much by way of parking, there's plenty of room to set a bike and it's a 15-minute walk from Lake Eola.
Inside, expect a mix of hip young professionals and artsy types chatting at blond wood tables, on windowfront barstools, or inside the two inviting bcuket chairs below the "It Was All A Dream" palm wallpaper mural. The baristas wear canvas aprons and the whole space is very hygge, with white walls and snake plants, ferns, and draping celosias hanging from living plant walls and modernist light fixture.
Drinks-wise, opt for any of their signature coffee drinks for the quintessential experience. Take, for example, the Wild Child, a blend of espresso, your choice of milk, rose syrup, and vanilla cardamom that plays well hot or iced. (We like it iced.)
They also serve delicious (if a bit sweet) eclectic specialty drinks like Iced Banana Chai Coffee made with espresso and a two-tone Strawberry Milk Matcha. Alternative milks like almond and oat milk are always, of course, available. And around holidays, you can expect seasonal drink variations like last year's Halloween-themed Dr. Jekyll and Mr. Thai, a nitro-brewed Thai tea with condensed milk and black licorice oat foam. (<— Not as scary as those flavors sound, we promise.)
For those who want to linger over their latte, espresso, or cortado, the cafe serves a lovely almond croissant and a downright pretty strawberry vanilla cake, which is popular with locals. Enjoy them at one of their live-edge tables or take them to go.
C&C also sells local Botanica Co incense (in flavors like "Harvest Moon" and "Ladybird", and "Teahupo'o"– supporting ocean sustainability in French Polynesia!); as well as an impressive variety of cheeky, artfully-illustrated greeting cards. Come for the coffee, stay for how it's curated.
Basically: Issa vibe!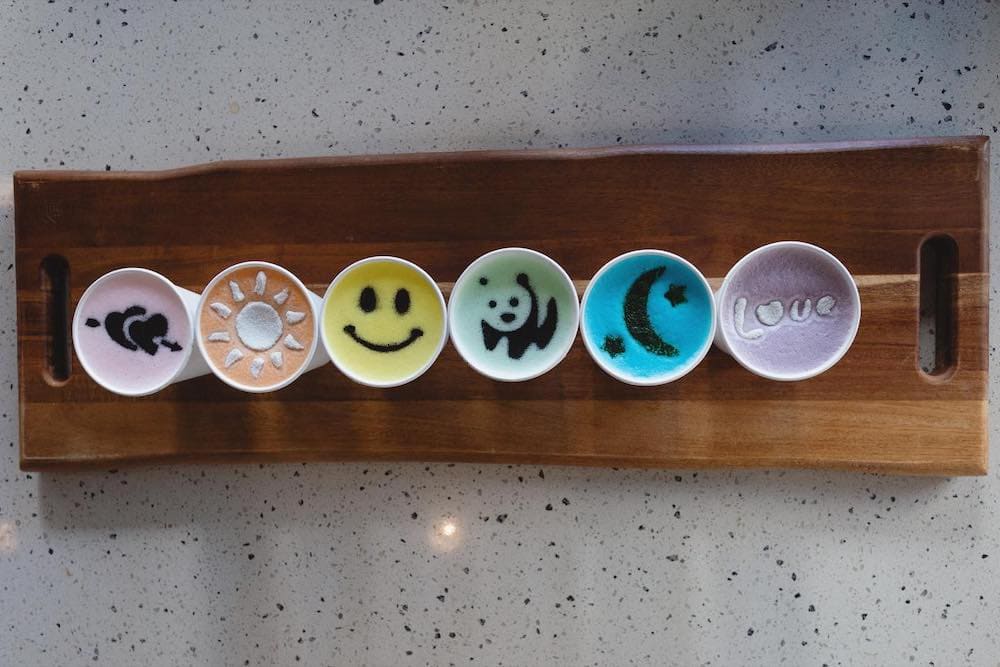 Bynx (For Live Music, Coffee, and Primo Vinyl Records)
Part record store, part family-owned cafe, Bynx is located on the corner of a trendy little retail strip in Downtown Orlando. Known for their signature mix of music and coffee, this hip, artsy cafe sells used records, collectible books, and other "unique ephemera" that has made them the defacto Orlando coffee shop for music lovers.
The cafe regularly has live music, and they sell a wonderful collection of popular and exceedingly rare vinyl records, like Nina Simone's Fodder On My Wings; rare Doors albums pressed in Japan and printed in Japanese; and live recorded Beatles box sets. There's even a recording studio on site!
As of this writing, there's a gorgeous Jimi Hendrix-inspired art piece on the wall next to the coffee pickup counter, and they sell quirky, very "Orlando" goodies like CBD kombucha, CBD sparkling water, and CBD flowers.
The coffee here tends to mirror larger cafe trends– well-poured lattes and vegan/gluten-free cookies are readily available. But, Bynx also offers quirky seasonal drinks like Orange Creamsicle Lattes and Biscoffee cookie butter lattes, a favorite around the holidays.
Recently, they even started selling an Espresso Tonic made with– yes, literally– espresso and tonic water.
In addition to coffee, they sell other nice bottled drinks, birthday cake cookies, and more! Come for the coffee, stay for the music and other ephemera.
After lingering for a while at Bynx, walk to Cool Hand Robyn to shop for awesome plant potters, or visit The Greenery Creamery for boutique ice cream. (<— They also sell gorgeous bags of Eola Coffee Company coffee beans, which make a great souvenir.) This quaint little strip of Church Street has lots of cool shops!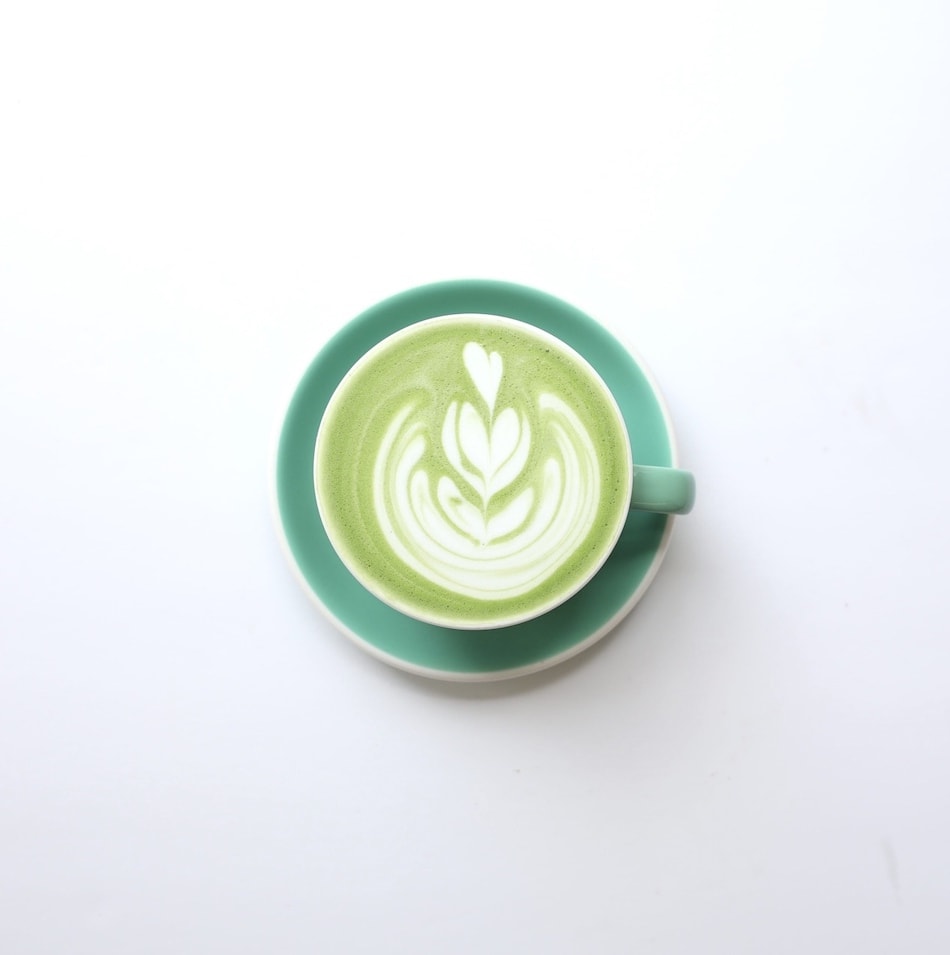 Deeply Cafe & Bottle Shop
Deeply Cafe & Bottle Shop is a well-attended downtown haunt with a gorgeous, minimalist breakfast menu and decidedly Scandinavian vibes. I love the sunken gray/concrete exterior, which feels like the kind of Brutalist facade you might see on a Berlin storefront.
And with its concrete floors and exposed industrial ceiling, that vibe continues inside. Here, they sell Stockholm-based Drop Coffee and F. BU. GAH. by Nomad Coffee, a boutique roaster from Poblenou, Barcelona's coolest neighborhood.
They have a Kees van der Westen Spirit Triplette, one of the most expensive espresso machines in the world— and the baristas are all tattooed.
Laptops are welcome, and WiFi is free.
Deeply, moreover, is a great coffee shop for aesthetes. It's full of geometrically pleasing sight lines, blond wood chevron tables, ample seating, and people with dogs. (Yes, it's also pet-friendly!)
At night, it converts to a salon-like wine bar (thus the name "bottle shop" and the selection of artsy wines lining the register adjacent wall); this gives it real appeal as a social gathering space in the heart of the city.
I love their bright green iced matcha latte, seafoam green mugs, gourmet pop tarts, and the secretly lovely breakfast menu, including beautiful egg-topped avocado toast and a vegan crunch wrap supreme. The lattes at Deeply are excellent, even by coffee snob standards, and they cohere beautifully with the house oat milk.
There's also lots of window front seating, and the sunken shop exterior makes it so that it's well lit, but it never gets *too* sunny. Ultimately, this is definitely a coffee shop for europhiles, but it still packs the right balance of warm-weather, Floridian charm.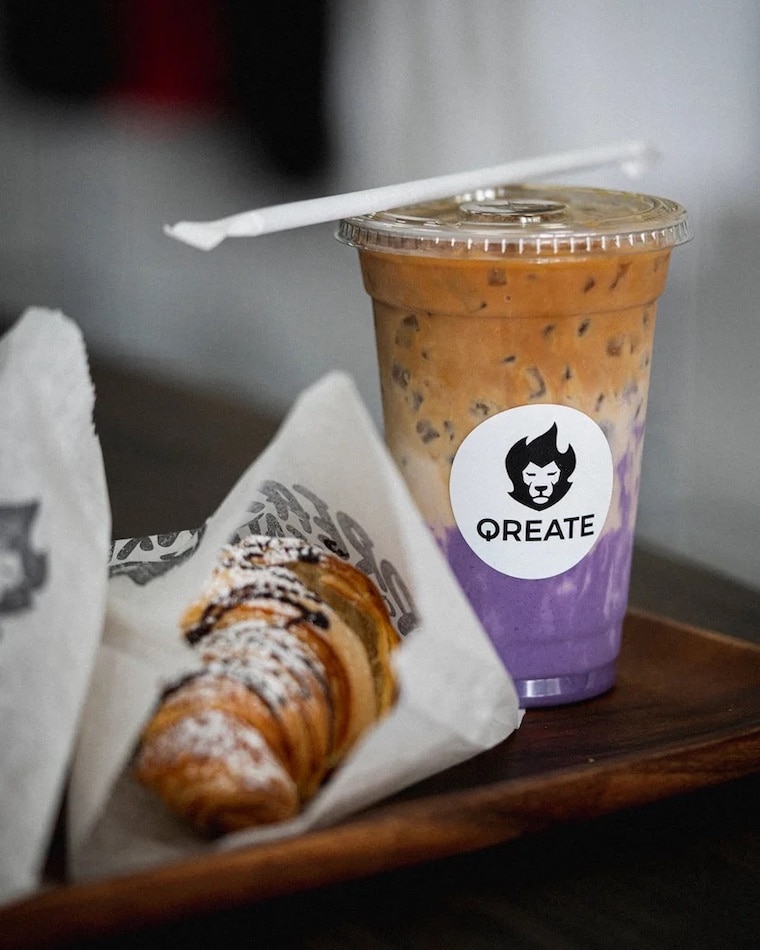 Qreate Coffee Studio
Qreate Coffee + Studio really embodies the cultural renaissance of art spaces + coffee culture coming together. This coffee shop inside a photo studio is an ideal space for creatives to bask in the glory of their craft… while drinking coffee.
First-timers MUST try the Purple Pearl Taro Coffee with espresso and coconut milk, as these iconic two-tone drinks are a Qreate Studio master craft. Here, Orlando's Asian-American food culture shows its influence, as pan-Asian flavors like cherry blossom, matcha, taro, and coconut feature prominently across these specialty drinks. (Many of these borrow from flavor pairings typically seen in Boba tea, which is also very popular in Orlando.)
Or, for a unique experience, try one of the seasonal specials like the recent Hazy Daisy, a sweetened cortado with smoked foam, or the Good Vibrations, a key lime cold brew with graham cracker crumble and coconut foam (not for the faint of heart!). These sometimes sell out quickly, so go here earlier in the day if you can.
Qreate also sells select baked goods like guava pillows and super famous quesitos– the best quesitos in Orlando, in fact. (Quesitos are a popular Puerto Rican pastry with flaky crust and sweet cheese, sort of like the Latin cousin of a cheese danish (except way better, IMHO). Orlando is a great place to try them if you aren't already familiar!)
Ultimately, between the paper photography backdrop and chic warehouse vibe, and people with names like Archer and Nico hanging out, Qreate is a hipster haven in the up-and-coming Mills 50 district. It's not really near anything, but it's walkable from The Salt Room (which we discuss at length in our Insider's Guide to Orlando) and it's a 13-minute walk from Lake Eola.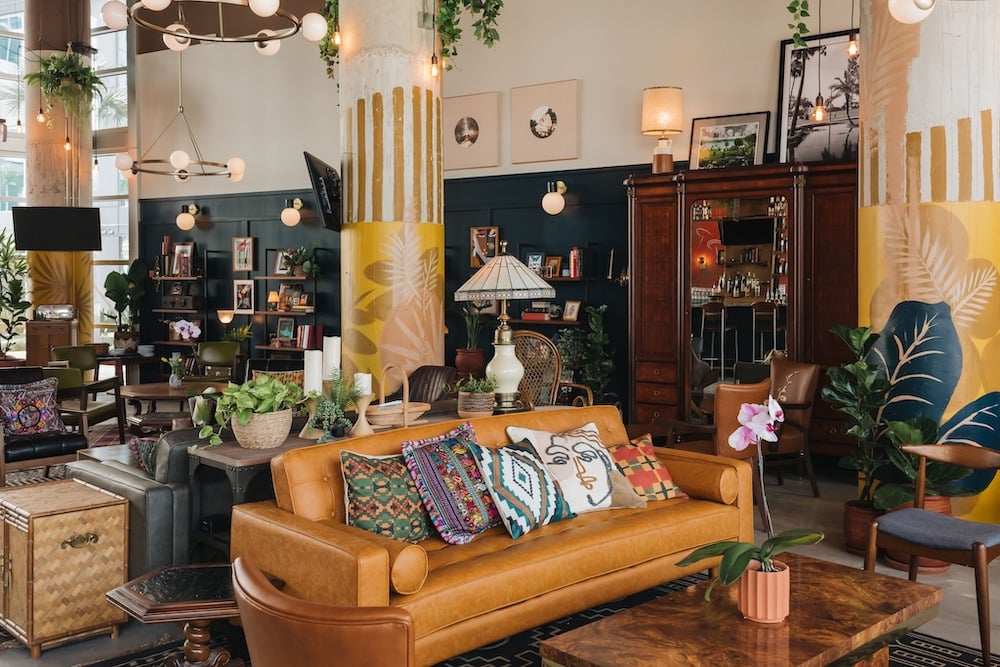 The Monroe
Chicly-designed coffee lounge by day, hip restaurant by night. The Monroe is a design-lovers paradise that's ideal for people with an eye for vintage, visuals, and vibrant colors.
This diverse social gathering space on the ground floor of The Julian Apartments in Downtown Orlando features a bar, lounge/study, backyard patio, and open concept dining area, in addition to the daytime coffee bar.
As you can see from the image above, the style here is really on point! But, they also have one of the craziest drinks I've seen in Orlando: a Classic Rootbeer Latte, which is exactly what it sounds like.
This rootbeer-flavored latte is surprisingly lovely iced, and it's sweet, but not overly. Try it for a novelty experience, or go with a classic cappuccino. Or, sip a specialty tea drink like the Undivided Attention, made with English Breakfast iced tea, luxardo vanilla, orange bitters, heavy cream, and cinnamon. (<—There's a lot going on there, but the baristas know what they're doing.)
The coffee is great– truly– but the really the design here is just so amazing and worth seeking out. They've even painted the concrete support beams to match the vintage, gathered boho textiles that adorn the seating area.
Overall, it's the kind of space that just makes you feel cool and fashionable by association. But first, coffee.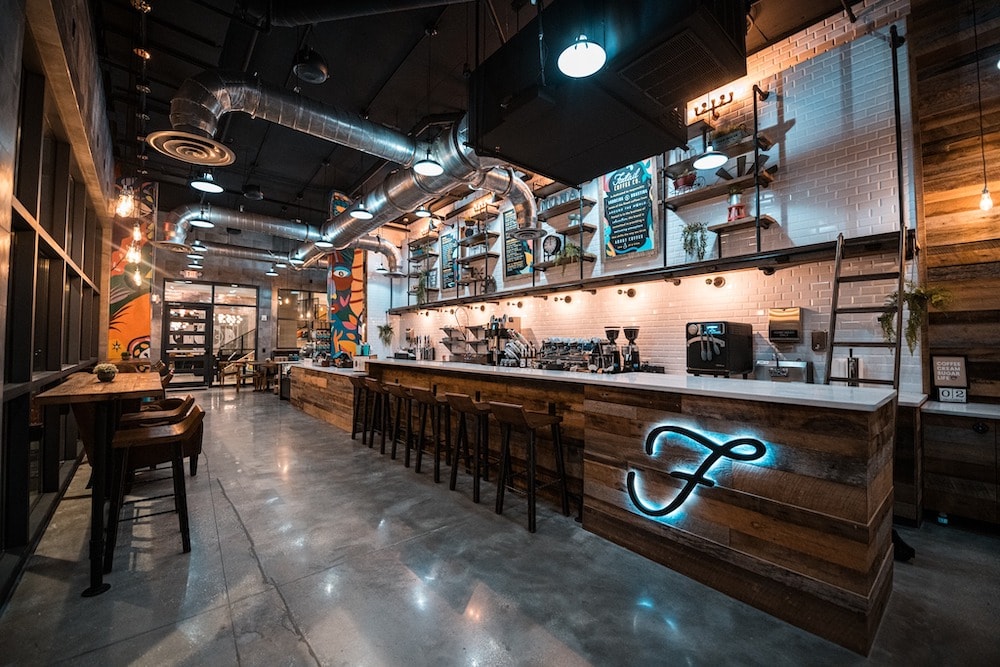 Foxtail Coffee Co
Foxtail Coffee Co is dedicated to responsibly sourcing their coffee from ethical farms that pay workers a living wage. They have a number of industrial-sleek outposts around Orlando, from a pop-up counter at The Milkhouse (a good spot to try Kelly's Homemade Ice Cream and/or Chichetti Kitchen!) to the heart of downtown, right next to DoveCote Restaurant (a great place to go for brunch, with an incredible raw bar).
In addition to their "world-famous" cold brew, they do a gorgeous cafe con leche. Plus, their drinks are served in what might be the most photogenic coffee cups in all of Orlando! Here's an example of their recent adorable dog cup: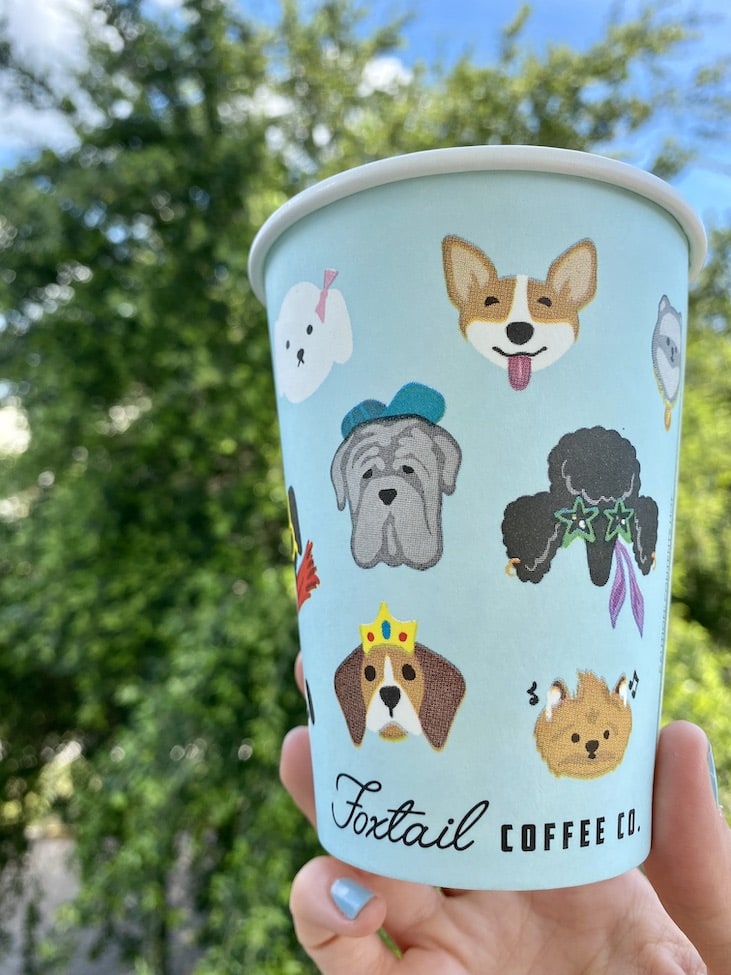 The flavor shots here, meanwhile, are really excellent and can be made less sweet for purists. I specifically recommend a hot cafe con leche with a shot of cinnamon (if you're so inclined).
Foxtail also does a great pour-over, though these sometimes take longer to prepare. All drinks, ultimately, look stylish in any of their bright, colorful tumblers for sale. (Ask if they can make your drink in one for you to carry out!)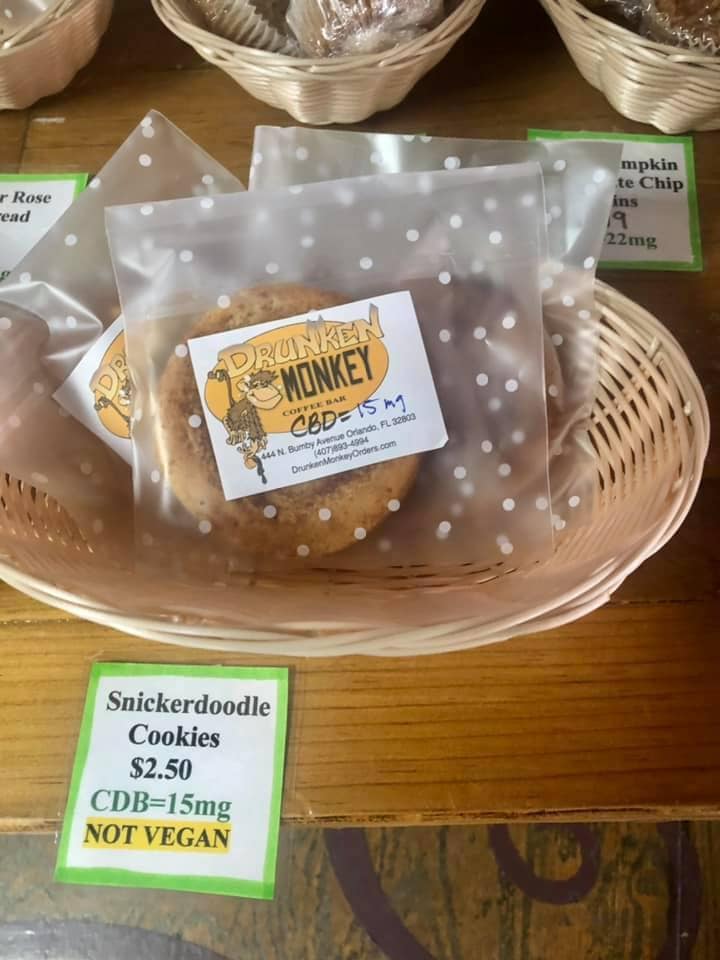 Drunken Monkey Coffee Bar
Though it might look like an abandoned fast food restaurant on the outside, Drunken Monkey Coffee Bar is popular with locals. The extremely cozy interior reminisces of the most nostalgic coffee houses of yore (think: TV shows like Friends and something that you might still find in present-day Portland or Seattle, where coffee is practically a religion).
This laid-back, Slacker-style coffee shop has a special place in our hearts. The food is super veggie-friendly and there's free WiFi, for those asking. It's one-part hipster, one-part college town coffee house. (Their website is even powered by WordPress, which in itself makes it feel like a throwback to a different era. 🙂 )
Plus, they have unique baked goods like Anzac cookie (shout out to the Aussies reading this!) as well as vegan + gluten-free blueberry vanilla cupcakes, chocolate chip pound cake, etc. They also serve some of the best soups in town, with a selection that rotates seasonally and often.
Menu-wise, we're impressed with the massive grilled burritos and the litany of CBD-infused baked goods, from cookies and brownies to muffins and guava pastries each listing how many mg of CBD is in each. (ICYMI: Read more about CBD and how it can be thoughtfully used to treat anxiety and stress, here.)
Overall, it's a coffee-lovers coffee shop masquerading as a laid-back community haunt. If you like your coffee without the pretense, go here and linger.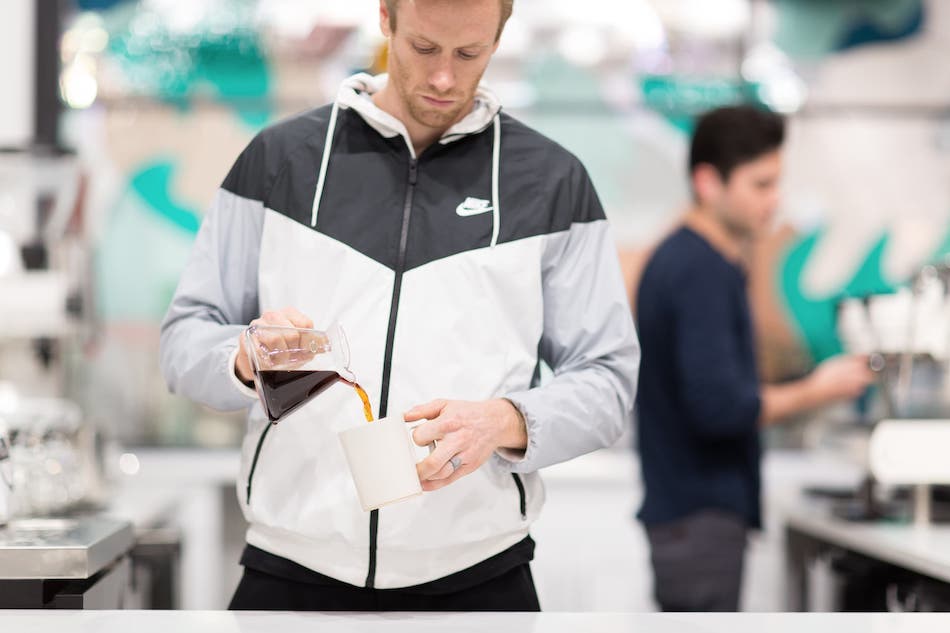 Lineage Coffee Roasting
Lineage Coffee Roasting is a cool spot with locations in popular hubs like East End Market, as well as stand-alone outposts around the city. Their Flat White is excellent and their aesthetic is pleasingly modern, full of vintage wood and steel countertops.
As one of Orlando's premier coffee roasters, the emphasis here is on sourcing and the nuanced complexities that they coax out of each bean during the roasting process. If you're a real, pristine coffee snob, this is the Orlando coffee spot for you. Their tagline says it all "Roasting the best coffees in the world and serving them in Orlando."
Visit their location at East End Market for a quick cup, or linger at their Mills/50 or UCF cafes for more of a people-watching vibe.
Also, they sell cupping spoons and dad hats. So basically: they're down with coffee culture. They know how to play the hits.
~ Honorable Mention ~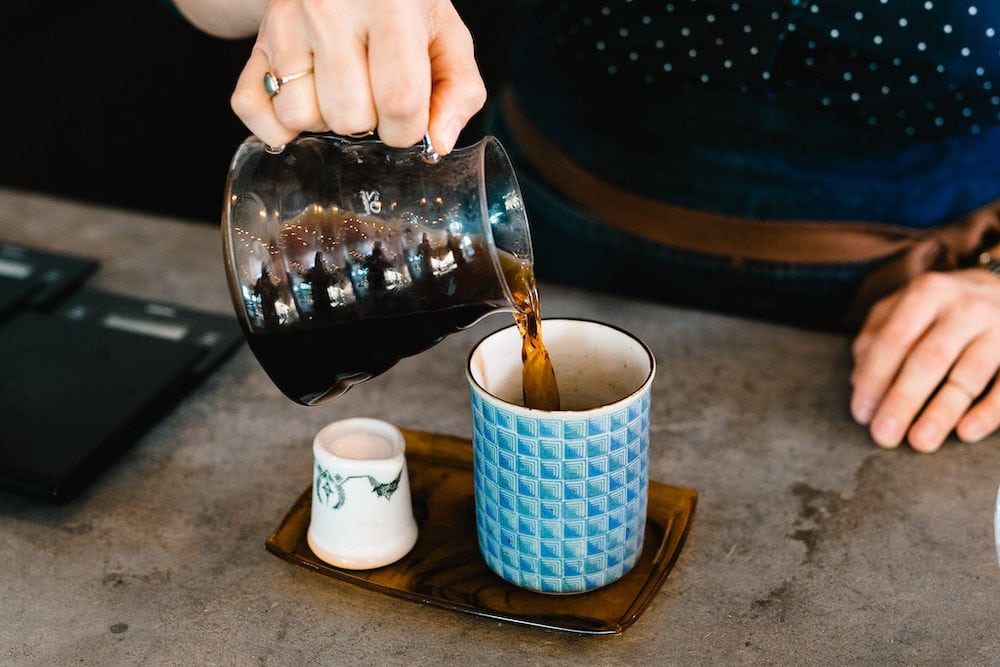 Duo58 Community Coffee Bar & Cafe
Duo58 is really on the outskirts of the southwest side of the city, so it's more of a cool hangout spot en route to the airport than it is a proper Orlando coffee shop. But, every purchase here helps feed and educate children in Haiti, so it's a worthy space to spend your tourism dollars.
This spacious cafe is also a bustling co-working space, with ample outlets for charging devices; two conference rooms for rent; and kid-friendly features like a play corner, high chairs, a koala care station in the bathroom, as well as a dedicated kids menu. Naturally, there's also free wifi.
Coffee-wise, they offer a subtly wonderful Peanut Butter Cup Latte, which is a perfect example of the kind of adventurous, whimsical flavors that are seemingly dominating the Orlando coffee scene at the time of this writing. (They also have a Blueberry Cobbler Latte and one called "The Lorax"– a lavender orange cortado.)
Plus, the gluten-free + vegan banana bread is excellent! Look for it. And when they ask if they should heat it, say yes.
In keeping with their Fair Trade principles, Duo58 also sells nice tote bags, as well as a small selection of locally-made jewelry, soap, tea towels, candles, and the like. Other than that, they are also the only coffee shop in Orlando that features a small selection of locally-grown succulents + cacti for sale. If you're "prickly" before you have your morning coffee, you're in good company here! 😉
Lobos Coffee Roasters
Lobos Coffee Roasters in Audobon Park has nice outdoor patio seating and a decidedly chill vibe. The founder's grandmother owned a coffee farm, so the sourcing here is a real labor of love and familial warmth. Thus, it's an easygoing place to stop for an iced coffee when it's super hot outside.
In the summer, they even offer quirky seasonal specials like Cold Brew Lemonade made from– you guessed it— housemade lemonade layered with housemade cold brew coffee. Yes, it's not that weird. Folks in Honolulu have been doing this for years!
***
Related: The 11 Best Restaurants in Orlando.
Have coffee, will travel? Read more bespoke coffee shop guides for cities like Asheville, Savannah, Honolulu, and beyond in our critically-acclaimed Travel Well section.