Amidst the crisp mountain air and beautiful mountain views, Asheville, North Carolina is the perfect backdrop for a nice cup of hot coffee– especially in the Fall. Accordingly, Asheville has become a city that's famous for its hip coffee shops (in addition to breweries, farm-to-table restaurants, and natural wonders).
Because of the mounting popularity of local roasters in the region, the sheer volume of choice when it comes to coffee may leave caffeine-seeking visitors to Asheville feeling slightly overwhelmed.
Fortunately, this guide to Asheville's best coffee shops highlights which cafes you shouldn't miss, as well as what to order where for the quintessential coffee-drinking experience in Asheville.
If you're a coffee lover who likes to incorporate this morning ritual into your travel routine, these are the local cafes you should seek out.
Below, we spotlight everything from family-run coffee shops to hipster cafes and every small-batch roaster in between. Asheville's coffee scene has something to offer everyone, whether you're a coffee snob purist, a lover of blended drinks, or an artsy-socialite type who simply likes hanging out at the local watering hole.
Below we spotlight the best coffee shops in Asheville– and what makes them so charming. Bookmark this list for easy reference later.
Enjoy!
***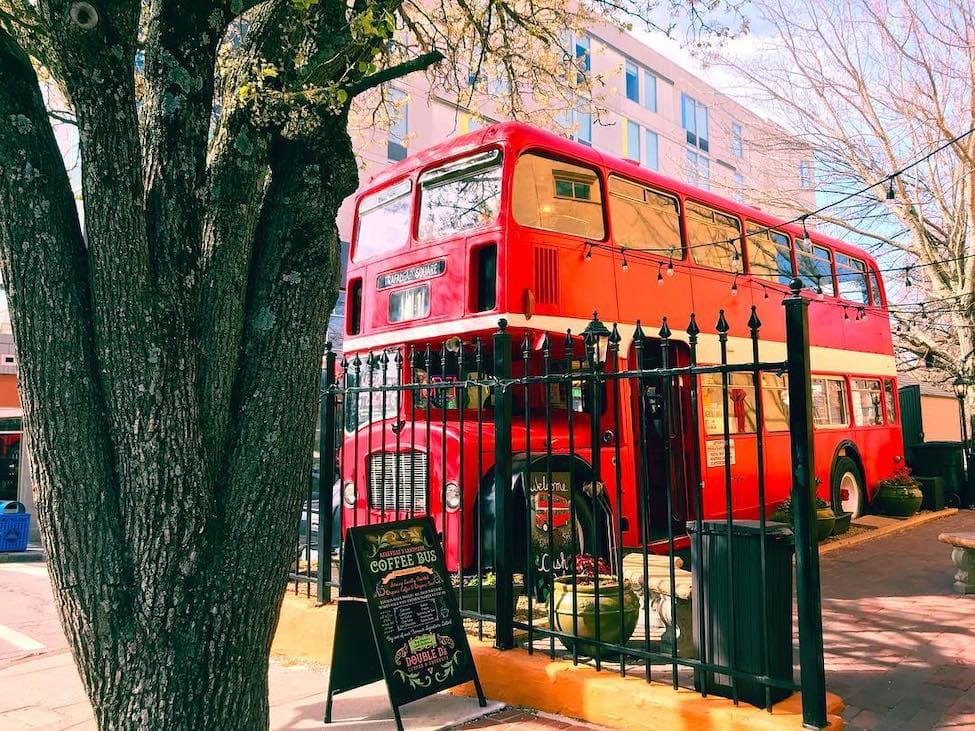 Double D's Coffee and Desserts
Ashville's iconic Double Decker bus cafe Double D's is a charming experiential cafe inside an English-style double-decker bus that's permanently parked under an apple tree on Biltmore Avenue. (The tree blooms gorgeously in the spring, which is why it's worth mentioning by name.)
Even though people are initially drawn to the gimmick, the coffee and desserts here are absolutely lovely. Double D's serves organic gourmet coffee, tea, and desserts to universal critical acclaim.
They sell killer fruit bars, coffee cake muffins from The Rhu (see below), and wonderful seasonal specialty coffee drinks with alternative milks, coffee syrups, and whipped cream on demand. All of it is excellent, whether you go minimalist (Cafe au lait, Americano) or heavy (try their "Shot in the Dark" blend of coffee and espresso).
If you're looking for a heavier coffee drink, see, for example, their signature affogato– 2 shots of espresso over an 8 oz. scoop of vanilla ice cream– which is easily the best in the region.
Or, try a Coffee Frappe or house Gingerbread Creme around the holidays. (<— It's made from white chocolate + gingerbread syrup, a shake of cinnamon, two shots of espresso, steamed milk, and whipped cream. It's basically a meal into itself!)
Ultimately, though, people flock to Double D's for the ambiance. Yes, you can sit inside the bus and sip your coffee while gazing through the painted windows. Then, continue your stroll down Biltmore Ave and drink in all that Asheville has to offer.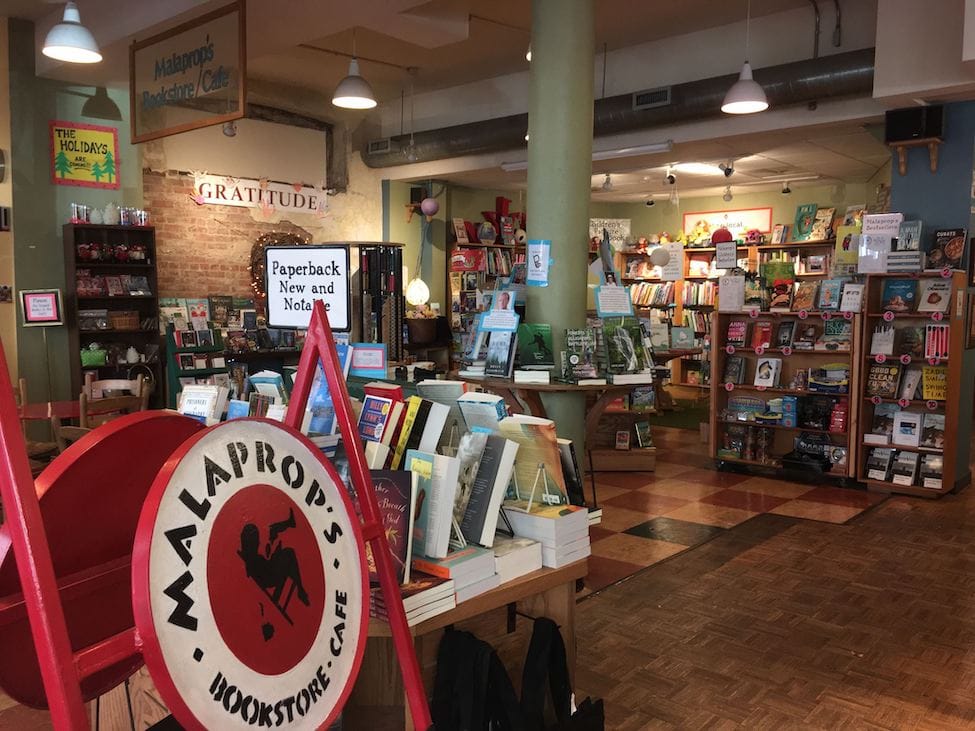 Malaprop's Bookstore/Cafe
Downtown Asheville's iconic Malaprop's Bookstore/Cafe is so cute! It's considered one of the "South's Best Bookstores" and the cozy cafe serves Counter Culture Coffee (based out of Durham, North Carolina) and treats from local West End Bakery (makers of excellent puffed pastries and bread).
While the bookstore angle obviously the big draw here, the tiny cafe tables are so inviting and quaint that they're worth visiting in their own right, if only for the hushed, reverential, library-like ambiance.
Malaprops, moreover, offers the best that any local bookstore has to offer. It perfectly captures the ethos of independently-run booksellers and cafe culture all-in-one.
Suffice it to say, this is a great place to curl up with a good book– especially if you just bought it!– while sipping a warm coffee or tea. Plus, its central local in the downtown shopping district is walkable to many local area attractions and activities.
Ultimately, if you're looking for an Asheville coffee shop that really encapsulates Asheville's signature quirk, go here. Malaprops is a perfect spot to enjoy a nice coffee while ambiently soaking in the local culture.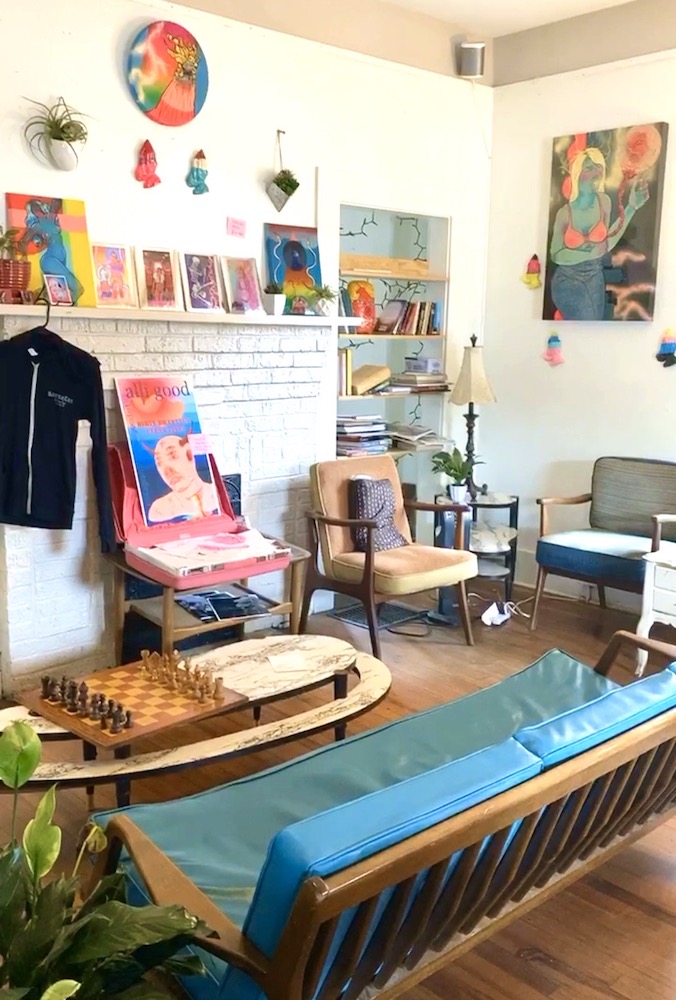 Battle Cat Coffee Bar
Battle Cat Coffee Bar is a funky little hipster coffee house in West Asheville that has plenty of eccentricity and indoor works spaces, as well as outdoor seating. Come for the espresso, stay for the colorful community art and low-key social activism.
This hipster coffee shop is something of a cool kid hangout spot, located in a converted house on Haywood Road, which is where all the bohemian shops, restaurants, bakeries, and bars are located.
For example, it's just 3 minutes down the road from Biscuit Head's West Asheville location, OWL Bakery, Harvest Records, Bagatelle Books, and Flora Botanical Living. (<– All of these are worth checking out, especially if you're on foot. It feels very much like East Austin or Bushwick, Brooklyn– which is part of West Asheville's larger vibe.)
Ultimately, we love drinking the house iced coffee on the porch on a sunny day and perusing the house bulletin board, which is jam-packed with flyers for quirky local offerings like medical astrology workshops, non-profit yoga events, bodywork and massage therapy, farm incubator programs, and coupons for local tattoo parlors.
Battle Cat also has refreshing smoothies, BLTs, and what is secretly one of the best Cuban sandwiches in town. Enough said!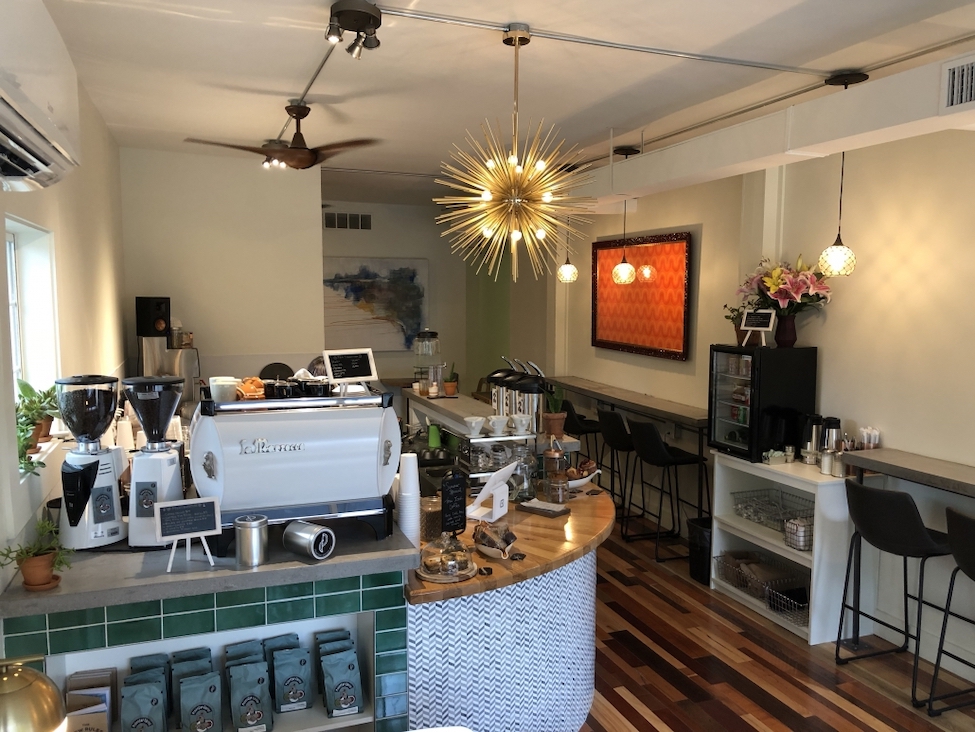 PennyCup Coffee Co
PennyCup Coffee Co is a frilly-in-a-good-way small-batch coffee roaster and cafe that is synonymous with Asheville. This local roaster specializes in direct-trade and micro-lot offerings, which is ideal for both the growers and consumers, who benefit from experiencing the unique regional flavors that result.
Visit this shop for single-origin roasts, custom blends, and specialty espressos served in a clean, modern environment. The focus here is really on the coffee and specialty drinks, so the food selection is limited to a few excellent locally-made baked goods. (Cinnamon Swirl donuts, anyone?)
Overall, each of PennyCup's four locations (West Asheville, Market Street, Beverly Road, and Merrimon Avenue) are great places to curl up at a small table with your laptop, if you're so inclined. The ambient buzz and invigorating coffee smell are just a bonus.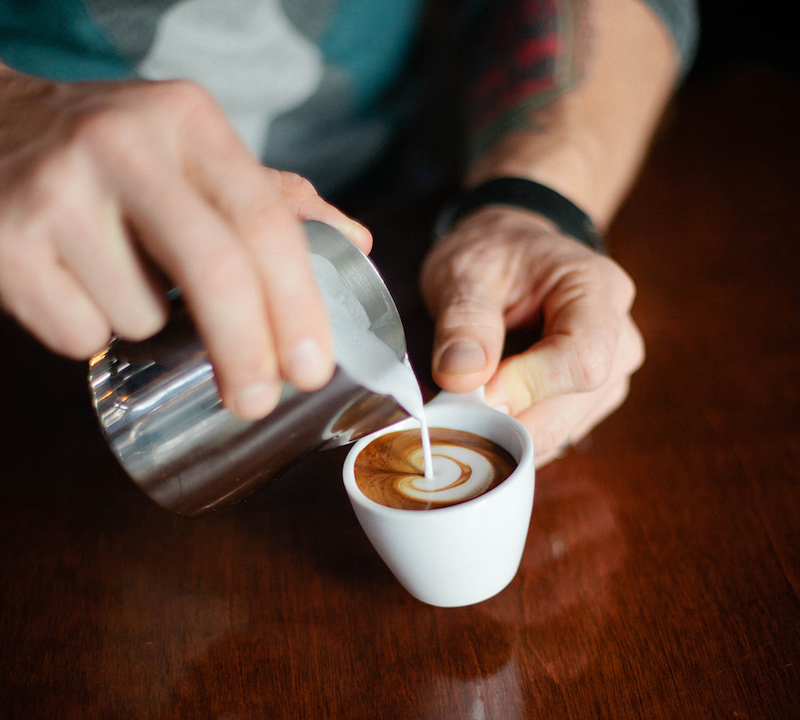 High Five Coffee
High Five Coffee is a local chain that visitors are apt to see all over Asheville, and with good reason. This family-owned small business is all about the loving details. They exclusively serve local Counter Culture Coffee, they make their syrups in-house, and they offer classically friendly "Asheville" service.
Above all, this is THE place to go for classic coffee in Asheville– espresso, americano, hand-brewed coffee, batch-brewed coffee, etc– as well as espresso + milk combos like macchiatos, cortados, mochas, and lattes. It's all good, and reliably so.
For what it's worth, High Five also does a mean mocha milkshake, chai milkshake, and a wonderful dirty chai. Whatever your go-to drink, pair it with one of their bespoke semilla sesame tahini cookies for a real treat. The best!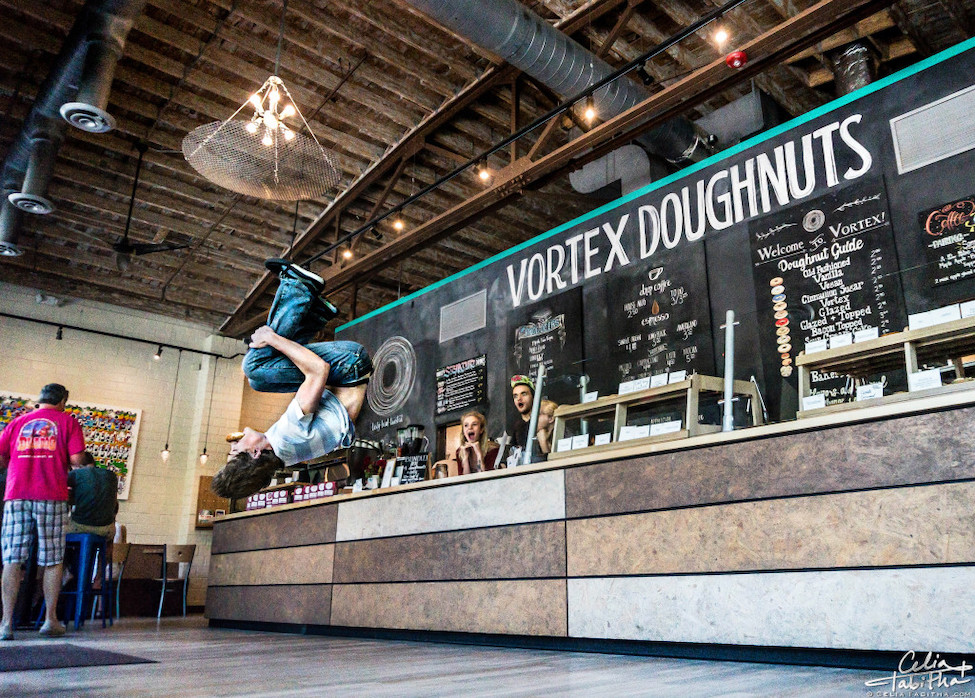 Vortex Doughnuts
Vortex Doughnuts has a rabid following! With their full menu of espresso drinks in addition to highly Instagrammable doughnuts that are both "tasty, local, and twisted", this doughnut and coffee shop is a must-stop for those with a coffee-addled sweet tooth.
Try their cold brew, a cappuccino, or the signature cortado and pair it with one of their foodie-friendly doughnuts for the quintessential experience.
Over the years their unique doughnut menu has included flavors like Espresso, Cream Cheese, Vanilla Apple Fritter, Blackberry Granola, Caramel Potato Chip with Chocolate Drizzle, Lemon Strawberry Ginger, and Blackberry Waffle Cone with Lemon Drizzle– among many others.
They also have filled doughnuts, doughnut holes, and vegan as well as gluten-free doughnut options for those who are sensitive. Oh, and their Cuban coffee? Excellent no matter what style doughnut you pair it with!
Ultimately, people come for the doughnuts but stay for the coffee pairings. Plus, they're open from 7 AM to 5 PM, which is longer hours than most area coffee shops. (In case you want to sneak in a late-in-the-day cup!)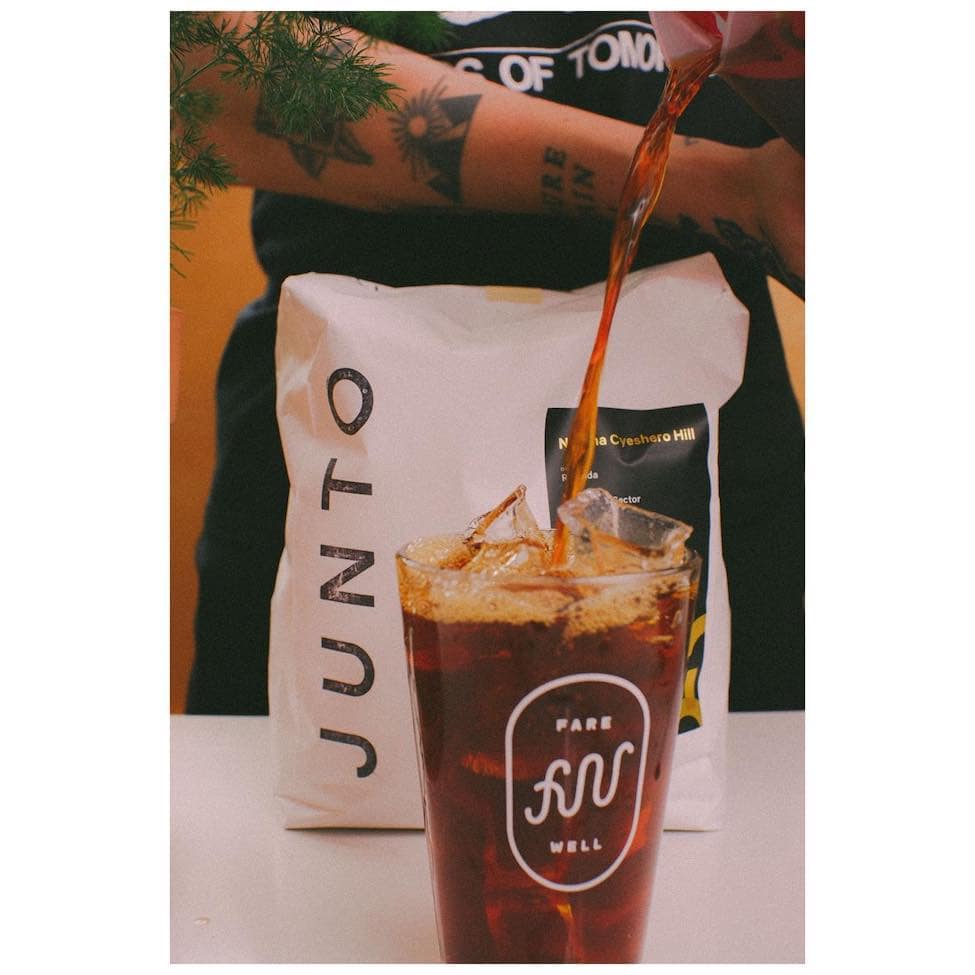 Farewell Coffee Roasters
Farewell Coffee Roasters is a minimalist/hipster coffee shop on the South Side of Asheville that's open late, until 9 PM! It's one of the very few places you can get a matcha latte in Asheville– and a good one, at that.
And with its plant-filled, open air space and bougie snacks like candied nuts and olives on demand, it feels very Brooklyn. (They even serve wine and rosé by the glass.)
Try their Japanese iced coffee for a unique experience in the summer. (Again, the hipster narrative practically writes itself.)
Of all the Asheville coffee shops on this list, Farewell Coffee Roasters feels like a real scene— a place to see and be seen. Go here to hang out and meet friends away from the bustle of downtown before walking to dinner at a nearby brewery or one of Asheville's best restaurants.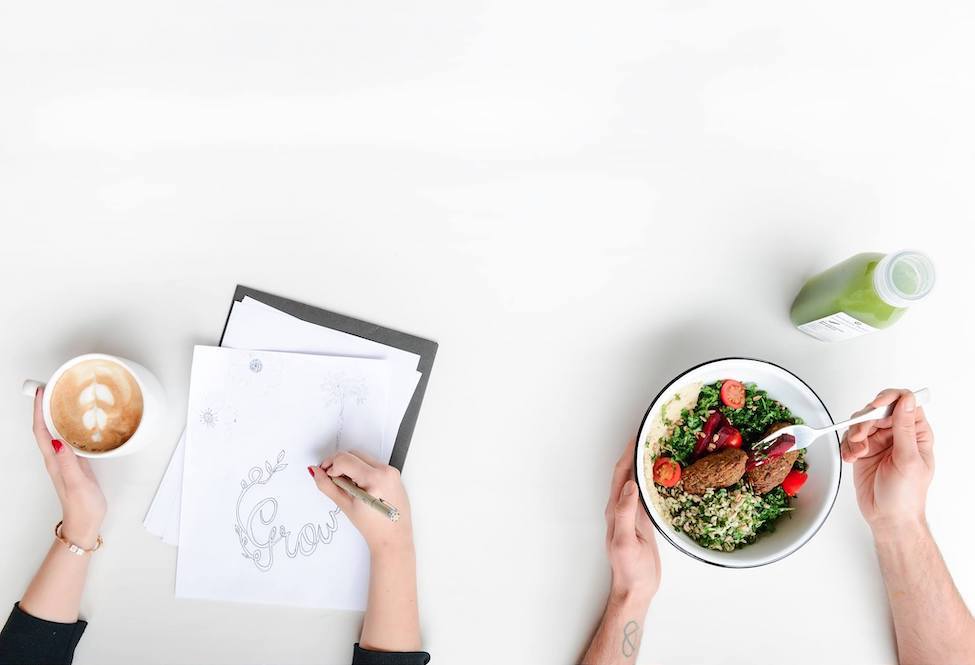 Green Sage Cafe
Green Sage Cafe has a central cafe in Downtown Asheville known for its reliable coffee and healthy breakfast/lunch options. They have plant-based bowels, vegan + gluten-free options, cold-pressed juices and smoothies, and all-day breakfast at their four locations across the city of Asheville.
I love their avocado toast, blueberry scones, and sensational veggie bowls, which are fast and filling. The emphasis here is on healthy eating, but the popularity of the breakfast and brunch items makes getting coffee here essential. (They are one of the few Asheville coffee shops that serve Larry's Coffee, a slow-roasted coffee outfit out of Raleigh that uses organic, shade-grown beans.)
Ultimately, it's a popular coffee shop among locals looking to get a fresh, healthy meal and a reliably good cup of organic coffee.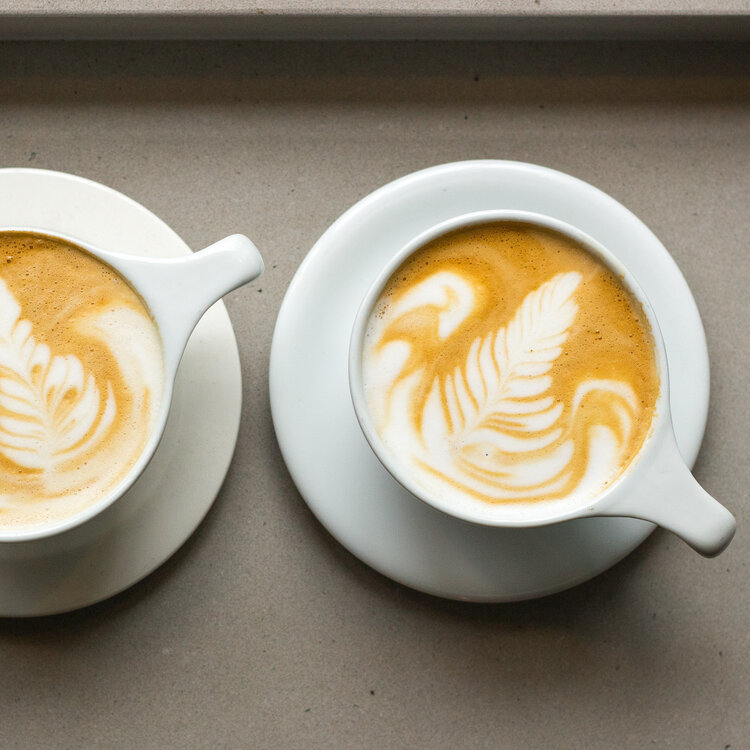 The Rhu
Centrally-located off of what feels like a hidden alley, The Rhu offers lovely baked goods, foodie-approved breakfast sandwiches, and delightful coffee. This bakery, cafe, and pantry all-in-one is a great place to get a local coffee in the heart of downtown Asheville– especially if you want something baked to go with it.
Here, you can get all litany of breakfast sandwiches– from Southern-style pulled pork with pimento cheese and collards on a housemade biscuit, to a smoked trout bagel with cream cheese.
Or, choose one of their Bread & Spread offerings, ideal for people who love the coffee-and-toast combo. Basically, you pick any one of their baked items and pair it with your favorite topping. An English muffin with Imaldris jam? A gluten-free buttermilk biscuit with honey and butter? Housemade multigrain bread with locally-made Big Spoon Peanut Butter? The choice is yours!
But first, coffee. The cafe sources local roasts from PennyCup Coffee Co and the classic brew is wonderful.
Then, be sure to shop their locally sourced pantry for regional kitchen staples on the way out. The shop doesn't an excellent job of highlighting local producers.
For what it's worth, the cafe also prepares excellent picnic bags for lunching on the go. Asheville coffee is even better when sipped in the nearby mountains.
~ Honorable Mention ~
***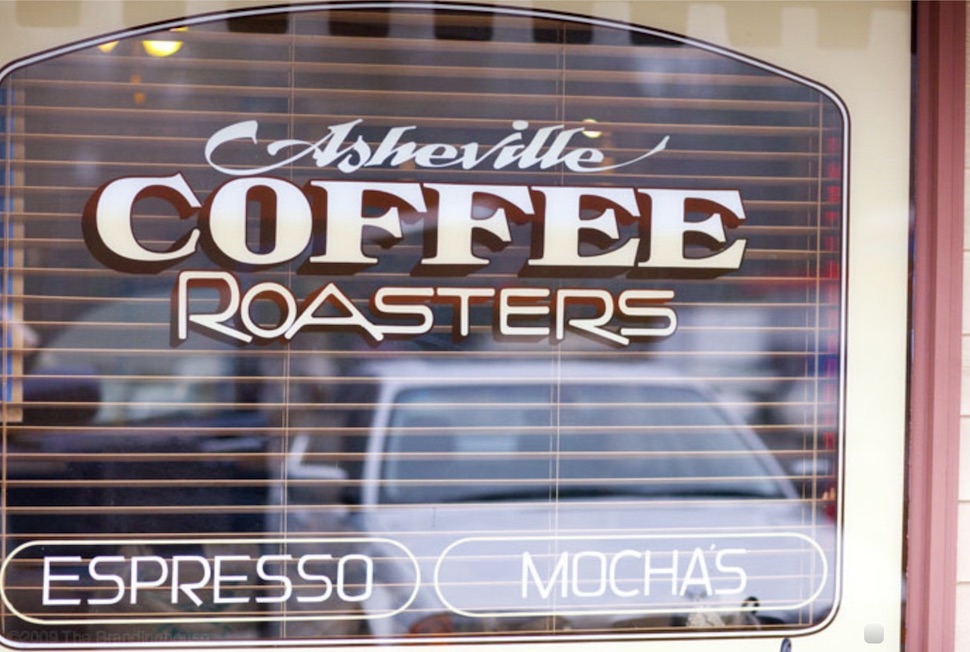 Asheville Coffee Roasters
Asheville Coffee Roasters in Woodfin (technically just outside the city limits, where many Air BnB's are located) is sort of like the kind of coffee shop you'd find in Austin in the '90s. It's cozy, normcore, and quaint, with a lived-in couch, stringed lights, and great coffee.
The food is good, too, with lots of veggie-filled options. "Get Roasted" on your way into or out of the city if you're driving home.
True to Asheville's character, even roadside coffee joints like this one have charming personalities. If you're just trying to get some quality beans to go without much fuss, this is a reliable spot to hit up on your way out of town. Enjoy!
***
Related: The 15 Best Restaurants in Asheville.
Also: 17 Cool Things to Do in Asheville, NC (A Charming Visitors Guide)
Want to explore more of Asheville? Whether you're looking for breakfast, lunch, dinner, fried chicken, or even a local farmers market, you can explore more of our local guides in G&L's critically-acclaimed Travel Well section.