Affirmation cards, or affirmation decks, are thoughtful first-person statements that encourage positive thinking, calm, and confidence. They help you ponder ideas that leave you with a feeling of more peace, calm, and clarity than before.
When either read aloud or recited silently in your mind, they encourage a positive shift in mood, energy, and intention. And in the realm of mental wellness, this can be a hugely helpful tool for those who are stuck in rut, feeling down, or feeling like they are not living their best life.
How To Use Affirmation Cards
For people who are new to using affirmation cards as a self-help practice, let me first explain how they work. You generally pull an affirmation card after a guided meditation or at the beginning of the day to help you "set an intention" or start your day off right. Reading one of these cards first-thing in the morning kick-starts your day with positive energy, so-to-speak.
Reading an affirmation card every morning imbues your days and weeks with good intentions. At night, they can also restore a sense of calm and serenity before bed. (I love using them as part of a self-comfort practice.)
Whether you're new to affirmation cards or just looking for a new deck, the thoughtful affirmation cards detailed below are among the best of the best. Written and crafted by famous names in the realm of mindfulness, they capture the wisdom that gurus and mindful folks have been pondering for centuries.
Give them as a gift, or buy one as a gift to yourself. Either way, the receivers of these kind of special affirmation decks are always better off for it. They are powerful tools!
Also, this article contains Amazon Affiliate links for easy shopping. As an Amazon Affiliate, we may earn from qualifying purchases, which is why we work are butts off to research and personally test everything we write about. (I use all of these affirmation cards myself, and in some cases have been enjoying them for years. I hope you get as much value out of them as I have.) Enjoy!
***
Gabrielle Bernstein's Super Attractor Deck
Gabrielle Bernstein's Super Attractor Deck is beloved among yogis and meditators who like to start their days by reading affirmations. These affirmation cards are super trendy and modern, showcasing ideas that can be applied to agnostic living as well as spiritual living. (This 52-card set is based off of Bernstein's New York Times bestselling book, Super Attractor: Methods for Manifesting a Life Beyond Your Wildest Dreams.)
Anytime you want guidance, simply shuffle the deck, choose an affirmation card, and have faith in the guidance you receive from it. For example, one card might say something like: "I can do less and attract more." Or "I believe I am worthy of feeling good."
I personally love the card that says, "Directing my focus onto what's thriving creates more of what I want." It's lovely. If you want affirmation cards that feel more practical and less "woo-ey", this is a good deck for you.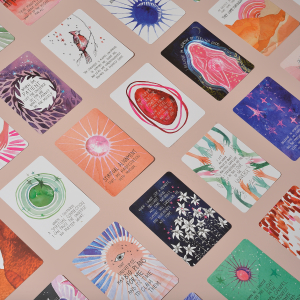 The illustrations on these cards are also absolutely beautiful, featuring bespoke watercolor designs by Micaela Ezra. Ultimately, the goal of using these cards is to inspire you to live with joy, grace, ease, and strength, all while manifesting your dreams into reality. (This latter is the theme of much of Bernstein's work.)
Moreover, there's a reason these cards are popular on the Internet/social media. They're just as aesthetically pleasing as they are thought-provoking. The visuals underscore the message. They practically beg to be shared!
Related: Understanding Ho'oponopono: A Beautiful Hawaiian Prayer for Forgiveness.
Pema
Chödrön's

Compassion Cards

Pema Chodron's Compassion Card deck features "teachings for awakening the heart in everyday life." The prominent Buddhist scholar and meditation teacher offers a powerful method to awaken qualities of compassion and fearlessness to guide you both in good times and in bad.

Using a practice called lojong (i.e. "mind training"), she provides the tools you need to practice it in your own life. In addition to functioning as a viable affirmation deck, this boxed set also captures wisdom that reaches beyond the scope of daily inspiration and contemplation.

Each card features practical commentary from Pema on the reverse of each card, as well. This is a great bonus for people who are new to the practice of mindfulness or who just want more insight. Included is also a card stand for easy display of the affirmations that really resonate. Put them on your desk, your mantle, your bathroom counter, etc.

Additionally, this set includes an audio download of Chodron's guided meditations on the related practice of tonglen, a traditional Buddhist meditation used to awaken compassion for oneself and others. (Tonglen is a Tibetan word that roughly translates to "giving and taking", or "sending and receiving.")

Using these cards is simple. Each morning, pick a card at random from the deck. Read the slogan on the card, then read the commentary on that slogan. Then, contemplate how that affirmation or teaching might apply to your life.

Finally, try to practice and live by the meaning of that slogan throughout your day. There is deep meaning to be found in the practice of at least attempting to do this. It's hard, but worthwhile.
Louise Hay's "I Can Do It" Cards
Hay House— a mission-driven company "dedicated to supporting positive change in the world by helping all people to grow in mind, body, and spirit"– has a number of great affirmation decks to choose from.
Chief among the the popular sets is founder Louise Hay's "I Can Do It" Affirmation Cards, a lovely gift idea for new graduates, new hires, or people who could use a little uplift. Functionally, these classic affirmation cards touch on a variety of subjects, from health & wealth to creativity, career success, and self-esteem. It's a great deck for beginners, written by one of the progenitors of the modern self-help movement.
We also really love the Power Thought Cards, a deck of 64 affirmation cards that is all about helping you find your inner strength. This particular set is one of the most popular affirmation decks in the collection, and it's been around since 1999!
Featuring illustrations from 5 different artists, this OG affirmation deck combines powerful self-love affirmations on one side with unique visualizations on the reverse. Today, it's a modern classic.
It's also worth noting that Hay House affirmation decks are some of the most accessible and affordable affirmation cards on the market. This is especially true if you buy them on Amazon, as they sell used versions of these decks, as well. (Recycling is positive energy, too, after all!)
Marianne Williamson's Miracle Cards
For the more spiritually-inclined, Marianne Williamson's Miracle Cards are just as compelling as the books that made the author famous. (Those would be: A Return to Love and A Year of Miracles, for those asking.)
With this affirmation deck, the best-selling, love-centric author is at it again. These 50 beautifully-realized cards address subjects ranging from relationships to climate change (but not in a dark way, I promise). The aphorisms on the cards reflect the miracles inherent to everyday life. These affirmations apply universal truths to issues that confront us all in the course of our daily journeys.
Even if you're not spiritual, per-se, Williamson's belief in the inherent goodness and order of the universe is supremely calming– or at least reassuring. Her words sparkle with wisdom.
We hope these affirmation cards, like the rest in this list, help soothe you in times when you need it most. To quote one of Williamson's most famous lines, ""Our deepest fear is not that we are inadequate. Our deepest fear is that we are powerful beyond measure…"
Internalizing that is easier said than done, but doing so successfully can be a transformative experience.
***
Related: Sarah Blondin's "Honoring Life" Meditation is a Thing of Beauty.
24 Helpful Gifts for Stressed Out People.
Also: These are the 6 Best Free Meditation Apps according to dedicated mindfulness lovers.