Want to gift a friend, family member, or yourself some good vibes? Invest in a few beautiful, esoteric, and artsy smudge sticks like these gorgeous beauties, below.
Smudging– aka the art of using aromatherapy incense to "clear bad vibes"– is a mindfulness practice that has skyrocketed in popularity in recent years.
As both a ritual and a meditative practice, it can help relieve stress and tension in people and in spaces or objects, like a new apartment or article of clothing from an ex.
Basically, smudging is a fun way to eliminate bad juju and negative energy from your surroundings. Plus, it smells good and makes a nice stress relief gift for people moving into a new environment, either physically or metaphorically.
Below, we spotlight a few truly beautiful floral smudge sticks that bring balance and visual delight to any space.
They're also functional! Remember: investing in and surrounding yourself with beautiful objects boosts happiness and wellbeing, especially when you can use them as part of a daily, weekly, or monthly self-care practice.
Enjoy!
***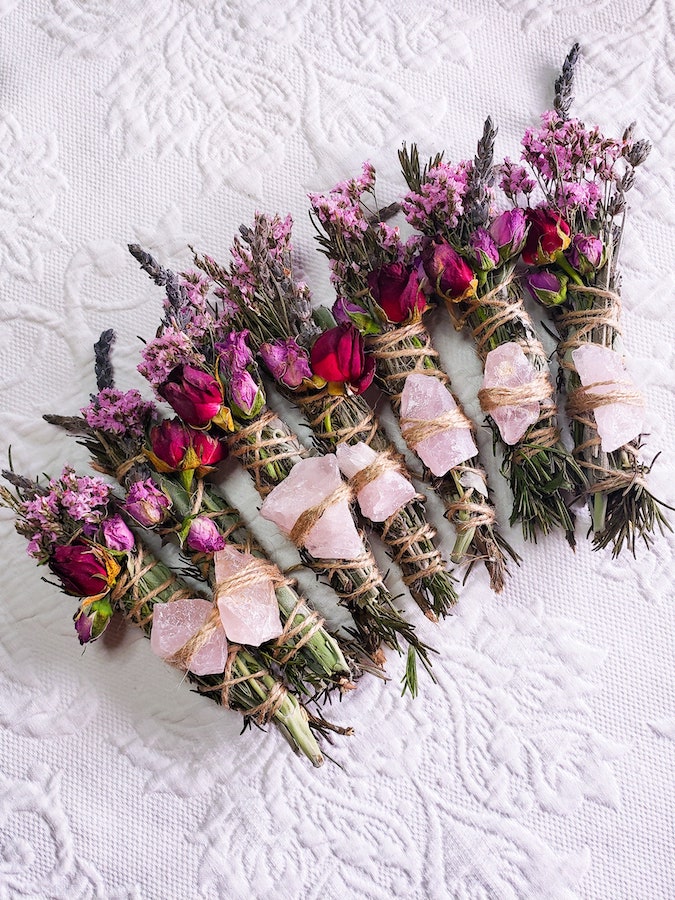 Rose Quartz Rosemary, Sage, & Lavender Smudge Sticks
This lovely Rose Quartz, Rosemary, Sage, and Lavender Floral Smudge Stick from Charlie Haze is ideal for flower lovers, those with a penchant for pink, and anyone in need of more self-love.
In Crystal healing theory (I know, I know…) Rose Quartz attracts love by strengthening the physical heart. The lavender in this blend also calms the body, while sage soothes frayed, over-worked nerves.
Use a match to light this purification stick at a 45-degree angle and allow it to burn for 30 seconds to 1 minute. Then, blow it out and let the ember burn in your workspace, home, car, bathroom, or anywhere that needs a refresh to clear stagnant energy.
The smoke brings clarity, peace, and a sense of wellbeing.
PSA: This brand's LOVE & ADORE floral smudge bundle is also lovely.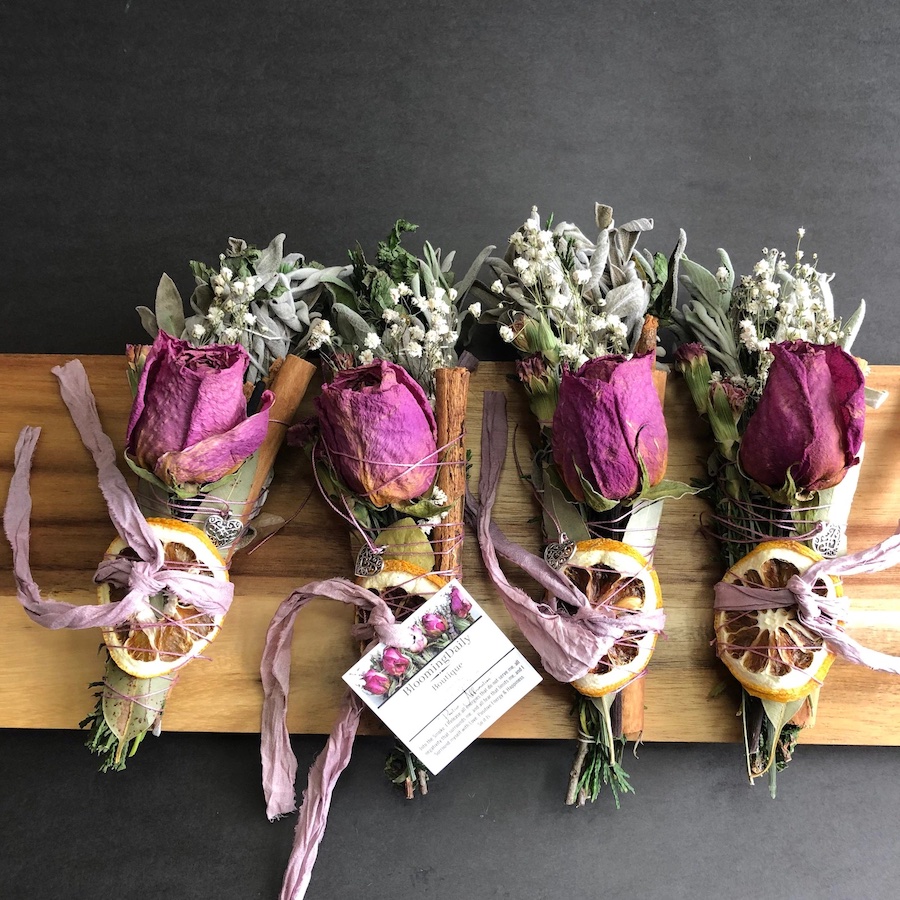 BloomingDaily's Goddess Smoke Cleanser with Eucalyptus, Copal, Cinnamon, & Citrus
This herbal Goddess Smoke Cleansing Floral Smudge Stick is formulated with eucalyptus, copal, rose, sage, dehydrated citrus, pine, cedar, juniper, and cinnamon to make an earthy, grounding blend. It also contains a copal incense stick, which is said to purify the energy of space and objects.
Ultimately, this herbaceous blend is designed to balance and uplift energy, remove mental sluggishness, enhance positive energy, and strengthen concentration.
The bundle has a clean, light, woody scent that comes from each herb's unique terroir. Pine is said to attract wealth, protection, and to cleanse and purify the home; cedar offers protection, love, and a boost in intuition; juniper attracts good luck; sage cleanses and grounds; cinnamon promotes achievement and energy clearing; citrus rejuvenates, and eucalyptus purifies and enhances clarity.
Each of these Goddess Smoke Cleansing Sticks measures 8 to 9 inches long and is hand-packed by a Reiki practitioner who uses sustainably-foraged and ethically-sourced materials.
White Sage Citrus Smudge Sticks
Lark and Leo's White Sage Citrus Smudge Sticks come in a beautiful set adorned with deciduous elements that make it a great holiday season gift.
White sage, as opposed to blue sage, has cleansing properties that are used to "wash off" the outside world as you enter a sacred space— like your home or meditation area. (Blue sage, on the other hand, is used for healing and blessing.)
These beautiful herbal incense sticks can be purchased individually or as a set. Each one is about 4 inches long. They come in the following "flavors":
Each stick is good for 2-4 uses, depending on the length of the smudge. But, they also make great "pro-energy" healing holiday decor! Nestle them in a glass jar or in a bowl full of stones on a table. Using them for smudging is just a bonus. 😉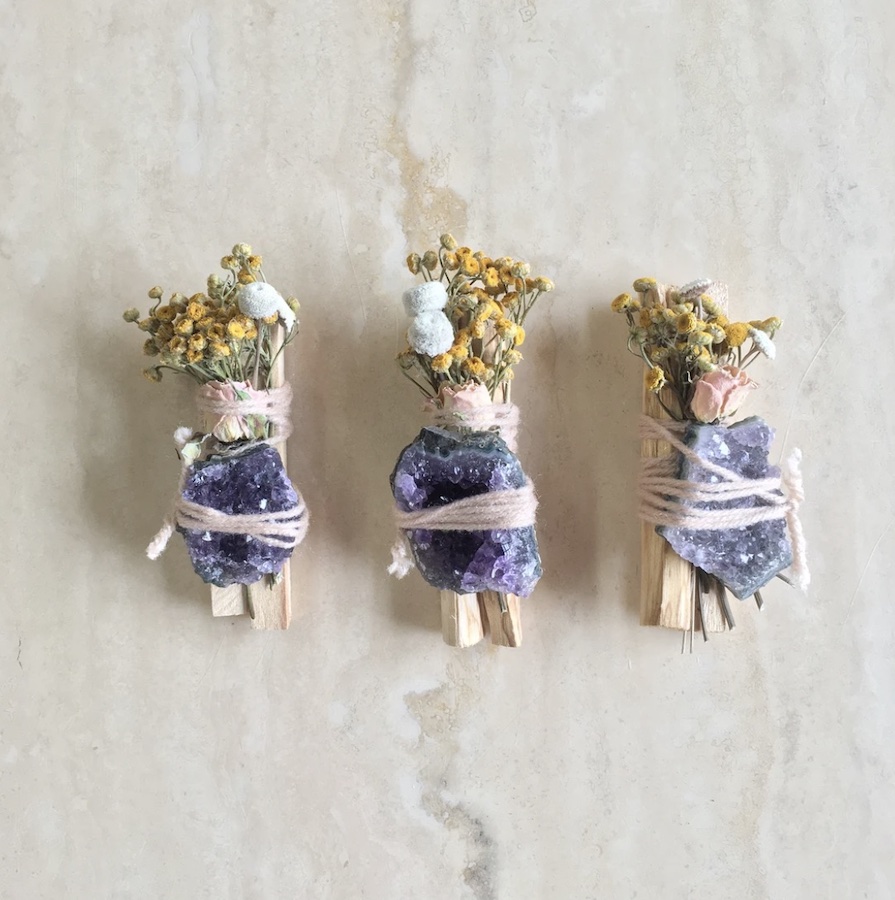 Catherine Rising Floral Smudge Sticks
As we wrote in our viral Gift Guide for Stressed Out People, Catherine Rising is a charming little apothecary in upstate New York that makes beautiful, DIY incense with dried flowers and wild-looking herbs.
Accordingly, Catherine's Small Floral Smudge Sticks capture a nostalgic simplicity with their hand-gathered feel. Like all of the incense in this list, a bundle of white sage and palo santo can burn like incense.
To "smudge" your room, simply light your bundle and wave it around a ventilated room. The smoke will help clear negative energy after a bad day.
Alternatively, you can use it to "clear" a new space of its previous energy before you move in. (Some say doing so might even bring good luck!)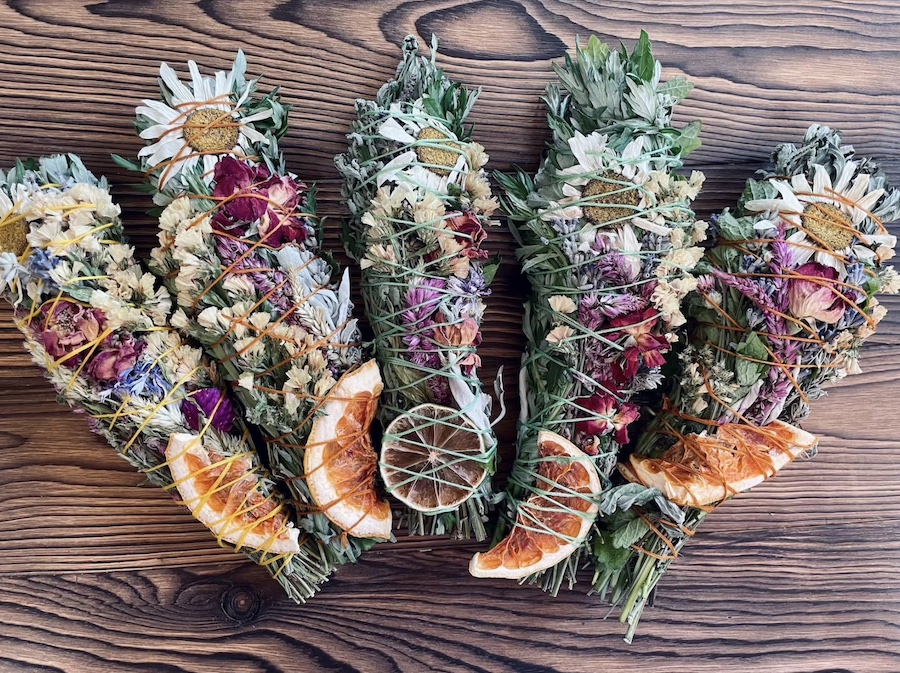 Homegrown + Wild Foraged Sacred Floral Smudge Bundles
Fawn Berry Apothecary's Sacred Floral Smudge Bundles have a wild, foraged look because they are exactly that: both wild and foraged. Gathered from a homegrown plot in Quincy, Illinois (or otherwise ethically foraged) these floral sage bundles can be hung on a door or altar for protection.
The idea here is to use these smudge bundles as part of a spiritual practice, or to refresh the mind and lungs.
Because of their "gathered" nature, no two bundles are alike, though each typically contains a mix of mugwort, tarragon, white sage, celosia, batchel or button, strawflower, lavender, roses, feverfew, nepeta, and/or yarrow.
For plant nerds and herb lovers, this is a beautiful smudge bundle, as each has a unique, singular beauty. I love the organic texture, feel, and smell of this little energy-clearing bouquet. It looks as welcome unused on a coffee table as it does burning at the end of a long, long week.
***
Remember to use caution and respect when working with fire. When you finish burning a smudge stick, place the stick in a fireproof bowl made of metal, glass, or clay. You can also dip the glowing ember in water to put it out. Otherwise, blowing on incense of any kind will simply keep the glow going. Never leave your home with incense still burning.
Also, be sure to ventilate the area you're smudging to allow the negative energy you're clearing to exit.