This guide to the best restaurants on Harbour Island spotlights the coolest places to eat on the island– whether you're looking for a casual lunch, a fine-dining hot spot, an authentic Caribbean seafood shack, or a hole-in-the-wall bakery. What these establishments all have in common, though, is that they capture the quintessential spirit of the place.
Harbour Island, Bahamas– aka "Briland", as the locals call it– is a small, 3.5-mile by 1.5-mile island that's famous for its gorgeous pink sand beaches, wild roaming roosters, and warm hospitality. Once the capital of the Bahamas, today Harbour Island is now considered the most luxurious island in the cluster, celebrated for its chic-yet-breezy atmosphere and ethereal, relaxed vibe.
And, in addition to boasting some of the most beautiful, intimate, and serene scenery in the entire Bahamian archipelago, Harbour Island is also home to some of the Bahamas' best restaurants. It's a lovely place to dine by the beach in relative seclusion.
This, of course, is an experience you pay for. Harbour Island can be a relatively expensive place to dine (entrees, especially those containing local lobster and all other seafood, can run $40-50 USD per person). Conch is the local delicacy, though you really can't go wrong with any seafood dish, from lobster quesadillas to shellfish chili, both unique island dishes.
Oh, and reservations are strongly recommended at most Harbour Island restaurants, which often require a credit card to hold a dinner reservation. (The island is small and seating at some restaurants is limited, so this is a good idea if you're going in high season, around December and January.)
Other than that, dining here is relatively uncomplicated and joyous. Below, we spotlight the best restaurants on Harbour Island– and what you should order, where for the classic experience. Bookmark this list for easy reference later.
Enjoy your trip!
***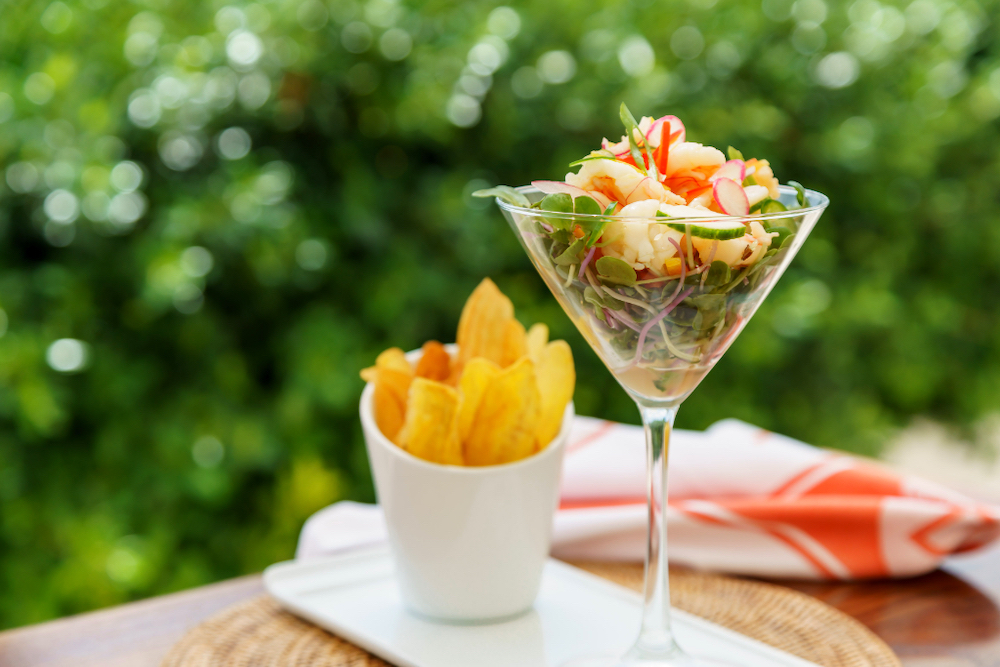 The Dunmore (For Upscale Deck Dining)
The Dunmore is a lovely restaurant-inside-a-resort where guests can enjoy breezy fine dining that's a hybrid of French and Continental cuisine. They often require a credit card to hold a reservation here, but it's worth it.
The restaurant serves delicious salads, incredible tuna tartare and shrimp tacos, and some of our favorite blended cocktails on the island. (Opt for a Dunmore Frose and you'll be in heaven. It's a lovely pink color, just like the sand on the adjacent beach!)
The upholstered deck where diners convene has excellent beachfront water views, to boot. It's a great place for lunch, with light, bright, refreshing dishes like Caribbean Poke Bowls (e.g. local marinated tuna with mango, cucumber, avocado, miso vinaigrette, local arugula, and coconut rice) and Local Ceviche. They also do a mean Stone Crab Tostada, topped with a perfect tangy crab salad, cilantro, and jalapeno.
Ultimately, the menu here is short, but it always delivers.
And, if you don't have time to visit Queen Conch to try the famous conch salad (see below!), this is a great place to experience this classic Harbour Island staple, as well. The Dunmore's Tropical Conch Salad is an upscale version, featuring fresh local conch meat dressed with mango, pineapple, onion, sweet pepper, passionfruit juice, and cassava chips. Gorgeous!
Evenings, meanwhile, bring richer, heartier dishes like citrusy, buttery Lobster Ravioli and Seafood Pepper Pots featuring an assortment of lobster, shrimp, and local catch. The menu is constantly changing, but it's always heavy on seafood, as it should be. (We are on an island, after all.)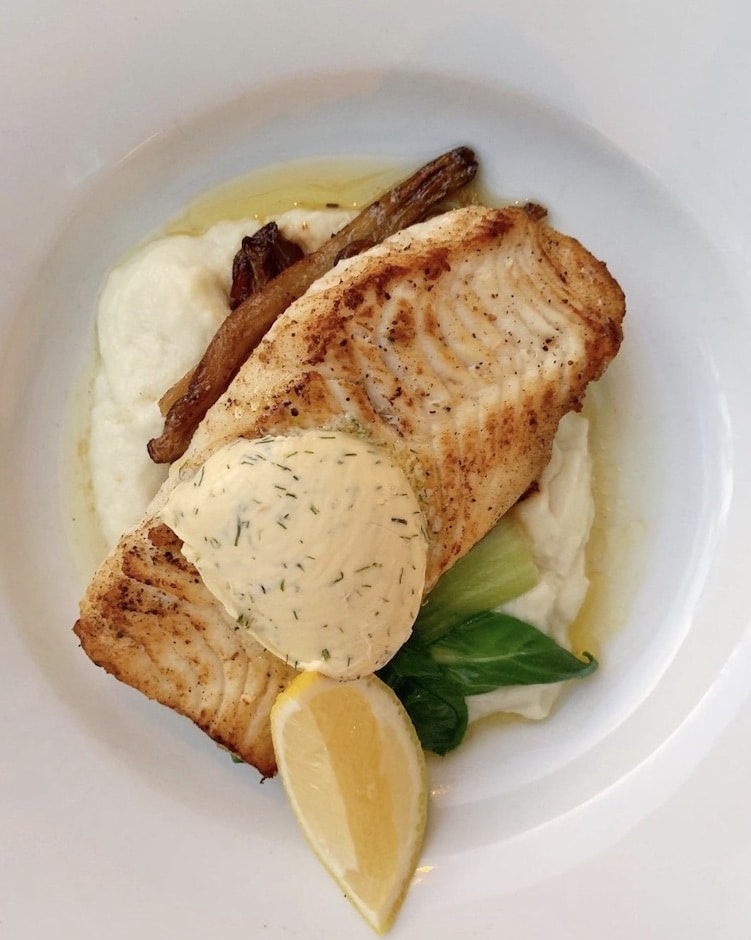 The Landing (For Elevated Old World Eats)
Frankly, The Landing is where the fancy people go– Prince Pavlos and Princess Marie-Chantal of Greece, for example, love dining here whenever they've visited the island. (It's that kind of place.)
We love the Landing's glorious breakfasts, which are particularly popular on Sundays. Think: poached eggs with the best-ever hollandaise sauce and greens; French toast with salted caramel bananas and freshly-whipped cream; sourdough avocado cucumber toast with lemon-infused cream cheese, a poached egg and micro greens… you get the idea.
It's all super fresh and inviting, with a decidedly "Sydney" feel. (The menu emphasizes local seafood, organic local greens, bright flavors, and a South Pacific-focused wine list.)
For dinner, try one of their fabulous signature dishes, like the goat cheese ravioli with browned butter, shrimp, tea-soaked raisins, and pine nuts. The variegated pink bougainvillea outside makes candlelit dinners at the Landing all the more romantic. This is a great place, moreover, to go on a date.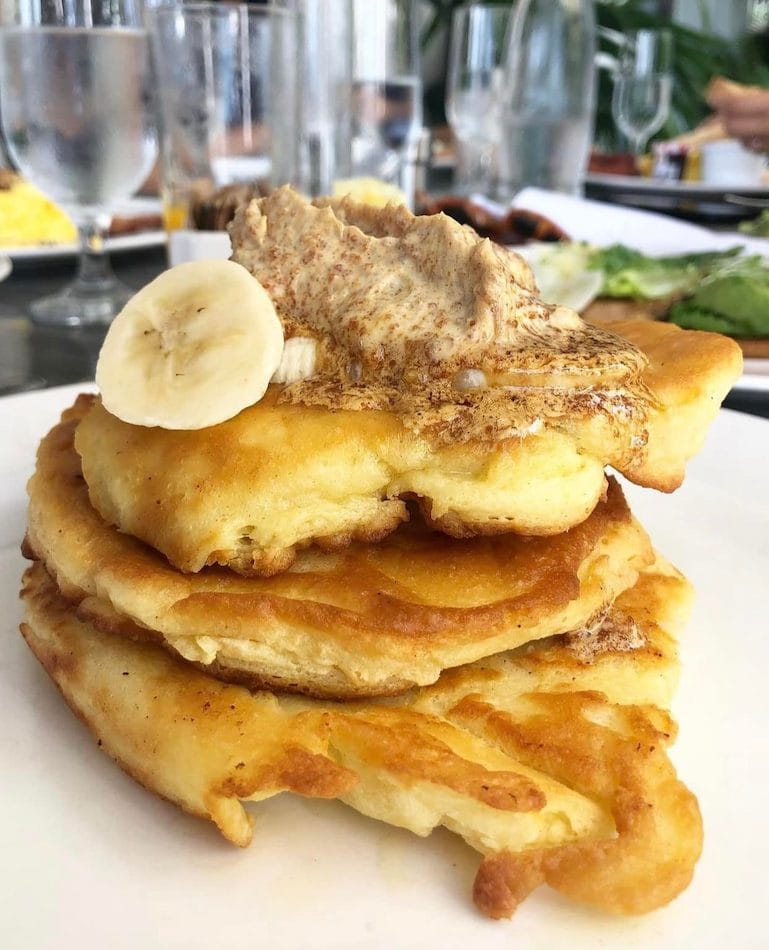 Otherwise, for breakfast, you can't go wrong with homestyle classics like the Ricotta Hotcakes with honeycomb butter and fresh bananas– it's one of the best breakfasts on Harbour Island. (Above shown.)
Ultimately, the Landing is also one of the oldest buildings in Dunmore Town, originally built in 1800. With modernized historic interiors designed by India Hicks, it remains a classic, elegant respite that is notably still Bahamian-owned and operated. The inviting menu endures in this spirit of homespun, refined decadence.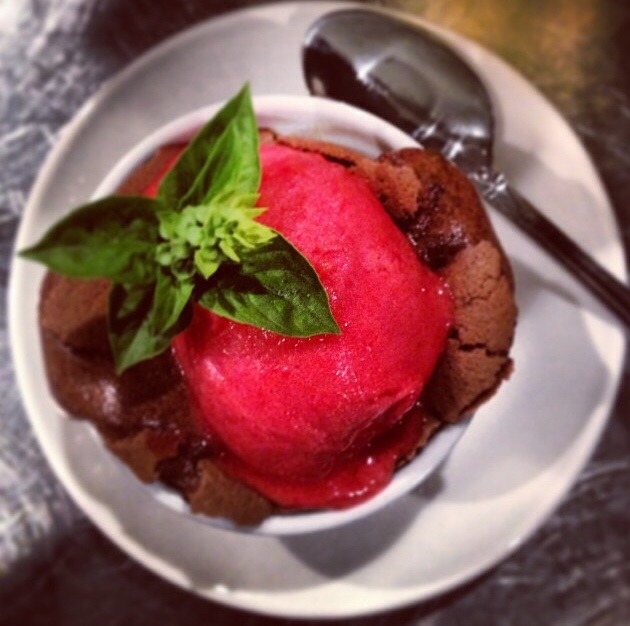 The Ocean View Club (Refined Caribbean-Continental Cuisine)
The Ocean View Club is a small, charming, family-run hotel with a lovely restaurant that welcomes outside guests for lunch and dinner. The property's incredible, eclectic design and beautiful ocean view underscores the creative, Caribbean- and Continent-inspired cuisine served at the on-site restaurant by the same name.
Lunch, for example, focuses mainly on sandwiches, grilled seafood, salads, and pasta. Dinner is a more elaborate affair, featuring a multi-course menu with dishes like warm onion and goat cheese tarts with micro greens and basil oil, conch carpaccio with mango, onion, bell pepper, and sour orange dressing, and Eleutheran Stone Crab with warm lemon garlic butter. (And those are just the starters!)
Mains, like the menu itself, changes constantly with the season and what's fresh and locally available. Entrees could range to feature everything from grilled grouper with tomato saffron coulis and "cracked" potatoes to Bahamian Fried Chicken with coconut peas and rice, pomegranate salsa, and mango ketchup.
Don't let the lack of quality internet photos fool you. At the Ocean View Club, Coconut Fevergrass Curry with local crawfish and stir-fried veggies delight the senses, while Rum BBQ Babyback Ribs served with mac n' cheese and creole slaw with jerk cashews offer a local twist on classic comfort food. It's all worth coming back for again and again.
Also: If you make a reservation in advance, you'll need to leave a credit card on file to secure your booking.
Naturally, there's also an ocean view (thus the name). For an intimate, upscale dinner, this is a lovely option.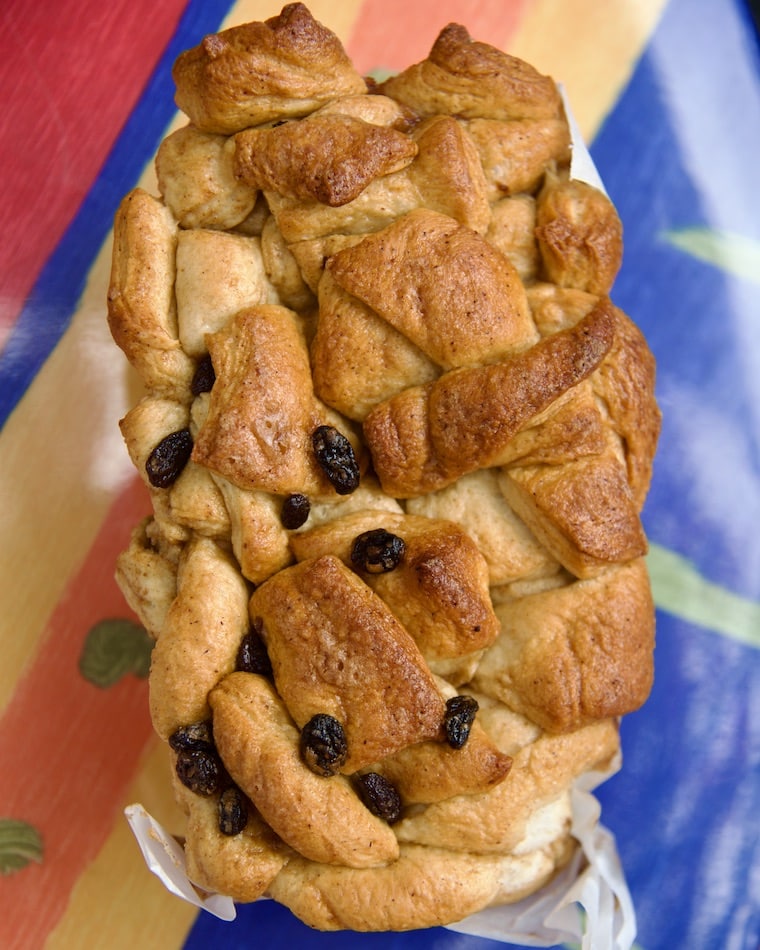 Arthur's Bread (For The Stickiest Sticky Buns Ever– As Well as Super Boozy Rum Cake + Famous Raisin Bread)
Ok, so it's not technically a restaurant, but this is an iconic food establishment on Harbour Island that foodies shouldn't miss. Arthur's Bakery is a humble island community fixture that serves, among other treats, the stickiest sticky bun I have ever had in my life! So sticky is this bun, in fact, that people come from other islands just to experience the stretchy sorghum glaze.
The bakery also serves a super boozy rum cake– fitting, as rum is local drink of choice in the Bahamas– and a yummy signature raisin bread. (<— This made the bakery famous.) Their raisin bread is more like monkey bread, with buttery syrup pooling in the nooks and grannies of the dough while big, juicy raisins soak up all the warm, cinnamon-y flavor. If you can walk over in the morning and get it warm, it's divine!
Eat your treats outside under the draping bougainvillea pineapple fence with views of the powder blue moped parked next door. At Arthur's, the small details of Briland life abound.
Just be sure to get here before 2 PM when the bakery closes and the sticky buns run out. (They also make homemade doughnuts that are quite popular these days.)
And, if you're looking for some coffee to pair with your baked goods, go down the street to Bahamas Coffee Roasters for double macchiatos (the coffee is better here than at Arthur's, and you can pet their friendly, quirky cat).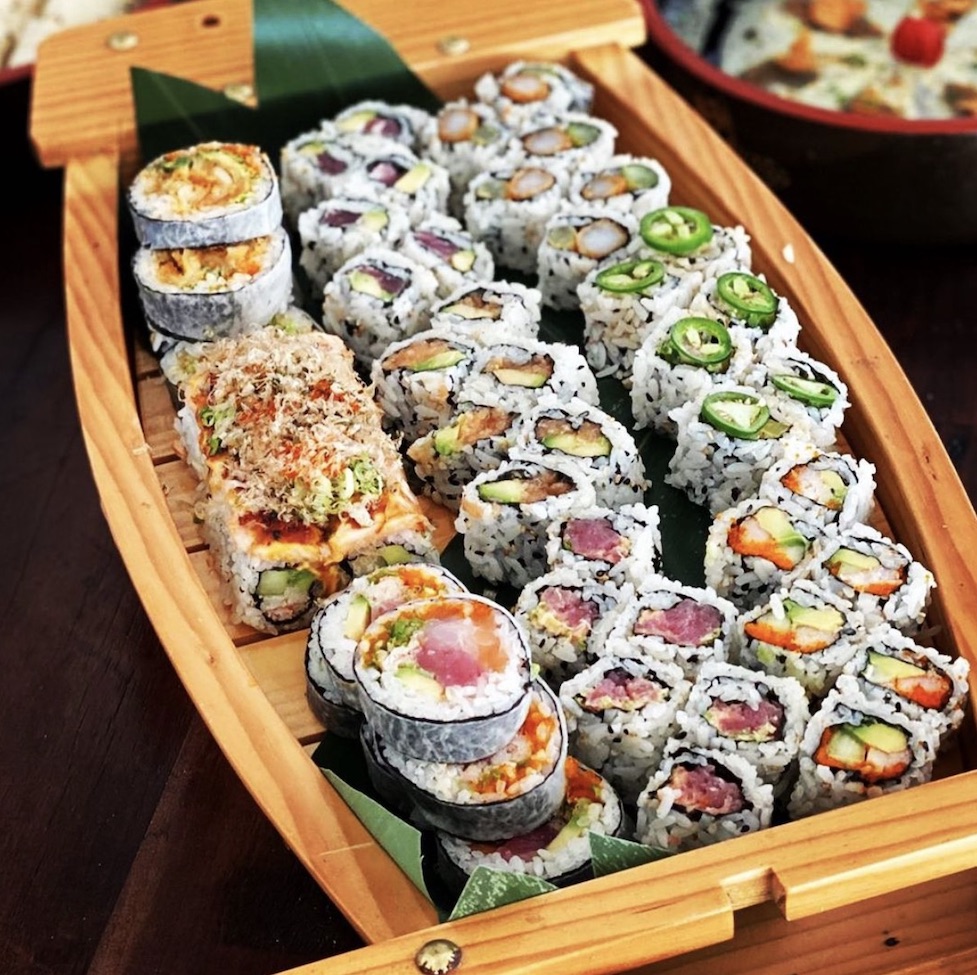 DaVine Wine and Sushi (Great Sushi by Former Nobu Chefs)
This combination wine shop and sushi bar is helmed by Head Chef David Lapastora and Executive Chef Reynaldo Guarino, former Nobu Chefs who now serve the best sushi on Harbour Island. The
DaVine Sushi Bar
, moreover, is not only the best place on Harbour Island to eat sushi, but it might be the best sushi in all of the Bahamas.
Dine here to try local seafood delicacies like stone crab on crispy rice with fresh cracked local stone crab, dynamite sauce, lemon grass salsa, crispy onions, and truffle oil. (Amazing!) Or, opt for something more traditional like tuna, wahoo, or octopus sashimi– or a spicy tuna-avocado boat.
If you're dining with non-sushi eaters, the restaurants serves other Japanese classics like pork belly yuzu miso, chicken adobo, and spicy seafood ramen. They even have non-fish sushi dishes and Western-influenced plates like avocado crispy rice sliders, braised short ribs, and crispy Brussels sprouts.
DaVine Sushi also has cool pan-Asian desserts, like matcha green tea cheesecake and banana harumaki (a style of Japanese spring roll that is so, so good!).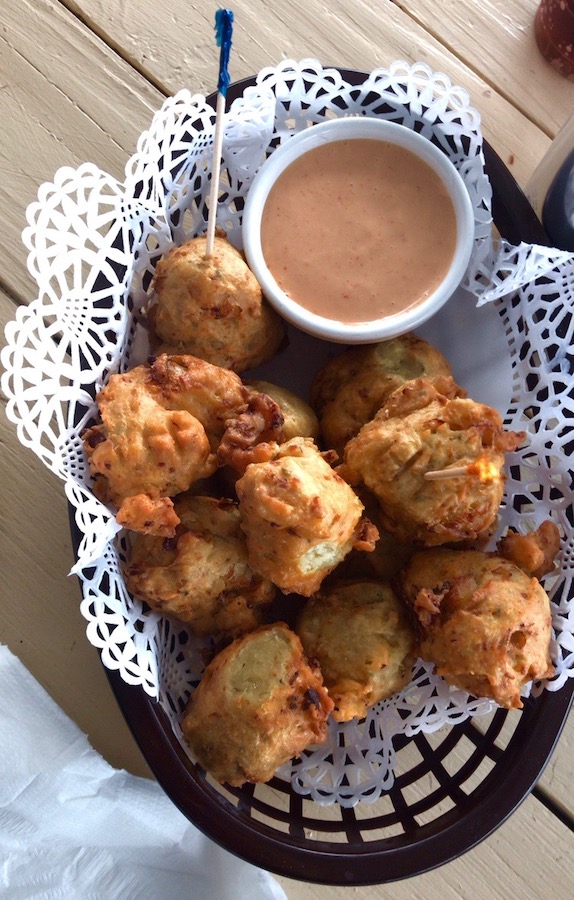 Queen Conch (Casual Snack Bar Famous for Conch Salad & Conch Fritters!)
This casual Bahamanian seafood shack on Bay Street in Dunmore Town is famous for its light and refreshing conch salad and soup. We love Queen Conch's combo of rich red conch soup + conch fritters, specifically.
Plus, at this family-owned snack shack, they shuck the conch right there on the dock! You'll probably see the pile of shells on the shore below the dining deck. This, of course, is a subtle part of the appeal. Every conch dish here is served straight from the ocean.
If you go off-peak hours (e.g. usually after 1 PM, the dining deck usually isn't very crowded despite this being a renowned tourist destination). People love the novelty of the conch-central menu, as this signature Harbour Island shellfish is hard to find elsewhere, especially outside of the Caribbean.
Overall, this fast-casual eatery is a great value, and it's as casual a dining spot as you can find on the island. If you want to slink up to a seafood shack and dive into a plate of unfussy seafood, this is the Harbour Island restaurant for you.
***
Related: An Insider's Guide to Santorini, Greece.