Yes, you can make your own fresh papaya seed salad dressing. Why didn't we think of this sooner?!? This homemade papaya seed salad dressing recipe takes 5 minutes to make– and all you need is the seeds of a fresh papaya (which most people throw out, anyway) as well as a few household pantry items.
Below, we combine fresh papaya seeds with lime juice, olive oil, honey, coconut aminos, salt, onion, and chili pepper flakes to achieve the perfect sweet, tangy, salty balance.
This is an easy DIY salad dressing for weeknight dinners or fancy events where you can say you made the salad dressing from scratch. (A subtle, thoughtful touch.) The fact that its papaya seed salad dressing just makes it even more impressive and exotic sounding.
(Plus, this gorgeous dressing is secretly good for the gut, as raw papaya seeds are naturally probiotic. They also contain micronutrients that can help ward off oxidative stress, as well.)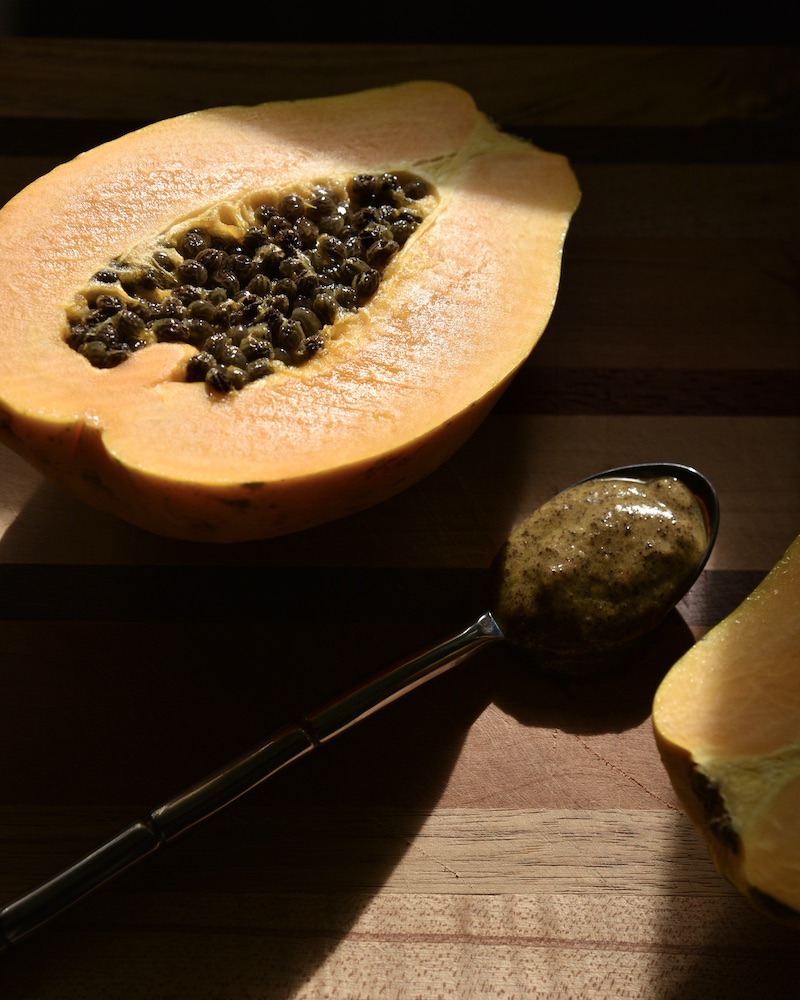 I created this recipe while living in Hawaii, where the tropical fruit is so abundant and lush that I couldn't bear to waste any of it– not even the seeds. After reading an article in a local newspaper about locals' favorite things to do in Hawaii, I noticed that one of the women said, "I love making my own papaya seed salad dressing during papaya season."
Once I read that, I was hooked. Who knew you could do this? It never even occurred to me to use the seeds, despite the fact that papaya seed salad dressings are sold at almost every grocery store across the U.S.. But as with anything, fresh is always best. Once you make your own dressing, you'll never go back.
So, I started tinkering in the kitchen and the below recipe is what I came up with. I love this salad dressing so much– its sweet, salty, has plenty of umami… I could eat it straight.
Enjoy it on fresh spring mix or a more robust salad, like marinated dinosaur kale. Simply chop the kale and let it marinate with the dressing overnight. Then, throw a protein and a few pine nuts or hazelnuts on there in the morning and viola— a perfect easy lunch.
Making your own fresh papaya seed salad dressing is super easy. Enjoy!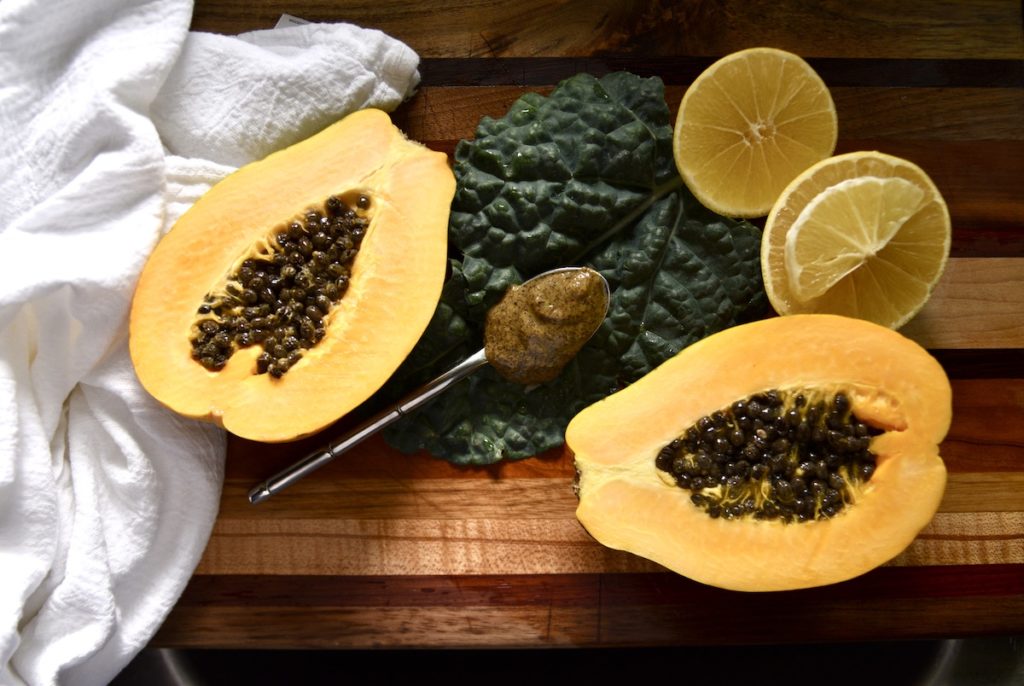 Homemade Papaya Seed Salad Dressing
This creamy papaya seed salad dressing is the perfect balance of rich, zesty, and sweet.
The seeds from 1 medium-sized ripe papaya
juice of 1/2 lime
1/2 teaspoon salt
1 teaspoon coconut aminos
1/2 cup olive oil
1/2 a small yellow onion
2 Tablespoons honey
pinch of chili pepper flakes (optional)
water (optional, as needed)
Instructions
Scoop the seeds out of a fresh papaya directly into a food processor or blender. (You don't have to rinse them off; a little bit of extra papaya juice and pulp will only enhance the flavor of the dressing.)
Add the rest of the ingredients and pulse for 2 minutes to thoroughly combine. Blend until the papaya seeds are completely pulverized. (They should look like flecks of black pepper.) Add water as necessary to achieve your desired consistency. This recipe makes a thicker dressing. If you want it to be more like a vinaigrette, add a few teaspoons of water at a time and re-blend.
Refrigerate for at least 1 hour and give dressing a quick stir before serving. (You can also serve it fresh out of the blender, but it might still be warm from the motor.) It's sweet, tangy, and way better than anything you can get in a bottle!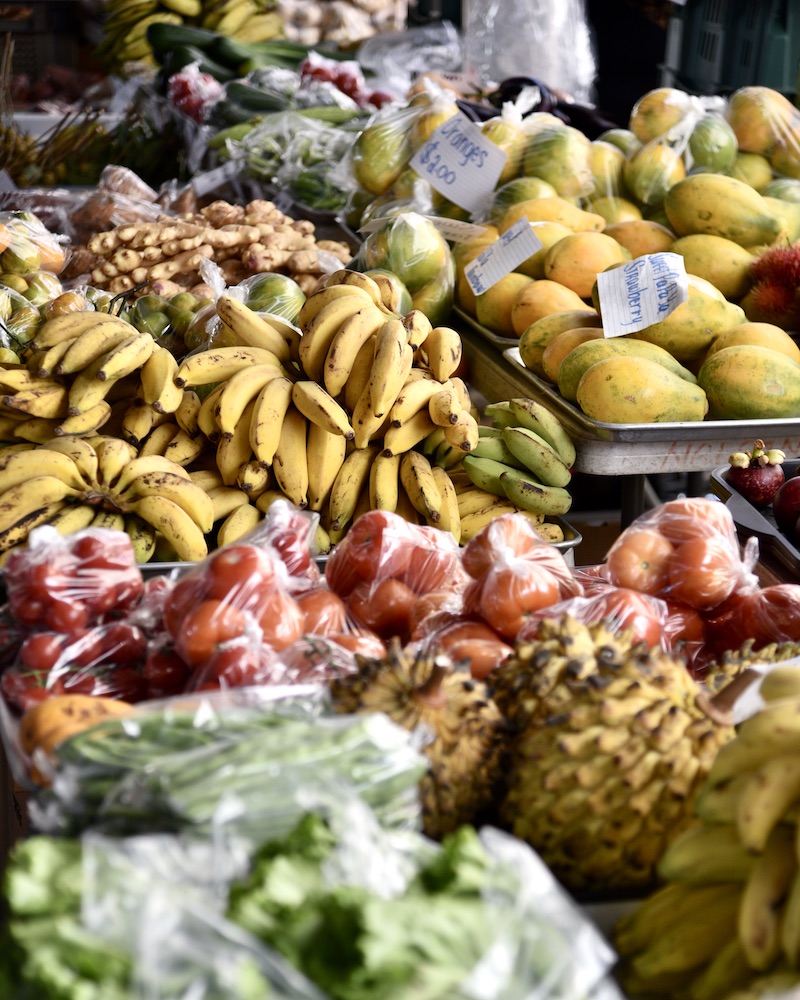 How To Choose A Ripe Papaya
Papaya is ripe when its skin is turning from green to yellow. It should have a gentle give and be soft to the touch, almost like a ripe (but not overly ripe) pear.
To speed up the ripening process, you can put papayas in a bag with other fruits or veggies that produce ethylene, like avocados or bananas. The off-gassing from fruit that is riper will hasten the other papaya's ripening process.
The riper the papaya, the more flavorful the seeds! For the best flavor, only use ripe papayas to make this salad dressing. You can taste the difference!
Notes
Papaya seeds are rich in polyphenols and flavonoids, two profoundly antioxidant micronutrients that can help fight free radicals and prevent oxidative stress. (They also contain proteolytic enzymes that can improve gut flora and digestion.)
Because of their somewhat "spicy"/"zesty" flavor, pulverized papaya seeds can also be used in place of pepper. Blend them into other salad dressings or use this recipe as a baseline to create your own.
Finally, this homemade papaya seed salad dressing pairs beautifully with baby spinach, slivered almonds, avocado, and red onion. Use it to make your own version of a spinach salad, or add it to sandwiches in place of mayo. It also makes a good dipping sauce for carrots and fresh cucumbers.
Enjoy!
***
Related: How to Make Fresh Mangosteen Juice, aka Santol-ade— a rare equatorial drink that tastes like tropical sweet tea.