Asheville, North Carolina is a charming little mountain town known for its wonderful food, which showcases the robust Appalachian tradition of using seasonal, local, heritage ingredients. This description may conjure images of Edenic farmers' markets (which are indeed idyllic in Asheville), but this is also true when it comes to birthday cakes.
Local bakeries here tend to emphasize locally produced berries, stone fruit, apples, and grains while also celebrating the unique flavor combos and culinary techniques that historically played a role in the region's food identity.
Whether it's biscuits, cornbread, or a classic hummingbird cake, this little bit of extra love is ultimately reflected in the flavor.
All of which, of course, makes the birthday cakes in Asheville such a delight to experience. Whether it's a hemp milk ice cream cake from The Hop or a cornmeal cake with beer caramel and thyme buttercream from OWL Bakery, Asheville's best birthday cakes are creative, beautiful, and at times quirky. Ultimately, however, they always have a decidedly local flourish.
From rustic and refined to clever and cute, these are the best bakeries in Asheville for getting a delicious, unique birthday cake.
We promise none of them will disappoint. Bookmark this list for easy reference later.
Happy Birthday to you and yours!
***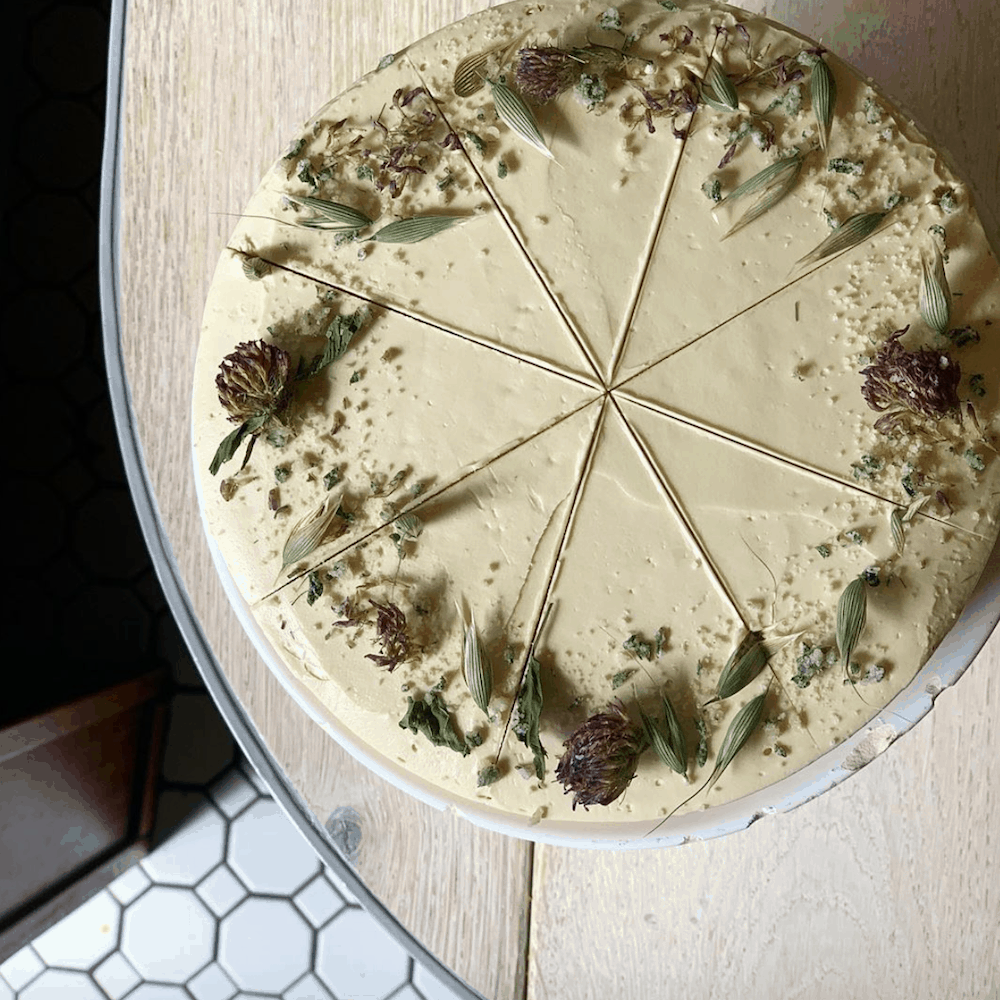 OWL Bakery (Rustic, Refined, Foodie-Friendly Flavors)
OWL Bakery is mostly known for their naturally-leavened breads (OWL is short for Old World Levain), but they also make choice foodie-friendly birthday cakes. See above their recent cornmeal cake with beer caramel and thyme buttercream. (A scrumptious New Age twist for lovers of classic Southern flavors. We love it!)
We go crazy for OWL's romantic, cocoa-dusted hues and the gorgeous, rustic floral rosette cakes. Each cake is crafted with a keen design-lovers eye. As a result, they're as aesthetically pleasing as they are refined in their deliciousness. Basically, OWL Bakery birthday cakes wouldn't feel out of place at a Parisian wedding or an aristocratic gathering. They are so tastefully beautiful. View their gorgeous cake gallery, here. (See what I mean?)
This cozy West Asheville bakeshop also sells pastries and small bites at their minimalist cafe on Haywood Road. Stop by for a coffee and European-style elephant ear (also known as Palmiers) before placing your cake order in person. Or, email [email protected] or fill out the special order form here.
Either way, be sure to order your birthday cake in advance, as the bakery often gets busy with special orders– especially during peak wedding season (May to October).
Related: The 12 Best Breakfast + Brunch Spots in Asheville.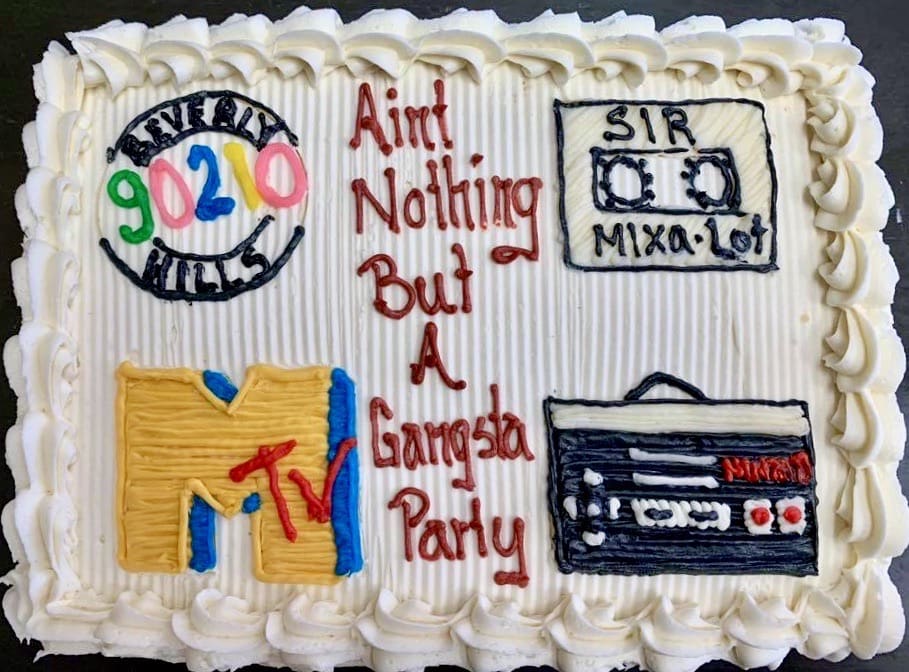 Geraldine's Bakery (Old School Classics)
Geraldine's is the place to go for classic, old-school birthday cakes. Go here for logo cakes, children's animal cakes, humorous cakes…they've even made concept cakes that look like a science project. Either way, the design will have the distinct etching of a "local bakery".
The flavors here are simple and yummy— think German chocolate, yellow chiffon, blackout cake, carrot cake, etc. The designs are typically one-dimensional, as they make two-layer rectangular sheet cakes and triple-layer rounds, only. (As opposed to the more crazy 3-D sculpted cakes.)
Geraldine's Bakery is well known for its house-made danish, but their special occasion cakes have that inimitable flavor– like something your grandma would make. It's charmingly nostalgic.
Plus, the prices are excellent: these are some of the most affordable birthday cakes in Asheville. Full of love, and darn tasty, to boot. Traditionalists love their Red Velvet, Coconut, and Boston Cream cakes.
Order your birthday cake from Geraldine's (and check out flavors and pricing) here.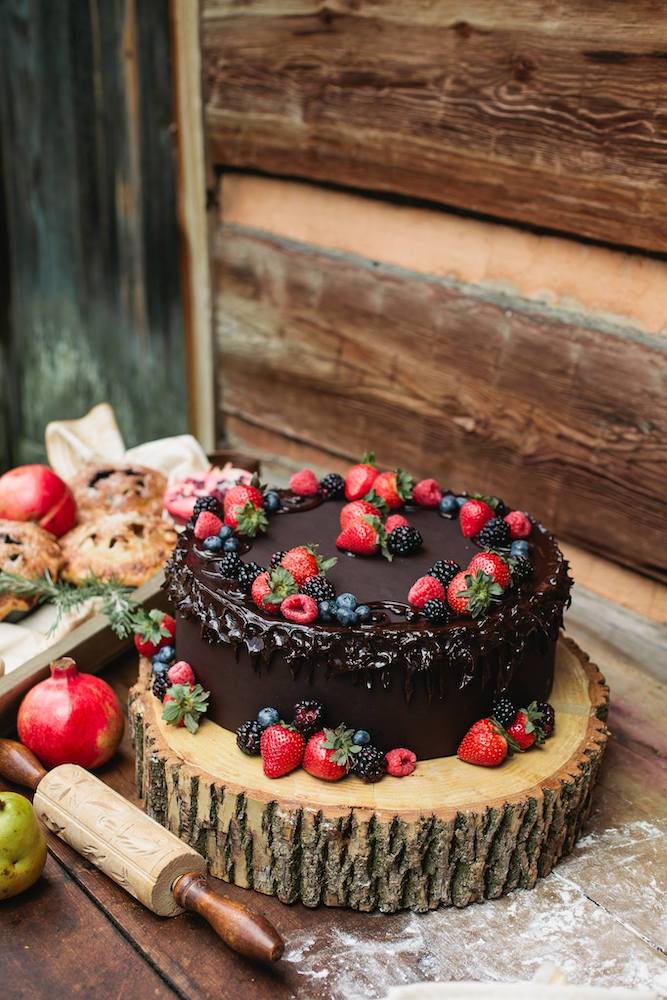 Karen Donatelli Cake Designs (For Elegant Layer Cakes)
For two decades, Karen Donatelli Cake Designs has been a go-to destination for elegant birthday cakes made in their downtown Asheville cafe. Donatelli studied at the Culinary Institute of America, so it's no surprise that her cakes are textbook, both in flavors and in execution. Ultimately, they are one of the best bakeries in Asheville for making beautiful, delicious, custom, and often dramatic birthday cakes.
While mostly known for gorgeously pastoral wedding cakes and their adorable tuxedo strawberries, the bakery is deftly capable of producing charming birthday cakes in any style. Whether you're ordering for a partner, a child, or an intimate gathering, Karen's has the skill to match your vision. Order from Karen Donatelli if you want a rustic country-style layer cake or something with fresh berries. (<— When it comes to birthday cakes, they always seem to nail that genre.)
Ultimately, we love the attention to detail that this bakery consistently presents in their cake artistry. (The pictures we've linked here don't lie.) To order a custom birthday cake, call the bakery or send an e-mail to [email protected].
Oh, and the single-serve desserts available at their cafe are super delicious! No one would look sideways if you just bought one of these and stuck a candle in it. 🙂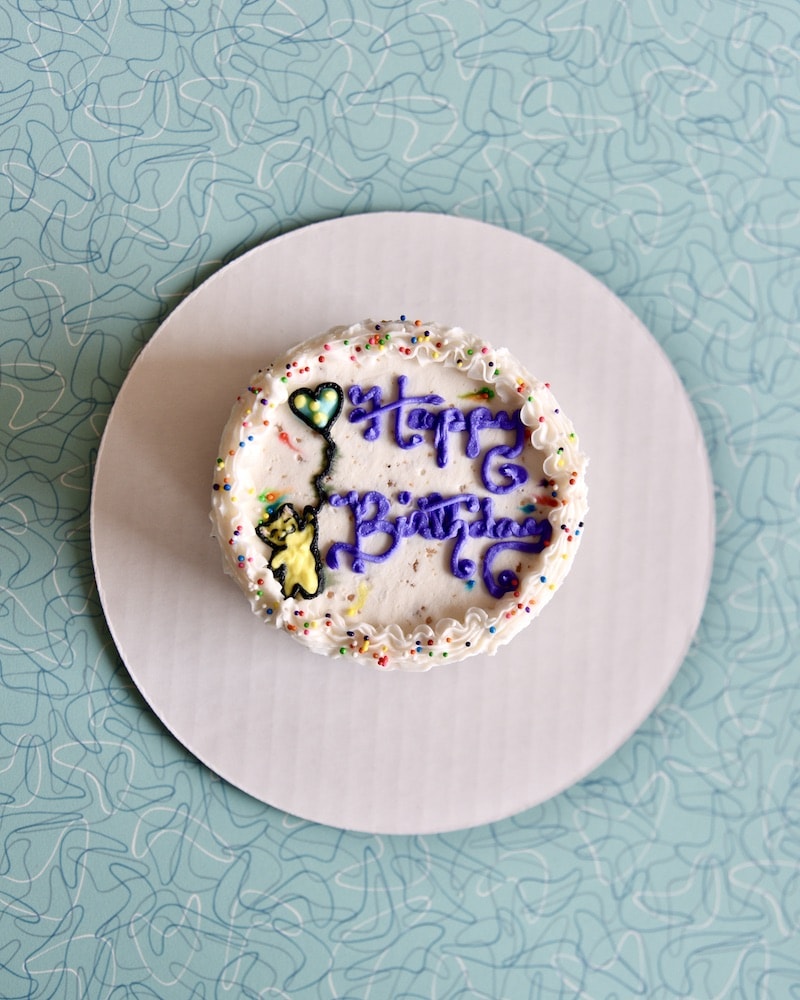 The Hop Ice Cream Cafe (For Creative Vegan Ice Cream Cakes)
While most often sited as the best ice cream shop in Asheville, The Hop Ice Cream Cafe also does specialty ice cream cakes. We adore their creative vegan flavors, which are made with unique seed and nut milks like hemp milk and sunflower seed milk. These are clever alternatives to standard almond milk or coconut milk-based ice creams (though those options are also available).
As a result, the Hop's birthday cakes are great for people with various nut allergies, and they can be made vegan or gluten-free upon request.
Regardless of this ability to customize, The Hop also makes the best ice cream cakes we've ever had! They offer a wide variety of sizes, too. (We love the adorable 4″ mini, above shown, which is perfect for just two people.)
Plus, the flavors are so tasty— try the Biscoff Cookie Butter or the Caramel Latte ice cream for a real treat. They also have more "eccentric" flavors like Chinese Five Spice, Salted Licorice (a hit among Scandinavians!), and "Unicorn Poop" (which is, you guessed it, rainbow-themed).
Cosmetically, the cakes can be themed or dressed up just as much as a regular, flour-based birthday cake. The Hop is one of the few boutique ice cream establishments on the East Coast that offer this level of detail. We love it!
Finally, we like that the Hop works with local artisan food companies to use regional ingredients. Over the years they've collaborated with local spice purveyors, bakeries, and kombucha makers to make delectably unique ice creams. These also vary with the season, so each visit to the cafe is always novel.
Overall, they're just a true family-friendly establishment. They even sell ice cream for dogs! (If that's not a sign of Asheville's wholesome tendency towards inter-species inclusivity, we don't know what is.)
If you're looking for an ice cream cake in Asheville, definitely get it here.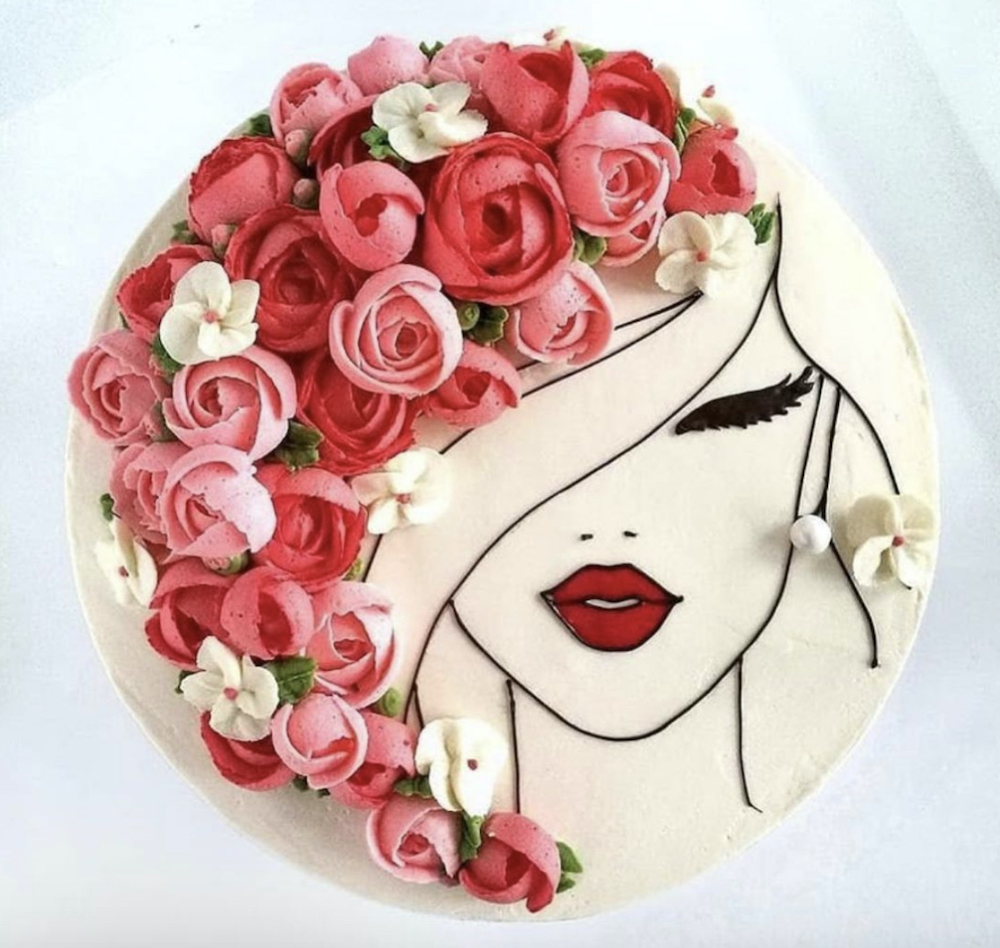 Short Street Cakes (Creative and Spunky Southern Flavors)
Short Street Cakes makes fresh, natural, and made-from-scratch birthday cakes in West Asheville. We love the surprisingly inventive designs that this family-owned bakery makes. (See above their beautiful red-lipped, rosette-haired muse cake for International Women's Day.)
They specialize in Southern-style cakes (think: Hummingbird Cake, Raspberry-Almond, and their signature "Ashevelvet"). Overall, this is a trendy, "new school" cake maker with all the genteel charm of a small-town bakery.
Whether it's a mermaid cake for your child or a tiny, tea-time treat, Short Street Cakes is capable of turning the simple gesture of buying a birthday cake into a whimsical delight. (See above their "International Women's Day Cake" complete with rosette hair and a sassy red lip.)
We also like that the flavors are robust. Even their vegan vanilla cake tastes like something we've never had before. (But if you really want flavors you've never had before, order a Banana Split Cake or their specialty Tres Leches. These people know what they're doing!)
To place an order for a birthday cake, call the bakery directly.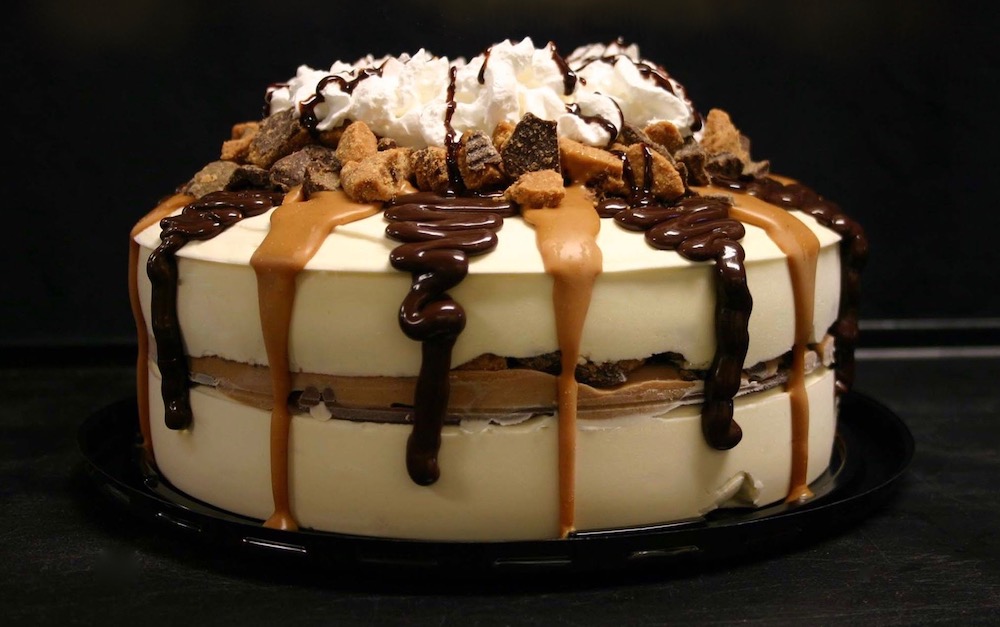 Whit's Frozen Custard (Cool Alternative to Ice Cream Cake)
While not an Asheville-based company, the Asheville outpost of Whit's Frozen Custard (originally from Ohio) is easily one of the brand's most charming. And, lucky for Ashevillians, they make insanely delicious frozen custard cakes.
These are an elegant, old-time-y alternative to ice cream cakes but with even more richness and flavor. (Like Magpie's in LA, this kind of cake remains a novelty in America.)
Above shown is their peanut butter and chocolate Buckeye Madness custard cake. This is easily one of the richest birthday cakes available in Asheville. (<— Peanut Butter lovers, rejoice! We've found the perfect cake if you like this combo.)
Whit's cakes are available in a suit of decadent flavors like Pecan Toffee Crunch, Bourbon Praline Pecan, and S'mores. But they also make lighter fruit flavors like Lemon Raspberry, Peach, and Black Raspberry Chip. Each cake can feed about 8 to 12 hungry people.
To order your custard cake in advance, email or call the store several days before you want to pick it up. (At least 1 week.) The shop needs time to prepare the custard and let it set.
Plus, with flavors this rich, you'll want time to save up your appetite. Yum!
~ Honorable Mention ~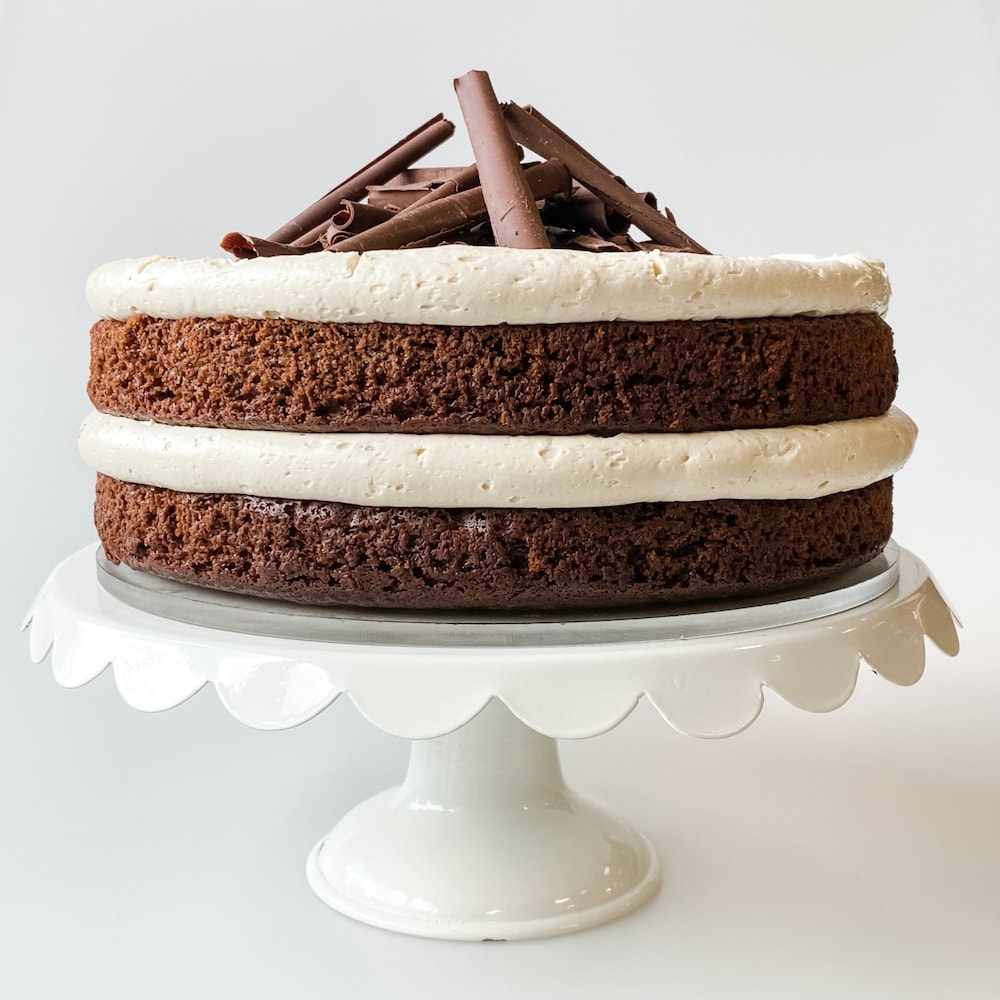 French Broad Chocolate
Asheville's most famous chocolatier is known for its delicious chocolate-infused baked goods. While brownies, cookies, custards, and creams are their specialty, they do, however, also occasionally sell slices of cake.
Thus, French Broad Chocolate offers 2 special order cake options: Carrot Cake and Mocha Stout Cake. These are the only two flavors, but both are delicious.
Cakes can be ordered in two sizes– a 6″ round or a 9″ round. If you want, you can write a custom message on top free of charge.
The bakery does, however, require customers to place cake order requests at least two business days in advance. Pickup is at the French Broad Chocolate Lounge (Pack Square location).
The Highland Mocha Stout Layer Cake is shown in the picture above. The bakery infuses fluffy layers of chocolate cake with Highland Brewing Company's Mocha Stout. Then, they layer it in coffee buttercream and 68% Nicaraguan chocolate curls. It's the perfect cake for beer lovers!
***
Related: Want more niche eats in Asheville? Check out one of the area's amazing farmers' markets and find out where to get the Best Fried Chicken, Best Coffee, and Best Breakfast in Asheville.
Also: 17 Cool Things to Do in Asheville, NC (A Charming Visitors Guide)
Need a cool birthday cake in another city? Consult our beautiful American Birthday Cake Archive, here.