With hipster enclaves surrounding institutions like Brown University and the Rhode Island School of Design, Providence, Rhode Island necessarily boasts a number of excellent, modern yoga studios. As a complement to the burgeoning vegan/vegetarian food scene that has sprouted up in recent years, Providence's best yoga studios capture two integral aspects of modern living in the city.
First is the collective desire to wind down from modern feelings of overwhelm; and second is a progressive social ethos that has defined this city for decades.
Below, we spotlight some of the best yoga studios in Providence. Many of the studios on this list also offer unique classes like heated pilates, barre-yoga fusion, and sound baths, which are hard to find even in some of the most future-forward yoga studios in California. (ICYMI: Yoga in California is a religion, but that's a whole different story.)
In a few short words, we explore what, exactly, makes each yogic community so special and why we think each is worthy of a visit. So dig deep, breathe deeper, and relax into your best self at any of these charming Providence yoga studios. If you live locally and love yoga, you'll be surprised at how much these hidden gems have to offer.
***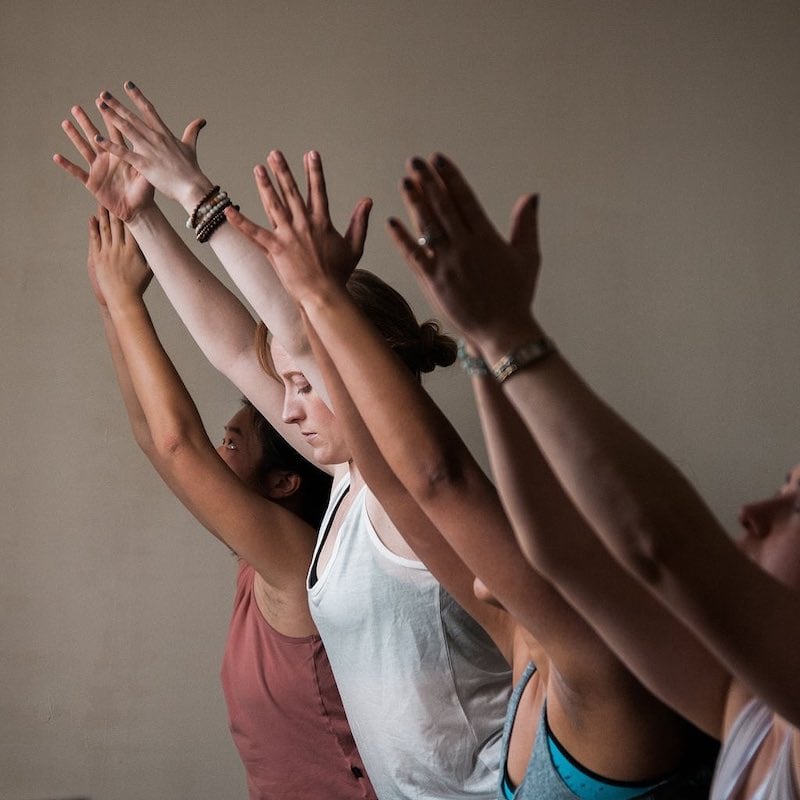 Jala Studio Yoga & Art
This tiny dive on historic Benefit Street is a wonderful yogic sanctuary with great 45 minute "Lunch Flow" and "Lunch Vinyasa" classes, which are 45 minutes long so that clients have time to practice during weekday lunch hours. Jala Studio specializes in Jivamukti and Ashtanga yoga, which are taught in a serene, art-filled environment. The studio offers classes every day of the week with occasional Mysore, Yin, and Vinyasa Flow classes scheduled alongside weekly meditation and pilates classes, for those interested in diversifying their practice.
We like the Community Vinyasa Classes (more of a style preference than anything,) as well as the fact that the owners frequently stock fresh orchids in this brightly lit, street-front space.
Jala Studio is small, and though she is humble, the instructors have a deep appreciation for the philosophic underpinnings of yoga, which they masterfully impart through each class. For the full experience, take a class with Bristol. (All Jala's teachers are great, but she's an area favorite.)
As a result, this is a great studio for people seeking fitness with a little bit of spiritual practice woven throughout.
And oh yeah, the art: Jala's on-site gallery exhibits artwork inspired by yogic practices, which is a plus for people who crave authenticity. (They even offer a live music lecture series for those looking to commune more deeply with their yoga practice.)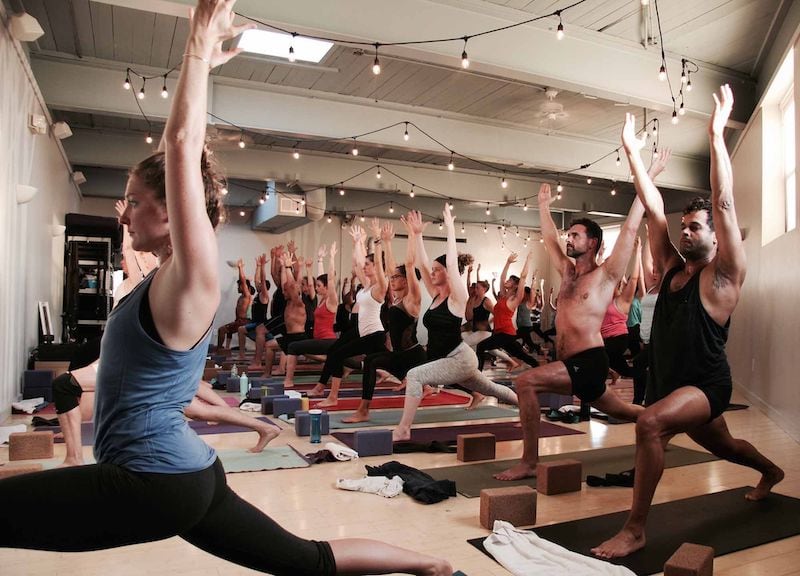 Providence Power Yoga (+ The Annex)
Just a few skips from the historic Knife Factory in the Jewelry District, Providence Power Yoga (and its nearby second location two blocks down) offers TONS of heated and non-heated yoga classes in a safe, inclusive environment.
We love that PPY offers classes at almost every hour of the day, every day. No matter what your schedule looks like, you'll be sure to find a time that works for you.
Yogis looking for a real treat should try the heated "Sunrise Sculpt" or the Heated Power Vinyasa. We also love the Restorative Yoga Nidra– for moments of overwhelming stress– and the hybrid Hatha Vinyasa. (PPY also offers private classes and corporate yoga classes.)
First-time clients can get three weeks of unlimited yoga for $30. After that, single classes are $22, with various membership and drop-in passes available for purchase. Unfortunately, there aren't yet any showers at this studio– but there is plenty of space to change, towel off, and freshen up.
The central PPY location is right off I-195, with a convenient parking lot across the street. (You can't miss the giant sign on the building's exterior.) For a lovely weekend experience, take an early morning heated vinyasa class. Then, dry off and walk across the street to nearby Cav Restaurant, where you can enjoy a delicious Rhode Island-style brunch. (<—- I call this the "Jewelry District Double". It's amazing!)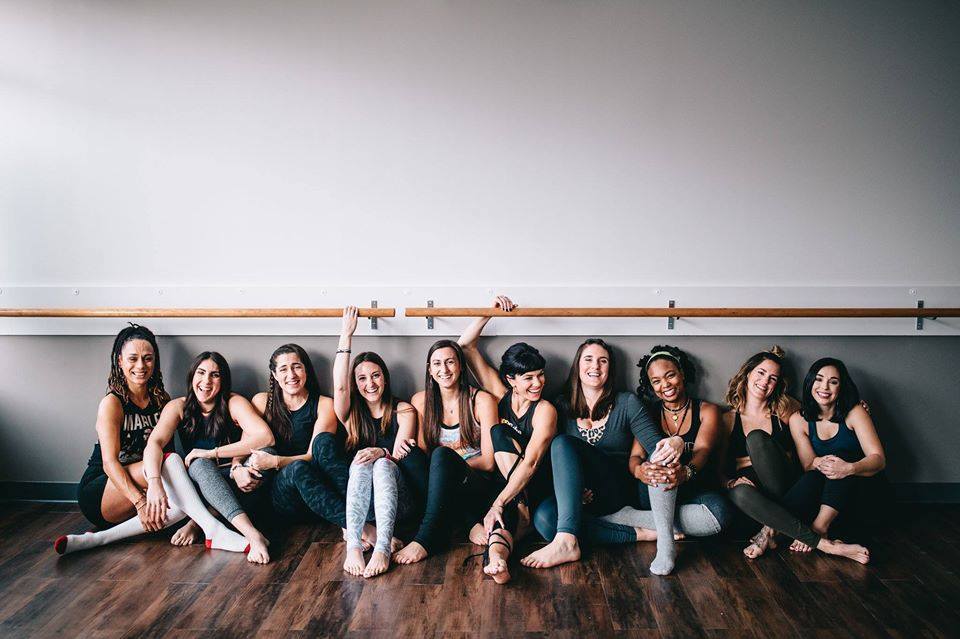 Barre & Soul
This popular chain Wayland Square yoga studio offers– you guessed it– barre and yoga classes at their Providence location. They also offer workshops, teacher training, meditation, sound baths, and reiki through special events and collaborations with local wellness experts.
As this may lead you to believe, Barre & Soul is kind of woo-ey; they use pitchy language like "Are you a tiger-hearted, conformity-killing status quo slayer?" to attract new customers– but it isn't fluffy. The teachers here are some of the best in the business. Barre & Soul emphasizes a fitness culture defined by both grace and grit.
Plus, new client 30-day unlimited trials cost just $49. In addition to their signature Barre & Soul method classes, the studio offers vinyasa, yoga sculpt, and restorative yoga classes every day of the week.
This is an ideal studio for people who like alternating between barre with yoga, which can be very physically advantageous. (The two practices boast several complimentary benefits for advancing flexibility while toning and lengthening muscles.)
Fortunately, memberships at this location can also be honored at Barre & Soul's Harvard Square and Portsmouth, NH locations, so you can take your practice with you on your weekend exploits around New England. 🙂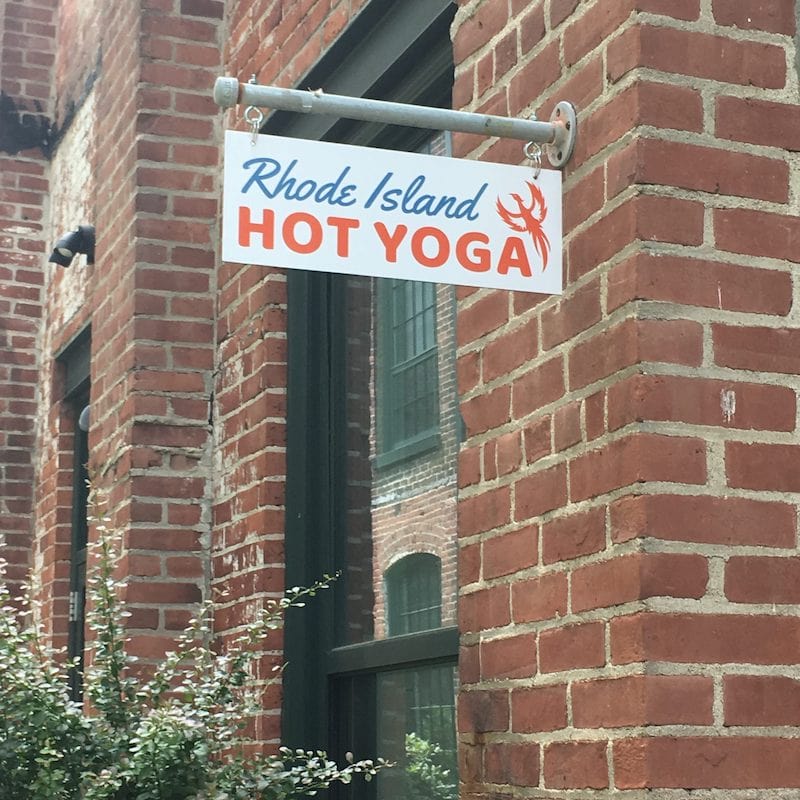 Rhode Island Hot Yoga
Rhode Island Hot Yoga is an affordable, approachable yoga studio with locations in Providence and Bristol. While it's hard to find a hot yoga studio that doesn't overdo it on the heat, RIHY delivers.
We love the natural light in this renovated mill space– and the fact that they have nice showers. The on-site boutique sells yoga clothes and props at market prices. They also offer hot pilates classes (a rare thing!) and an impressive 21-day trial membership for newcomers that's only $29.
College students and military service members are eligible for additional discounts. (To that end, advanced reservations for each class are not required, but recommended.)
Meanwhile, parking is available near Valley and Delaine Street, but it can be tricky for first-time visitors. If you're unsure where you're going, be sure to look at the map on their website before you go.
And this may go without saying, but be sure to bring a towel. As you would at any good hot yoga studio, you will definitely work up a sweat!
***
Related: Looking for a good yoga class in another city? Consult our American Cities Yoga Index. Discover the country's best yoga studios, from Los Angeles to Savannah and beyond.