Ok, here we are. Panic attacks are things that happen to people sometimes, and they are terrible. But you are going to be okay. Stay with me here and just breathe.
First, stand up.
Walk around slowly if you have to (assuming you are in a safe place to do so).
You're having a panic attack.
Maybe it's your first, maybe it isn't.
Either way, you're going to be okay.
You are safe. Repeat this to yourself: "I am safe. This is not an emergency. I can cope with this."
You are Safe. You're Going to Be Okay
Anxiety attacks, which can evolve into acute panic attacks, happen to many people for many different reasons. They can be very scary and real when they are happening, but they are normal and they happen to some people. Again: you're going to be okay.
While panic attack symptoms vary from person to person, some people converge on feeling sick, racing heartbeat, lightheadedness, nausea, and a feeling of utter and complete dread. Some people describe them as feeling like their entire world is spiraling out of control.
Fortunately, these feelings are in your mind, and they are not a true reflection of reality or your state of health.
Once you feel better– and you will, soon, I promise!– then you will see that.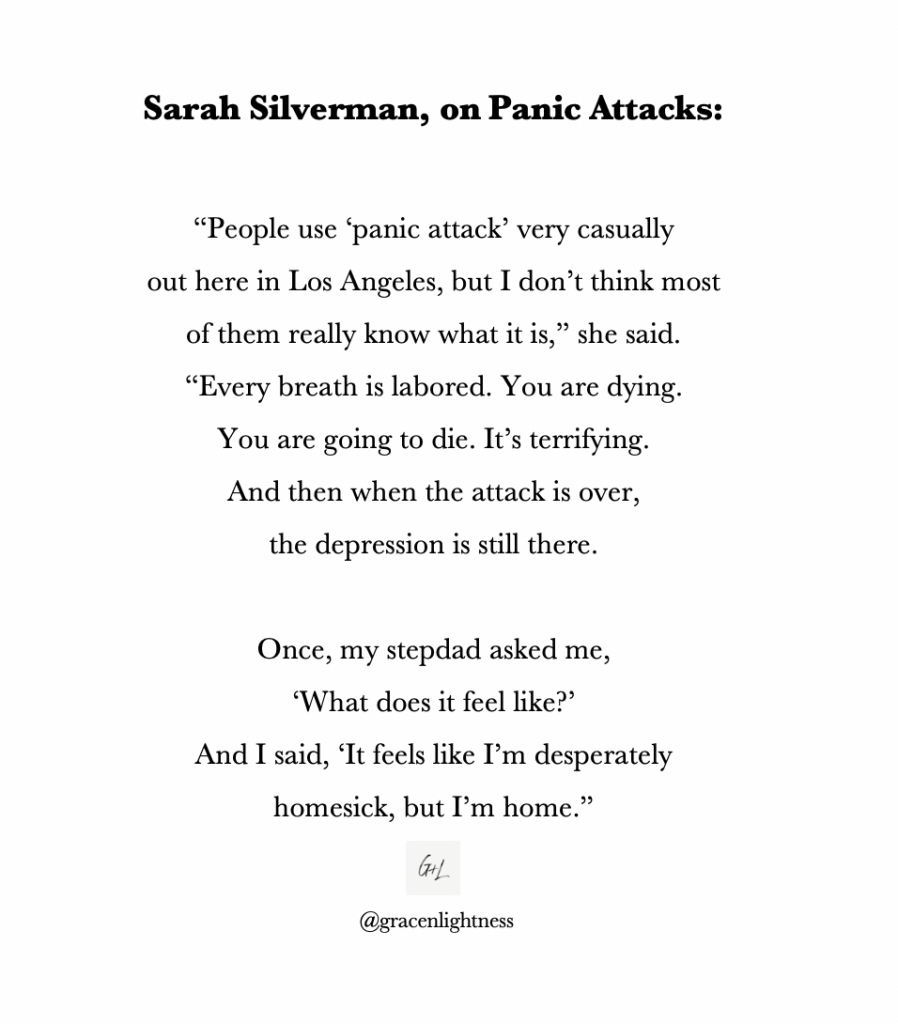 What You Can Do
Below is a primer on a few actions that can help you feel better in the moment when you are having a panic attack.
Make a cup of tea.

Studies show that doing something with your hands, like cleaning, knitting, drawing, or playing with a fidget spinner, can help allay the spiraling thoughts that lead people to have panic attack symptoms.

The most common suggestion experts give is to make a cup of tea, since both making the tea and drinking caffeine-free tea can have a calming effect on the body. Here's a list of herbal teas that can help with anxiety.

Talk to people around you.

This can be a friend, colleague, family member, or stranger. You don't have to tell them you are feeling nervous. Just ask them a question to get engaged in conversation, like "How was your weekend?" or "What time is the meeting?" or "What's the weather like outside?"

Do your best to answer them and respond accordingly. Small conversations like this will help distract you and get you out of your own head.

If you are feeling lightheaded, breathe slowly into a paper bag.

The lightheaded sensation comes from mild hyperventilation from shallow breathing. You're not getting enough carbon dioxide because you are not exhaling deeply, and this results in a tingling, lightheaded sensation.
To help relieve this feeling, inhale and exhale slowly into a brown paper lunch bag (or a large brown paper grocery bag, in a pinch). Count to 8 on the inhale– 1, 2, 3, 4, 5, 6, 7, 8– before exhaling. Then, as you exhale, count to 8 and exhale the whole time– 1, 2, 3, 4, 5, 6, 7, 8. Then, repeat. Do this for a few minutes while consciously paying attention to your breath. It is very important that you count in your head while you inhale and exhale. This will give you something to focus on and ensure that you are breathing slowly enough.

Ice your wrists.

Another weird bio-hack that therapists use for panic attack patients is icing wrists. Icing one's wrists is sort of a gentle equivalent of taking a cold shower– it snaps you out of your head in a physical way. Supposedly, there are nerve endings in your wrist that connect to the part of your brain responsible for worry. When you cool them off, your thoughts quite literally slow down. (You can read more about this in our Comprehensive Guide to Meaningful Anxiety Relief or our recent piece on the cultural revolution of ice baths.)

Peel an orange.

The smell of citrus, and the act of doing something with your hands, can contribute to a feeling of calm. Aromatherapy will not save you from panic symptoms, but peeling on orange slowly and taking the skin off of each section of orange can help focus your attention on something outside yourself. Start small. Panic attack symptoms occur when thoughts start to spiral so far away from the present moment that the worry overcomes your thoughts. Come back to the present moment by assigning yourself a small, detail-oriented task. (Read more about the calming effects of citrus here.)

Walk around.

As noted above: getting up and walking around will restore a sense of control, like you are taking action and leading yourself to find a solution for your panicky feelings. If it helps and feels safe to go for a walk outside, do it. Fresh air is always a good thing.

Meditate.

If you feel up to it, try listening to one of these free guided meditation videos or a free meditation app that will help calm your nervous system. If you can lower your heart rate and get your attention to focus on something else, your mind will naturally start to relax.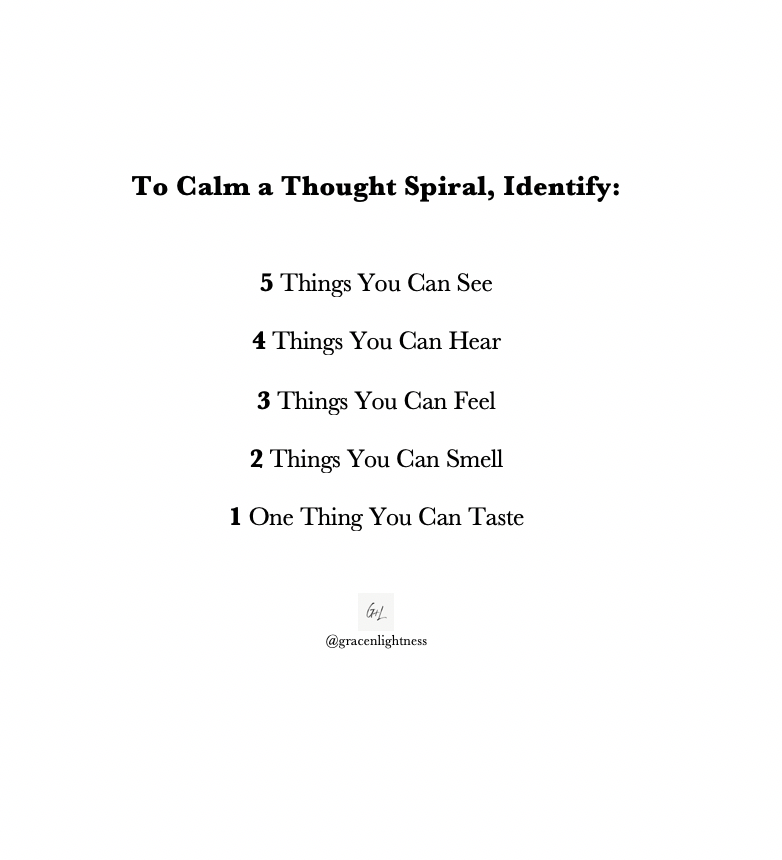 Other Things to Note, Beyond Panic Attack Symptoms
Having a panic attack increases your likelihood of having another panic attack in the future.

This is because the body tends to fear having another panic attack once you've had one. But don't worry! Remember the classic FDR quote that "We have nothing to fear but fear itself." Try your best not to fear having another panic attack. Remember that if you do have a panic attack, you will overcome it and it will eventually end. You have nothing to fear but fear itself. Panic attacks do not last forever. Understanding and believing this will help you avoid unnecessary discomfort in the future.

Many people mistake their panic attack symptoms for a heart attack.

If you are of advanced age or at risk for a heart attack, don't be shy about going to the emergency room if that gives you peace of mind. Often, you'll feel better before you get there, and if not, they will just tell you that you are having a panic attack. It's okay; it happens all the time. And if your symptoms are so severe that they brought you to the point of going to the emergency room, you can talk to the doctors about whether anxiety medication or seeing a therapist makes sense for you.
Anxiety vs. Panic Attack Symptoms
***
Related: Feeling anxious in your day-to-day life? Read our Comprehensive Guide to Meaningful Anxiety Relief: 25 Research-Backed Ways to Keep Calm and Carry On.
You can also text CONNECT to 741741 from anywhere in the USA, anytime, about any type of crisis.