As we wrote in our Insider's Guide to Pittsburgh, PGH is a relatively good city for gluten-free living. In addition to a host of great gluten-free bakeries and grocery stores like Eden's Market: A Gluten Free Emporium, Aldi, and GF wholesalers like Gluten Free Goat, there are also a number of excellent gluten-free restaurants in Pittsburgh, as well as dedicated gluten-free cafes and food halls that take gluten allergies seriously.
It's not exactly LA or Waikiki, but what people outside the region might not know is that Pittsburgh has a very progressive food scene– as long as you know where to look.
Below, we spotlight some of the best and most popular restaurants in Pittsburgh. It just so happens that all of these restaurants are gluten-friendly– if not completely gluten-free.
Whether you have Celiac disease, gluten sensitivities, or are simply avoiding gluten by choice, these restaurants have the quality, cleanliness, and taste worthy of any person (visiting or local) who takes gluten-free eating seriously. (But when in doubt, be sure to ask the waiter.)
Enjoy!
***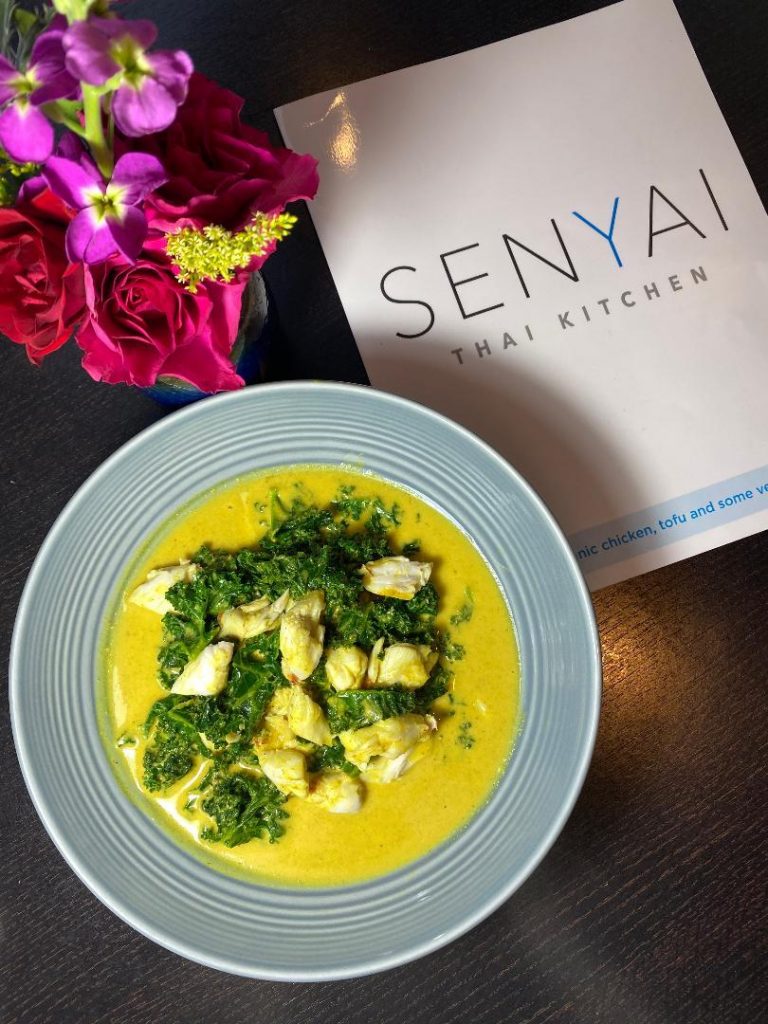 Senyai Thai Kitchen
Senyai Thai Kitchen serves delicious, authentic Thai cuisine with many gluten-free and vegan-friendly options, which are perfect for takeout.
While the restaurant isn't a designated gluten-free environment, they work hard to prevent cross-contamination. As a result, they have a good reputation for keeping those with extreme sensitivities safe.
Most impressive, however, is that many of the fish and meat items on the menu are also organic, which is rare for Thai cuisine. We also love the space-age, modernist interior of the restaurant, which was designed by local architects Epiphyte Lab.
For the quintessential experience, order Senyai's delicious yellow crab curry, the duck curry, the senyai salad with salmon, and/or the senyai spring rolls, all of which are gluten-free. For drinks, look out for their colorful lemongrass blue tea. (This is one of the restaurant's most Instagrammed items.)
Also: We once saw a staff member bring a Whole Foods bag into the kitchen after they ran out of a particular vegetable; when supplies were running low, they went to the store and bought a high quality replacement. If that's not dedication to clean eating, we don't know what is!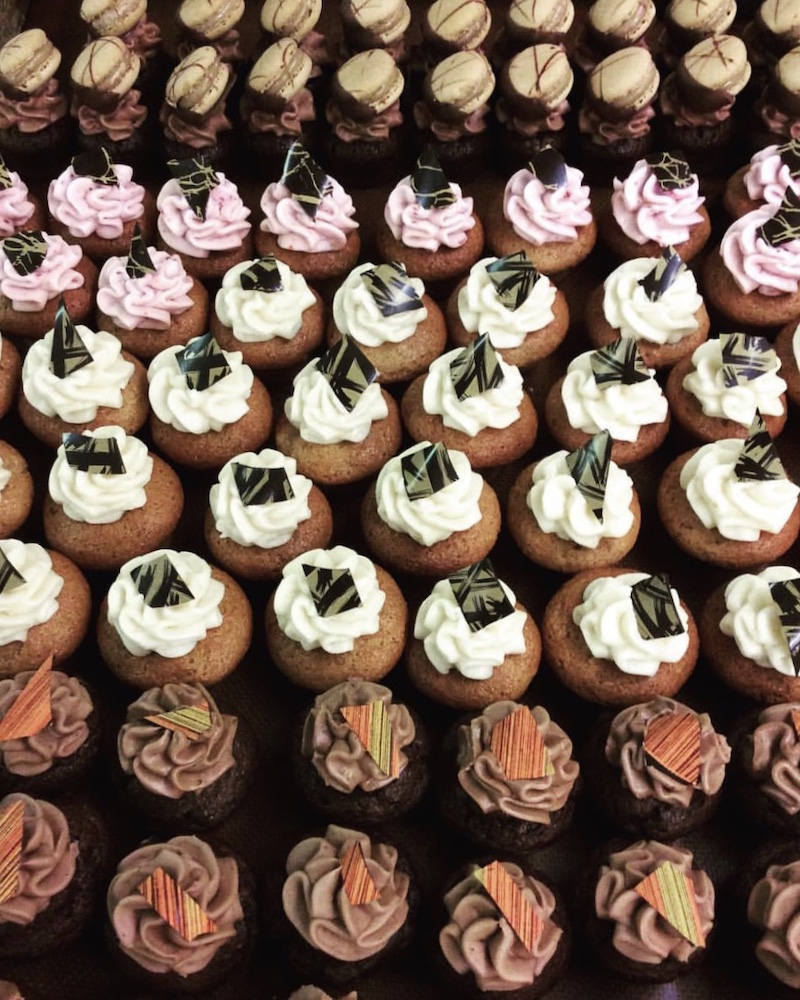 Café Chocolade
Café Chocolade has an amazing array of over 100 gluten-free items, most of which are also vegan! As a result, the cafe is easily the best gluten-free restaurant in Pittsburgh– or at least the most popular.
We love the gluten-free crepes and fabulous salads– they even serve a gluten-free baguette! Many menu items are also organic and GMO-free; and their homemade vegan cheeses are excellent!
We like Café Chocolade best for lunch and brunch, as the food is light and energizing. The owner is trained as a classic French pastry chef, and he himself has Celiac disease. As a result, the gluten-free items on the menu are as clean and gluten-free as can be. He takes allergies very seriously.
Be advised, however, that the menu changes regularly. The sautéed avocado salad and the signature salad (featuring mixed greens topped with bell pepper, baby carrots, sweet peas, mozzarella, grapes, toasted sliced almonds, homemade gluten-free croutons, and aged balsamic vinaigrette) are always staple items, however.
New and exciting dishes are constantly being added to the menu, so repeat customers can count on their favorites without getting bored. When in Pittsburgh, Café Chocolade is THE dedicated gluten-free staple.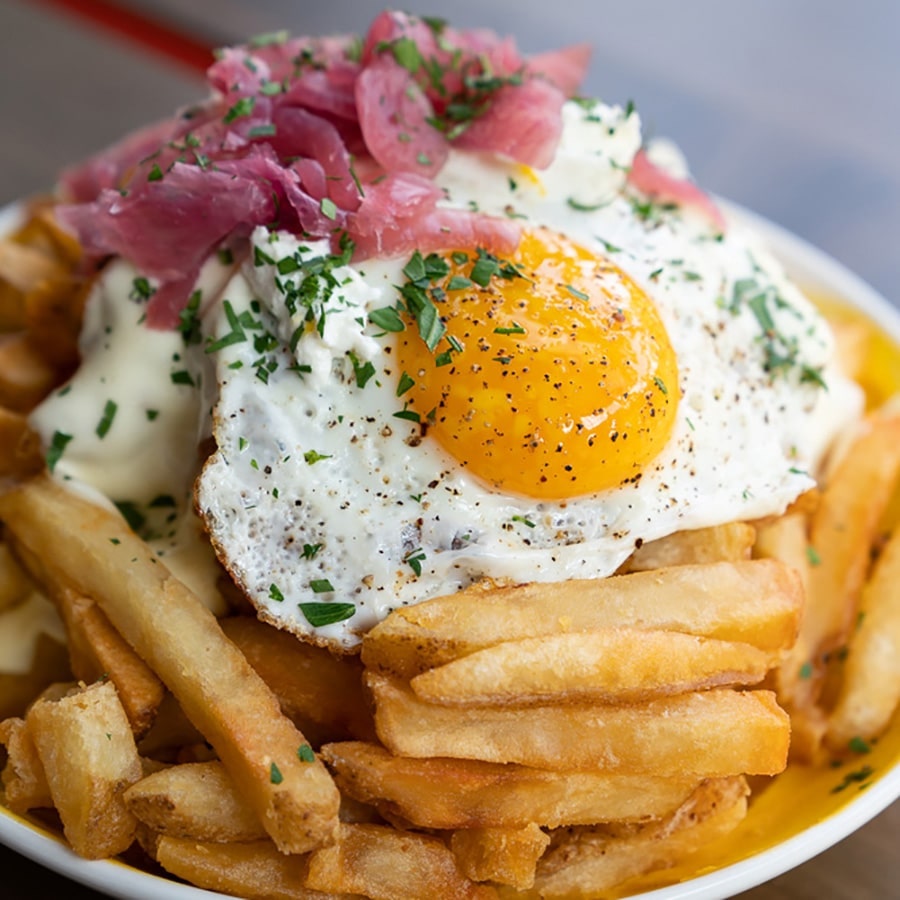 Federal Galley
I know, I know: Federal Galley is not a dedicated gluten-free food hall. But it is still one of the best, and most reliable places to get good gluten-free eats in a unique dining space. Many of the "food incubators" at this open concept test kitchen are experimenting with gluten-free menu items, which they test drive here before they graduate to the big leagues of brick-and-mortar.
As a dining concept, Federal Galley is also one of the coolest dining spaces in Pittsburgh. Today, they're working to become more inclusive to foodies with allergies.
Federal Galley is a family-friendly environment. It's also very kid-friendly, as there's an outdoor space where young ones can run around when the weather is nice. The space also draws a large crowd during weekend brunch hours. It's a good place to socialize out in the community.
As far as specific gluten-free menu items goes, we LOVE the gluten-free butternut goat cheese fries at Provision PGH. (Above shown– look out for those, specifically.) Be advised, however, that none of the restaurants here are dedicated gluten-free. They simply offer gluten-free food items in addition to standard menu items.
What this food hall lacks in gluten-free variety, it makes up for in flavor of the select menu items that are gluten-free. Just be advised, however, that the restaurants showcased here can change. Be sure to check in with specific gluten-free menu items before you go.
The website featuring each restaurant's menu is updated regularly.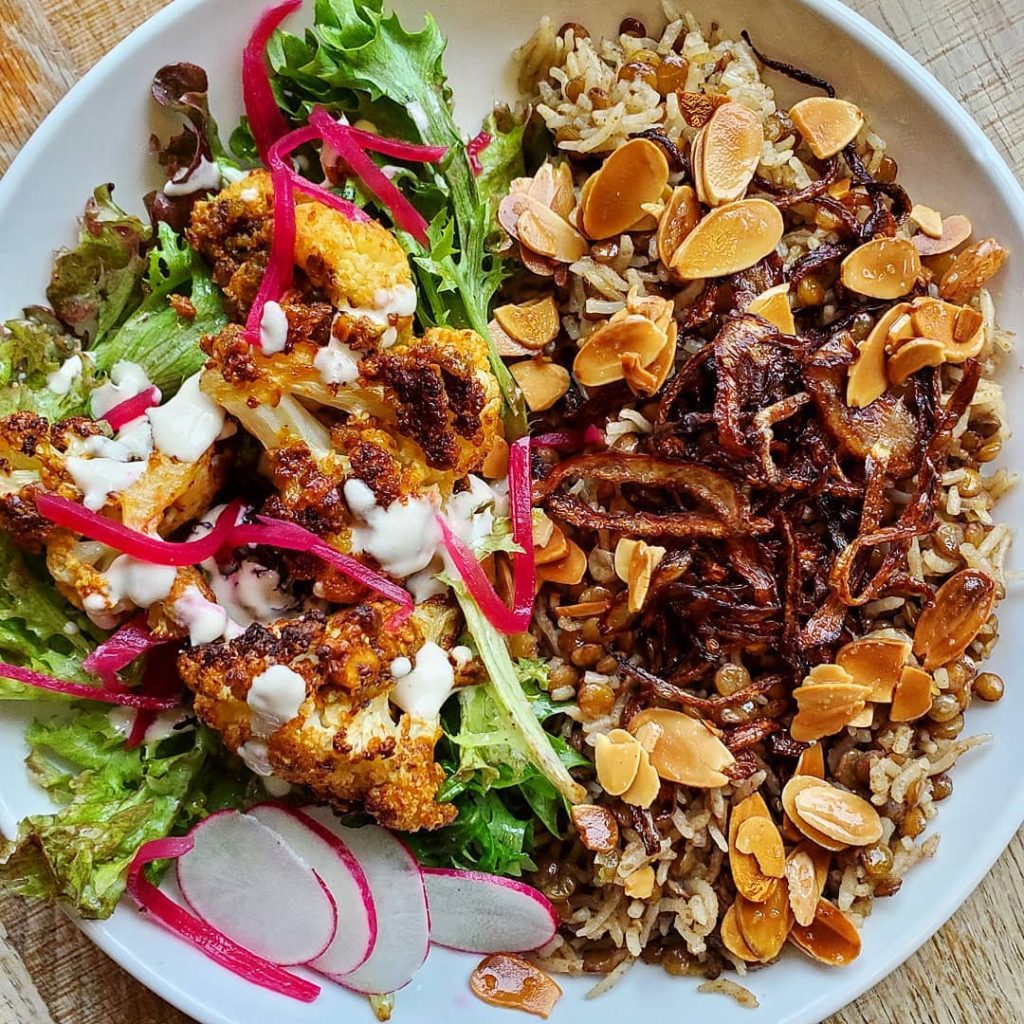 B52 Vegan Café
Arguably the best vegan restaurant in Pittsburgh, B52 Café has plenty of gluten-free options and modifications available– however, there is a slight chance of cross-contamination, as not everything on the menu is gluten-free.
If you are someone who is a super-sensitive celiac, it's best to steer clear. If not, then you can indulge in delicious small plates like gluten-free latkes and sautéed shiitake mushrooms.
The mezze hummus, baba ghanouj, and fried cauliflower options allow the option of gluten-free bread instead of pita. They are delicious, though potentially more suitable for those with gluten sensitivities rather than Celiac.
The salads here are also excellent, with flavorfully seasoned dishes like the mujudarra shown above. Sandwiches– like the popular Avocado Sandwich made with shiitake bacon, red pepper, greens, and tahini– can also be made gluten-free.
It may go without saying that B52 is also the best vegan restaurant in Pittsburgh. And it's certainly a delicious option for those who generally avoid animal protein!
Pastoli's Pizza, Pasta, & Paisans
Pastoli's has a dedicated gluten-free and allergy-friendly menu where you can order some of the best, reliably gluten-free pizzas in Pittsburgh. The pizza parlor takes special precautions to prevent cross-contamination, but they are not a dedicated gluten-free facility. (Super sensitive celiacs, be aware!)
We do, however, trust the comprehensiveness of their gluten-free menu. They even sell gluten-free beer!
Order the gluten-free spinach ricotta pizza, a gluten-free Italian hoagie, or a gluten-free appetizer like loaded buffalo fries. We also love the gluten-free potato skins with cheese, bacon, and sour cream; or try the gluten-free wings in a variety of flavors. (Spicy Citrus, Buffalo Garlic Parmesan, and Dry Cajun are the most popular.)
The food is, of course, informal. But if you're looking for satisfying gluten-free bar food in Pittsburgh, this is a great place to get it.
~ Honorable Mention ~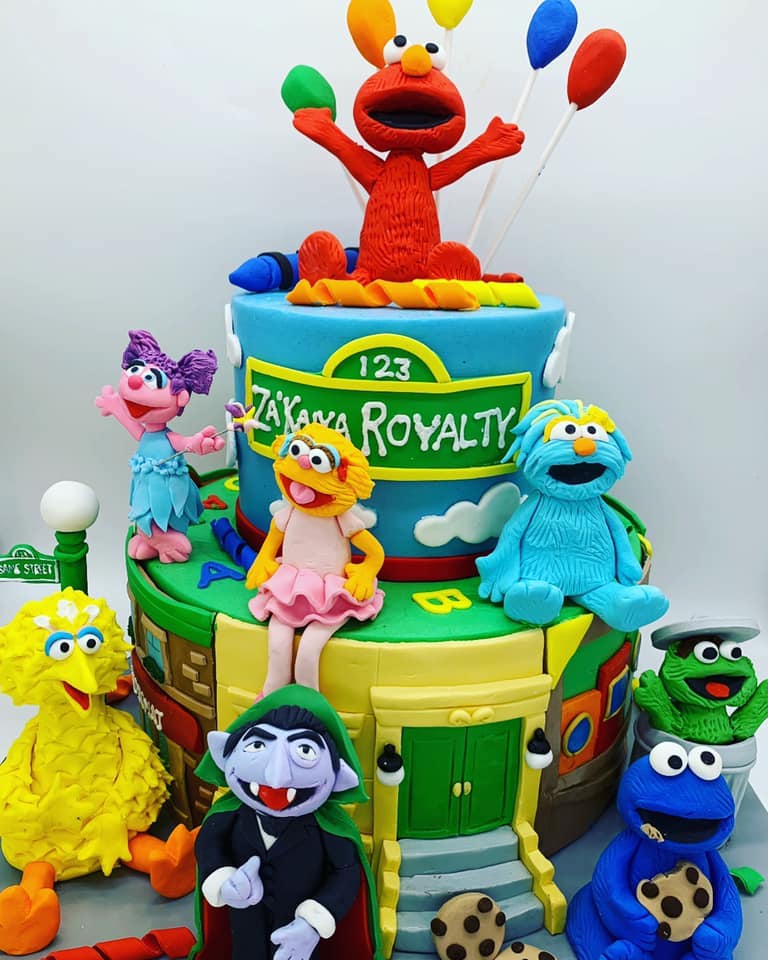 Bella Christie & Lil' Z's Sweet Boutique (For Gluten-Free Event Cakes)
If you're looking for a gluten-free birthday cake in Pittsburgh, Bella Christie & Lil Z's Sweet Boutique is one of the best bakeries for it. They use Namaste Foods gluten-free flour (<– That's an Amazon Affiliate link; check 'um out!) and while they aren't a dedicated gluten-free bakery, they really take care to ensure they produce allergy-free cakes of the utmost quality and design.
For that reason, this Pittsburgh cake maker requires 4-day notice for all gluten-free birthday cake orders. (But trust me, it's worth it.) Choose from vanilla or chocolate cake and any filling from their standard menu– a list that includes everything from peanut butter mousse to blackberry jam to coconut cream to dulce de leche.
As far as themes go, you can give them any creative direction you'd like. Their designs are amazing, and gluten-free cake makes no difference in their execution.
View the full cake filling menu here, or go here to place an order for Pittsburgh's best gluten-free cake.
***
Visiting PGH for the first time? Read our Perfect Pittsburgh Travel Guide.
Related: Our recipe for Gluten-Free Vegan Olive Oil Quick Bread might just be the best thing we've ever made. (That, and our signature Gluten-Free Peanut Butter Brownies. Both of these recipes are keepers, even if you aren't gluten-free!)