The best farmers markets on the Big Island of Hawai'i are among the best in all of Hawaii. Because 11 of the world's 13 known climate types are found here on the Big Island, the variety of produce never ceases to amaze! Like the cool farmers markets of O'ahu, Big Island's best farmers markets boast plenty of lush, tropical produce– but there are also plenty of intriguing specialty items like fresh Cacao pods and rare Black Sapote, as well as local uncured coffee beans that are hard to find on the other islands. (In fact, much of the "locally-grown" produce at farmers markets on other Hawaiian islands is shipped in from the Big Island, depending on the season.)
The Big Island of Hawai'i is also a special place to buy anthurium and orchids, as it has tons of species variety when it comes to these signature local plants. These flowers, like the produce, are a joy to behold. The variety of produce, meanwhile, is constantly changing (tropical fruit goes in and out of season, just like all mainland produce). As a result, you're sure to have a different experience every time you visit.
Big Island farmers markets are also excellent places to sample local kamut bread, Big Island chocolate, and local-style craft cuisine. Whether you're on the hunt for fresh mangos, chirumoya, passionfruit rollups, macadamia nut yogurt, or vanilla bean honey, there are plenty of artisanal goods to check out. Ultimately, each of these farmers markets is unique and special in its own way, which is why every market on this list is worth exploring. If you have time (or if you're just ambitious), try to visit them all.
Whether you're a first time vacationer or repeat visitor, here's where to go to find the best produce, plants, and foodie curiosities on the Big Island of Hawai'i.
***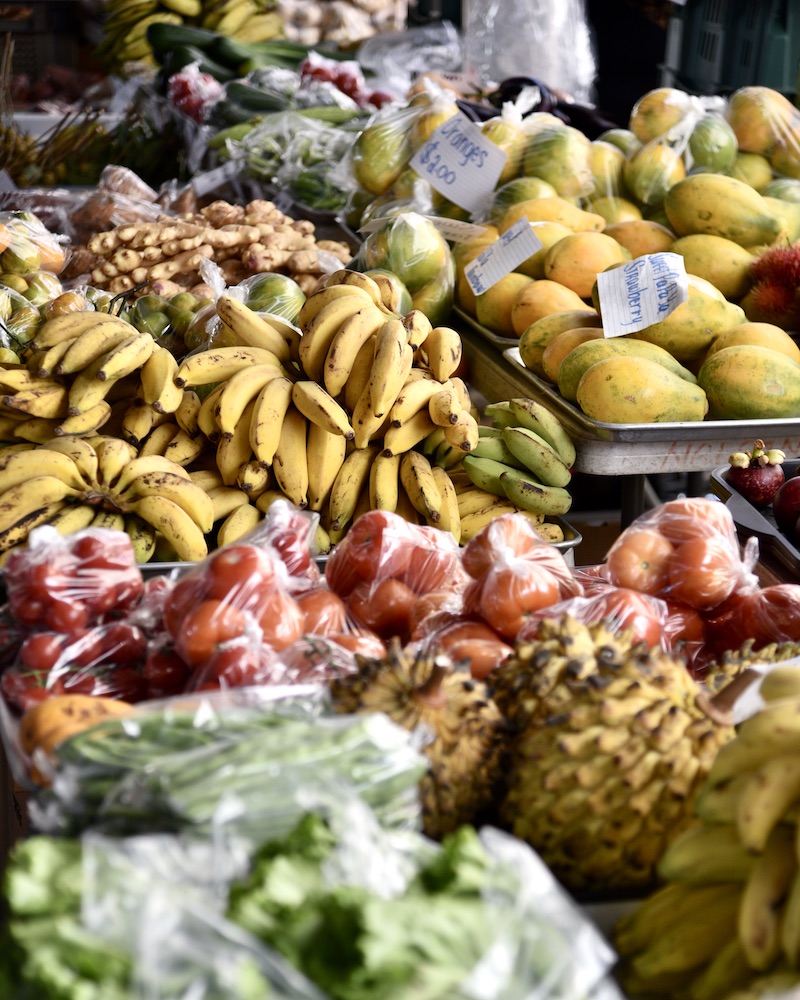 Hilo Farmers Market
The Hilo Farmers Market is regarded as the "Best Farmers Market on the Big Island", not just by us but by Lonely Planet, Fodor's, and generally anyone you ask who's been to various farmers markets on the Big Island. It's certainly the biggest farmers market, selling everything from fresh papaya and giant butter avocados to beetle nuts, cacao pods, furry rambutans, longons, star fruit, mangos, apple bananas, and other local fruits. The tables are sprawling and many of the vendors carry similar fruits, so be sure to take a lap and price compare before buying.
The Hilo Farmers Market is also a great place to shop for rare exotics like rollina fruit, chocolate sapote, and mangosteen. (PSA: Chocolate sapote is so hard to find on the other islands, but it's my favorite tropical fruit ever. When ripe, it tastes like a cross between a sweet potato and avocado… and it's vaguely chocolate-y and only mildly sweet. When I first moved to Hawaii, locals described it to me in mythic terms as "a fruit that tastes like chocolate pudding". In my opinion it's not totally pudding-like, but I now understand what they meant. Try to find one if you can, and don't cut into it until the flesh is very soft. It's ready to cut when the flesh indents when you touch it.)
Insider Tip: Look For Fresh Cacao Pods
The Hilo Farmers Market is also a great place to buy cacao pods when they're in season (~August to November on the Big Island). Open them up, and enjoy sucking on the white, pulpy fruit surrounding each cacao bean. This is my favorite farmers market find on the Big Island. The white pulp tastes like Jolly Ranchers!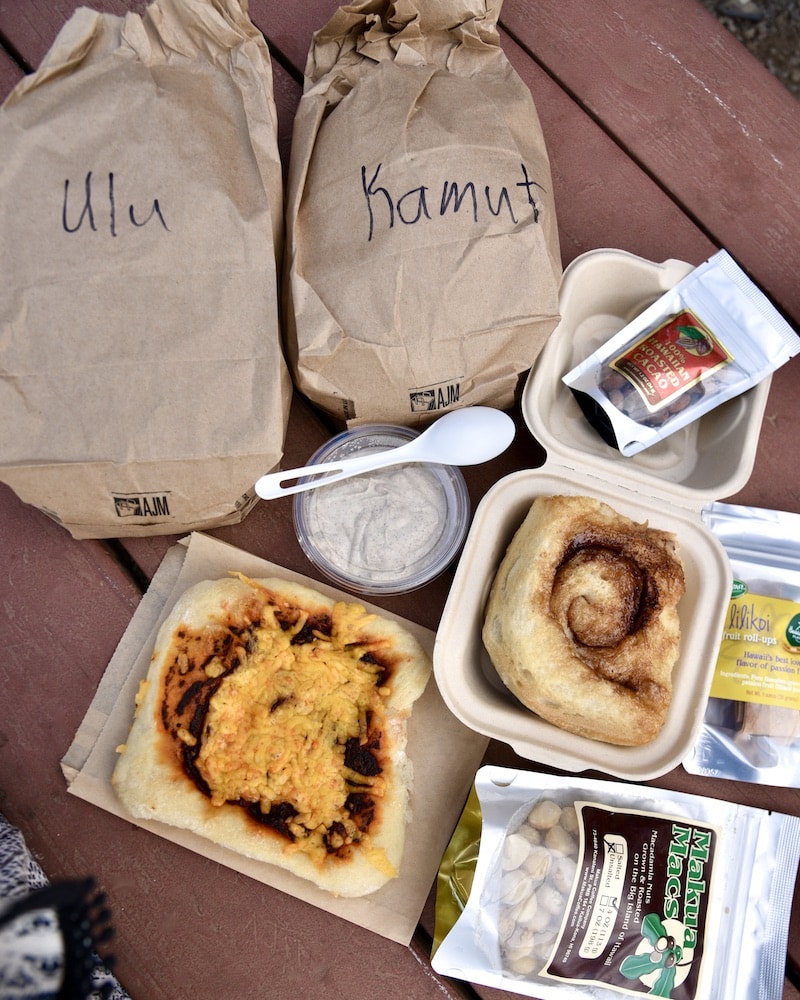 Kamuela Farmers Market
The Kamuela Farmers Market is open Saturdays from 7:30 AM to 1 PM at the historic Pukalani Stables in Kamuela, on the North-central side of the island. This popular, homey market is an excellent introduction to Farmers Markets on the Big Island. In my experience, it is easily the "trendiest" of all the farmers markets on the Big Island of Hawaii. (It's the first place I stop when I land on the Big Island if it's a Saturday. They have live music and great company!)
Here, you'll find something for everyone, from fresh produce, eggs, and macadamia nut yogurt to local coffee, chocolate, macadamia nuts, colorful mochi, cold-pressed juice, and cool extras like lilikoi fruit rollups and vanilla bean kiawe honey. (I also found the only rollinia fruit I have ever eaten at this farmers market. Ask a vendor who sells chirimoya (aka "custard apple") if they have any.)
There are a few food trucks on site selling grass-fed meat dishes, and a lovely local exotic plant vendor specializing in orchids and anthurium. (Anthurium– the flower shown at the top of this article– is the official flower of the Big Island.)
Insider Tip: Don't Miss The Bread
Ultimately, be sure to pick up a loaf of Kulina Lani Organic Sourdough before you leave this market. We love the kamut and "ulu" (breadfruit) loaves. Owners Pan & Shane Harsh also sell organic sourdough cinnamon rolls and excellent slices of homestyle sourdough pan pizza. I love it all!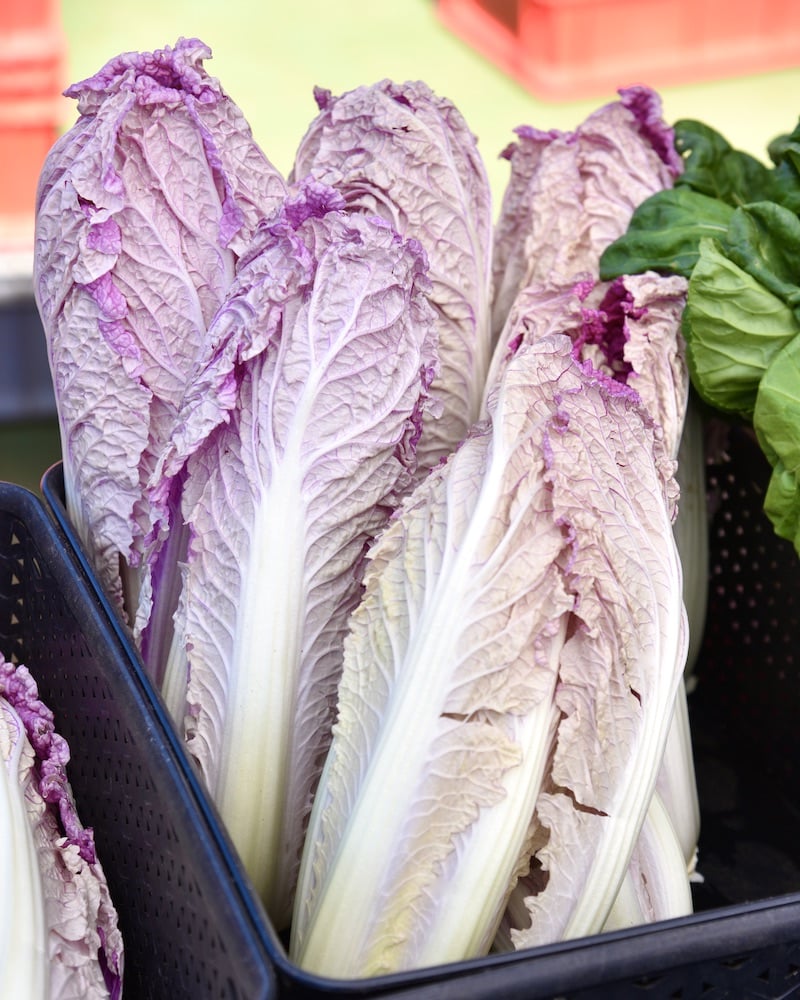 Waimea Homestead Farmers Market (+ Waimea Town Market at Nearby Parker School)
Close to Kamuela, the Waimea Homestead Farmers Market is open Saturdays from 7 AM to 12 PM. This is a great place to find things like fresh moringa leaves (good for eating and for tea!) and moringa oil skincare products. Also be sure to look for local vanilla bean pods, purple endive (above shown), and fresh Kona coffee. (<— This is a local delicacy. Don't leave the Big Island without trying some!) Overall, this neighborhood market has a very "PTA" vibe– lots of families and locals.
This market also has a limited selection of hot food, crafts, and flowers, from local protea to authentic Portuguese masaladas to genuine kukui nut leis. (Some context: Kukui nuts, also known as "candlenuts", have a hard shell that is perfect for lei-making. These are often mistaken for shells by tourists. Portuguese masaladas, meanwhile, are actually now considered an "authentic" Hawaiian food because of the large immigrant population on the islands. Historians now suggest that sweet Hawaiian rolls were invented as a local adaptation of Portuguese sweet bread!)
Two Markets For The Price of One
Once you're done exploring here, you can also wander down the street to the Waimea Town Market at Parker School. If you didn't find what you were looking for at the homestead market, you can visit the other on foot before you car engine even cools. (They're open at the same time.)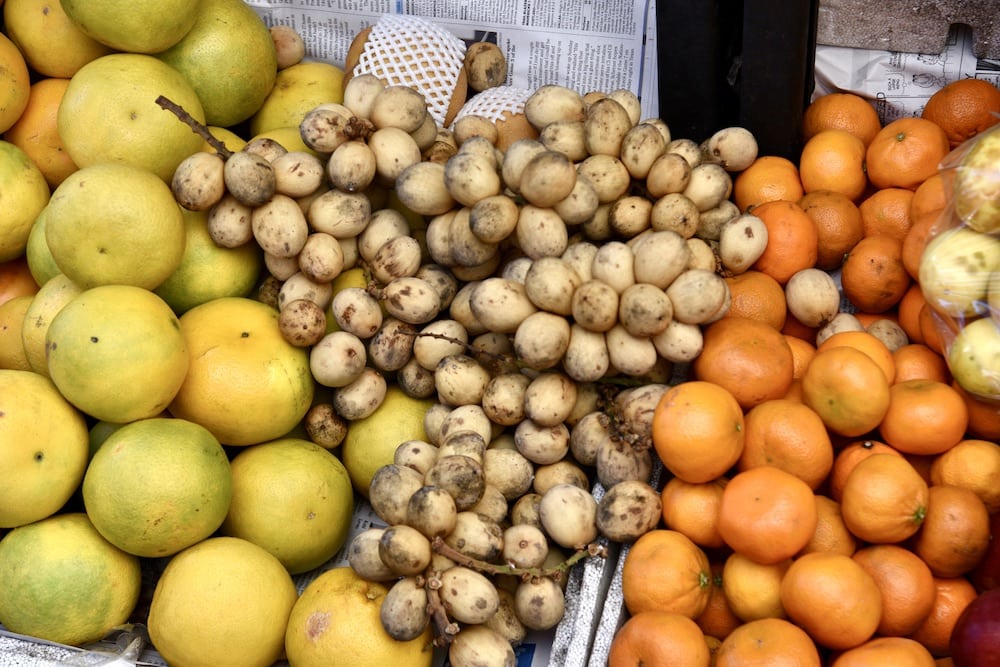 Hamakua Harvest Farmers Market
Located in Waimea, the Sunday Farmers' Market at Hāmākua Harvest runs from 9 AM to 2 PM. This quaint neighborhood market offers everything from fresh coffee to artisanal soap. We like the selection of value added products like gluten-free baked goods, honey, jams, and jellies. They also have 'Ono (delicious) food and fresh produce from all over Big Island. Expect a classic assortment of papayas, apple bananas, mango (when it's in season in the Fall), as well as rambutans, dragonfruit, and pummelo.
This particularly "Hawaiian" farmers market starts later than others on the Big Island, but it's worth the wait to "talk story" with vendors selling unique wares like homemade Thai food, wooden jewelry, CBD products, smoked fish, hemp ware, and locally-made horchata. It's a real community haunt.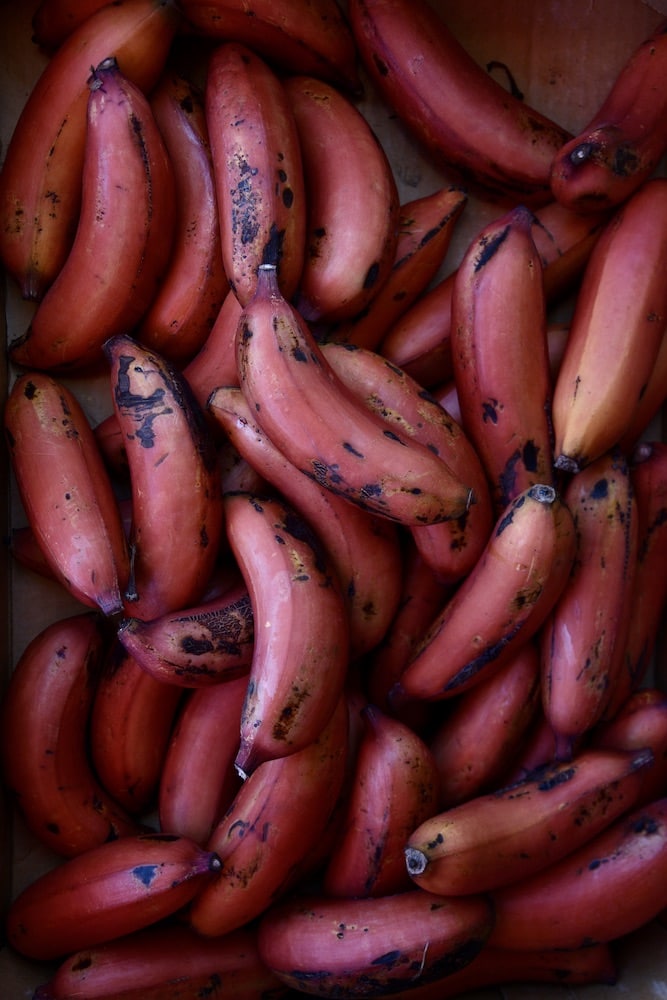 Kona Farmers Market
Wednesday through Sunday from 7 AM to 4 PM, the Kona Farmers Market is THE place to buy Kona Coffee on the Big Island. They also offer handmade artisan crafts, locally grown produce and flowers. There are typically 40+ vendors, and each tent offers good shade. This is a good place to look for large red "ice cream bananas" (above shown). These are just as sweet as regular bananas but twice the size, and often better for cooking.
Also, the Pure Kona Green Market in South Kona is small but authentic: no foreign imports allowed. It takes place on Sundays in Captain Cook, and is very family friendly. They have live music, good food, and lots of oatmeal cookies and banana macadamia nut bread to satisfy kids and folks with a sweet tooth. For those hanging around in Kona for a bit, it's worth checking out.
Overall, South Kona tends to be very slow and low key. If you're in the area or visiting the Captain Cook Monument, this is a nice stop along the way.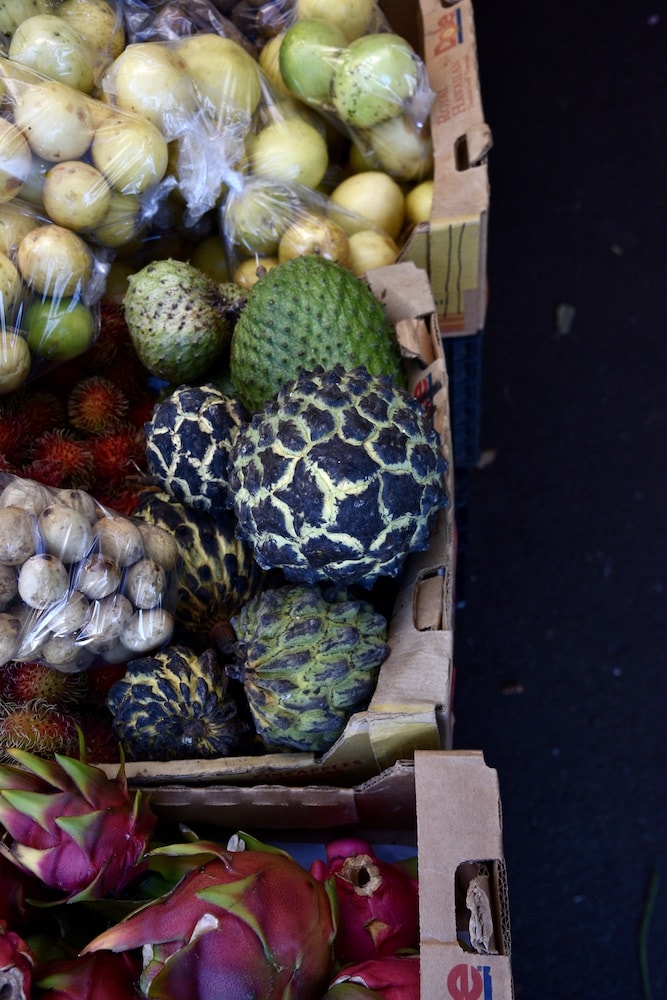 What to Buy
Look for these local specialty items when shopping at farmers markets on the Big Island.
Kona coffee
local macadamia nuts
truly local chocolate
artisanal local honey
anthurium flowers
orchids
island-made soaps
rare white pineapple
vanilla bean pods
rambutans, lychee, and longan fruit
fresh papayas (look for extra-red "strawberry papaya" or large, orange "sunrise" papaya)
starfruit
dragonfruit
coconuts (less common at farmers markets than you might think, mostly because they are heavy and cumbersome; you're better off getting a fresh one at a roadside stand)
fresh citrus
ulu (breadfruit) chips
mangoes (August to October)
mangosteens (July-September/October)
guava jelly
valued-added specialty goods like lilikoi (passionfruit) fruit rollups
tropical flavors of mochi (passionfruit mochi, coconut mochi, mango mochi, etc)
Finally, chocolate covered Kona coffee beans and body products made with Kona coffee– like soap, lotion, and skincare products. These latter are good for people who don't like drinking coffee but want to experience the local product.
***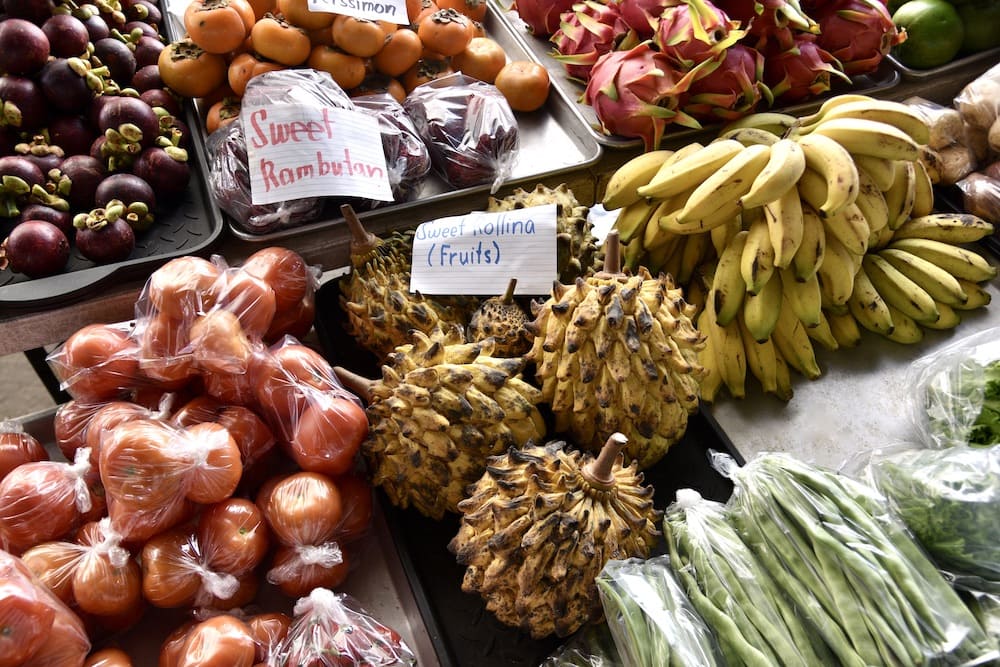 What's In Season When
Keep in mind that tropical fruits go in and out of season, as well. And just like fruit on the mainland (apples, strawberries, etc), tropical fruit tastes best when it's in season. Below are some helpful tips.
Papayas, coconuts, local apple bananas, limes, ulu (breadfruit), passionfruit, starfruit, and large butter avocados are easy to find year-round. However, mangos and mangosteen are generally only available in the Fall. (Aka September through early November.)
Pineapple, meanwhile, is best from March through July. Lychee is at its best in the summer months, as well.
Citrus– including tangerines, oranges, yuzu, and pummelo– grow larger and sweeter in the Spring and Winter months. (In Hawaii, this is November-February/March.) The same is true for cacao, which is usually only harvested after the rainy season on each island.
On the Big Island, the best time to buy cacao pods is between August and November. (<—These are hard to find, but worth pursuing in order to taste the fleshy white fruit surrounding the beans inside the pod.)
Ultimately, don't be shy about asking a vendor if you are looking for something specific. As I mentioned above, the Big Island has the best farmers markets in all of Hawaii. (I write this as someone who has lived locally and explored every farmers market on every Hawaiian island. Those listed here are among the best of the best.)
So, explore and enjoy. Ask questions. Sample rare fruit. Be kind and curious. No matter how you approach it, you're sure to find something tasty that also piques your curiosity. For foodies and nature lovers, Hawaii's fruit alone offers an immersive experience of place. They don't call it paradise for nothing. One visit to a farmers market and you'll understand why.
***
Want to explore farmers markets on another island? Check out our guide to the 6 Coolest Farmer's Market on O'ahu.