Of all the Hawaiian Islands, Maui is perhaps the most family-friendly because– much like O'ahu– the island has a little bit of everything. This is particularly true when it comes to sunsets.
Because Maui's sunny South shore has over 6 miles of sandy beaches and only 10 inches of rain per year, it's an ideal area for watching the sunset over the island– but it's also cool to observe a celestial sunset from elevation, at upcountry Maui attractions like the top of Haleakalā Volcano.
Fortunately, no matter what kind of sunset you're looking for, Maui has it all. Whether you're searching for a place to picnic, a place to photograph, or a place to propose, the sunsets at any of the below locations will be beautiful.
Below are the best places to see a dazzling, egg yolk-y sunset in Maui. All of them are magical. Maui sunsets have a certain romantic mysticism about them, distinct even from the other islands nearby.
Maybe it's because the island itself is named after a demigod. Maybe it's because the South Shore is uniquely flat, which allows for famously unobstructed views.
Either way, in those moments right before the sun dips into the horizon, time itself seems to stand still.
Below are some of the best places to witness a life-affirming sunset in Maui, Hawai'i. Enjoy!
***
Wailea Beach
Wailea is generally considered to be a "fancier" part of Maui, and with good reason. The crystal clear beaches on this side of the island are lined with prime real estate. Lovely Wailea Beach is a see-and-be-seen beach sandwiched between the Four Seasons Wailea (where they filmed Season 1 of the hit HBO series, The White Lotus) and the Grand Wailea Resorts.
This beach is full of lava rock outcroppings and is a great place for snorkeling, especially if you go later in the day when the sun is less strong.
There's also a large grassy mound near the entrance that is an ideal spot to perch for sunset. (It's perfect for a sunset picnic or a glowing selfie.)
Sit here and chill before dining at a local Wailea restaurant, or go in the late afternoon and enjoy a golden hour snorkel until it gets dark.
Wailea Beach has gear rental, public restrooms, and plenty of free parking available on-site. You won't be alone, but it will be worth it. As you can see in the video above, the sunset here is fabulous.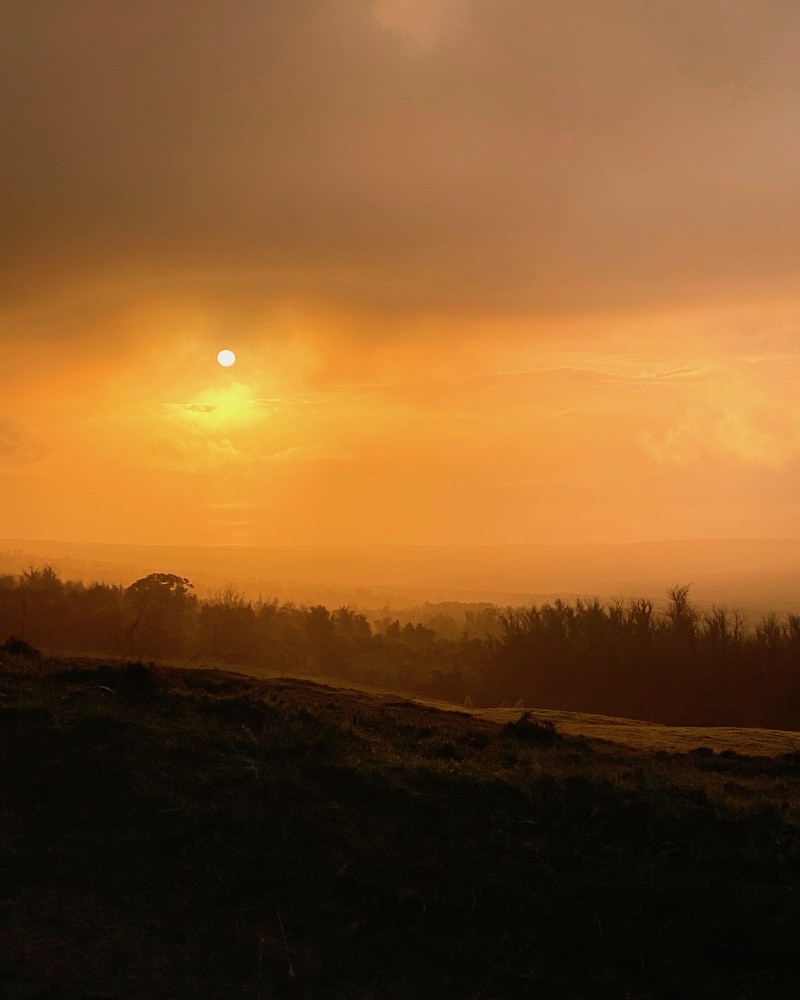 On Top of Haleakalā Volcano
Watching sunrise above Haleakalā Volcano is a bucket list item for many tourists– but I actually like it better at sunset.
The lava-like orange and pink sunsets atop this dormant shield volcano make the landscape look like Mars, in the best way.
Haleakalā's summit is a gorgeous place to witness a beautiful, egg yolk-y sunset on Maui. Personally, it's my favorite place to see sunset over the island.
You will need to drive to the top, because it will get very dark afterward and it will take hours to hike down on foot. Plus, unlike sunrise, you don't need to make car reservations in advance.
Go around 5 o'clock and just pull over at any overlook to watch the show. It's dazzling.
Be sure to bring a jacket or blanket (it can get chilly at the top) and expect to cross the cloud line at some point during your ascent– usually around 5,000 feet. Your ears will pop and it will get foggy and kind of spooky-looking, but soon you will rise above the clouds and it will be sunny again. It's magical!
Be careful driving on the windy switchbacks, too. It's generally a very safe drive, but when it doubt, take it slow.
Haleakalā Volcano is one of Maui's most recognizable natural features, full of micro-climates that result in some interesting flora and foliage combinations across its many elevations. Take note of the trees, flowers, and plants you see on your drive up.
"Haleakalā" means "House of the Sun" in Hawaiian, and once you see the orange lava sunset melting over the fir trees at the summit, you'll understand why.
Kama'ole Beach Park III
Kama'ole Beach Park III is a small, quaint beach that draws a crowd every night around sunset. It's easily one of the most popular places to see sunset in Maui, if not the most adventurous.
People like to gather on the grassy knolls that overlook the ocean at "Kam III". There's plenty of picnic area and parking, as well as restrooms and a small changing area. As a result, it tends to attract more locals walking dogs than tourists.
We love sitting on the beach swings during sunset, enjoying the ocean breeze. Watching the frothy waves crash and recede is lovely.
Here, you can also enjoy views of Molokini Crater, Kaho'olawe and Lana'i islands. It's a beautiful spot for a classic Maui sunset, and very family friendly.
As a result of the beach's accessibility and romantic seclusion, Kam III is also a great spot for having a sunset picnic on the beach. There are picnic tables, but it's sometimes nicer to bring a blanket.
Ho'okipa Beach Park
Hawaii's most famous wind surfing spot is also an excellent place to watch the sunset. Come here to witness the world's best surfers as they battle massive waves at gold hour.
The sunset, however, can be very strong at the Ho'okipa Beach Park overlook. (The sun sets perpendicular to the beach here, so you won't see it set into the ocean. Bring sunglasses, as it sometimes comes at a harsh angle and can be super bright.)
Nevertheless, the sun puts on a dazzling show at Ho'okipa, lighting up the entire beach before it sets over the mountains to the West. If you want an absolutely stunning ocean view that screams "Hawaii!", go here.
Nothing makes you feel like you are in the islands more than surfers basking in the buttermilk glow of sunset. Tons of surfers come out here for golden hour, usually staying through sunset.
I like to stop here before dinner at nearby Mama's Fish House (also a great restaurant for viewing sunset) or after an early dinner at Nuka in Haiku. There is limited parking available in a lot on-site, but it's rarely completely full.
You'll know you're in the right place if you see a small gaggle of people watching the surfers from the overlook. Generally, it's a mix of locals and tourists because, well, even the people who live here never get sick of that view.
***
Related: The 9 Best Restaurants in Maui for Unique, Unforgettable Meals.
15 Can't-Miss Experiences Along Maui's Majestic Road to Hana.
Looking to explore more natural wonders on the other islands of Hawai'i? Here are 5 Incredible O'ahu Hikes You Need to Experience.
Also: help save our oceans by using Reef-Safe, Dermatologist-Approved Sunscreen whenever you travel.