An interesting thing about Orlando, Florida is that pretty much no one who's big in the food world talks about the variety of good dining options that can be found here. Orlando isn't exactly known as a "food city", per se– but the best restaurants in Orlando make a case for why it should be.
As we wrote in our Insider's Guide to Orlando, Florida, Cuban food and cross-cultural, internationally-inspired vegan food make a grand showing in this city. This is a reflection of both the immigrant-enriched culture and also the very Floridian obsession with vanity metrics in the spirit of beach bodies and skimpy clothing.
As a result, there are a refreshing number of quality healthy dining options in the city, too, along with the expected Southern comfort food staples and up-n-coming fine dining establishments that are worth traveling for.
Below, we spotlight the best places to get unique meals that capture the freewheeling spirit of dining and food culture in Orlando.
There are farm-to-table brunch bars, glitzy fine-dining showstoppers, casual comfort food favorites, boozy brunch destinations, Southern staples, vegan takeout counters, and more. (And if you're looking for great coffee recommendations in Orlando, we've got you covered, too– but that's a separate list.)
Ultimately, we detail these restaurants in no particular order, but all of them are worth checking out for different reasons. Bookmark this list for easy reference later.
Enjoy!
***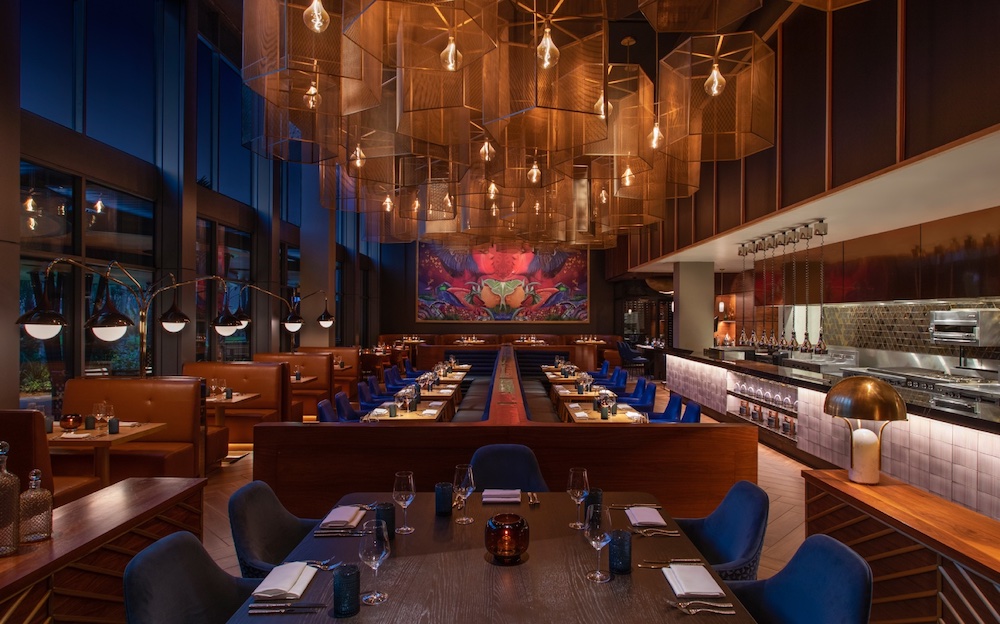 Bacán at the Wave Hotel (Best Fine Dining)
Lake Nona hot spot Bacán is easily the coolest place for fine dining in Orlando, even despite the long-ish highway drive that it takes to get here from downtown. This chic South American-inspired restaurant is known for its colorful, over-the-top art collection, a lovely on-site sculpture garden, and incredible fine dining appeal.
As we wrote in our Insider's Guide to Orlando, Bacán means "cool" or "awesome" in Spanish. The digs here deliver on that premise: this is a dining room meant to dazzle, inspire, and impress.
The menu features delightful South American-inspired farm-to-table cuisine, including dishes like sous vide Truffle Chicken, Stuffed Eggplant or Heirloom Florida Tomato Salad with artfully plated housemade green goddess dressing.
Everything on this seasonal menu is thoughtfully conceived and locally sourced when possible. The flavors draw inspiration from the Americas (think: Duck Breast, Grilled Short Ribs, and Branzino a la Plancha) and everything is artfully prepared in the open-theater kitchen.
The presentation, meanwhile, leans heavy on micro-gastronomy techniques like tableside smoking and spherical saucing. The resulting food is as photographable as it is delicious, as artistic as the walls themselves.
I love their creative dessert compositions like the recent Esfera de Chocolate. This features a melting orb of chocolate that disappears as they present the strawberry-, cake, and ice cream-filled dessert on the table. Like all the food here, it's lovely– and an exciting way to close out a delicious meal.
As a result of all these flourishes and more, this restaurant is perfect for dates, celebrations, or simply when you want to treat yourself. It's an upscale affair, for sure, but the prowess behind the art curation and the cool-kid vibes make Bacán an enduringly awesome place to gather– great food is just a bonus.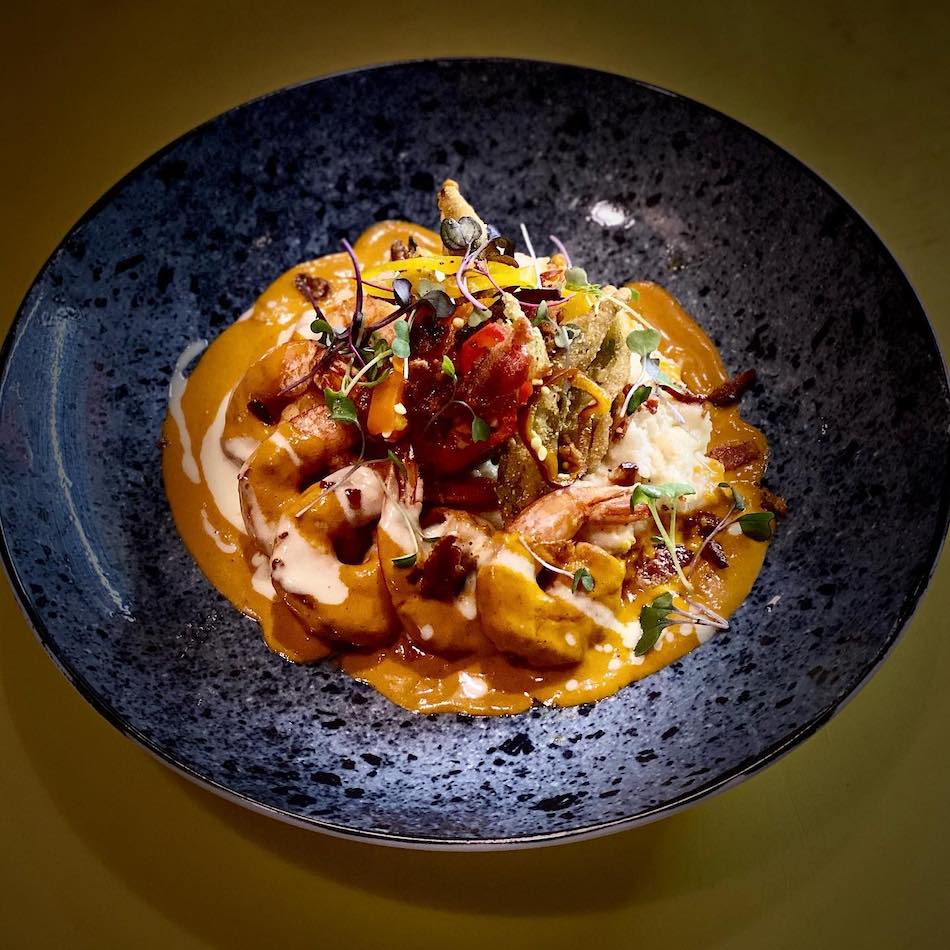 SoCo (Best All Around)
SoCo Restaurant is easily one of the best dinner restaurants in Orlando, known for its signature "Southern meets Contemporary" (e.g., SoCo) cuisine. It's located on a busy corner in Thorton Park, right next to Lake Eola Park and a smattering of the area's fun and accessible shops.
With its towering ceilings, heavy drapes, and low-lit lighting, SoCo has a refined-yet-casual vibe, with cozy outdoor dining tables and an elegant bar area, in addition to the more formal dining room.
The menu, meanwhile, is true to the restaurant's abbreviated name– try the famous Grilled Meatloaf with lobster mashed potatoes (it sounds crazy but it works!), the beautiful Scottish Salmon, the seasonal SoCo Steak, or the ever-changing Catch of the Day for the best examples of what the restaurant does so well.
The dishes here are decidedly Asian-influenced, in addition to their Southern roots. Take, for example, the pork belly biscuits or the popular chicken dumpling appetizer, which both expertly cull together pan-Asian flavors and homestyle American dining sensibilities. Even the restaurant's crispy fried okra– a dish that elsewhere can veer towards greasy– is instead light and crispy, reminiscing vaguely of tempura.
Even the collard greens and spicy shrimp n' grits (a popular main that often sells out) are sure to pack a memorable punch. The premise is humble, but the food is not.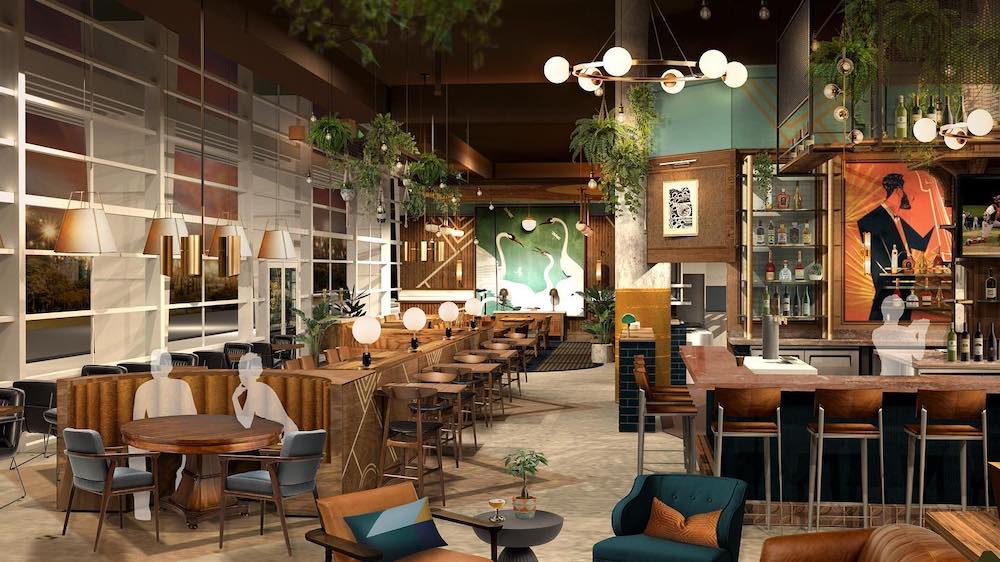 The Monroe (For Aesthetes!)
One part coffee shop, one part restaurant, The Monroe Restaurant and Bar is a beautifully-designed oasis in Orlando's downtown creative village. In addition to trendy food, the retro, plant-infused decor at this hip new restaurant is absolutely stunning, culled from what feels like the pages of a sleek interior design magazine.
The food, too, is gorgeous, focusing on nostalgic, Southern-leaning flavors and influences. See, for example, the fun-loving Pastrami Corn Dog and Frito Pie, prepared alongside warm-weather classics like Watermelon-Basil salad and Blistered Shishito Peppers.
The Florida Salmon with local succotash and the house fried chicken– served with a cheddar bacon fat biscuit (!) and honey mustard butter– also animate the kind of approachable-yet-upscale dishes that the restaurant is known for.
That being said, you'd be hard-pressed to find a better burger in the city, even at a greasy spoon. Theirs is a double patty smash burger with smoked provolone, "burger sauce", pickles, and onion jam served on a potato bun, and it's lovely. The pictures don't lie.
Still, on this seasonal menu, local and regional food trends reign supreme. The roasted local mushrooms, kabocha squash soup, and the kurobuta pork chop with bbq bacon fat vinaigrette potatoes and pickled mustard seeds are all exemplary options for those who like to eat with the seasons. (In summer, the pan-seared local catch could be served with pickled peaches, for example. This has the effect of contextualizing the menu not only to the place, but towards the appropriate season.)
The Monroe is open for lunch, brunch, and dinner, in addition to a popular happy hour (easily the chicest in town!). The coffee bar operates during the height of the day from Tuesday to Saturday.
Overall, dining here is a real aesthetic experience, so much so that it's even lovely just stopping in for coffee. Art and design lovers, be sure to check it out!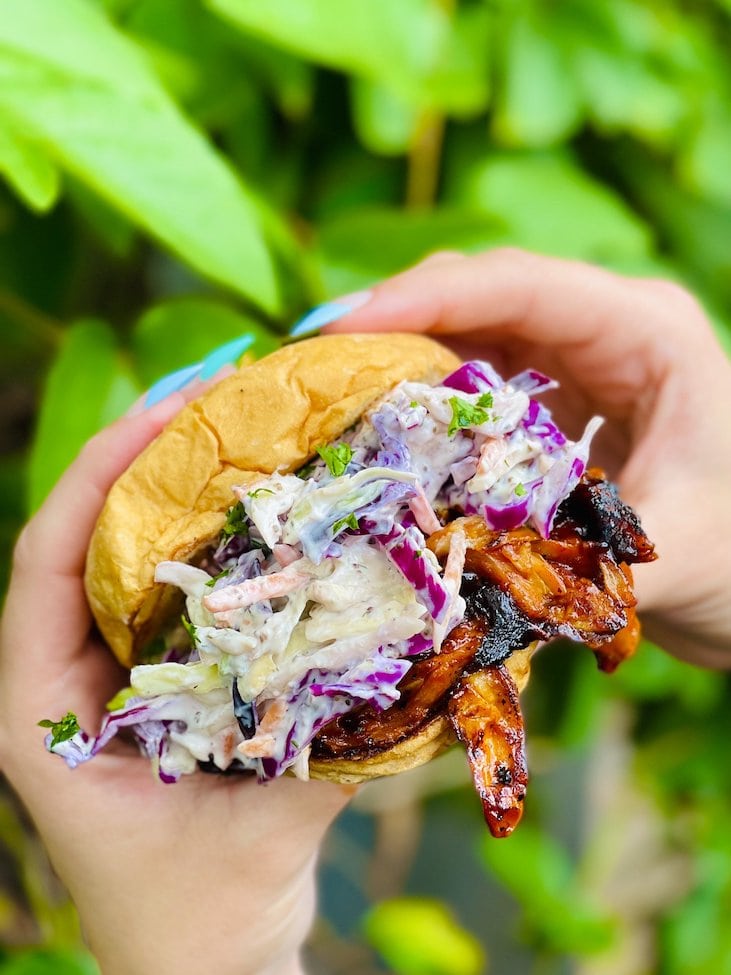 Dharma Southern Kitchen (for Vegan Food)
Orlando has no shortage of good vegan options (looking at you, Leguminati!) but Dharma Southern Kitchen is really a standout for its Southern-inspired vegan fare.
Located inside the Market on South, they offer delicious vegan sandwiches and the best vegan fried chicken in Orlando. (<— If that's something you're looking for or want to try, get the Dharma Fried Chick'N or the Nashville Hawt Chick'N for the quintessential experience.)
The Orange Bird (above) and Carolina BBQ Jackfruit sandwich are both great. They also do nice vegan hot dogs, for those who are into that sort of thing. Plus, they can make every sandwich into a salad bowl if you want to skip the bread and buns altogether.
Meanwhile, Valhalla Bakery, which is also inside the Market on South, also does gorgeous vegan desserts, including a lovely succulent "flower pot" of vegan chocolate mousse. They also sell layered bars like a peanut butter chocolate mousse "death" bar or tart lemon blueberry bar. Cookies and quickbreads are served in generous slices, as well.
Also, the Market on South is located on an awkward stretch of E. South Street, so look to this restaurant for take-out only. (There's select picnic table seating outside, but it's on the side of a busy road under an overpass that doesn't have any ambiance.) Still, the vegan comfort food inside brings people back time and time again.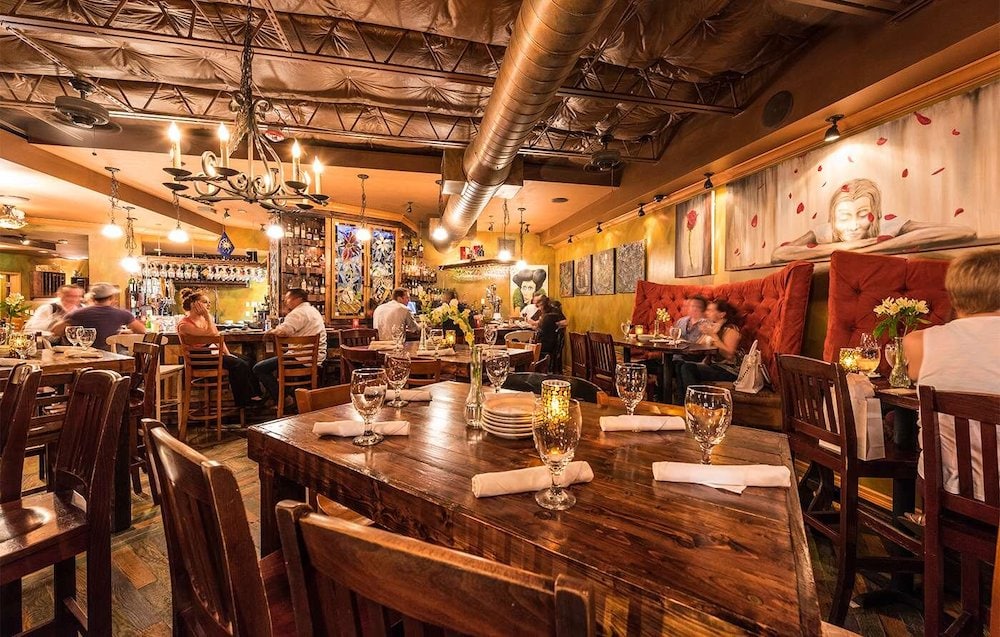 Santiagos Bodega (for Brunch)
Santiago's Bodega is a popular tapas-style brunch spot that really is a jack of all trades when it comes to the menu.
In addition to decadent brunch items like crispy croissant french toast, griddle cakes, and candied bacon, the globally-inspired menu also offers surprisingly great pasta (the pasta carbonara with Trevi's tonnarelli pasta and pancetta is a hit!) as well as lovely salads, prime rib, and huge, sumptuous slices of frittata. And this is just the brunch menu!
Santiago's is open until 2 AM every day, but really, the excellent weekend brunch (served from around 10 AM to 2 PM as of this writing) is really where it's at.
Here, the kitchen serves the made-to-order menu tapas style, and it's all you can eat. (It's $45 dollars a person, but the menu and the portions are already generous to begin with. Fancy some peel-and-eat shrimp? You got it. Want your own order of fresh fruit? No need to scoop from a sad side dish. The second order of Prime Rib with au jus and horseradish cream? Your server is already on it–etc, etc.)
In addition to hot and cold tapas, they also offer unique baked items like Buttermilk Pie– a custard pie that is a Southern staple– and Hashbrown Casserole with sour cream, cheese, and onions. (It sounds hokey, but they do it well.)
You can dine outside under a deck patio umbrella, or cool off inside the bustling, industrial-maximalist dining rooms. Here, local art, candelabras, and flashy red booths compliment the dark wood interior.
Ultimately, this restaurant is quite the scene, especially during weekend brunch, which is why you should absolutely make a reservation in advance.
Santiago's is easily the most popular brunch spot in Orlando, and the huge crowds of large parties make that clear from the moment you arrive. As a result, it's a loud, lively weekend destination– and a must for any foodie's Orlando bucket list.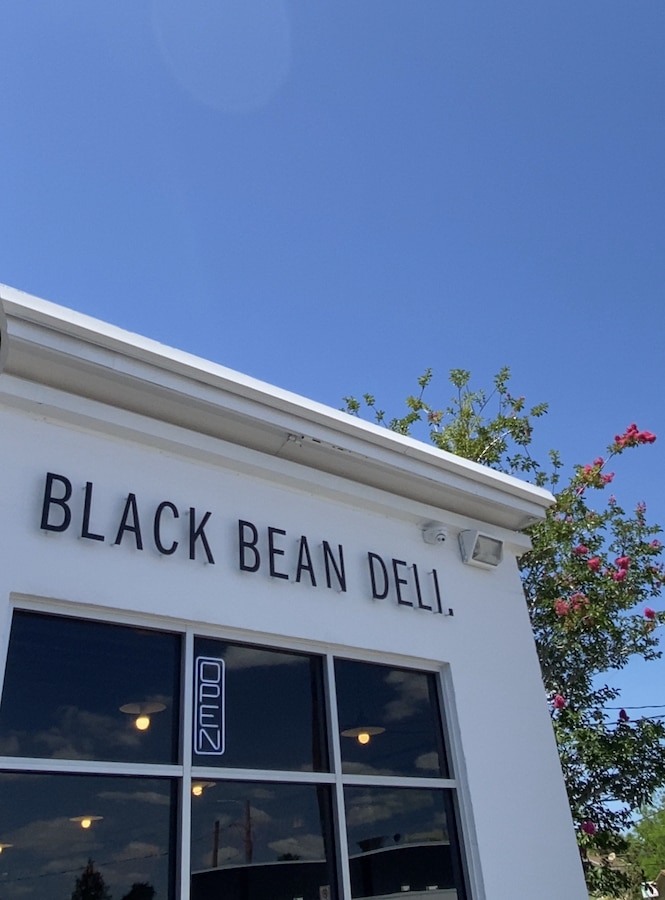 Black Bean Deli (For the Best Cubanos in Orlando)
As we wrote in our Insider's Guide to Orlando, Florida, Black Bean Deli is an amazing place to try authentic Cuban sandwiches like Cubans (made with sweet ham, roast pork, swiss cheese, and pickles on pressed, panini-like bread) and the signature Media Noche (a Cuban without the pickles served on decadent sweet bread. It's amazing!).
With its line-drawn logo and cute whitewashed aesthetic under a crepe myrtle tree, Black Bean Deli is definitely an aesthete's hang-out spot. It's popular among locals, artists, and hipsters alike.
Plus, they have indoor and shaded outdoor dining, lots of cool empanada flavors, quesitos, Latin sodas & coffee, plus funky T-shirts for sale.
For me, this is the best place to get sandwiches for picnics in Orlando. Grab one and head to the Harry P. Leu Gardens or walk diagonally across the street (minding busy traffic, of course) to take in the cool murals on the side of Sam Flax Orlando, the local art supply store.
But seriously: the pressed sandwiches here are amazing. The Cuban is just perfect!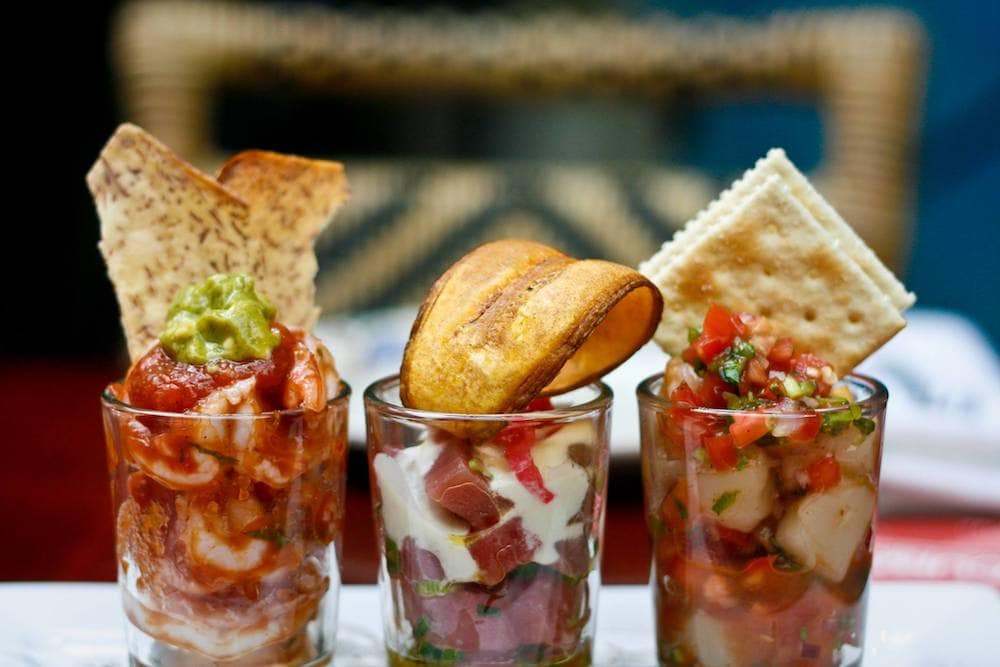 Cuba Libre (For Authentic Cuban Cuisine)
Florida is the best place in the country to try authentic Cuban cuisine, and Cuba Libre Restaurant & Rum Bar is the best place to do it in Orlando. In addition to classic (read: hearty!) meat dishes, they offer beautiful ceviches (see above) and other dine-in Cuban fare like Ropa Vieja and Picadillo a la Cubana.
While the sandwiches at Black Bean Deli (above) appeal to foodies, artists, and hipsters, Cuba Libre has more of a homey feel– the kind of food one's grandmother would serve in generous, flavorsome portions.
As such, it's more of a dinner spot– especially given how often the restaurant showcases live music. (They even have a chef's tasting menu– a rare find in the realm of Cuban dining.)
After noshing on the signature pressed bread and mango butter, be sure to try the Crab Guacamole (made with blue crabmeat, grilled golden pineapple, roasted jalapeños, fresh lime juice, extra virgin olive oil, and served with crisp plantain chips) or the Malanga Fritters (a traditional Cuban street food made from crispy taro, garlic, West Indies cilantro, and served tamarindo ketchup).
Entrees, which lean heavy on the beef, shrimp, and pork, are equally elaborate.
Try the Pez Cobia (pan-roasted Black King fish, sweet shrimp, Baja bay scallops, crabmeat, mussels, coconut milk Chino-Cubano broth, and green mango escabeche served with white rice) or the Picadillo a la Cubana, a signature Cuban dish that features Cienfuegos-style ground beef, potatoes, Manzanilla olives, and raisins along with rice and tostones.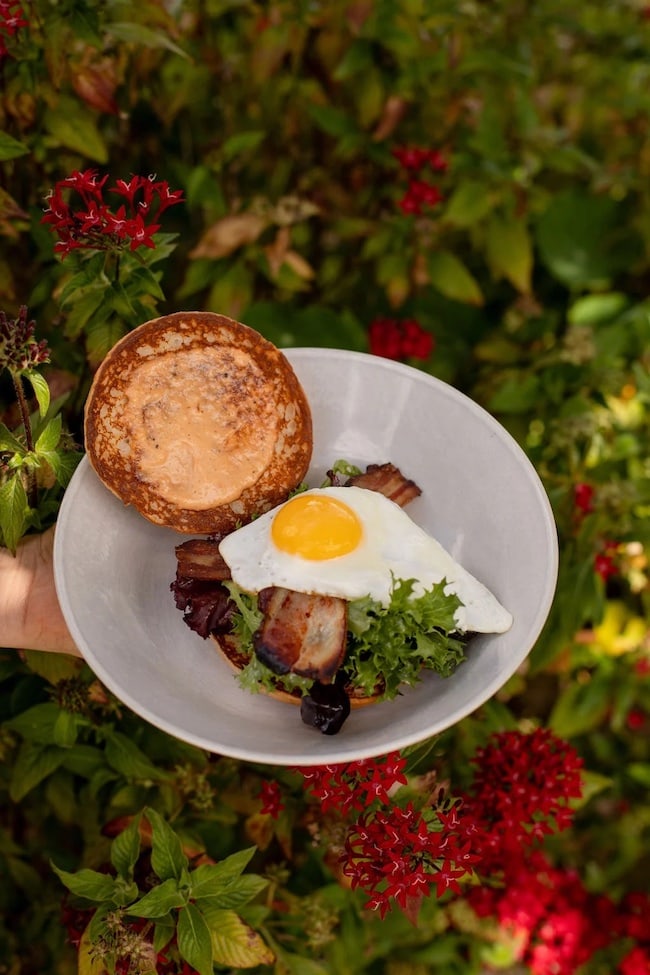 Farm & Haus (Awesome Farm-to-Table Take Out)
Popular with locavores, Farm & Haus is a cute stall inside of East End Market, a neighborhood culinary hub that's also home to several popular food stalls like Winter Park Biscuit Co and Gideon's Bakehouse.
Their initial claim to fame was that they use exclusively farm-to-table ingredients, but Farm & Haus also notably cooks everything in avocado oil, instead of harmful seed oils like canola or soybean oil.
As such, it's one of the best truly "healthy" restaurant options in Orlando– especially if you're a foodie or someone who focuses on straight-from-the-farm produce, meat, and eggs. (We should all seek this out when we travel, but I digress…)
I love their generous, flavor-layered salads and fulsome veggie burritos, and the fact that they serve excellent breakfast sandwiches all day. (See above.) The menu is short, but the eggs alone are worth the trip.
Plus, it's fun to check out the rest of East End Market while you wait for your order. (Be advised, however, that this is a food hall with communal outdoor seating; there is no seating inside.) Grab a green juice at Skyebird or a coffee at Lineage for the full experience.
Tabla (Gorgeous Indian Cuisine)
Tabla Indian Cuisine is a wildly-popular upscale Indian restaurant that's very vegetarian friendly. It's easily the best Indian restaurant in Orlando and great for dine-in and take-out, alike.
This restaurant has three locations– one in Lake Nona, one in Winter Park, and one on Grand National Drive. While the latter's right-off-the-highway location might initially seem like an afterthought, the inside of the restaurant tells a different story, with white leather chairs, twinkling lights, and upscale destination dining vibes.
Even though the Grand National Drive location is not walkable, it's still a beloved Orlando staple for authentic Indian food. (The owners are Gujurati, but the menu has cuisine from all over North and South India, as well.)
This restaurant is really worth the trip if you, like us, love south Asian flavors.
The Mango Bhei appetizer is delicious, as are the succulent Tandoori Shrimp and comforting Chicken Madras. We love that they offer an "extra mild" option for those who can't tolerate too much spice, while still maintaining the option for atomic-level flavor for those who do. (In this way, you know that everything is made to order– to the extent possible.)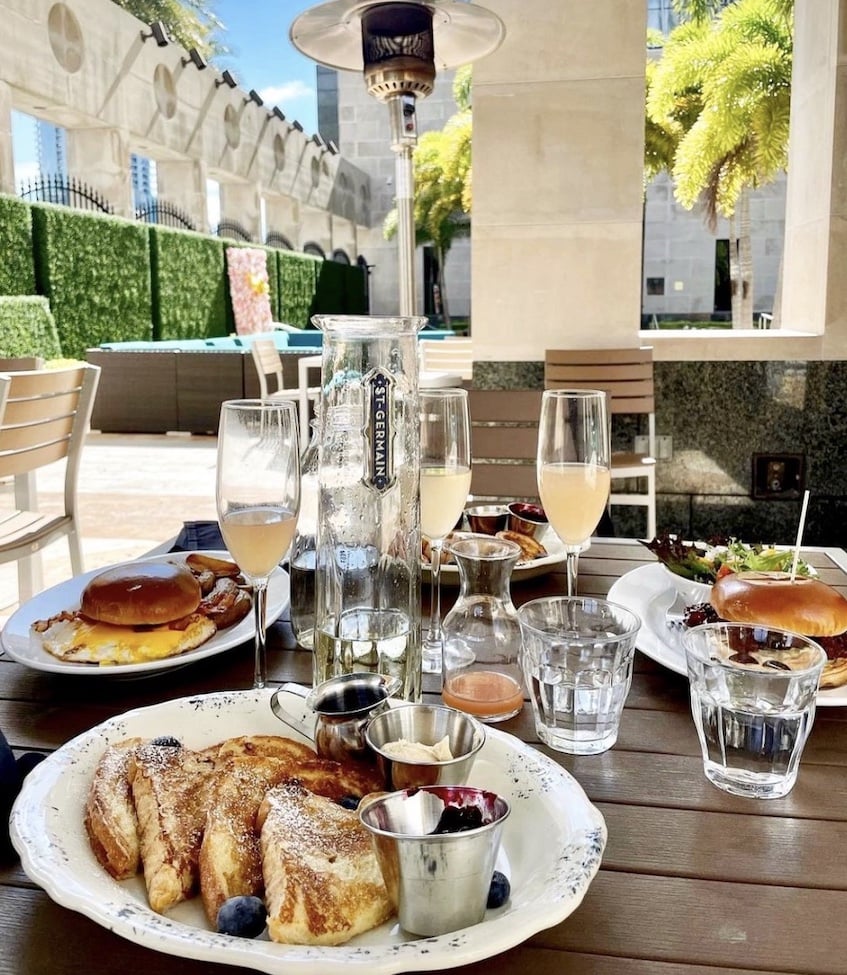 DoveCote Restaurant (For Inclosed Outdoor Dining + An Impressive Raw Bar)
DoveCote Restaurant has a lively outdoor patio with gorgeous fountain-side seating that makes it one of the best places to get brunch or lunch in the heart of Downtown Orlando.
The restaurant has sort of a romantic corporate feel (they do a lot of weddings, etc)– because they have an impressive raw bar and good proteinous fare, from sliders and hot chicken sandos to Orlando's best steak frites. (<— Hands down!)
This is a great spot for an upscale but relaxed brunch, or breezy outdoor dining in the winter months. Because it's one of the more popular Orlando dining destinations downtown, reservations are recommended, especially in the cooler months. (Check the restaurant's website for the best place to park.)
When possible, consider dining outside in view of the fountain. Or, sit for the popular weekend brunch, which is often a place to see and be seen.
Start with the oyster bar (freshly shucked, or try the Oysters Turgeon baked with leeks, melted parmesan, and smoked trout roe) before making your way to some of the heavier fare, like the finessed herb omelette and epic croque madame.
They also offer uniquely decadent dishes like Duck and Waffles, made with crispy confit duck leg, and a giant Mardi Gras Pancake which, true to its name, really makes a scene. (It's topped with royal icing, sprinkles, and whipped cream.)
Reyes Mezcleria (Michoacán Cuisine)
Reyes Mezcleria is a regional Mexican restaurant operated by the same local restauranteurs who brought The Monroe to fruition. Consequently, the food and concept here are just as beautiful, but unique in their own celebratory ways.
In addition to Orlando's best Mexican cuisine, Reyes has over 150 agave selections at their bar– thus the name.
This is a boon to craft cocktail lovers seeking out agave spirits, which pair beautifully with the thoughtful, seasonally-inspired Michoacán-influenced cuisine the restaurant serves. (Chef Wendy Lopez was born and raised in Michoacán, Mexico.)
Here, you can expect staples like Bone-in Ranchero, Chile Relleno, and Duck Enchiladas de Michoacán alongside elevated interpretations like Octopus Tostada, Scallop Aquachile, and Sonoran Crispy Fish tacos, which are served two per order.
The sides and accompaniments are equally unique– think: Melón Fresco with cantaloupe, cucumber, red onion, radish, mint, serrano, and lemon oil; and Caesar Broccolini, seared with herbed dressing, shaved egg, cotija, and crispy corn.
The desserts– brought to the menu by dedicated pastry chef Denise Newberry– also elevate the classic Mexican dishes of yore.
The menu here, as with the mains, is seasonal, but current offerings include a Guera Cake (layers of flan and tres leches cake topped with pecan cookie crumble) and a gluten-free concept dessert called Un Dia En Michoacán, made with horchata ice cream, Mexican rum-soaked chocolate cake, and meringue.
¡Buen provecho!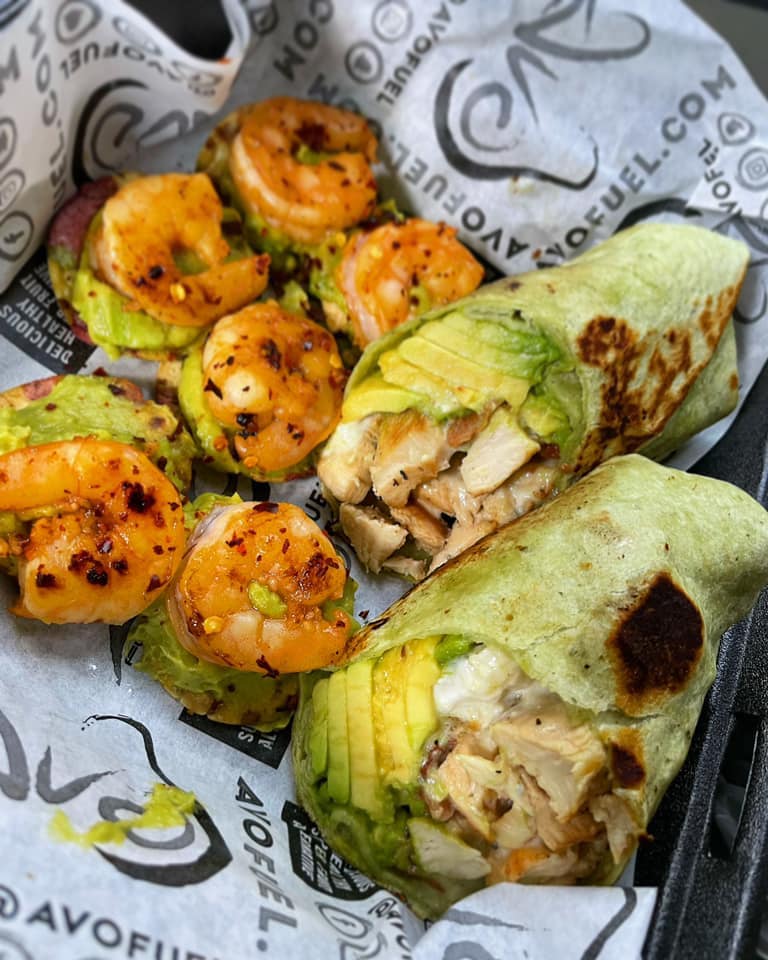 Bonus Shortlist: The Best Healthy Restaurants in Orlando, Florida
***
Related: The 9 Coolest Coffee Shops in Orlando. (<— For the "But first, coffee" crowd.)
Planning a beach-side Florida foodie getaway? These are The 9 Best Restaurants on Amelia Island.