Those looking for beautiful, unique, delicious birthday cakes in Washington, D.C. are often unsure of where to look, defaulting into a very "DC" mindset of assuming that all the cool bakeries are in other cities. This, however, is not true! Washington, D.C. has several amazing bakeries and cake shops for designing perfect birthday cakes for kids and adults, alike. You just have to know where to look.
Below, we spotlight some of the best cake bakeries in Washington, D.C.– from Georgetown, Adams Morgan, and Foggy Bottom to Mt. Pleasant, Shaw, Dupont Circle, and beyond. Any of the bakeries on this list can set you up with a cool, delicious birthday cake with only a few days notice. (We've included links to the websites where you can order cakes from each bakery, below.)
Many of the below bakeries also have ready-made cakes available for last-minute purchase. (Not that you forgot that person's birthday, or anything…)
From popular neighborhood bakeries to luxury cake design shops, here's where to get the best birthday cakes in Washington, D.C.. Check them out– because it's important to celebrate your life. Happy Birthday to you and yours!
***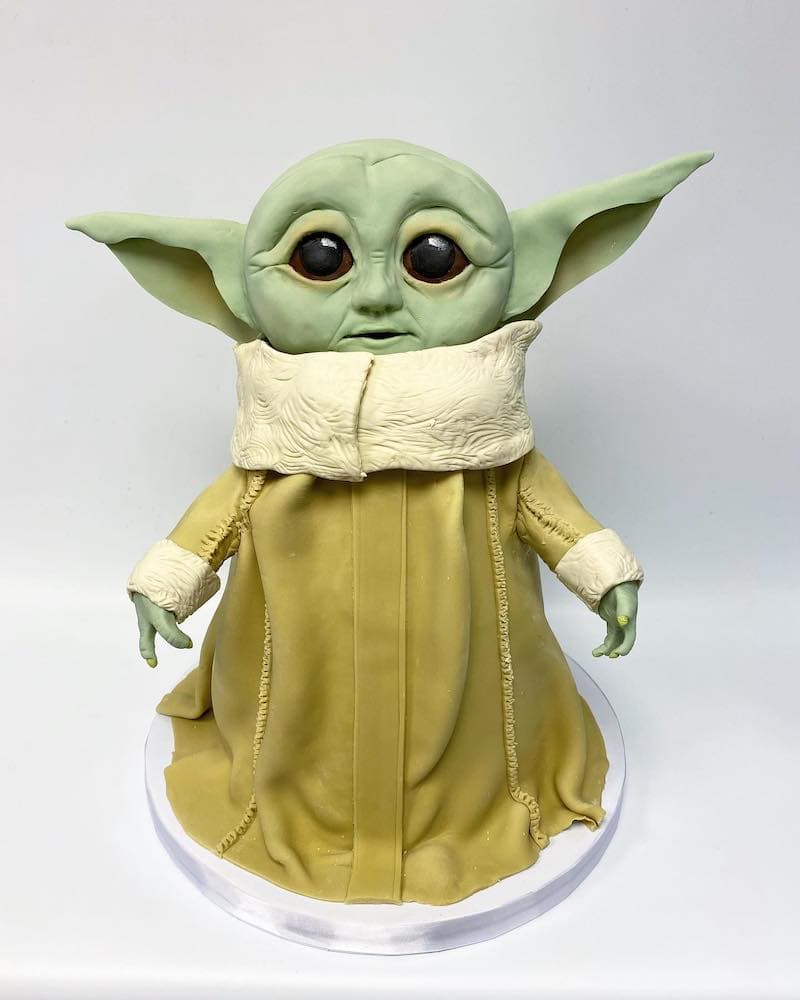 Buttercream Bakeshop (For Incredible Concept Cakes)
Buttercream Bakeshop in the heart of Washington, D.C. is a favorite cake bakery of everyone from Bon Appetit Magazine to The Washington Post. This lovely bake shop and cafe specializes in bringing ethereal, stylish cake visions to life. Naturally, they have a well-known wedding cake business, but their birthday cakes are just as popular and fashionable.
Try the cookie butter cake, a snickerdoodle cake, or the insanely delicious elderflower soaked lemon cake for an amazing treat. The bakery's Italian meringue buttercream frosting is made with real butter, too. As a result, all Buttercream Bakeshop cakes should be served at room temperature, something that they emphasize on their website.
Choose from a range of small sizes as small as a 6″ cake, which yields 6-8 slices. On the larger side, customers can opt for two-tier cakes, which yield approximately 42-44 slices. No matter how large or small your party, the team will work with you to create the perfect cake.
In addition to whimsical and elegant cakes, the cake designers here also have a great sense of humor, as well. They've designed cakes that look like everything from sloths to Jack Daniel's Bottles to Baby Yoda. (Above shown… So amazing, right?) The sky is the limit when it comes to creativity. Buttercream Bakeshop is truly a tour-de-force.
(Seriously, These Cakes Are Next-Level)
Even the standard celebration cakes are beautifully iced, with artful drips and smooth, clean lines. These people know what they're doing. They even offer pre-designed buttercream and fondant cakes in a variety of cool styles like textured tear drops and hand-painted roses, in case you don't have time to order in advance. (Plus, their popular pink storefront has amazing pastries and is always a joy to visit.)
Inside each cake, you'll find homemade curds and compotes that strike a perfect balance with the bakery's decadent cake flavors and feather-light frosting. Everything is delicious and refined. Just be sure to order any celebration cakes at least 72 hours in advance. Fortunately, you can do that online, here.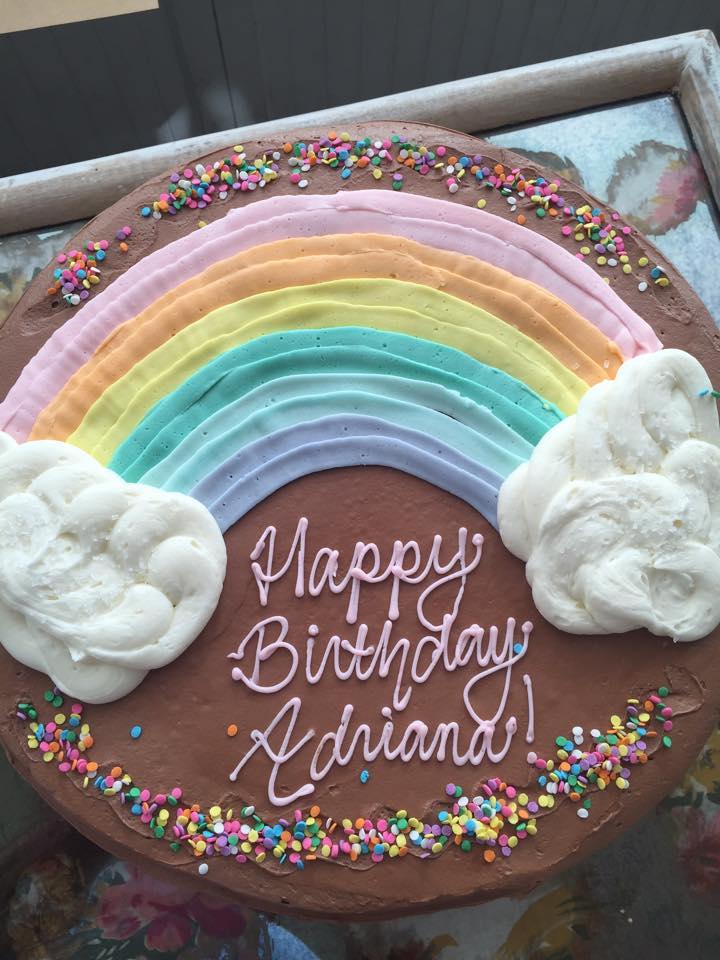 The Cakeroom (For Homestyle Flavors)
The Cakeroom in Adams Morgan can do everything from custom prints to ombré cakes– but the flavors are really what make this humble cake shop shine. It's hard to find a traditional hummingbird layer cake in D.C., but this place bakes them with aplomb. We also recommend the Banana Cake and the "Cherry Garcia" cake. The classic Chocolate Fudge Cake, meanwhile, is rich and decadent– a must for chocolate lovers!
While the unicorn cake is popular with small children, adults keep coming back for the exuberant cake balls, which can be coated in Oreo, Snickers, or Kit Kat crumbs at your discretion. (These are perfect for holiday gatherings– who says cake balls are just for kids?)
All layer cakes come baked in the 9 inch, two layer standard size, which can be ordered online with at least 48 hours notice required. Other cake sizes– like 1/2 sheet cakes and 6″ by 2 layer cakes– must be advanced ordered, as well.
Conveniently, the bakery makes a handful of 9 inch, 2-layer cakes in various popular flavors every day. If you need to walk in last-minute, this bakery is most likely to have a perfect cake for you. However, any specialty flavors– like the coveted Lemon Cake or the Cherry Garcia cake– need to be ordered in advance.
Overall, this is one of the best bakeries in D.C. for children's birthday cakes. The limited flavors and humble techniques also keep the price more affordable than at other city bakeries.
And FWI: The Cakeroom shop itself is a lovely cafe, full of dainty details that reminisce of a mid-Century tea parlor. It's a great place to sit down with a cup of coffee and a cupcake. (Even if you aren't purchasing a cake.)
Sticky Fingers Sweets & Eats (For Rich Decadence)
Sticky Fingers Sweets & Eats is a spunky bakery and cafe that, in addition to delicious birthday cakes– also serves excellent savory food (for what it's worth). The bakery side of the enterprise makes a variety of cakes, including "fancy cakes," cupcakes, and sweetheart cakes for birthdays, in sizes ranging from 6 inch cakes (which serve 6-8 people) to full sheet cakes (which serve 50 to 108 people).
Overall, they make some of best birthday cakes in D.C.– and some of the most affordable cakes. (It costs around $30 for a 6-inch cake.)
We adore their rich "Grasshopper" cake– chocolate cake with mint frosting covered in ganache. Also noteworthy is the Chocolate Mocha cake with espresso frosting and coffee beans, a hit among coffee lovers. Above shown is the decadent S'more's cake: a chocolate cake that features house-made marshmallow fluff, toasted marshmallows, and graham crackers. It's divine. Kids and adults love it!
Plus, at Sticky Fingers, there's no additional charge for adding a 3-5 word message on top of any cake. For those with allergies, the bakery can also make wheat-free cakes by request. These are just as tasty as the traditional flour cakes. However, as with all specialty cakes, just be sure to order in advance for in-store pickup.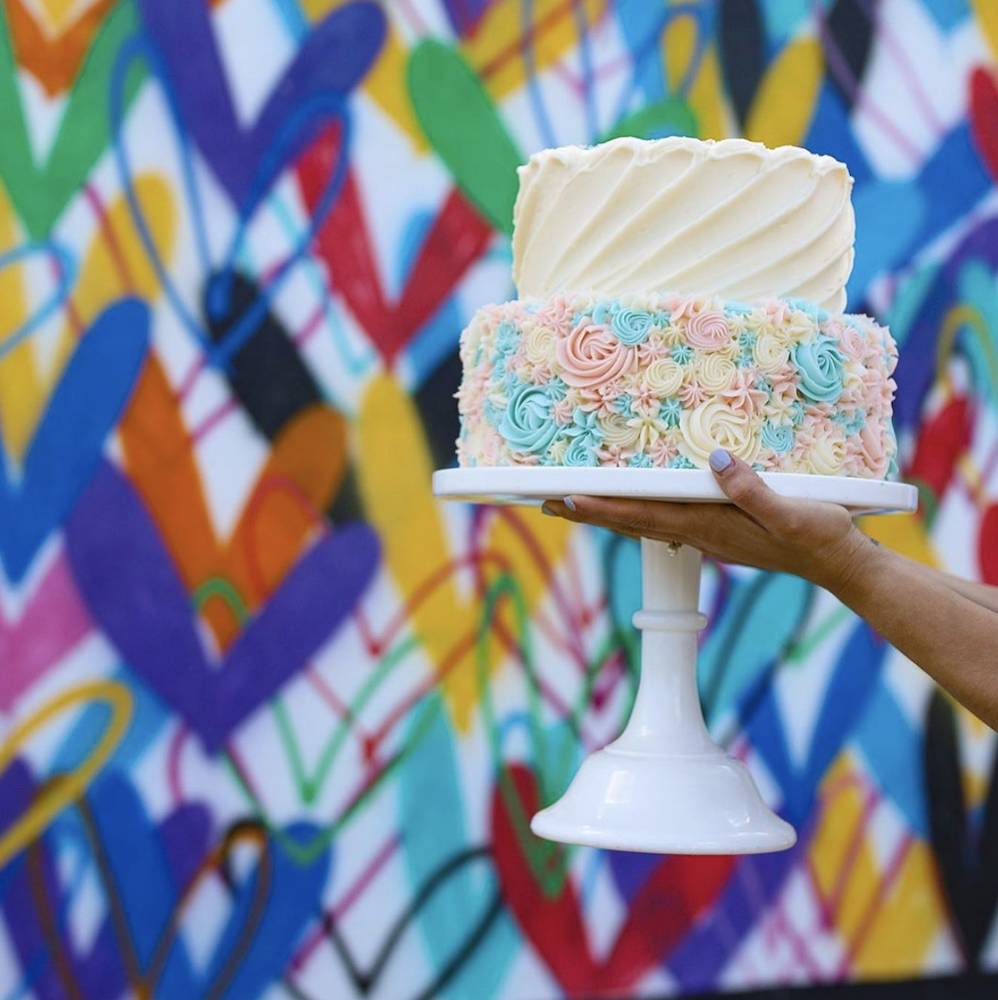 Magnolia Bakery (For Elegant Cakes)
Conveniently located in the Street-level West Side Shopping Concourse of Union Station, the D.C. outpost of the beloved NYC bakery, Magnolia Bakery, is a hidden gem for great birthday cakes in Washington, D.C.. While this bakery might not be a D.C. original, the birthday cakes at Magnolia Bakery are reliably excellent. In fact, these are some of the best birthday cakes in the country.
As we wrote in our guide to the Best Birthday Cake Bakeries in NYC, Magnolia bakeries cakes are great for perfectionists who want to tailor-design their cake, down to the exact shape of the piping. While Magnolia has a ton of info on their website about wedding cakes, the birthday cakes are secretly great for parties, as the bakery makes some of the best sheet cakes in D.C..
We love their charming, colorful rosettes (above shown). These cakes are always moist, and you can stand confidently behind the brand name. Magnolia has so much street cred in the baking world that pretty much every flavor is a best-seller.
The bakery can also make deconstructed cakes (a popular new trend among foodies), as well as tiered cakes and custom cake designs. Visit the Magnolia Bakery cake salon for more info, or to place a birthday cake order for pickup at the Union Station location.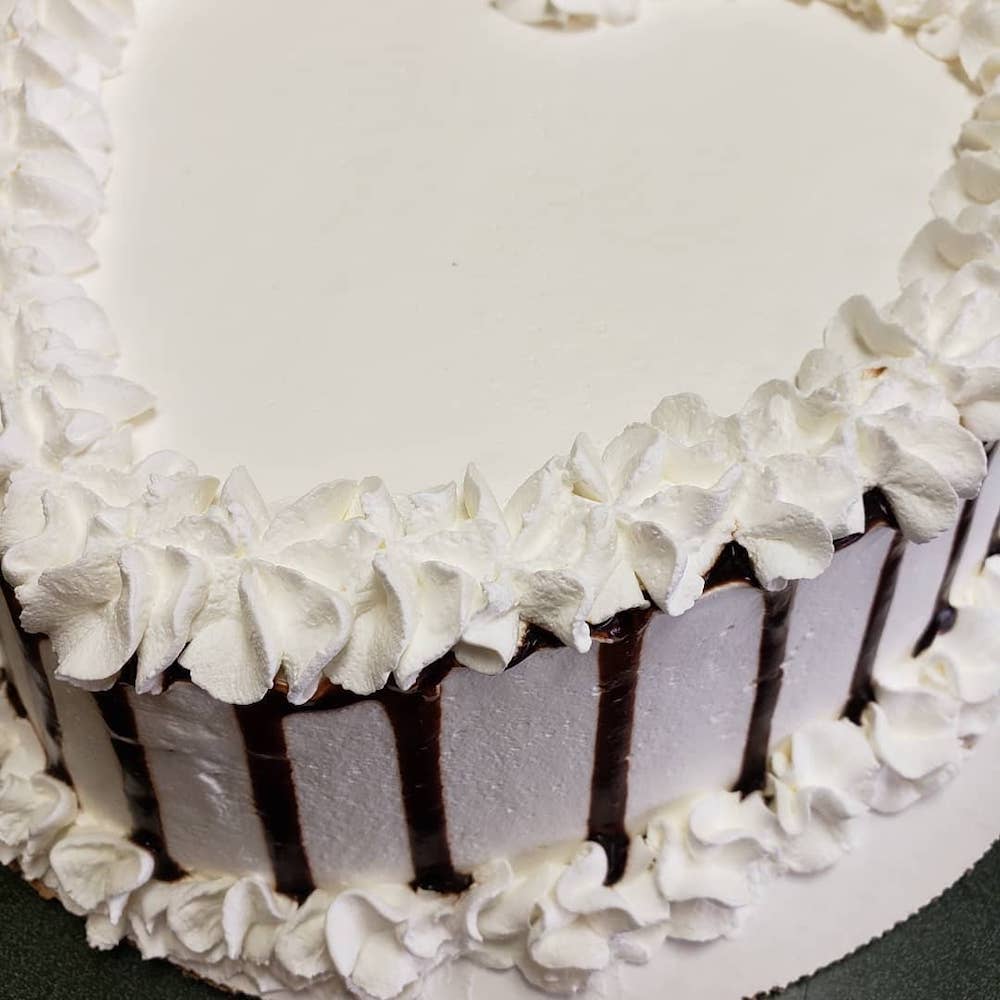 Thomas Sweet Ice Cream (For Homemade Ice Cream Cakes)
The popular Georgetown ice cream shop Thomas Sweet Ice Cream makes awesome ice cream cakes that are easily the best ice cream birthday cakes in Washington, D.C. (in part because they are homemade). For people who don't like traditional cake, T. Sweet makes ice cream cakes in more than 70 flavors!
You can basically ask them to make a cake out of any flavor of ice cream on their huge menu, and they'll decorate it with traditional piping, homemade chocolate drip, Oreos, gummy bears, frosting rosettes, or whatever your heart desires. The results are delicious and super unique, resulting in some of the best birthday cakes in D.C.. (You can even get an ice cream cake in flavors like Swiss Chocolate Malt, "Butterbrickle," Lemon Custard, or Dulce de Leche.)
To place an order for a birthday cake, call the parlor's D.C. location, choose your flavor and size, and schedule a time for pick up at the Georgetown storefront. You can also ask them to write any message on top of the cake for no additional charge.
(Pro Tip: When you pick up your cake, try one of their specialty hot chocolate drinks on your way out. This no-frills ice cream shop is known for their home-made chocolate as well as homemade ice cream. For what it's worth, we love their "Hot Nutella" hot chocolate. 🙂 )
Fans of this local ice cream parlor love the charming, "homemade" looking trim on these cakes. It's a thoughtful take on a traditional birthday cake. The details are especially charming because finding hand-packed ice cream cakes is so rare these days.
Historically, consumers have tended to purchase ice cream cakes from supermarket chains or big conglomerates like Carvel. In D.C., however, that doesn't have to be the case. T. Sweet's ice cream cakes feel personal and homemade– which is really what everyone wants in a birthday cake, right?
***
Need a cool cake in another city? Consult our beautiful American Birthday Cake archive, here.