If you need a birthday cake in Providence, you might initially think that your only option is to go to Federal Hill, where all the best Italian bakeries are located. This is certainly a good strategy– though Rhode Island's capital city has a much more diverse birthday cake scene (is that a scene?) than what one might expect.
There are a number of excellent bakeries popping up in newer parts of city– and online, through order-only cake artists who don't (yet) have store fronts.
Below, we highlight some of the best bakeries in Providence for getting a beautiful, whimsical birthday cake for a loved one– or for yourself.
***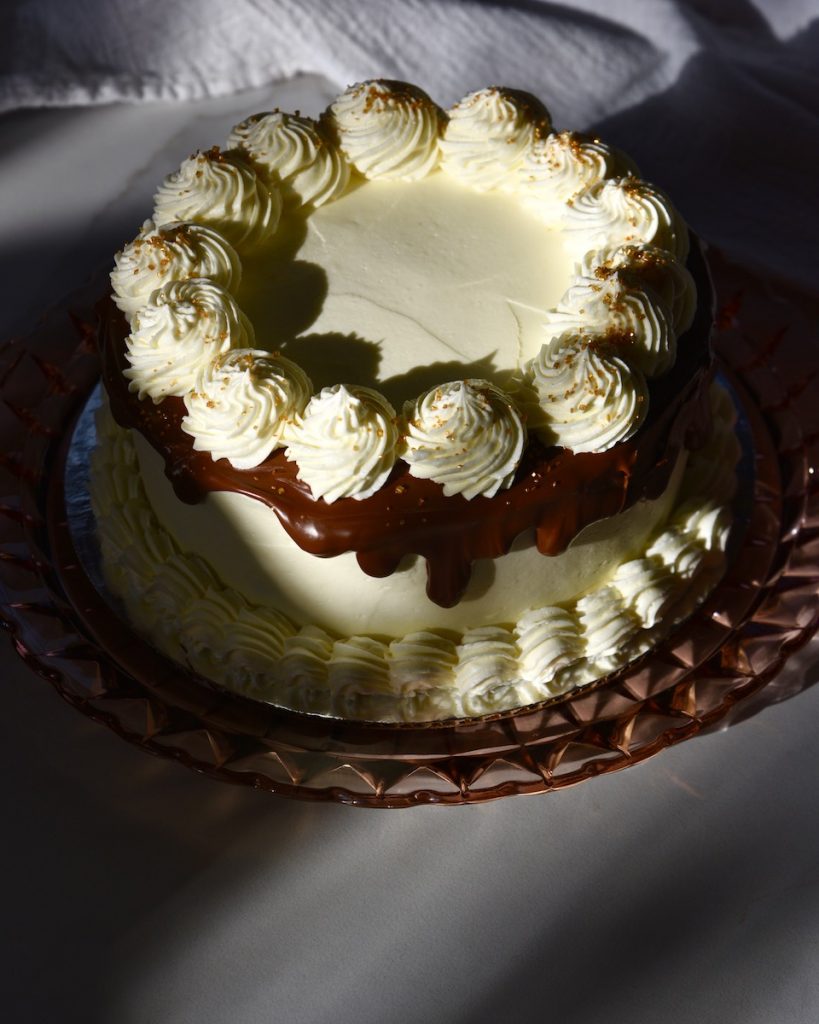 The Duck and Bunny Snuggery (Trendy & Hipster)
With their two locations on Wickenden Street and at Hope Artiste Village in Pawtucket, The Duck and Bunny is easily the single best place to order a birthday cake in Providence. It's certainly the hippest, with beautiful designs, modern flavors, and gluten-free and vegan options to suit any taste and diet.
I suggest going here to get birthday cakes for teens and adults, rather than children, since the flavors tend to appeal to an older, more mature palette. They even make a "beer" cake with either Blue Moon or Guinness. (The Blue Moon yields an orange and cardamom flavor while the Guinness stout results in a chocolate/espresso flavor.)
All of this isn't to say that the Snuggery's cakes aren't whimsical. (The bakery calls themselves a "snuggery," after all!) They've done Patriots cakes and "Olaf from Frozen" cakes before, too. There's cuteness aplenty, and lots of options that kids will love.
Either way, the bakery will work with you to design a cake that fits your vision. (And we love any excuse to go to their cafes to pick them up.) For a unique Birthday twist, order their Banana Nutella drip cake (which tastes like banana bread with a gorgeous Nutella drip around the outside,) or try the pretty purple-frosted Honey Lavender Cake.
We also strongly recommend the Vegan Cardamom Pear cake, which is incredibly decadent and moist, crowned with flavorful homemade pear chips. If you're a foodie– or a curious vegan– you'll be clamoring for more.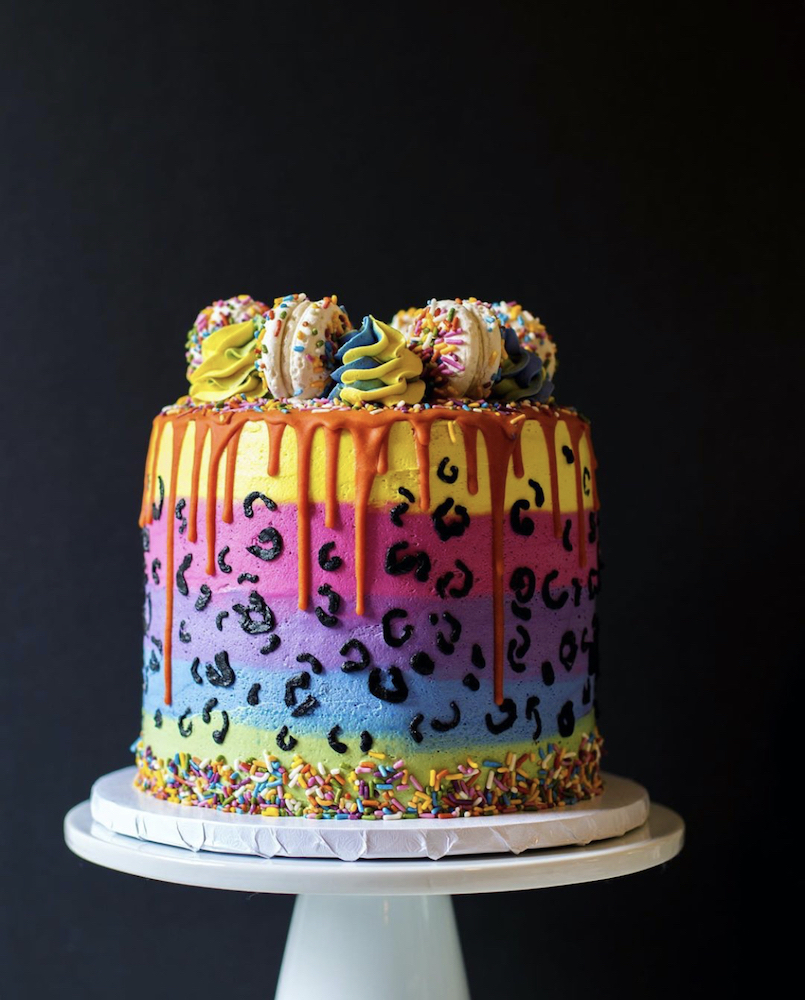 Celebrated (For Elevated Vegan Birthday Cakes)
The Warwick-based bakery known simply as Celebrated is a new, beloved go-to for elevated, plant-based desserts. Their decadent vegan birthday cakes came in a variety of dazzling styles and shapes, with beautifully unique flavors (coffee buttercream frosting, anyone?) and always moist, super delicious, how-is-this-possibly-vegan cake inside.
Best of all, Celebrated can deliver their bespoke birthday cakes anywhere in the Providence area. This way, you can have your cake, and have it delivered, too.
Above is a picture of their bespoke "Lisa Frank" themed cake, replete with '90s nostalgia. How cool is that?
We love that all Celebrated cakes can be topped with other desserts and/or fresh, seasonal flowers. Plus, you can get mini "tall" cakes in smaller servings (like a 4-person cake, for example) which adds a dash of whimsy and visual intrigue to even the smallest of cakes.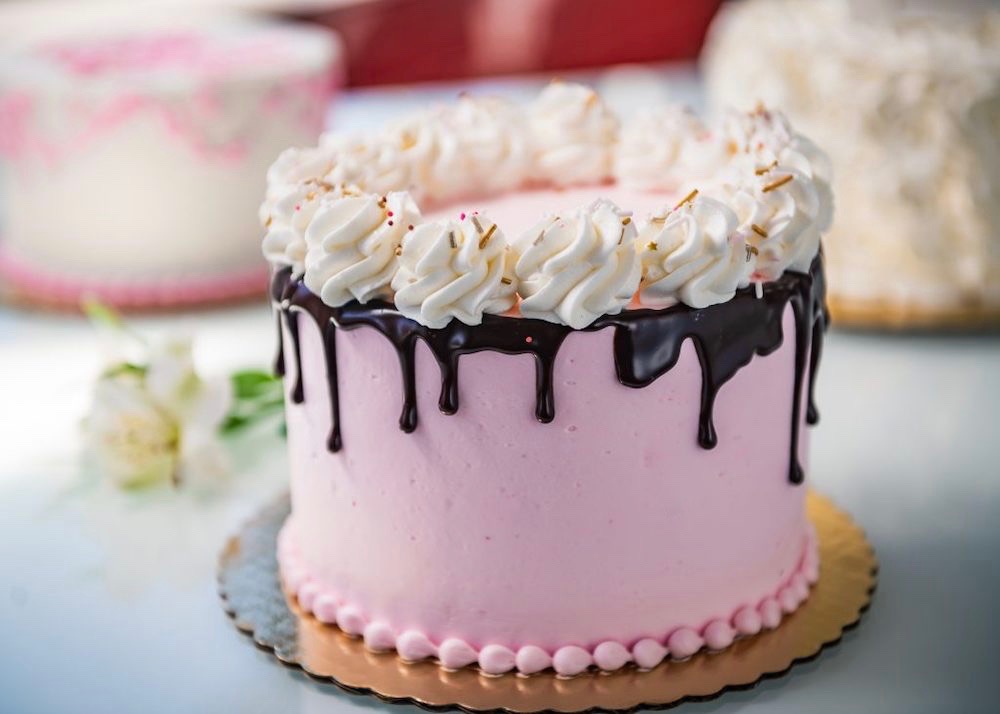 Sin (Good For Large Cakes)
Sin is an old-school bakery that does beautiful custom carved and tiered cakes. This is a perfect bakery for getting a child's party cake made. However, be advised that deluxe carved cakes can get pricey; three-dimensional carved cakes come with a 25 portion minimum and cost $10 per person– so the minimum price for one of these cakes is $250.
Still, the results deliver. And if you really want a wow-factor, Cake Wars-level cake, they can do it!
Sin also has much more affordable options for sheet cakes and cupcakes, which you can infinitely customize to your taste. (The possibilities are endless!) This is a great bakery for getting cakes that you will serve at a birthday party, since they are large, creative, and commanding.
Check out some of their past custom cakes and get a feel for the pricing here.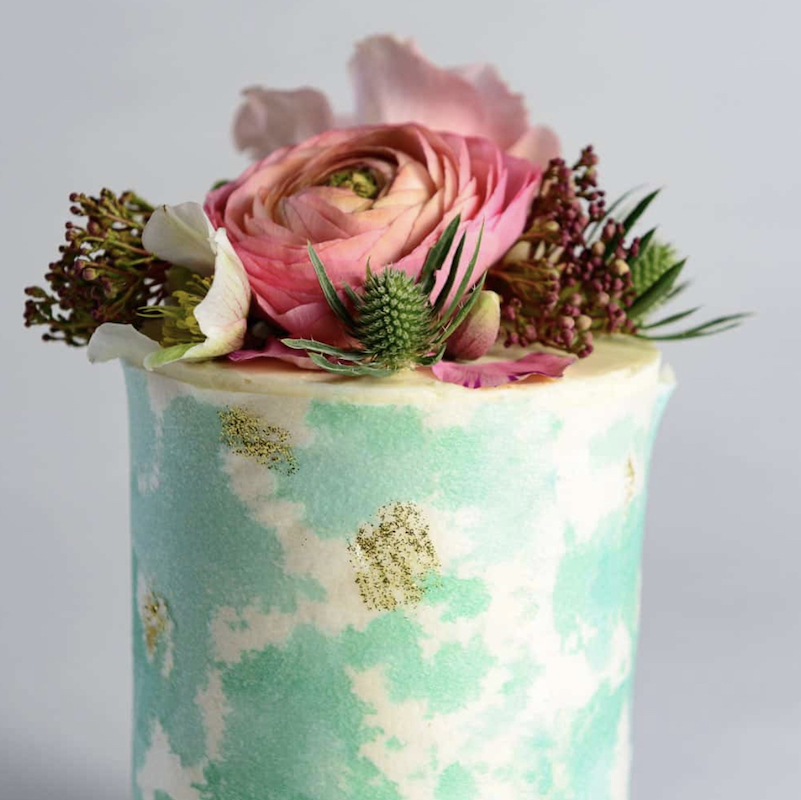 Ellie's (Refined & Elegant)
In 2012 the owners of Gracie's opened up Ellie's, a Parisian-inspired cafe and bakery that does beautiful artisan cakes that are ideal for foodies. These cakes are true works of art; very fashionable, with signature flavors like London Fog (earl grey cake, lemon curd, vanilla buttercream) and Tiramisu (espresso-soaked vanilla & chocolate cakes with mascarpone buttercream).
They even offer a wheat-free Corn Pecan cake, which can be frosted and filled as normal. While most people call on Ellie's for wedding cakes, you can order a birthday cake, as well. (This is one Providence's best-kept secrets!)
We love that Ellie's cake menu changes each season. "Fall Fillings" available from Late September to November include Pumpkin, Apple Cider Caramel, Pear, Spicy Chai and others; Winter Fillings available from December to February include things like Maple Cranberry, Ginger, and Red Wine & Chocolate Ganache. You get the idea.
Seasonality, as it does at sister restaurant Gracie's, informs every aspect of the bakery's operation. In the summer, Ellie's will even press fresh lavender into the sides of the cake just so. (This is more of a wedding option, but still. Who doesn't want a birthday cake covered in gold leaf? The team is accommodating and will work with you to customize the cake of your dreams.)
FYI: all celebration cakes require at least 48 hours notice. Ellie's also makes an amazing ice cream macaron cart, which is ideal for parties. It's also great for people who want their cake and a fancy twist on ice cream to go with it.
Check out their flavors and pricing here, or order your cake in advance here.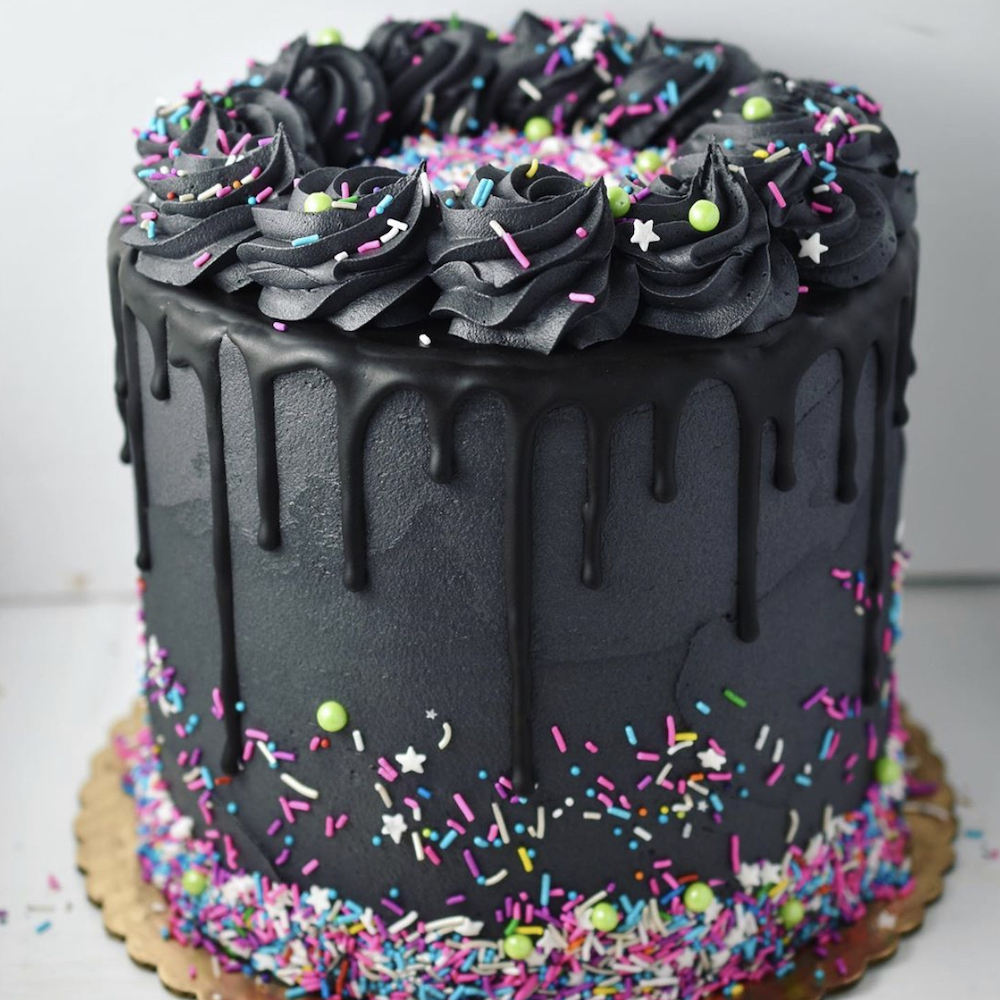 Miss Vegan (Modern, Edgy, Vegan)
Miss Vegan makes insanely beautiful vegan barrel cakes that look like a Pinterest daydream. Even if you aren't vegan, we recommend the lush Brownie Batter cake or the Confetti Cookie Dough cake (a must for cookie dough lovers!). Locals also love the Cannoli Cake (made with layers of chocolate and vanilla cake, with chocolate chip cannoli cream frosting and topped with mini cannolis).
You can also build your own cake, which founder/pastry chef Meghan Broadfield makes super easy and fun. Whether you're vegan or not, Broadfield makes some of the best birthday cakes in Providence. Period.
Every one of her cakes is a masterful display of technique. The layers are beautiful and even, the cake is somehow always moist, and the design is textbook. (See image above!)
If you have a foodie family or are buying for a novice baker, Miss Vegan's birthday cakes will show them how it's done. Just be advised that you'll have to arrange a meeting point to pick up your cake, as Miss Vegan is currently online-only. (Though they are currently working towards opening a brick-and-mortar bakery. Fingers crossed!)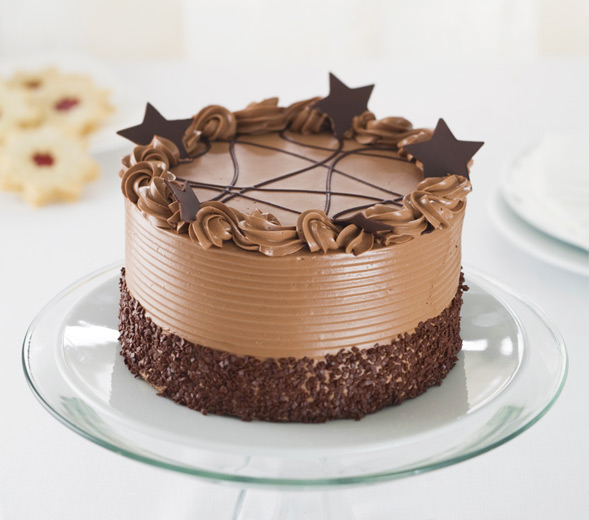 Pastiche Fine Desserts (Old School Italian Classics)
This Federal Hill coffee and dessert cafe makes classic cakes the appeal to purists and old school types. Their popular All-American Chocolate Cake and Tiramisu cake are simple, but the flavors are incredible. Pastiche Fine Desserts does not do custom cakes, but it's a great place to stop by and pick up a quick 10-15 person cake last-minute. They can also write on the cake for free. (And the cake itself is guaranteed to be good.)
There is no online ordering option if you want to place an order with Pastiche ahead of time, either. You can, however, call them about 3 days in advance and they will be sure to have a cake ready for you on the day you need it.
Again, they don't really do fancy decorations, but the delicious flavors and consistent presentation don't lie!
East Side Marketplace (Great Bargain Cakes)
Shocking, I know. Who would expect a super market bakery to stock some of the best cakes in town? Surprisingly, East Side Marketplace has some of the best birthday cakes in Providence, both in terms of affordability and flavor.
Stop by to grab a quick checkerboard cake– which, it's pretty cool that they have this unique cake as part of their normal menu. Otherwise, look for a marble ombré cake in cool faded shades like sea blue. They usually have a few ready-made.
All cakes are pre-made and ready to be written on free-of-charge; they can do this inscription on the spot without you needing to call or book ahead. The bakery also sells mocha cake, cookies n' cream cheesecake, salted caramel cakes (!), and very cheap (e.g. $10) single layer cakes for purchase.
We recommend going here early in the day you need your cake. Otherwise some of the best flavors may already be taken.
*Honorable Mention*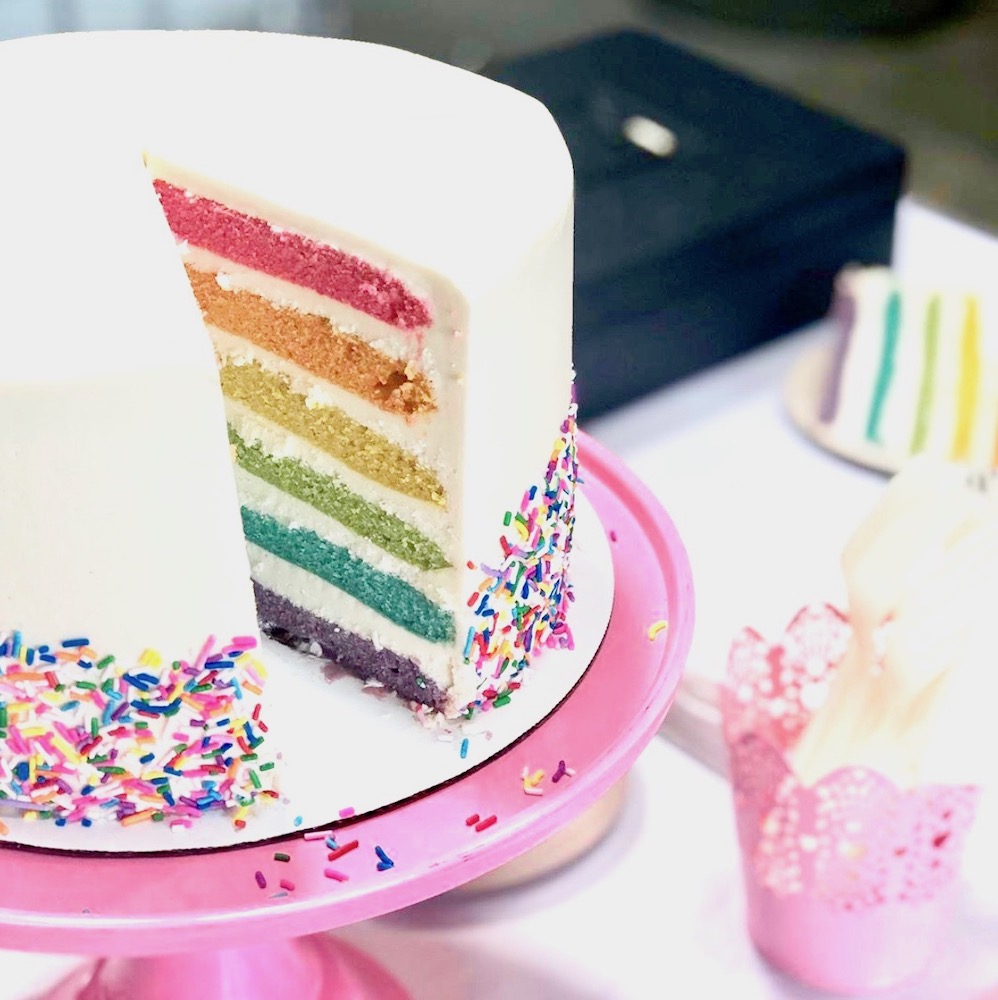 Blush Bakeshop (Cute Designs, Epic Flavor, Vegan)
Blush Bakeshop makes excellent 100% vegan birthday cakes that need to be ordered 1 week in advance. These customizable cakes comes in a variety of standard and unique flavors, from chocolate and vanilla to chai, red velvet, and matcha. Fillings include a signature Cream "Cheeze" as well as German Pecan Coconut, Lemon Curd, and Cookies and Cream.
They even do a rainbow cake that reminds us of Amirah Kassem's Rainbow Explosion Cake, which was popularized in NYC. Overall, if you need a vegan- or allergy-friendly cake in the providence area, Blush is one of the best Providence bakeries for it.
For what it's worth, we also love their Maple Walnut Blondies, which pack a ton of chewiness and flavor into a single square. (They are so buttery and rich that it's hard to believe they aren't made with any butter.) The cakes are moist and charmingly decorated, too.
Unlike what some skeptics might think, vegan cakes have come a long way from the days of being "dry" or somehow second class. Those days are over. Blush's cakes are so good that the fact that they are vegan is just a bonus. Vegans and non-vegans alike will love whatever you order.
***
Looking for a cool birthday cake in another city? Consult our beautiful Birthday Cake Archive, here.