Bota Bota, spa-sur-l'eau, is a beautiful floating spa in Montreal, Quebec that is easily one of Canada's coolest spas. This floating sauna, bathhouse, spa, and restaurant on the Saint Lawrence River is located inside of a renovated ferryboat docked in Montreal's Old Port (Vieux-Port de Montréal).
Since 2010, it's been a serene Montreal bucket list destination that I recommend to everyone visiting the city. Getting a massage and doing a bath circuit here is one of the best, most unique things to do in Montreal!
Today, the historic river ferry turned upscale "floating spa" offers a diverse variety of body and face treatments, a water circuit, yoga, and local dining that nourishes mind, body, and spirit.
The name Bota Bota is a zen-like Japanese phrase for "drip by drip". It's also a soothing name to pronounce, full of soft vowels and "O"'s that harken to the portholes below deck. (Spa-sur-l'eau, meanwhile, means "spa on the water".)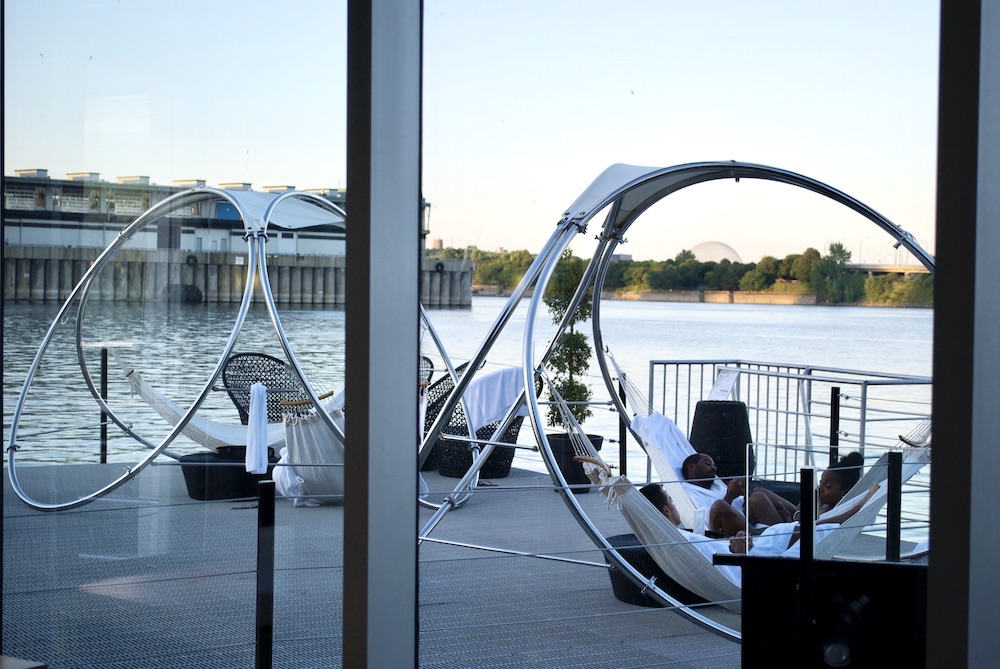 Here, you can enjoy the sunset in the hot tub facing Montreal's charming Old Port, or have a sauna-on-the-water on the facade of Bota Bota that overlooks Habitat 67. (<— The iconic model housing complex that Moshe Safdie built for the 1967 World's Fair. Today, it's a notable landmark on the St. Lawrence River that snakes through Montreal.)
Bota Bota consists of 5 decks that house various spa installations. There are four saunas with incredible views of the river and Old Port, a eucalyptus steam bath, outdoor whirlpool baths, cold showers and baths, relaxation areas, a restaurant, open-air terraces, and a floating garden.
Below, we take a quick behind-the-scenes look at what makes Montreal's enchanting floating spa so special.
***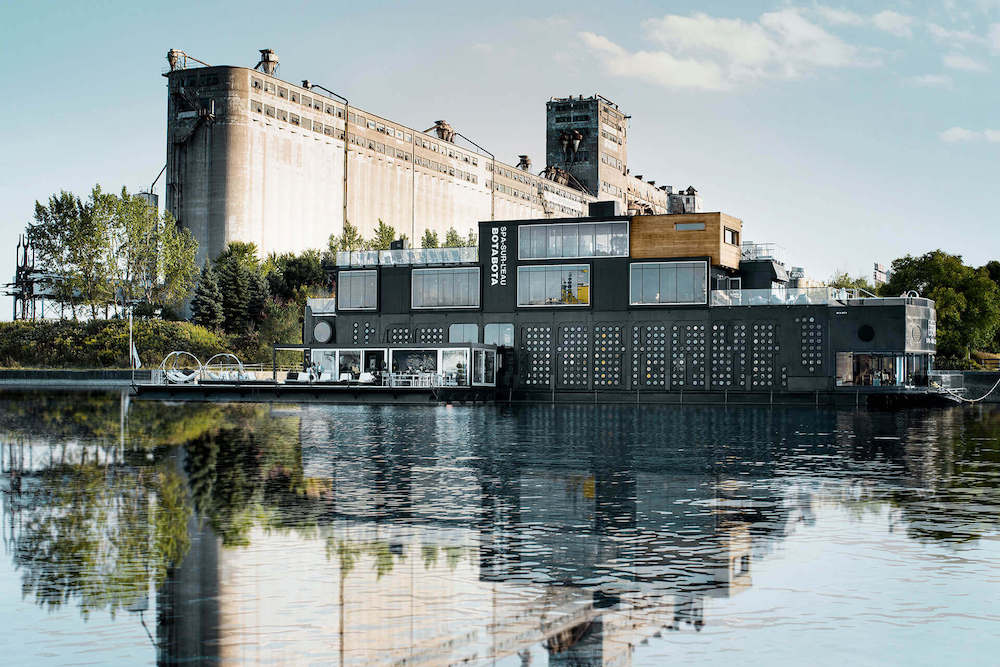 The Basics + My Take
The main reason people visit Bota Bota is to experience the lovely water circuit— an alternating combination of hot and cold saunas and baths that function sort of like a Russian Banya or Swedish bathhouse.
At Bota Bota, however, these pools are floating on open-air terraces in the Saint Lawrence River, and on the boat deck. As a result, you get crazy, delightful sunset and waterfront views of Vieux-Port. This charm is unparalleled in the city.
Inside the boat, expert massage therapists and aestheticians perform world-class massage treatments, facials, and bodywork. Portholes are dotted around the lower deck, so it's lovely and meditative to explore and look out at the serene sightlines across the water. These are subtle details, but they invoke quiet reflection and comfort.
My recommendation for the quintessential experience at Bota Bota is to visit the floating spa for a massage in the late afternoon. Arrive about 1 hour before in order to experience the water circuit first, then enjoy your spa treatment and bask in the warm light of golden hour in one of Bota Bota's charming upper deck hammocks.
After viewing the sunset over Old Montreal, stay for dinner at La Traversée (more on the restaurant, below). I love the trout tartare and sipping wine in the spa's plush white bathrobes. This restaurant-and-spa combo is great for couples who want a romantic getaway, but I also love doing it alone.
People also frequent Bota Bota in groups, for bridal showers and honeymoons. I stopped here for the first time on a work trip, and subsequently went back during a bachelorette weekend and on a separate solo trip to Montreal.
Ultimately, it's fun to go solo, as a couple, or with friends. With its location right on the river, it's lovely in any season– however, late September is my favorite time to visit.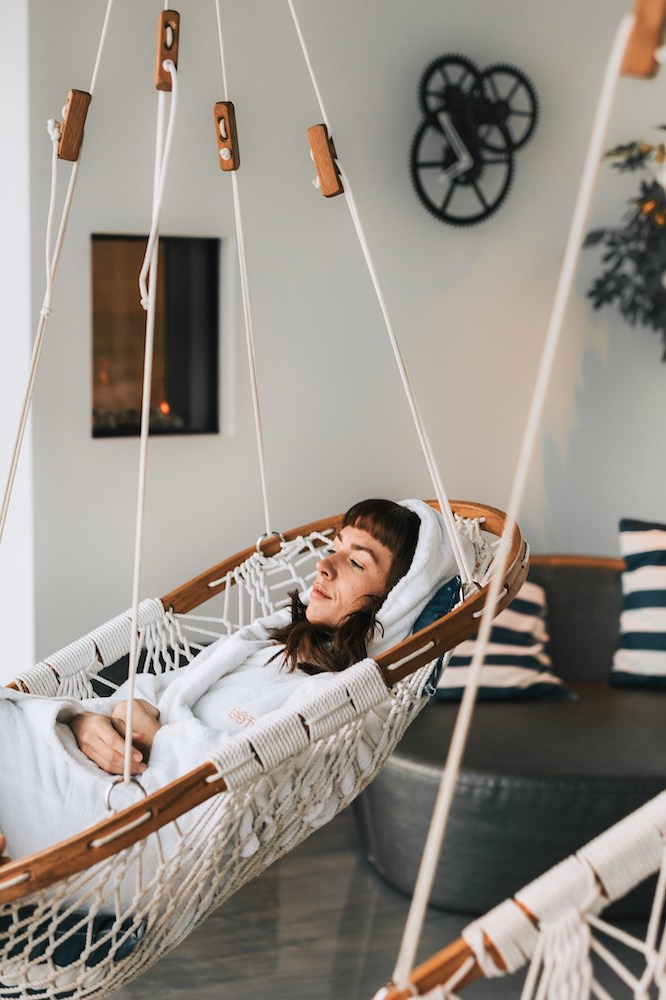 What To Bring
When you visit Bota Bota, be sure to bring your swimsuit, sandals that can get wet, a reusable water bottle, and, if you wish, a book. The spa provides plush, cozy bathrobes, towels, and lockers.
Also: cameras and cellphones are not permitted on site. (They'll have to stay in your locker.) If you don't feel comfortable leaving them, then don't bring them. (But the locker rooms are secure, so it should be fine.) Finally, be sure to clear your afternoon + evening so that you can linger in the water circuit or at the restaurant as long as you like.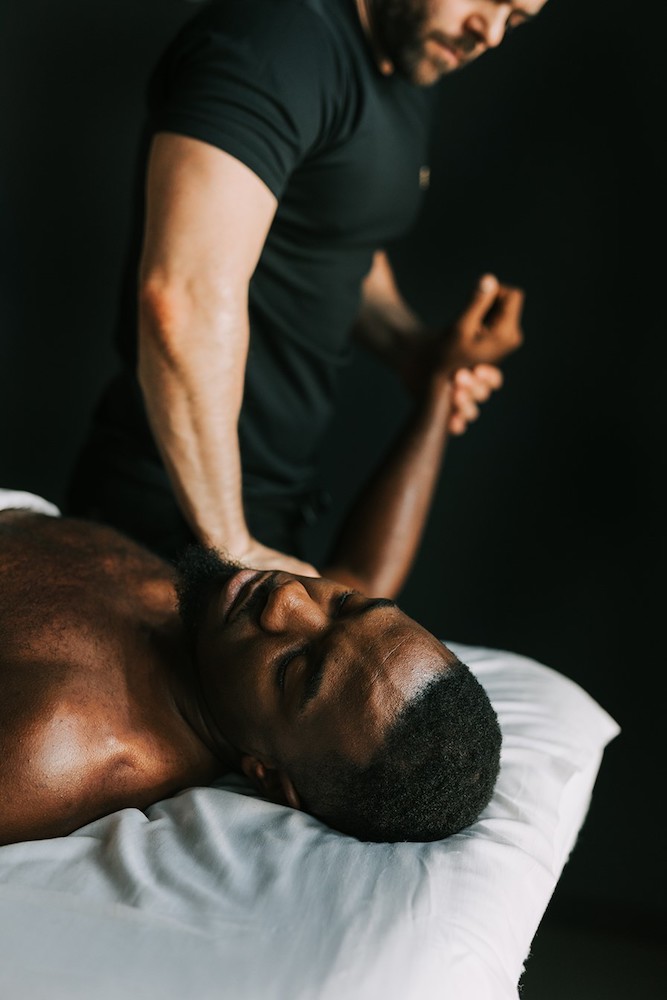 Transporting Spa Services
Bota Bota offers a wide variety of internationally-inspired massages, like Hawaiian Lomi Lomi or Swedish Deep Tissue Massage. They even offer reflexology massage, a unique "Californian" massage, Thai massage with warm oil, and lymphatic drainage.
Massages are broken down into three categories: Classic, Discovery (which features more exotic treatments), and Prenatal Massage for moms-to-be. They also offer body treatments, facials, and treatments for hands and feet (<— mostly upscale manicures and pedicures here).
For body treatments, I strongly recommend getting the Escape Treatment, which combines a full-body exfoliation with a body wrap and tailored head and neck massage. (They use Babor skincare products that energize, balance and relax the body while toning and softening skin. Plus, the head massage will have you purring like a car.)
You can also bundle this with a massage, which I like to refer to as the Rolls Royce of spa treatments. If you can afford it, do it.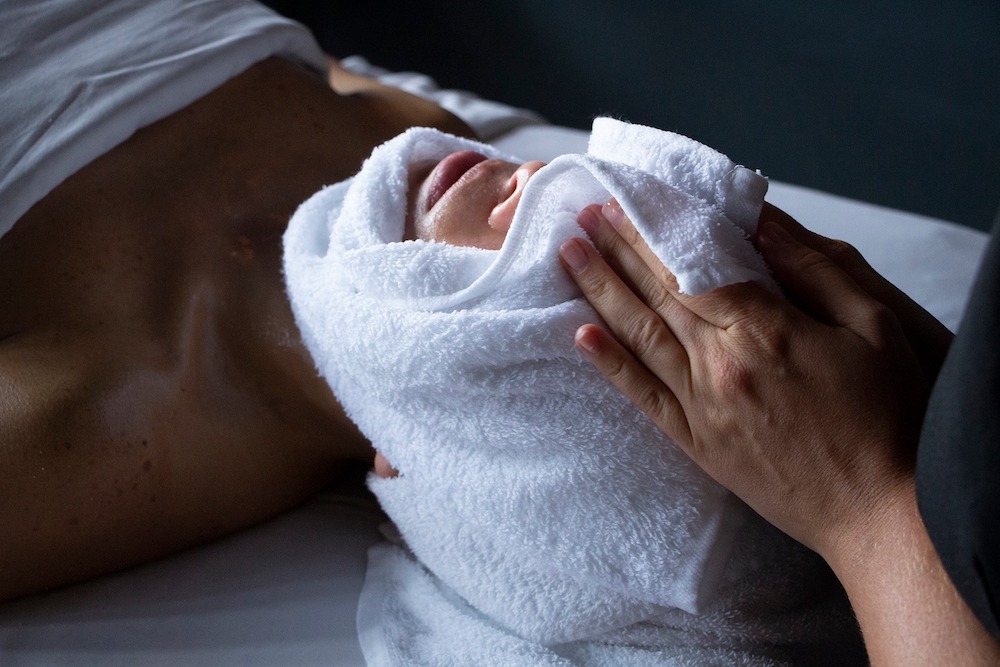 Facials-wise, you can't go wrong with the Timeless Mermaid anti-aging facial, which uses alpine stem cells and a molecular catalyst to purify, cleanse, tone, and refine. (PSA: Bota Bota's facials are a great deal for the price. Similar treatments in New York City or Paris, for example, could be up to 2 and 3 times the price!)
Finally, regarding massage treatments: each and every one of them is amazing. We love the Deep Tissue Massage, but they're all good. (Watch this cool video of their signature Lomi Lomi Nui, a spiritual-physical massage style that originates in Hawai'i.)
Ultimately, Bota Bota's highly renowned massage therapists are the best in Montreal. Choose your massage according to what your body needs at the moment. You're in good hands here.
Be advised: Bota Bota does not take walk-ins. You must book your treatments ahead of time.
When you arrive for your appointment, you feel an immediate sense of ease and escapism. Even the subtle details of the sauna are lovely. The water in Bota Bota's saunas contains various essential oils, for example: lavender, balsam fir, and bergamot. (Each of which has naturally calming properties.) When the water hits hot stones and evaporates, the scented steam produced is absolutely lovely. It's relaxing for the mind and body.
Ultimately, you want to start first in the sauna and then head to the baths for the perfect, most effective water circuit. (More on that, below.)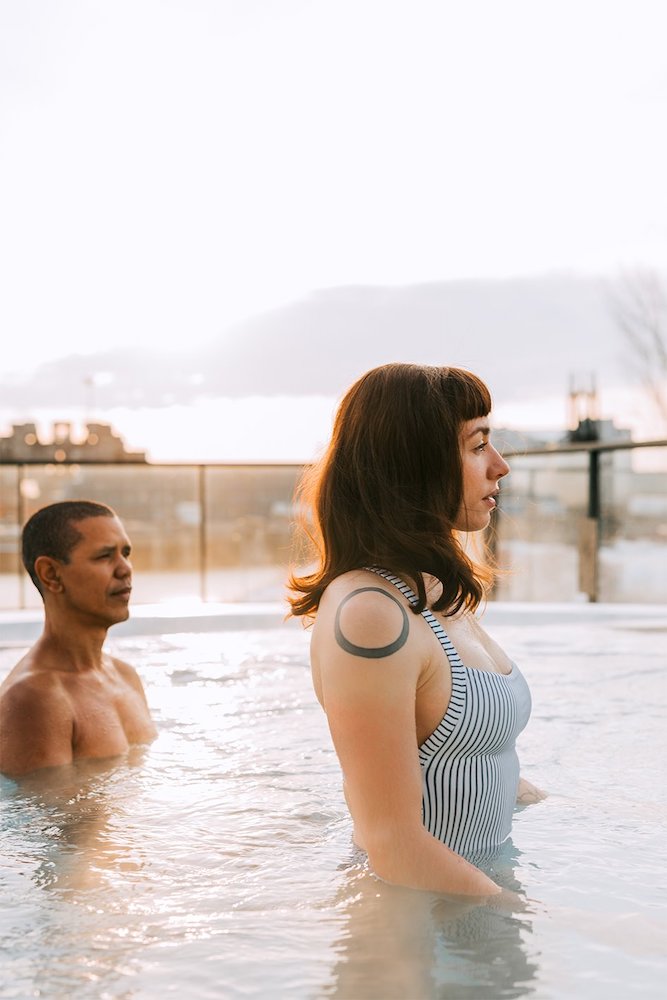 The Vibe
In order to keep all guests calm and relaxed, silence is encouraged but not totally mandatory. Fortunately for those of us who really want to relax, they take it very seriously. The gardens are the only place on-site where you can meet up with others and low-voice discussions are allowed. Otherwise, the spa likes to let the water do the talking.
The minimalist-hygge space radiates with golden silence and the soft lap of water below– except around the holidays when they occasionally have a harpist on board. As far as Montreal spas go, it's as serene as it gets.
Cellphones and cameras are also forbidden on site. This is a wonderful rule that helps people disconnect completely.
And not for nothing, I also love that Bota Bota is open late (until 11 PM). Doing a water circuit after work or with friends is lovely. They also start serving wine as soon as it's socially acceptable to do so. (Usually around late afternoon– it is Montreal, after all.)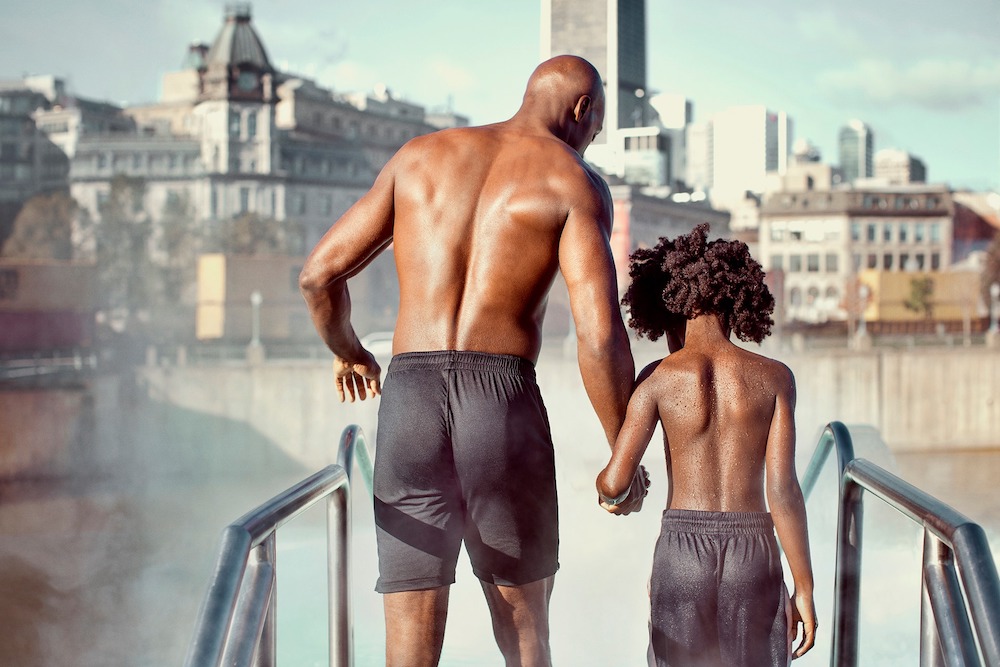 The Bota Bota Water Circuit: First Hot, Then Cold, Then Relax
For the best experience, make sure to do the water circuit correctly. (And in the right order.)
All good thermal treatments start off in the heat. Begin in the (1) dry sauna or the steam bath, which both have analgesic properties. (The dry sauna helps muscles relax and relieve muscular and mental tension while opening pores.) Hang out here for 10-20 minutes.
Next, take a 15 to 60-second dip in the cold bath (2). If the cold bath is too cold, there are on-site showers where you can cool yourself with a less extreme temperature change. The sudden onset of cold, when combined with heat, is extremely beneficial for circulation as it boosts the production of white blood cells, relieves body aches, leads to a cascade of endorphins, and invigorates the mind.
Finally, visit one of the hot tubs and soak in a hot bath for another 10-15 minutes (3). Then, repeat the cycle.
For maximum benefit, Bota Bota recommends you go through the water circuit at least 3 times. For deep relaxation, I recommend 4-5 hot-cold cycles (or as long as you feel comfortable). It's very invigorating and meditative.
Finally, the last stage of the last water circuit involves conscious relaxation. Montreal's floating spa is equipped with multiple gorgeous relaxation areas, from pool-adjacent loungers to on-deck hammocks to serene netted swings with gentle water views.
If you don't find a sun lounger or beanbag chair to your liking, you can also pause in a porthole room after your spa treatment and take a few calming breaths as the water rocks you into serenity.
After the hot-cold circuit, this conscious pause is particularly beneficial as slow breathing, meditation, napping, and lounging help stabilize your heart rate. Doing so in a serene, peaceful environment is exceptionally restorative. Take the time to enjoy those endorphins!
Related: 4 Mental Health Bath Recipes to Improve Wellbeing at Home.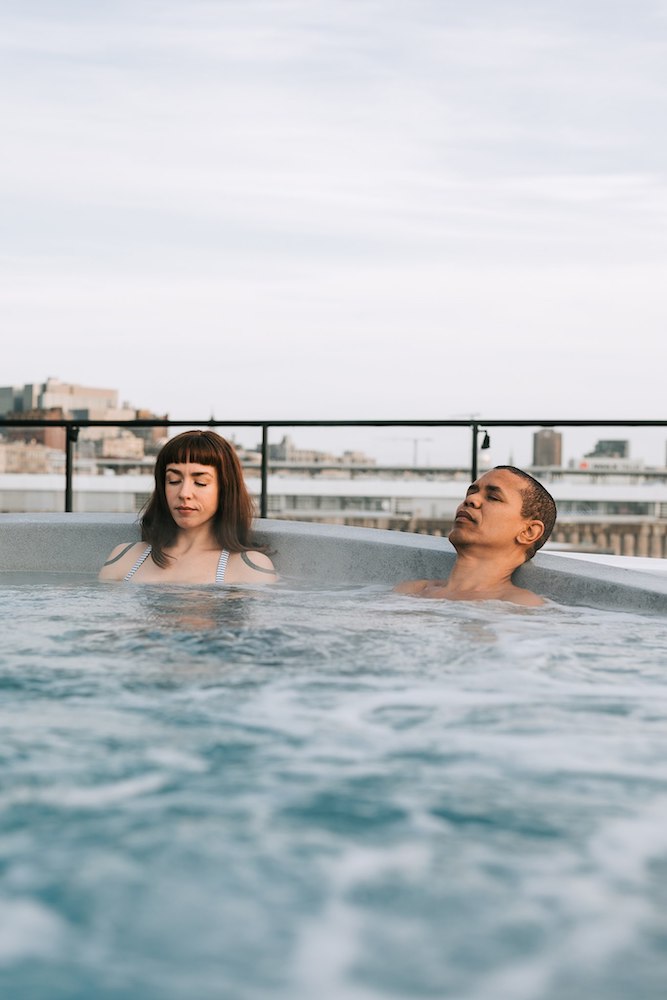 For The Best Experience, Do Not Miss These Elements
With its breathtaking view of the Montreal waterfront, Bota Bota is a place of deep relaxation and restorative serenity. For the best experience, be sure to explore everything the spa has to offer. Be sure to come early before your spa treatment to enjoy the water circuit on the boat or in the adjacent gardens. Begin with the city sauna or lavender gardens sauna, then drop into the hot-cold water circuit detailed above.
We love the hot tub on the second deck followed by a cold bath in the gardens.
Afterward, enjoy one of the spa's signature 60-minute massages or a 90-minute massage or a facial, bodywork treatment, or a mani-pedi.
Finally, check out the porthole room before lounging in a cloth orbit hammock on deck, or around the pool in the gardens. You can sunbathe on the lounging chairs on the floating terrace, or bask in the warm glow of an Autumn sunset. Take time to absorb the relaxing, restoring vibes after your treatment.
Dinner with friends or solo at La Traversée is the perfect way to conclude the evening or afternoon circuit. A duo tasting platter is perfect for two people, and the sweet and salty snacks are ideal for individuals. Taking time to relax and enjoy a tea or drink is the ideal way to come "back to reality" before heading back into the city with a newfound, blissful sense of calm and wellbeing.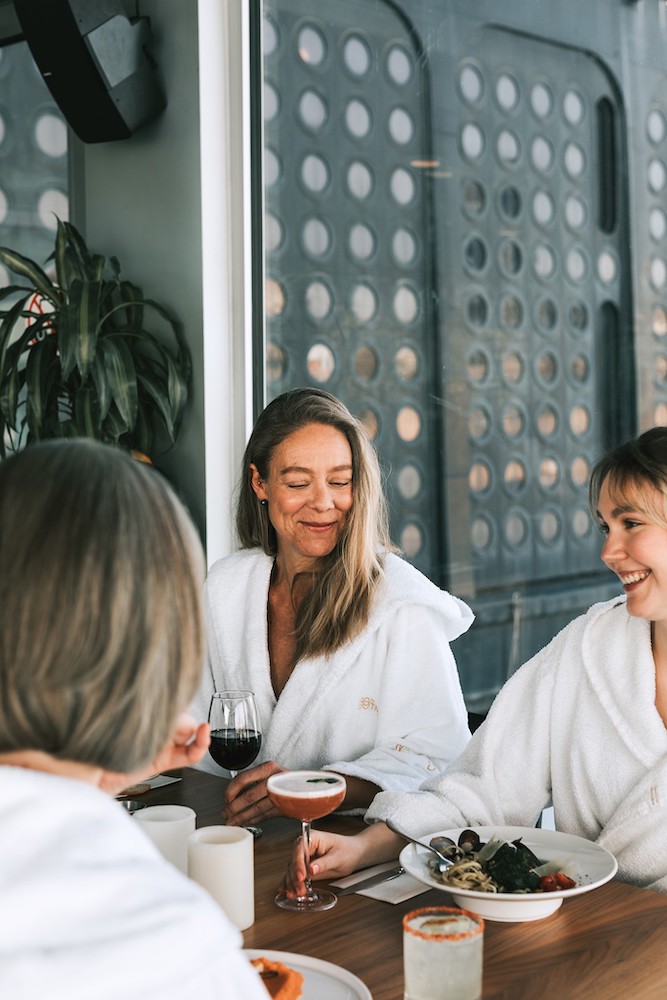 End With A Meal at La Traversée Restaurant
The simple, seasonal menu at La Traversée, the floating spa's on-site restaurant, focuses on nutrition, flavor, and local delicacies. Helmed by chef Thomas Engasser, it features abundantly fresh local produce from the Quebec region.
And, most importantly, you can enjoy a meal here in your bathrobe after your treatment! Whether you're getting a spa treatment or just doing the water circuit– or both!– no visit to Bota Bota is complete without a parting meal or drink at the spa's on-board restaurant.
While the menu is upscale, the atmosphere is, of course, casual. (Most people will be wearing bathrobes, after all.) La Traversée also maintains a small garden on the restaurant's floating terrace. so the food is super fresh and inviting. (They use the herbs and veggies in their menu.)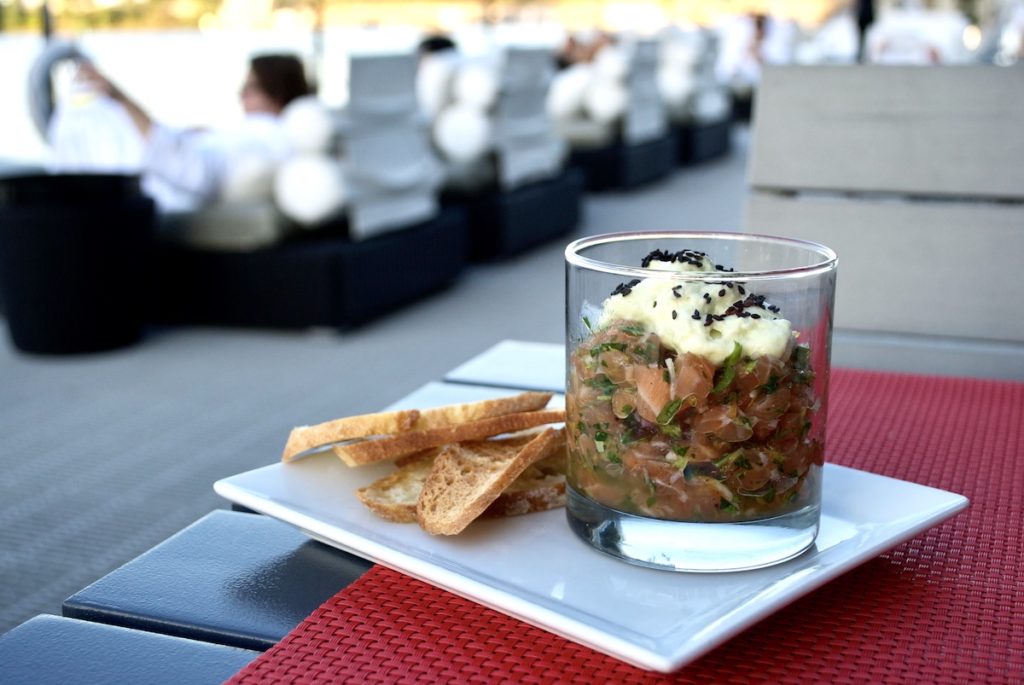 With breathtaking views of Montreal's Old Port, this floating dining room on the St. Lawrence River is great for solo dining, couples, or groups. They have an ample selection of privately imported red and white wines. They also serve bubbly, rosé, cocktails, mocktails, a wide variety of herbal teas, coffee, and beer.
Food-wise, I love the seasonal fish tartare and its fresh, delicious preparations. (Most recently, this was Gaspésie rainbow trout tartare with chives, radish and apple, white wine foam, arugula, and croutons.)
Even the desserts are gorgeous, centering on elevated staples like mascarpone and cottage cheese verrine with lemon sugar, berries, basil, and coffee cookie. My advice for a perfect day-cation? First linger in Bota Bota's water circuit, then get a massage, then get dessert and savor it over a glass of wine or tea. What could be better?
My advice? If you visit Bota Bota in the Summer, definitely try the fish and a nice white wine or rosé… it's the perfect Montreal meal. In Winter, opt for a sweet snack like hot coffee and a Walnut, Garam Masala, & Dulce de Leche muffin. The menu is limited, but the food is always thoughtful. If you want a real treat, order dessert first.
Either way, like the spa itself, you should be sure to make a reservation for the restaurant in advance. (Reception can help you coordinate the timing with your spa treatment. They are lovely and super helpful.)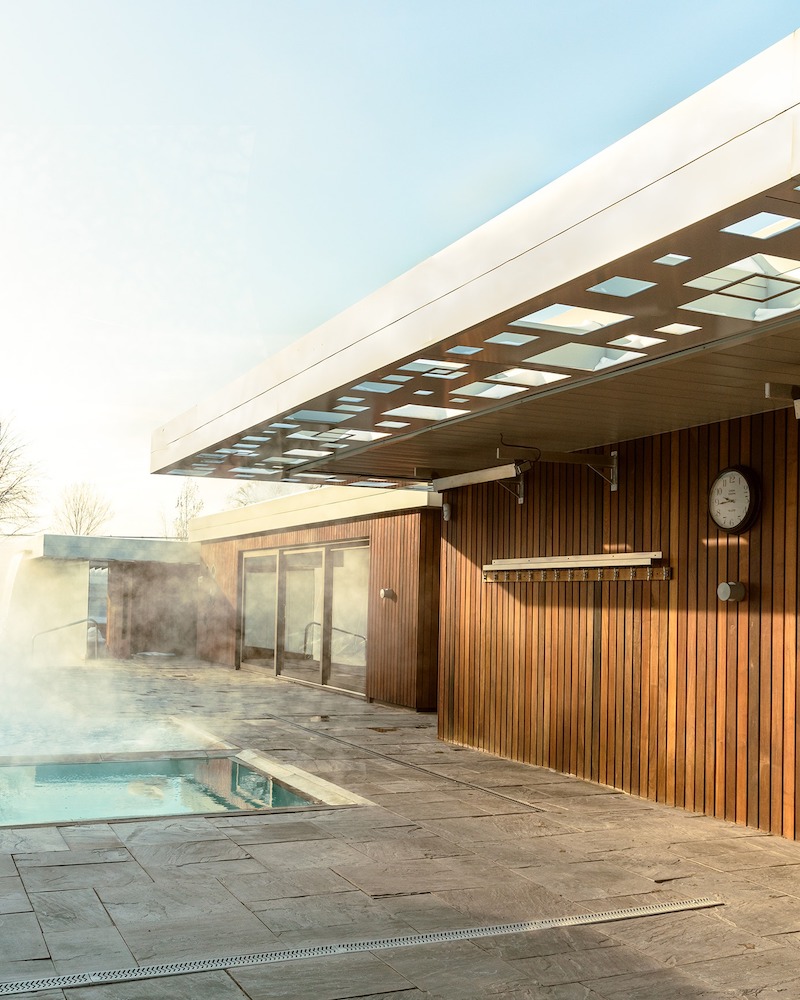 Year-Round Season + Hours
What's super cool about this spa is that it's equally lovely in the winter as during the warm-weather months. It's not just a summer thing! Even on a gray day, the hammocks overlooking the water are serene. I actually prefer going here in the Fall, if only because Fall is the best time to visit Montreal. (In my professional opinion.)
Either way, a visit to Bota Bota is a bucket list experience, no matter how long you stay or when you visit. It's utterly lovely. Be sure to linger if you can. These pictures don't lie, and this praise will make sense once you experience it for yourself.
***
Bota Bota is located at Vieux-Port de Montreal, Entrée McGill de la Commune Ouest &, McGill St, Montreal, Quebec H2Y 2E2, Canada.
Related: These are the 7 Coolest Spas in Paris.
Get more insider looks at the world's coolest spas and hotels in our critically-acclaimed Travel Well section. Here, we explore Bucket List destinations all over the world, from Ojo Santa Fe in New Mexico to Scotland's Graywalls Hotel & Chez Roux and beyond.