The latest recipe in our Nourished By My Heroes series is based on Meryl Streep's cookie recipe, which I originally saw in an old Good Housekeeping feature from years ago. These delicious pistachio-rose shortbread cookies are an homage to Meryl Streep's original almond shortbread cookie recipe.
The short crumb and delicate rose flavor of these pistachio-infused cookies are good for the heart and soul. Plus, the aromatics and flavor are uplifting and simply delightful– and there are a number of science-backed reasons why.
First of all: Rose water is rich in anthocyanins, a flavonoid that has an anti-inflammatory effect on the body. The flavor and scent of rose also elevates mood.
By pairing rose water with cardamom and pistachio, the resulting shortbread cookies have a fabulous, Mideast flavor that's also rich in naturally-occurring resveratrol, which is good for immunity. (To Meryl's original recipe I added 2 teaspoons of rose water, 1 teaspoon of ground cardamom, and swapped the almonds for pistachios– a good source of resveratrol and also Vitamin B6 and Thiamin.)
The recipe's other proportions remain the same. I did, however, also top these cookies with melted semisweet baking chocolate (rich in antioxidants!) and chopped pistachios instead of jam. This added about 20 extra minutes of decorating post-bake, but the look I achieved was worth it.
The new, modified pistachio rose cookie recipe is below. Enjoy!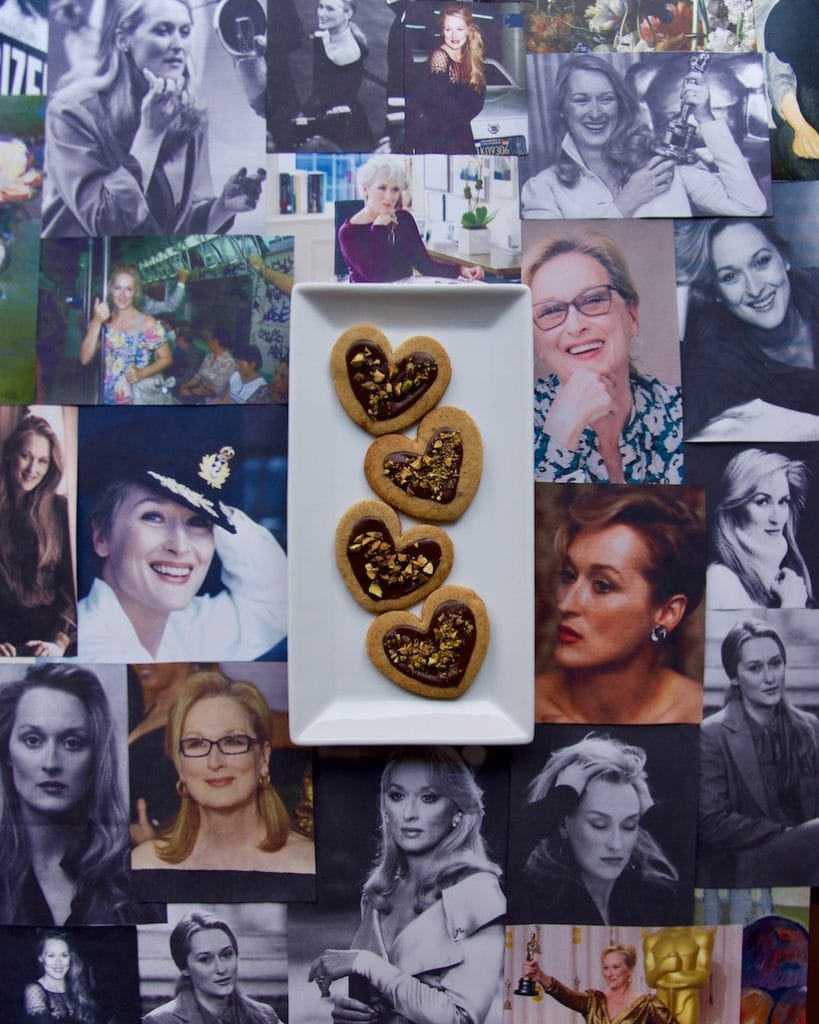 Meryl Streep's Pistachio Rose Heart Cookies
1 and 1/2 cups softened, unsalted butter (aka 3 sticks)
3/4 cup honey
2 teaspoons rose water
1 teaspoon vanilla extract
1 teaspoon cardamom
2/3 cup pistachios, finely ground
1 and 3/4 cups whole wheat flour
1 and 3/4 cups all-purpose flour
1/2 cup semisweet chocolate chips (for melting)
chopped pistachios (for garnish)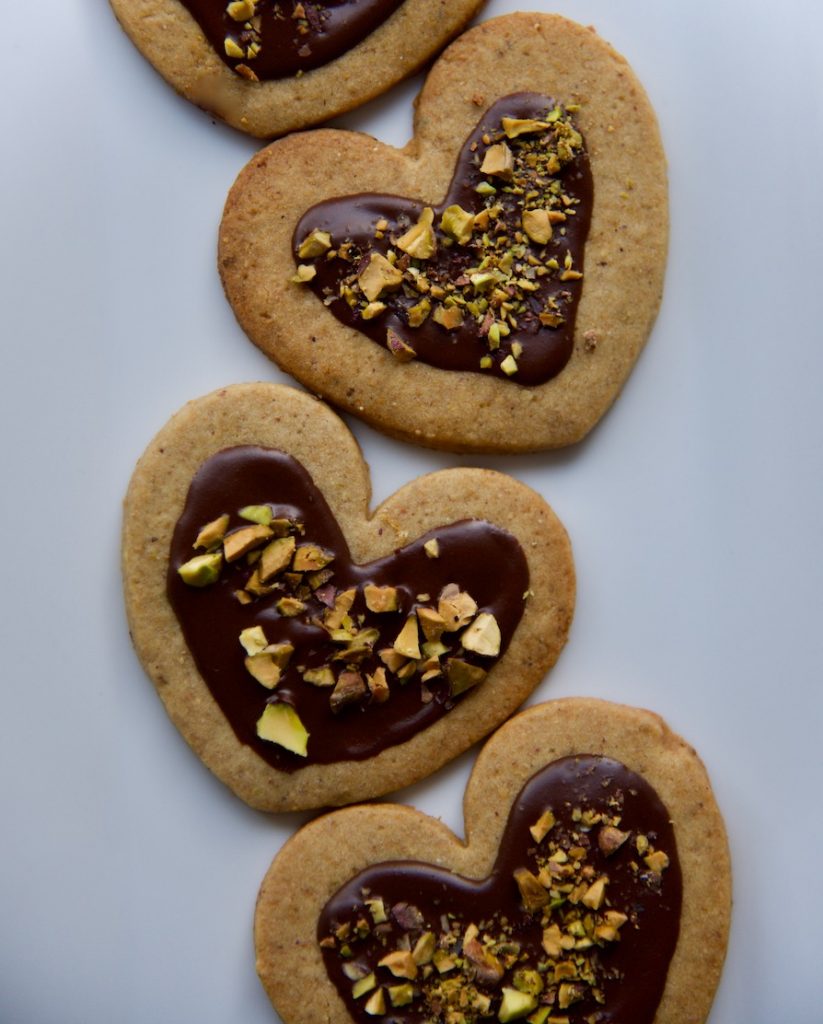 Instructions
Cream together the butter, honey, vanilla extract, and rose water.
Add finely ground pistachios and both flours to the butter mixture and thoroughly combine.
Divide dough into 4 sections and tightly wrap each section in parchment paper. Refrigerate at least 2 hours or overnight.
Preheat oven to 325 degrees. Roll dough into 1/8 thick sheets and use a ~3-inch heart-shaped cookie cutter to cut out cookies. Place hearts on an un-greased cookie sheet.
Bake cookies for 13 to 15 minutes or until the edges brown. Cool for 2 minutes on cookie sheet then remove and cool completely on a rack.
Melt chocolate chips in a saucepan or double boiler and draw a heart shape in the middle of each cookie with the back of a spoon. Sprinkle with chopped pistachios. Enjoy!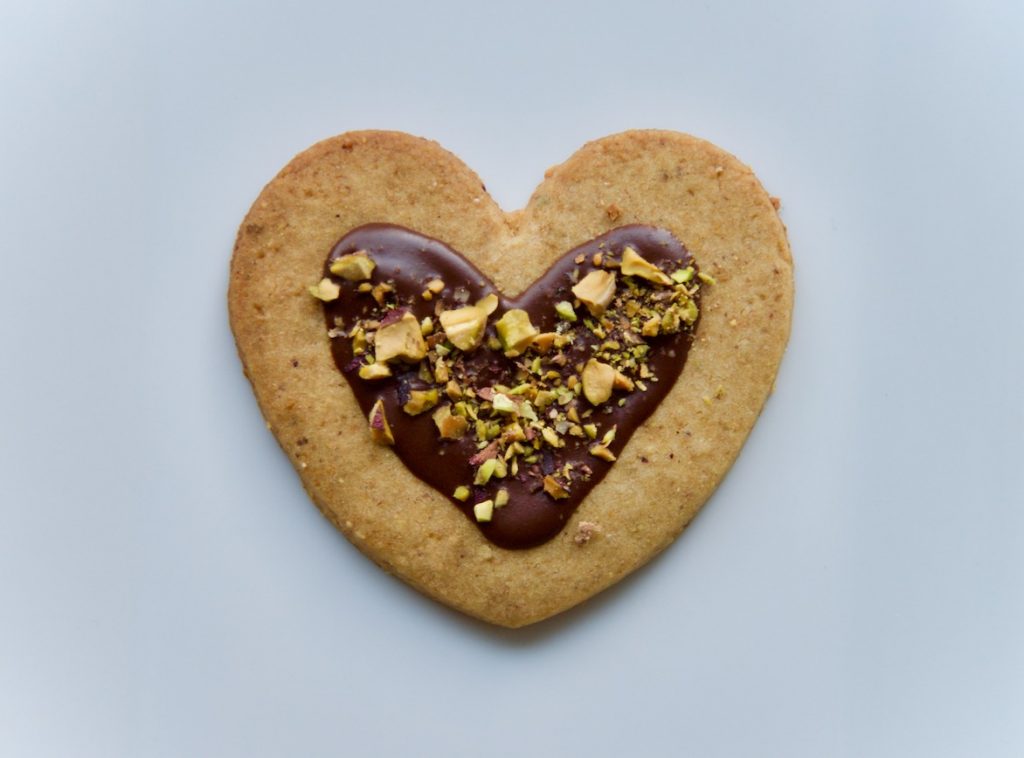 Notes On This Pistachio Rose Cookie Recipe
Meryl's original recipe is made with almonds instead of pistachios, and there is no rose water or cardamom. The recipe also allows for the option of making this a thumbprint cookie. If you'd like to do that, then swap the chocolate and pistachios for a thumbprint of jam in the center of each cookie. (Before baking, make an indent in the center of each heart with your thumb and fill it with jam of your choice. This will not effect the baking time.)
If the dough is soft and breaks apart in the cookie-cutter, it isn't cold enough. Put back in the fridge to firm up then re-roll (dough should be hard to maneuver with a rolling pin).
Fun Fact: Supposedly, Meryl Streep makes a mean lamb chop. Julia Roberts claims to have eaten it during rehearsals for Osage County. Margo Martindale (who plays Streep's sister in that movie) says it was excellent. If anyone can track down that recipe, please: send it to me!
***
Related: Make Hillary Clinton's chocolate chip cookies, Ted Lasso's Iconic Shortbread "Biscuits", or Natalie Portman's vegan hamantaschen next.
"Acting is not about being someone different. It's finding the similarity in what is apparently different, then finding myself in there."– Meryl Streep