This Lisbon Travel Guide is designed for people who want to have the quintessential Lisbon experience. Included in our guide are insider tips about where to stay, relax, and recharge as well as the best places to eat, what to buy, where to shop, as well as local landmarks and nuances that should not be missed. Subtle features like the blooming of local Jacaranda trees are noted alongside classic tourist attractions like Castelo De Saint Jorge. The resulting Lisbon travel guide ensures that you will have the best, most comprehensive experience without any lingering FOMO after you go home. The best things to do in Lisboa may surprise and delight you; this is a city with a lot of grit, history, and finesse.
Accordingly, our Lisbon Travel Guide touches on all the senses. Below are the best things to see, eat, do, smell, witness, and explore in Lisbon, Portugal. Enjoy!
***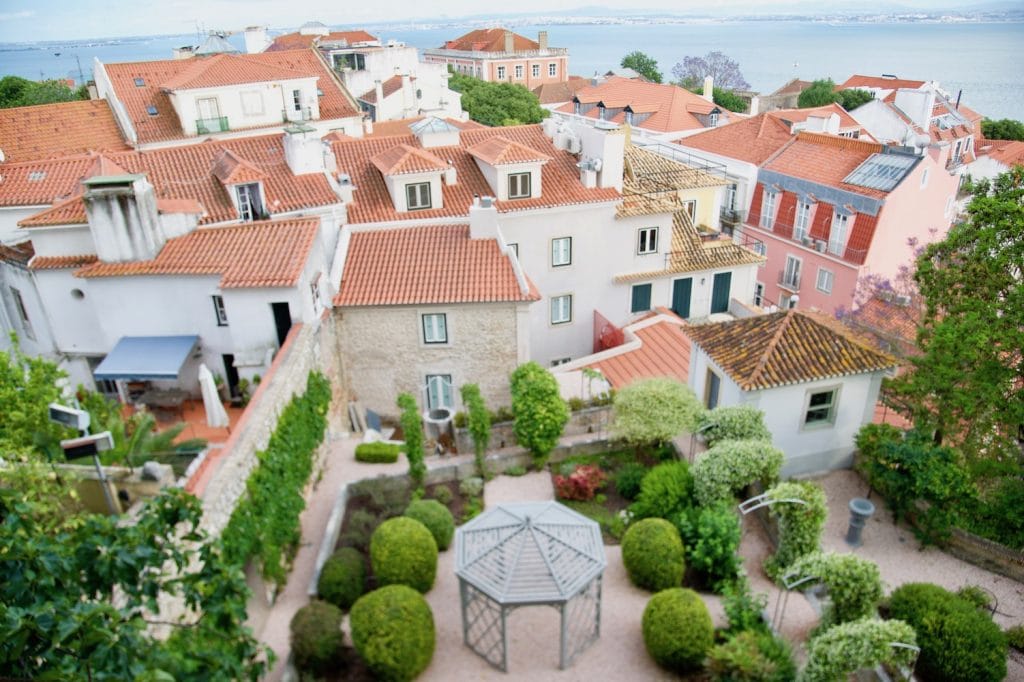 Castelo de São Jorge
So amazing, and such great views! São Jorge Castle is a Moorish castle located in the old Alfama neighborhood of Lisbon. One of the most visited monuments in Portugal, Castelo de São Jorge sits on a hill overlooking the historic city center, with views of the Tagus River in the distance. It's absolutely gorgeous at sunset, and a must for any first-time visitor to Lisbon. Here you can wander around ancient ruins or simply sit and marvel over the city scape. It's also a great place to share a picnic or kill time before walking over to your dinner reservation in old Alfama (one of the city's oldest, quintessential neighborhoods).
Leopold Restaurant
Leopold Restaurant and Art Gallery is one of the most fabulous and celebrated fine dining experiences in Lisbon. Our Editor's number-one pick for dinner in the city, Leopold's tiny gallery fills up quickly, so be sure to book well in advance. (Or ask your hotel to do it for you.)
Dinner at Leopold consists of a 10-course chef's tasting menu exclusively prepared from local and foraged foods that are native to Portugal. Dinners are long, leisurely affairs, served family style at a community table surrounded by art. Most intriguing of all, each course is plated like a mini art piece, served on wooden tiles and locally spun ceramics.
Expect excellent conversation and plenty of umami— a single menu lineup at Leopold can include everything from brown sugar and olive oil braised steak from the Azores to a "seaweed mayo," truffle cream, white asparagus, and wild herb mélange that you're supposed to mix together like a Jackson Pollock painting as you eat. At Leopold, food quite literally becomes art. This is Lisbon micro-gastronomy par excellence. Just be sure to save room for dessert!
The Lisbon Oceanarium
The Lisbon Oceanarium is the largest aquarium in Europe, and it isn't even an aquarium: it's an oceanarium. What is an oceanarium, you ask? An oceanarium is basically an aquarium that presents a true ocean habitat featuring large marine animals like sharks. Here, you'll see everything from insanely large manta rays to colorful "sunflower" starfish to the most adorable hand-holding otters Instagram has ever seen. All of this and more have contributed to it's ranking as the "World's Best Aquarium".
The Oceanário de Lisboa is organized in an ascending spiral like the Guggenheim in New York City. With each ascending layer, the Oceanarium displays a different strata of ocean habitat that highlights the unique animals that live there. (Bottom dwellers are on the bottom level, colorful schools of fish and large marine animals are in the middle layers, otters and birds are on the top level, etc.) The Lisbon Oceanarium is located adjacent to the sea on the famed Parque das Nações, which was part of the campus for Expo '98.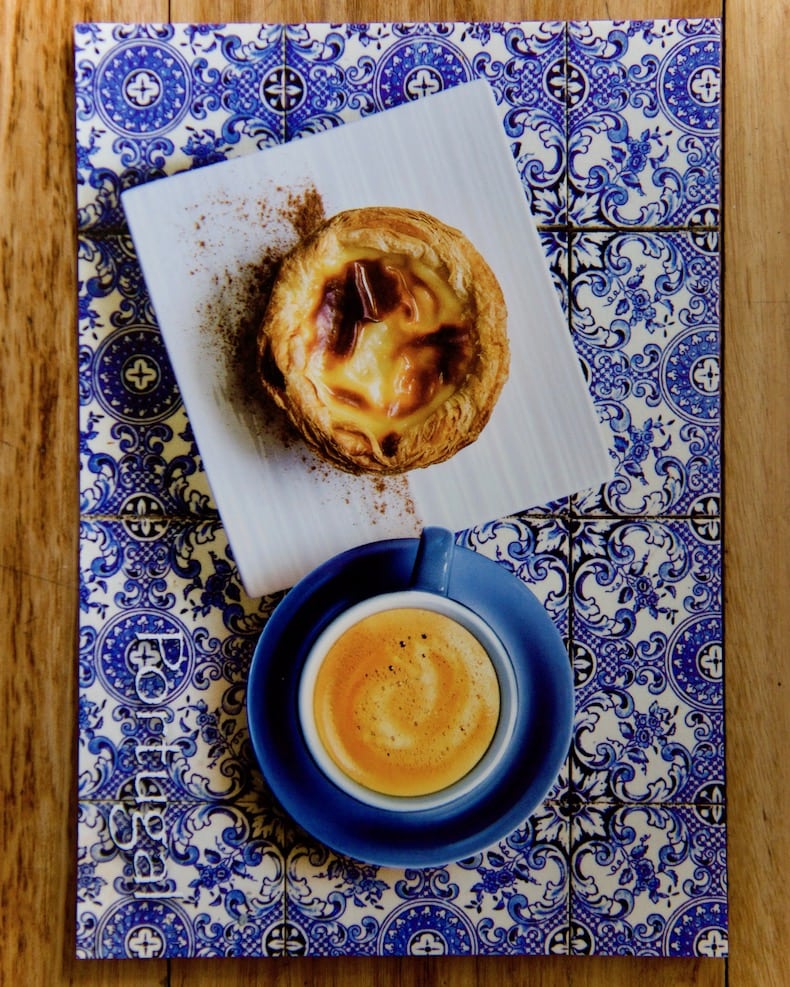 Pasteis de Belem
Almost every Lisbon travel guide features Pasteis de Belem, for the same reason. Every visitor to Portugal MUST at some point order a bica (a tiny, strong Portuguese coffee that's slightly smoother than an espresso) and a pastel de nata (a sweet custard egg tart). This is akin to getting a baguette in Paris or a cheeseburger in America. Fortunately, Pasteis de Belem is the best place in Lisbon to get both a bica and an egg tart at the same time, and the bakery's convenient location next to Mosteiro dos Jeronimos is ideal.
Visit Mosteiro dos Jeronimos
Mosteiro dos Jeronimos is a massive, 500-year-old monastery in Belém, one of Lisbon's most historically religious neighborhoods. (Belém is a variation of the Portuguese word for "Bethlehem".) This UNESCO World Heritage Site represents a prime example of the Portuguese Late Gothic Manueline style of architecture in Lisbon, and as such, it's a must for architecture buffs. Be sure to check out Pasteis de Belem while you're there!
Lisbon Cathedral aka Sé de Lisboa
The oldest church in Lisbon is located in scenic Alfama– the scenic, hilly neighborhood discussed below– along the Route 28 Tram Line. The Lisbon Cathedral, which is often referred to as "Sé," is a popular tourist destination among visiting Catholics and people who like church architecture. According to Catholic tradition, Saint Anthony was born less than 200 meters from the Se, which makes this monument one of the most important religious landmarks in Portugal.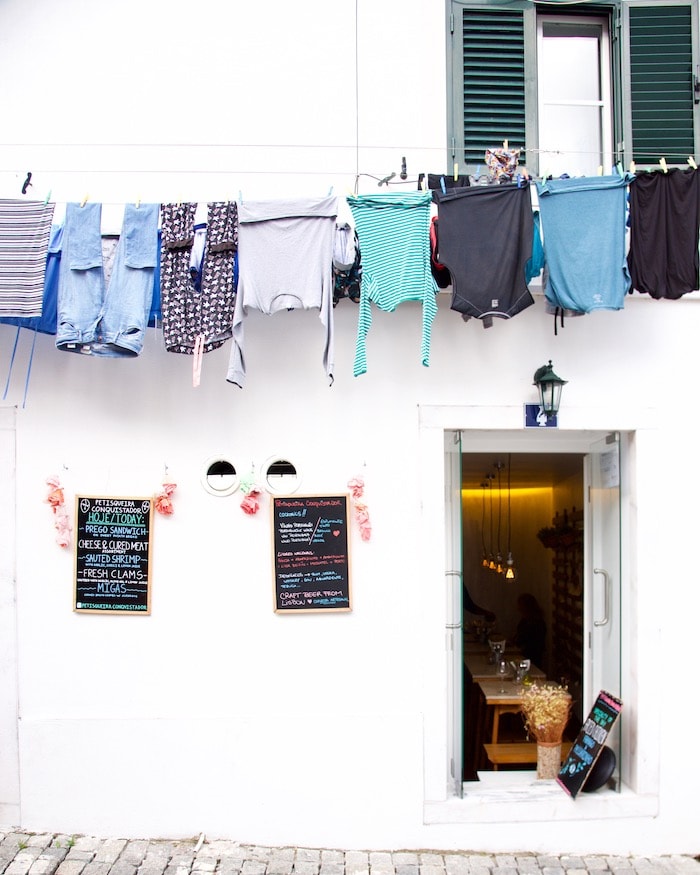 Strolling the Old Neighborhood of Alfama
Alfama is an old, historic neighborhood known for its cobblestone streets and quaint, hole-in-the-wall restaurants. It's also home to São Jorge Castle, which is the attraction that brings in most people to Lisbon. Alfama also hosts a public flea market called Feira da Ladra (aka "Thieves' Market"), but it can be very hit or miss. Hotel-wise, we love the gorgeous and minimally appointed guest house Santa Clara 1728, which has six quiet, romantic rooms designed by famed local architect Manuel Aires Mateus.
In May and June, look out for the epic magenta bougainvillea that will be blooming across courtyards and alleys along the waterfront. (You can't miss it.) Ride the historic Route 28 Tram up to Castelo São Jorge and take in the views of the Tagus River from the top, then walk down through Alfama's circuitous streets in search of a bica and a view. We love the colorful and laid-back hipster vibe at Pois Cafe. Then, finish off with a night of music at Clube de Fado (just be sure to book your table ahead of time).
Experience Fado
Fado is the traditional music of Portugal, which has a very sad, emotional, mournful quality. Various clubs and restaurants around the city host Fado nights with live performances (ala a Jazz night) but the best place to see it is at Clube de Fado in Alfama. If you can't book a table there, try Mr. Fado (also in Alfama) or Tasca do Chico (don't let the sketchy web presence fool you into missing out).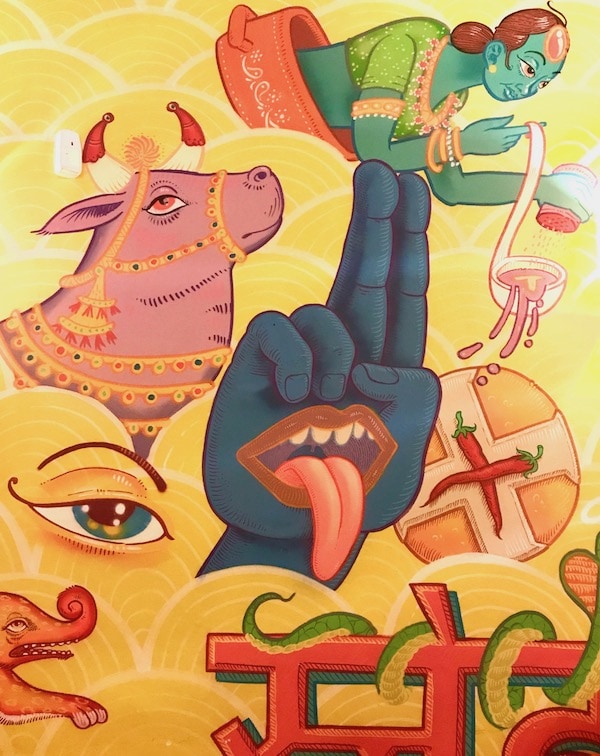 Dinner at Jesus é Goês
Jesus é Goês is a beloved Indian-Portuguese restaurant lauded by everyone from Food + Wine to local Yelpers. Their unique fusion cuisine combines Goan spices and culinary technique with the meats and other traditional ingredients of Portugal. (There is a huge Goan population in Lisbon, as Portugal once colonized this part of India.)
The resulting menu features inspired dishes like short rib curry, sweet and hot spare rib curry, lemon achar, chestnut and mushroom curry, shrimp samosa, bhajipuri, Portuguese paratha, and dessert items like data samosa with lemon cardamom cinnamon ice cream. If you like Indian food, this place is not to be missed. Chef Jesus Lee's food is so delicious it's insane! Also: we love the restaurant's colorful Hindu-Christian murals, above.
Shop at A Vida Portuguesa
A Vida Portuguesa is a beautiful artisanal shop curated by journalist Catarina Portas, who uses her storefronts in Lisbon and Porto to showcase the best artisanal goods made in Portugal. Here you'll find beautiful Portuguese ceramics, charming baskets, nostalgic knits, gorgeous linens, chocolate, soap, olive oil, sardines wrapped in hand illustrated, 1940's-style packaging, wine, jewelry, and everything in between. All products are fabulously designed to "reveal the soul of the country," including the Customs-approved seed packets featuring the native plants of Portugal. If you're the kind of person who appreciates design, food, and small batch artistry, go here. You won't regret it.
Hipster Street Art + Traditional Portuguese Tiles
A ubiquitous aspect of street design in Lisbon are the tiles that paper the facade of most mid-century buildings. Portugal is famous for blue azulejo tiles, but Lisbon in particular puts local creativity on display. Don't miss the Chinoiserie design on the exterior of Viuva Lamego, a local craft store that masterfully captures the art of tile work.
Graffiti is also something of a lifestyle in Lisbon– a city where cool, colorful street art abounds. Artists from all over the world have contributed to the Lisbon's canvas in form of vibrant, larger-than-life murals that catch most viewers by surprise. While we'd be remiss not to suggest that you stroll through Mouraria to see Fado inspired murals, you really just have to keep your eyes open. You can find interesting street art in almost every neighborhood in Lisbon, even if you aren't looking for it.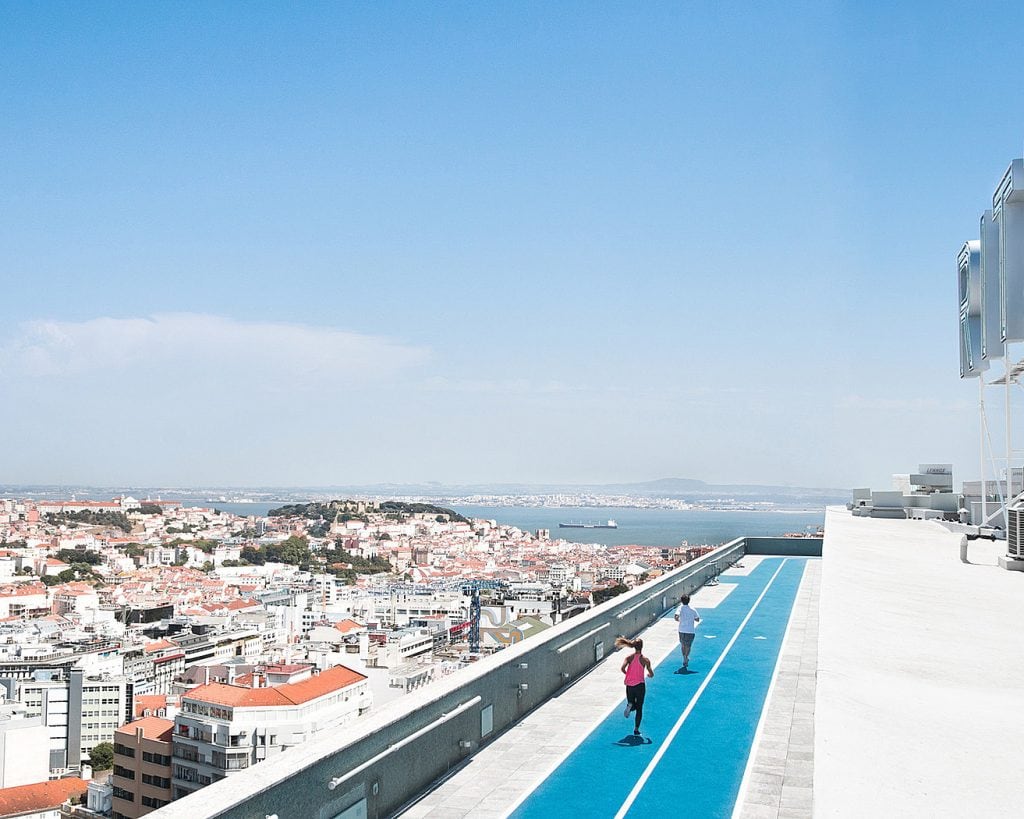 Rooftop Running at Four Seasons Hotel Ritz Lisbon
The Four Seasons Hotel Ritz Lisbon offers Lisbon's only rooftop running track, which boasts gorgeous, sunny views over the city. For those looking for a luxury hotel experience in Lisbon, this is the place to go. We love the euro-chic decor, which includes interior bamboo murals, a luxurious indoor pool, and spacious suites featuring elegant Victorian furniture. Be sure to keep an eye out for bespoke artwork by Portuguese artist José Sobral de Almada Negreiros.
Smell The Jacaranda Trees in the Spring
For most of the summer pink and purple Jacaranda trees are in full bloom all over Lisbon. However, the phenomena really reaches peak wonder in the spring. It's a special, limited-time natural display that's worth photographing (and smelling) if you are lucky enough to be in the city when it is happening. Think of this as Portugal's answer to Japan's Sakura (cherry blossom season). Jacaranda is a beautiful, distinctly Portuguese symbol of spring. And the fragrance is heavenly!
Embaixada
Embaixada is a chic boutique "shopping gallery" housed inside Ribeiro da Cunha, a converted 19th century palace in the trendy Príncipe Real neighborhood. This is an iconic building that's fun to navigate and worth photographing, in addition to shopping. (Architecture, design, and art lovers will LOVE it.) Príncipe Real was recently named one of the coolest neighborhoods in the world, and at Embaixada you'll find a fitting array of "cool" Portuguese brands and designers like A Indústria and Castelbel. There is also lovely cafe dining on site.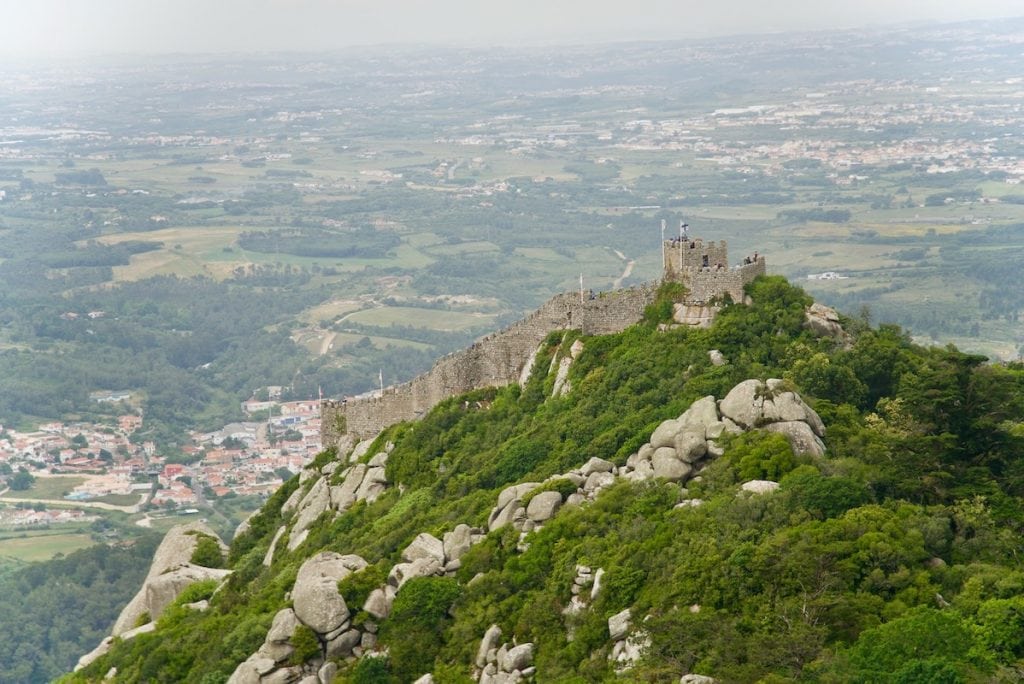 Day Trip Out to Sintra
Sintra is a lush, forested area about 25 minutes outside of Lisbon on the Portuguese Riviera. Defined by cork trees and ubiquitous craggy mountains, it is a beautiful natural escape from the city.
Pena Palace, or "Palácio da Pena" is one of the single most photographed destinations in Portugal. This gorgeous and colorful Lego-like Palace is a must-see if you have time to explore the outskirts of Lisbon. Pena Palace's reputation precedes it, so expect large crowds. Also book a fast access ticket if you can. (I recommend taking an Uber to Pena Palace from Lisbon– it's only about 9 euro, it's easy to call an Uber for your return, and you won't have to worry about parking a car on Sintra's steep, narrow switchbacks.)
Sintra Camellia Garden at Pena Palace
Sintra boasts an amazing camellia garden hidden at the foot of Pena Palace. As a result, most people miss it! Before you enter the fortification, dodge the crowd and follow the signs to the left towards Sintra-Cascais Natural Park. Then, after about ~5 minutes of walking, you'll encounter a garden of colorful camellia cultivars sourced from all over the world. Everything from the stone benches to the central glass greenhouse is overgrown with moss, so the entire place has a very FernGully vibe. A must for plant lovers!
Moorish Castle (Castelo dos Mouros)
The other major palace to visit in Sintra is the Moorish Castle (Castelo dos Mouros). Set on a craggy, forested peak in the Serra De Sintra, this ruinous castle offers beautiful views of the surrounding Portuguese Riviera and the parish of Santa Maria e São Miguel. History buffs will love climbing the crumbling battlements, which bear witness to the historic Islamic presence in the region.
Nau Palatina for Creative Tapas
Nau Palatina is a great restaurant at which to have lunch or dinner before or after visiting the castles of Sintra. A welcoming and cozy crowd pleaser, the restaurant is a local staple, known for its offbeat flavor combinations. Portions in Portugal also tend to be huge, even when food is served tapas-style, as it is here. Keep that in mind, and be sure to order the pork cheeks; these are not your mama's tapas!
Cervejaria Ramiro
Cervejaria Ramiro is the undeniably the best seafood restaurant in Lisbon, as judged by critics including Anthony Bourdain, who featured it on Parts Unknown a few years before his death. The menu includes local delicacies gigantic Tiger prawns, lobster, classic clams in garlic, and "percebes" (goose barnacles). Affectionately known as simply "Ramiro," this is one Lisbon hot spot where locals and tourists co-mingle. Best of all: it's very casual, so you can come as you are.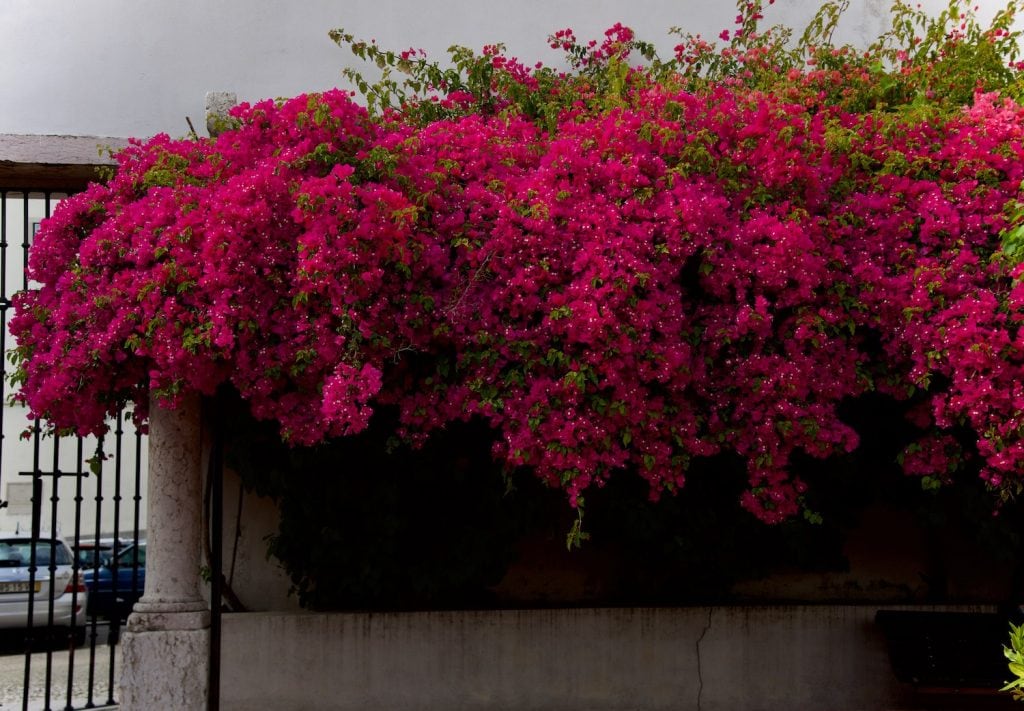 Marvel at the Epic Bougainvillea
Bougainvillea is a flowering vine commonly associated with the Mediterranean, Latin and South America, and the Iberian peninsula. Synonymous with warm weather, this beautiful symbol of spring grows in giant explosive tufts of purple, white, pink, magenta, orange, and yellow. As a result, Bougainvillea is one of the most photographed plants in the world– largely because it thrives in the best vacation destinations. Lisbon has a particularly rich climate for bougainvillea (mild temps and coastal sun) so be sure to look for it when you're walking around the city. Most Lisbon travel guides fail to mention this flowering shrub specifically. However, bougainvillea is a defining symbol of the city's charm.
Check Out The Futuristic Train Station
The Lisbon Train station is truly an architectural marvel. It looks like an ice castle crossed with a spaceship! The Rail Europe Train is also the best and most efficient way to travel to nearby cities like Porto, Portugal, which is absolutely worth the visit if you have time to tack it on. Otherwise, be sure to stop and awe as you arrive or depart the city.
Shopping in Bairro Alto
No Lisbon travel guide would be complete without specific mention of shopping in Bairro Alto. Bairro Alto is one of Lisbon's most fashionable neighborhoods, home to Cork & Co (a great place to pick up beautifully crafted souvenirs), Claus Porto (fabulous soup), Embaixada and A Vida Portuguesa (both described above) and many other stylish local boutiques. Can't-miss restaurants in the area include Restaurante Alfaia (great wine; classic Portuguese fare; fancy) and A Flor da Laranja, an exceedingly cosy authentic Moroccan joint that is a great value for the price.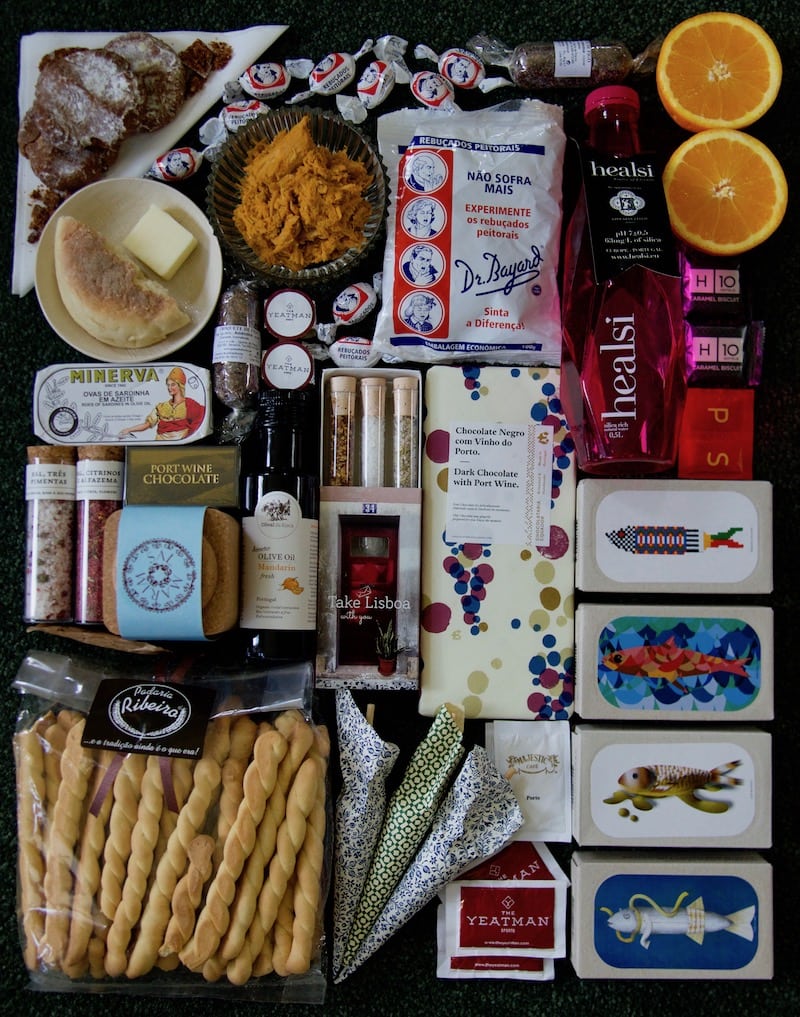 What To Buy
The above Taste of Portugal food graphic illustrates the major food items you should look for in Portugal.
Be sure to buy a few TSA-sized bottles of Piri-piri sauce. We love Quinta d'Avo's Piripiri Com Alho (Garlic piri-piri sauce), which is great on eggs, avocados, sammies, and soft cheeses. (There is also a spicier version that people who are really into hot sauce love.) Also be sure look for local orange-infused olive oil, sardines, sea salt from Algarve, port-wine infused chocolate, ginjinha (a bright red Portuguese liquor made by infusing ginja berries in alcohol), local sea salt, healsi brand silica water, dried fig pâté (sort of like a chocolate truffle but made of fig paste), and fresh loquats (available in the summer).
As far as non-edible souvenirs go, Portugal is a great place to buy leather goods and cork products. Local artisans sell everything from cork notebooks to cork purses. Also be on the lookout for Jacaranda-scented soap, lotion, and other body products. (Benamor makes a lovely Jacaranda-scented hand cream that you can find at A Vida Portuguesa.)
Decorative Portuguese tiles and blue Azulejo-inspired ceramics are also distinct to the region. Swallows (the bird) are an unofficial symbol of Portugal, associated with the concept of home. As a result, you'll see them cast in sculpture, jewelry, textiles, and pottery.
While shopping, you also might come across various penis figurines. Yes, penis figurines: a Portuguese tradition whose origin is cheekily vague.(Supposedly, artists in the last century used penises as a symbol to rebel against the Catholic Church of Portugal. Today, penis-themed trinkets sell at various markets around Portugal. Examples include Penis hats, penis paperweights whittled out of wood, and penis key chains. We even saw a loaf of bread baked in the shape of a penis! This also explains some of the penis-themed graffiti you might see around Lisbon. So yeah: Don't say we didn't warn you. 🙂
***
Love this Lisbon Travel Guide? Then you'll really love our bespoke Santorini Travel Guide.