This juniper glazed walnut shortbread cookie recipe might just be the perfect winter digestif. The cookie itself is not too sweet, paired with a sweet, herbaceous juniper glaze. Because juniper reminisces of pine and is super wintery, it's a favorite among mixologists, who often use it in cold-weather cocktails.
Here, we developed this delicious crumbly cookie recipe after posing ourselves with the question: What can we do with all these extra juniper berries? (We had some extra lying around after experimenting with a savory lamb recipe that didn't go so well…)
The result ended up being an amazingly creative holiday cookie with a silky, flavorful glaze.
Juniper, which is used to make gin, is a powerful antioxidant that is great for kidney health and digestive health.
This peppery, floral berry is also a good source of Vitamin C, and is naturally anti-inflammatory. Overall, Juniper is said to have a mildly cleansing effect on the body, which is great for a season when people are usually eating and drinking lots of rich food.
Most people use juniper berries to season meat like lamb, duck, or pork chops. Then, they have half a jar of juniper berries lying around that rarely get used. This holiday season, why not make a multitasking dessert?
Enter: these Juniper Glazed Walnut Shortbread Cookies, a sweet digestif that's great for holiday gatherings. The juniper that's infused into the glaze screams "WINTER!" as it adds a sweet, herbaceous kick to this otherwise simple, buttery cookie. The balance is divine, especially if you like complex flavors and cookies that aren't overly sweet.
Topped with a sprig of mint, each cookie can be eaten in one bite, sort of like a canapé. This way, you get all the flavors at once– and you can justify eating three of them. 🙂
Enjoy!
***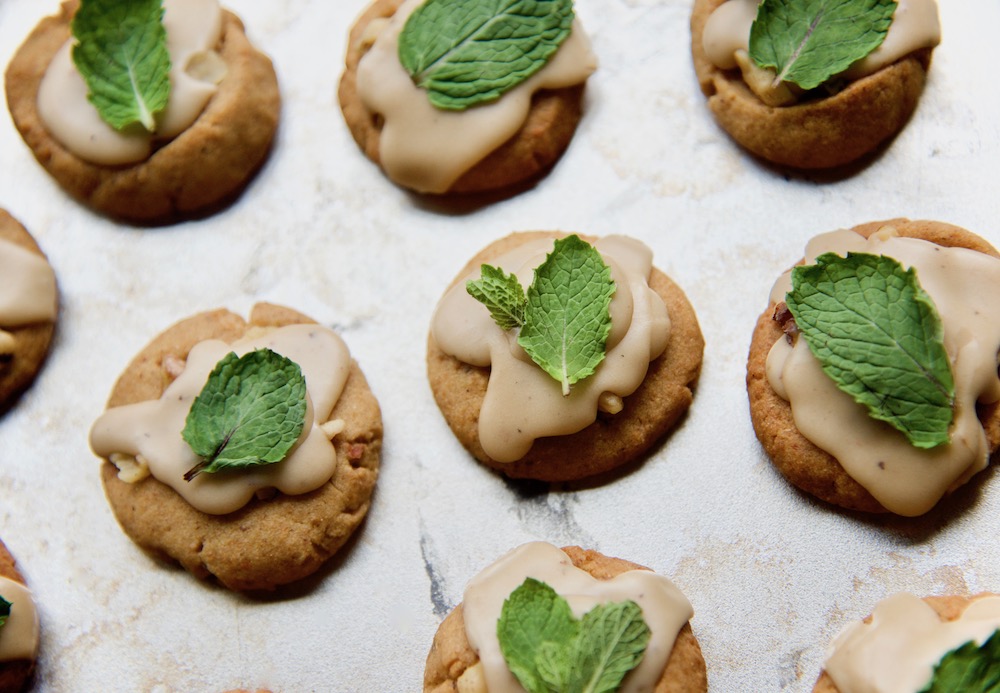 Juniper Glazed Walnut Shortbread Cookie Recipe
Dough
3/4 cups salted butter (aka 1.5 sticks)
1/3 cup + 2 tablespoons honey
1 teaspoon vanilla extract
1/3 cup finely chopped walnuts
3/4 cup wheat flour
1 cup regular flour
Glaze
3/4 cup almond milk
1/3 cup juniper berries
2 cups powdered sugar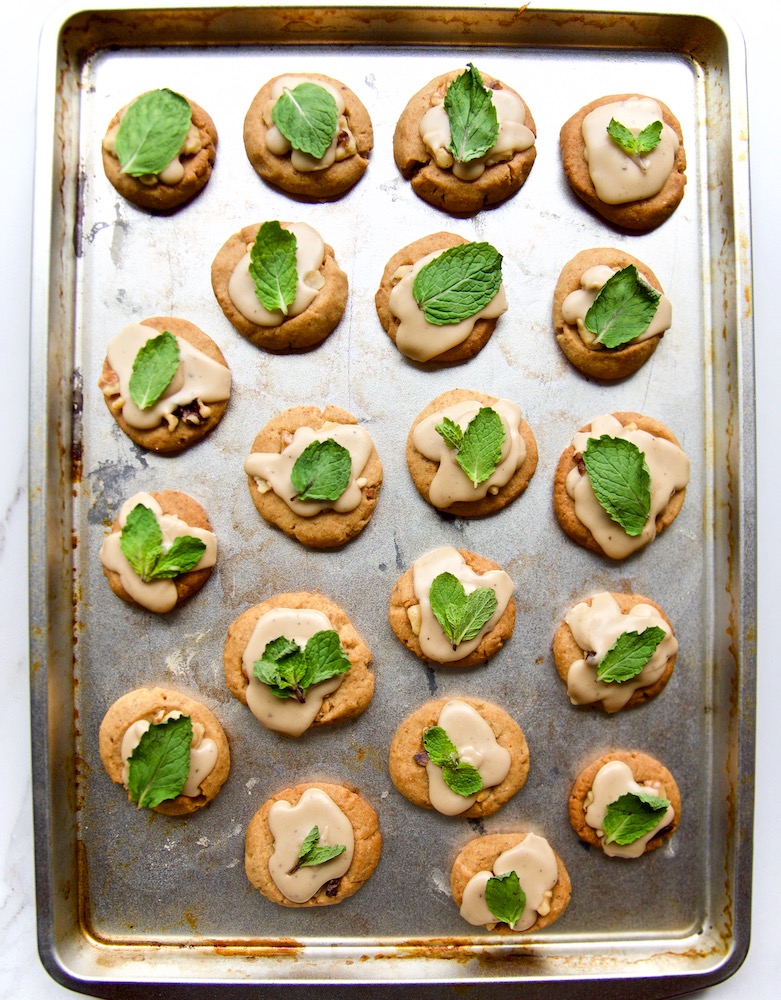 Instructions
Bring almond milk and juniper to a simmer and cook for 3-5 minutes. Cool, and refrigerate for at least 5 hours (overnight works, too).
To make the shortbread, cream butter, honey and vanilla extract. Then, add the flours and walnuts and mix until well combined. Refrigerate dough for at least 1 hour.
Preheat oven to 325 degrees F. Remove dough from fridge and roll into quarter-size balls, flatten, and press a thumbprint in the center. Place on 2 un-greased cookie sheets, 1 inch apart. Press a few chopped walnuts into each thumbprint.
Bake cookies for 16 to 18 minutes at 325 degrees F or until slightly browned. Remove from oven and allow them to cool on the pans.
While the cookies cool, make the glaze. Strain the cold juniper/almond milk mixture to remove crushed juniper berries. Flecks that look like vanilla bean are ok. Slowly whisk the powdered sugar into the strained liquid until it reaches a glassy, glaze-like consistency (it should look like something that could be the coating on a frosted doughnut).
Using a spoon, dollop about ~1/2 teaspoon of glaze on top of each shortbread, allowing the glaze to run down the sides. Garnish with mint leaf (optional) and set aside so that the glaze can harden for about 30 minutes. After ~30 minutes, remove the cookies from the tray. Sprinkle with powdered sugar and voilà! A beautiful, festive cookie that looks and tastes like winter.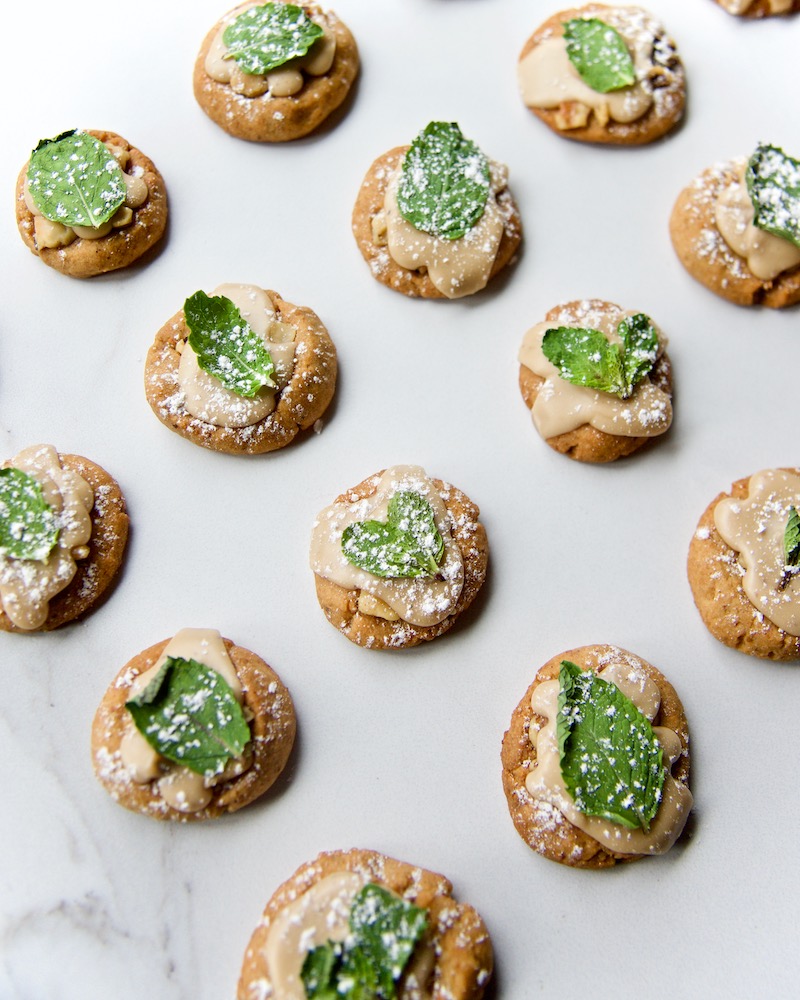 Notes
This cookie tastes like Christmas! And it can be made gluten-free as long as you use a one-to-one gluten-free flour substitute for both flours. Shortbread is a crumblier cookie by nature, so it can be easily adapted to serve gluten sensitivities (gluten-free flour is often less "sticky" because it doesn't contain gluten, the protein that makes flour products fluffy).
This juniper berry glaze works wonderfully as a topping for gingerbread cookies and gingerbread houses, as well.
Random fact: Juniper, like oysters, is considered an aphrodisiac. (Don't say we didn't warn you if you bring these to a holiday party.)
***
Related: Looking for more holiday cookie recipes? Try making Meryl Streep's Pistachio Rose Shortbread (which is based on Meryl's own family cookie recipe!), Natalie Portman's Vegan Hamantaschen, Ted Lasso's Iconic Shortbread "Biscuits" or these Best-Ever Peanut Butter Cookies.
Or, skip the cookies entirely and make this Easy Acorn Squash Pie. (<– The crust is so good!)