Joshua Tree, California is a quirky desert community in Southern California that has garnered attention as a relaxing travel destination because of its beautiful desert landscape and quirky, off-grid bohemian vibes.
Specifically, people come here to visit Joshua Tree National Park– a majestic, otherworldly landscape where the Mojave and Sonoran deserts meet. This alluring hybrid climate fosters the growth of a charming, alien-like tree called the Joshua Tree, Yucca brevifolia, which dots the iconic landscape along with yuccas and other desert shrubs. (See pictures, above and below.)
Ultimately, this notable member of the agave family looks– to quote the National Park Service– like something "straight out of a Dr. Suess book", which is largely the appeal. And with over 800,000 acres to explore, there are plenty of rocks to climb, expanses to wander, and hidden picnic areas to explore within the park, as well.
As a result, you could easily spend a weekend communing with nature in various corners of the park, which is fun to drive around and explore throughout the day.
April and May are the best times of year to visit the desert, according to locals and insiders, but the park can also be nice to explore in winter, when fewer people are around and daytime temperatures rarely exceed 60-70 degrees F. (Just be sure to dress in layers, as the sun can be penetrating even when it's cooler.)
Either way, no matter when you visit, the town of Joshua Tree itself, though small, is also worth exploring– especially if you're looking for a place to unplug. Like most desert communities in Southern California, there's plenty of quirk, kitsch, church-y Americana, and enduringly hippy vibes. The pace of life here is refreshingly slow, and it reveals itself graciously.
Below, we spotlight some fun local experiences you shouldn't miss when visiting Joshua Tree– including local landmarks, where to eat, coffee, quirky curiosities, and a handful of cool, truly unique places to stay. Bookmark this list for easy reference later.
Enjoy your trip!
***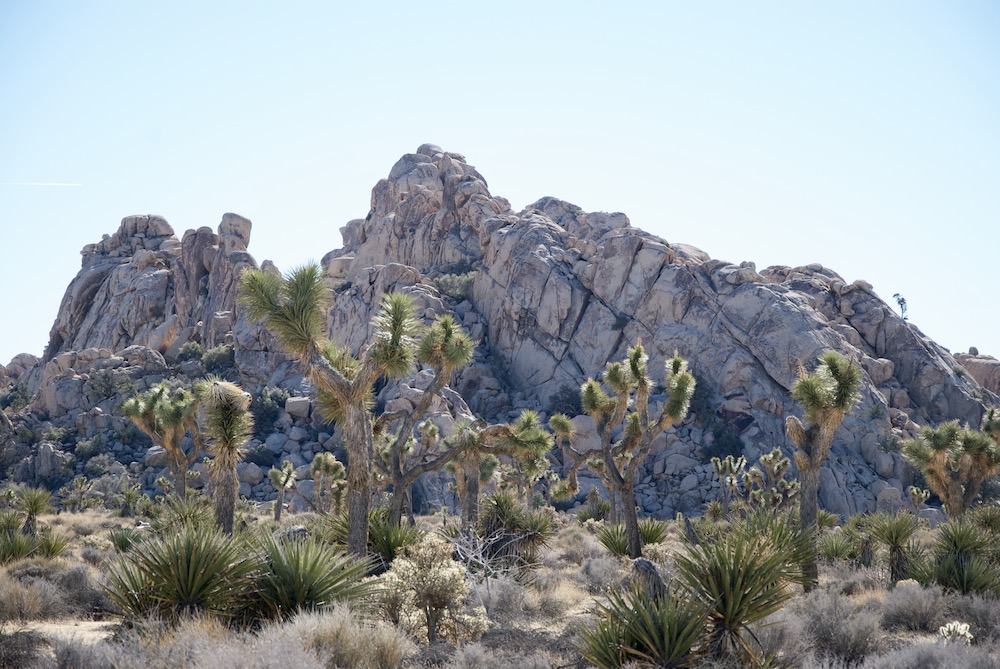 Explore Joshua Tree National Park (Of Course!)
Joshua Tree National Park is the iconic, serenely mystical desert landscape that Joshua Tree is known for. Spiky, alien-like Joshua Trees, aka Yucca brevifolia, are a member of the agave family that look, to quote the National Park Service, like something "straight out of a Dr. Suess book".
The park includes over 800,000 acres of mystical, mercurial desert landscape that looks straight out of another planet (or a Star Wars movie). (It's larger than the state of Rhode Island!)
Because it's only about an hour from Palm Springs and about 2 hours and 15 minutes from LA, Joshua Tree does garner a lot of daytrippers. But, for the best experience, or to see sunrise or sunset over the golden landscape, it's ideal to stay nearby. (Our recommendations for accommodation in Joshua Tree are below.)
Ultimately, in addition to sightseeing and hiking, there are also ample opportunities for rock climbing in the park, which range in difficulty from "climbable even if you're wearing flip-flops" to "you're gunna need a harness and some climbing gloves to scale this bad boy".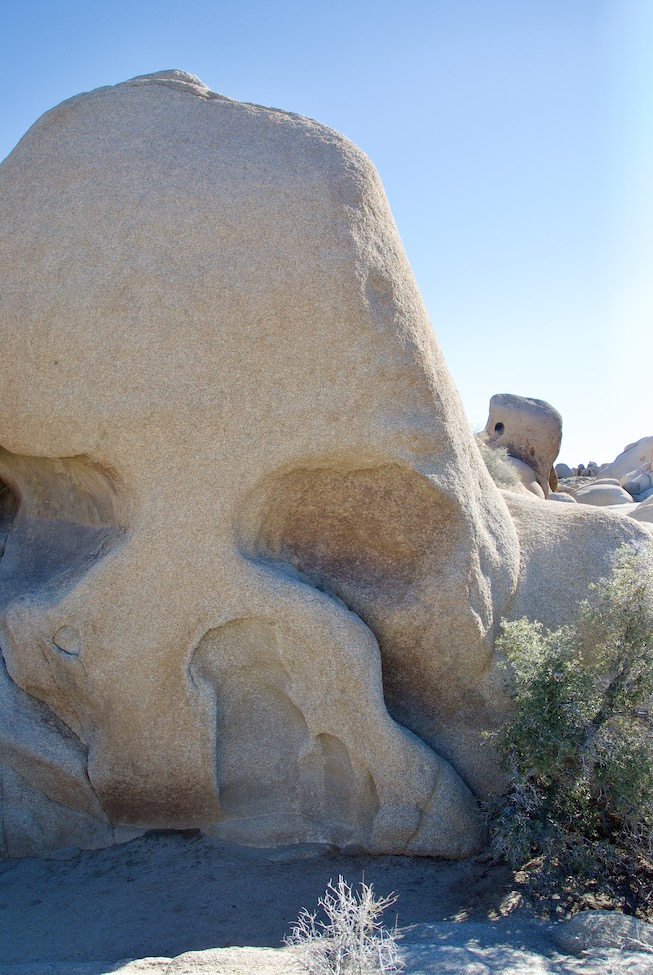 While the park is mostly known for its trees, the rock formations at the park are also worth exploring.
For example, Skull Rock, so named because it looks like a giant skull, is a notable park landmark (see image above). Located along the main east-west park road, it's easy to spot from the car and there's an obvious parking spot across the street, for those seeking a photo op.
Wandering among and climbing over these buttery, cubic rock formations is a whimsical counterpoint to standing in awe under spiky trees. Occasionally, you can find hidden picnic tables under arched bows in the shadow of the park's major rocky outcrops, which take all different shapes and forms.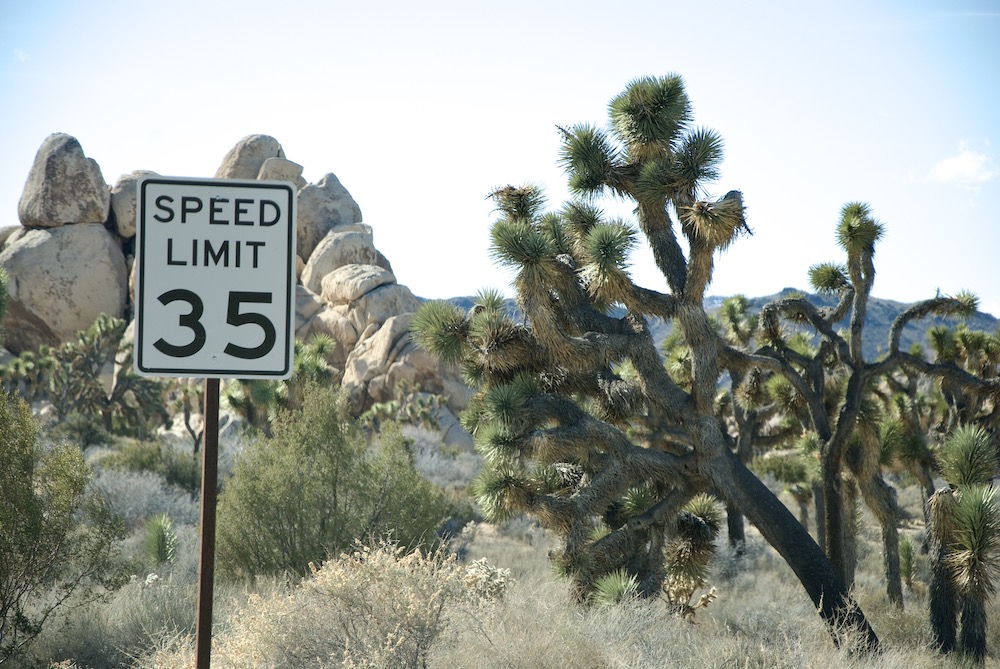 Finally, be sure to bring water, no matter what time of year you visit. This is the desert, after all, and Joshua Tree National Park is famous for showcasing plants that thrive in conditions that exceed 100 degrees F.
Tread carefully, but also: just have fun! And of course: be respectful of this beautiful landscape. It should go without saying that any trash you bring in, you must bring out. Don't vandalize the rocks or harm the trees. Keep this ethereal place intact for others to enjoy– we are lucky to have it.
Ultimately, so much of the magic is just driving around and getting lost, periodically venturing out into the landscape, and feeling like you could just run away into the beautiful wilderness. Joshua Tree is a really magical place– there is no wrong way to explore it!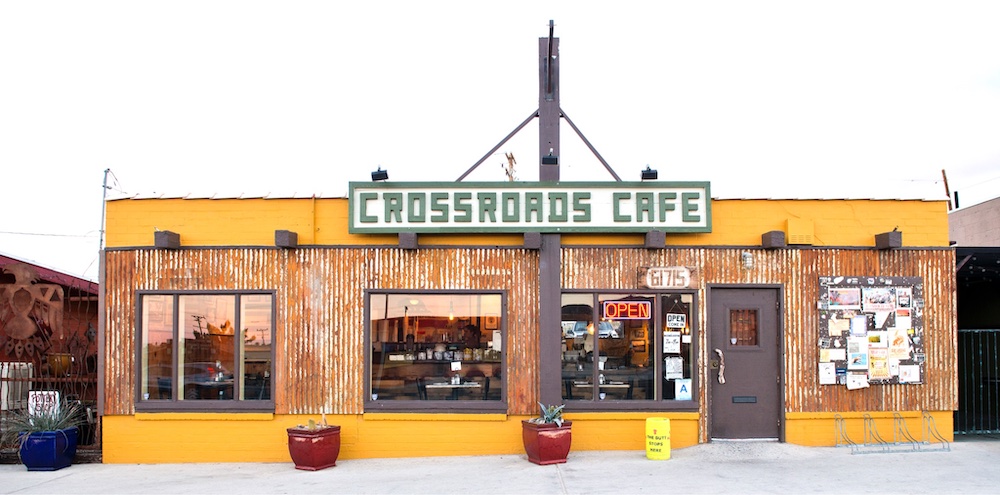 Coffee + Breakfast at Crossroads Cafe
Crossroads Cafe is a classic Joshua Tree diner that's a perfect spot to grab breakfast, coffee, or brunch before or after exploring the park.
Here, you can expect to find all the classic SoCal brunch staples– like build-your-own omelets (+vegan options!), huevos rancheros, breakfast burritos, ahi-tuna tacos, and sourdough french toast– alongside heartier diner fair like country style breakfast plates, biscuits n' gravy, and chili cheese fries.
The coffee is strong, the salads are also surprisingly good, and we love that egg dishes come with optional sides of cornbread and/or banana bread.
Mostly, though, we love the quirky vibe of this classic Joshua Tree diner, which is full of homey stained wood paneling and subtly weird decor (like a taxidermied bobcat wearing a felt reindeer antler headband). You get the idea. Come hungry!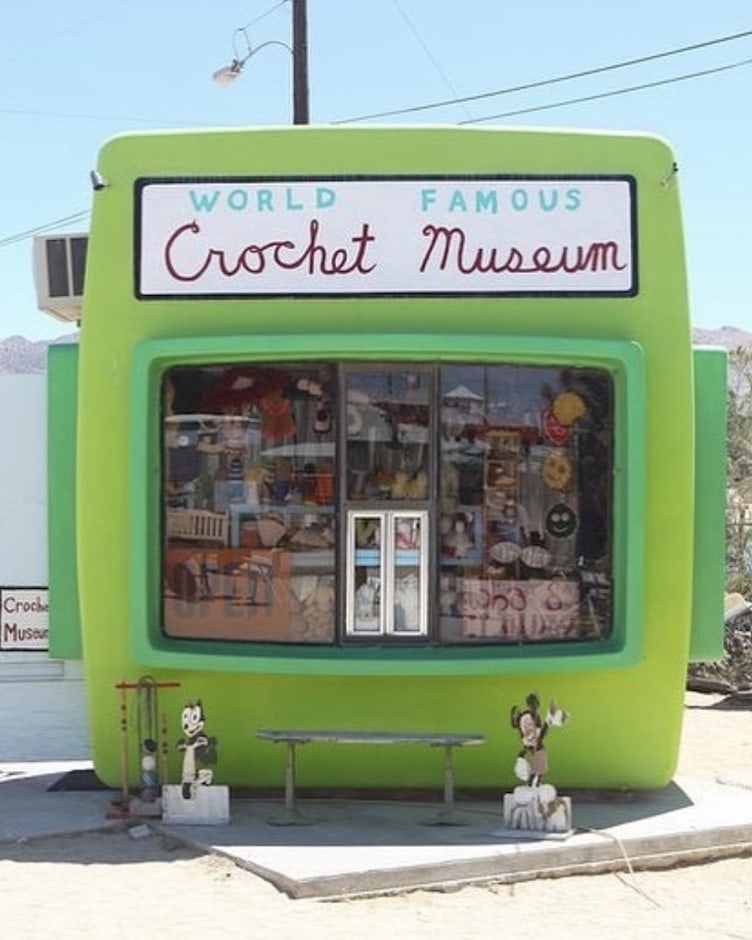 Visit The Crochet Museum
The World Famous Crochet Museum is a quirky local fixture located just past the JTree Saloon (an Old West Style bar & grill that's famous for its fish tacos).
As the name suggests, this roadside attraction features crocheted items (mostly animals and other themed ephemera) that the curator, Shari, collects. Ultimately, it's small, but it's starkly photographable.
Think of it like the Prada Museum in Marfa, Texas, only… more grandma-ish. That's Joshua Tree for you.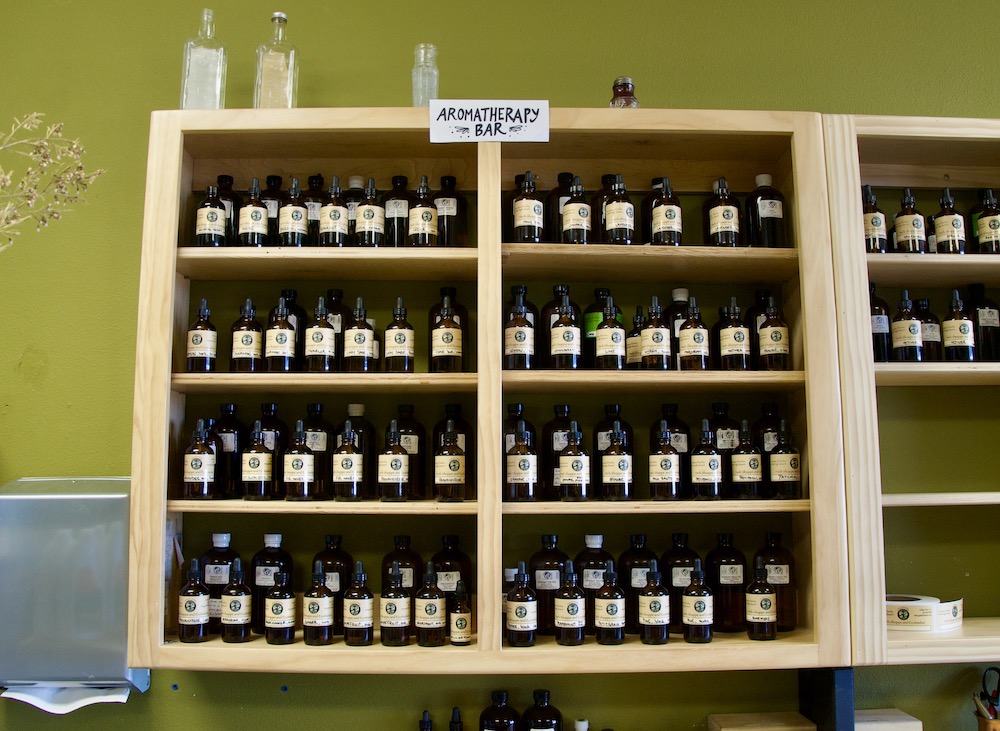 Explore Grateful Desert Herb Shoppe and EcoMarket (Ft. Jenny Q's Herbals)
Grateful Desert is a local apothecary, herb shop, and eco market that perfectly captures the sort of freeform, dare I say "woo woo" spirit of the greater Joshua Tree community.
This is a great place to shop for crunchy food and wellness curiosities like sprouted local sunflower seeds, durango smoked sea salt, various kinds of infused chocolate (CBD, adaptogens, etc), geranium face oil, and the like. Most of the products are locally-made and there's a strong skew towards holistic medicine.
If you're a locavore, small business supporter, or someone who's really into mysticism, aromatherapy, and healing– three very Joshua Tree things!– then be sure to stop by. This is a great place to buy unique local souvenirs.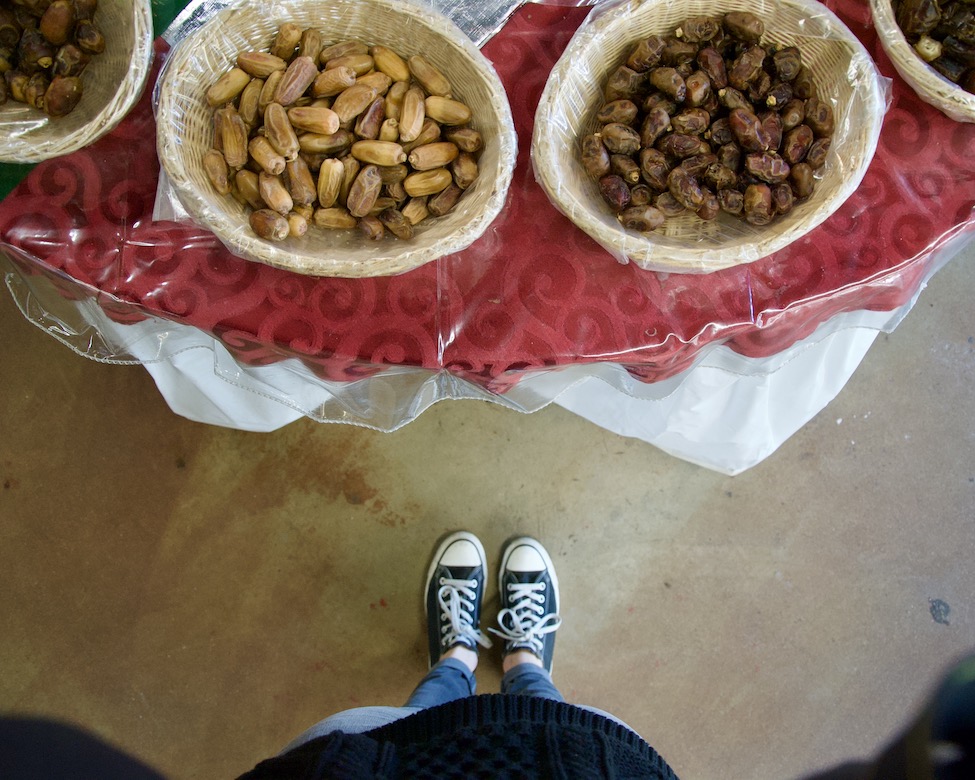 Buy Some Local Dates (& Other Foodie Things)
Some of the best, most succulent dates grown in America hail from Indio and the Coachella valley, immediately adjacent to Joshua Tree. As a result, buying fresh local dates in Joshua Tree can be a lovely experience, albeit one that will sour you from ever buying dates at a regular grocery store ever again. They are so moist and fresh here!
Look for fresh dates at the Joshua Tree Farmers Market (Saturdays 8 AM to 1 PM), or try any of the local grocery stores in town. Holistic Ranch Grocer is a cool spot with lovely sustainable/biodynamic/organic products and sundries. Joshua Tree Health Foods, meanwhile, is another reliable choice.
Ultimately, if you purchase local dates in Joshua Tree, you won't be disappointed. (They are the best out here, grown in the hi-desert with a unique terroir.)
If you feel inspired, make what I call a "California Truffle"– a high-quality, creamy date with gob of peanut butter on top and a sprinkle of Himalayan pink salt. It's amazing– a lovely, healthy California dessert from the desert. The best!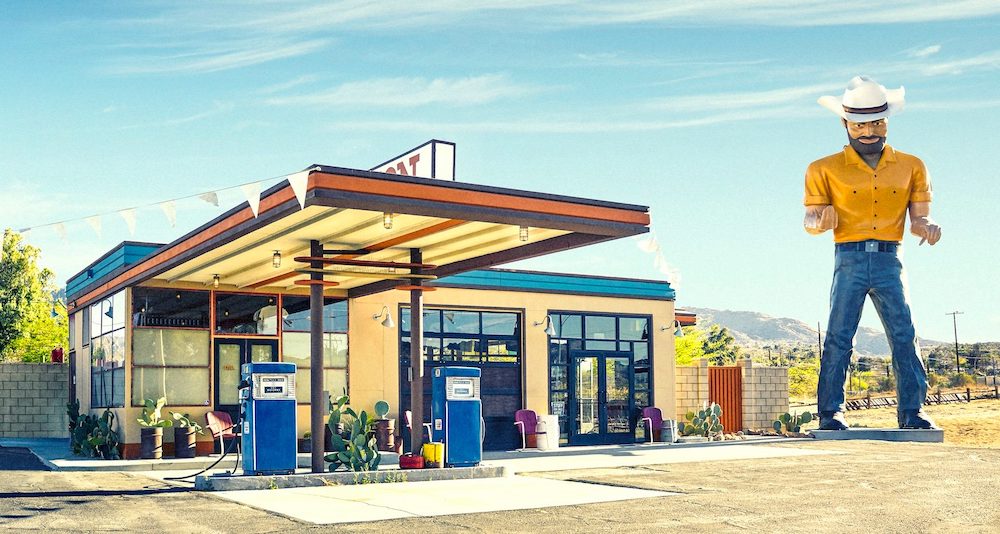 Shop For Quirky Tchotchkes & More at The Station (& Beyond!)
Joshua Tree is a region known for its quirky roadside curiosities and small businesses. The Station is no exception. (Just look for the 20-foot cowboy out front and you'll know you're in the right place.)
Here, you can shop for quirky tchotchkes, ceramics, hats, and other ephemera that feels both artsy and irreverent. This is a great hipster place to shop for souvenirs and trendy objet. Basically, you can't really explain it on the internet. You kind of just have to go and wander, with no particular aim in mind.
Some other cool local places to shop: Acme 5 Lifestyle (great for midcentury modern furniture and design wares), Hi-Desert Daydream (for stylish artisan goods, from candles to chocolate and beyond), and Funky and Darn Near New (a funky desert vintage shop). Enjoy getting weird!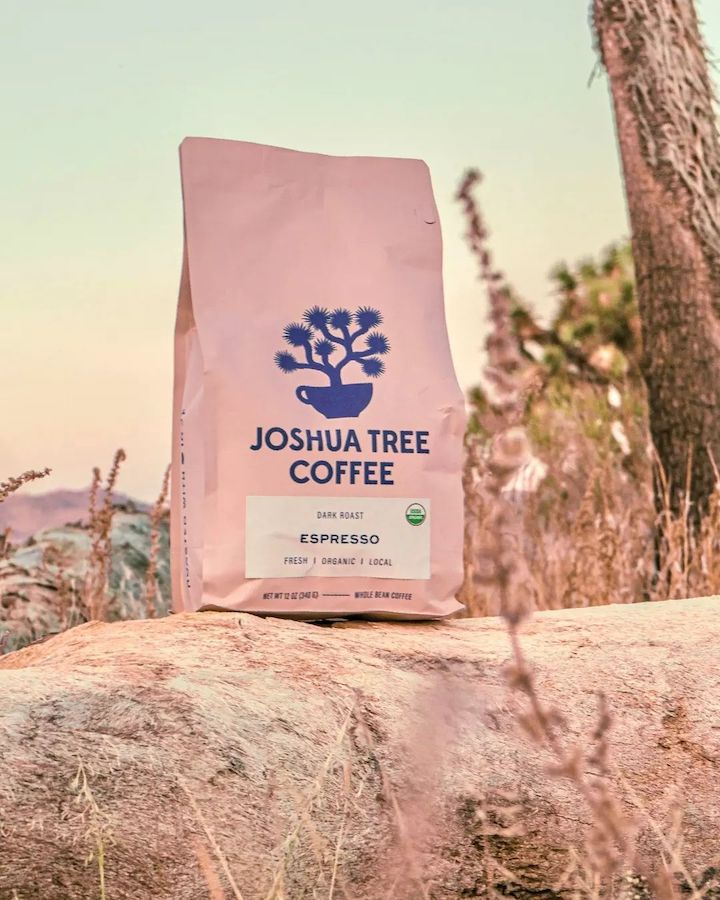 Get Some Joshua Tree Coffee
While making your way about town, make a quick stop at Joshua Tree Coffee Company to pick up our favorite souvenir: Joshua Tree Coffee, a lovely organic local product. (They also sell at the Joshua Tree Farmers Market on Saturdays.)
This organic, locally-roasted line of boutique coffee is small-batch roasted "in the extremes of the Mojave desert" to reflect the rustic restorative quality of this tight-knit community. In addition to supporting organic farmers through their sourcing, they work to raise awareness about the damage caused by pesticides used on 91% of the world's coffee crops. (Which is why they will never use non-organic beans.)
Plus, we just love the signature light-pink coffee bags. They also sell cute, custom-made enamel mugs, hats, steel water bottles, and the like, all with the same iconic Joshua Tree logo.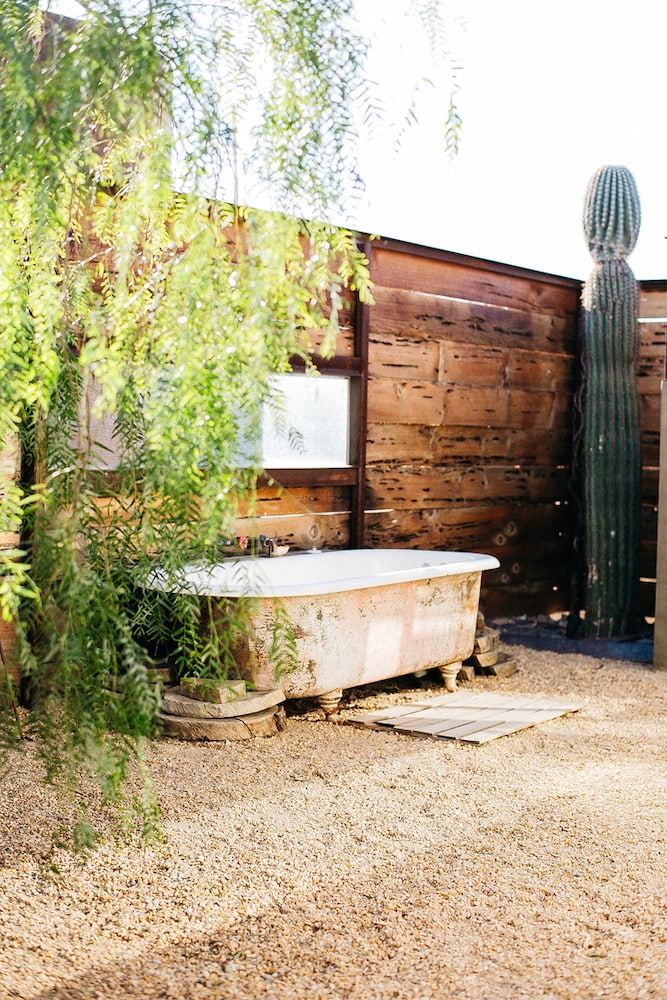 Some Cool Local Places To Stay in Joshua Tree
Fun places to stay in and around Joshua Tree, for every taste and budget.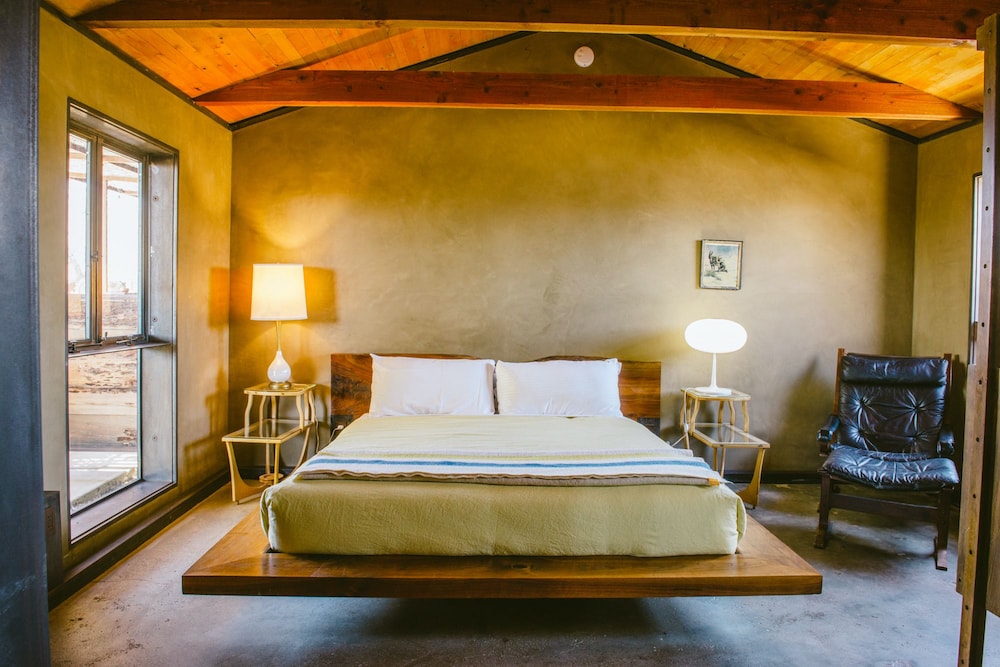 Mojave Sands Motel
Mojave Sands Motel is such a cute, quirky spot! The motel was originally built in 1952 and sits just minutes outside of the Joshua Tree National Park entrance and downtown Joshua Tree.
Today, the property features five individually-designed rooms with a communal courtyard, outdoor BBQ, and an open-air seating area full of native desert plants (there's even a koi pond!). Because the rooms are seamlessly integrated, the motel has a very social, community feel. The rooms aren't huge, but the vibe is very "minimalist-ranch-meets-industrial-adobe"– a classic Joshua Tree look.
Other than that, the space is comfortable, clean, and uncluttered. You get the idea.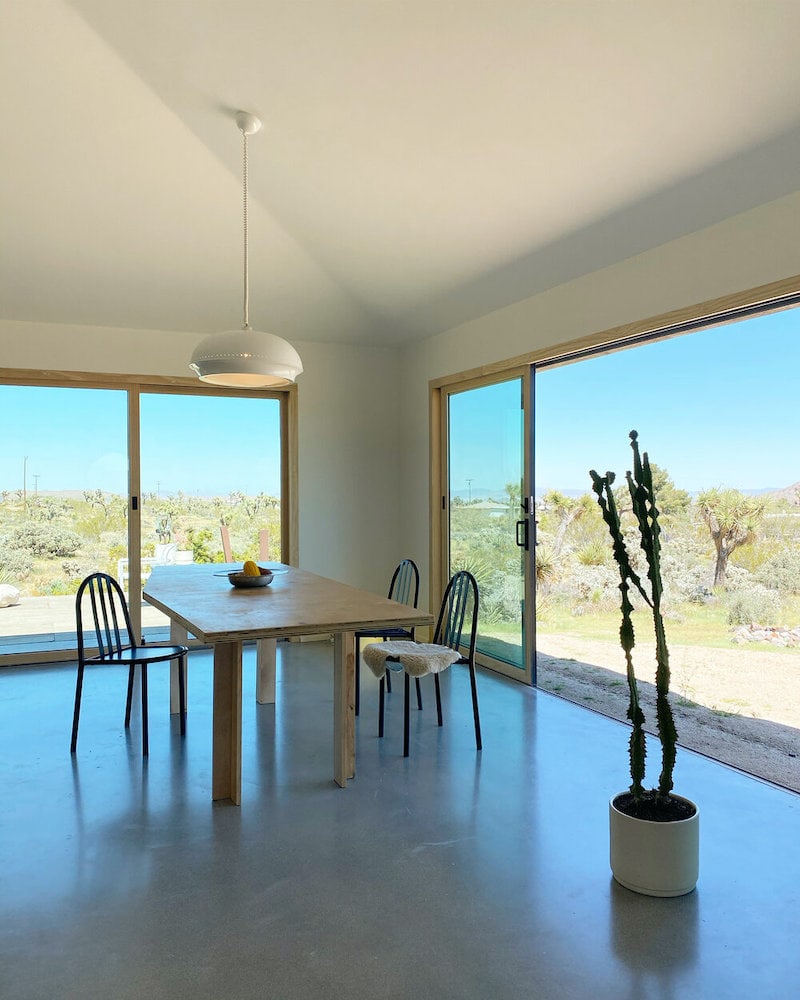 Yucca Hut
Yucca Hut is a gorgeous vacation home rental in the hi-desert of Yucca Valley, neighboring Joshua Tree National Park. This stylish abode feels like it took design cues from Amangiri, marrying smooth architectural lines with the functional charm (and modern, airy kitchen!) of an LA guesthouse.
Ultimately, this rental home can accommodate a max of 5 guests, with 2 bedrooms, 2 beds, and 1 bath. We love the gorgeous outdoor shower and hot tub, and the fact that there's reliable WiFi and plenty of outdoor lounge space, ideal for remote working.
Check availability on AirBnB here.
Joshua Tree Acres
Joshua Tree Acres is an artist's retreat on 10 acres with vintage airstreams and unique dwellings. Their cheeky open-air bathtubs and palatial desert pool are very photogenic, reminiscing of both Marfa and rural Utah at the same time.
This is peak desert iconography for those who want to stay in hipster, minimalist digs. Ultimately, airstreams are not as accommodating as hotels or rental homes (especially when it comes to ventilation) but it is an iconic desert sleeping experience.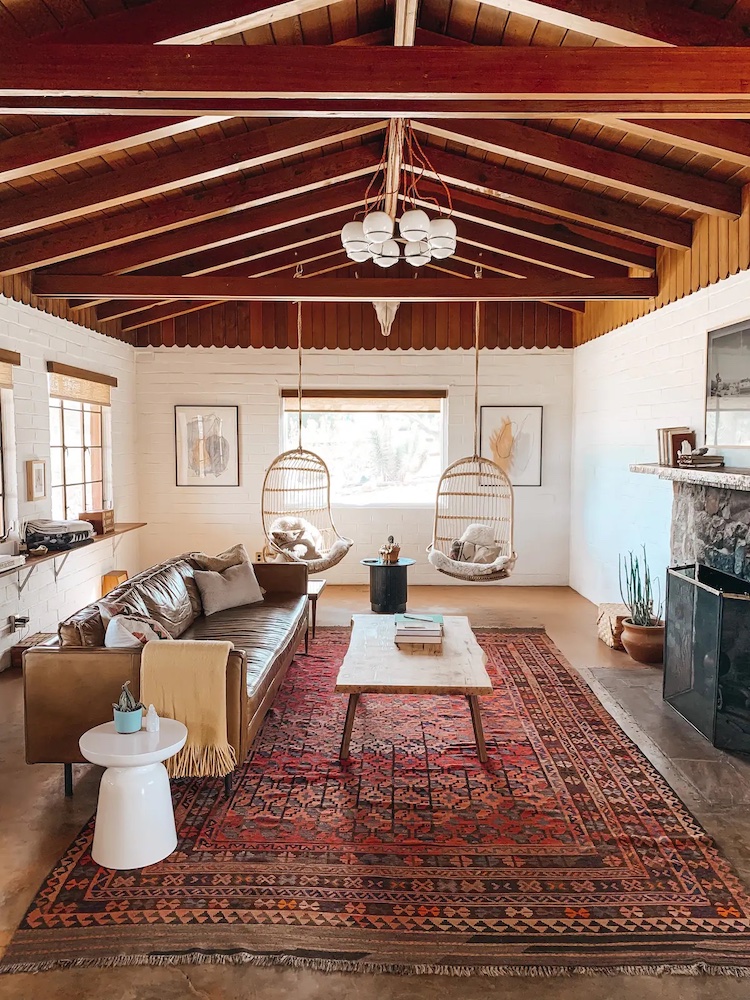 The Joshua Tree House
The Joshua Tree House by Sara & Rich Combs is a renovated 1949 hacienda that's a nice, quiet place to "reflect, reset, and create" in Joshua Tree. The house sleeps six and has two beds and two baths.
Downtown Joshua Tree is a 10-minute walk away, which makes it easy to explore restaurants and shops on foot. (However, you can hear some highway noise in the distance as a result.)
Other than that, the kitchen is fully stocked, the house is wifi equipped, and there's a drip coffee maker, a record player, a cowboy pool, and jacuzzi.
Best of all, it's a 10-minute drive from the west entrance of Joshua Tree National Park. And because of this, the property itself is surrounded by over 100 Joshua trees which look beautiful from the hot tub under a starry night sky. Perfect in every way. 🙂
***
Related: A Behind-The-Scenes Look at Ojo Santa Fe, the Coolest Desert Retreat in New Mexico.