Goat yoga is a beautiful new wellness trend that's taking off among animal lovers and self-care acolytes in America– especially those who love novel experiences.
One of the best places to try this bucket list experience in Northern Virginia is with Beth Wolfe, a trauma-informed yoga practitioner who offers lovely animal yoga classes to support various charities. Her goat yoga events typically take place in DC-adjacent areas like Arlington, Alexandria, and Del Rey.
Goat yoga, moreover, is exactly what it sounds like. You practice some gentle yoga poses while local baby goats run around and, occasionally, jump up on your back. It's light on the yoga and heavy on the play, and ideal for animal lovers looking for photo ops.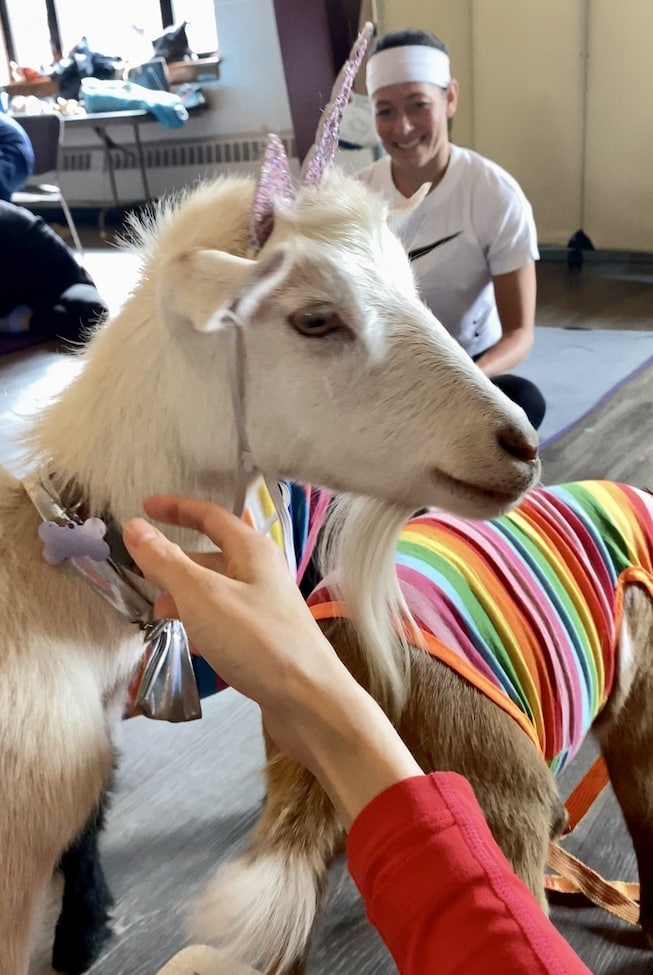 The "Goatsperience": What To Expect
In addition to teaching group and private classes in Arlington and Alexandria, Beth's warm, welcoming approach to goat yoga makes this "goatsperience" all the more memorable. (And true goat yoga experiences like this are hard to find in urban areas, unless you're somewhere like Maui!)
Group goat yoga classes, moreover, are a real community affair. Instructors like Beth typically stop and comment on the goat's often cheeky, always unpredictable behavior in between calling out yoga poses. As a result, the class is casual and filled with laughter.
Ideally, you'll get in a few light stretches and lots of intimate time with the goats– which is why these animal workshops are welcome to people of all ages, backgrounds, and fitness levels. Kids and yoga newbies are welcome!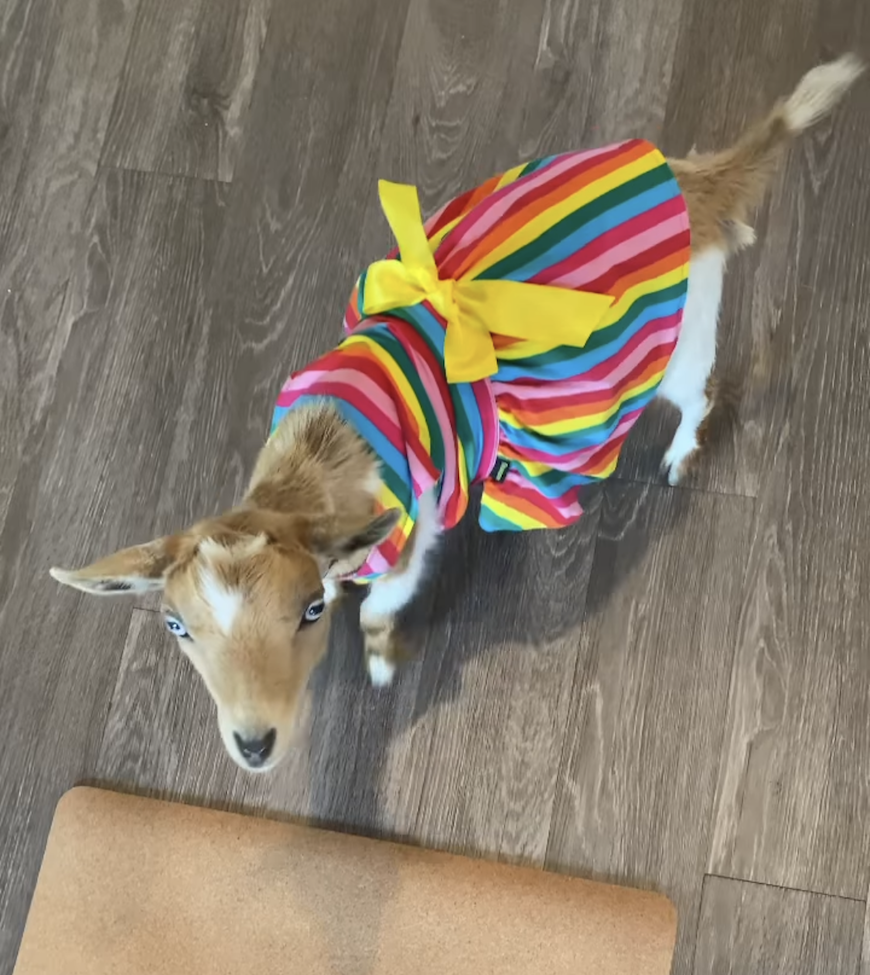 All goat yoga events are typically Bring Your Own Mat. (And keep in mind that goats can sometimes pee or have accidents, so make sure you're not too precious about the mat and clothes that you bring.)
At a recent goat yoga event in Arlington, the farm that supplies the goats even brought farm-raised eggs for sale after the class! The whole experience was lovely.
There's also plenty of punny, goat-themed yoga attire for sale, so each event tends to feel really convivial. Hosts of these kids of events are very self-aware. This is the kind of novel experience that could only take off because of word-of-mouth and the Internet.
Best of all, the funding from these pop-ups usually goes to support community charities and life-saving organizations like The Trevor Project. See the image, below, when the goats were dressed up for Pride Month. Cute, right?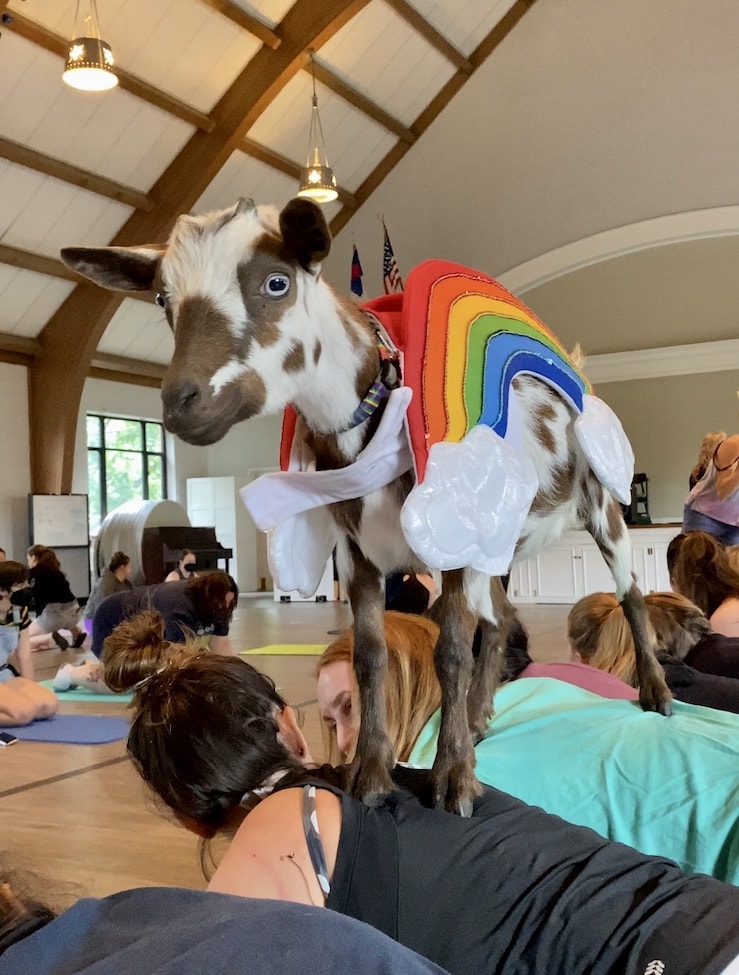 Goat Yoga in Alexandria, Arlington, and DC
Ultimately, this is a super unique experience that's worth booking ahead of time. (These events are limited capacity and can fill up quickly.)
Check the events page for a look at upcoming pop-ups and other goat-related programming.
Beth also offers unique events like BINGOAT (bingo + goats!), yoga with puppies, and yoga inside the National Building Museum. Northern Virginia and DC folks: check her out!
Read more about Beth and trauma-informed yoga, here.
***
Related: 15 Delightful, Eco-Friendly Yoga Essentials.
Related Experiences: Looking for other cool, novel things to do in Northern Virginia? Try Digging-Your-Own Peanuts at This Beautiful Northern Virginia Farm. Or, check out the area's best places to go apple picking, pumpkin picking, peach picking, and more in our guide to the 15 Coolest Things to Do in Northern Virginia.