If you're looking for an amazing birthday cake in Austin, Texas, you've come to the right place. The capital city of Texas is increasingly considered one of the best culinary cities in America, and this is exceedingly true when it comes to bakeries.
While Austin is more well known for its tacos and BBQ, you can also find a wide range of specialty cake makers who craft everything from tasty, traditional birthday cakes to south-of-the-border twists on the trope. Some of them are a little hipster– this is Austin, after all— and many are faithful adaptions of classic Southern desserts. (This is still Texas, after all.)
Niche jokes about the City of the Violet Crown aside, Austin is also relatively trend-sensitive. As a result, there are an increasing number of gluten-free, vegan, and artisanal birthday cake options, in addition to the traditional sheet cakes and bakery classics you can find all over the city.
Ultimately, there's truly something for everyone– at every price point.
From vegan birthday cakes to flower-topped layer cakes to gluten-free bakeries that you didn't know were gluten-free, here's where to get the best, coolest birthday cakes in Austin, Texas.
***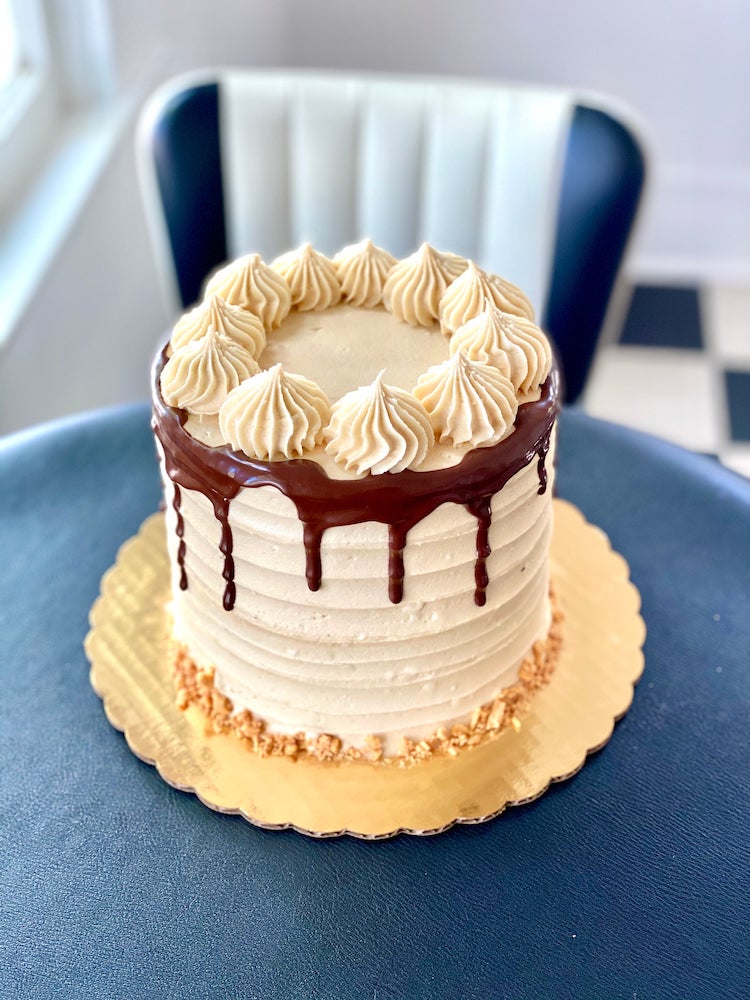 Capital City Bakery (For Delicious Vegan Birthday Cakes)
Capital City Bakery makes delicious 100% vegan birthday cakes at their unassuming bakery on E. Cesar Chevez St. They design very trendy cakes, style-wise, so if you're looking for a masterfully-etched drip cakes or a cookie-topped creation, this is a good bakery for you.
Their cheery Lemonade Cake— a lemon cake with lemon buttercream– is divine. We also love the decadent Mississippi Mudd Cake (chocolate cake, espresso buttercream, chocolate ganache, and cookie crumbs) and their S'mores Cake (chocolate cake, marshmallow buttercream, graham crackers, and toasted vegan marshmallows crowned in an artful display).
Above shown is their delicious Peanut Butter Crunch Cake, a chocolate cake topped with peanut butter buttercream, chocolate ganache and Chick-o-Stick. For a unique, adventurous cake with a surprising flavor combo, order a Damn Fine Cake (we love the name). It features vanilla cake, wrapped in espresso buttercream with copious cherry pie filling. (It doesn't sound like it would work, but it does!)
All Capital City cakes are vegan, but they do contain gluten and soy, and some contain nuts. Click here to schedule your cake pick-up. At this time, they do not deliver. The cupcakes and daily pastries– from vegan cinnamon buns to vegan breakfast kolaches– are also excellent.
Oh, and another fun fact? Their cake boxes are made from recycled materials. "We're dedicated to providing a different approach to classic treats in an attempt to preserve the environment, protect animals, and unite people with a desire for progression," they write. The bakery is women-owned and Texas-grown. For more info, visit their website.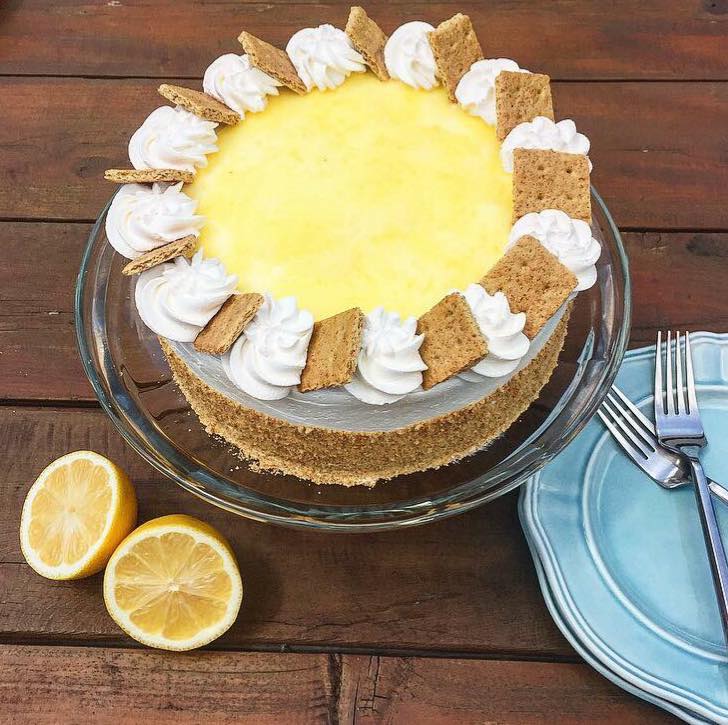 Amy's Ice Creams (For Birthday Ice Cream Cake!)
I adore Amys Ice Creams' signature avocado ice cream, which simply screams Austin. But those in the know recognize that Amy's Ice Cream also makes the best ice cream cakes in Texas.
For a unique twist on classic birthday cake, order one of Amy's birthday ice cream cakes! The fun and funky South Austin ice cream shop makes hand-decorated ice cream cakes that taste homemade (in a good way).
Each ice cream cake features a thick layer of ice sandwiched between two layers of homemade cake from Baked By Amy's, the scoop shop's in-house bakery. (It's literally cake and ice cream, in one bite.)
Try the famous Vanilla Cookie Ice Cream Cake, made from the scoop shop's famous Mexican Vanilla ice cream layered between light, moist vanilla cake, and topped with Golden Oreos. Yum!
We also love the classic Oreo Ice Cream Cake, made with Oreo ice cream, chocolate cake, homemade fudge, and garnished with whole Oreos on top.
You can also make custom cakes— including sheet cakes with great details— made from your choice flavor of Amy's homemade, small-batch ice cream. (They even once made a BB8 cake from Star Wars. Adorable!) These ice cream cakes are super delicious, and way better than those other "chain" ice cream cakes.
Ultimately, the brand says it best: "Without ice cream, there would be darkness and chaos." Word, Amy.
Fill out the form to order your own custom ice cream cake here.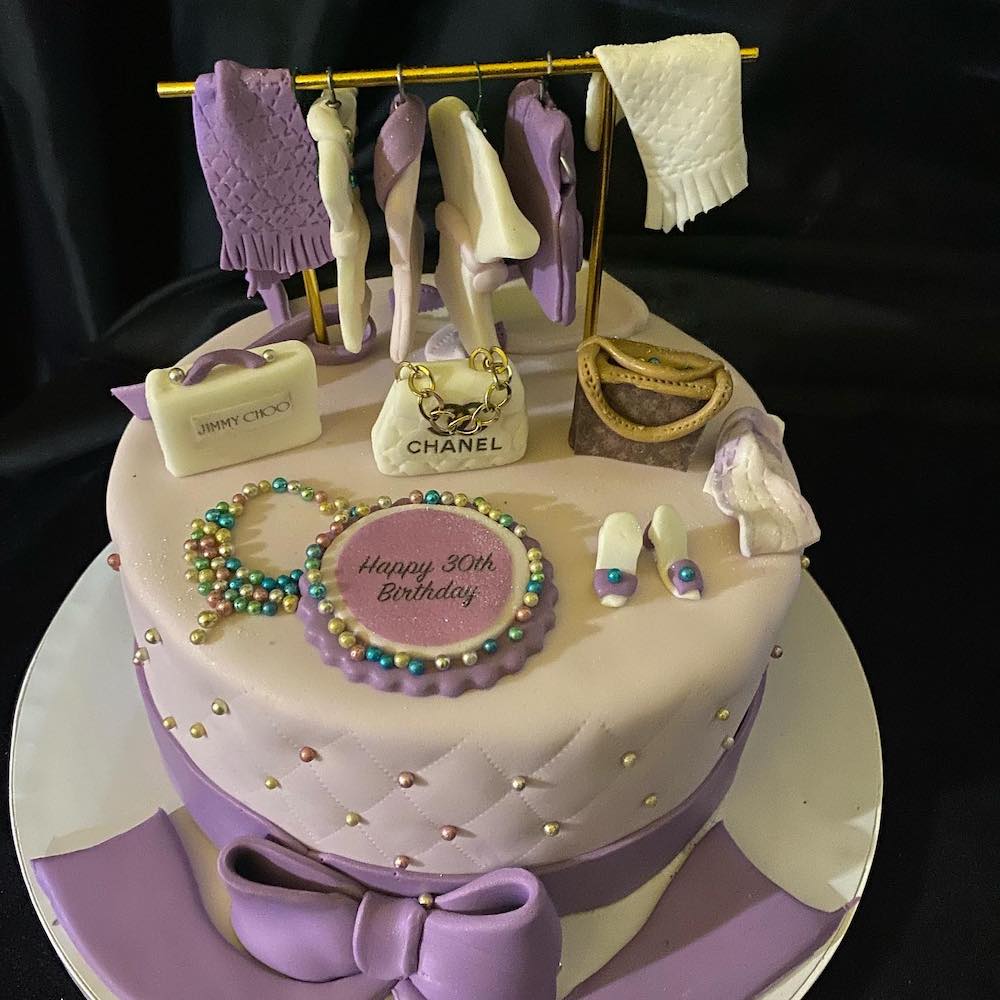 Cakes, Chocolates, and More! (For Awesome 3D Cakes)
Cakes, Chocolates, and More! makes some of the most epic 3D cakes in the Austin area. They're mostly known for their incredible tiered cakes, which are both whimsically inventive and executed with textbook skill.
Go here if you want a breathtaking centerpiece cake that will be the talk of everyone at the party. They make super cute cakes for kids, as well. Plus, they also offer adorable "birthday-in-a-box" options that allow you to enjoy a sculpted birthday cake that only serves 2-3 slices.
In addition to standard cake flavors, Cakes, Chocolates, and More! also offers a number of intriguing specialty cake flavors, like orange, pineapple, and coffee-flavored cake. (Obviously, you wouldn't mix these together.)
Try the lush marble flavor for the best of both worlds (vanilla and chocolate). Then, choose your custom filling– they make a specialty apricot filling that is absolutely lovely.
Ultimately, every sculpted cake is entirely edible– no matter how crazy they look— and gluten-free birthday cake options are also available.
Click here for more info on pricing, flavors, and fillings for custom cakes.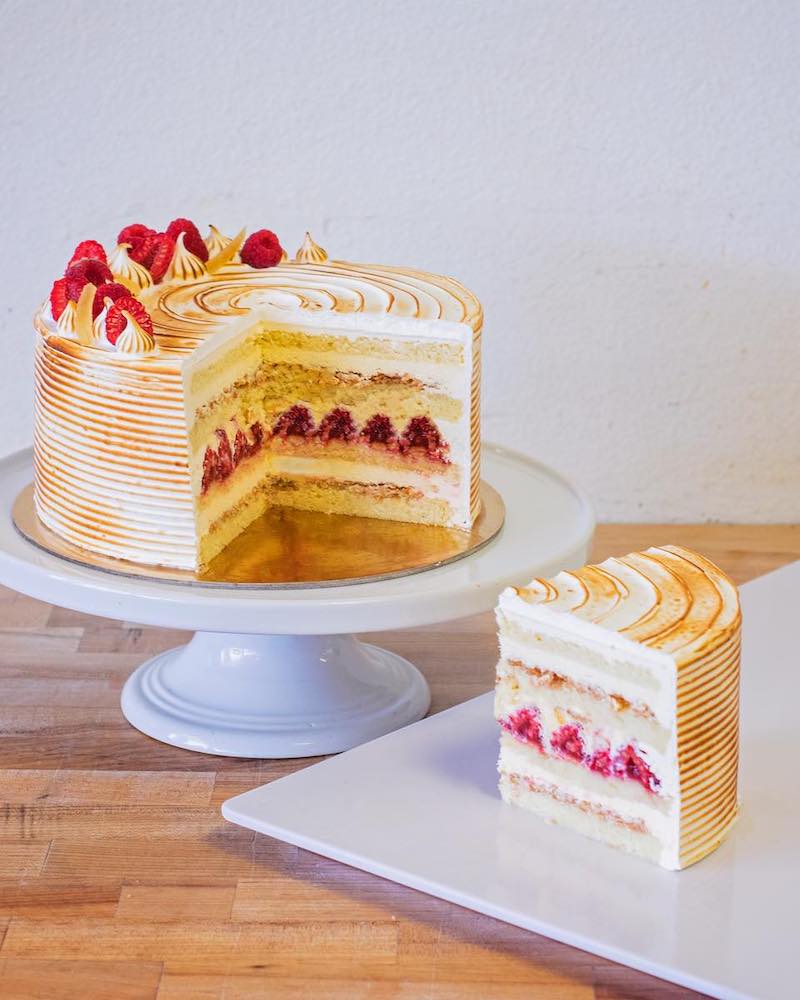 Bakery Lorraine (For Lovely, European-Style Cakes)
Foodies adore Bakery Lorraine, which is often hailed as "the best bakery in Austin" by critics– which is sort of an irony, because it started in San Antonio. This is easily the best bakery in Austin for those looking for simple, elegant birthday cakes.
The celebration cake menu here is limited, but additional flavors can be made by request. Ultimately, every item is fashioned to a chef's standard. (They honor "the miller's flour" and "the dairy farmer's eggs and butter", etc. This attention to utmost quality ingredients makes sense, too, as Bakery Lorraine's expert bakers Jeremy Mandrell and Anne Ng met while working for Thomas Keller at Bouchon Bakery in Napa Valley. If anyone's a pro, they are.)
At their Austin bakery, the Lemon Raspberry Cake is absolutely lovely. It's fashioned from yellow cake with layers of lemon cream and tart raspberries, enrobed in a light, torched Italian meringue.
We also love the simple Vanilla Mascarpone Cake, made from light sponge cake layered with vanilla mascarpone cream and fresh berries. Simple, fresh, delightful!
To place a custom cake order, go here.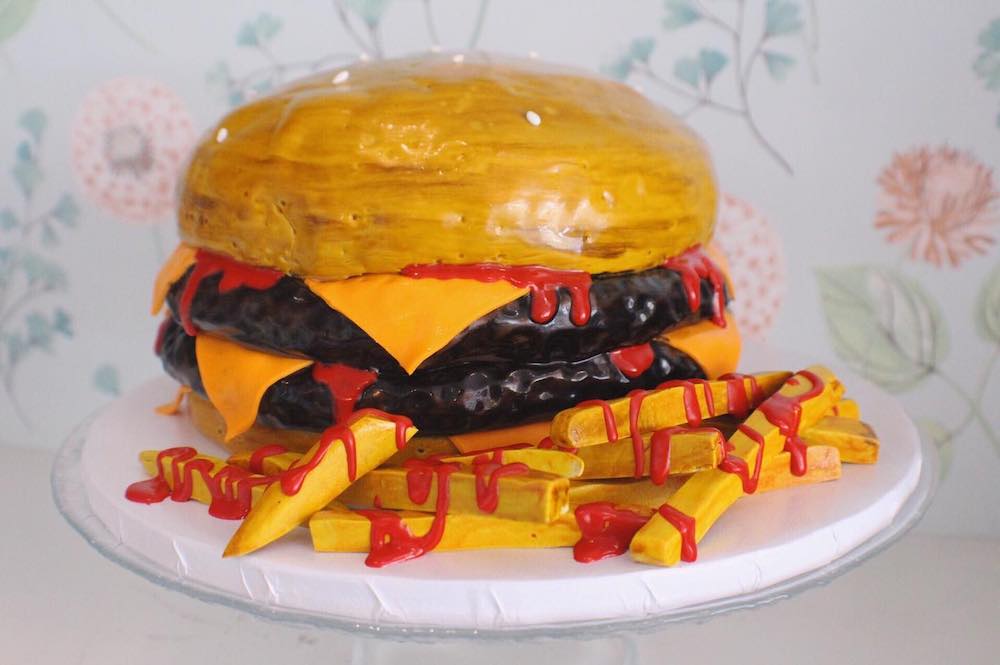 Quack's 43rd Street Bakery (For Cool, Tasty Concept Cakes)
Quack's is mostly known as a fun-loving coffee house bakery with free WiFi, but they also have some of the best behind-the-scenes cake makers in Austin. As you can tell from the "Cheeseburger & Fries" cake above, these people are super skilled!
Today, Quack's 43rd Street Bakery makes some of the best themed birthday cakes in Austin. (Also check out this Texas-themed armadillo!)
Ultimately, if you can imagine it, Lady Quack's Cakery can make it. If you're looking for a fun, eclectic sculpted cake, Quack's is a good option. We like their carrot cake and this adorable sloth cake, which is almost too cute to eat. (And don't even get us started on the pies. They're gorgeous!)
For more information, email the bakery at [email protected]. They can get you set up with a quote and details on flavors and styles available for custom birthday cakes.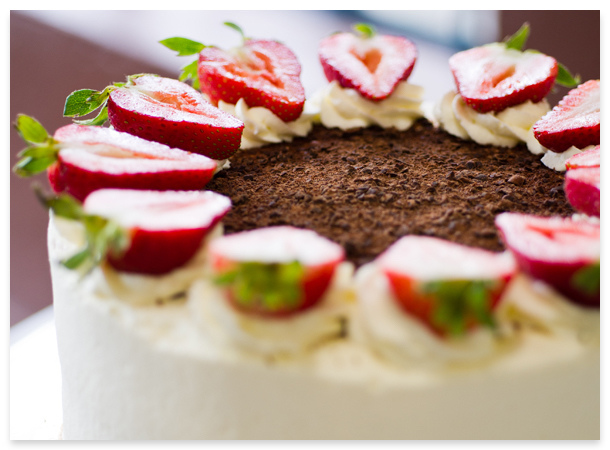 Upper Crust Bakery (Old School Patisserie Classics)
For over 28 years, Upper Crust Bakery has made the tastiest old school patisserie-style birthday cakes in Austin. They specialize in textbook flavors like Italian Cream, Carrot Cake, Mocha Almond, and "Grandma's Chocolate".
They have a selection of 9″ layer cakes readily available daily, but you can also call and place a special order– say, for a Gateau D'Amour cake— that can be ready as early as 5 PM the same day if you order before 9 AM. (Otherwise, you can pick it up by 5 PM the next day.)
This is a great spot for last-minute cake orders (hey, we all procrastinate sometimes). It's also good for picky eaters who like to stick to the classics. All writing is included in the price of any cake. However, some custom decorations may be subject to a surcharge.
We love their delicious Black Forest Cake and the Gateau Marisa, a super light yellow cake layered with creme patisserie and a choice of fresh sliced strawberries, bananas, or both. The cake is layered with cream cheese icing and topped with whole strawberries. (All told, it's the perfect "spring" cake.)
To order a custom birthday cake from Upper Crust Bakery, call them or order online.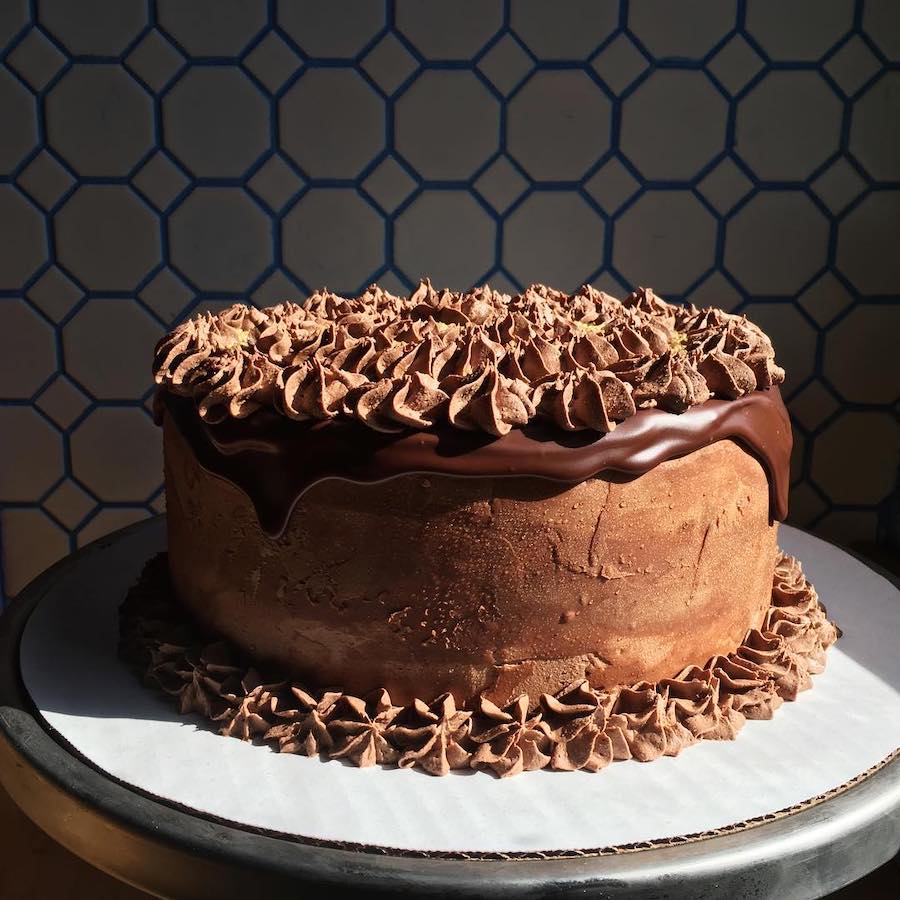 Paper Route Bakery (Small Batch, Organic Cakes)
Rustic and refined Paper Route Bakery is a small-batch organic bakery specializing in, among other things, boutique artisan birthday cakes. We love the aesthetics and the flavors. The lemon poppyseed "breakfast cakes" and snickerdoodle coffee cake, for example, really set the stage for the main cake event.
Paper Route Bakery is a small operation and something of a hidden gem in Austin. Still, their bespoke birthday cakes have a gorgeous, rustic flair. From simple, elegant designs to crave-worthy cookie-topped creations, everything on the menu is thoughtful.
The gorgeous ombre carrot cakes and filigreed, piped surfaces might have you thinking that the taste can only rival the beauty in theory, but we're happy to say that is not the case. When it comes to birthday cakes, Paper Route Bakery is the total package. They're a small operation, but the clunkiness of the website is worth the mild hassle. They make what are easily the highest quality birthday cakes in Austin!
This quality stems in part from the fact that Paper Route Bakery works exclusively with Certified Organic sugars, flours, spices, and produce, as well as cage-free eggs and grass-fed butter. The other aspect is that the bakery's owner is a skilled technician of the craft of cake-making– every rosette is just perfect.
Paper Route will also deliver birthday cakes right to your doorstep anywhere in Austin (thus the name). What could be better?
To inquire about custom cakes, call the bakery or email them at [email protected].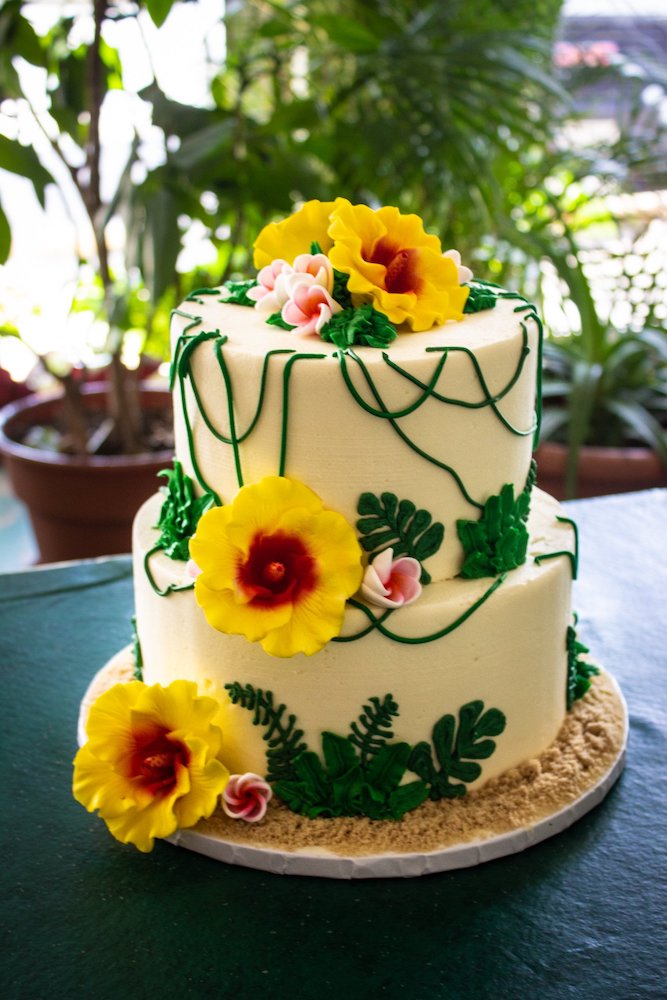 Mr. Natural (Gluten-Free AND Vegan Allergy-Friendly Cakes)
Mr. Natural makes gluten-free and vegan birthday cakes at their popular local franchise. They make round and sheet-style birthday cakes in a wide variety of flavors. The Tres Leches, Red Velvet, and Berry Bliss cakes rank among their best.
They can also make signature cakes in exotic flavors like
This bakery offers vegan gluten-free cakes, vegan whole wheat flour cakes, vegan white flour cakes, with various vegan icing and vegan fillings. Please note: they are not a dedicated gluten-free bakery.
However, they can work with you to accommodate Nut Free, Soy Free, and Even Sugar-Free birthday cake requests. Just be sure to call them– they don't take cake orders over email.
Ultimately, if you want a special birthday cake design, you should place your order 2 weeks in advance. Otherwise, Mr. Natural can have your cake ready by 4 PM the next day. Check out their flavor menu here.
Most importantly for folks with allergies, Mr. Natural also offers a gluten-free build your own cake option, which is highly customizable. Choose from among 13 cake flavors (Mocha Cake, Strawberry Cake, Chocolate Chip cake, etc), then add your choice of icing or buttercream, and choose a size. You can even pick out the texture of the cake's frosting (flat, spiral, rosette, etc) as well as the color accent!
Ultimately, you can choose every detail, making this one of the best birthday cake bakeries in Austin for people who want to design their cake from the ground up.
For more information or to place a cake order, go here.
***
Related: 6 Must-Try Austin Taco Spots.
Need a cool birthday cake in another city? Consult our beautiful American Birthday Cake Archive, here.