Whether you're looking for a delicious, artistic birthday cake or a bespoke-themed celebration cake, the best birthday cake bakeries in San Antonio, Texas, can do it all.
From franchised Food Network-approved bakeries to small Mom & Pop bakeshops, the people making birthday cakes in the fine city of San Antonio each bring their own unique spin on the craft.
Bundt cakes, keto cakes, gluten-free cakes, vegan cakes, custom birthday cakes, or classic funfetti cakes: you can find them all here.
Whether you're looking to make a last-minute birthday cake purchase or to plan an elaborate custom cake weeks in advance, there's something in this guide for everyone. We've also included a range of budgetary options to fit every price point and serving size.
Below, we spotlight some of the best birthday cake bakeries in San Antonio, Texas. Happy birthday to you and yours!
***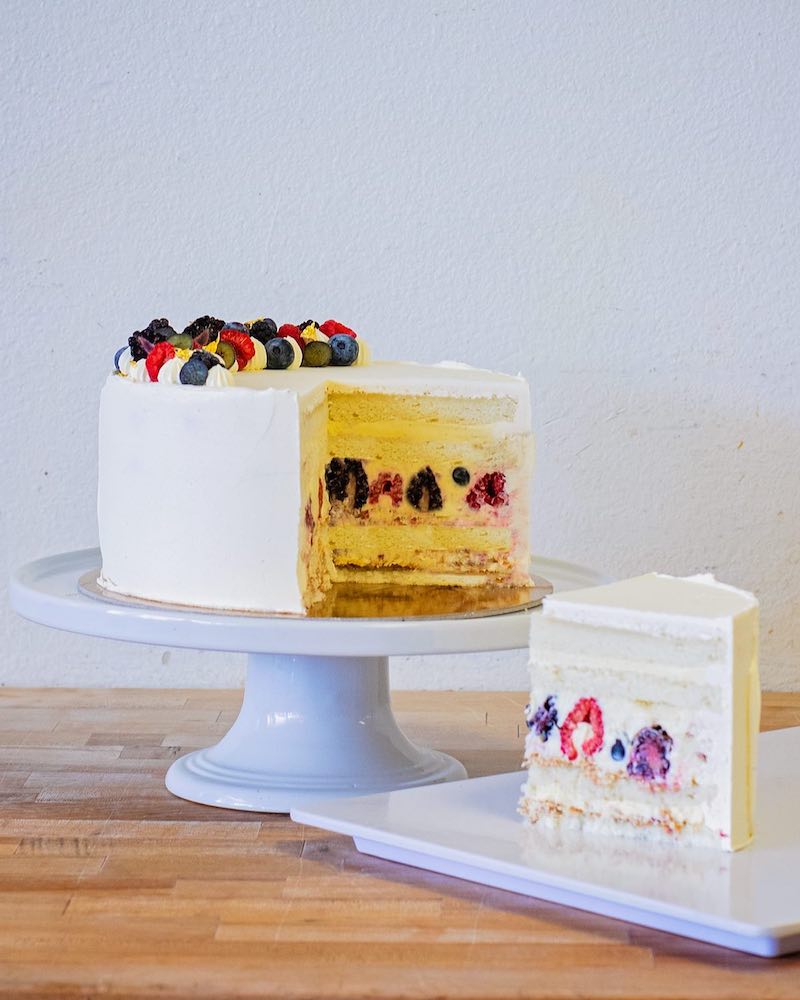 Bakery Lorraine (For Ethereal, European-Style Cakes)
San Antonio's best bakery is also rated as one of the best bakeries in America! At Bakery Lorraine in San Antonio, the birthday cakes are exquisite. (And with good reason, as the kitchen is helmed by Jeremy Mandrell and Anne Ng, who met while working for Thomas Keller at Bouchon Bakery in the Napa Valley. With a pedigree that refined, you know the cakes are going to be good.)
Here, the celebration cake menu is limited but excellent. The Lemon Raspberry Cake is absolutely lovely, fashioned from yellow cake with layers of lemon cream and tart raspberries. The light, torched Italian meringue on top has a gorgeous texture.
All of Bakery Lorraine's cakes, moreover, are crafted to the exacting standards of a French patisserie.
For this reason, we also recommend the simple Vanilla Mascarpone Cake (above shown) which is made from ethereal sponge cake, vanilla mascarpone cream, and fresh berries. It's simple, fresh, and not too heavy– perfect for foodies and summer gatherings.
The bakery also makes lovely floral layer cakes for larger celebrations and weddings. To order a custom cake, go here.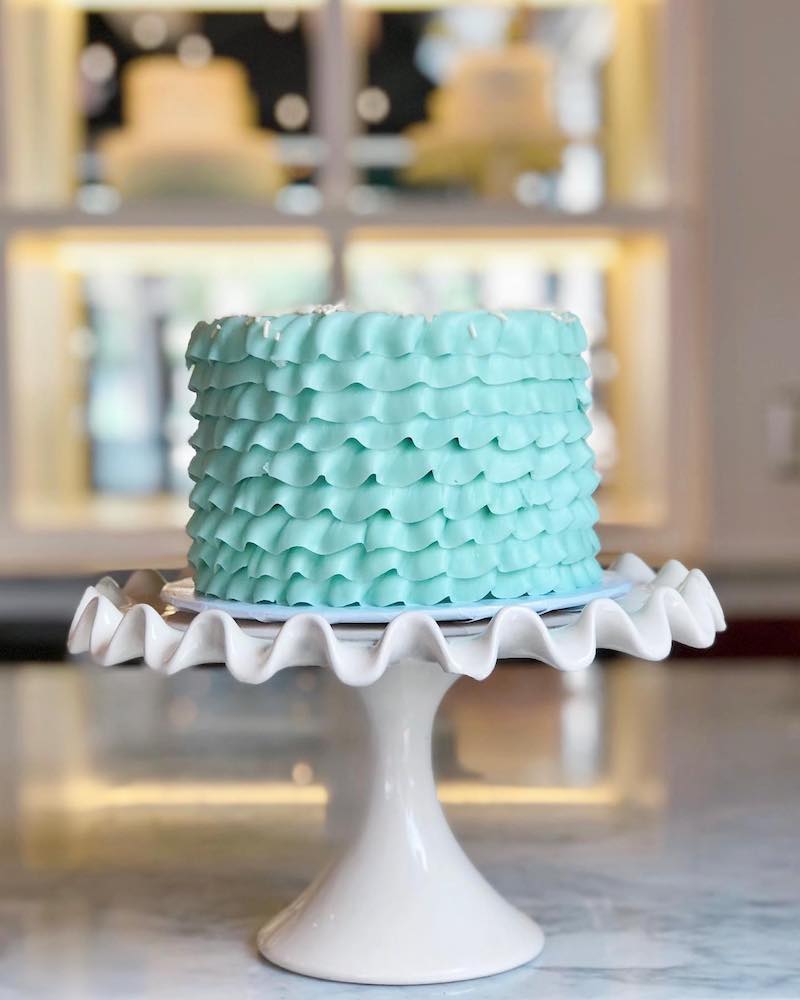 Bird Bakery (Lovely, Colorful, Downright Cute Cakes)
Bird Bakery's charming made-from-scratch cakes were born from the bakery's most famous concept: cupcakes. With slightly vintage vibes, the bakery famously produces adorable, whimsical cakes in a variety of shapes and styles.
Whether you're looking for a lovely ombre layer cake a charming themed cake for a child, the bakery can create a custom cake to meet your vision. (They even make Monster Cookie Cakes for those who don't like traditional birthday cakes!)
Try their fresh strawberry cake or a wonderful, seasonal sweet potato cake. This they top with brown sugar buttercream and finish with toasted marshmallows. (It's a great cake for Fall!)
Or, opt for another intriguingly flavored cake, like "The Elvis". This consists of roasted banana cake with chocolate chips folded in, topped with a peanut butter buttercream. Yum!
Bird Bakery makes everything from smash cakes to sheet cakes to 2, 3, and 4-tiered layer cakes in a variety of sizes. Ultimately, their delectable cupcake flavors can all be made into cakes. When in doubt, try their Award-Winning Carrot Cake, "Nostalgic Yellow", or Southern Red Velvet cake.
Place a birthday cake order or ask a question by emailing [email protected].
FWIW, the bakery also makes amazing sandwiches and crave-able baked goods, like their mouth-watering Sea Salt Peanut Butter Bar and Pimento Cheese Popovers (a very "Texas" breakfast). Mmm-mmm. Delicious!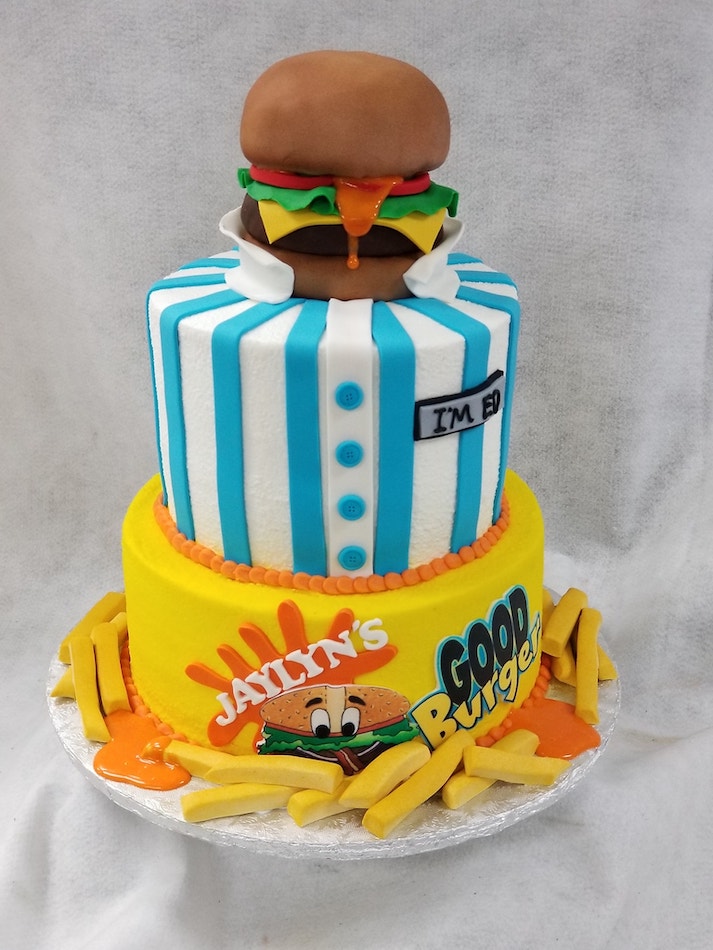 Lucy's Cake Shop (For Creative 3-D Cakes)
While Lucy's Cake Shop is primarily known for its beautiful wedding cakes, they also know their way around a good birthday cake. This esteemed bakeshop does amazing layer cakes, 3-D cakes, and sculpted cakes for those who want over-the-top creative creations.
Whether it's a chocolate-drenched Jack Daniels Cake, an 80's-themed cake, or an adorable character-themed cake for a kid, Lucy's can make it look super professional in a myriad of serving sizes.
(They have one of the wide varieties of cake sizes in San Antonio. Choose from single later or double later cakes in every size and dimension imaginable. Contact the bakery and they'll you what size to order for the number of people you need to feed.)
Best of all, they are a family-owned and operated business. And they've been around for over 40 years!
Also: just look at this adorable hand-sculpted sloth cake! If you have a specific vision or reference in mind, Lucy's is one bakery that won't shy away from the challenge.
As a result, they make beautiful birthday cakes that persist in memory long after you've savored the last bite.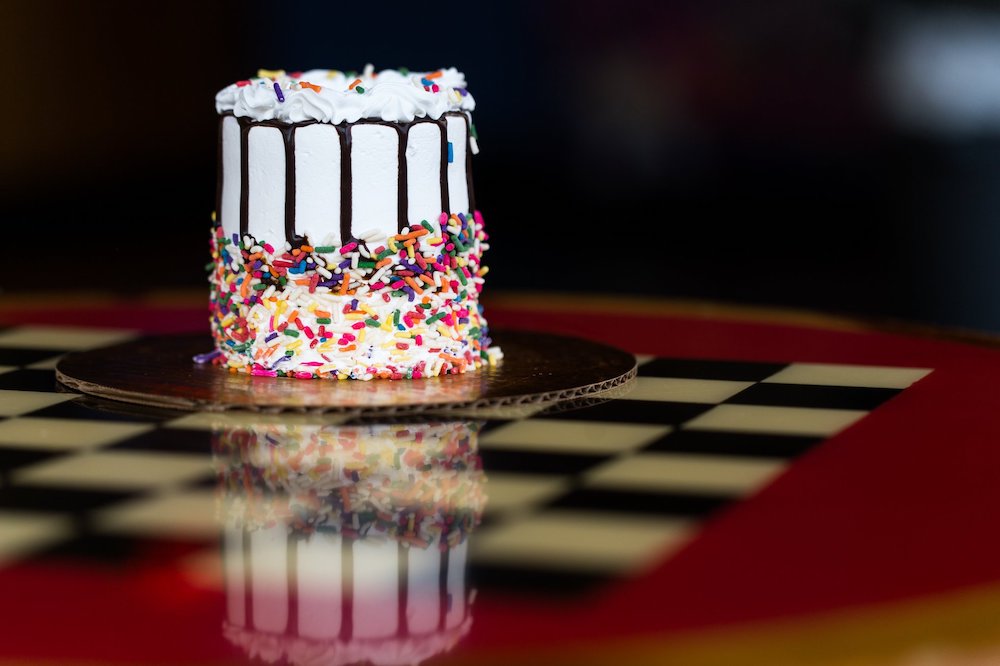 Amy's Ice Creams (For Birthday Ice Cream Cake)
As we wrote in our Austin cake guide, Amy's Ice Creams makes the best darn ice cream cakes in Texas. For a cool twist on a birthday cake, order one of their Oreo Ice Cream Cakes or the famous Mexican Vanilla Cookie cake, made from Amy's world-famous Mexican Vanilla ice cream, housemade vanilla cake, and blonde Oreo cookies. So good!
You can order a custom cake with a unique design, or try the delightful pre-fixe options like the glaze-topped Strawberry Shortcake (a must for strawberry ice cream lovers!). This Austin import expanded to San Antonio for a reason, after all.
Place birthday cake orders by filling out an online form detailing flavors, the number of servings, and any messages you'd like written on the cake. We love Amy's Ice Cream cakes for summer birthdays, especially.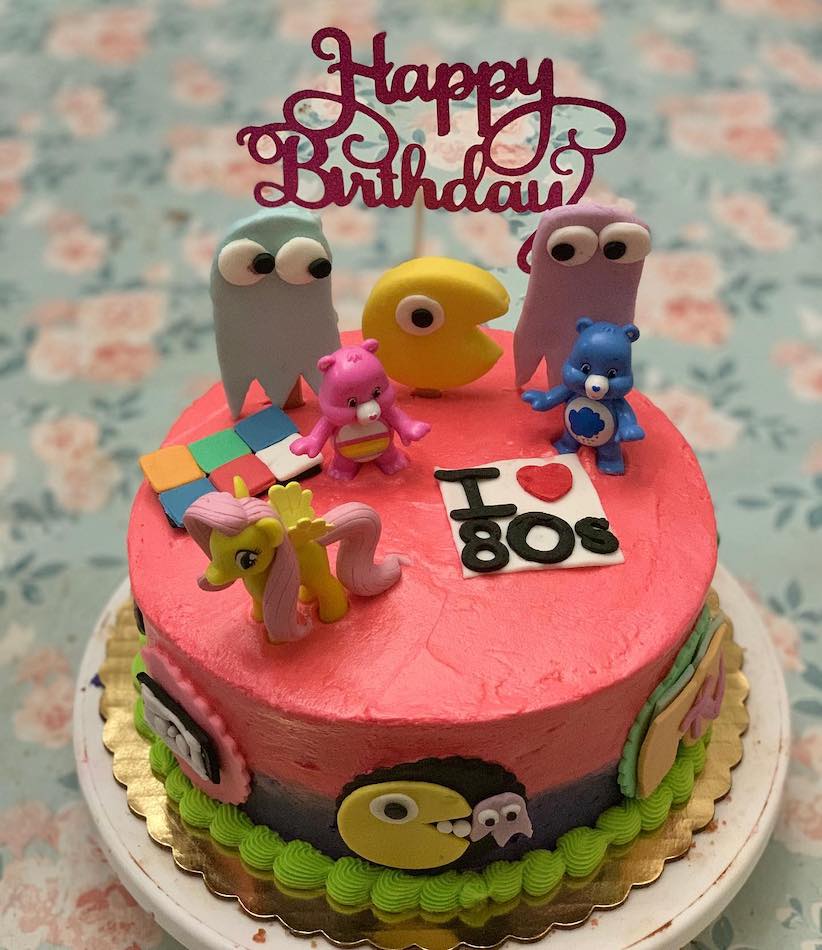 Akki's Cupcakery & Tea (Healthy Cakes For A Cause!)
Akki's Cupcakery & Tea is a bespoke bakery that focuses on healthy baked goods– including organic, vegan, keto, paleo, and gluten-free birthday cakes.
The bakery was founded by a high school girl named Akeila Tejwani, who came up with the idea of using organic and low glycemic ingredients to make cakes, cupcakes, and other recipes and donating 50% of the proceeds to kids charities in San Antonio.
If you want your birthday cake to support a great cause– the cake donation itself is also a gift!– then this is a great place to get one. Plus, this home-based bakery can deliver anywhere in San Antonio.
We recommend the organic vegan, gluten-free butterscotch cake or Keto Tiramisu cake. Akki also makes beautiful marble cakes and delicious pecan pie cakes.
Because of the emphasis on healthy ingredients, this is an ideal bakery for ordering birthday cakes for those with dietary restrictions. Just because someone is keto, paleo, or vegan doesn't mean they have to sacrifice on taste.
Ultimately, the fact that your purchase supports kids in need is just icing on the cake. Puns aside, we love this whole concept!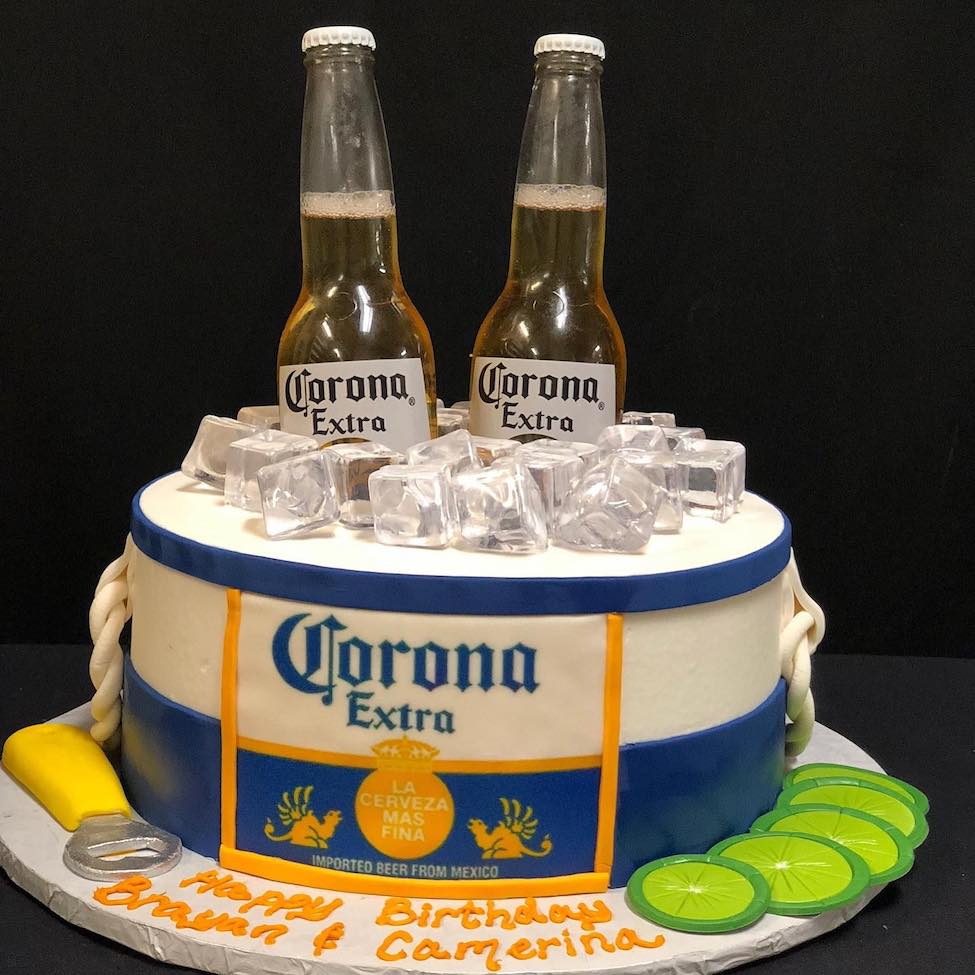 Blanca's Cakes & Catering (Great Prices + Customer Service)
Small-scale caterer Blanca's Cakes & Catering specializes in cakes for events. In addition to making traditional wedding cakes and quinceañera cakes in San Antonio, they also make cool custom layer cakes— like the above Corona cake– for birthdays.
Above all, Blanca's is known for its great customer service and affordable prices. Work with the team to create a unique design for any size of their traditional layer cakes, or build something custom.
Either way, every cake is made from scratch and is super moist. There's a delightfully "homemade" quality to each one.
Call the bakery to inquire about flavors, pricing, and design– or send them an email with an image of the kind of cake you'd like to [email protected]​.
Blanca has owned her cake shop and catering business for over 25 years! She'll hook you up and make the process as stress-free as possible.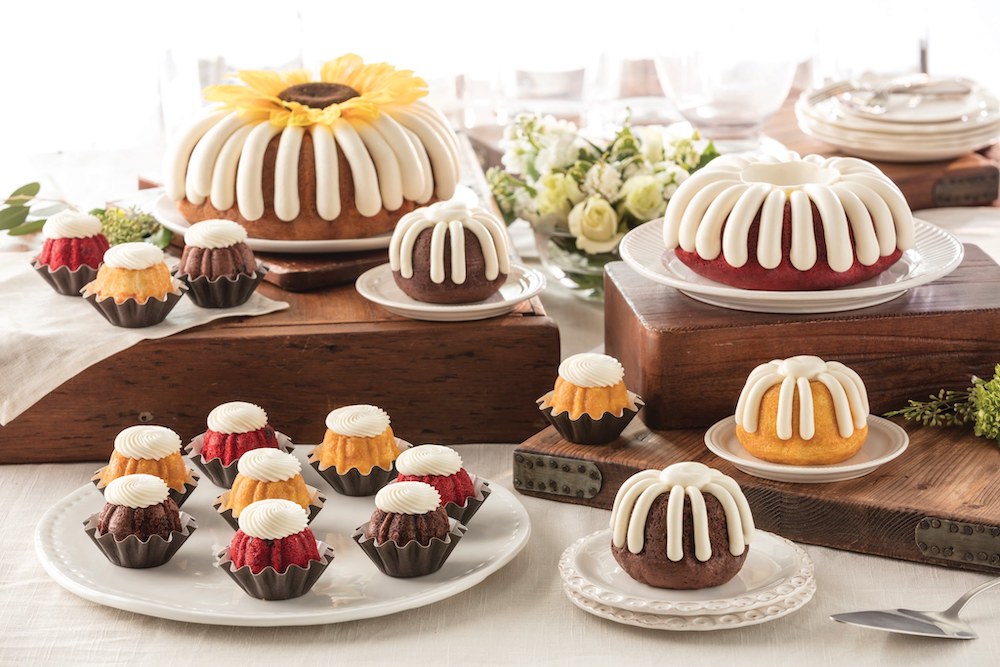 Nothing Bundt Cakes (Birthday Bundt Cakes)
With three franchise locations around San Antonio, Nothing Bundt Cakes serves super unique tiered bundt birthday cakes. Seriously, where else have you seen such a thing? While they are a chain, they really do make Texas bundt cake at its finest.
If you're looking for an alternative-style birthday cake for someone who loves a good bundt, this is the bakery for you.
With over 25 different birthday cake styles and flavors to choose from, there's something to suit every palette. Check out their handcrafted Birthday Bundt Cakes menu here.
We recommend the CELE'BUNDT'ING YOU cake with a charming birthday banner or the OG HAPPY 'BUNDT'DAY cake.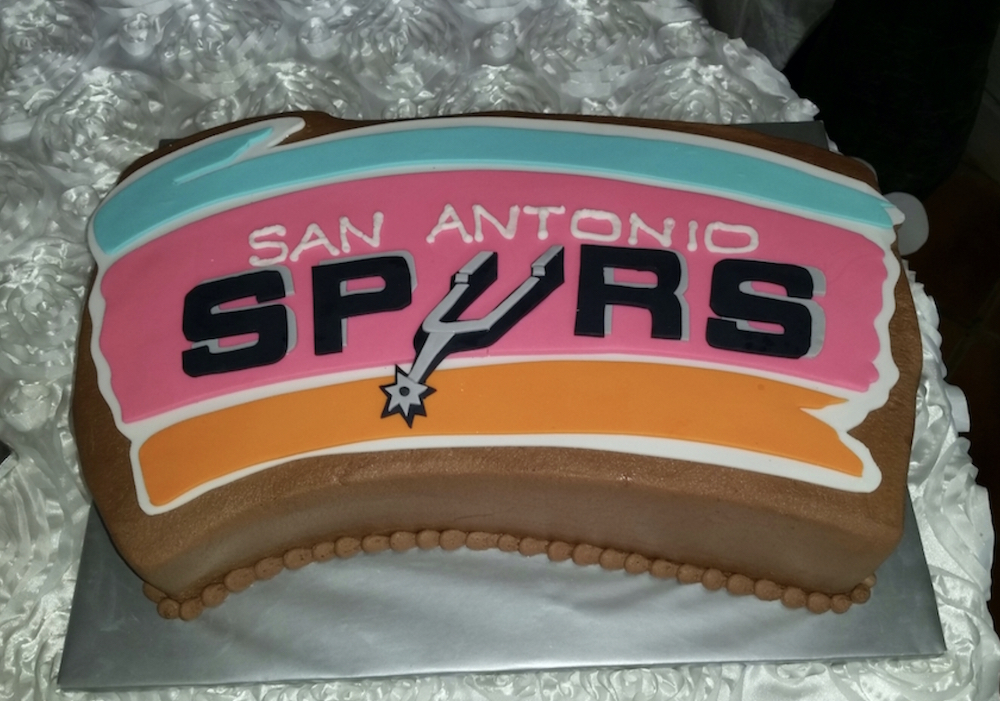 Oh Yeah Cakes (Great Birthday Cakes For Sports Lovers)
While Oh Yeah Cakes is mostly known for its creative cupcakes, their bespoke birthday cakes are also great. They make amazing custom cakes in every size, shape, and style.
Want a cake that looks like a Spurs jersey or a bucket of ice-cold beer? You got it. Want a My Little Pony cake for your niece? They can do that, too.
This bakery is super reliable when it comes to consistency and uniformity. If you want a custom cake that can become a family birthday tradition year-to-year, this is the bakery for you.
Also, FWIW: Oh Yeah Cakes has done a ton of San Antonio Spurs-themed cakes, from jerseys and logos to the above insignia. If you're buying for a sports fan with elaborate preferences, they can make you just about anything.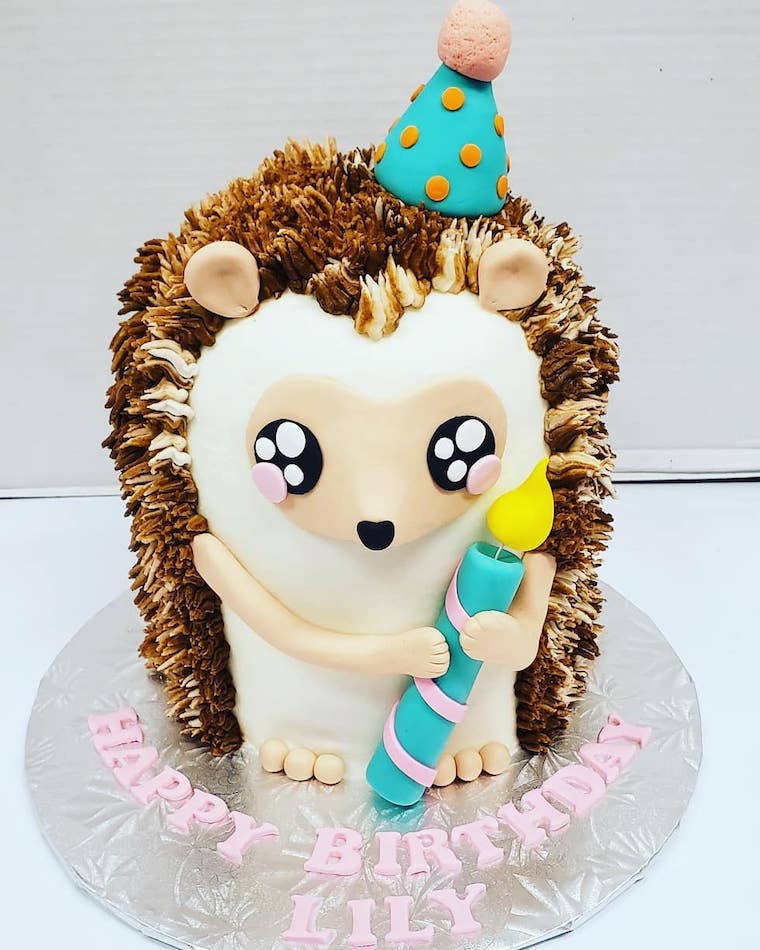 Cosmic Cakery (For Clever Kids Birthday Cakes)
Cosmic Cakery is many San Antonio parents' go-to for eccentric, adorable kids' birthday cakes. But this bespoke custom cake maker is exceptionally good at rendering any creative 3-D design, including those that appeal to adults.
In addition to custom birthday cakes, this San Antonio bakery also specializes in super-creative cake pops. Whether it's a graduation party, a wedding, or a birthday, they can work with you to create something exciting for your event or gathering.
Not only that, but this bakery also has a ton of insane, cool cake flavors! For example, in addition to staples like Devil's Food Cake, Carrot, Red Velvet, and Funfetti, they also have flavors like Strawberry Champagne, Lemon Lavender, and Margarita!
If a margarita birthday cake isn't worthy of a Texas gathering, I don't know what is. (Pair with their lemon curd or mango filling and their Whip-n-Ice icing for a real treat.)
Ultimately, whether it's a U.S. Navy Cake, a movie theme, or a cake for someone who's gone fishing, Cosmic Cakery has the creative talent to make it happen. And fortunately, the cakes also taste good– as they should. What's the point of having a cool birthday cake if you can't also love eating it, too?
***
Related: The 8 Best Birthday Cake Bakeries in Austin.
Need a cool birthday cake in another city? Consult our beautiful American Birthday Cake Archive, here.