Colonial Williamsburg is a small city towards the Southeastern Coast of Virginia that's sandwiched between the James River and the York River. As one of the first colonial outposts in America, today it remains a fabled historic tourist destination and home of quaint liberal arts school The College of William & Mary. With its charming brick neoclassical architecture and lush, rolling landscape, Williamsburg is a lovely little hideaway with a surprisingly great local food scene. Like the village itself, the best restaurants in Williamsburg, Virginia highlight the robust regional foodshed of this ceaselessly verdant part of the state.
Menus at the best restaurants in Williamsburg, moreover, tend to have a historical lean. The food here honors traditional Southern cooking and regional cuisine, with updates and fine-tuning that appeals to modern sensibilities.
Ultimately, there's plenty of good food to be had in Williamsburg– but you have to know where to go. Whether you're a history buff, a nature lover, or a student at William & Mary, these are the best restaurants in Williamsburg, Virginia– a cool dining destination that tells an apt, delicious story with a strong sense of place.
Bookmark this list for easy reference later!
Enjoy!
***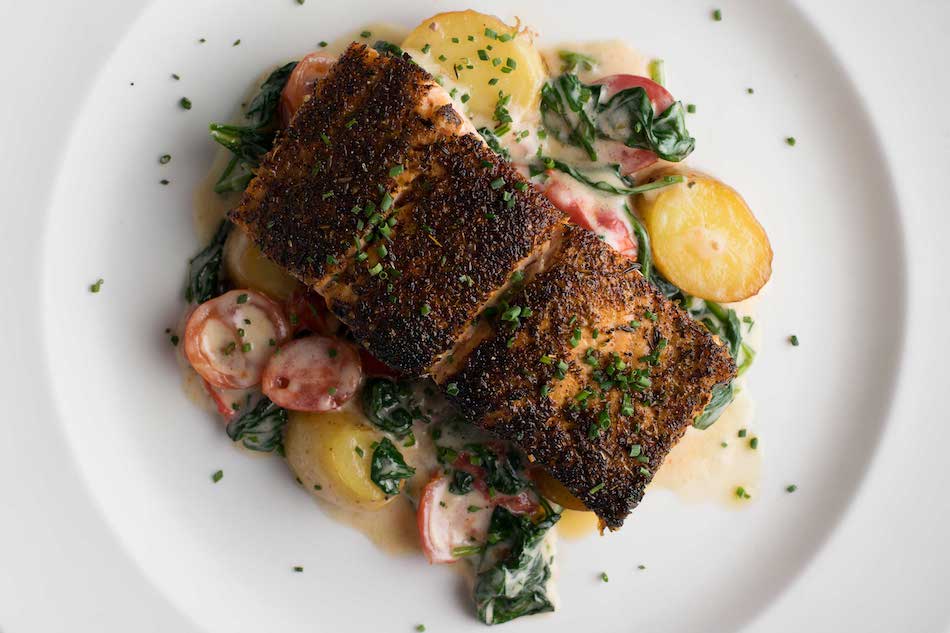 Blue Talon Bistro (Excellent French Food)
Blue Talon Bistro is a lovely French-inspired breakfast, lunch, and dinner restaurant that ranks easily as one of the best restaurants in Williamsburg. Virginia natives appreciate the careful attention to local culinary tradition– as with the upscale Rotisserie Chicken and Old Fashioned Meatloaf– but the fine Chicken & Mushroom Crêpes and delicate seasonal vegetable dishes like the Grilled Asparagus Salad with bacon lardons, toasted Brie crouton, and a soft poached egg keep foodies coming back again and again.
Beyond the hearty starter plates (Mussels Mariniere, Charcuterie & Pâté, etc), the best reason to go here is for the incredible chocolate mousse and the divine hot chocolate, which is basically liquid fudge. The desserts, moreover, are divine— and they conveniently serve a great cup of espresso, as well.
Nevertheless, the entire menu boasts an impressive finesse. Even experimental dishes like the Duck BBQ sandwich are incredible. Plus, in addition to serving "serious comfort food", they offer more than 200 whiskies at the Zinc Bar. Connoisseurs, rejoice!
Whether it's a Sunday morning scone (blueberry, please!) or a Thursday night Braised Lamb Shank, the options here are delightful. The Steak & Eggs Breakfast, meanwhile, is surprisingly sophisticated, served with a decadent potato cake and expertly cooked. (I also love their artful Smoked Salmon Breakfast terrine and fried oysters.)
Overall, these kinds of haute takes on comfort food classics make Blue Talon Bistro a Williamsburg favorite for upscale dining. (In the past, they've even offered a Tator Tot Poutine with Country Ham Gravy, 2 Fried Eggs, Biscuit Crumbles and Parmesan Cheese!)
Ultimately, whether it's seafood, farm-to-table salads, or upscale comfort food, you'll find what you're looking for here, I'm sure.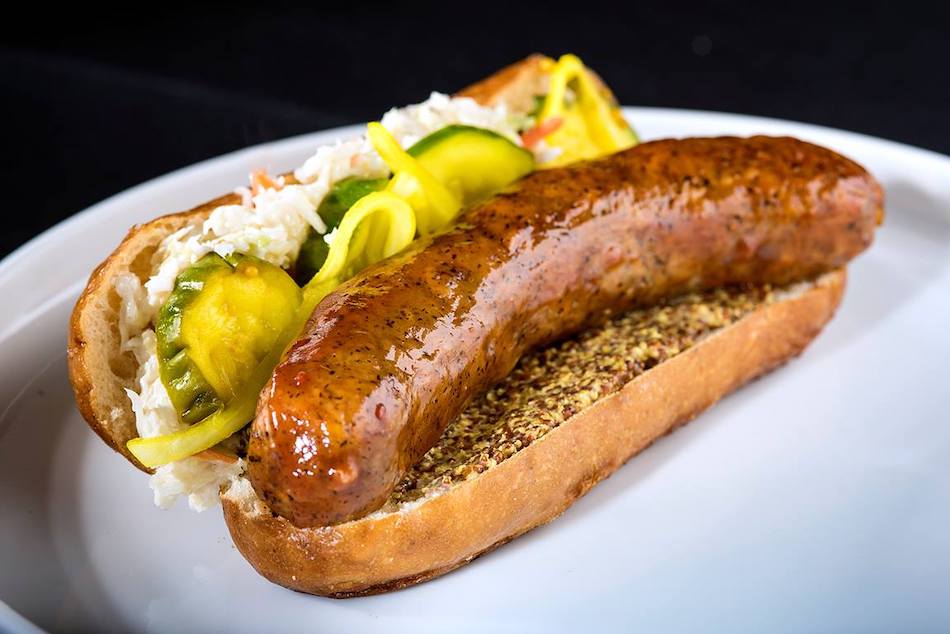 Pierce's Pitt Bar-B-Que (Classic Virginia BBQ)
Pierce's is a local gem that remains high on the Internet's many lists of the South's Best BBQ. Since 1961, Pierce's Pitt Bar-B-Que has served excellent Virginia-style BBQ in a vintage space hung with old photos.
Interested in pulled pork, roast chicken, hush puppies, and crinkle-cut fries? Look no further than this charming local staple. Pierce's moreover, is a great place to experience local BBQ in Williamsburg, Virginia.
They specialize in full racks of ribs, succulent brisket, and incredible pulled pork. However, the menu here is always evolving. See, for example, their limited-time Smoked Virginia Country Sausage Sandwich, above. Served on a pretzel bun with whole grain dijon and house-made bread and butter pickles, it's insanely good– and that's not even their signature item. (That, according to regulars, would be their pulled pork.)
Even their delicious cornbread feels traditional yet innovative. It's made with stone-ground cornmeal, buttermilk, and butter and has that classic, buttery crumb cornbread lovers know and crave. Everything here is old-fashioned, moreover, with homemade, downright delicious flavor.
Pierce's also has intriguing seasonal specials like Idaho baked potatoes stuffed with barbecue chicken or pork, cheddar cheese, butter, sour cream, and barbecue sauce. (If that isn't drool-worthy, I don't know what is.)
Either way, be sure to save room after your meal for some of Gale's incredible lemon pound cake. You can't have a true Virginia BBQ without it!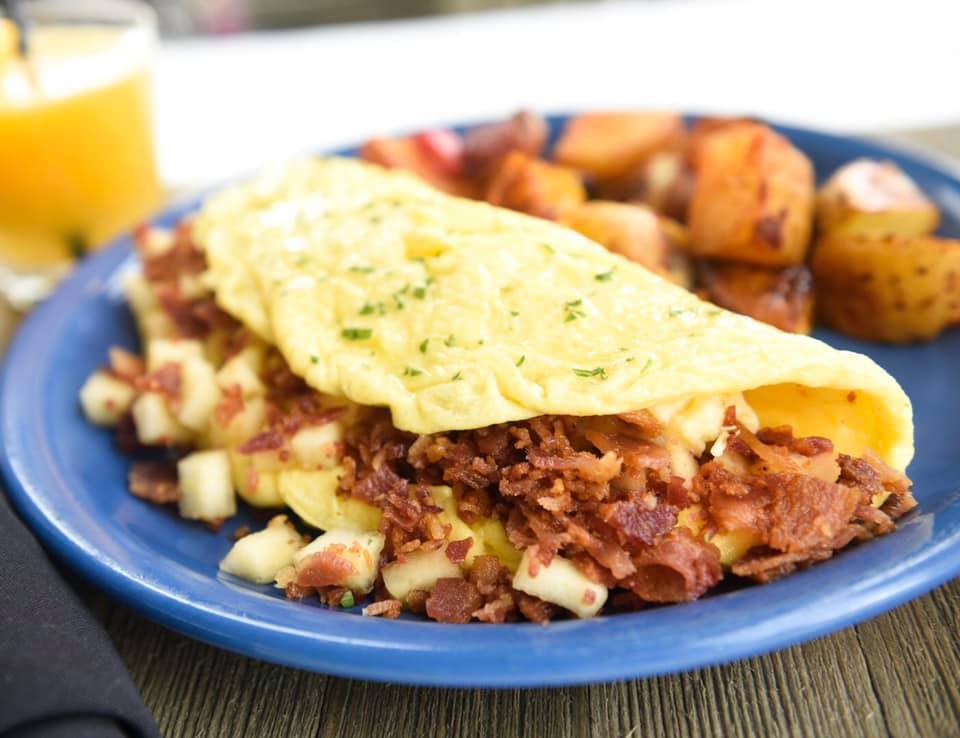 Food For Thought (Veg- and Philosopher Friendly)
Food for Thought is a Philosophy-themed restaurant that should be a top destination on any Foodie traveler's Williamsburg bucket list. The menu is very vegetarian-friendly but it also offers an excellent array of meat-based dishes, as well. Whether it's filet mignon, ribs, crab cakes, cocktails, salads, salmon, or an excellent vegan dessert you're after, the variety will not disappoint.
However, the decor is what makes this restaurant so intriguing. Cool quotes from various philosophers, inventors, scientists, and social leaders adorn seemingly every surface. The aesthetic is basically "American scholar chic" with undercurrents of Southern patriotism and an emphasis on regional heritage cooking. (Looking at you, shrimp and grits!) The restaurant's goal, moreover, is to be "as engaging for the mind as it is for the senses."
For breakfast, we like the "Magellan Eggs Benedict" and the "Sir Isaac Newton Omelet". For lunch, dinner, and beyond, I'd opt for something light and fresh, like the Inca Super-Grain Salad or the Salmon with Quinoa and Broccoli. This is a great restaurant for people who want healthier options as well as hearty ones, as the menu can accommodate most preferences. (There are also gluten-free options available.)
Overall, the pricing is very reasonable for the experience and it's super family-friendly. Just be sure to save room for the restaurant's tasty vegan desserts, including items like Raspberry Hazelnut Torte and homemade sorbet. Both are as colorful as they are tasty.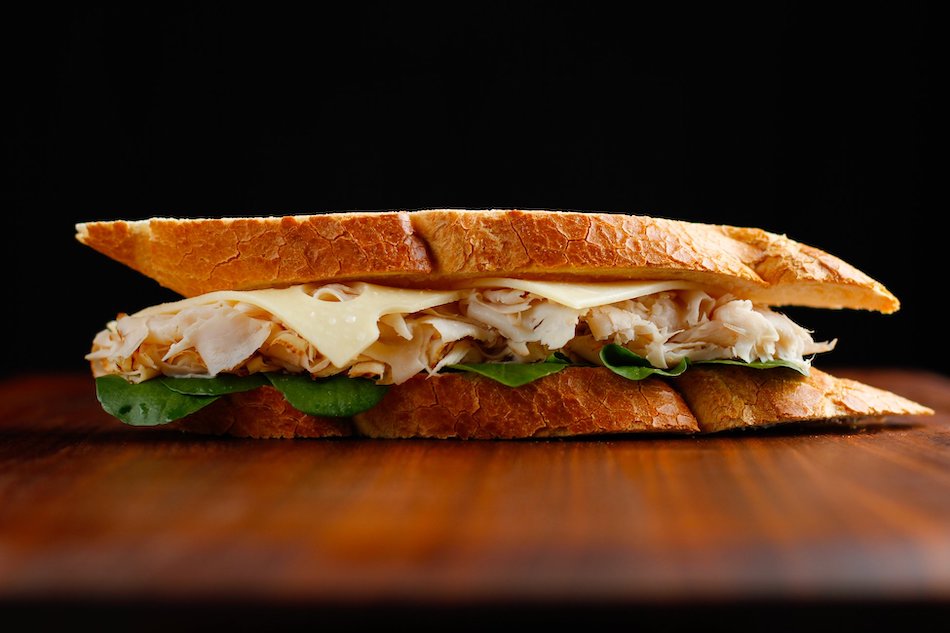 The Cheese Shop (Williamsburg's Best Sandwiches)
Apart from its excellent assortment of fine cheeses and sundries, The Cheese Shop in Williamsburg is known for one thing and one thing only: incredible sandwiches. While not technically a restaurant, The Cheese Shop is one of the best places to eat in Williamsburg, by far.
The secret here is the beloved "house dressing", which adds flavor and intrigue to every bite of crispy bread and tender lunch meat. The dressing appears with nearly every sandwich, as both a necessary condiment and optional dipping sauce. People love it so much they also sell it in jars! (Incidentally, this is also a great foodie souvenir from colonial Williamsburg.)
Whether you order your sandwiches minimalist (turkey, ham, chicken, or roast beef only) or more advanced (the corned beef and Braunschweiger are both surprisingly great), you won't leave hungry. They even have gluten-free bread options!
Stop here and get a to-go sandwich for an impromptu picnic on the William & Mary campus (the New York Times approves!) or take one in your car to go on your way out of town. There's no wrong way to eat a Cheese Shop sandwich– unless that is, you do so slowly.
Check out The Cheese Shop's sandwich menu, here. Also: Be sure to look out for the deli's daily specials, like Genoa salami with Swiss cheese and Fuller's hot n' sweet mustard on grilled sourdough bread. Yum!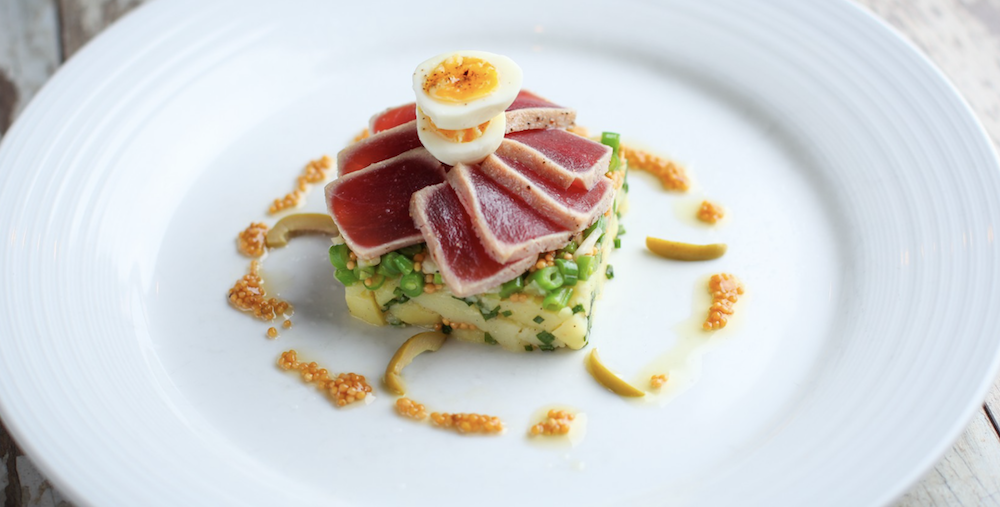 The Fat Canary (Upscale American Nouveau)
The Fat Canary is the fine-dining counterpart to the Cheese Shop, and equally beloved. For those looking for an upscale restaurant in Williamsburg, Virginia, you couldn't do any better than this elegant, award-winning restaurant.
Located in the heart of Colonial Williamsburg in view of a gorgeous, spring-blooming dogwood tree, it packs all the ambiance and charm that you'd expect from a fine dining restaurant in a historical town.
The food is aptly described as refined American nouveau, with a slight French influence. The green-walled bistro has a seasonal menu that changes frequently but the entrees– from Pan-Seared Quail to Heritage Breed Pork Chop to Braised Short Rib– never disappoint. It's lovely.
As a result, it has been on the AAA Four Diamond list every year since it opened in 2003. Much of that comes from the careful, studied flavor pairings envisioned by Executive Chef Thomas Power, Jr. The Pan-Seared Sea Scallops come bedded with White Bean Cassoulet, Braised Leeks, Pancetta, and Kale.
They also serve things like Free-Range Guinea Fowl with Parmesan Gnocchi, Garlic Rapini, and Charred Tomato. You get the idea; it's all gorgeous.
This is an ideal restaurant for foodies, travelers, and those who enjoy fine dining. Even the staple Grilled Atlantic Salmon (French green lentils, tomatoes, cauliflower, basil butter) is reimagined in new and novel ways.
In Colonial Williamsburg, moreover, you'd be hard-pressed to find a menu as impressive as this one. Plus, the cocktails here are excellent. Reservations are strongly recommended!
Dog Street Pub (British-Style Gastropub)
The same owners of Blue Talon Bistro also own Dog Street Pub. This American take on a classic British Gastropub has excellent fish n' chips (see above), great service, and lively ambiance.
If you're an anglophile, this is the local eatery for you. The food is as close to what you'd get in a London pub as possible for an American interpretation. (Expect Bangers & Mash, Chicken Tikka Masala, etc.)
Meanwhile, Dog Street Pub's delicious burgers are the best you'll get in Williamsburg. (They have lamb burgers, salmon burgers, etc). When available, the Eton Mess (a classic combo of strawberries, meringue, and whipped cream) is also delightful. You'll feel like you're at Wimbledon! And with hundreds of beers on tap, the drink menu is as robust as you'd expect.
The restaurant is located in a transformed 80-year-old bank, with original marble floors and a cupola skylight. The interior's warm ambiance stems in part from the built-in woodwork fashioned by local architects and designers.
Ultimately, it's a cozy place that captures local historic charm and Old World ethos in equal measure. And it's particularly lovely on a cool night.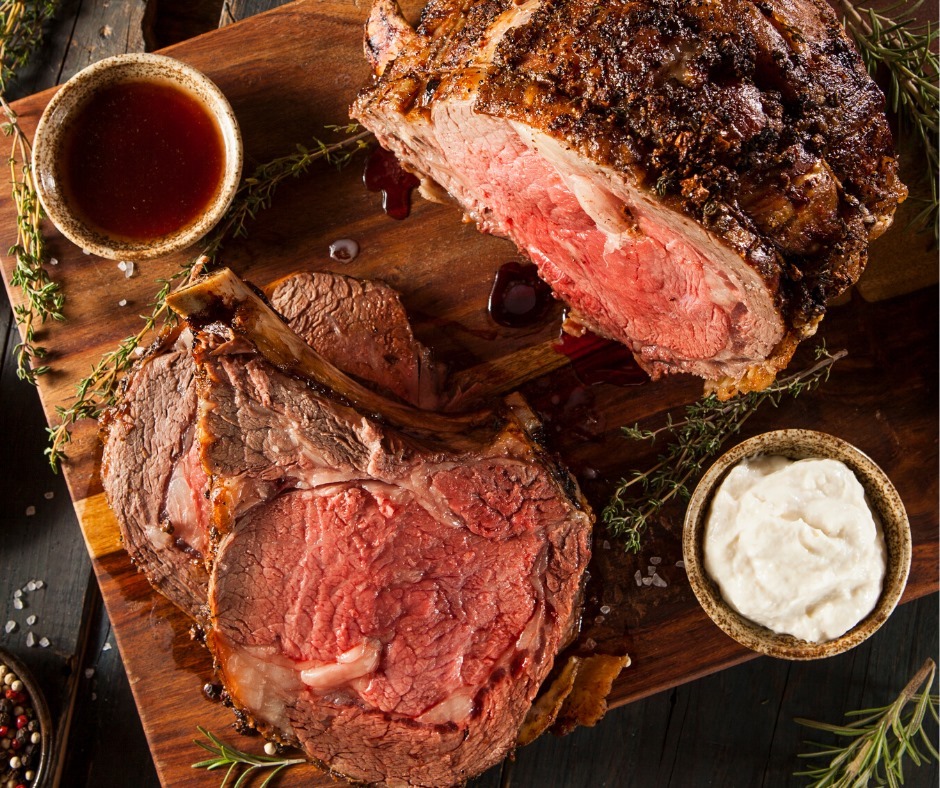 King's Arms Tavern (For Live History and Prime Rib)
If you're a fan of live history and the chophouse experience, Kings Arms Tavern is a stellar representation of the robust local tavern scene. Here, the servers and hosts are decked out in traditional Colonial American garb. (The kind locals might have worn when the tavern originally opened in 1772.) Yes, it's that kind of place. But when in colonial Williamsburg, why not?
They'll speak Ye Olde English as they seat and serve you. There may even be some traveling minstrels passing through. (If so, they'll stop near your table and sing a few tunes accompanied by a live lyre, violin, and/or mandolin ensemble.)
Regardless of the pageantry, the food is nevertheless notable. The Venison Stew and King Cut 16-ounce prime rib are excellent, as is the pork chop. The proteins, moreover, really shine here.
The menu draws inspiration from real 18th-century recipes. However, they're adapted to appeal to modern tastes. As a result, this restaurant is probably best for carnivorous history buffs. (For vegetarian history buffs, Food For Thought has you covered.)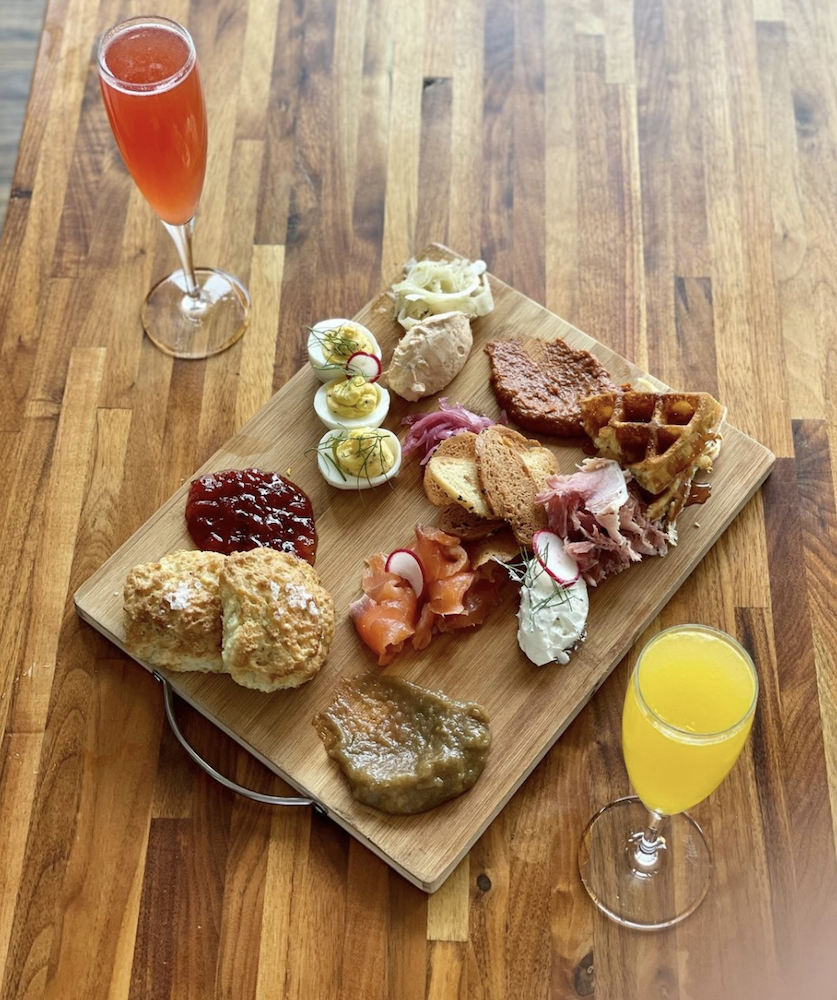 Amber Ox Public House (For Great Brunch)
We love the modern-seasonal approach to brunch at Amber Ox Public House. This hip, minimalist-industrial brewpub has a lively ambiance and an incredible house sticky bun, topped with local hickory syrup and crunchy pecans.
Start your brunch with that sweet introduction and you'll enjoy the perfect segway into the pub's other Southern-inspired fare. Go here if you're interested in hearty biscuits, burgers, beer-can chicken, and like.
The restaurant is also known for its hearty, satisfying, enduringly-sharable boards. There's a biscuit board, a veggie board, a Southern ham board, and even public house poutine made with braised duck and a delectable port-soaked raisin pesto. You can't go wrong with any of them.
We also love and strongly recommend the signature chicken and waffles— if, that is, you aren't already seduced by their always intriguing seasonal eggs benedict.
The beer menu courtesy of Precarious Beer Project is also a delight for beer lovers who want to sample local craft beer. It's part of the main draw here. Ask your server about what's good and they'll help tailor an order according to your preferences. With so many good options to choose from, you're sure to land on something special.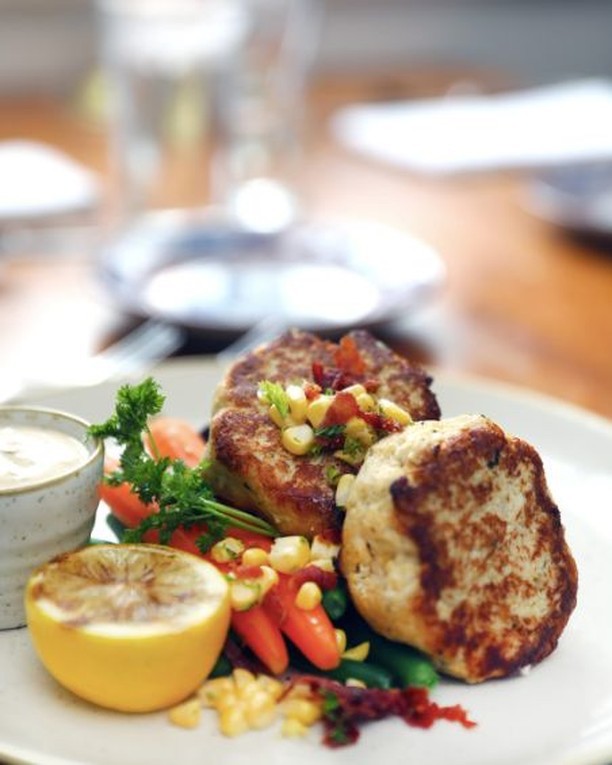 Christiana Campbell's Tavern (For Delicious Seafood in Historic Digs)
If you prefer seafood, Christiana Campbell's Tavern is also pretty great for that. As the restaurant notes, it was "George Washington's favorite for good reason". Yes, not only did George Washington frequently visit this tavern, but the fresh seafood and culture of lively conversation haven't changed much since.
Today, they still serve excellent seafood like locally-sourced shrimp, scallops, and fish. For the quintessential experience, order the decadent crab cakes (see above) or the seafood stew.
Also be sure to try the tavern's signature sweet potato bread (love it!), she-crab soup, and seasonal, locavore salads. Then, enjoy your meal as tavern musicians play and sing history-inspired music in the lobby.
Be sure to save room to try one of the tavern's decadent, house-made desserts. We like the Rum Cream Pie with fresh strawberries and shaved chocolate. They also serve huge scoops of homemade ice cream made from locally-sourced ingredients. Both are fabulous. (Frankly, it's worth dining here for the sweet part of the meal, alone!)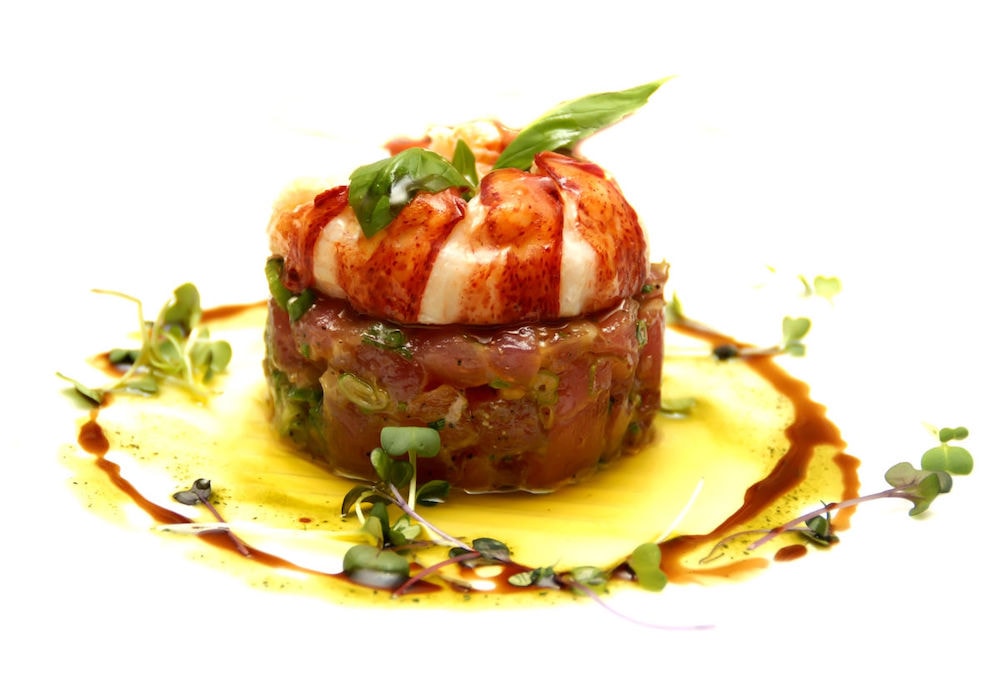 Brunch or Upscale Dinner at Le Yaca Restaurant
Le Yaca French Restaurant is a go-to for upscale dining and white glove service in the area. The restaurant is located outside of the more walkable parts of Williamsburg– it's about a 5-minute drive from the William & Mary campus– but for fine dining lovers and foodies, it's worth the slight detour.
The popular weekend brunch features a gorgeous and decadent array of classic French brunch treats, from Seafood Bénédicte (crab & smoked salmon with sauteed spinach, crispy potatoes, poached eggs, and hollandaise) and La Crêpe au Crabe, a french crepe filled with lump crab meat, spinach, swiss cheese, and bechamel.
Here, you can drink Kir Royales (looking at you, Emily in Paris!) and order one of the city's only breakfast beef tenderloins– a Filet au Poivre deglazed with cognac and a peppercorn demi-glace. Every brunch begins with a basket of chocolate croissants, and the multi-course affair also ends, of course, with something sweet.
The desserts here, moreover, are totally amazing and worth noting in their own right. From the classic Crème brûlée to the showstopping Souffle Grand Marnier (which must be ordered at the beginning of the meal) the dessert menu is sure to please fine patisserie lovers.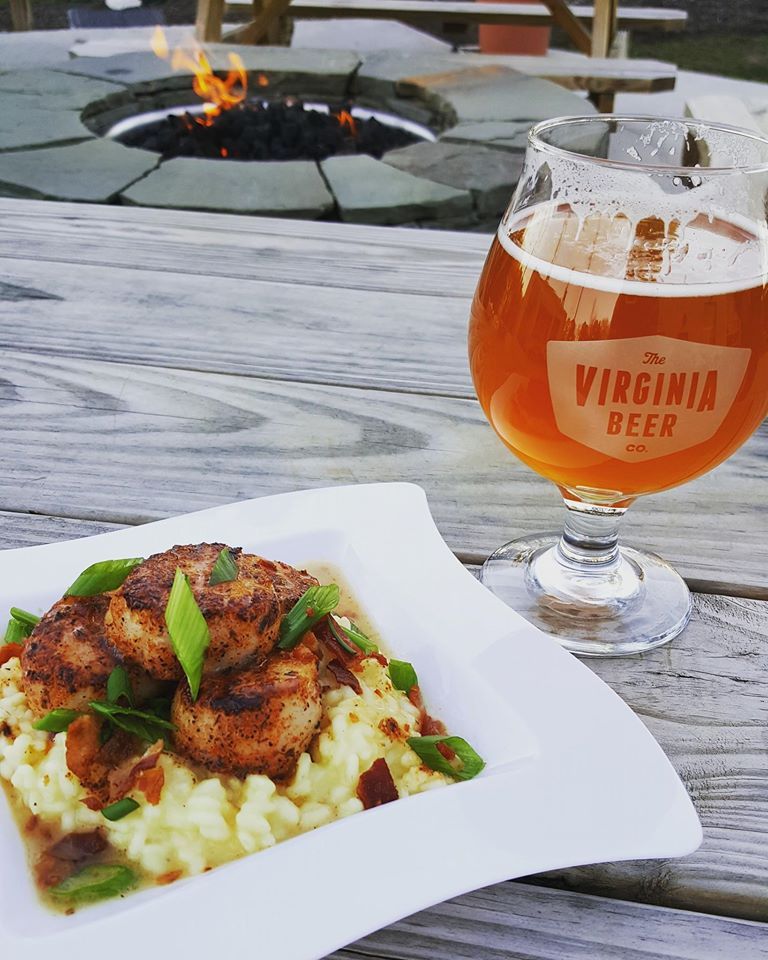 Virginia Beer Company (For Local Craft Beer)
The Virginia Beer Company's lively brewery and beer garden focuses on a small, high-quality, boundary-pushing lineup of craft beers that are unique in the region. They also work with a respectable array of local food trucks who pull up according to a rotating seasonal food truck schedule here-shown on their website. If you're in it for the beer, go here!
Here, you can expect them to serve everything from authentic Jamaican Food and Mellow Mushroom Pizza to tacos and local BBQ. If it pairs well with beer, they're likely to have it on-site, eventually.
There are even a few creative takes. On Sundays, for example, The Bumbling Bee food truck comes and serves fast-casual vegan comfort food. (Think: cauliflower buffalo wings, vegan Coney Island chili cheese dogs, and the like.)
Come and dig into some casual pub food, and fill up a growler on your way out. For beer lovers, a visit here when in Williamsburg is a must. (The Brewery is located only about a mile from Colonial Williamsburg, so you don't even have to go that far.) When the weather is nice, it's a great casual spot for brewing enthusiasts.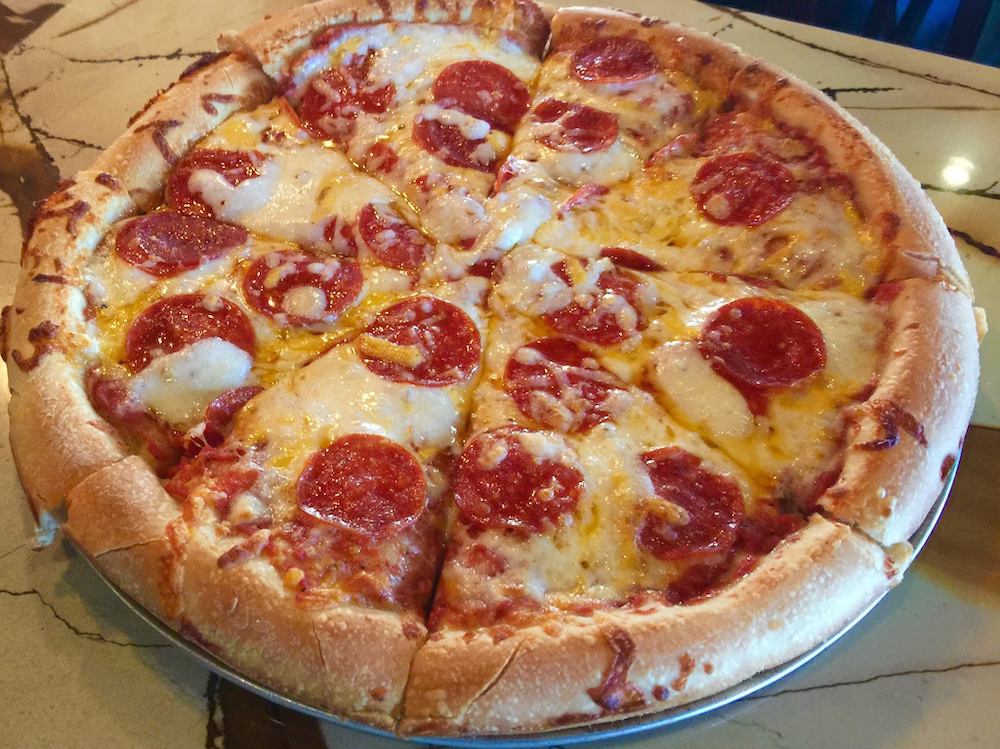 Paul's Deli (For Epic Subs, Calzones, & Pizza)
Paul's Deli is a casual, family-owned restaurant right across from William & Mary's football stadium that's been a local staple since 1977. It's not fancy, but regulars love and swear by the Hot Holly with fries. It's stuffed with roast beef, turkey, bacon, American cheese, lettuce, tomato, mayo, and pickles. Students and alumni go wild for it. As a result, this sub is basically de rigueur for first-timers. You have to try it at least once!
The calzones, meanwhile, are huge. And all of the desserts are made in-house, too. Overall, their spinach pies, pizza, and sandwiches are all super filling and tasty.
They've also got an excellent selection of beers, and the no-frills cheerfulness of a classic American college bar. As a result, it appeals to locals, tourists, students, and families, alike. Plus, it's a great place to eat on a budget and the staff is super friendly.
Also, Paul's Neighborhood Restaurant
Paul's Deli & Neighborhood Restaurant, meanwhile, is a newer, more family-friendly, eclectic spin-off of this classic Williamsburg staple. A few years ago the owners expanded the original concept to a cozy house on New Town Avenue. Here, they focus on more evolved entrees like soft shell crab and souvlaki platters.
They do excellent Greek-style baked spaghetti, as well as fried seafood dishes and plentiful salads. If you want a more sit-down-friendly version of the Paul's experience, the neighborhood restaurant is for you.
~ Honorable Mention ~
Other unique food places worth visiting.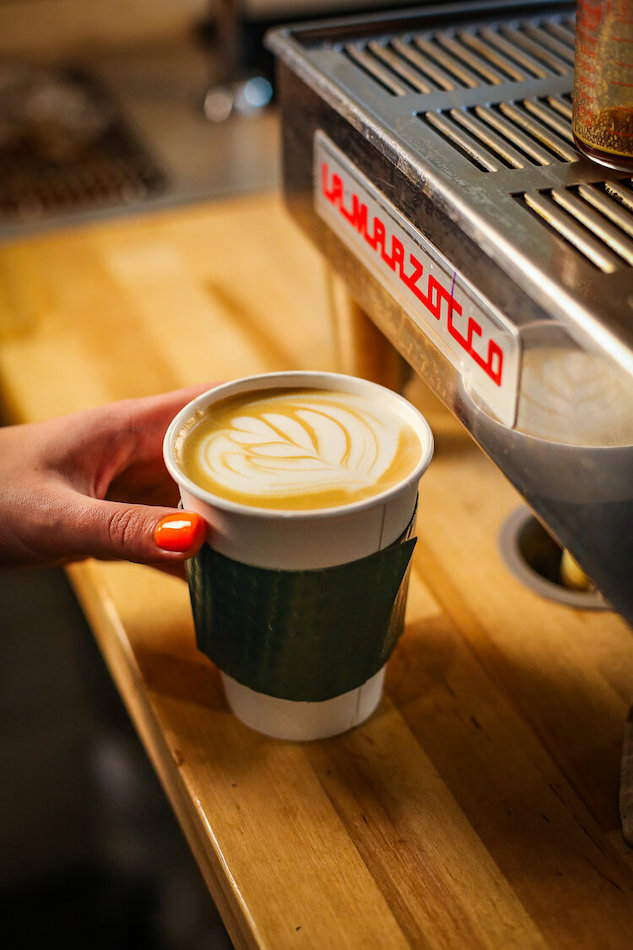 The Bake Shop (Gorgeous Pastries & Coffee)
The Bake Shop is a sunny little glass-fronted bakery and cafe nestled right next to the William & Mary Bookstore– and they easily make the best coffee in Williamsburg.
This bustling coffee bar and pastry mecca does a roaring trade, especially on the weekends, when locals stop by for excellent cappuccino oat milk lattes and Williamsburg's best stuffed bagel sandwiches. (Think: egg, cheese, and locally-made chicken sausage on your choice of bagel. Or, try signature bagel sandwiches like the "Talk Turkey To Brie", a bagel stuffed with shaved turkey, whipped brie cheese, watercress, and strawberry jam. It's a curiously perfect combination.)
We love the exceedingly huge, coffee-inspired baked goods here. See, for example, the dark chocolate espresso brownies or the massive sticky buns with espresso caramel, pecans, and cream cheese frosting.
They also have more curious items like buttermilk streusel muffins, strawberry fritters, cookie butter stuffed croissants, and granola-topped banana bread mini cakes. Oh, and their everything bagel is called an "erraythang" bagel, which is just a small, sassy detail we love.
It's all delicious, as are their specialty coffee and tea lattes. Be sure to look out for seasonal drink specials like Spiced Caramel Apple or Rose Mint Black Tea Lattes, which are made fresh to order with your choice of milk. (And they have it all: oat milk, almond milk, regular milk, etc.)
There are also a few specialty sundry items available here for purchase, from glass bottles of yuzu lemonade to locally-made Electric Circus hot sauce. If you're looking for a perfect coffee shop experience in Williamsburg, Virginia this is the place to go!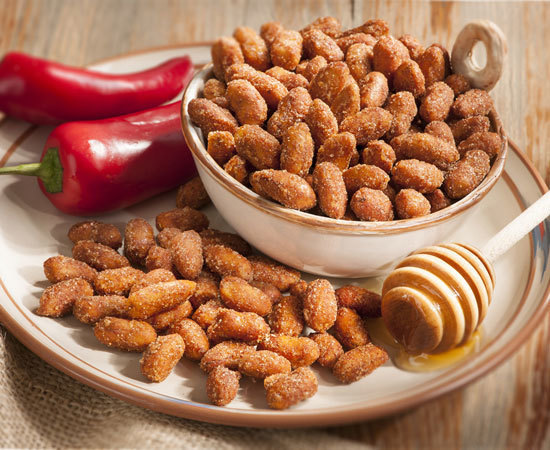 The Peanut Shop of Williamsburg (Virginia is the Peanut State!)
Virginia is the peanut state, and the legendary Peanut Shop of Williamsburg is one of the country's most famous tourist stops for fans of this humble nut. The old fashion shop stocks every flavor and style of peanut product you could imagine.
Roasted, savory, peanut butter, peanut brittle, chocolate-covered peanuts, caramel peanuts– you name it, they have it. They even have 15 different kinds of salted peanuts, for example.
Best of all, there are lots of free samples everywhere. (So you could easily fill up and try this local delicacy just by making the rounds with the samples.) Whether you like your peanuts cooked, boiled, roasted, or raw, there's something on display to suit every preference. And if you love peanut butter– well, there's no better place to buy this local foodie souvenir.
Related: What this Epic Peanut Butter Taste Test Can Teach You About Life.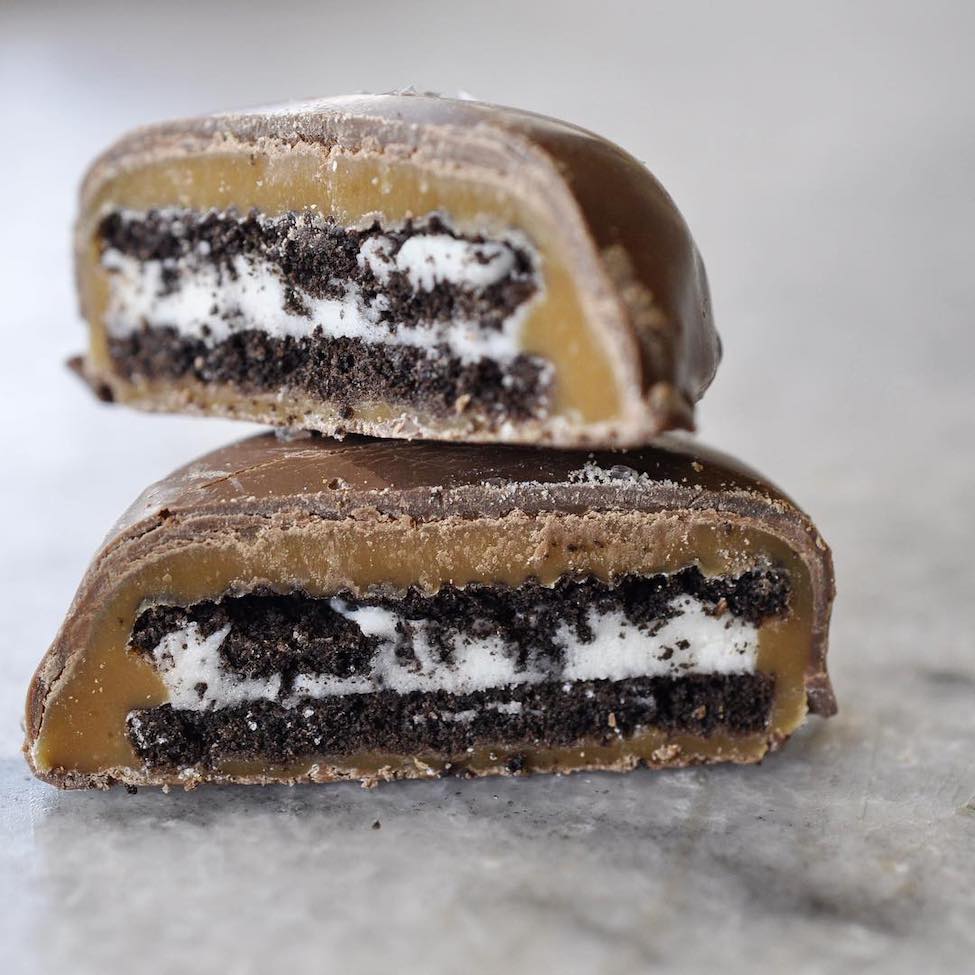 Kilwins (For Chocolate Treats and Original Recipe Ice Cream)
Most people smell the Kilwins' storefront before they see it. This chocolate and sweets shop across the street from Blue Talon Bistro has seemingly everything for sweets lovers and chocoholics, alike.
Go here for housemade peanut butter bark, homemade ice cream, chocolate-covered rice crispy treats on a stick, and a wide variety of seasonal chocolate treats. (Aka Easter bunnies in Spring, Halloween pumpkins in Autumn, Christmas trees and gelt in December, chocolate-covered strawberries around Valentine's Day, etc etc.)
Most eye-catching, however, might be the gorgeous array of fresh caramel apples that entice bypassers from their window-side perch. Between the caramel apples and the waffle cones, this place smells heavenly— and it's certainly the best place to get original recipe ice cream in Williamsburg.
Kilwins also makes fresh-paddled fudge the traditional way, using old-school wooden paddles to turn it out and cool on large marbled tables. This makes a great souvenir!
Watch the staff making fudge, scooping ice cream, and dipping apples while contemplating which of the many craft confections you'd like to sample.
They also make a unique cookie bark, caramel pretzels, chocolate-covered Oreos, and traditional Virginia peanut brittle. If you've got a sweet tooth, they've got something for you. It's not upscale, but kids and families love it!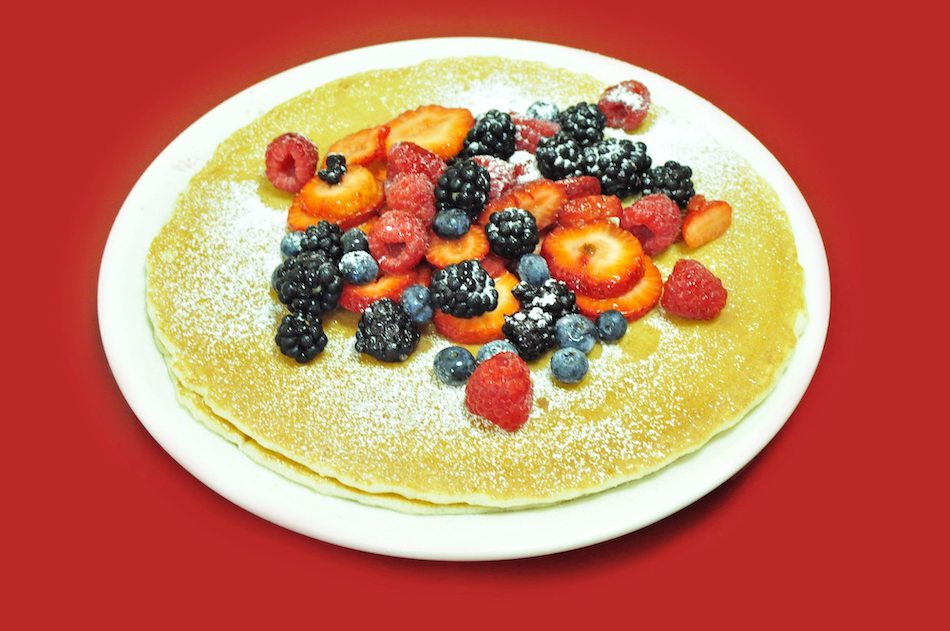 Astronomical Pancake House (Diner-Style Breakfast)
As a true college town– albeit a small one– Williamsburg is home to a number of 24-hour pancake houses. One of which, Astronomical Pancake House, serves GINORMOUS pancakes and satisfying "themed" ones like German Chocolate Pancakes or pancakes topped with fresh kiwi, pineapple, and banana. Around the holidays, they color them green and stack them like a Danish kransekake. You get the idea. It's that kind of place.
Above all, consider ordering their cinnamon swirl pancakes with cream cheese frosting. It's like a hybrid cinnamon bun and pancake all-in-one.
Another option for breakfast lovers in Williamsburg, VA is Mama Steve's House of Pancakes, which has been family-owned and operated since 1956. They also do a mean peanut soup. (Only in Virginia!)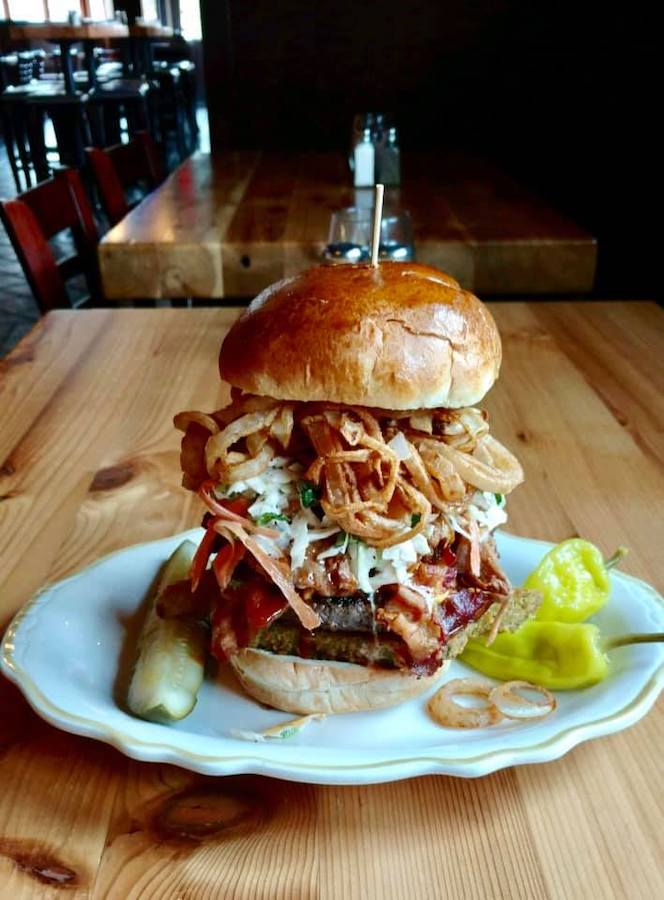 Greene Leafe Cafe (Great Burgers and Salads)
Greene Leafe Cafe (and The College Delly) are generally known as college bars, but after a recent renovation to make it even more quaint and Good Will Hunting-esque, Greene Leafe Cafe really stepped up its menu.
The burgers and salads here are surprisingly excellent, with huge, filling portions made from local produce. The ribs, mac n' cheese, and calamari are also great. Expect fast, casual, friendly service.
This pub also has a great selection of cocktails. Just be wary of going here at night or around the semester break. At those times, the scene is more likely to attract students looking for shots, if you know what I mean. (It is a college town, after all.)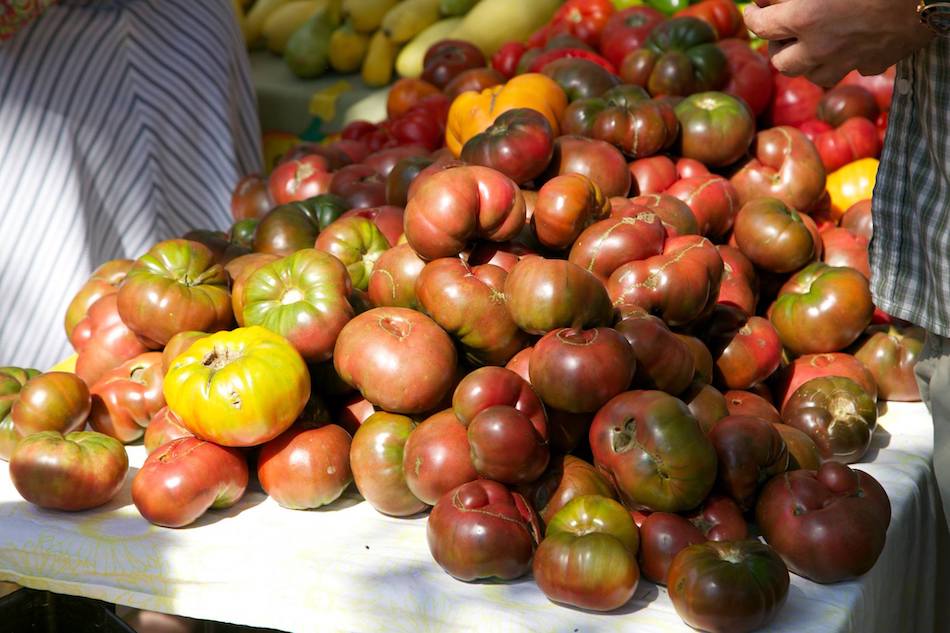 The Williamsburg Farmers Market (Loved by Locavores)
The Williamsburg Farmers Market takes place every Saturday from March to December from 8 AM to Noon on Duke of Gloucester Street between Henry and Nassau. This award-winning producer-only market showcases some of Virginia's best seasonal produce.
Vendors here sell free-range meats (including chicken, beef, bison, pork, clams, oysters, fish, crabs, and prawns), as well as cheese, mushrooms, cut flowers, potted plants, and herbs.
You can also find fresh baked goods, local honey, confections, sauerkraut and other artisan ferments, handmade soaps, crafts, and more. Ultimately, it's a very well-rounded (if moderately sized) farmers' market.
The market is located in Merchants Square in the heart of historic Williamsburg. Each week you can expect over 30 vendors, with frequent live music and occasional chef and Master Gardener demonstrations.
The farmers' markets throughout Virginia, FYI, are some of the best on the East Coast. Fortunately, this one lives up to the reputation. The Williamsburg Farmers Market is a great place to shop and get out in the community. Check it out if you can!
***
Related: The 15 Best Restaurants in Charlottesville, Virginia.
Want more regional eats and restaurant guides? Find out where to get the Best Crab Cakes in Baltimore or the Best Fried Chicken in Asheville, North Carolina in our critically-acclaimed Travel Well section.