Experiencing Afternoon Tea in London is a rite of passage. It's on every serious traveler's Bucket List because you have to do it at least once, or you never really went to England, did you? Whether you call it High Tea or Afternoon Tea (the difference in semantics is a matter of spirited debate), tea service in London is an unforgettable experience.
Having tea in London, moreover, is like having an espresso in Milan— you just have to do it, at least once.
High Tea in London traditionally consists of your choice of hot tea (usually Earl Grey, Assam, or herbal varieties like rooibos or mint tea) served with finger sandwiches, petit fours, and– most importantly– scones with jam and Devonshire cream, also known as "clotted cream". It's basically a less unctuous version of butter, with a rich, neutral flavor. Sometimes akin to real whipped cream in texture, clotted cream is closer in flavor to butter. (Because there's no sugar added.)
High Tea gets its name from the fact that you enjoy the service at the height of the afternoon– say, 3 PM. (Traditionally, for working-class folks, high tea was also a heavier meal served at a high table, usually at the end of the workday.)
Today, sitting for high tea in London is like eating a croissant in Paris, or having a bagel in NYC. It's a quintessential experience of the place.
Afternoon tea, meanwhile, was supposedly invented by Anna Russell, 7th Duchess of Bedford, in 1840. Its role was to "satisfy her peckishness" between early lunch and a later dinner. (In America, we'd call this simply "an afternoon snack".)
Still, there are so many places to have high tea and afternoon tea in London that choosing where to go can be an endlessly FOMO-inducing affair. Fortunately, if you experience tea service at any of these London hot spots, you're sure to have an amazing time.
Prior to curating this guide, we met with a tea sommelier (yes, it's a thing: like a wine sommelier but for tea!) whose impressive body of knowledge informed this article.
Below, we spotlight the best high tea services in London– and, by extension, the entire world. Nobody does Afternoon Tea better than the Brits, after all.
***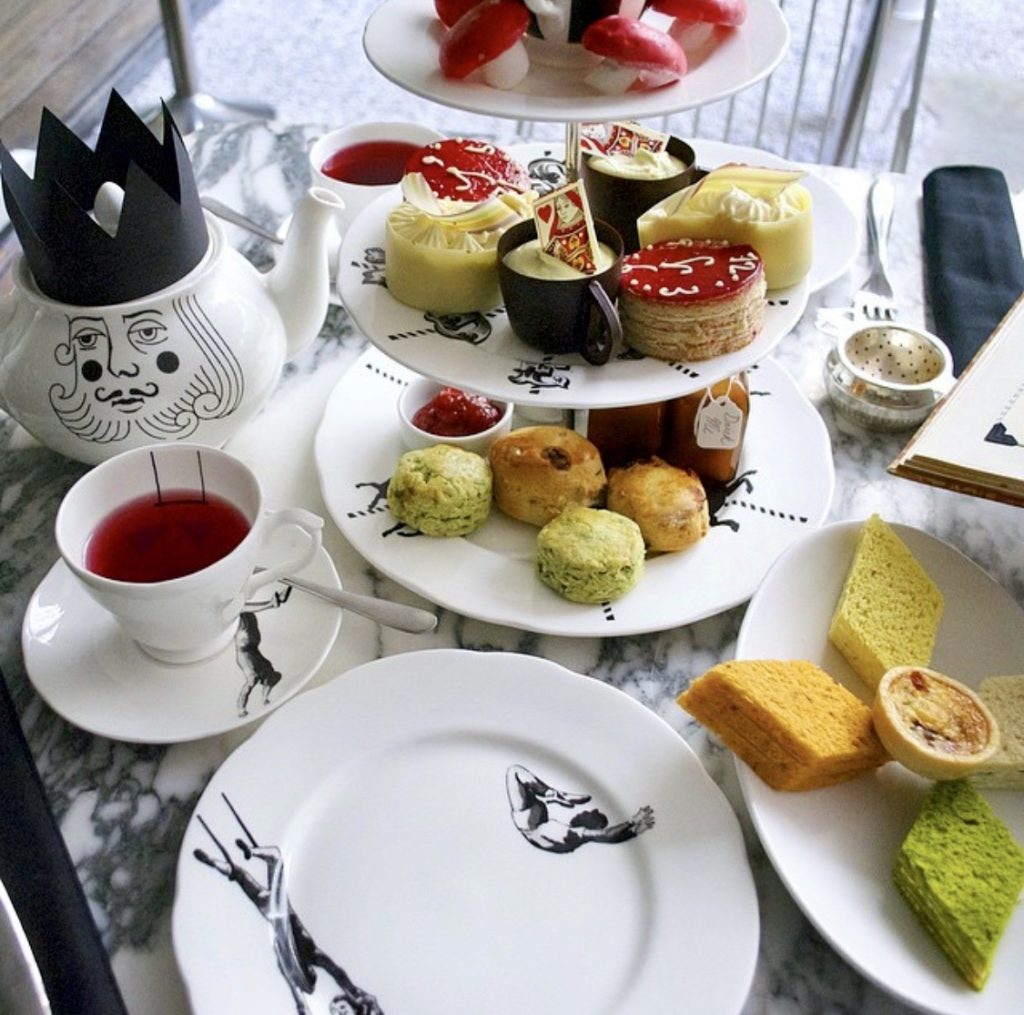 Mad Hatter's Tea Party at the Sanderson Hotel (Modern, Chic)
The Mad Hatter's Afternoon Tea at the Sanderson Hotel is adorable— possibly the cutest afternoon tea in London. This Alice in Wonderland-themed afternoon tea service comes with all the bells and whistles.
Expect colorful finger sandwiches and scones, mini layer cakes fashioned to look like clocks, chocolate teacups, marshmallow mushrooms, "King of Hearts" ham and parmesan croque-monsieurs, and other edible thematic elements inspired by the classic children's story.
The details, moreover, are lovely. Tempered chocolate "Queen of Hearts"– symbolized by mock-ups of the eponymous playing card suite– adorn edible teacups filled with rich, decadent mousse. It's lovely.
Racks of pastries are built around cheerful cups of grass– whimsical and wonky like the Mad Hatter himself– and an exotic fruit potion that simply says, "Drink Me".
We suggest a colorful or fruity tea to match the theme– say, a hibiscus blend like what you see in the photos above. (They also do a lovely green tea infused with passionfruit, guava, and mango.)
Overall, there's more than enough food to feed two people, but this tea service is even better with a crowd. One look at the Mad Hatter's playful pastry rack and you'll feel like you've stumbled down the rabbit hole yourself.
Accordingly, this tea service tends to attract a younger, more fashionable crowd. However, it's also a must for literature buffs or lovers of the original Alice in Wonderland story.
We love the buttery currant scones and the "Tweedle Dee" lemon curd financiers. And don't miss subtle details like how they color the bread and cut it to create whimsical diamond-shaped sandwiches. The midcentury modern china also plays beautifully into the theme– but then again, which a concept this articulated, how could it not?
The Mad Hatter's Afternoon Tea runs Monday-Saturday from 12:30 to 4 PM and 1 PM to 5 PM on Sunday. For more information, current hours, or to book a reservation, go here.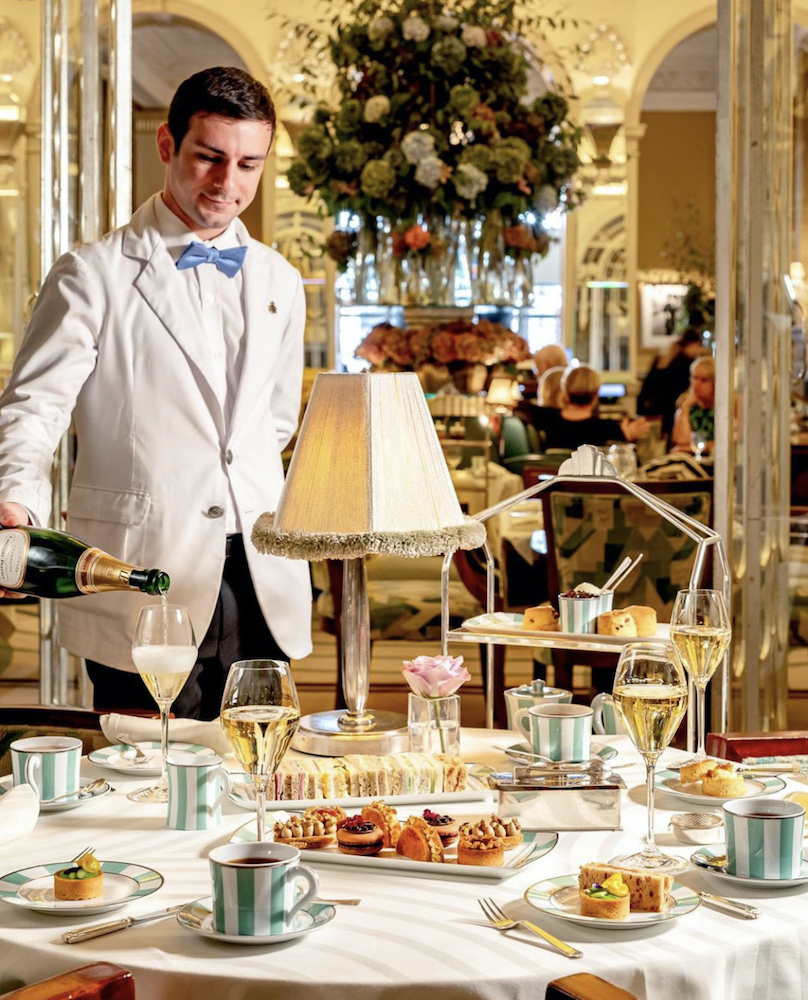 Claridge's (Old World, Upscale)
Probably the Old World-iest of Old World tea services in London is the one that's served at Claridge's Hotel. What the Ritz is to Paris, Claridge's is to London.
Their exquisite upscale Afternoon Tea is among the best and most refined in London. The service takes place in the hotel's opulent art deco Foyer & Reading Room in Mayfair, which invites smart casual attire though there is no official dress code.
Claridge's offers a Traditional Afternoon Tea, a Champagne Afternoon Tea, and a Children's Afternoon Tea service. Each has their own distinct menu, and each proudly honors English Tradition with a decidedly French flair, especially when it comes to the patisserie.
The lovely pink macrons, architectural creme puffs, and gelée-covered treats are always executed with textbook precision. (This is to be expected, with French MOF Pâtissier Confiseur Jérôme Chaucesse at the helm.)
Ultimately, Afternoon Tea at Claridge's leaves you feeling like a princess (or prince). There's a reason why British Vogue often hosts their parties here, after all. It's consummately chic and a great place to people watch.
Mostly, we love that menu offers a perfect balance of sweet and savory items, including British specialties like poached Scottish salmon and a pastries whose fillings reflect the ripest fruits of the season.
The finger sandwiches are also subtly delightful, sheathed in a rainbow assortment of meticulously sliced bread. (According to the hotel, there's always a consistent balance between the thickness of bread and the amount of filling. This ensures that each bite is "perfectly balanced".)
Most importantly, the tea here is divine. Try the classic, surprisingly complex Claridge's Blend for the quintessential experience. (The recipe for this spin-off the classic English Breakfast Tea is 150 years old!) We also like their Rare Earl Grey (sourced from the ancient citrus groves of Calabria), and the Waikato Black from New Zealand, a rare find that has notes of gingerbread and late Summer honey.
Individual tables can sit up to 6 guests. Refreshments are served on Claridge's iconic seafoam green checkered china. (I can spot it a mile away– so charming!)
Be advised, however, that this is one of the priciest high tea services in London (running up to £95pp for Champagne Tea). But, you get what you pay for. Tea time at Claridge's is a once-in-a-lifetime experience you'll cherish forever.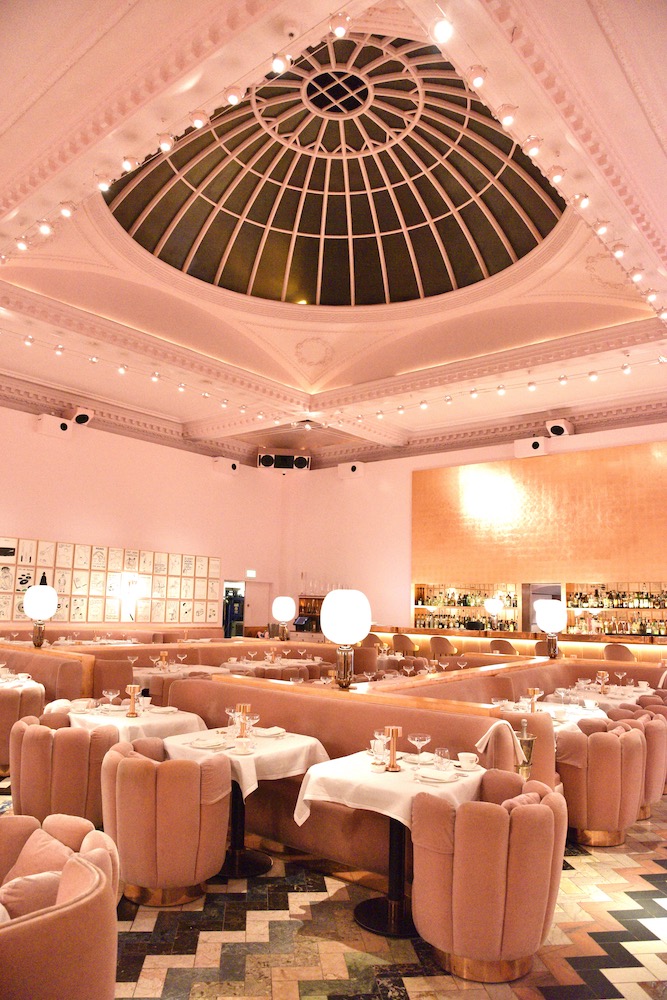 Sketch (Iconic Pink Design Lover's Paradise)
Sketch— or sketch, as it is hiply stylized– is credited with making high tea cool again– at least for a younger, hipper generation. (I mean, just look at their ultra-futuristic website!)
This bright pink sketch-filled tea room (located in an 18th-century townhouse in Mayfair) features plush pink furniture, terrazzo tiles, an elegant pink-tiled bar, and what I like to call a "crystal disco bathroom" made from antique etched glass and over 50,000 Swarovski crystals. (London jeweler Mehbs Yakub designed it.)
The literal "sketches" that line the tea room walls offer a quirky, endearing insight into the mind of Turner Prize-winning visual artists Martin Creed and David Shrigley, who designed the space.
Shrigley drew the bespoke satirical cartoons lining the walls. One cartoon, for example, says "THIS IS TO TELL YOU ABOUT THE BARN DANCE" and then, in much smaller writing underneath this sentence, it says: "It is on Sunday at 8 PM in the barn." The other sketches are similarly humorous– be sure to give them a read before you leave.
Ultimately, for the decor alone, sketch is one of the few modern hangouts I think everyone who visits London should experience. The aesthetics here are world-class.)
So Cheeky, So Fun, and Great Cocktails
This brings us to the tea service. Tea-wise and food-wise, your options here are as excellent as the decor. Afternoon tea at sketch features artisanal finger sandwiches, cloud-like opera cakes, architecture pistachio creme puffs, and plush pink meringues + pink checker cakes to match the theme.
Come for the iconic "cheesecake in a glass", return for the piping hot scones. (I also love going here for a cocktail.)
Overall, sketch is the total package. Believe the hype. For a certain kind of traveler, it's likely to be the highlight of your time in London. Even the teacups are cheeky.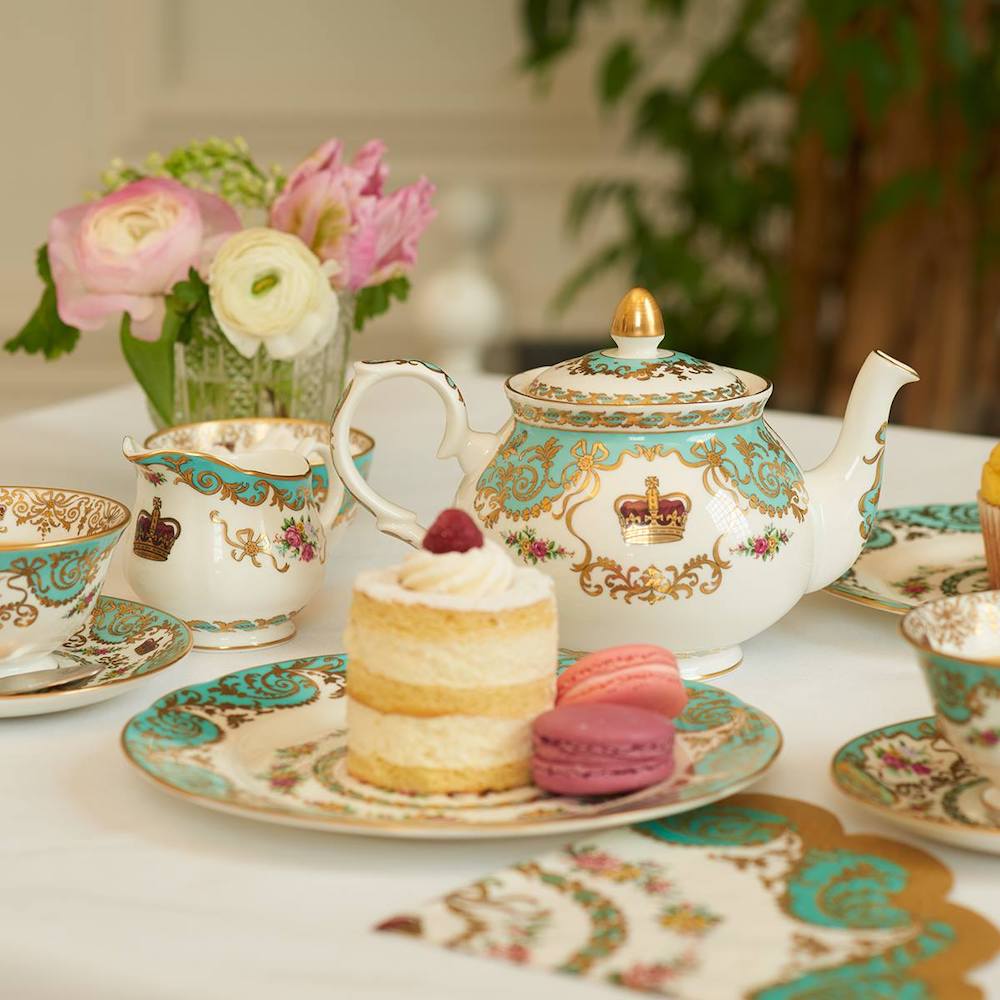 The Orangery at Kensington Palace (Fit for Royalty– Literally)
The Orangery at Kensington Palace— that's right, THE Kensington Palace, where Kate Middleton and Prince William live– is absolutely lovely. Go for a morning breakfast service or afternoon high tea.
Either way, be sure to try the signature English Breakfast tea. It's the "strongest tea in the palace", which the staff once aptly described to me as "simply delightful".
Because it's an extension of the Historic Royal Palaces, this afternoon tea service is very traditional. The dining room at Kensington Palace is set in a garden pavilion that was built for Queen Anne in 1704.
You have to traipse through the maze-like palace orangery to get here, and it's lovely. Perhaps fittingly, there are no trendy themes or colors on display here, other than exceptional quality and a slight regality.
Refreshments, for example, are served on fine bone china tea sets that are finished in 22-carat gold. Each piece is elegantly designed and made in England. (You can buy this china in the Kensington Palace gift shop on your way out. I recommend doing this if you're into that. I love my teacup and saucer! Though admittedly, this combo will cost you about £70.)
Surprisingly Casual and Accommodating
Fortunately, however, this afternoon tea service isn't pretentious or over-the-top. The Orangery is one of the few places where you can get high tea in London while wearing jeans and converse sneakers.
They can also accommodate vegan, vegetarian, and gluten-free requests, as well. More info, including current hours and a preview of the afternoon tea menu, can be found here.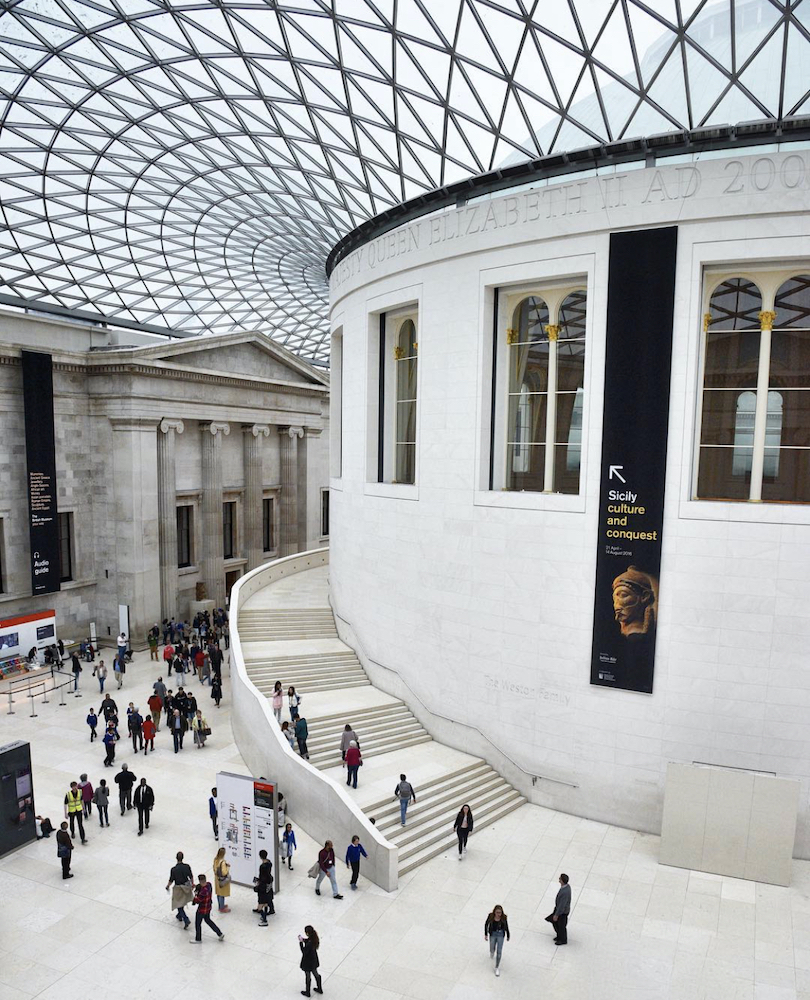 The British Museum (Artsy and Hip)
The British Museum's high tea service under the magnificent Great Court roof is one-of-a-kind. This is a wonderful place to conclude a visit to this iconic London museum. Spend the height of the day exploring the galleries, then sit for Afternoon Tea on the way out. (High tea in an art museum? Yes, please.)
When available, enjoy the delicious Garden Berry Tea with your Netherend Farm butter scones. They also have the best Devonshire clotted cream. Produced in the county of Devon, England, this style has a higher percentage of butter fat (~55%) than other clotted creams. The region specializes in this product, akin to what champagne is in the Champagne wine region of France.
Choose from standard Afternoon Tea, Prosecco afternoon tea, and Cream tea. (<— So good!)
Great Court Restaurant also offers a dedicated gluten-free and vegan afternoon tea menu. Ask your server if you have sensitivities or allergies.
Meanwhile, if you want a traditional tea service, choose an Earl Grey tea or English Breakfast tea. Otherwise, try the sencha, which is very interesting and complex. Then, dive into those Coronation chicken and celery sandwiches!
Oh, and the coffee, cardamom, and walnut torte? Super delicious. It hits all the right notes.
Overall, this cafe feels like a hidden gem, since most people just come for the art. Still, the museum suggests making bookings in advance. To make a reservation, go here.
How To Properly Butter A Scone
FWIW, I learned the proper way to butter a scone at this cafe. The English way to butter a scone is to cut it in half first. Then, mix the butter and jam as you spread them BOTH over the cut side. (Contrary to what some Americans learn in cotillion, you don't butter each bite individually. You only do that with bread.)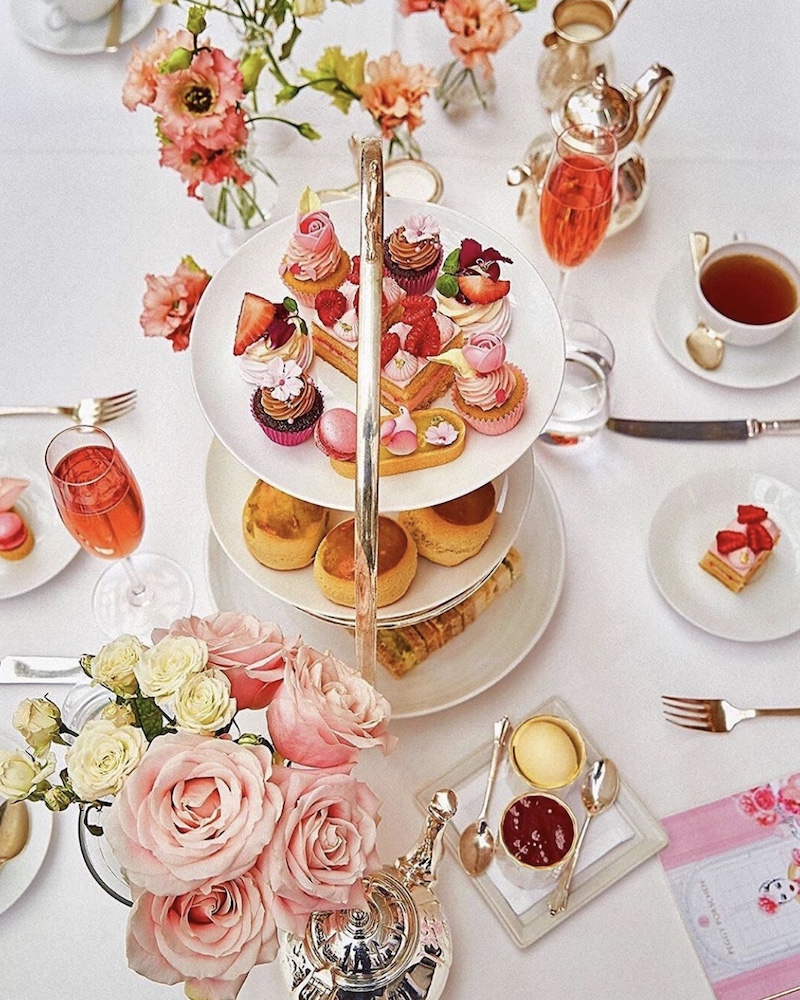 Peggy Porchen Afternoon Tea at The Lanesborough (Cutesy Instagram Sensation)
At this viral Instagram hot spot, expect crowds and plenty of fairytale sweet treats. Peggy Porchen's iconic cupcake shop recently started offering an all-pink luxury tea service at The Lanesborough Hotel, and we are here for it.
Expect raspberry and rose petal topped petit fours, mini cupcakes with twirls of pink frosting, buttery-golden scones, gossamer cupcakes, and colorful Aperol Spritz (if you choose to drink).
This tea service is a celebration of beautiful florals and pastel hues, so the aesthetics are decidedly feminine. As a result, the customers will be mostly women– but you probably already knew that if you follow the bakery on Instagram.
A Legacy of Ethereal Cakes
Known for their "lovely layer cakes", Peggy Porchen's bakery takes a slightly more Western approach to afternoon tea. Basically, they serve more notable "sweet" and "decadent" treats as opposed to savory.
We love the lemon & elderflower tartlet and Peggy's pink pavlova, which is fun to try if you're an American. (Pavlova isn't as much of a staple in States as it is in the UK/Australia/New Zealand.) Ultimately, however, Peggy Porchen is a global trendsetter in the world of cakes, so don't miss her romantic petit fours.
This tea service takes place under the domed glass roof of the Lanesborough's Michelin-starred restaurant, Céleste. (<– Even before the tea service collab, this place was a whole mood.)
For these reasons and more, Peggy Porchen's Afternoon Tea ranks among the most photographed afternoon tea services in London. This is especially so among tourists– but locals love it, too!
As a result, advance bookings are all but essential. To make a reservation, go here.
Enjoy your trip!
***
Related: The 9 Coolest Indian Restaurants in London.
Looking for more awe-inspiring vacation experiences? Check out our guide to The 7 Coolest Spas in Paris or explore other European destinations in our Travel Well section.